DALI, SYRMA and SHELBY, the latest stylish collections of CASADESUS
March 4 / 2014
An extra-large, ultra-comfortable sofa, some upholstered chairs and an attractive, stylish bed make surely a home. They can turn your place into a cozy nest where to snuggle after a stressful day at work. CasaDesús has some new trend led proposals that will shake up your interiors bringing a fresh, new contemporary flair. Let's discover more…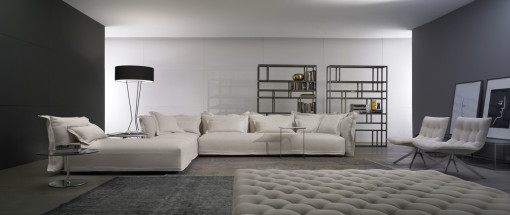 On the occasion of its 40th anniversary, CasaDesús has launched its latest collections signed by Italian designer Giancarlo Vegni and Gianfranco Gualtierotti. Take note…
DALÍ SOFA by G. Vegni & G. Gualtierotti
DALI is a brilliant piece in terms of visual impact and conceptual simplicity. The exclusive, unconventional touch is given by the sinuous lines and the flounce that adorns the cushions.
The structure is made of polyester varnished tubular iron, while the seat cushions are filled with polyurethane foam with different densities and covered with polyester fibers and protective cases to ensure maximum comfort. Back cushions are filled with spongy polyester fibers and sterilized white duck feathers with injected polyurethane foam of different densities.
The collection includes numerous pieces tthat can be combined with each other or just places as a unique piece with its own identity.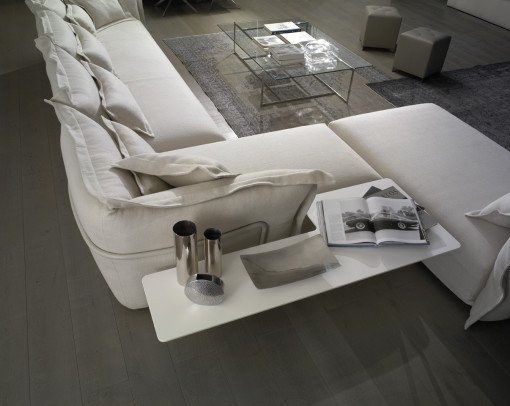 Covers are completely removable, while possibilities of configurations are endless to adapt to every space and need.
SYRMA armchair by G. Vegni & G. Gualtierotti
Modern lines and comfort mix in this stylish and versatile armchair that can be used in different contexts. In combination with the matching pouf is perfect as a reading armchairs, but it can also be used as a dining chair or in a lounge space. The choice is yours!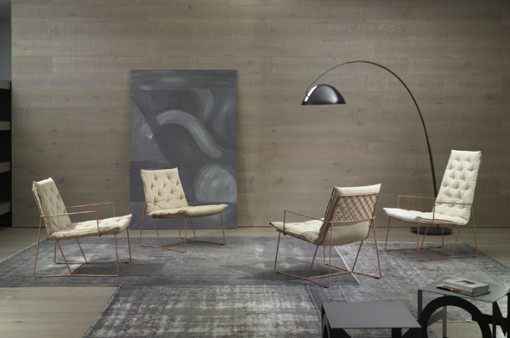 The elegant structure is made of a solid iron bar than can come varnished in different colours: white, copper or dark grey. The padded seat is filled with high resilience polyurethane with different densities for maximum comfort.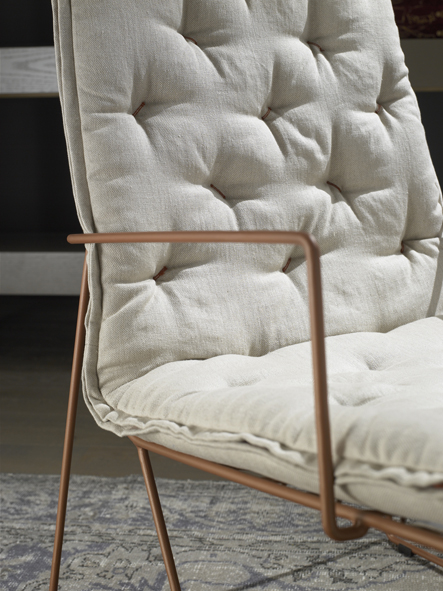 Covers are completely removable for easy maintenance and cleaning.
The collection includes chair, armchair, high-backed armchair, footstool and pouf.
SHELBY bed by G. Vegni & G. Gualtierotti
Visually light, the charming SHELBY bed features a stream-lined base made of wood, polyurethane foam and spongy silicone polyester fibers over a polyester painted iron structure.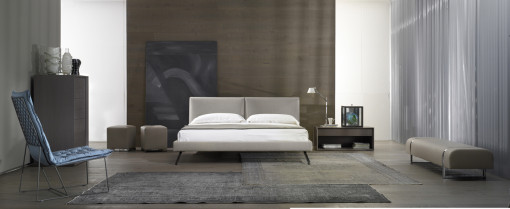 The final look is extremely elegant and stylish. Protection fabrics are completely removable for easy cleaning.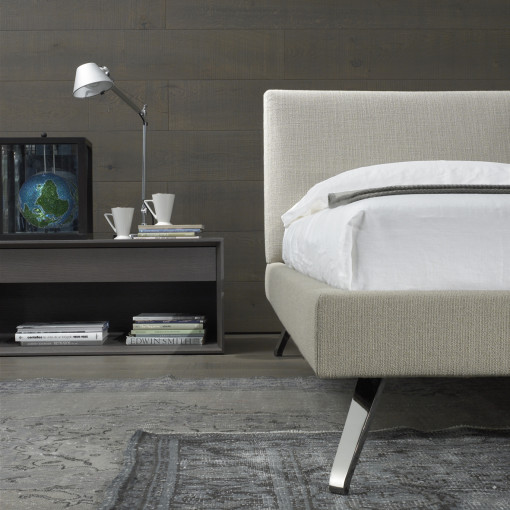 About CasaDesús
Founded in Barcelona by Jaime CasaDesús in 1973, the story of the company began in the field of upholstered furniture, with memorable collections which have become Spanish designer classics. Recently, the family-owned company has extended its product portfolio including bedrooms, living and dining room occasional furniture and chairs. They also started a fruitful collaboration with renowned designers such as Carles Ferruz, Giarcarlo Vegni, Gianfranco Gualteriotti, Xino Roca and Marcus Ferreira.
The company is currently run by the new generation in the CasaDesús family, whose main goal is to take the company to the forefront of worldwide design. With this objective in mind, they have committed to innovation and quality both in products and manufacturing processes, to then focus strongly on the brand's commercial expansion.
With the new collections and their positioning in the high-range furniture sphere, CasaDesús has started to increase its presence outside Spain in order to gain an international reputation. Foreign markets include many European countries as well as the United States of America, the Arab Emirates, Taiwan and even Australia. At the moment, the brand has two flagship showrooms in Barcelona and Madrid.
The brand offers now a wide range of products for both home and contract use, with excellent feed-back from its private and institutional clients and important interior design studios.
For more info: www.casadesus.net