Elevating Workspace Design: Spain's Impact at Workspace Design Show Amsterdam 2023
October 6 / 2023
For the very first time, the Workspace Design Show is crossing borders to make its debut in the Netherlands on October 11th and 12th, 2023. Previously hosted in the United Kingdom with two successful editions in London, this year's show is venturing onto the European continent. The chosen destination? Amsterdam—a city renowned for its global architectural firms, international influence, and a plethora of projects spanning the globe. Notably, the event's Organizing Committee boasts powerhouse firms like Cushman & Wakefield, UNStudio, and MVRDV, underlining the show's commitment to excellence.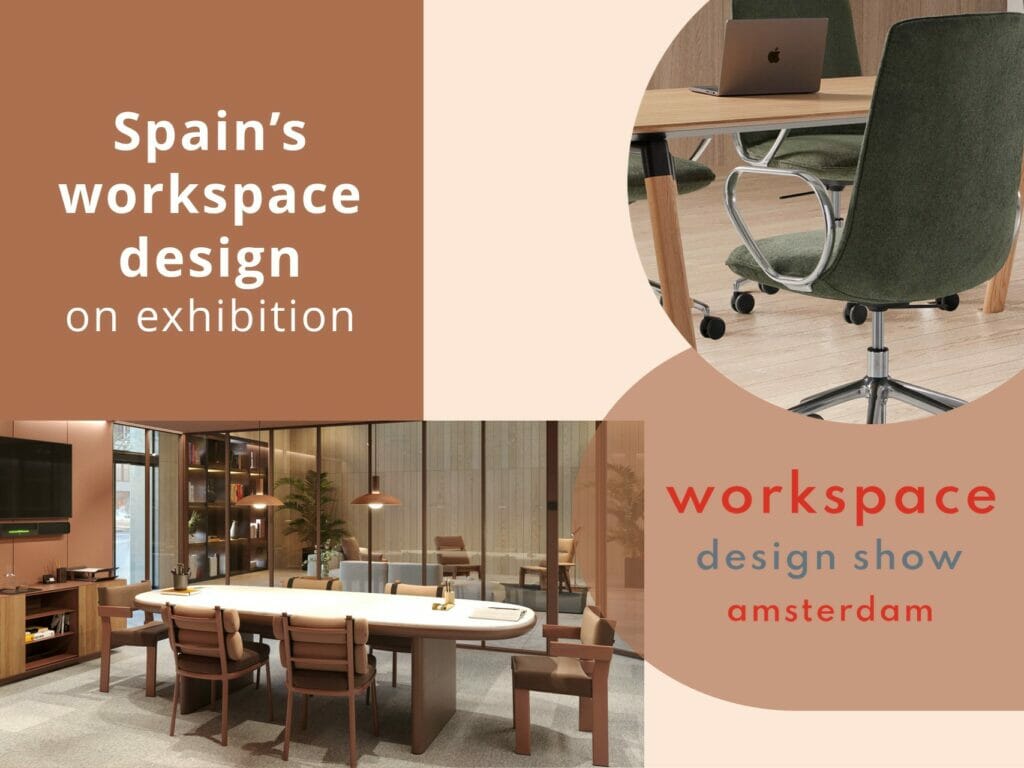 The show's mission is crystal clear: to ignite the imagination of professionals in interior design, urban planning, and project development. It's a melting pot of creativity, where new solutions are unveiled, cutting-edge trends are explored, and invaluable connections are forged over two dynamic days. The overarching theme is "Workspaces Beyond the Traditional Office," a reflection of the evolving nature of work environments.
The RAI Amsterdam Convention Centre sets the stage for this exciting gathering. Expect a diverse array of products on display, spanning indoor and outdoor furniture, lighting, surfaces, textiles, acoustic solutions, and the latest in workplace technology.
The Spanish participation in this dynamic event is set to make a significant impact. Seven leading Spanish companies—ACTIU, EXPORMIM, INCLASS, KETTAL, MASS OFFICE, MOBEL LINEA, and VICCARBE—will showcase their latest products tailored for productive work environments. These innovative offerings promise to redefine workspace design and elevate functionality to new heights.
But why Amsterdam? The Netherlands, historically a strong market for Spain, continues to be a key player. Despite its relatively small population of 15.53 million, the Netherlands consistently ranks among the top 10 destinations for Spanish exports. What sets it apart is the fact that, when considering its relatively modest population in relation to the substantial volume of purchases from Spain, it emerges as a market with an even greater purchasing power than both Germany and the United Kingdom. In 2022, as Spain's exports grew by 13%, the Netherlands experienced an impressive surge of 18.7% (source: ICEX, Customs).
Another interesting fact to note is that the Netherlands boasts a near-full employment rate, with unemployment rarely exceeding 4.5%. In this context, offices and work environments are in full swing, undergoing constant renewal, contributing to attracting talent, enhancing productivity, and prioritizing employee well-being.
For more details and a sneak peek of their cutting-edge solutions, visit our event's  dedicated  website: www.muebledeespana.com/fairs/workspace-design-show-amsterdam-2023
Join us at Workspace Design Show Amsterdam 2023 for an inspiring journey into the future of workspace innovation.