Il Salone del Mobile. Milano 2017 Design: Seating for comfortable times
March 23 / 2017
Sofas can really make or break the look of a living room. In the sitting room, in dens, in open plan dining/living spaces or in a main lounge, a sofa can set the scene and offer an incredible wow factor to any scheme. In halls 14 & 18, the Spanish brands will put on display some amazing new proposals aimed at bringing comfort and flair to living spaces.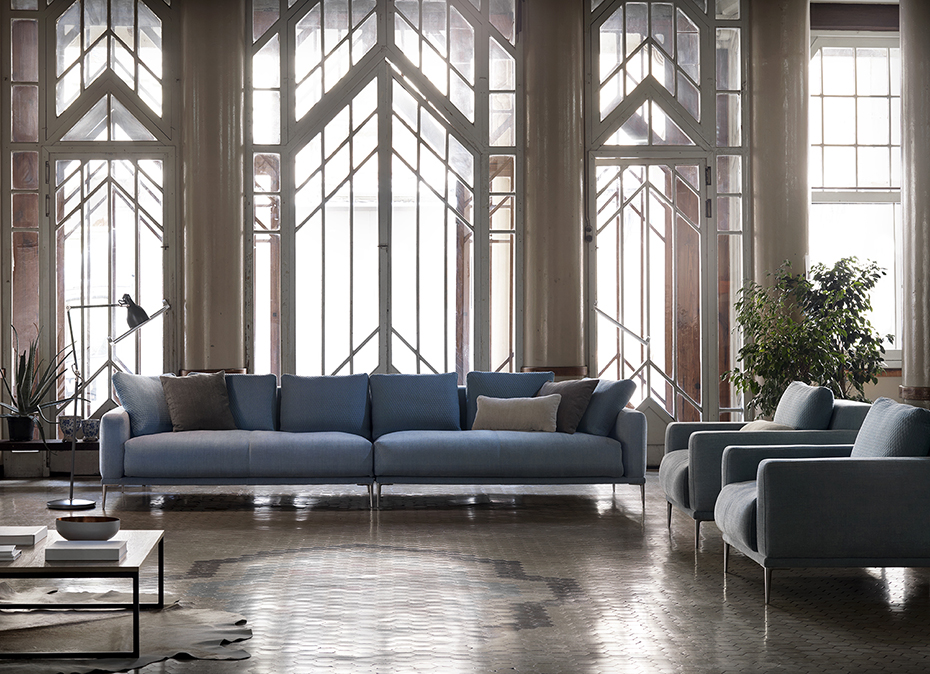 The Spanish brands specialized in upholstered furniture have extended their ranges with new models of sofas, sectionals and armchairs that meet the trends and needs of new consumers. Extra-large, plush sofas are still on demand, but with homes becoming smaller brands have developed a whole new range of sofas and modular programmes which are comfortable as they are eye-pleasingly proportionate. Love seats have been around for years, but they are gaining prominence again. Provided with recliner mechanisms and upholstered with eye-catching fabrics, they represent a comfy escape from our busy, digital-dominated world.
As for colours, neutrals like cool greys and whites are giving way to deep jewel tones, like the emerald green, or the pastels which are always a wonderfully elegant choice. Patterned fabrics have been gaining momentum over the last years and they are here to stay.
Let's have a look…
ACOMODEL – Hall 14 Stand B41
Exclusive mechanisms & designs. Yesterday as today, the family-run ACOMODEL, originally set up in the 80s, is strongly committed in providing clients with the highest quality available in the market. To ensure the originality and the functionality of models, they have patented most of them, getting also the exclusive trademark.
Besides the fixed sofas, ACOMODEL offers a wide range of manual and electrical relax mechanisms that includes sliding seats and backrests, sliding chests and reclining backrests, reclining backrests and extendable footrests etc. New systems include the exclusive ADESS mechanism that allows two sliding movements of the seats plus a reclining movement of the backrest. The newly-launched DUETTO consists of an electrical sliding chaise longue that easily converts into a comfy additional seat with backrest or a single bed with storage option. Arms too can be converted into side tables, laptop desk or simply into a spare seat.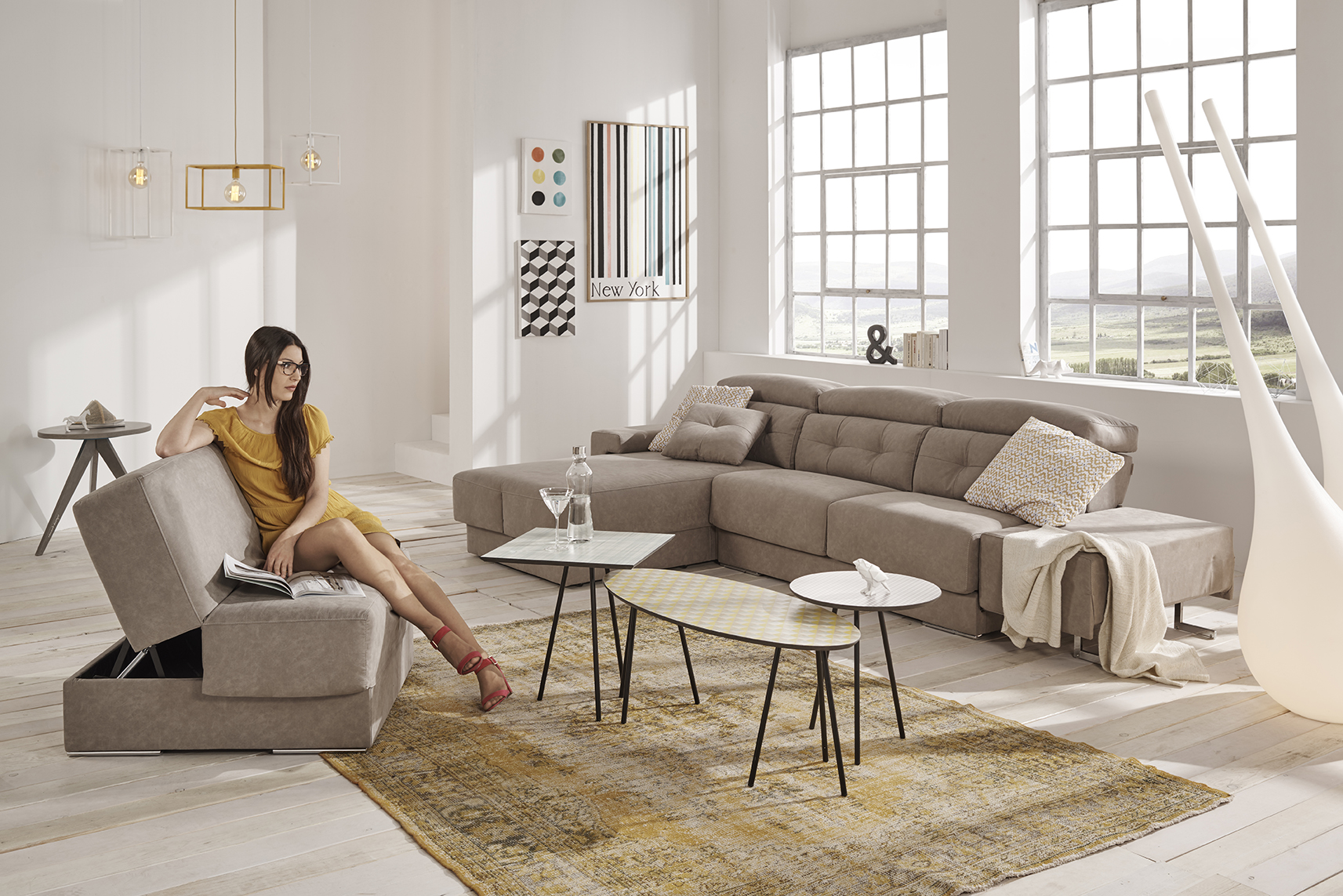 HABITAT sofa, versatility at its best. ACOMODEL
MASSIMO sofa and armchairs. Timelessly stylish, they have beautiful curved lines, deep bucket seats and padded armrests. It's easy to unwind thanks to the extendable footrests and reclining backs and the built in lumbar support.
TOKIO sofa. With a minimalist design, TOKIO offers folding headrests, wide and comfortable seats and narrow arms that make it suit to smaller spaces. It is equipped with the patented Rolen mechanism that allows to change from fixed to relax system. Its wooden legs add a touch of warmth to any space.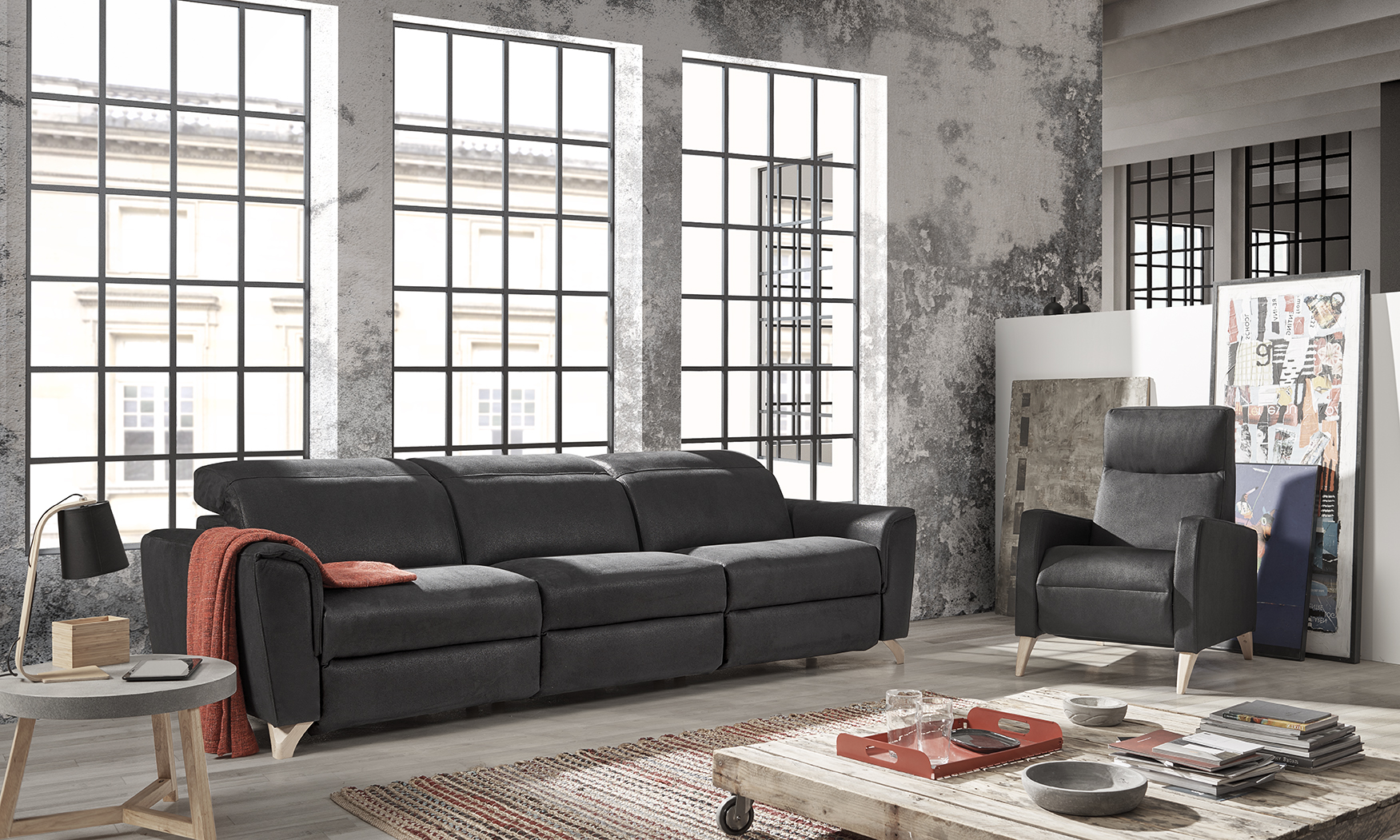 GOA chair. It's a charming rocking chair that consists of a very simple mechanism: two lacquered metal rings that support a comfortable upholstered shell. Play with colours to suit it to your taste or the surrounding space.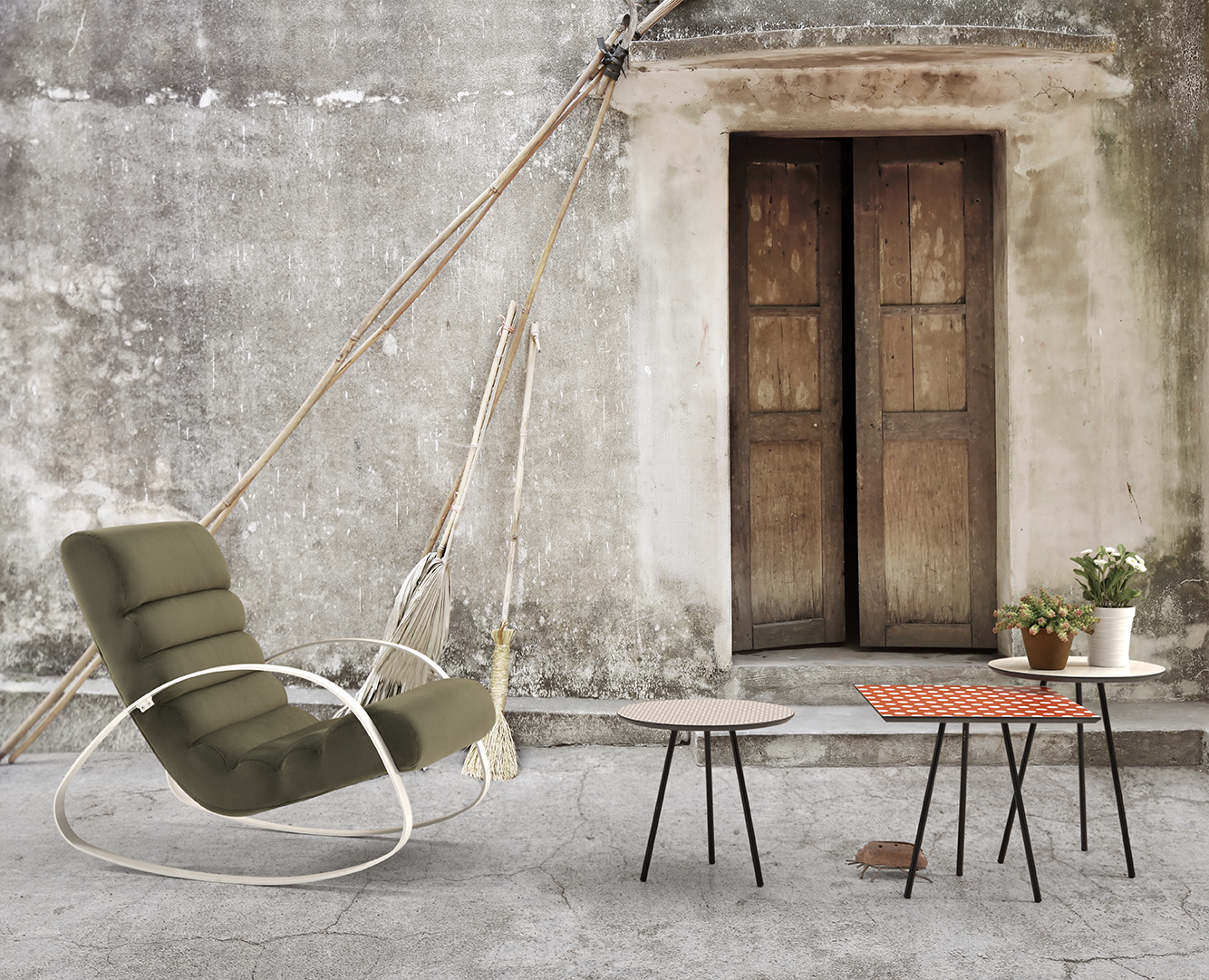 LIVING armchairs. Upholstered in very lively patterned fabrics, LIVING is a set of one-seater and two-seater armchairs that can be used at home, in restaurants and bars. The seat shell is filled with polyurethane foam and is supported by a wooden frame that easily fits any environment.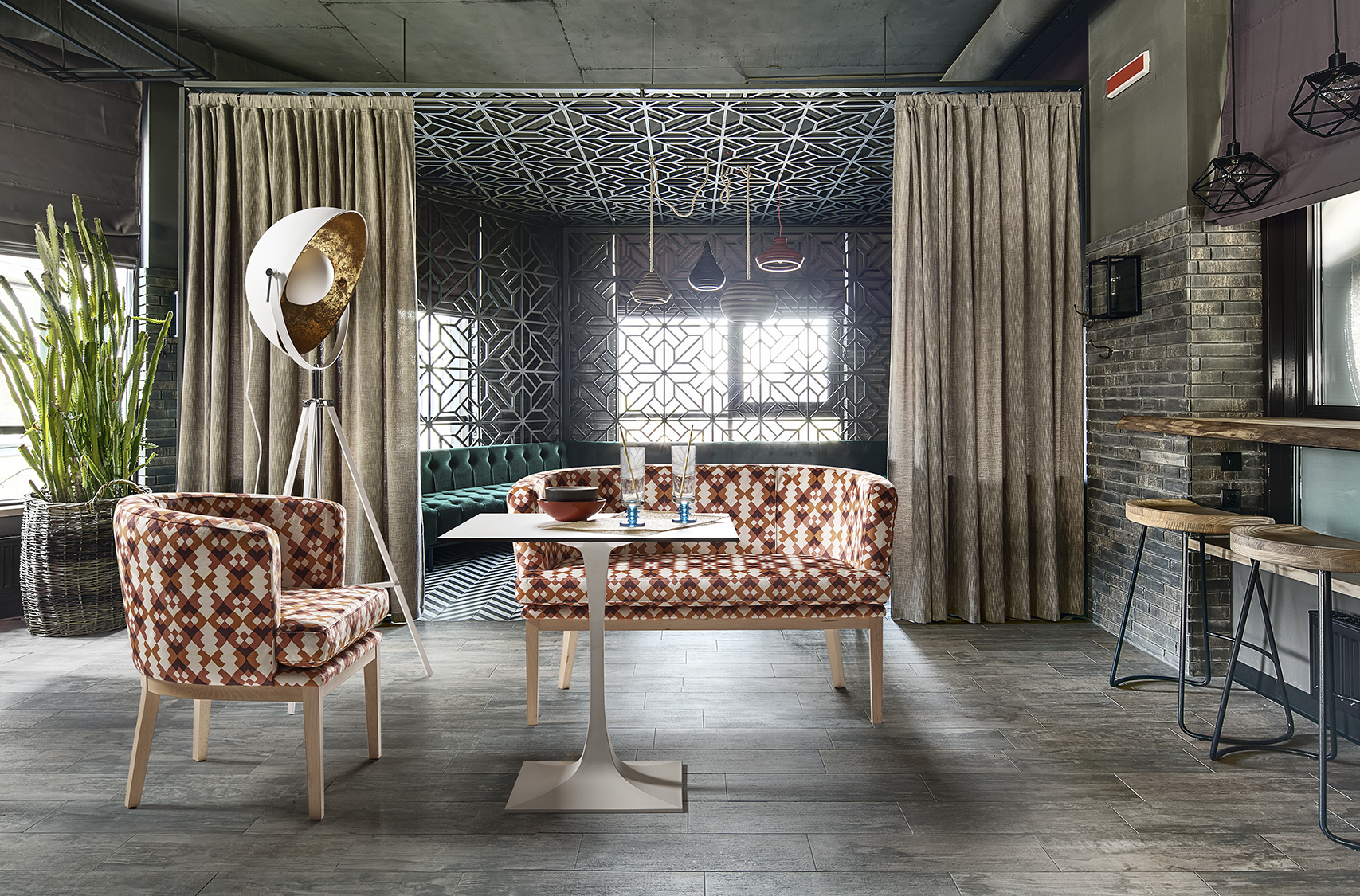 To be unveiled in Milan: BOKÜ sofa. The sofa lies over a rigid wooden tatami that is supported by a metallic cubic structure. The wooden structure is provided with slots that allow the natural oxygenation of seat cushions. Inspired to Japanese culture and ceremonies, BOKÜ is a sofa for sharing moments with family and friends or to relax and, why not, sleep.
The fabric chosen for this model is a straw fabric with natural pigments that recalls the original material of tatamis.
FAMA – Hall 18 Stand B21-C22
Very comfortable sofas that are made for living. With innovative technologies as driving forces of their manufacturing processes, experience and superb craftsmanship at the heart of their production, the Yecla-based firm prides itself on designing excellent quality sofas that achieve the perfect balance between contemporary style and luxurious comfort.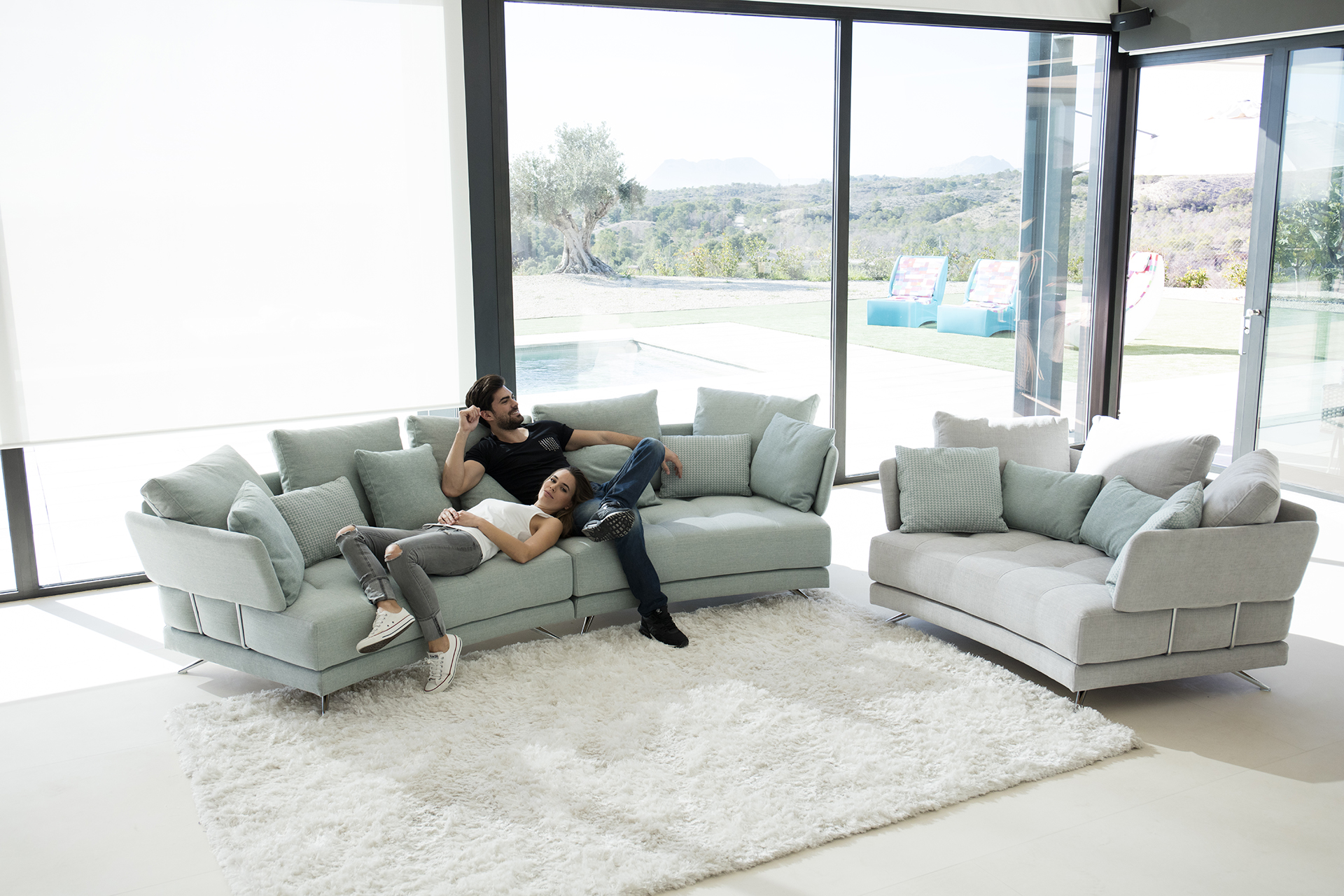 PACIFIC sofa and YOU&Me. Félix López Gil. FAMA
The ASTORIA sofa and You&Me extra-large armchair. Inspired by the mid-century designs, ASTORIA is a seating programme that features a refined timeless aesthetic made of soft lines and charming decorative elements, such as the deep-buttoned backrest and the classic-inspired legs, a reminiscence of those of the 17th century.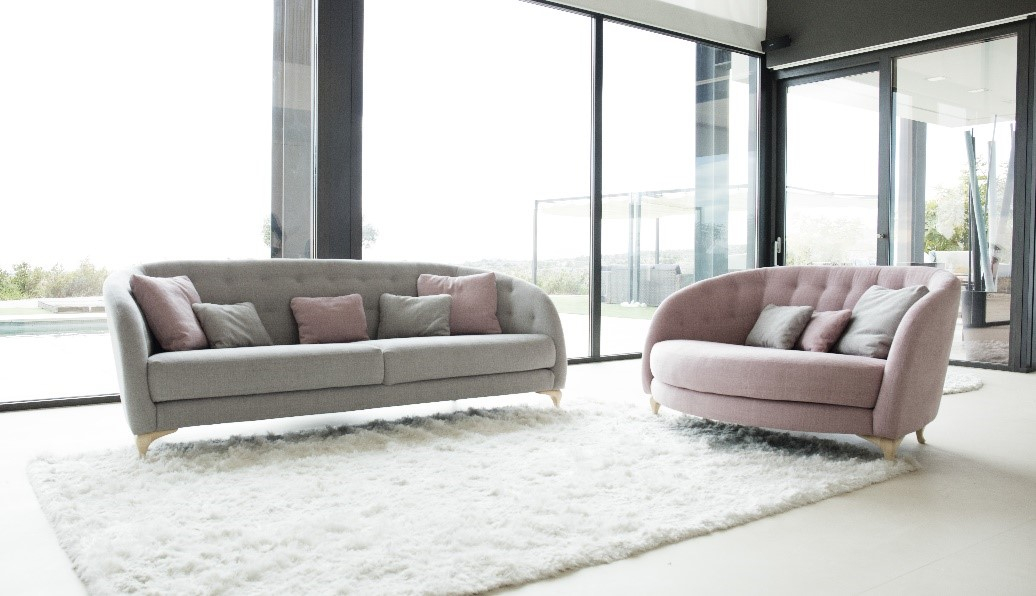 It also relaunches the former corner sofa with armrests on both sides and is complemented by three different models of armchairs.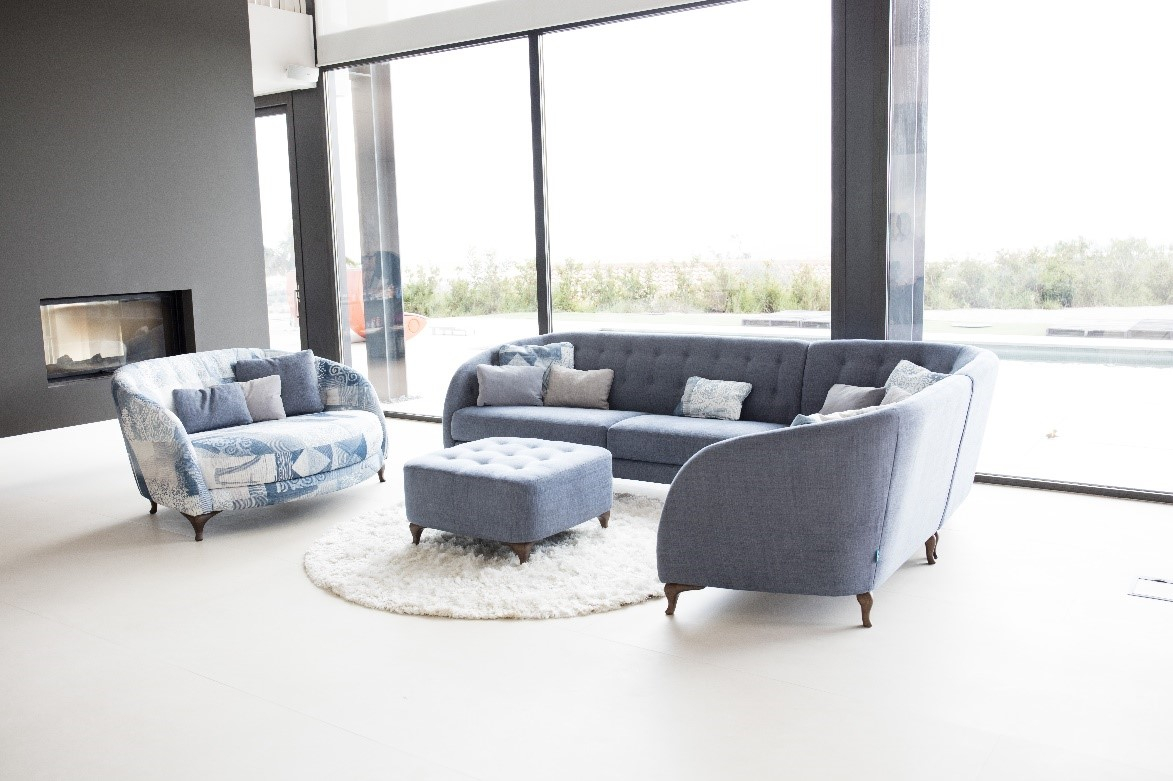 As a novelty, the sofas and You&Me are also offered upholstered with new vintage leather by Mariano Farrugia with spectacular colours. Metal legs are also available for a more vibrant look.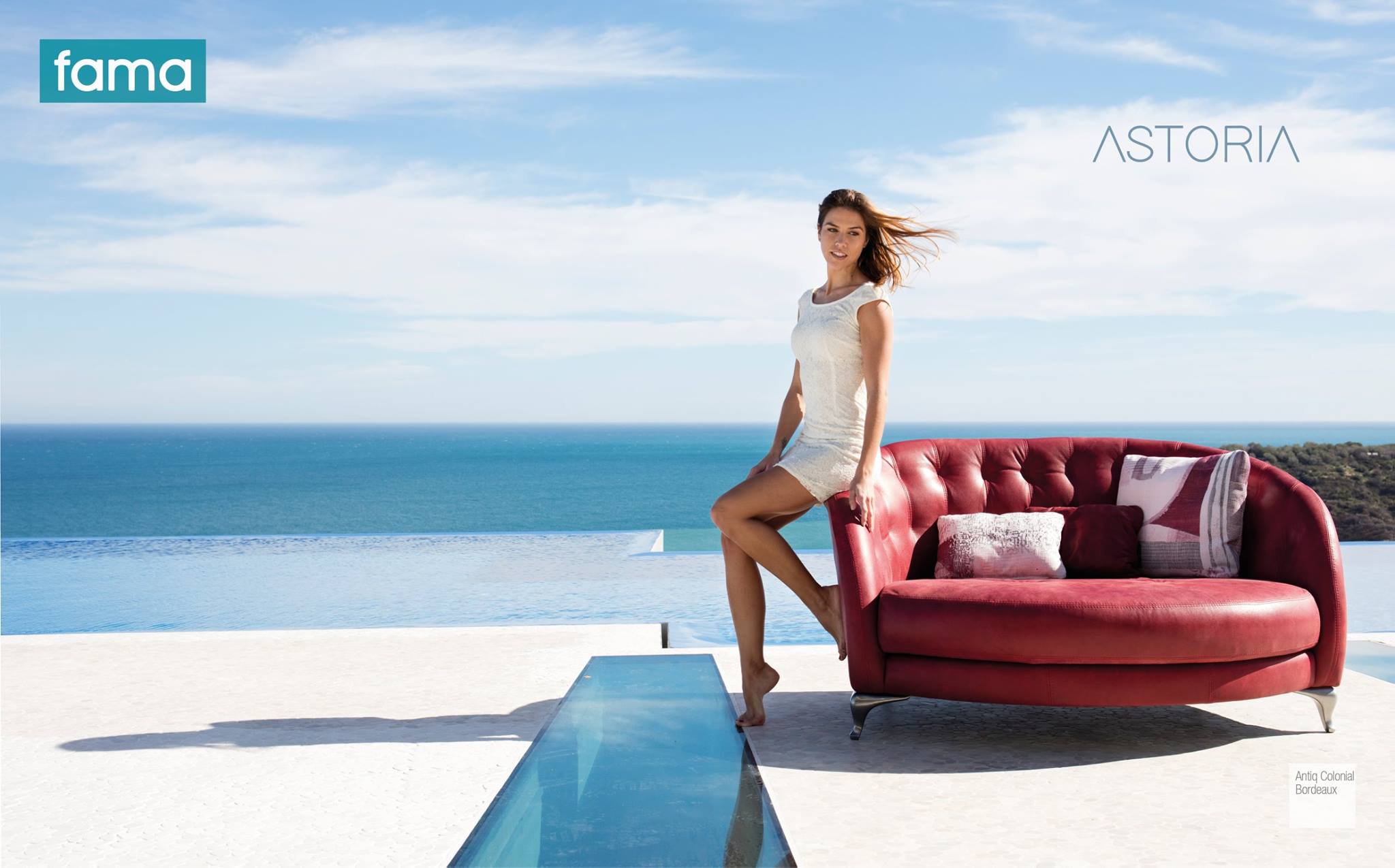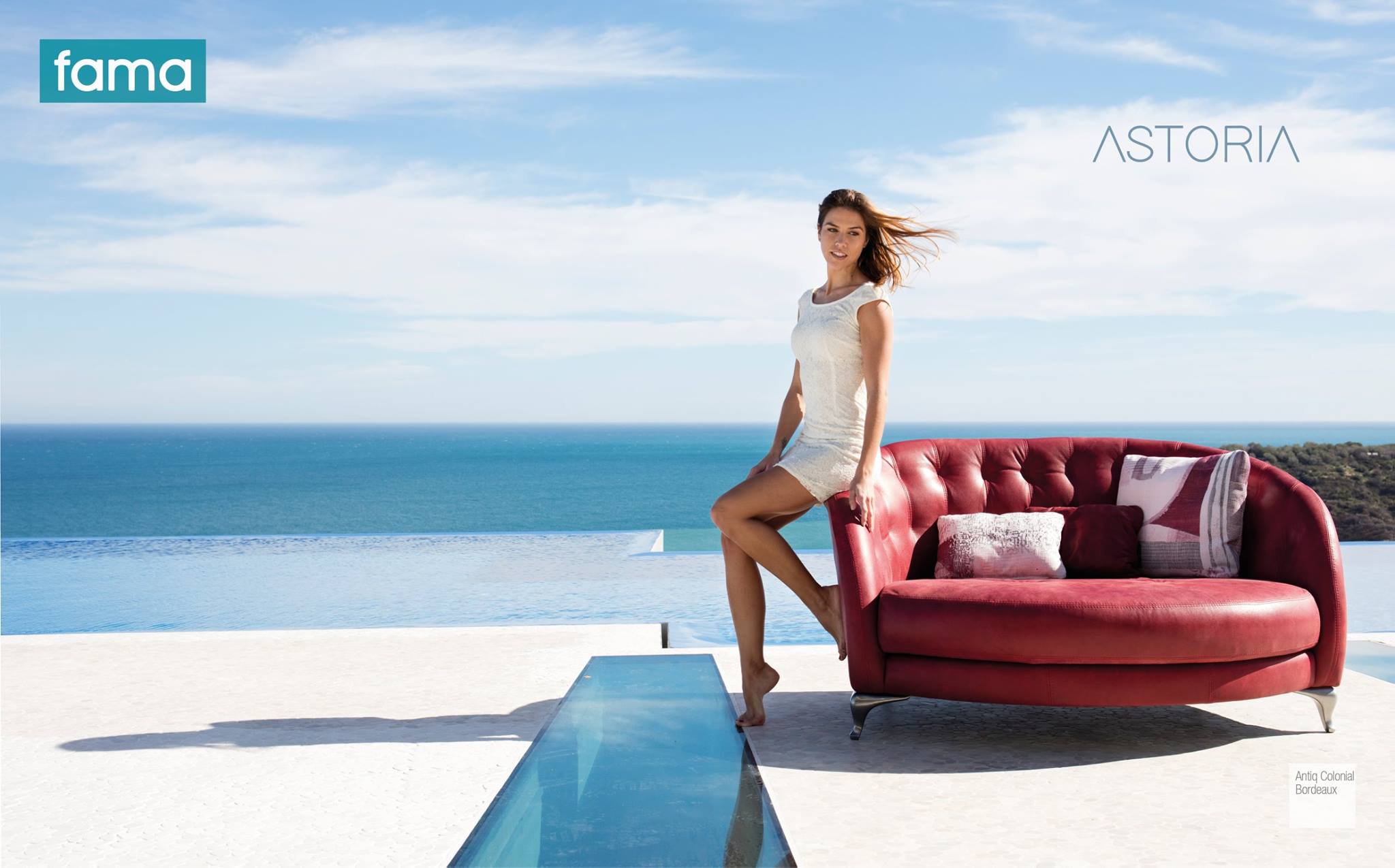 PACIFIC sofa. Generous in proportions and depth, PACIFIC is a very special modular programme that has a strong, overwhelming personality and is therefore aimed at grabbing the attention for its smart solutions and refinement.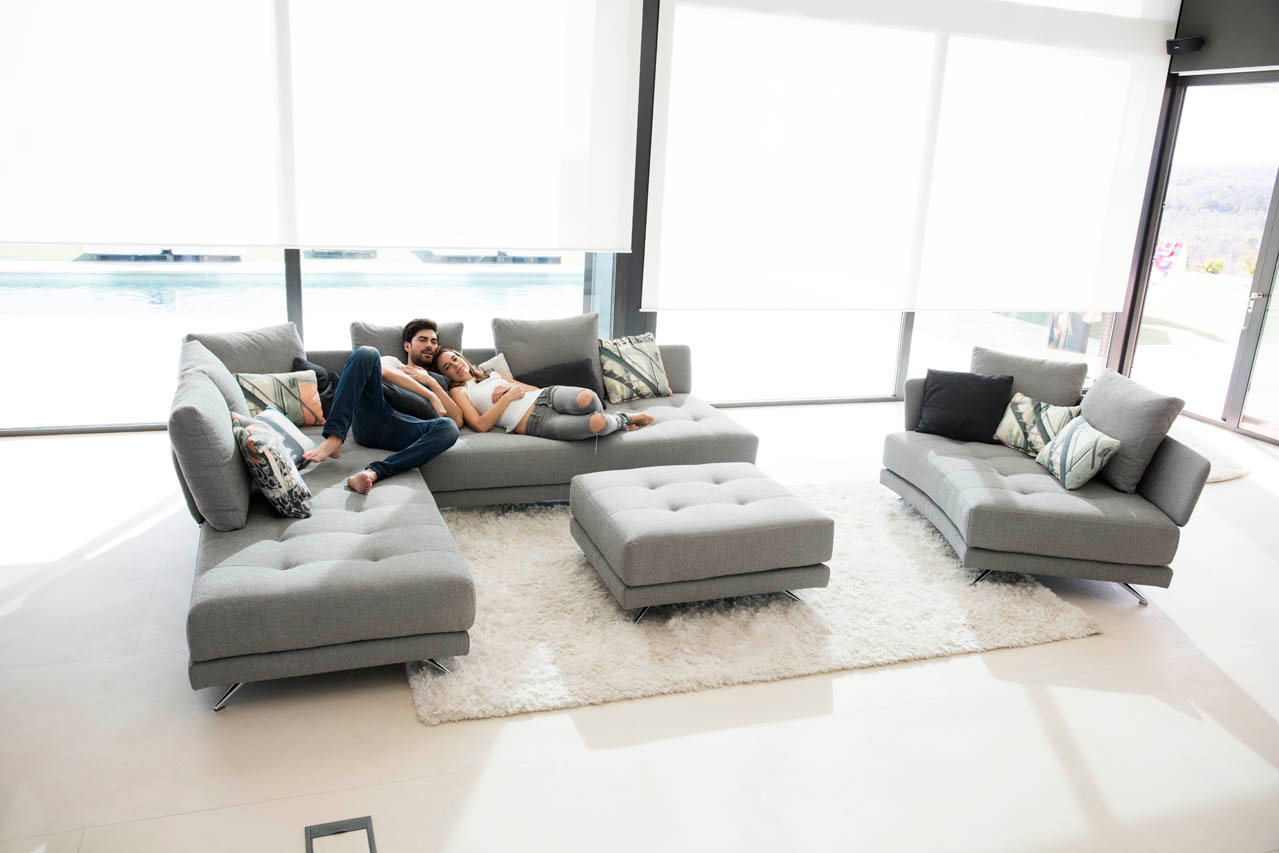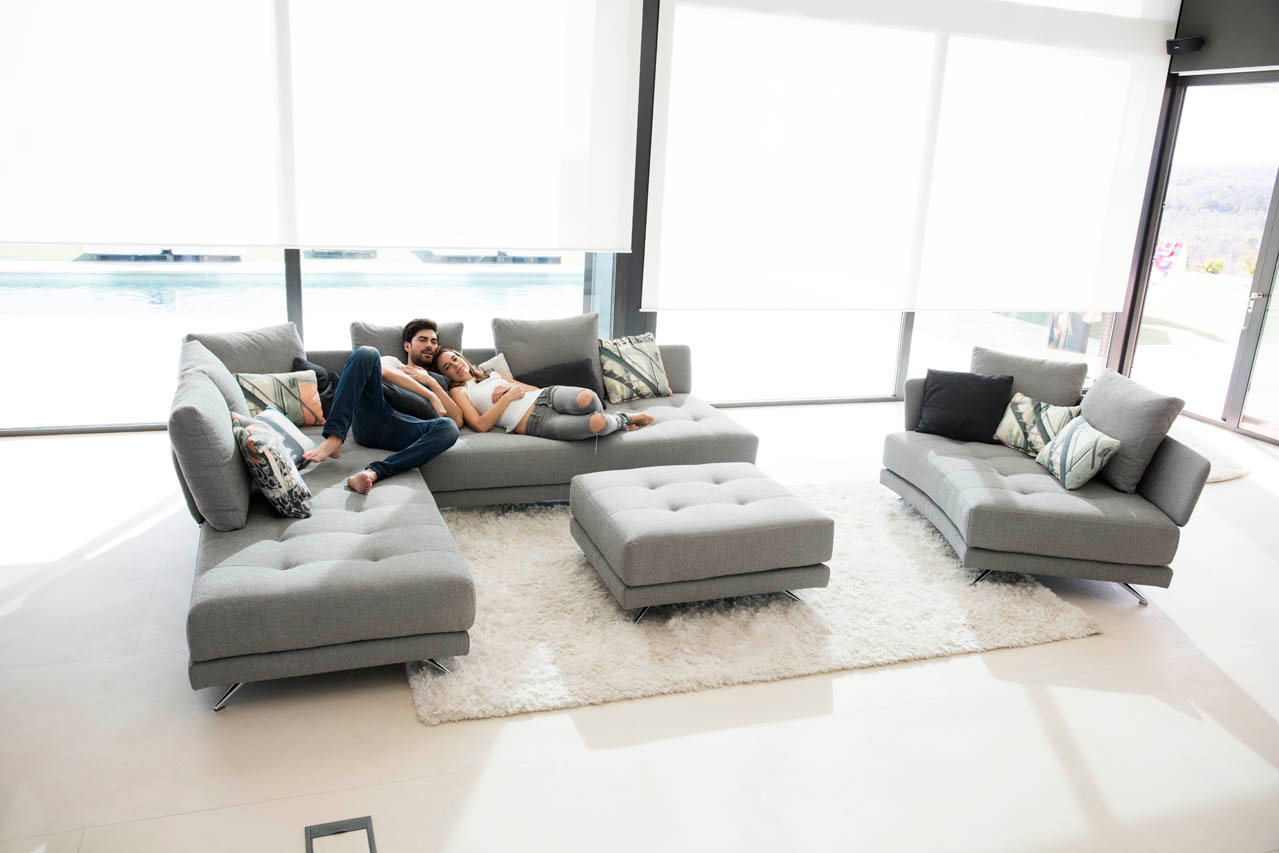 Thanks to the six platforms of different dimensions and an ingenious fixing system it is possible to create different designs and add or remove backrests according to the need of the moment. This way, a footstool platform can be converted into a module or a sofa in less than a minute, without screws or tools. You can turn two independent conventional sofas into a modern chaise longue opened on both sides.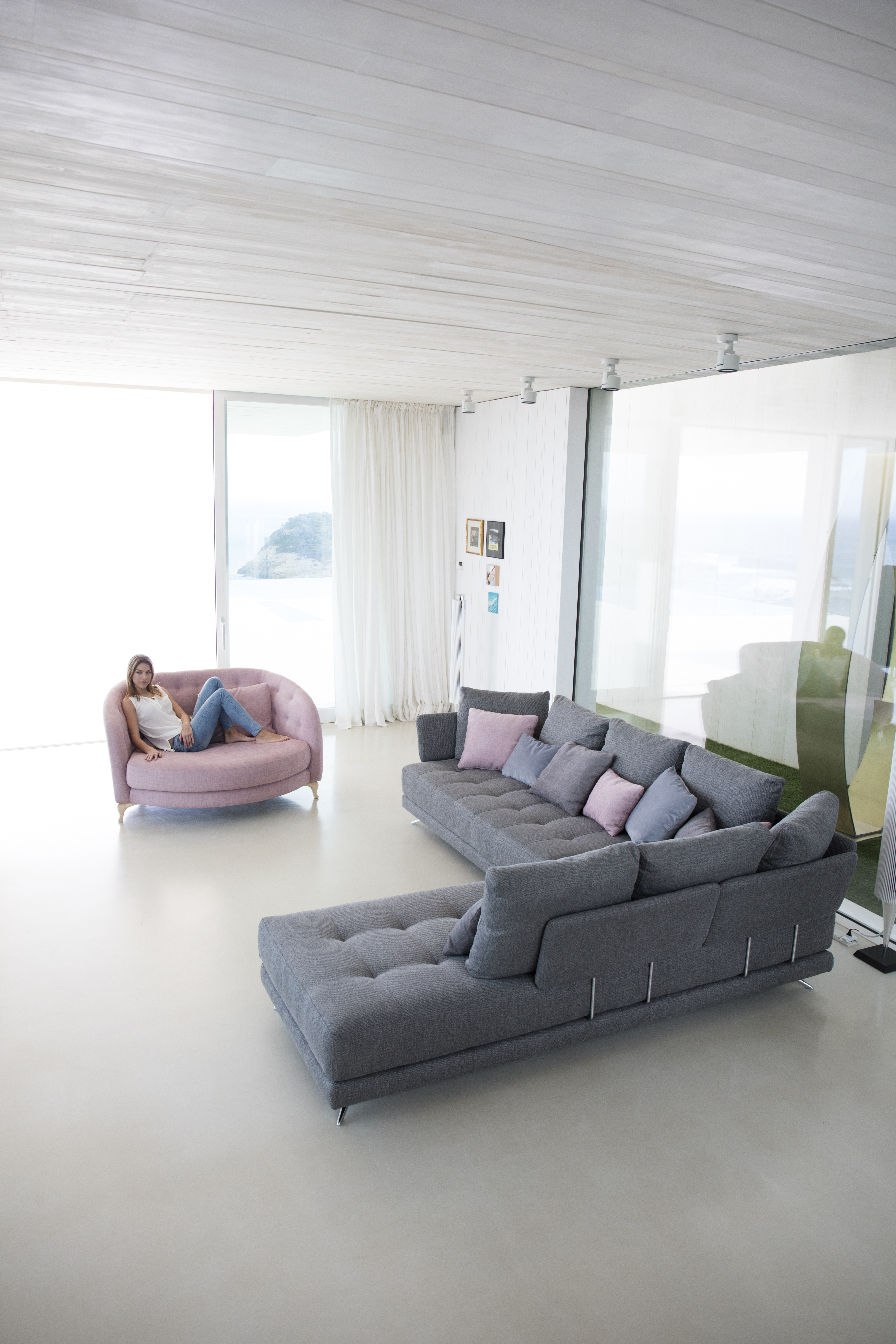 Curved elements allow to create the most comfortable You&Me, an attractive chaise longue or an elegant curved sofa, very original and cosy.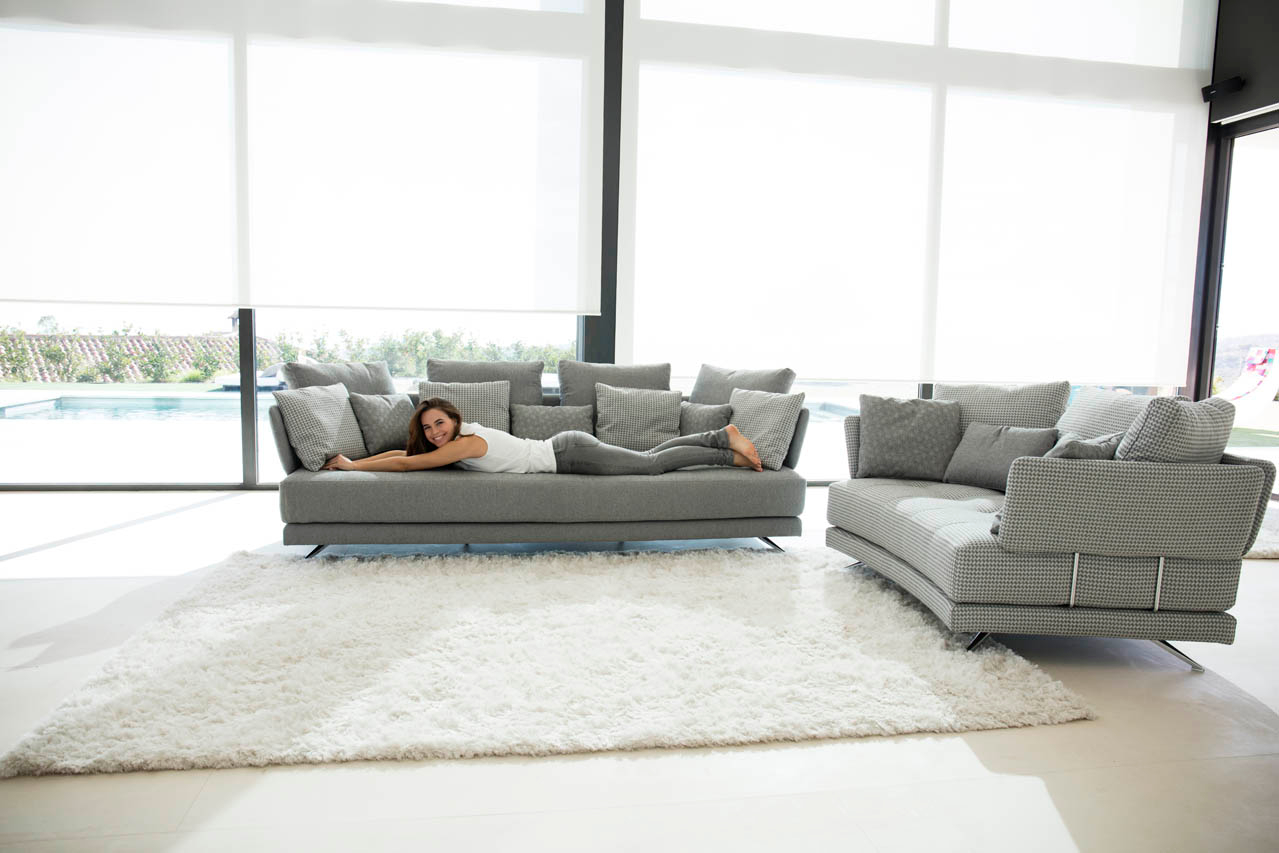 Following the amazingly rapid success and a great worldwide appreciation, the firm has decided to extend the collection with the addition of a curved three-seater sofa and a round-shaped pouf-armchair that will be included in the YOU&ME family.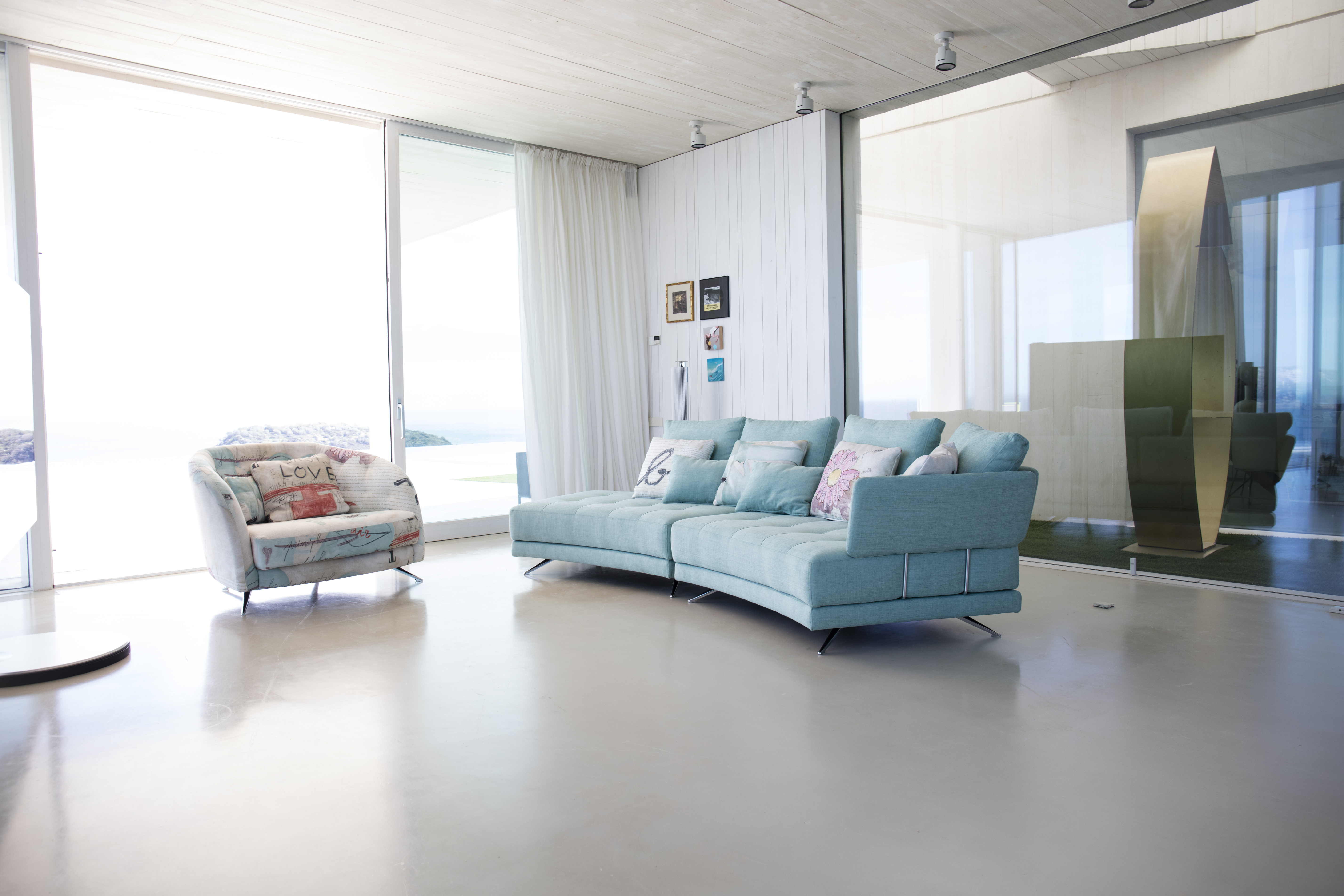 BARI sofa & armchair. Despite its reduced dimensions and small depth, the BARI sofa and armchair provides unbeatable comfort and style. Featuring a contemporary design and restrained shapes, it has been specifically designed for small apartments and for those people who think that extra-large sofas are not that comfortable. The flexible backrest enhances the comfort and usability of this model.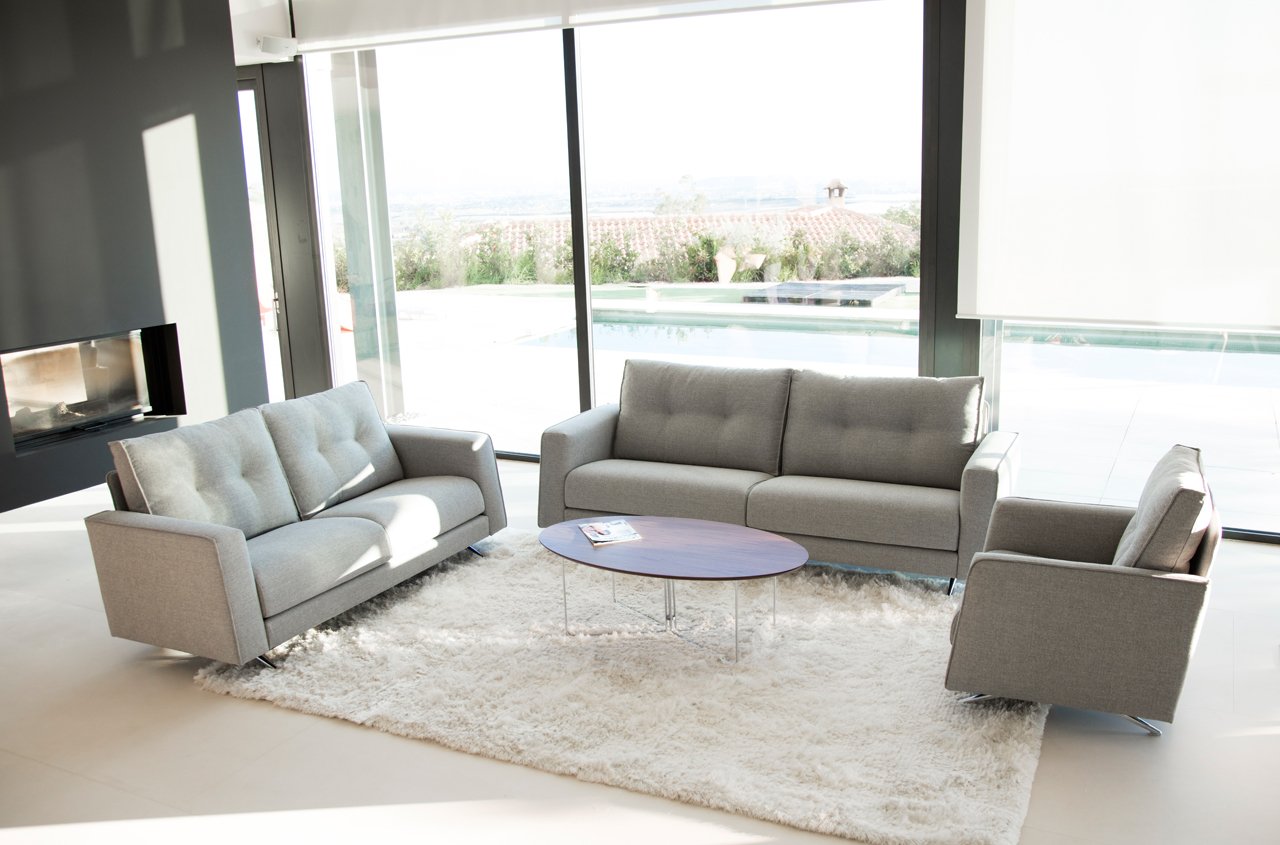 Virtual reality and a new APP that allows to adjust the height of modules are also on show and will wow you. Don't miss your date with style, comfort and innovation!
GAMAMOBEL – Hall 18 Stand C20
High quality & fine tailoring. You can take this family-owned business as an example of innovation, quality and passion for the fine tailoring. The result is an ergonomic seating combined with attractive, endless designs, the perfect balance to match everyone's lifestyle.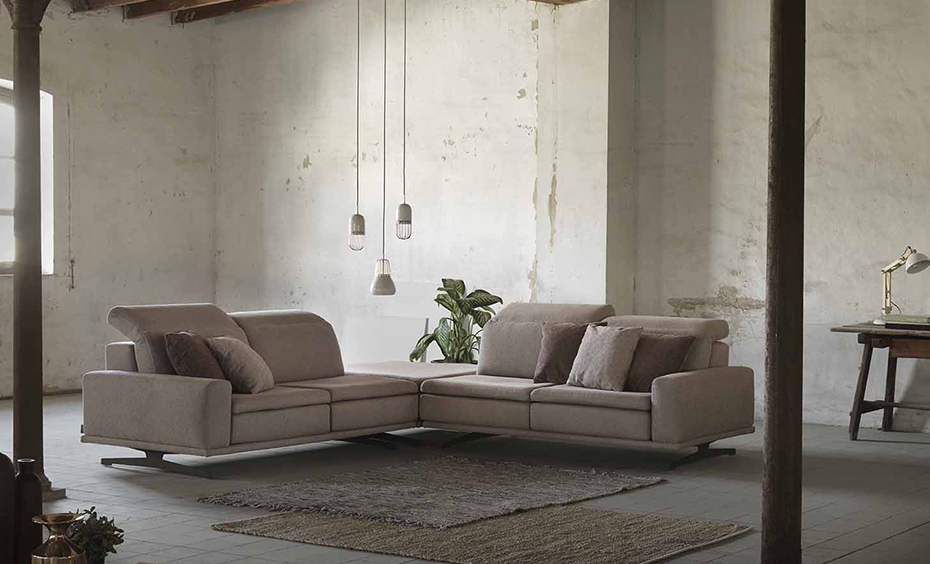 SIENA modular sofa. GAMAMOBEL
AMALFI sofa. Visual balance and a clean lined design are the main features of the AMALFI sofa, whose structure restd over thin metal legs, finished chrome or moka. It has been manufactured with a special combination of foams and Legerfil Fiber that ensures great comfort as well as perfect recovery and total resistance. The AMALFI programme offers many modular possibilities and plenty of fabrics and leather for a very personal look.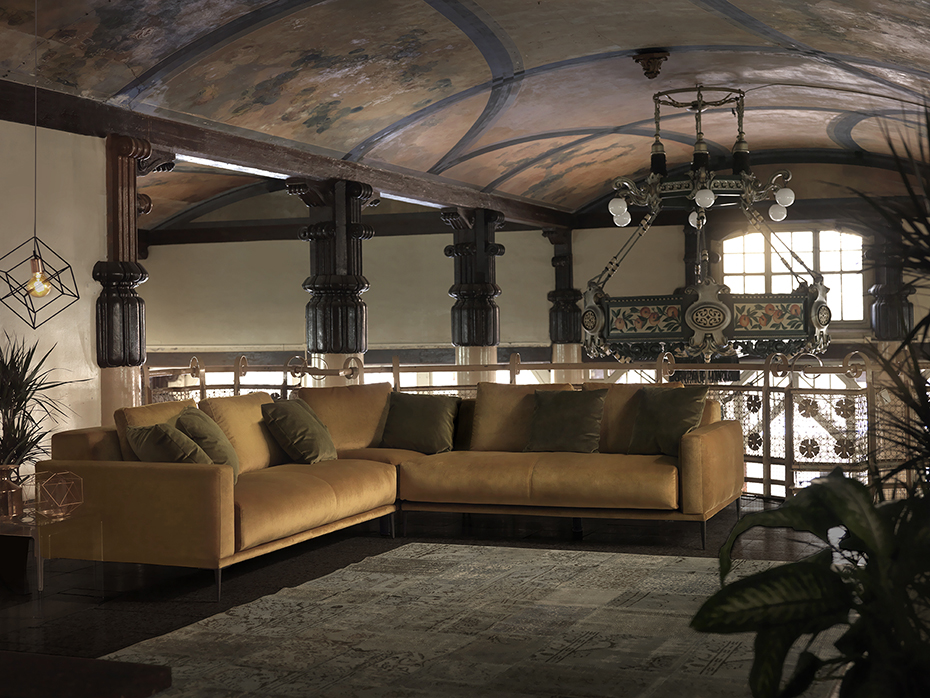 MURANO sofa. MURANO is an innovative model that combines the comfort of a relax sofa with a contemporary and trendy design. Maximum comfort in ensured by the electronic motion control mechanism and by the multi-position headrests with anti-fold effect.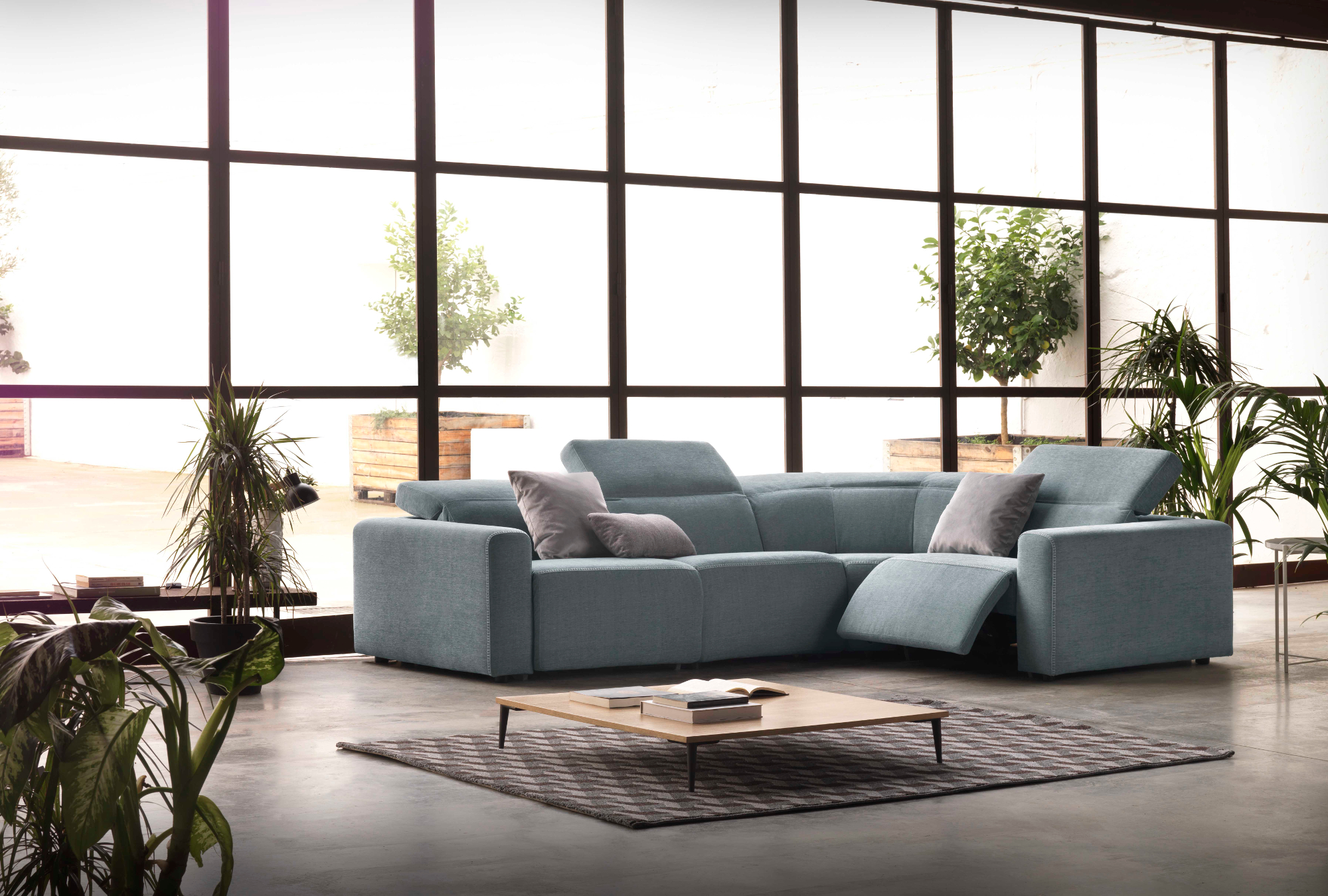 For its design the firm has paid a lot of attention to details, such as the contrasting thread stitching that is available in a choice of colours.
The variety of sizes and modules offers great versatility while the wide range of fabrics and leathers makes it possible to adapt MURANO to different environments.
PEDRO ORTIZ SOFAS – Hall 14 Stand C41
It's time to be cool! This is the main motto of this Yecla-based company called PEDRO ORTIZ. Designed and manufactured in Spain, this firm, specialized in upholstery furniture, offers a wide number of different collections and pieces: sofas, armchairs, corner sofas, footstools, poufs and accessories. All these items are made with the finest quality fabrics and leathers, superb contemporary designs and the internationally well-known Spanish flair.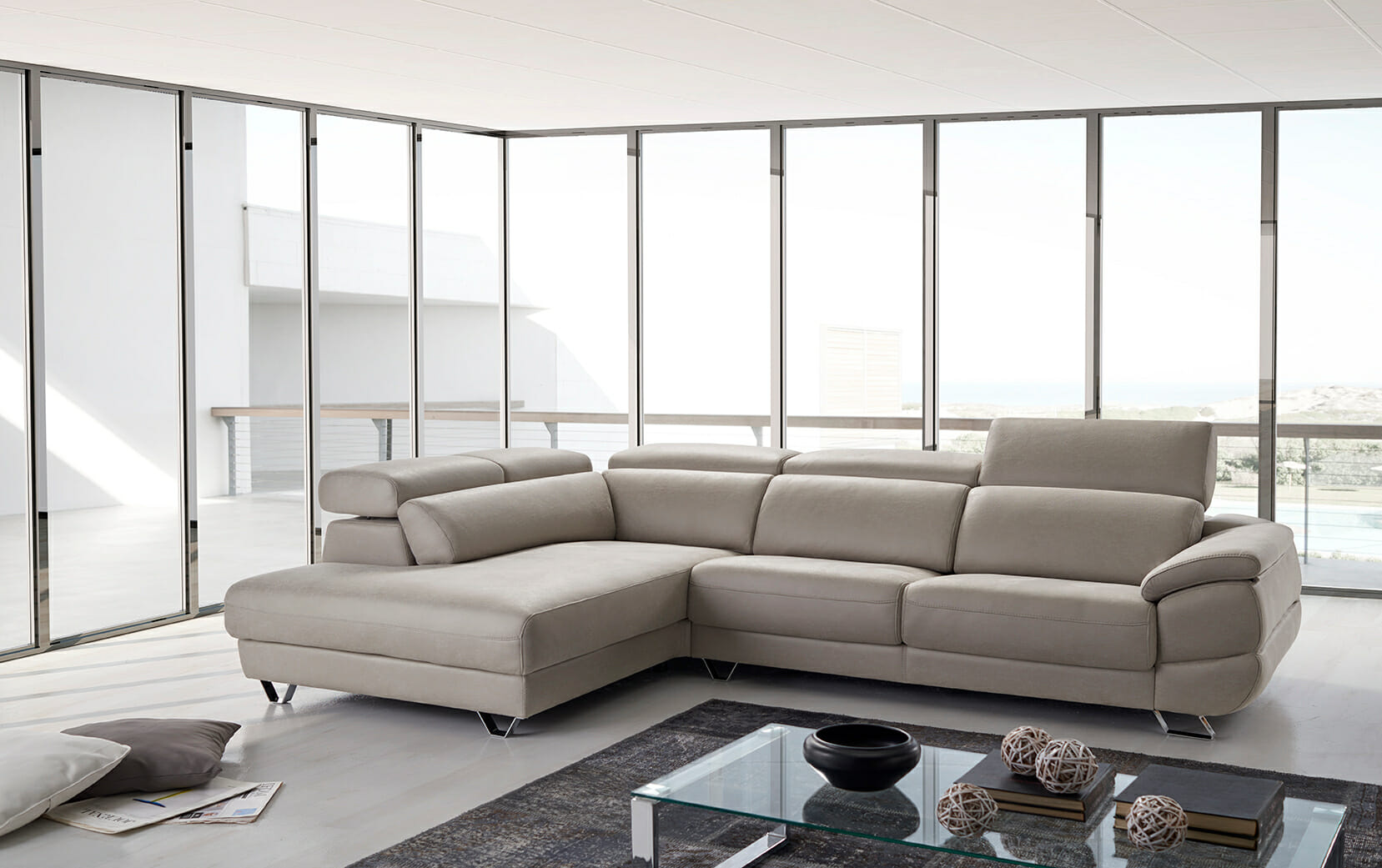 DALMATA sofa with chaise longue. PEDRO ORTIZ sofas
LAUREN sofa. The modular LAUREN sofa offers a lot of versatility to adapt to different uses and tastes: 3 different armrest sizes, chaise longue module with built-in storage unit, and the sliding seats and headrests. It is made of 100% eco-materials, such as leather, rubber foams of soy and pine wood. Available also upholstered in fabric.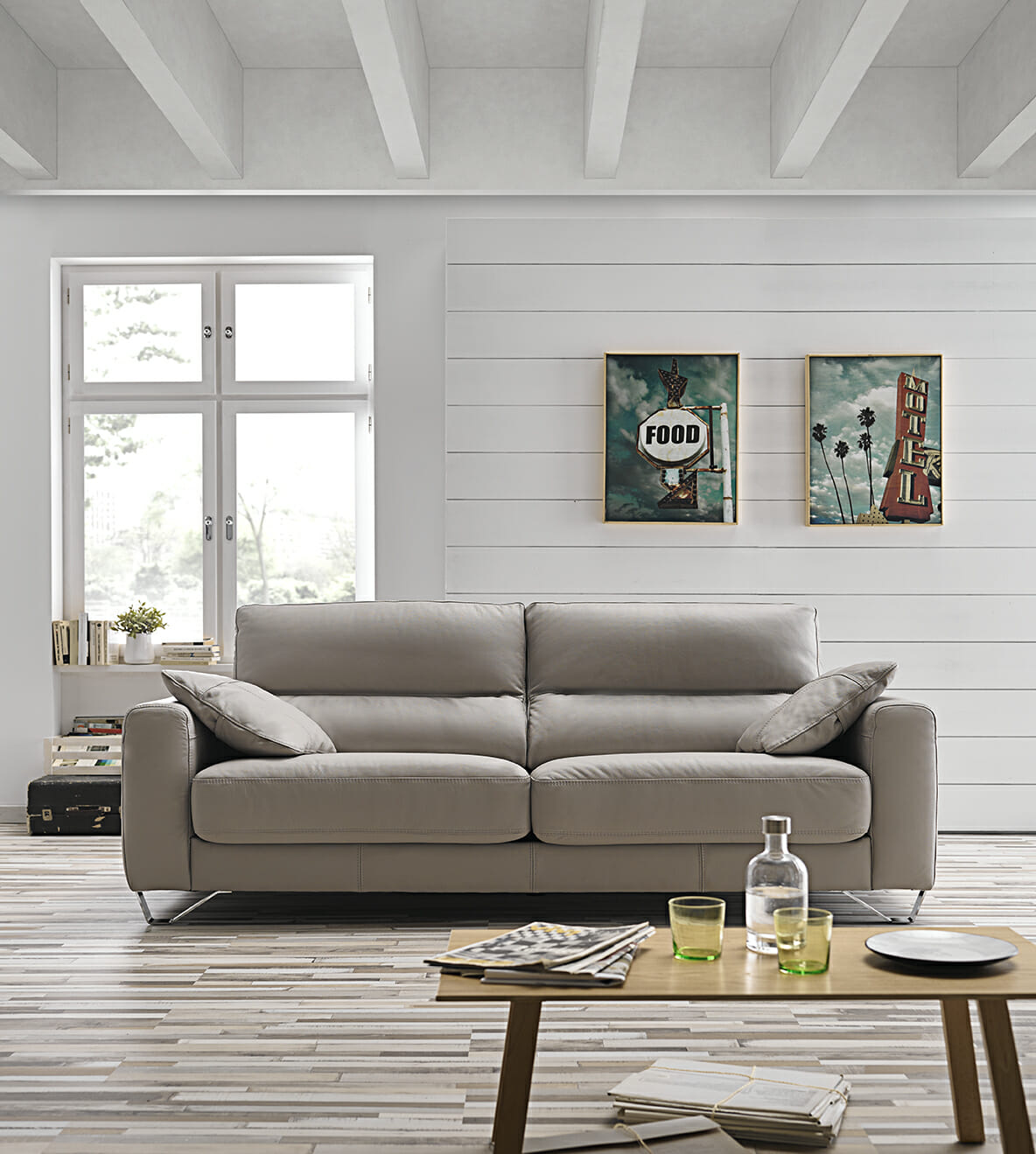 New products include also the DOROTHY, LUTHIEN, AMBAR, CINTHIA and DALMATA modular sofas which allow clients to design their most convenient configurations depending on the available space. Most of the models come with storage modules for extra functionality.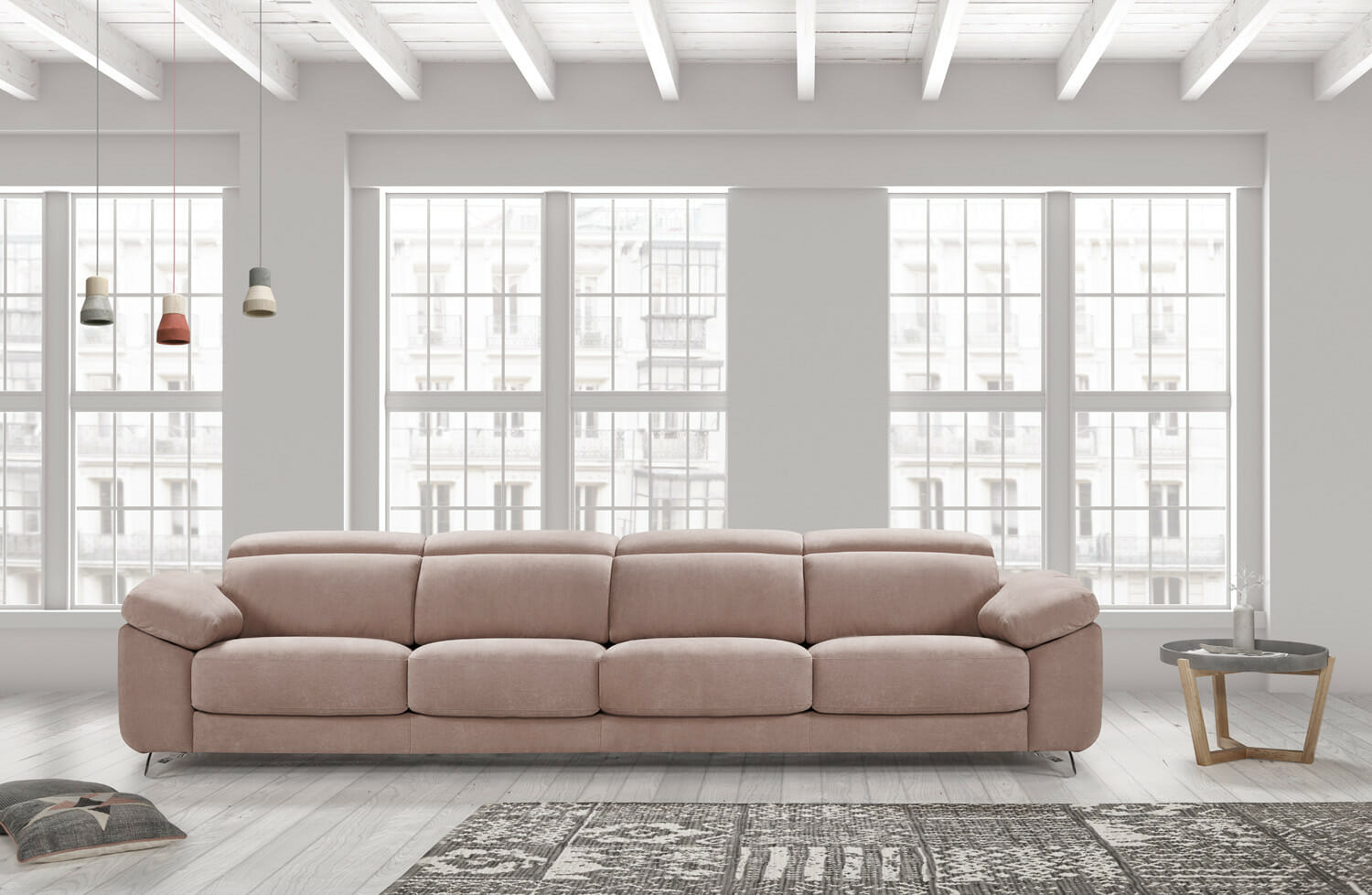 Plenty of fashionable fabrics and leathers are also at the client's disposal for a definitive customization.
SUINTA – Hall 14 Stand E33
Truly a sofa, truly a bed. With its 8,000 sqm facilities located in Yecla, Murcia (Spain), SUINTA is a leading company in the Spanish upholstered market with a reputation for producing high quality sofa-beds for home and contract use. SUINTA sofa-beds are so charming and beautifully designed that it's hard to believe they conceal a useful guest bed for the night. Moreover, they are elegantly complemented by a line of attractive armchairs and recliners.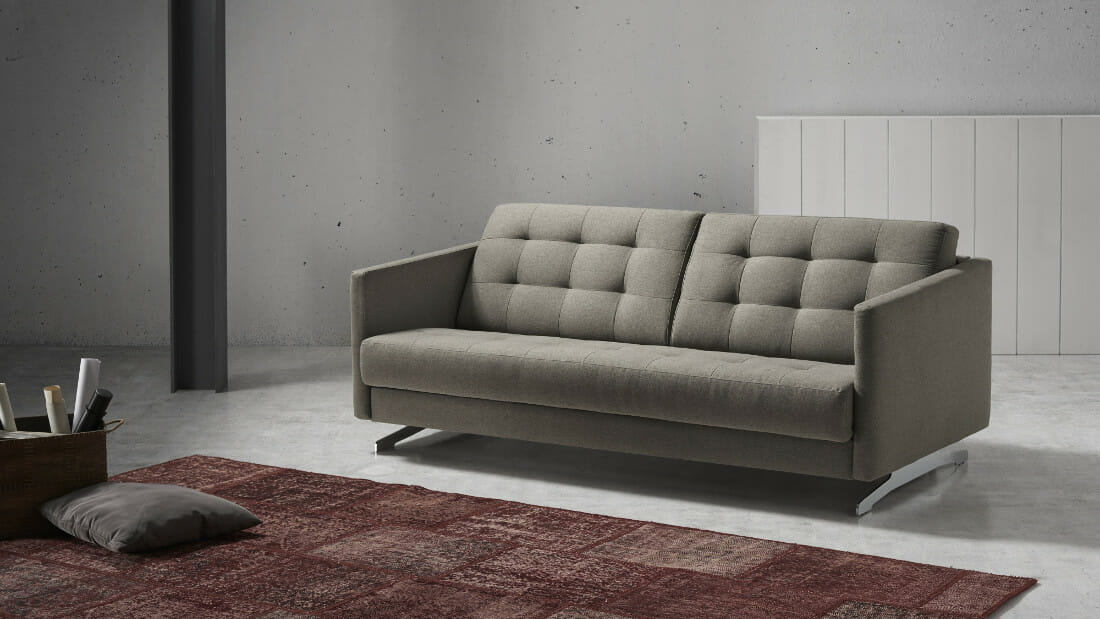 NESSO sofa bed. SUINTA
Most of the models feature a simple Italian mechanism so that you can transform your sofa into a quality bed with ease. To meet different space limitations and ensure the best performances to clients, the sofas are offered in different dimensions and come upholstered in stain resistant and easy dry-cleaning fabrics.
DALMATA sofa-bed. The diamond-shaped upholstery gives to DALMATA a subtle charm that is enhanced by the high track arms that offer great support when leaning. The frame is kept ultra-slim, which not only makes it feel modern, but it also helps to maximize space.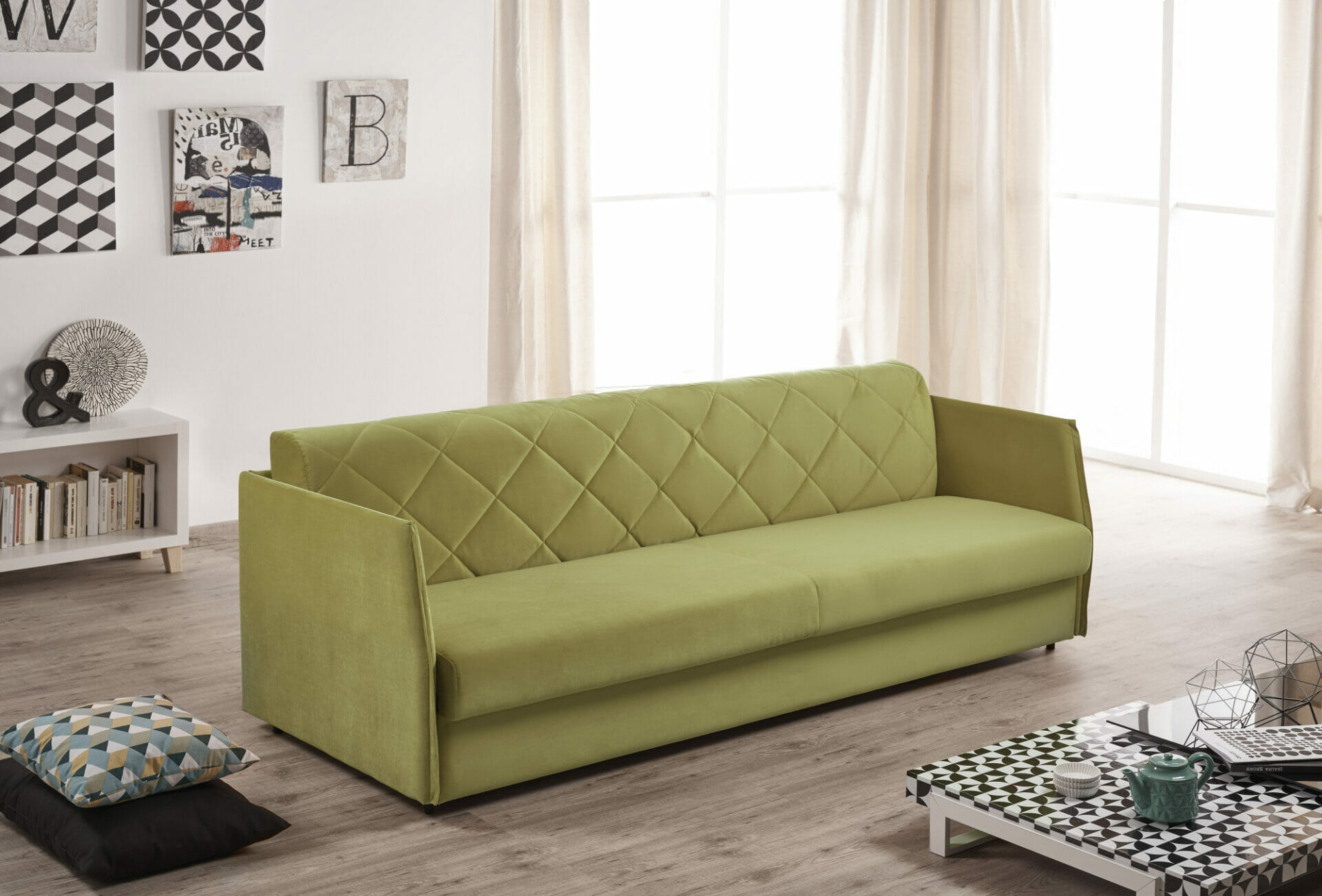 DALMATA is provided with a pull-out system that turns the sofa into a comfortable 1.40 m bed with transverse opening.
BLAS sofa-bed. All the comfort you may need without compromising on style. BLAS is stylish and features a higher back for neck support and additional comfort. The 13cm high feet, which are available in wood or metal, add visual lightness and make it appear as a simple sofa.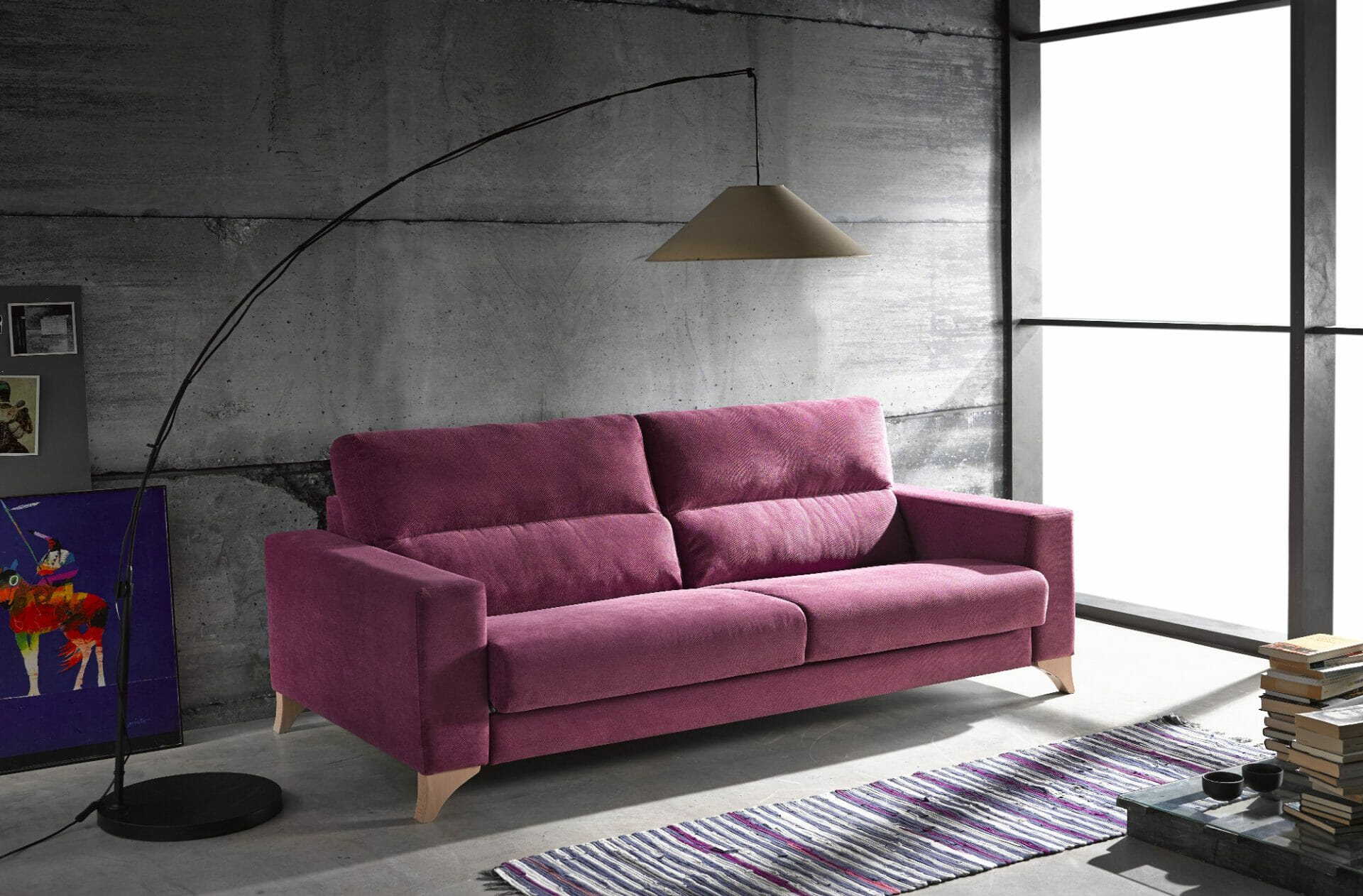 DORIAN sofa-bed. Just a simple movement and the beautiful DORIAN sofa turns into a practical yet refined bed. The structure has been carefully studied to make the most of it: the high backrest features a diamond-shaped seam that enhances the beauty of the piece and makes it possible its double use as a headboard.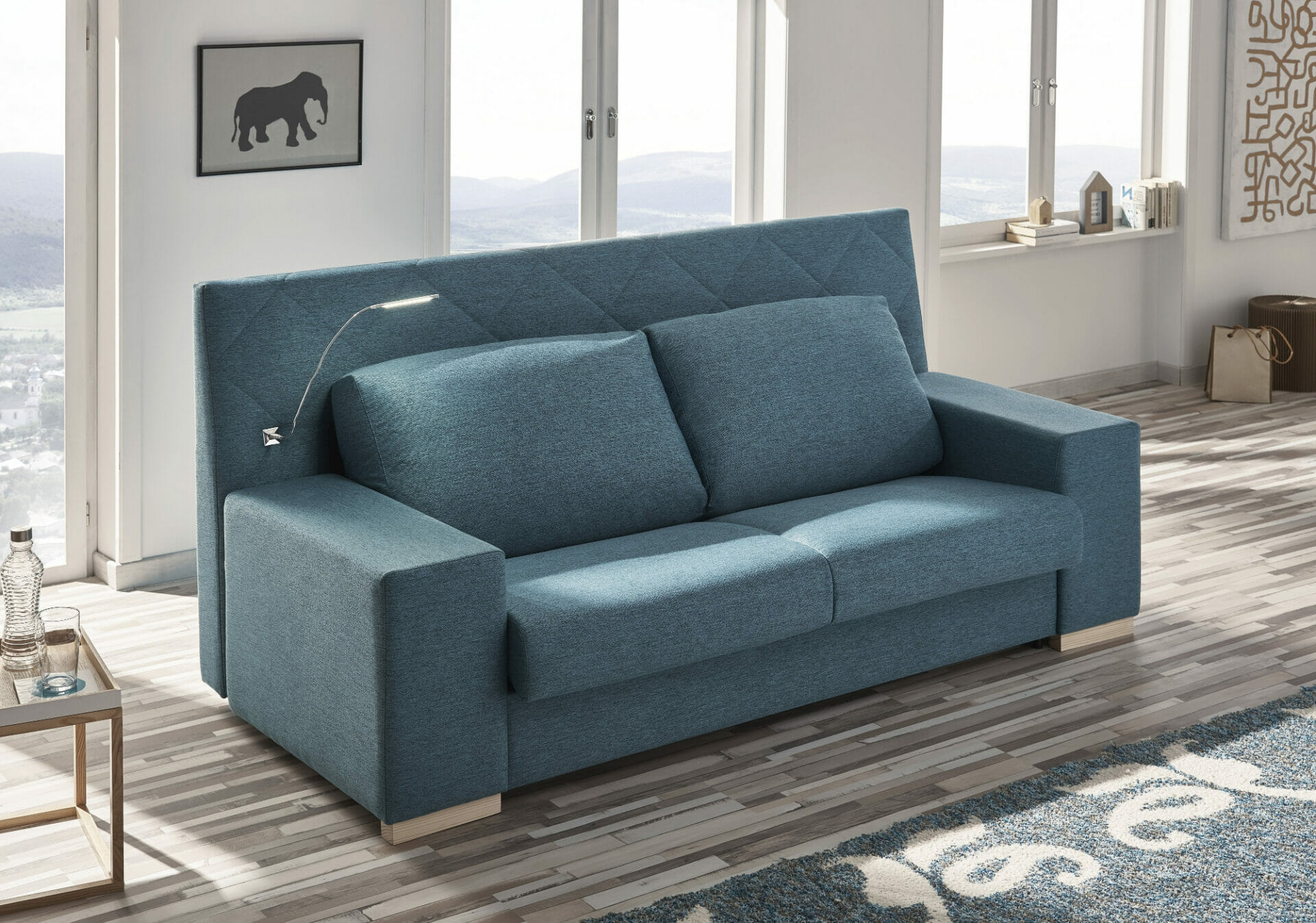 Both sides are provided with USB port for lamps and devices. The generous arms are equipped with trays and can serve as bedside tables.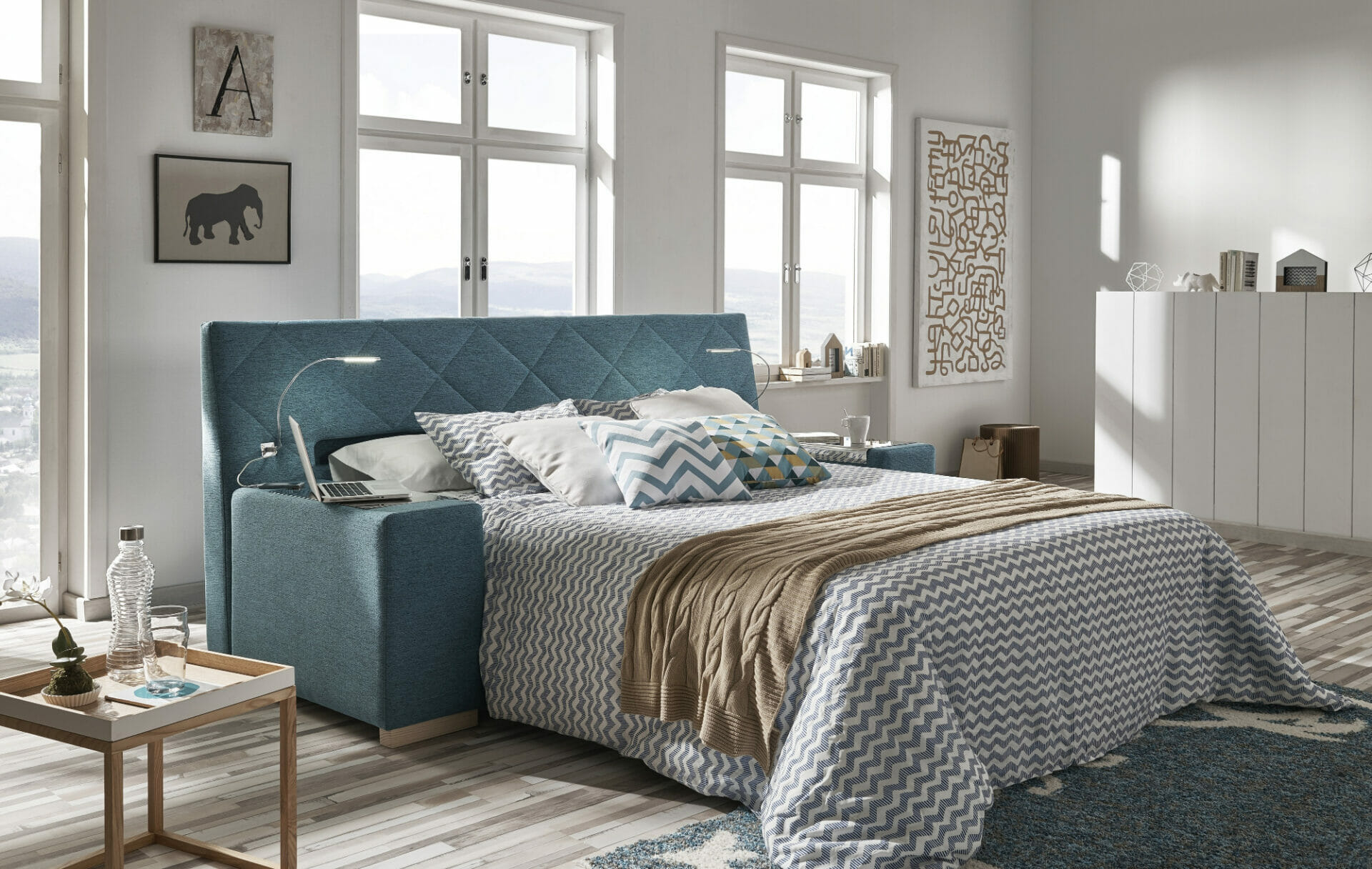 They also design and manufacture an attractive line of 2-and 3 seater sofas, armchairs, poufs and occasional furniture (benches, footstool and easy chairs) that elegantly complements the sofa-beds adding functionality and charm to lounge spaces.