Il Salone del Mobile. Milano 2017 Design: The contemporary home
March 22 / 2017
Rich in products, styles and materials, the Spanish contemporary offer is focused on modern lifestyles providing solutions that allow to adapt furniture to the personality and needs of users. Bedroom, dining and living room furniture collections feature an amazing blend of beautiful designs, industrial innovation and versatility, three ingredients that contribute to create more tailored, enjoyable spaces.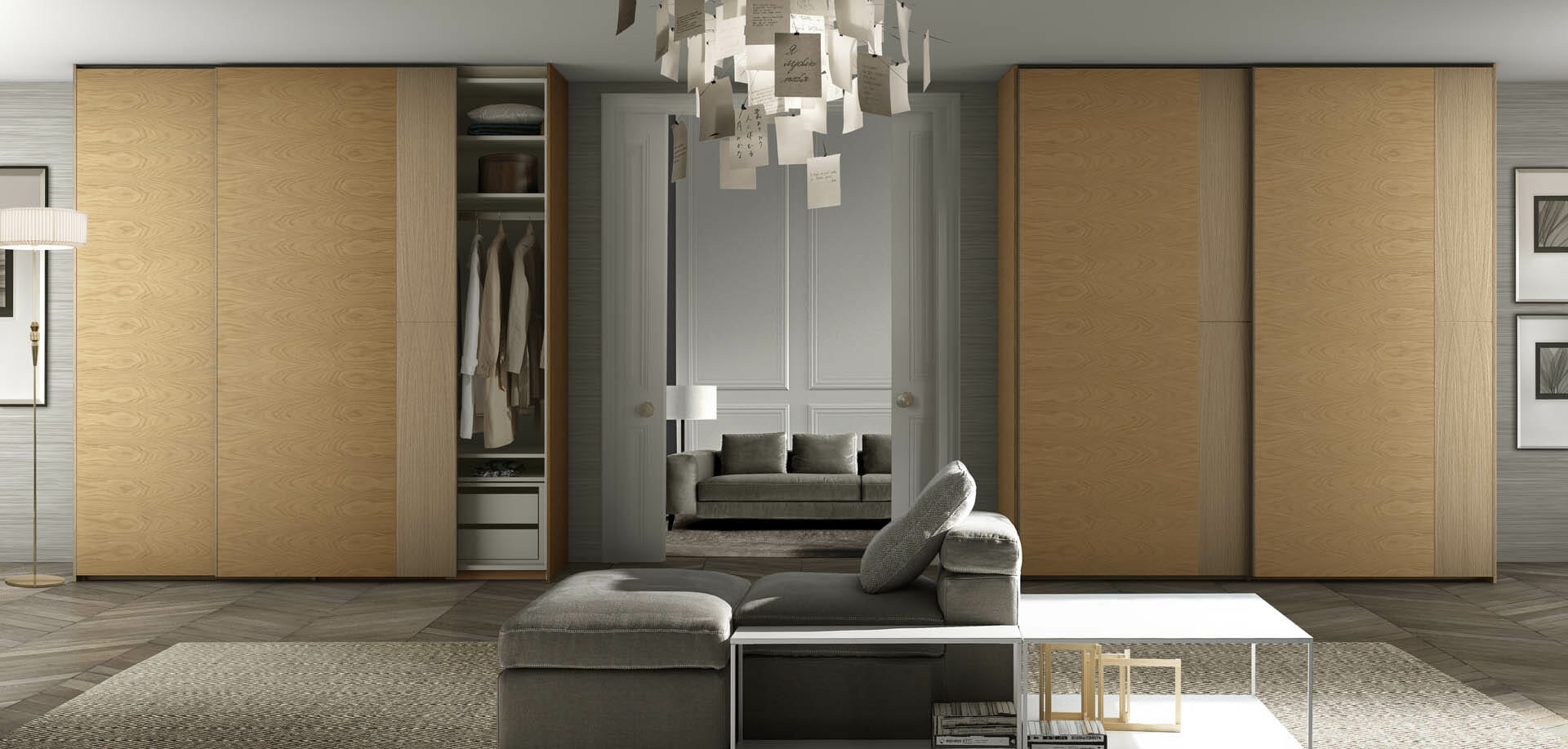 Warm, calming colours, gorgeous finishes, soft shapes, modularity and a choice of different materials and textures are widely present in all the collections to ensure comfort, functionality and great personalization. Bold colours and innovative finishes play also an important role to add visual impact to the decorating schemes.
GARCIA SABATE – Hall 8 Stand D33
Contemporaneity at its best. Founded in 1946, the company GARCIA SABATE keeps growing in the home furniture sector. With a factory of 19,000 sq meters placed in La Senia (Spain), this firm manufactures a wide range of dining rooms, bedrooms and wardrobes that reflects modern trends. A combination of design, quality, technology and handcrafted skills which still impresses us after all these years.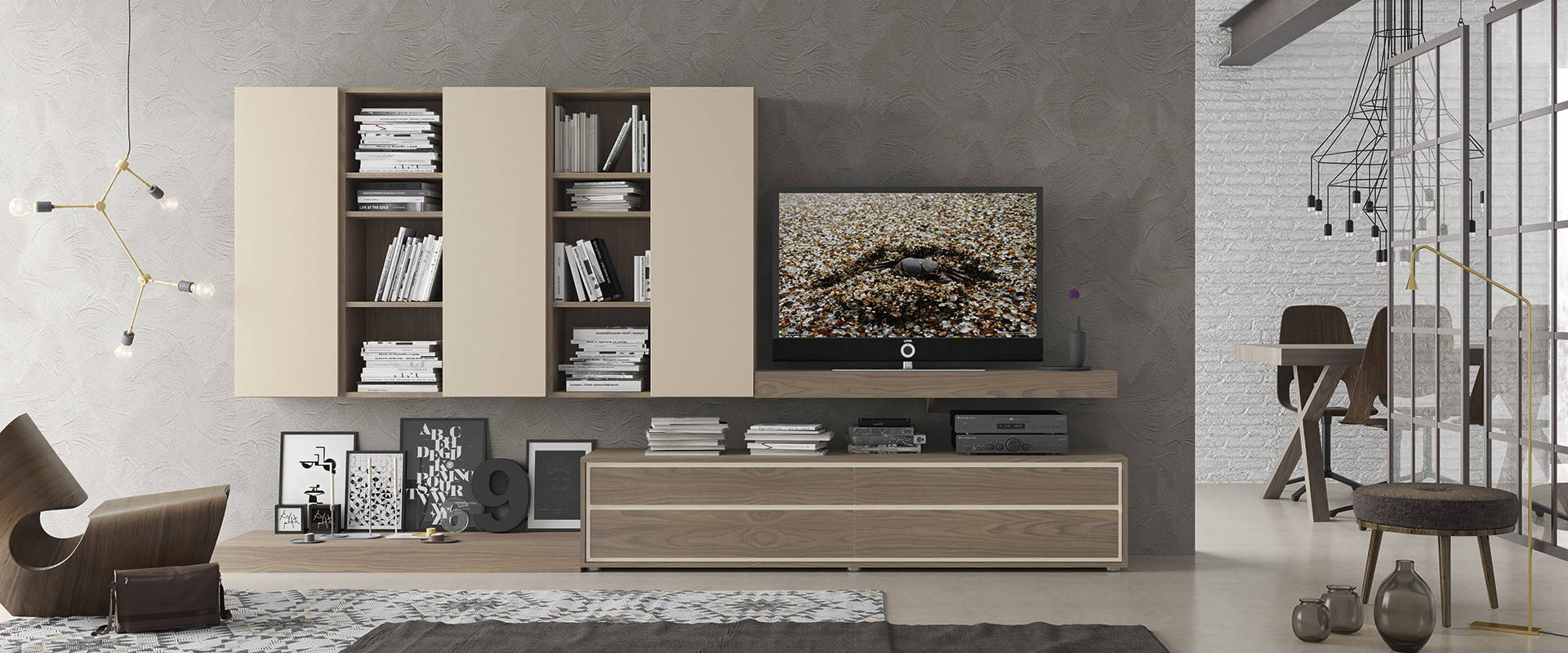 LAUREL & HARDY modular programme for living & dining rooms. GARCIA SABATE
LIFE bedroom collection. The LIFE bedroom catalogue has been extended with new models that stand out for their geometric volumes and dynamic lines. Furniture is finished in natural veneers (montana oak, fumé oak and a choice of beautiful American walnut veneers) that can also be combined with lacquers in different colours.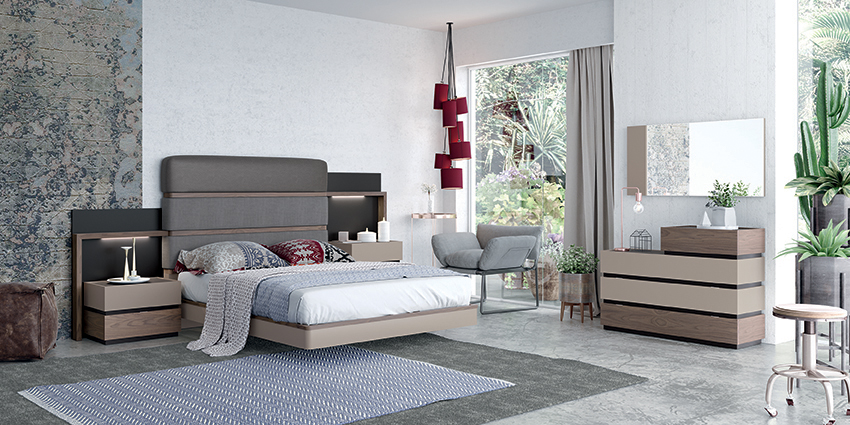 LIFE bedroom collection. LEO headboard. GARCIA SABATE
To give a personal, distinctive touch, headboards are supplied wooden or upholstered with impressive textures and mouldings. Many models come with handy shelves for things like books, alarm clocks or family photos. Led lighting and storage options area also available.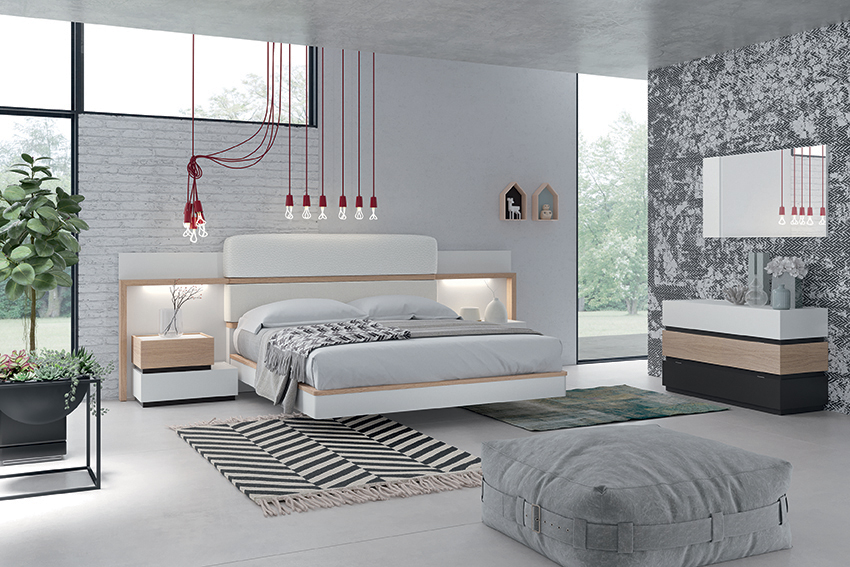 LIFE bedroom collection. LEO headboard. GARCIA SABATE
Bedrooms are completed by an extensive modular programme that includes wardrobes with sliding or hinged doors and a choice of attractive accessories.
LAUREL & HARDY modular programme for living & dining rooms. It includes a wide choice of wall units, bookcases and low sideboards that give a contemporary, stylish flair to spaces. New sideboards and extendable tables with cross legs complete the choice for dining sets.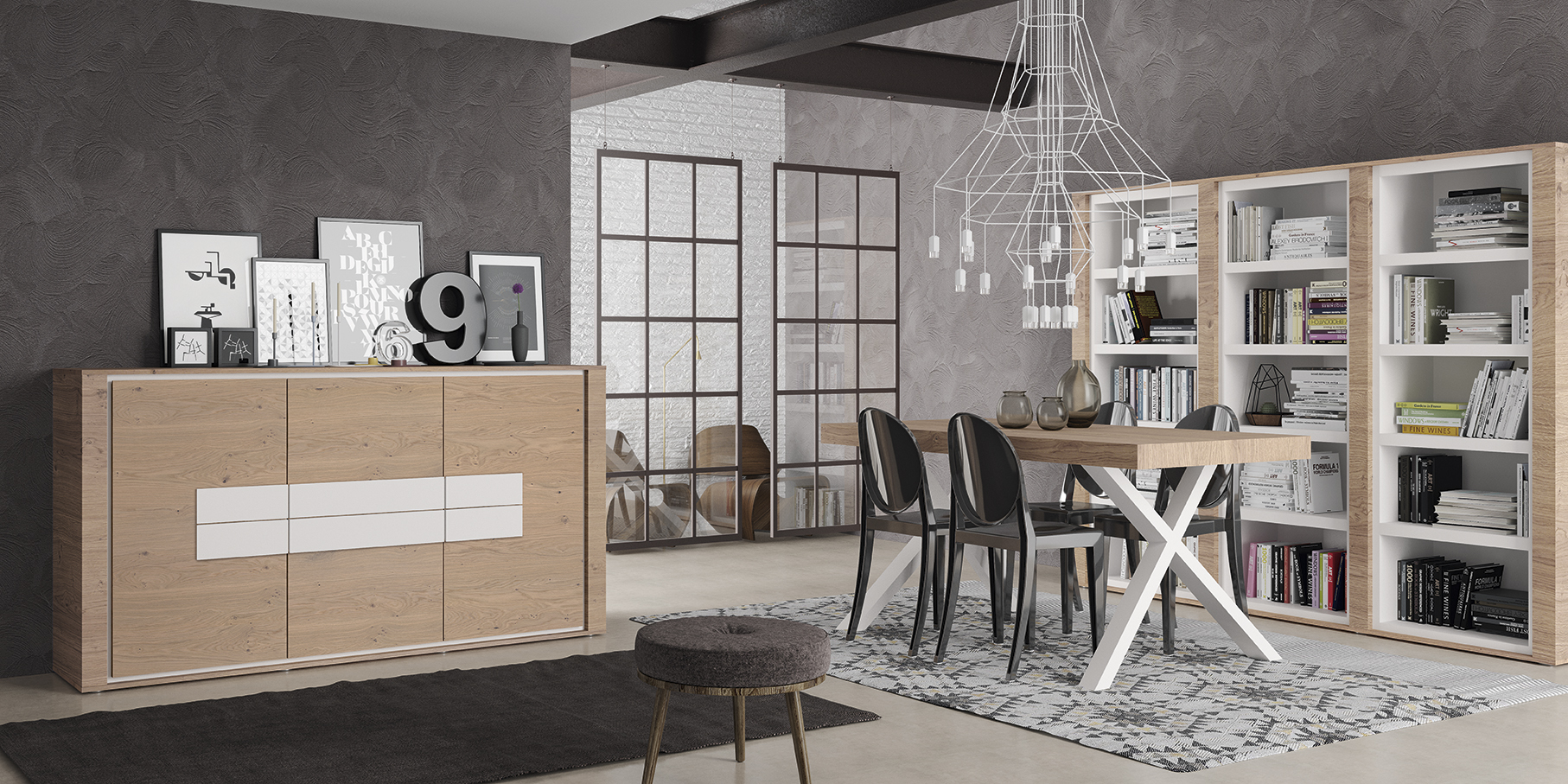 LAUREL & HARDY dining set. GARCIA SABATE
Finishes include the natural montana oak veneers – or the options in fumé oak and the American walnut – that can be combined with refined lacquers available in different tones, glossy or matt.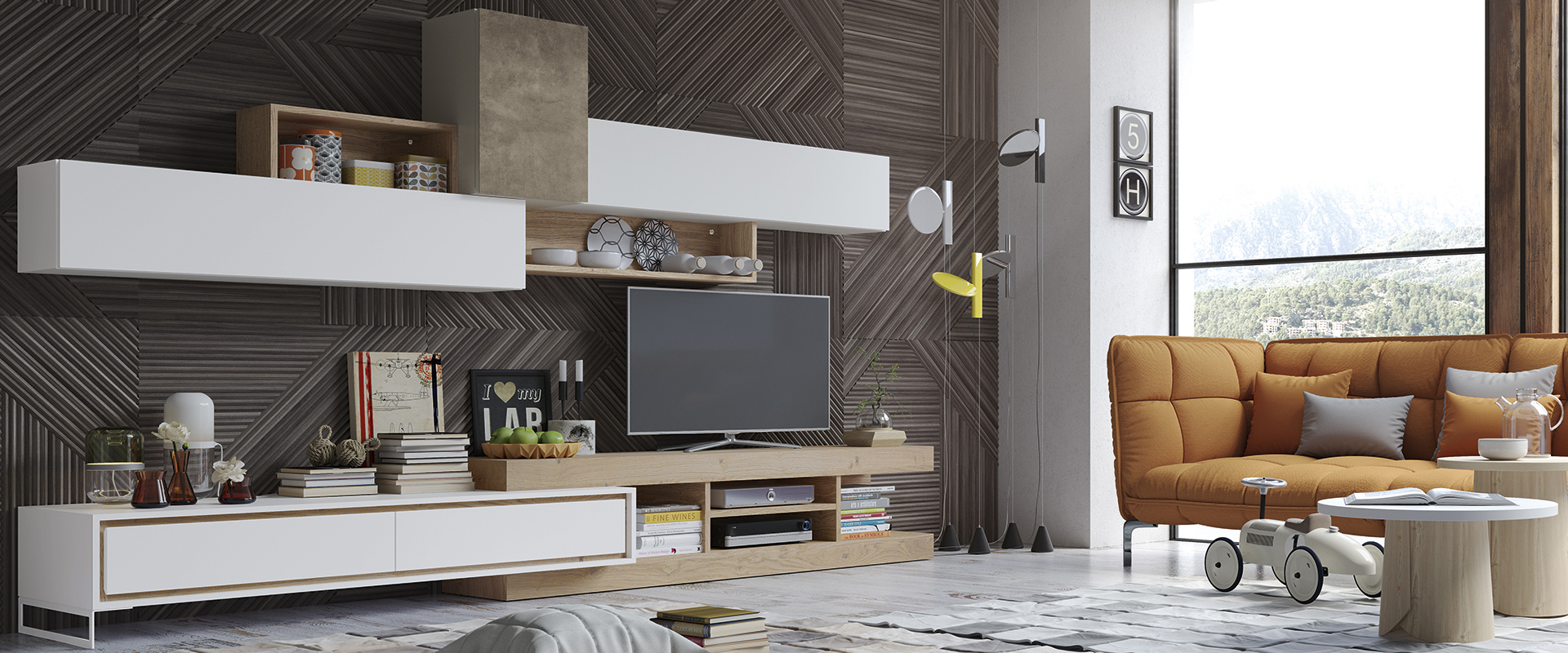 LAUREL & HARDY modular living room. GARCIA SABATE
Choose them natural for a Scandi look or lacquered in crisp whites and cool colours for an extra contemporary feel…
LINEAS TALLER – Hall 6 Stand E49
Creativity & design at your fingertips. Natural elegance and exclusivity are the hallmarks of the Valencia-based LINEAS TALLER. The firm strives to blend their best artisanal tradition with a stunning combination of high quality materials. Lines include the SPACE SENSATIONS bedroom catalogue and the JUVENIL collection for teen spaces, plus a line of wardrobes and closets.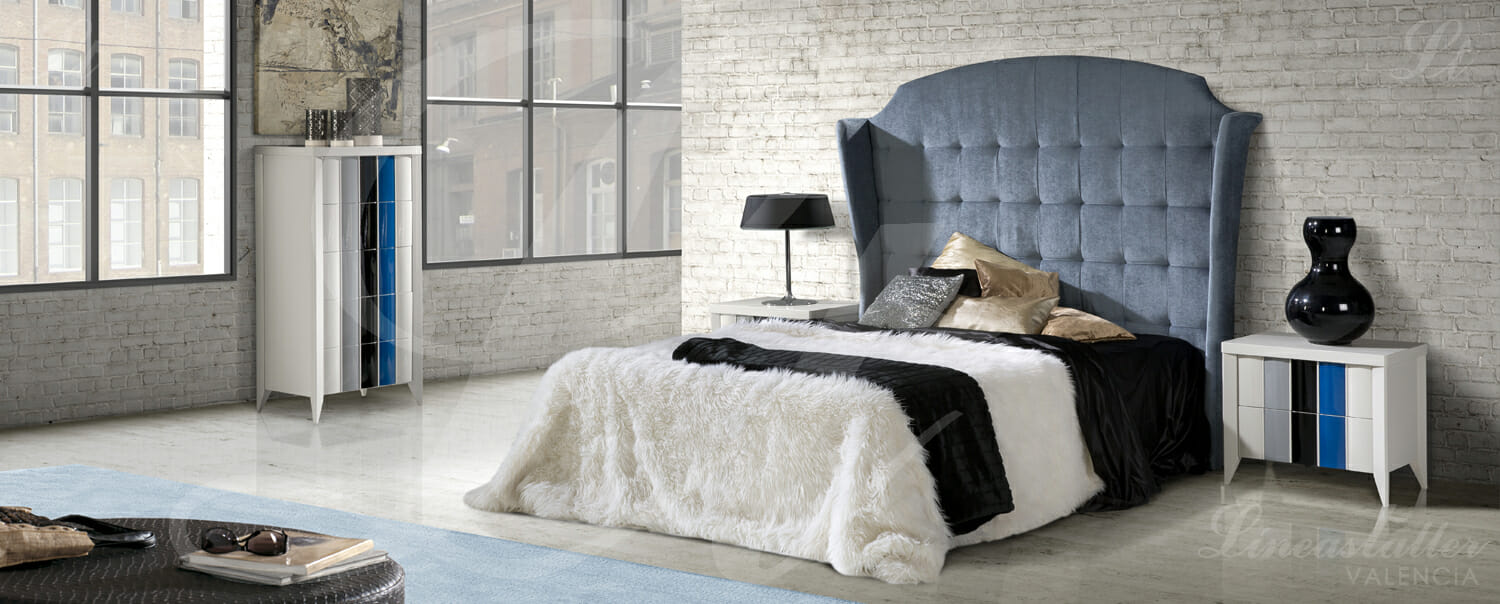 SPACE SENSATIONS ELEGANCE bedroom. LINEAS TALLER
SPACE SENSATIONS bedroom collection. New bedroom models have been added to the exclusive SPACE SENSATIONS catalogue, all of them combining natural elegance, fine designs and contemporary trends. Made of solid wood, new bedrooms, such as ELEGANCE, VIENA, and KEOS, come in different designs, textures and materials.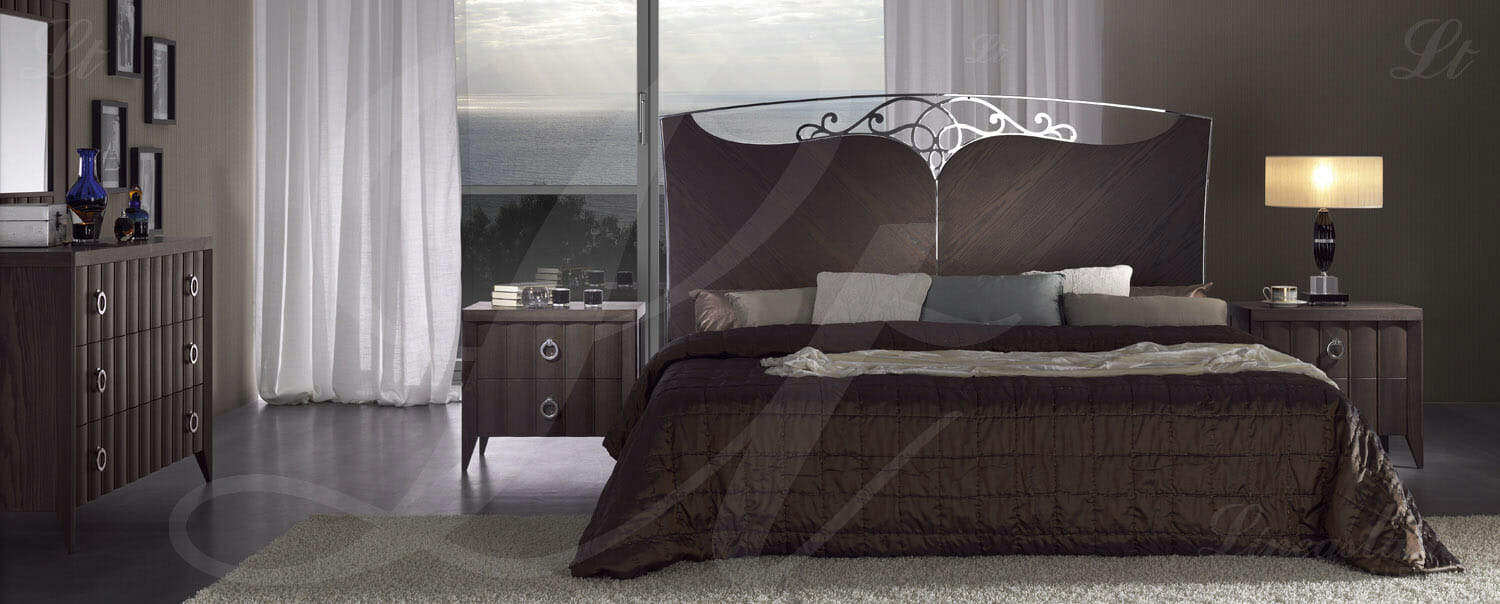 SPACE SENSATIONS VIENA bedroom. LINEAS TALLER
Most of them feature an intriguing combination of elm veneers in different tones and grains, others come totally lacquered (high-gloss or matt) or mixing lacquers of different colours and wood finishes for a more personal look.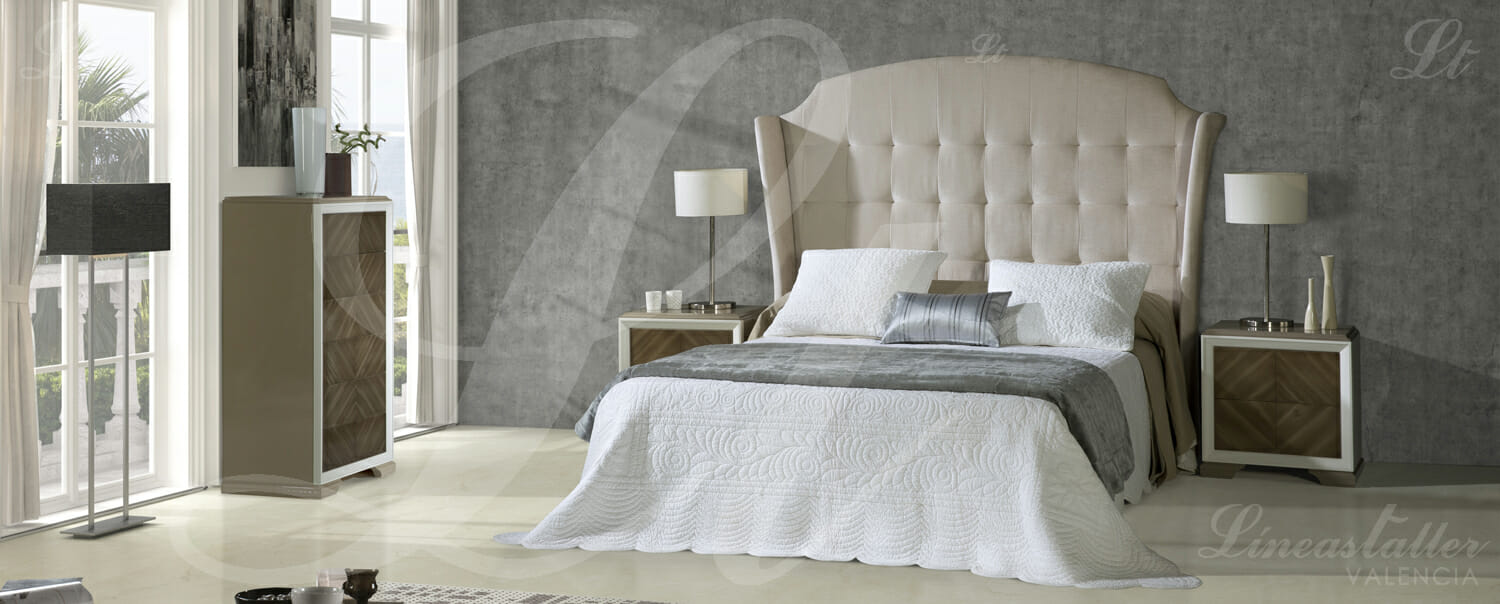 SPACE SENSATIONS KEOS bedroom. LINEAS TALLER
Headboards are available in different shapes and sizes, finished in natural wood with fine veneer patterns, or upholstered in leather or fabric with charming capitonné.
Pieces are embellished by stainless steel handles and decorative ornaments and well-turned wooden legs. Drawers are provided with soft closing systems.
TREBOL – Hall 6 Stand E49
Growing day by day. Founded in 2009, TRÉBOL MOBILIARIO is a Spanish company specialized in designing and manufacturing children's furniture with the highest standard of quality and security. They offer an integral furnishing concept that includes children and youth bedroom furniture, textiles and decorative accessories.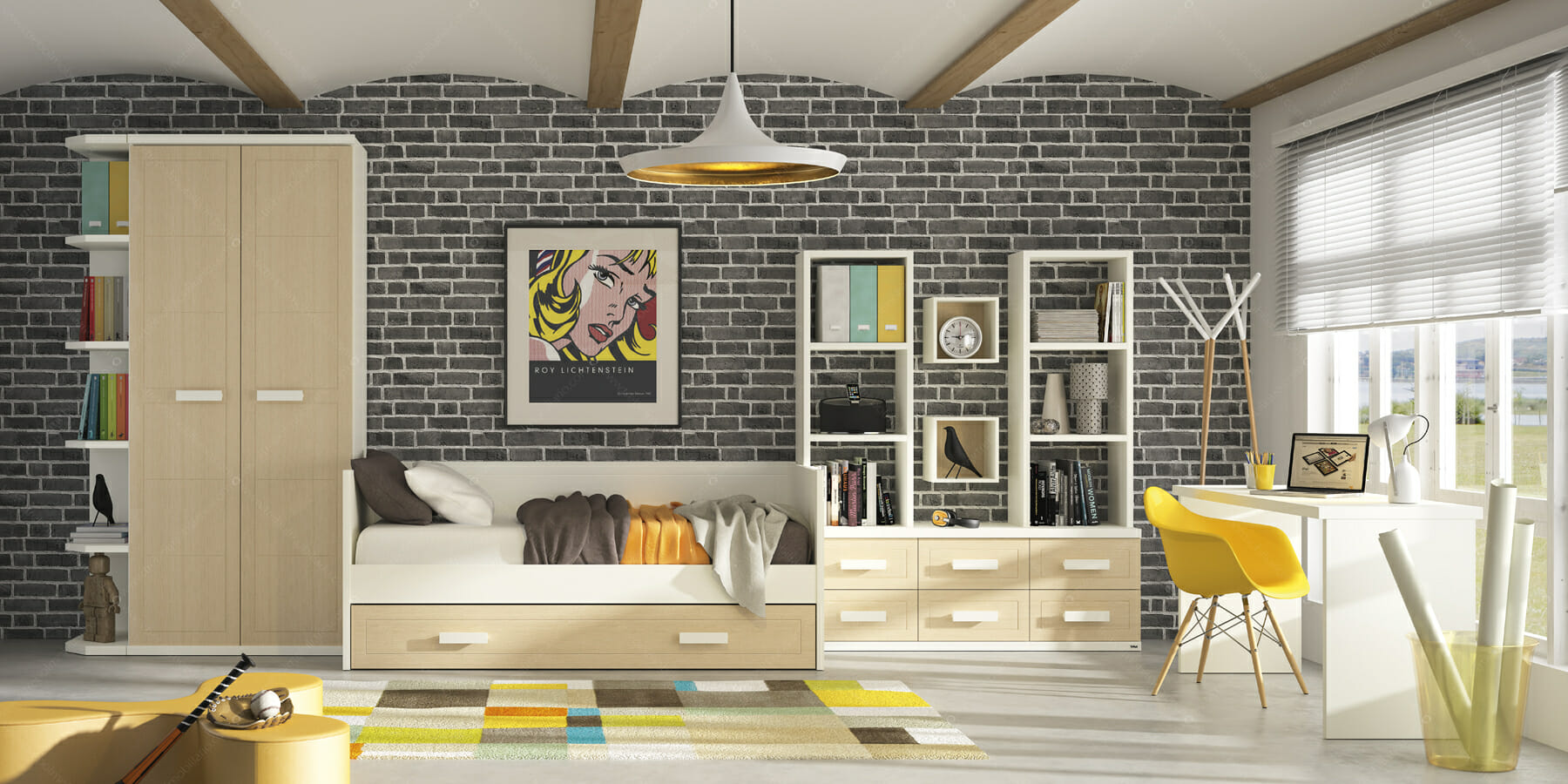 URBAN ZONE bedroom for teens. TREBOL MOBILIARIO
New collections for children and young people: ARTIK H55, CUORE, BOLAS, SPORT, URBAN ZONE. All the furniture is made of MDF high density boards, solid ash wood and chipboards surfaced in first quality ash wood. Pieces come lacquered with 4 coats over base and finished with 4 more coats. Drawers and doors are provided with hidden tabs systems and soft close hinges.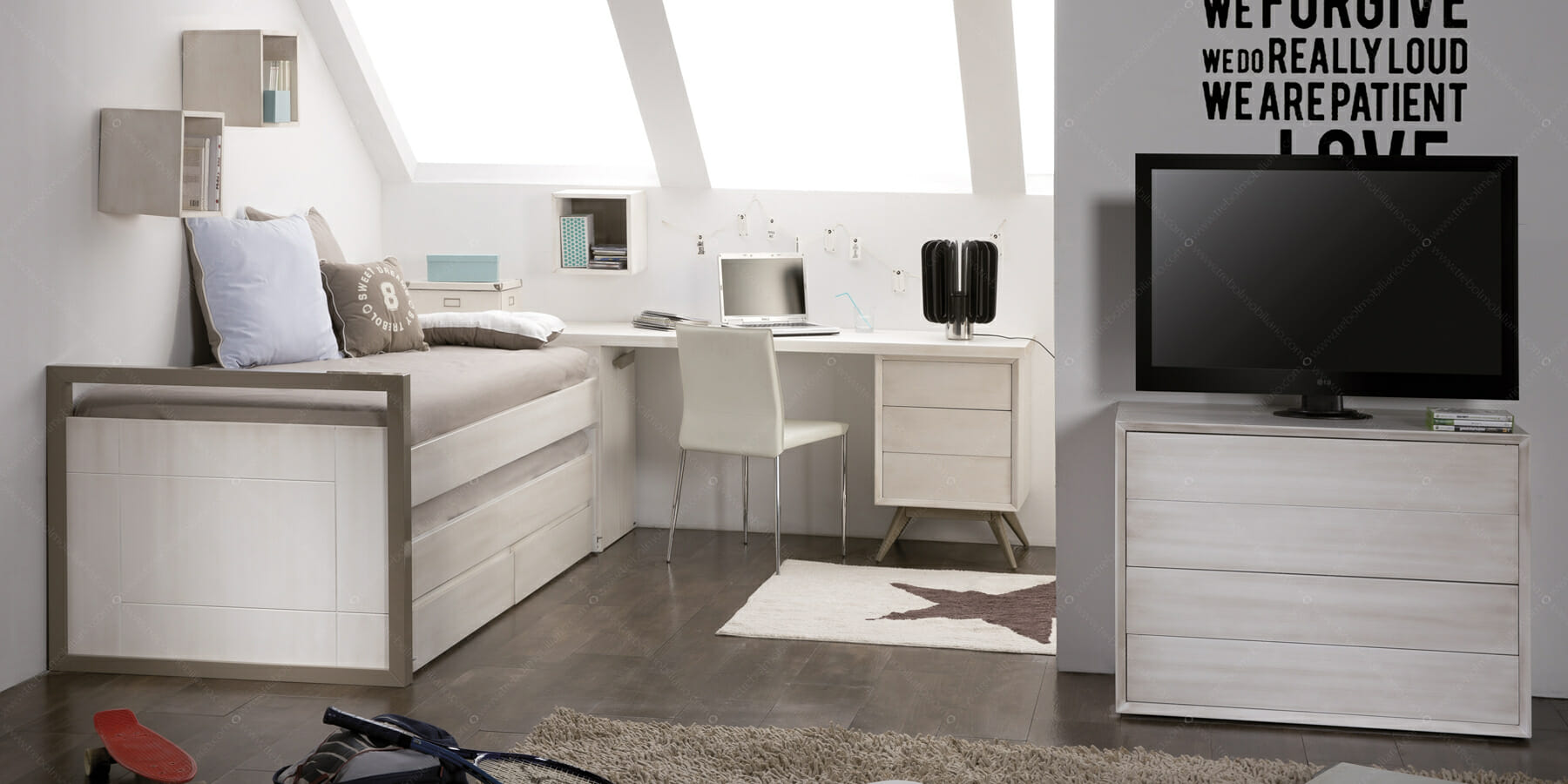 ARTIK H55 youth furniture. TREBOL MOBILIARIONew finishes include the natural ash (030) and the water green (023) colours. The collections are embellished by the new attractive fabrics and accessories (Pompas, Nature, Plumeti) that can easily be combined with the selected finishes to create spaces full of harmony and visually engaging.
ARTIK H55 youth furniture. TREBOL MOBILIARIO
MONRABAL CHIRIVELLA – Hall 18 Stand D31
The power of tradition. From its technologically advanced manufacturing site based in Valencia, MONRABAL CHIRIVELLA, which was set up in 1964 as a family-run business, produces exclusive furniture for all areas of the domestic and contract markets. Using a balance of traditional and modern techniques, over the years, the firm has developed a reputation for creating charming furniture in different styles for bedrooms, living rooms and dining rooms. All the furniture is made of beech wood and finished with the best cherry, oak and walnut veneers.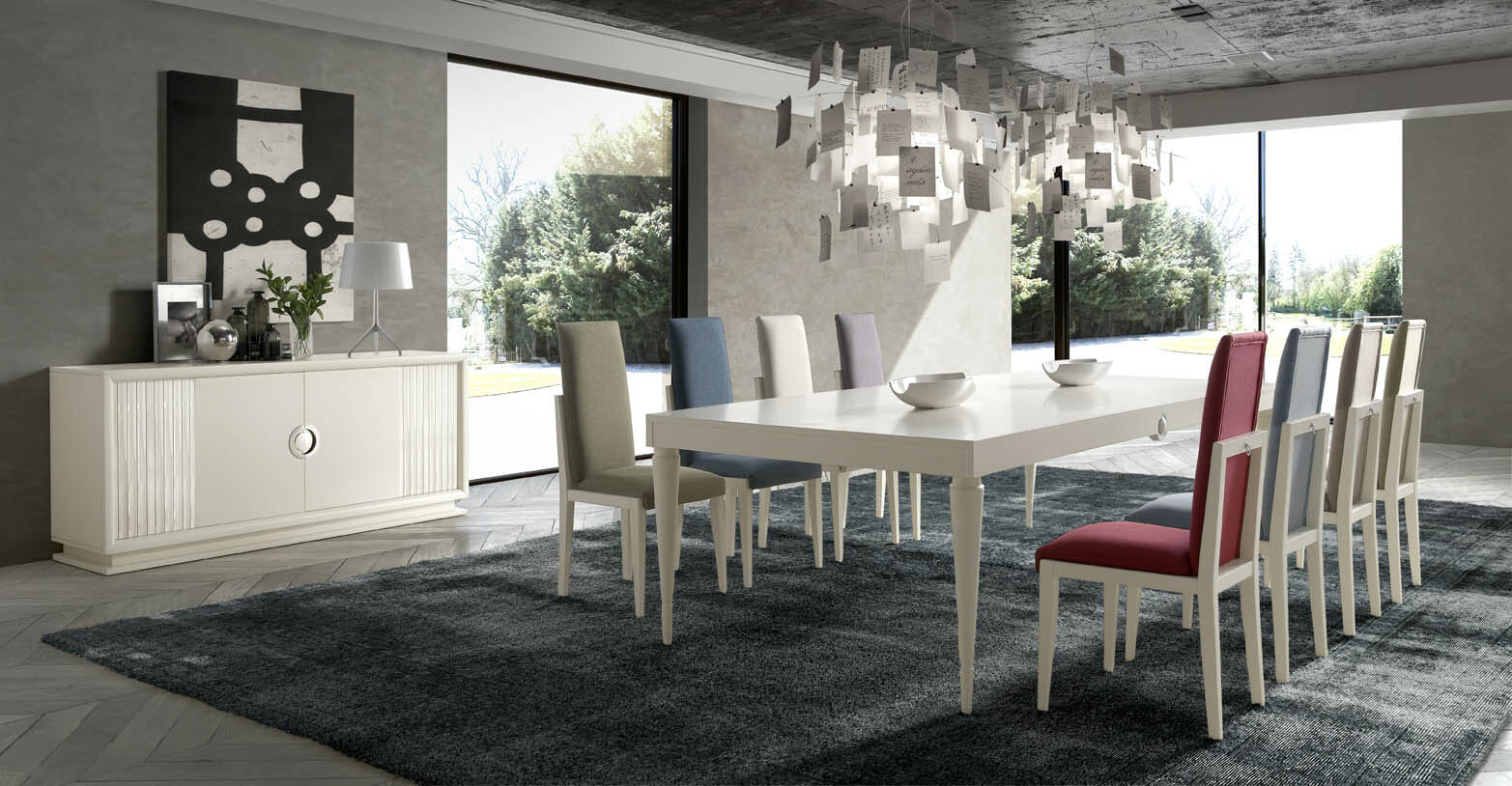 ANABEL dining room. MONRABAL CHIRIVELLA
EUROPA wardrobe collection. It's an elegant, versatile collection of contemporary wardrobes and dressing rooms specifically designed to fit the space and storage need of users. Available with integrated handles or with refined metal handles, wardrobes come in a variety of styles and sizes to create your own personal wardrobe.
EUROPA dressing room. MONRABAL CHIRIVELLA
Finishes include the natural oak and cherry and precious lacquer colours, such as the trendy Grafito Champán, Matt White or the refined open pore Arena, among many other. Mirror doors are also available.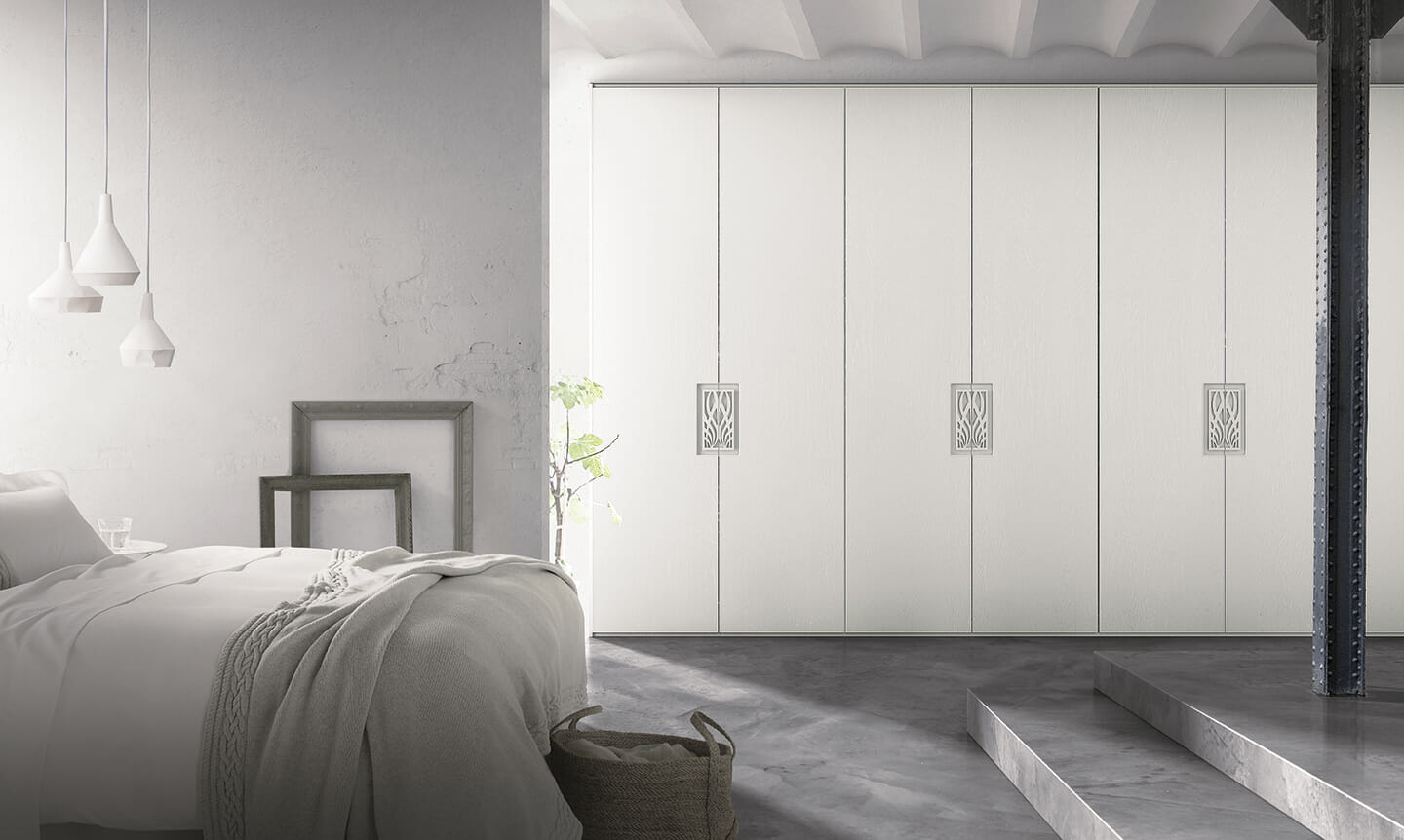 EUROPA wardrobe. MONRABAL CHIRIVELLA
The collection includes also a series of functional and beautiful fitted walk-in closets that help you create impeccable, organized dressing areas.
VALERIA collection. Made of solid wood, VALERIA is a line of bedrooms and living room furniture that features charming shapes and a great attention to detail. Pieces stand out for the turned legs and the refined décor elements.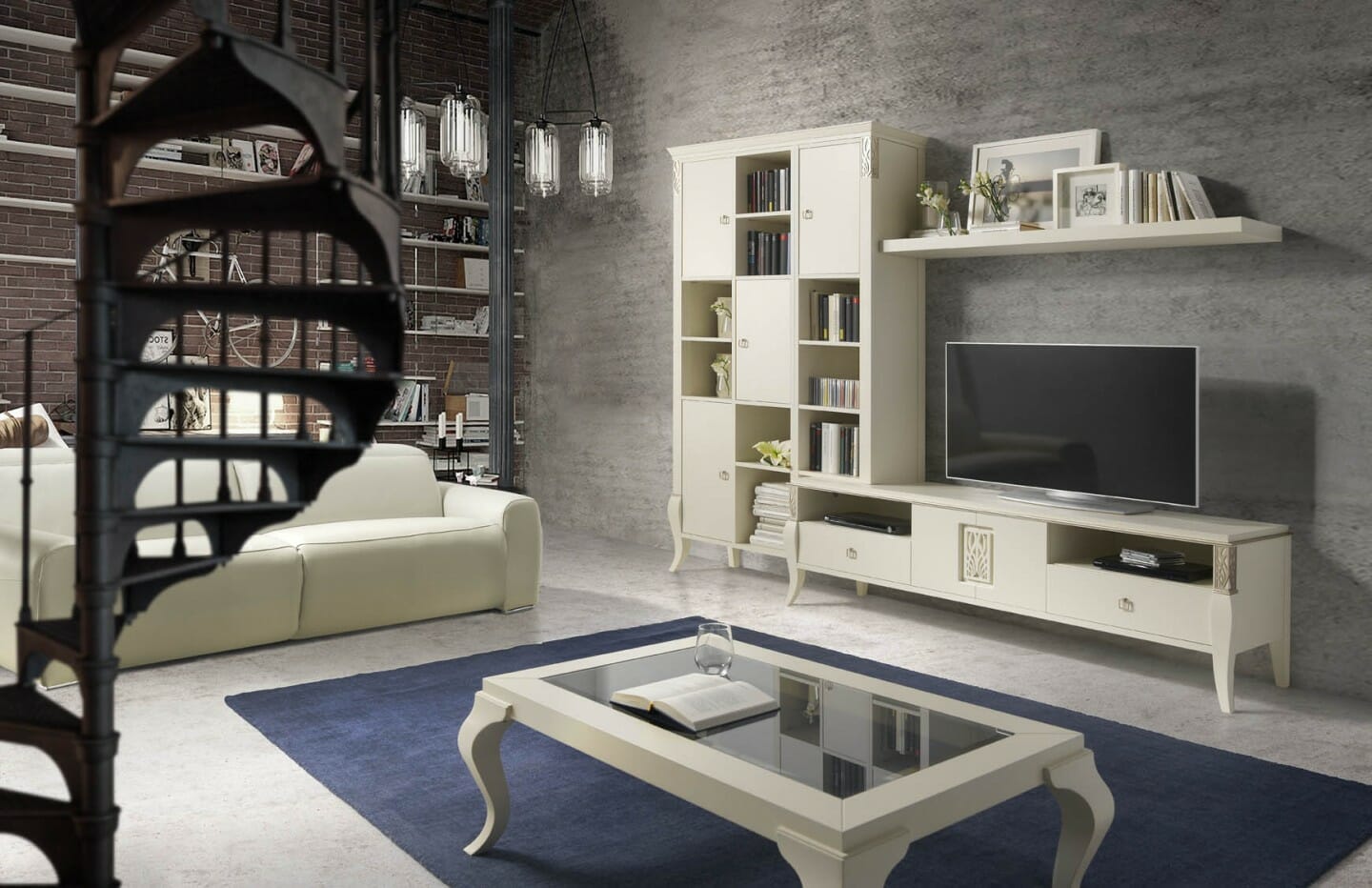 VALERIA living room. MONRABAL CHIRIVELLA
The choice of finishes is pretty rich, spanning from the natural oak veneers to the matt, high-shine or open pore lacquers that can be mixed and matched for a more personalized result.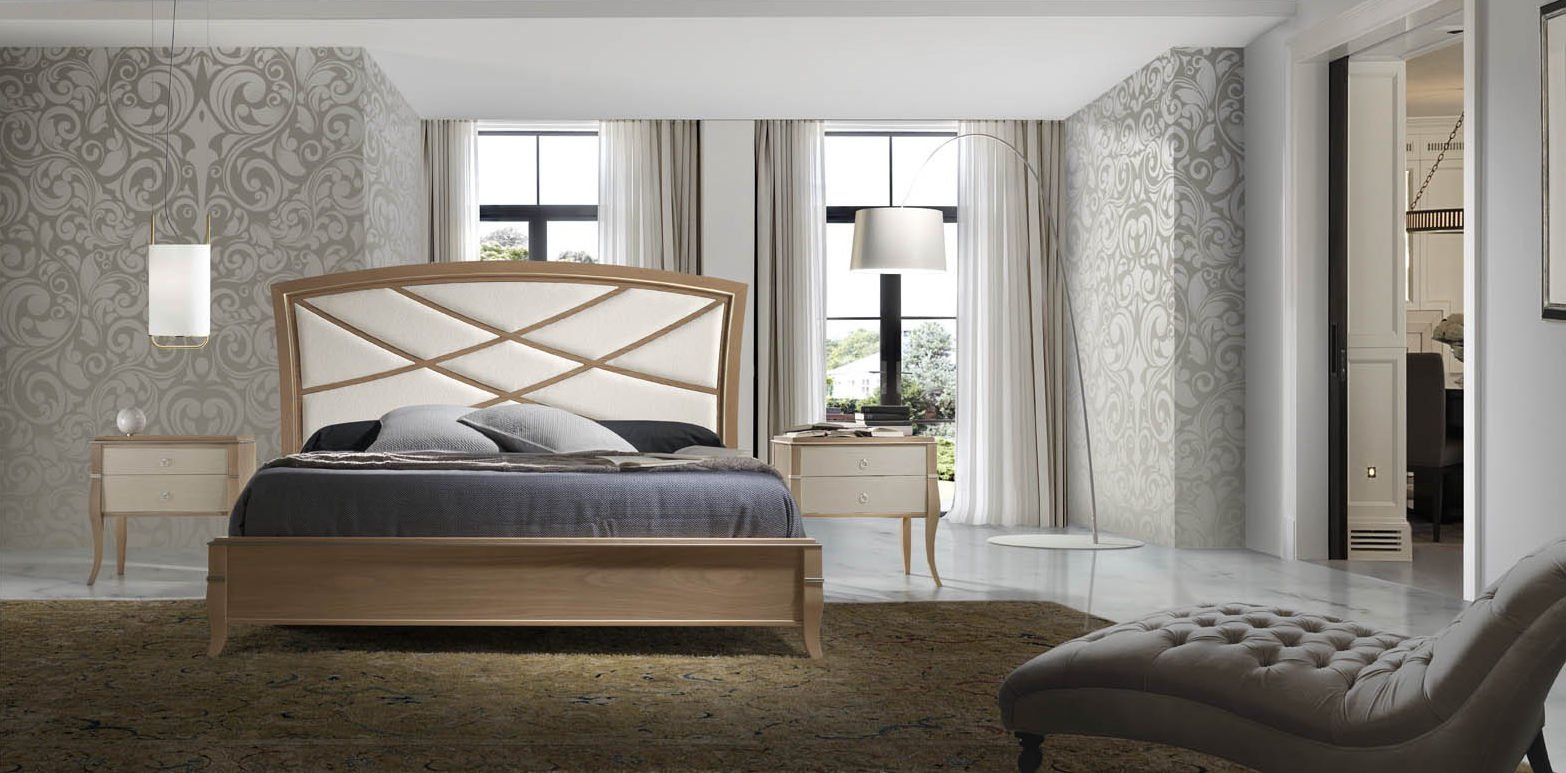 VALERIA bedroom. MONRABAL CHIRIVELLAHeadboards come in different configurations and in a choice of shapes: wooden, upholstered, plain or carved, with linear or more elaborate designs.
To be unveiled in Milan. VALENTINA collection. The last creation of MONRABAL CHIRIVELLA, features contemporary, clean lines and a lot of attention to detail. All the furniture is veneered in natural oak and cherry wood or lacquered in warmer tones.
NOVOCUADRO – Hall 18 Stand D27
NOVOCUADRO reinvents decorative art. The Spanish firm has made a name for itself in the interior decoration market for its ever-evolving collection of original contemporary artworks created mainly by Spanish artists.
The firm offers an exciting range of artworks that draws on different styles and themes in order to provide the market with unique wall art and the professionals of the interior design industry with all the backup they need.
Techniques include oils, acrylics or watercolours, but the NOVOCUADRO's catalogue offers also a rich choice of mixed works on canvas and wooden tables, engravings, lithographs, etc. Subjects are varied as well, ranging from abstract and figurative to landscape, cityscape and the street art.
In its workshop, the brand also designs and manufactures a wide range of handcrafted frames to meet the needs and tastes of every client.
Wall art, frames and service are tailored to the brief of professionals and expertly chosen to match the requirements from totally different customers.
Guardar
Guardar