RELATED NEWS
TAGS
high-class décor
high-end furniture
IDA awards 2022
international design awards
tecni nova
TECNI NOVA receives two IDA 2022 Awards
February 28 / 2023
Committed to quality and great craftsmanship, Spanish high-end furniture manufacturer TECNI NOVA has been awarded two International Design Awards (IDA) 2022 for the ORIENTAL SCENTS desk and for the LOTUS lounge chair.
Created in 2007 and now in its 16the edition, the International Design Awards (IDA) recognize, celebrate, and promote design visionaries and emerging talent in architecture, interior, product, graphic and fashion design.
The 4220 ORIENTAL SCENTS desk from the FORTUNE II catalogue has been recognized with the IDA Gold Award in the Home Interior Products / Interior Furniture category for its incredible mix of Oriental aesthetic and Scandinavian style.

Designed by Carlos Soriano, it has beautiful, warm look accentuated by the top upholstered in leather and the gentle, rounded shapes that characterize its design. The way the stylized legs are joined to the frame mimics the traditional oriental woodworking. The rear legs run across the piece giving shape to a horizontal structure which integrates a side-to-side LED band to shed light on the work surface.
An upholstered separator runs along the top providing comfort and privacy to users. The parts upholstered in leather and embossed fabrics, as well as the texture of the natural-treated wooden parts, enhance the natural feel of the piece.
Inspired by the Japanese lotus leaf, the 1292 LOTUS armchair has received the Bronze Award in the category Outdoor And Exercise Equipment / Patio/Garden Furniture and Accessories.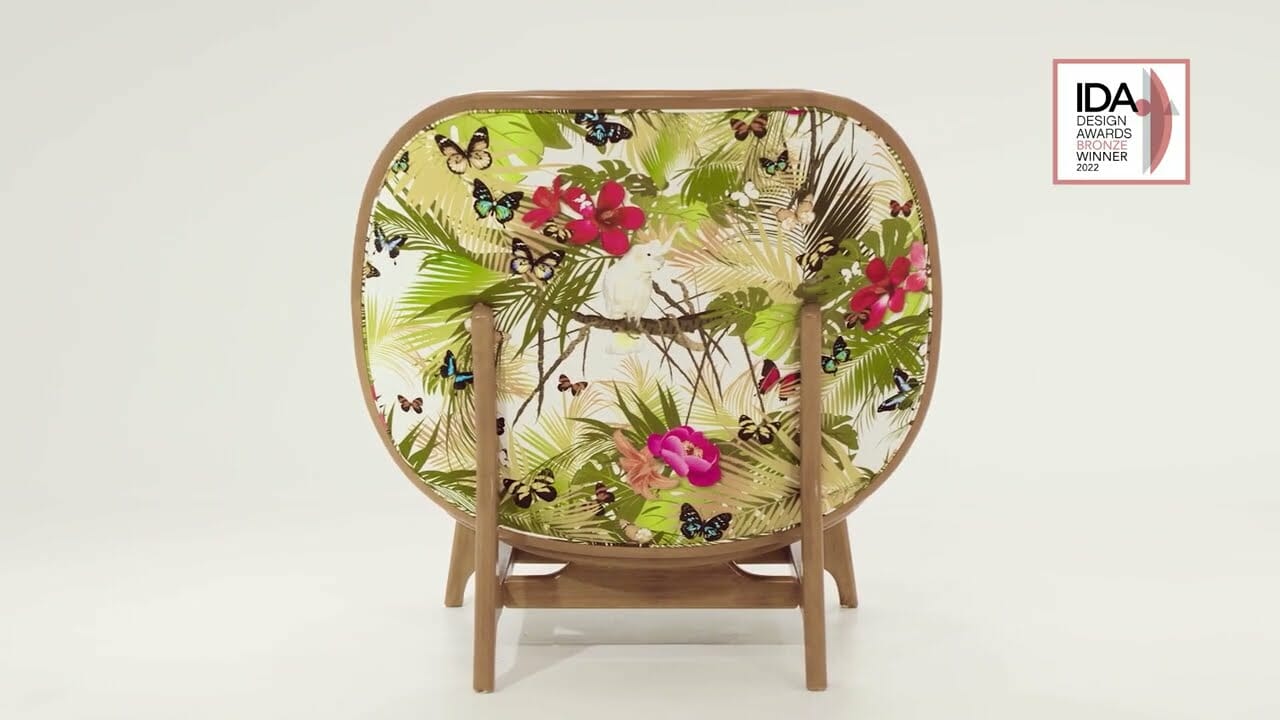 To reinforce the language of a product destined to be used in the outdoor, the armchair is presented in a palette of bright colours that recall a summer day in the countryside. Featuring a structure made of iroko wood, LOTUS is upholstered in high-end water-proof fabrics that resist extreme weather conditions.
The armchair can be complemented with a matching daybed and side table.
Founded in Yecla in 1986 by Antonio Muñoz, an experienced traditional upholsterer who wanted to take advantage of new production technologies –hence the name-, TECNI NOVA is currently run by the third generation who has invested on cutting-edge manufacturing processes focusing on the internationalization of the brand. Changes in manufacturing processes allowed the firm to renovate the formal classic style by breaking rules and introducing into its latest collections unusual twists and more contemporary designs.
Tecni Nova on Furniture from Spain
For more information, visit: www.tecninova.com