Virtual Salone Milano 2020: TREKU, charming storage furniture with a timeless appeal
June 9 / 2020
Furniture manufacturer since 1947, TREKU was founded by skilled cabinet maker Aldabaldetrecu in Zarautz, a small coastal town in the Basque region known for its long-established tradition of woodworking and carpentry. Since their humble beginnings as a family-run carpentry workshop, they have been committed to meticulous craftsmanship, great attention to detail and quality.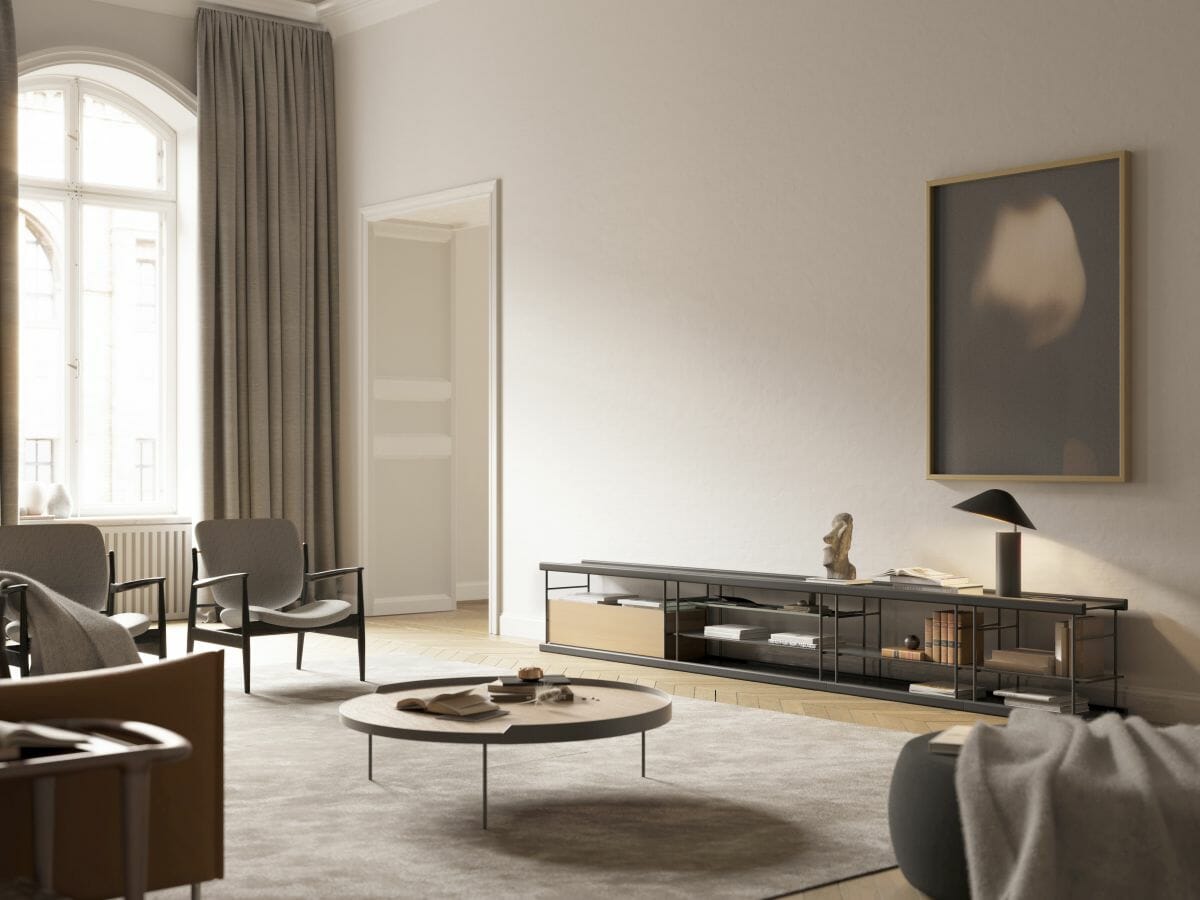 BOST sideboard | Yonoh | GAU coffee table | Ibon Arrizabalaga & Silvia Ceñal | TREKU
Now in its third generation, TREKU still retains these founding values although it is constantly striving to balance traditional techniques with modern manufacturing processes that preserve the timeless beauty and the quality of their products and at the same time extend the customization options of furniture.
Collaborations with designers of national and international prestige, such as Ibon Arrizabalaga, Silvia Tauschke, Angel Martí & Enrique Delamo, Jean Louis Iratzoki and Yonoh, have been crucial as they have helped explore new possibilities and get a sharper perspective of new needs and changes in market demand.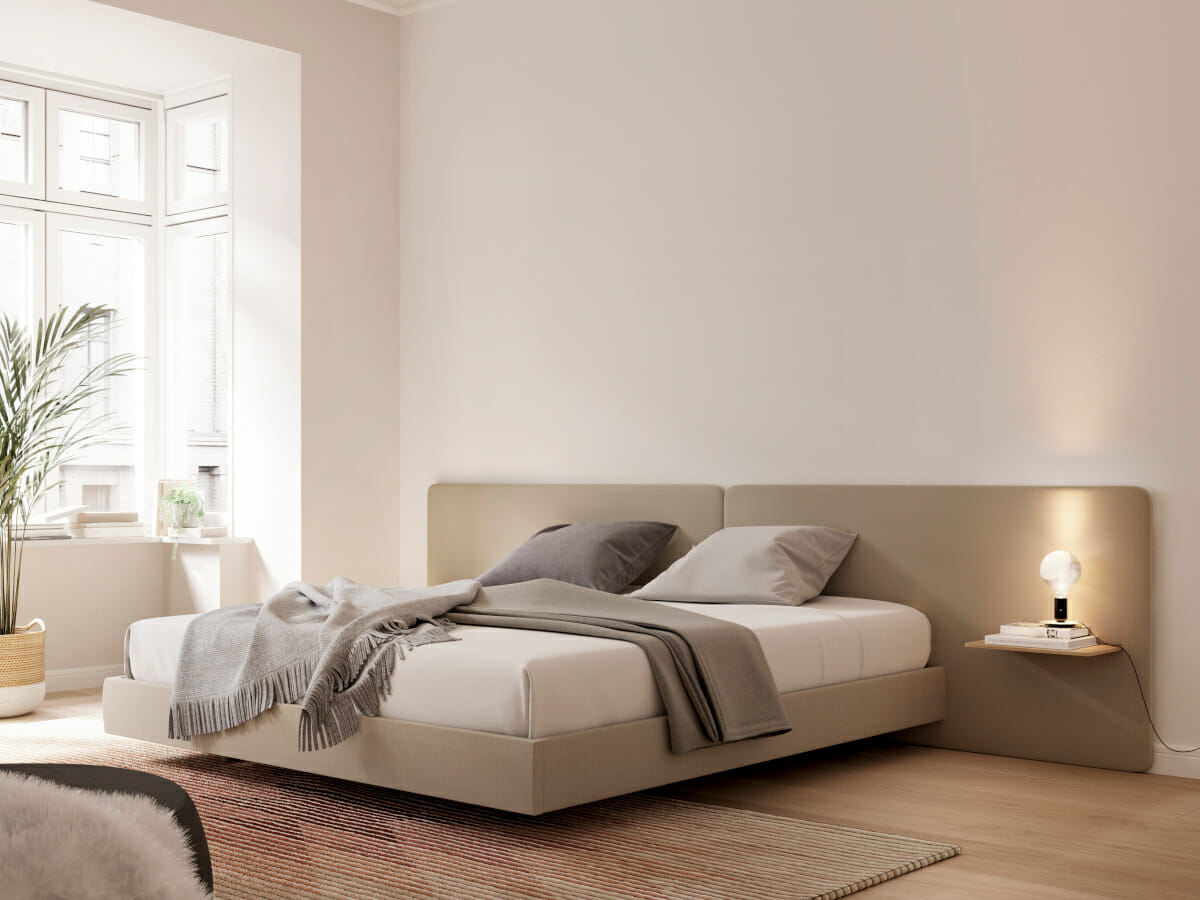 LOTA bed | Ibon Arrizabalaga | TREKU
Nowadays, TREKU counts with a wider range of products for the home (beds, tables, coffee and side tables, sideboards, cabinets, shelves, TV furniture…) available in countless finishes and with a common denominator: a timeless design. Key aspects such as a rigorous selection of wood veneer, a production on-demand to guarantee homogeneity and a permanent control in every step of the process exemplify a quality-oriented company culture.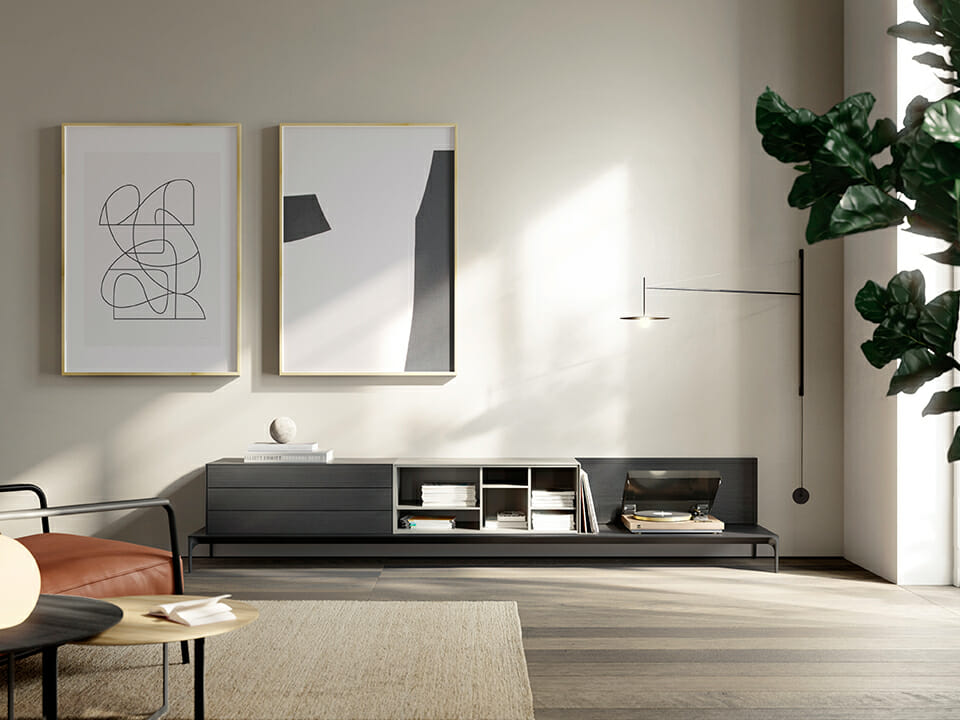 LAUKI media furniture | Ibon Arrizabalaga | TREKU
Richly grained with so much tonal depth, TREKU's wood veneers are treated to a smooth-to-the-touch finish that enhance beauty and also set a perfect foundation for lacquers.
ARI table | Ibon Arrizabalaga | BISELL chairs | Estudi Manel Molina | TREKU
The new launches for 2020 include the BOST shelving system and the GAU coffee and side tables, a refined offer that perfectly harmonizes the beauty of natural wood and metal…
BOST shelving system. Yonoh

Simplicity, innovation and originality. Without extravagance. With the BOST shelving system, the biggest challenge for Yonoh was to create a simple, sober design that could harmonize wood and metal organically and fit in different spaces whether at home or in workplaces, bookshops, clothing shop etc.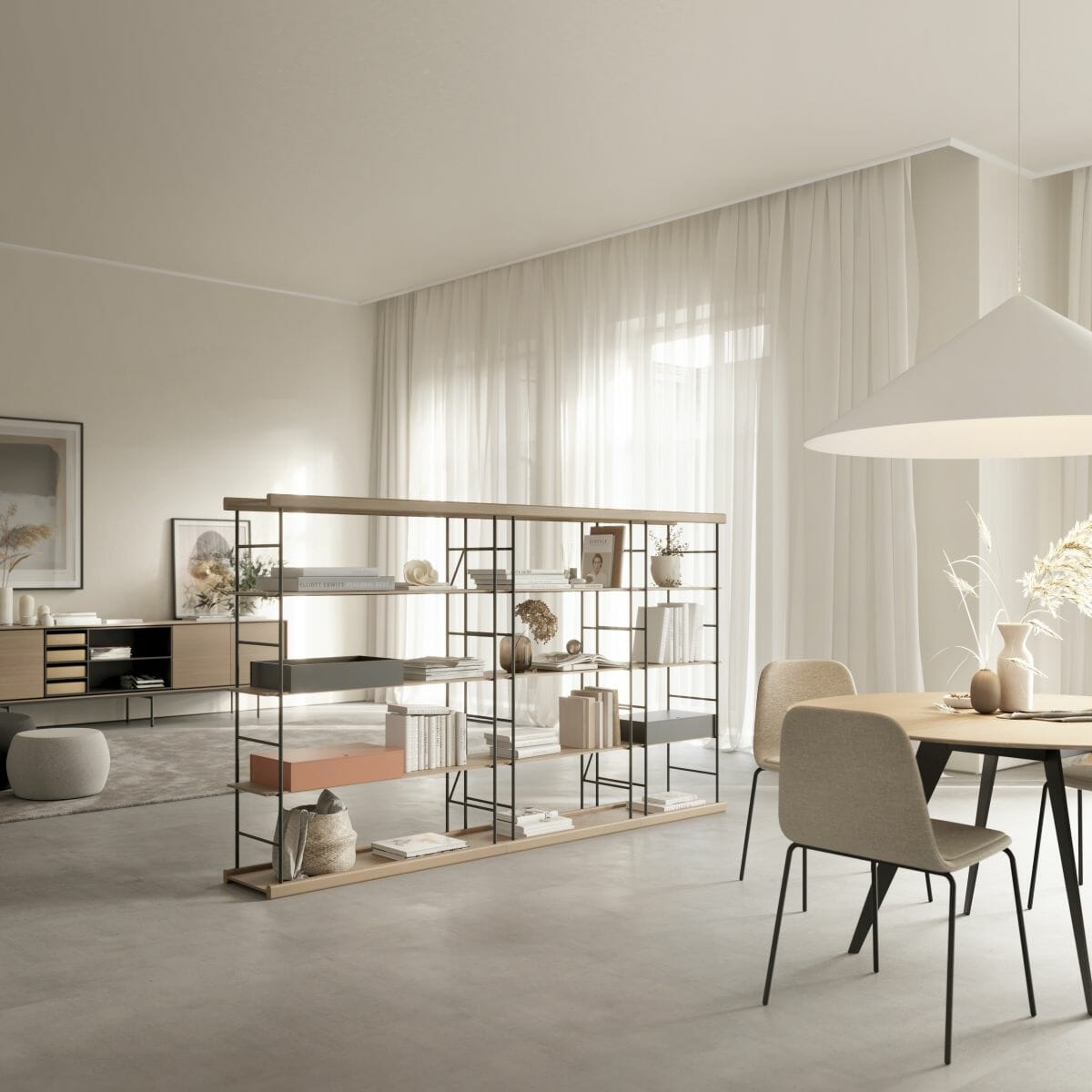 BOST modular system | Yonoh | TREKU
Multifunctionality and modularity are therefore big issues and have been completely achieved. Modules come in different sizes and heights and can be used as a stand-alone piece or combined to build a large bookcase that adapts for multiple uses and still it is attractive.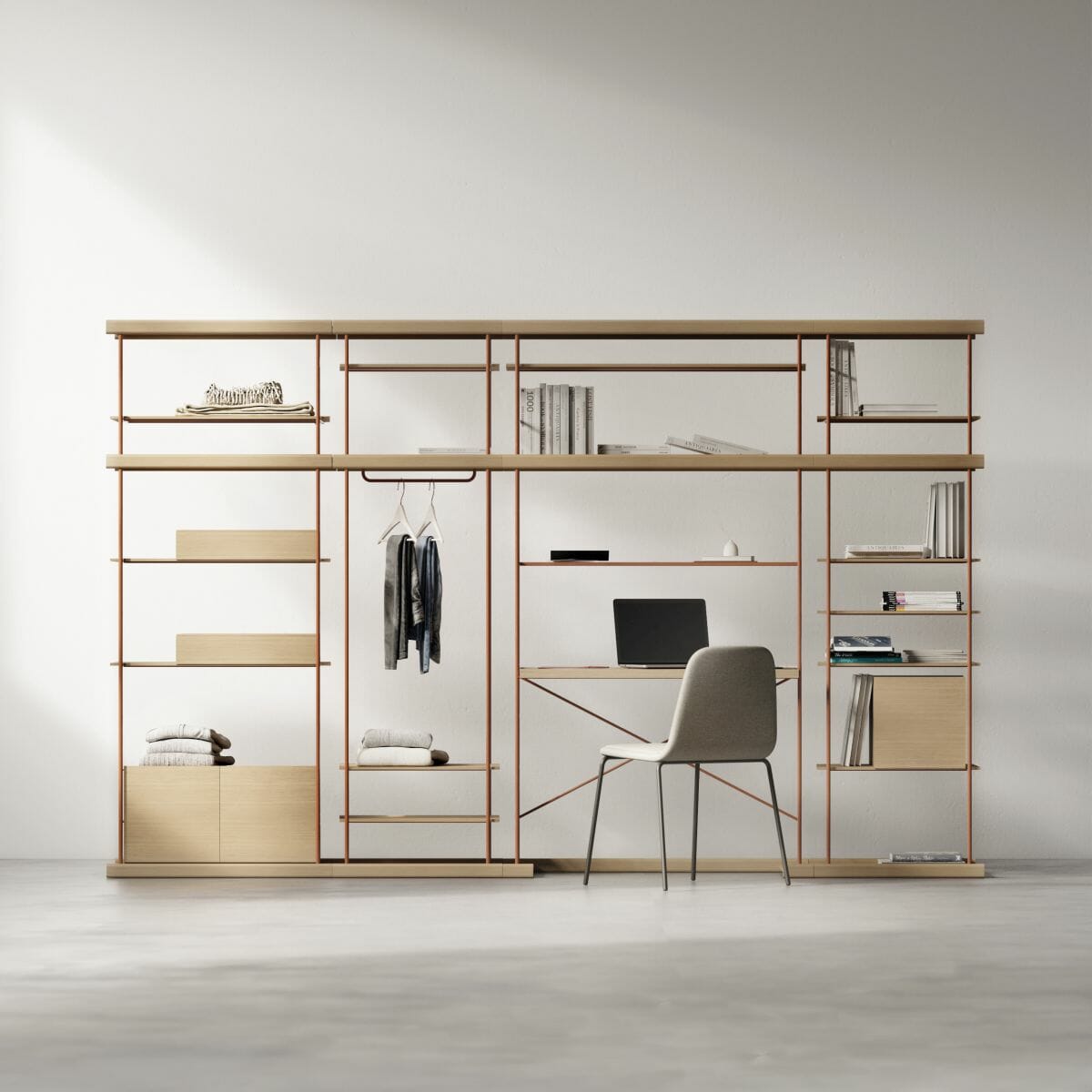 BOST shelving system with built-in desk | Yonoh | TREKU
BOST is available in a rich choice of finishes and is complemented by a series of accessories that increase their possibilities of use: not just a bookcase but also a sideboard, a storage system, a retail display with hangers and trays, a piece of entrance-hall furniture or a charming home office with built-in desk…
GAU coffee tables. Ibon Arrizabalaga & Silvia Ceñal
Fruit of the collaboration between Spanish industrial designers Ibon Arrizabalaga and Silvia Ceñal, the GAU coffee and side tables are simple yet elegant items designed to provide living spaces with charm and style.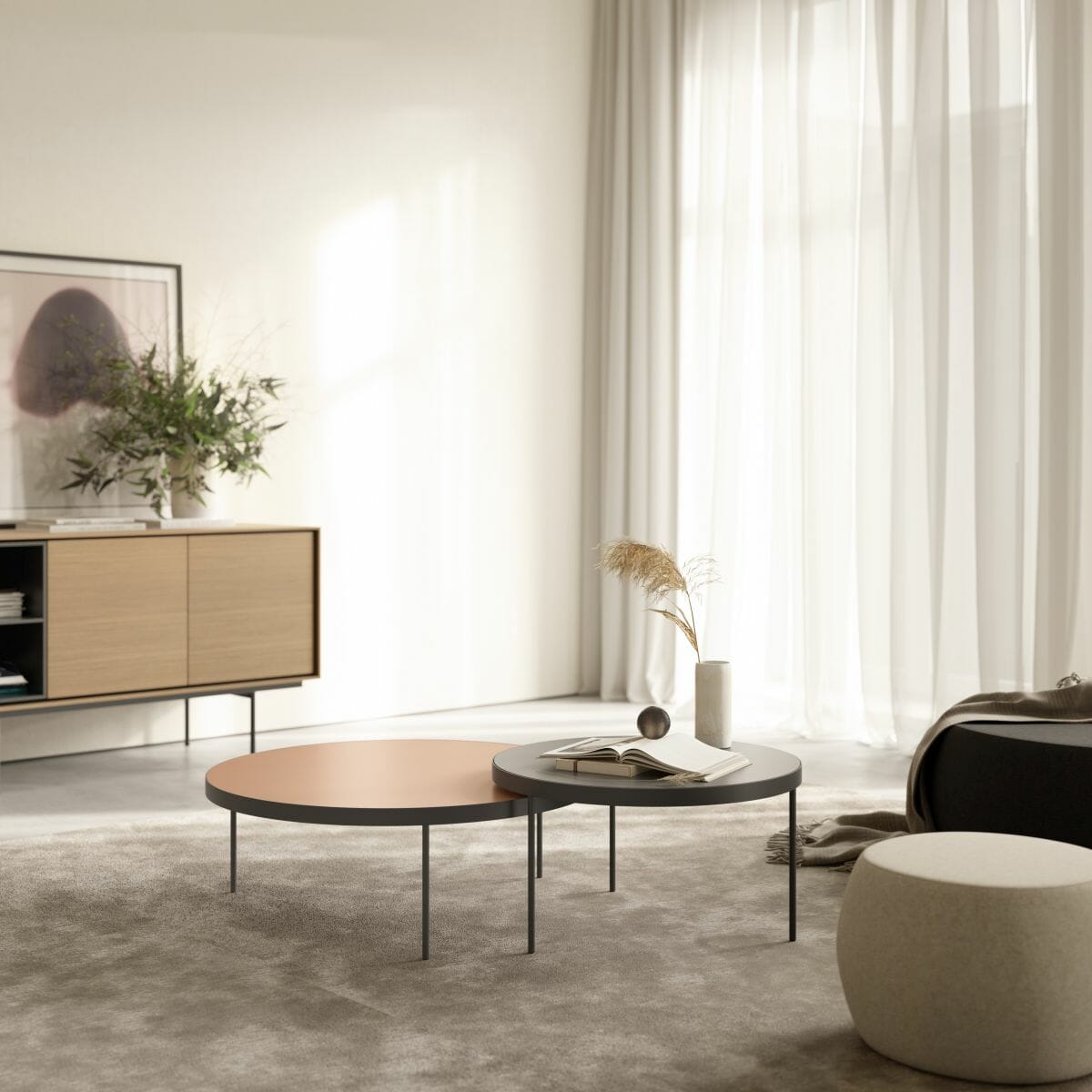 GAU coffee & side tables | Ibon Arrizabalaga & Silvia Ceñal | TREKU
Available in three heights and sizes they respond to a dynamic decorative concept that allows combining piece to obtain very personal décor schemes. The slender cylindrical legs contrast with the robust ring around the edge of the top and finish off the piece.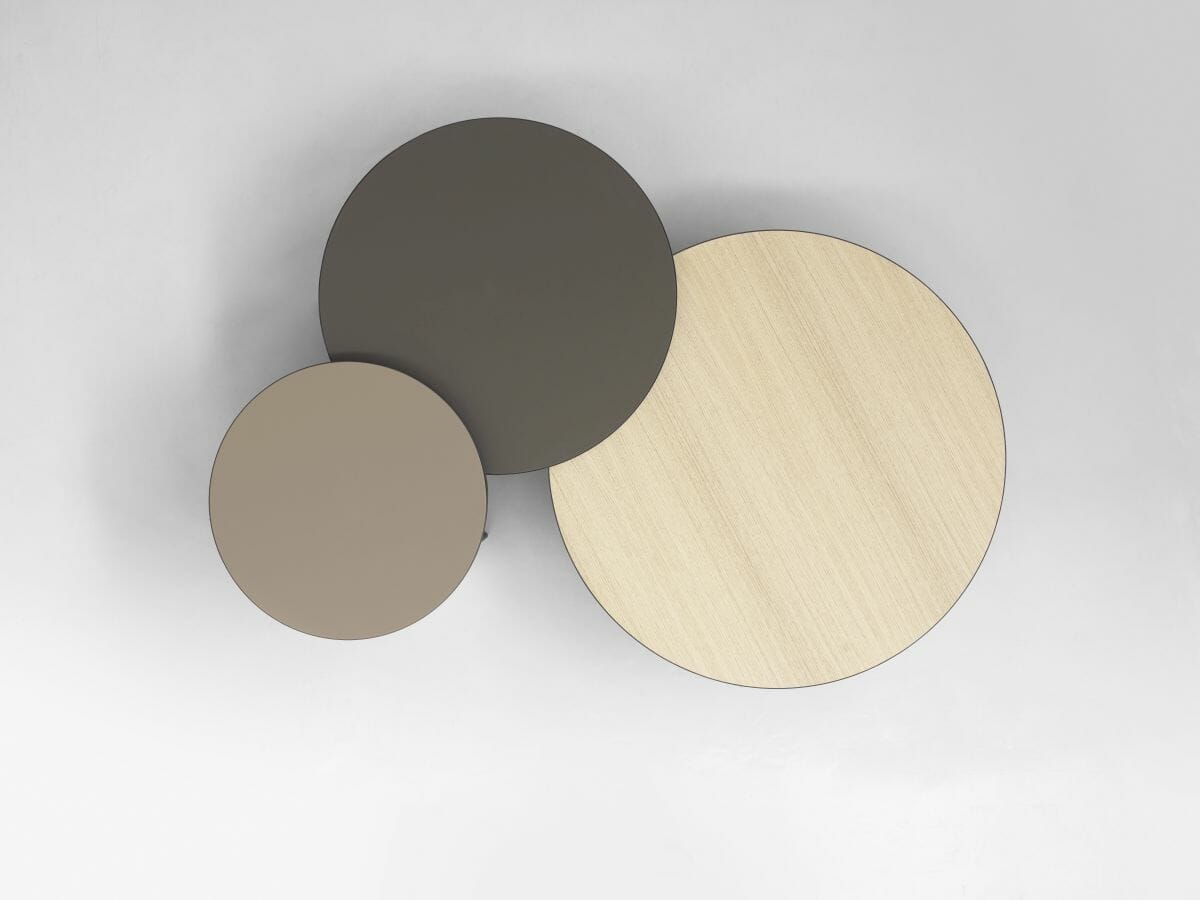 GAU coffee & side tables | Ibon Arrizabalaga & Silvia Ceñal | TREKU
Each table is made unique through the selection of wood and finishes and can be used alone as a coffee table, a side table or even a nightstand; or you can group different tables together to form your own design according to your needs.
GAU is a widely adaptable piece that can be used in professional spaces – offices, hotels or small shops among others – or at home complementing the LAUKI, AURA, KAI or BOST modular systems.
AURA modular system. Ángel Martí & Enrique Delamo. New features
Tradition and modernity combined in this Nordic-inspired collection of furniture and sideboards for living and dining rooms. The hypernatural finish of walnut and oak wood gives the furniture its characteristic natural look while lacquers bring it to life with their rich choice of neutral and earthy colours.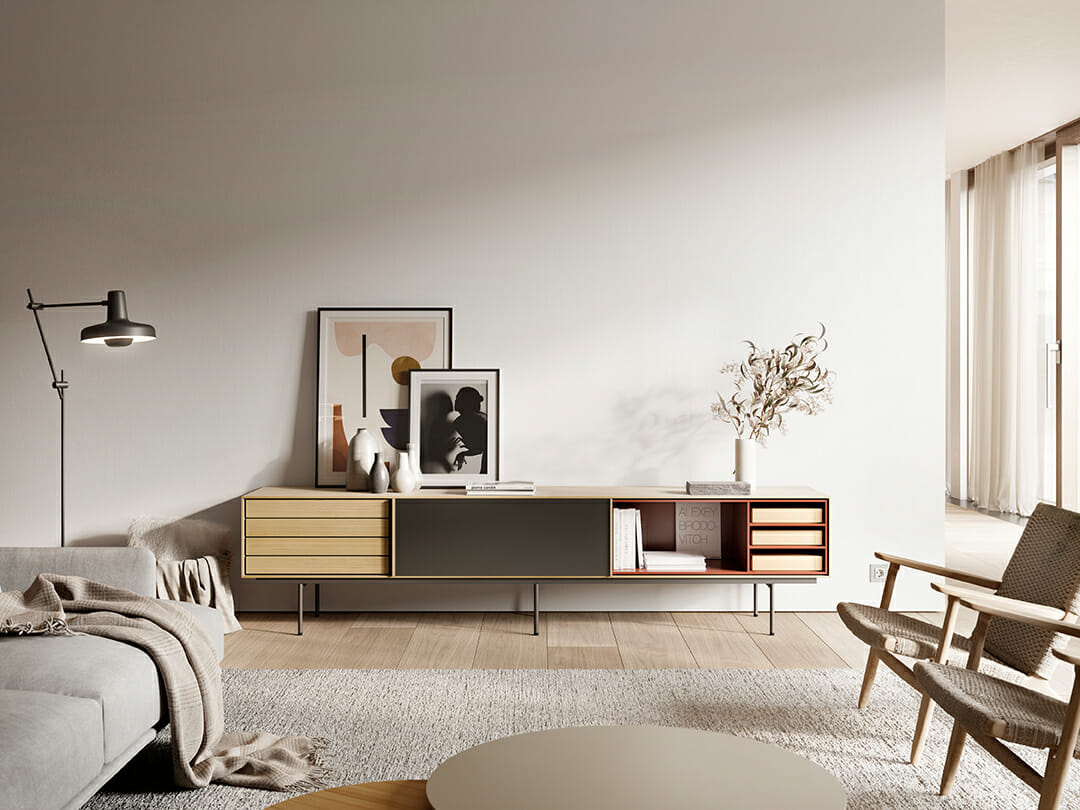 AURA modular system | Ángel Martí & Enrique Delamo | TREKU
The collection is updated periodically with new features that give it a new twist while preserving its original essence. In the latest years, new elements have included sliding doors, divided drawers and console options that have opened to new possibilities of configuration.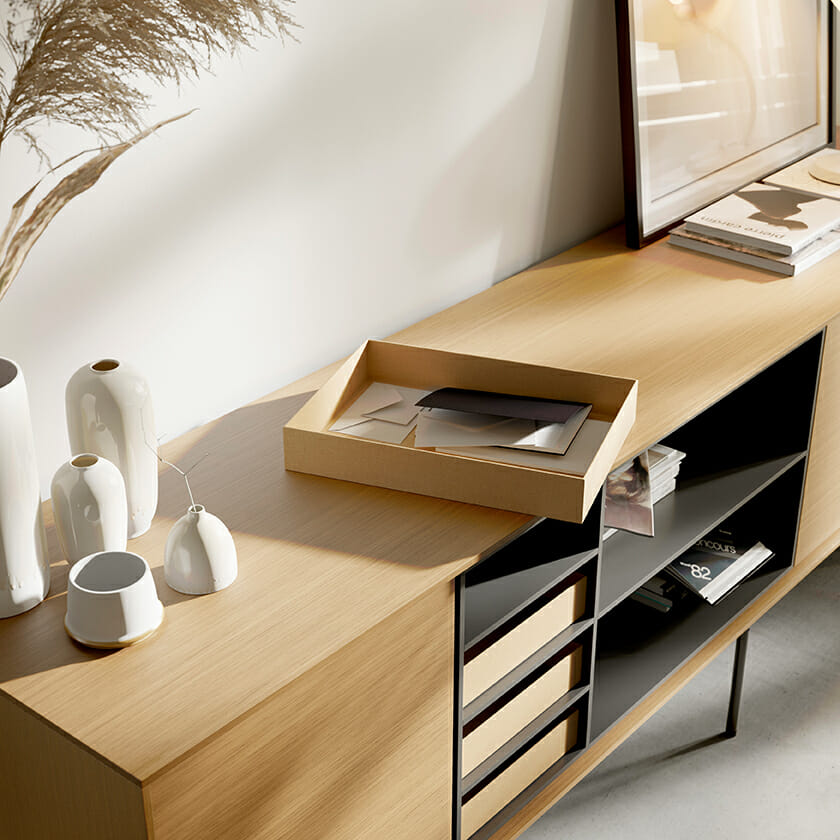 AURA modular system, new features | Ángel Martí & Enrique Delamo | TREKU
This year, the firm has added two new options: new cylindrical metal legs and decorative imitation-fabric boxes to place in modules specifically designed for them.
TREKU furniture illustrates the firm's commitment to customer choice. Its storage solutions are anything but uniform and dull. You can personalise them specifying dimensions, deciding the number of drawers and dividers you want, choosing your style of base and selecting from deluxe finishes including walnut, oak and a variety of coloured lacquers.

For more information: www.treku.com