Workspace Design Show 2023. ACTIU presents BEE and FLUIT, its new multipurpose chairs
February 23 / 2023
Today's workspaces are evolving to become more than just places where people work. They're becoming hubs for creativity, productivity, and wellbeing – and as such, they must be designed with these goals in mind. Flexible, dynamic office layouts have proved to be more conducive to productivity, collaboration, and creative brainstorming. Desks and chairs can be easily moved around, while meeting rooms are designed with versatility as a key feature.

Sustainability has been a hot topic in the office fit-out industry for some time now, and it's not going away any time soon. The emphasis on creating environmentally friendly workspaces is high and is expressed by using natural materials or textures, biophilic designs, a focus on air quality, acoustics, and many other things.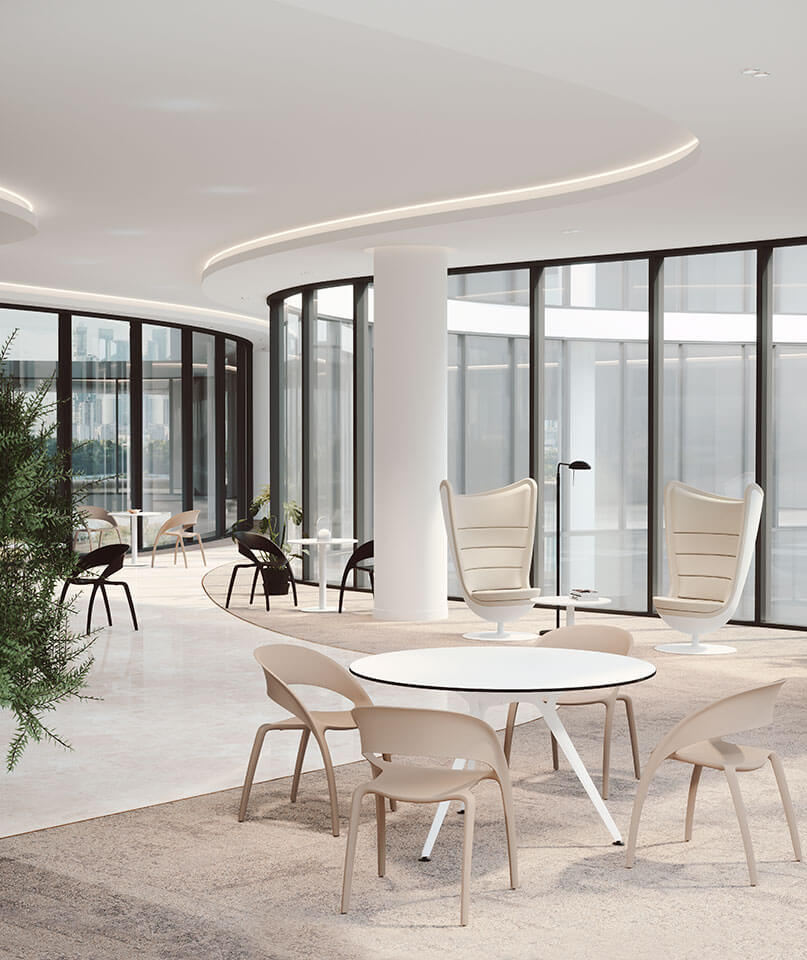 BEE chairs | Vicent Berbegal | ACTIU
With a brand identity forged on the vision of the future, Spain's leading office furniture manufacturer ACTIU has been continually reacting to the ever-changing markets creating products that keep track of new needs in contemporary workspace design. Innovation and sustainability are the core values of the company's two new products, the BEE and FLUIT contract chairs, that will be presented in London, at the Workspace Design Show.
BEE chair. By Vicent Berbegal. German Design Award Special 2023

Biophilia is indeed a big trend in workspace designs, something that keeps on challenging creativity and inspiring new forms and functions. Take the BEE contract chair for example. It draws inspiration from Nature, namely from bees, their peculiar aerodynamic performance, and their ability to create their own habitat.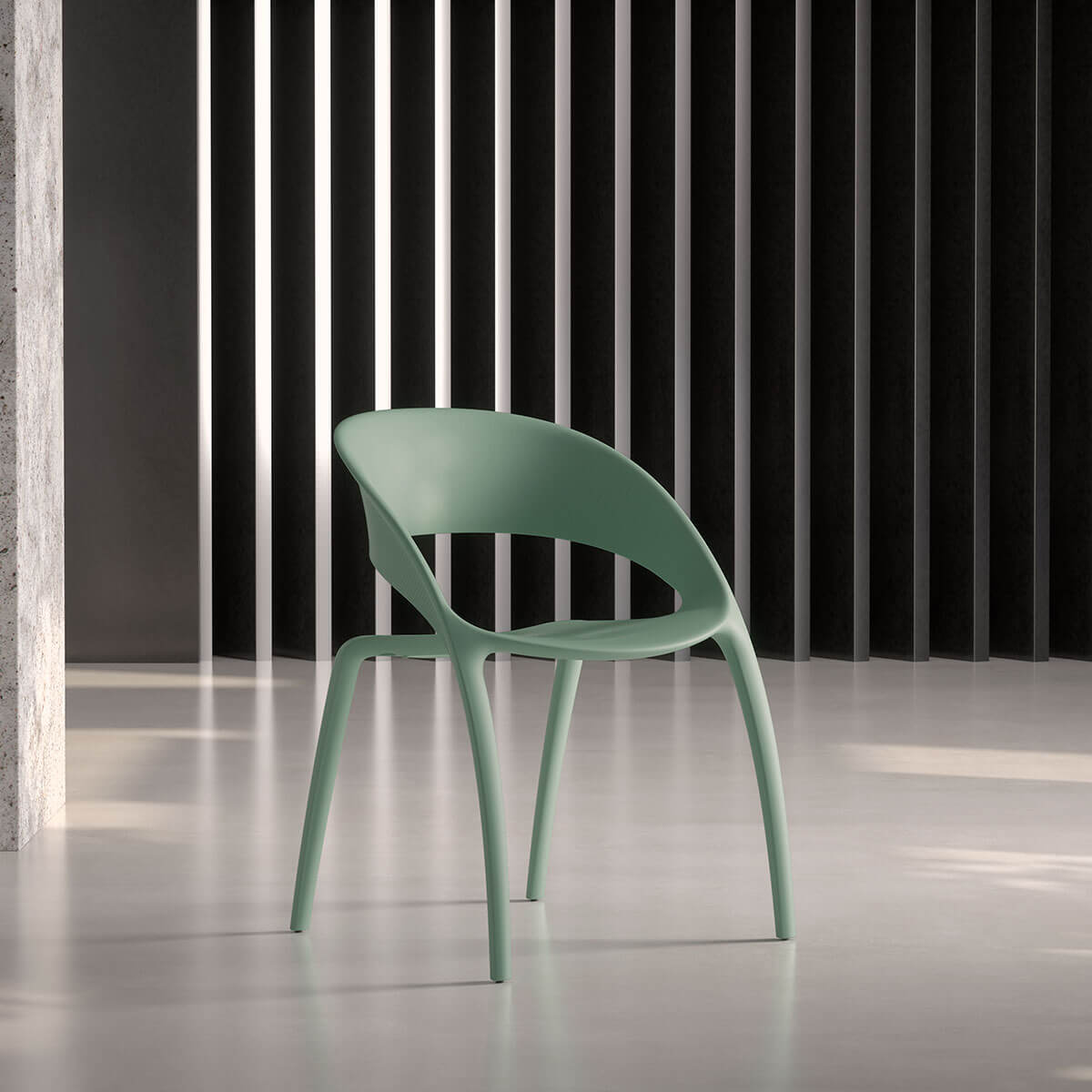 BEE chair | Vicent Berbegal | ACTIU
Like bees, which can fly despite the disproportion between small wings and fat body, the BEE chairs manage to combine shapes and volumes in a light structure that make the piece extremely easy to move and to store away – the chairs can be stacked up to five high.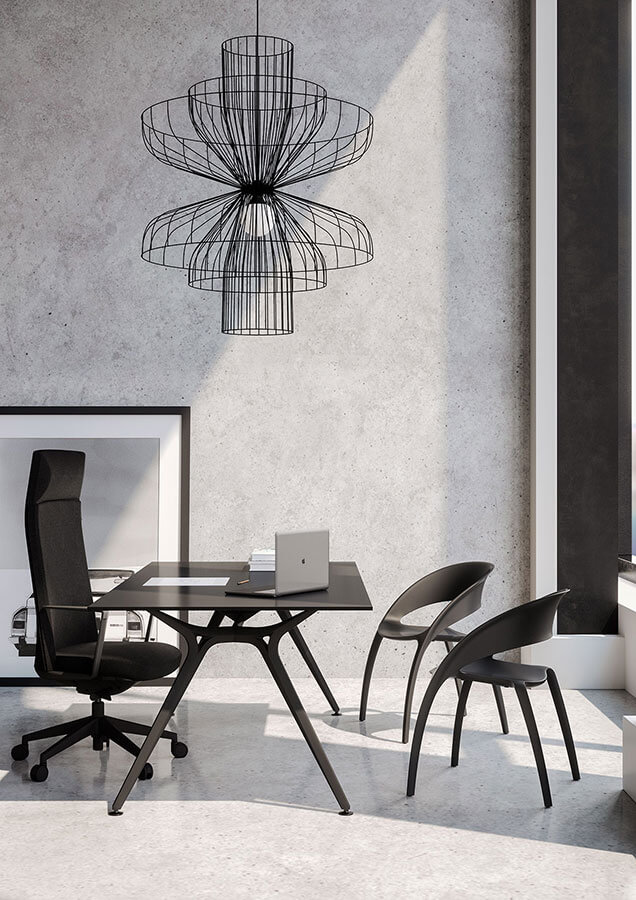 BEE chairs | Vicent Berbegal | ACTIU
Made of polypropylene with 30% fibreglass and gas-assisted injection, BEE is the result of a refined sustainable process based on engineering, innovation and material science.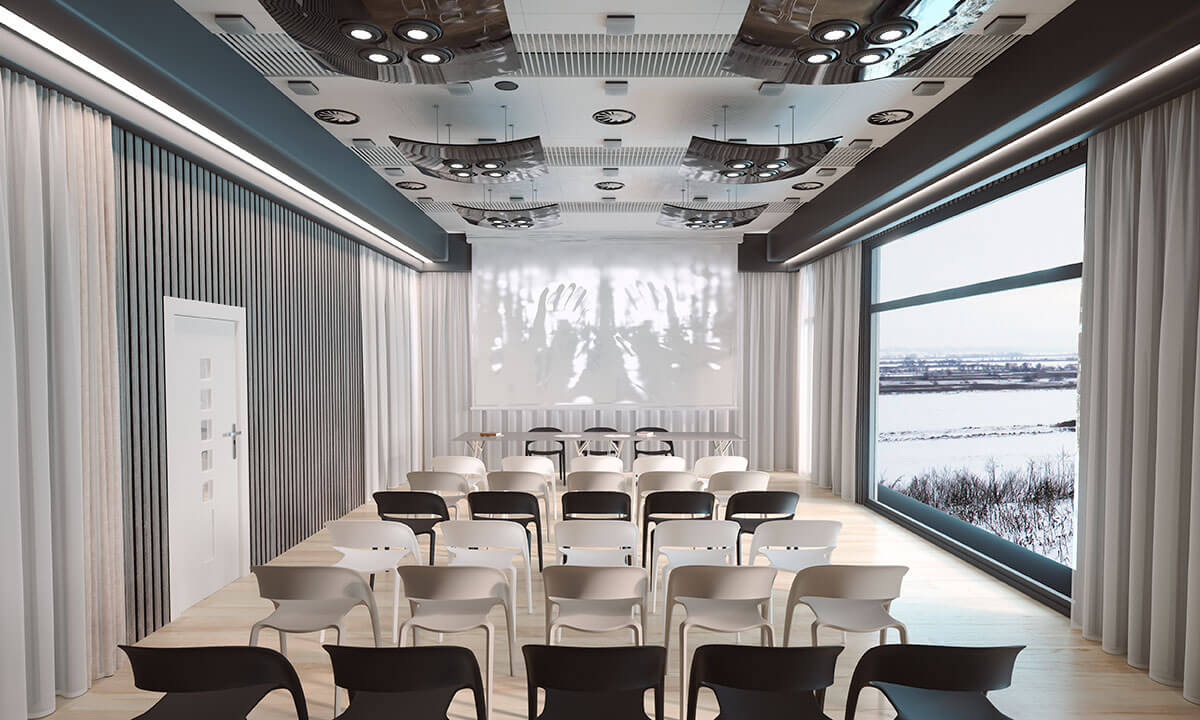 BEE chairs | Vicent Berbegal | ACTIU
It features an extra-compact exclusive design with no sharp edges or seams, making it pleasant to the touch. Its versatile nature makes it adaptable to any space, from hospitality to residential or corporate environments. It can be used as an individual chair in hotel rooms, as a guest chair in offices or as a chair in meeting rooms or auditoriums.
FLUIT chair. By Archirivolto Design
With the FLUIT chair sustainability is taken a step further. The Green World Compounding® certifies that the chair is made from fibreglass and polypropylene plastic 100% recycled from fruit and vegetable crates sourced in Andalusia, a region known as the vegetable garden of Europe.
FLUIT chairs | Archirivolto Design | ACTIU
Its delicate finish and soft feel give way to unique sensations thanks to a flowing design that allows the user to gently run their hands over the entire chair in a continuous motion, as it is free of any edges or joints. The use of the innovative gas assisted injection moulding technology results in a product that is lightweight as well as it is robust and highly resistant, all of them features that make of FLUIT one of the most stable chairs on the market.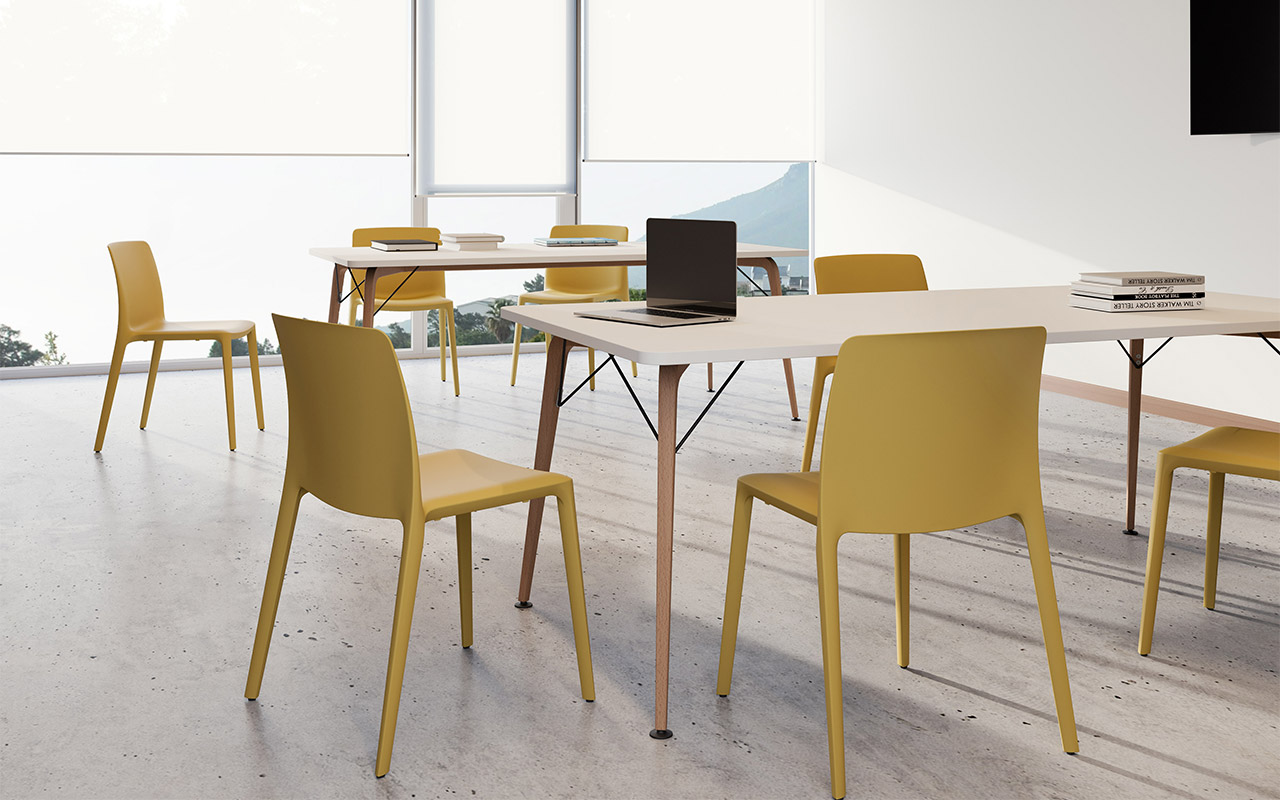 FLUIT chairs | Archirivolto Design | ACTIU
Available in two versions, with or without armrest, with optional padded cushion and in a wide range of colour combinations, FLUIT has been designed as a multifunctional piece, capable of blending into all environments: corporate, hospitality, restaurant, work or training.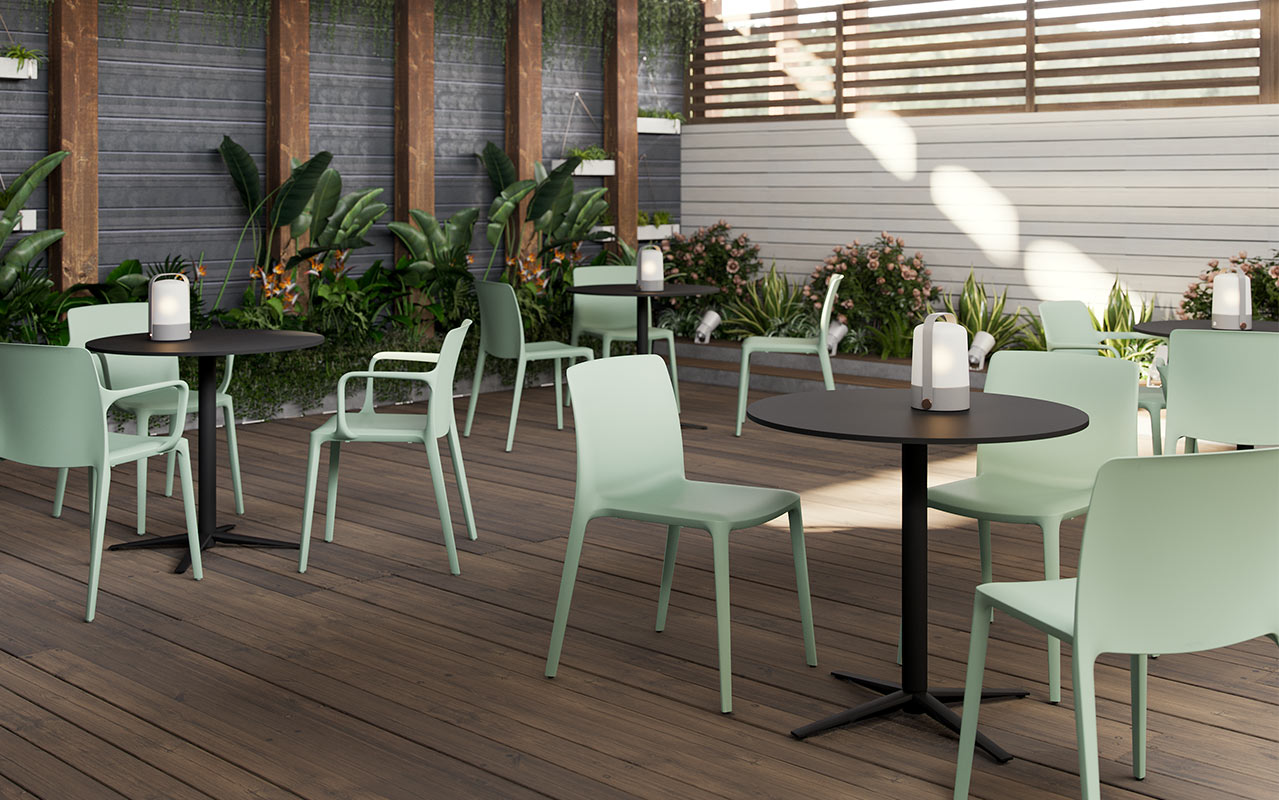 FLUIT chairs | Archirivolto Design | ACTIU
It can be stacked up to 20 units for the model without armrest and is suitable also for outdoor use thanks to the standard UV-protection finish.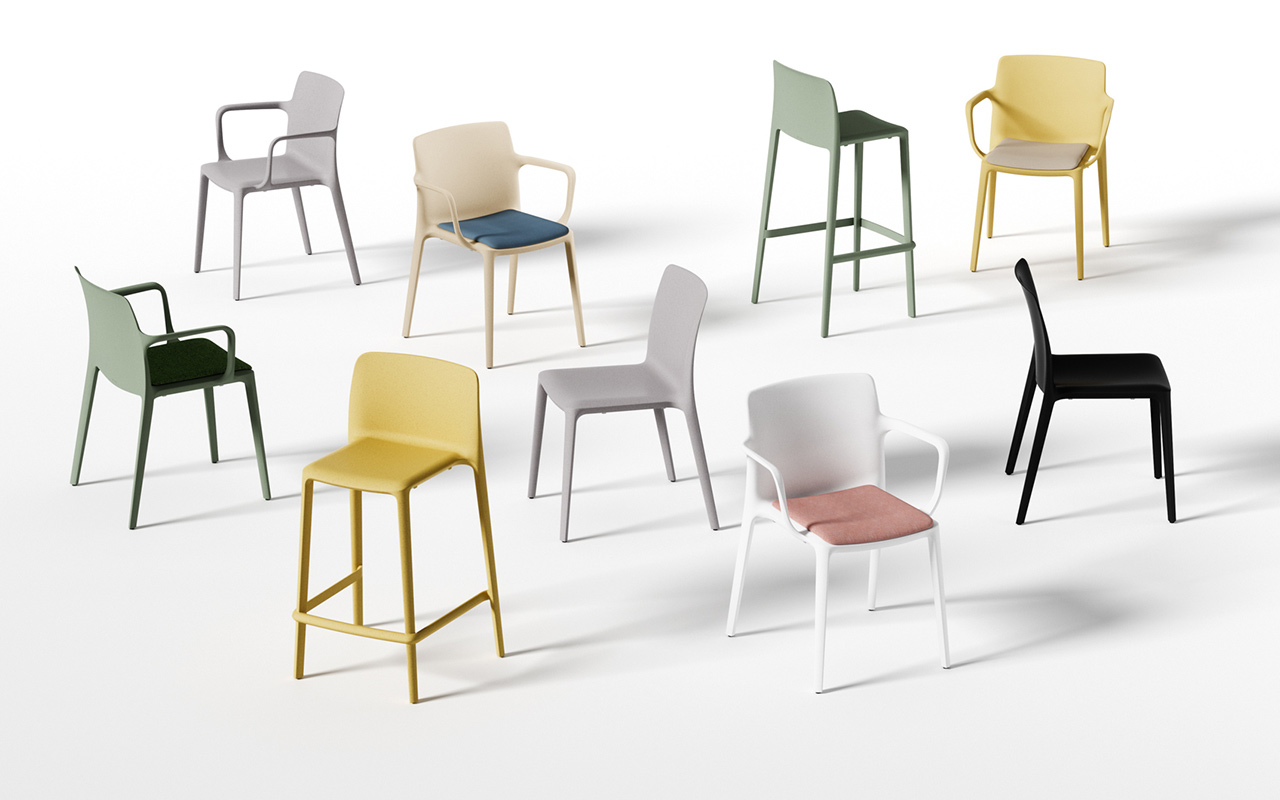 FLUIT chairs | Archirivolto Design | ACTIU
Set up in 1968 by Vicent Berbegal, over the last thirty years, ACTIU has never stopped growing, forging relationships, incorporating talent and trusting in professionals and designers who have driven the brand to what it is today, whilst always preserving its original commitment to smart ergonomic designs that promote well-being in workspaces.

For more information, visit: www.actiu.com