AKABA, cool designs for collaborative spaces and functional offices
February 10 / 2021
Many things can happen around a chair in an office. Gone are the dull, boring offices with employees sitting individually in cubicles. Modern workspaces have been designed to improve productivity, encourage collaboration and foster creativity. Not to mention providing a significant wow factor for the clients who visit these modern works of architectural and design art.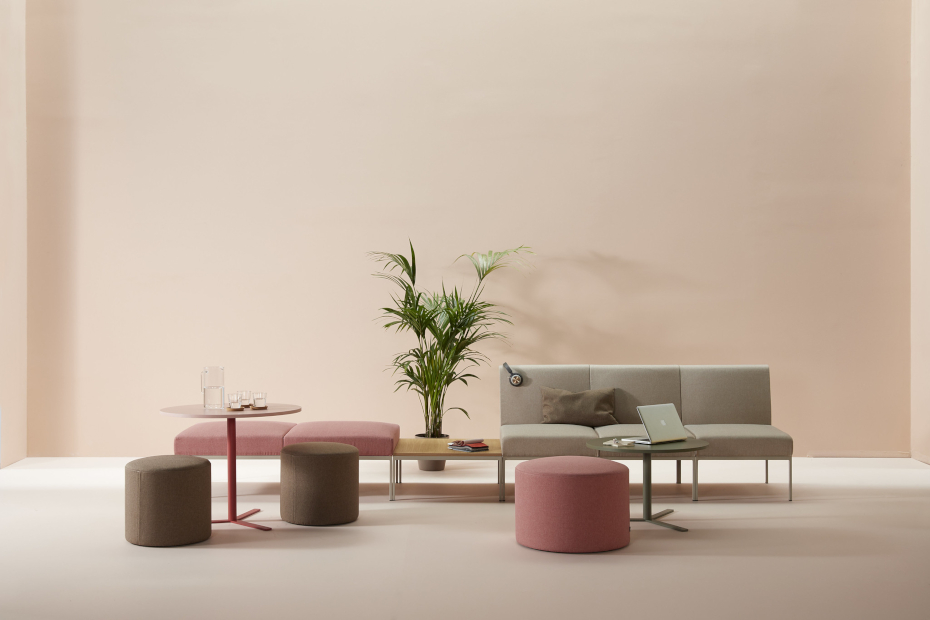 TOPA seating system | Pensi Design Studio | AKABA
Set up in 1986 by three young and enthusiastic partners with an eye for avant-garde and design-led furniture, since its inception AKABA has created furniture for spaces with a human focus that promotes socialization, conversation and teamwork. The company itself has always been profoundly committed to a social and inclusive culture; those values stay at the core of the brand philosophy and still ​​guide their management model and their way of understanding creation. So, much more than a simple chair, much more than mere pieces of furniture, but real workmates that share tasks with you and helps you to enjoy your breaks.
KABI armchairs & CARMA table | Pensi Design Studio | AKABA
At the beginning of the 90s, AKABA launched a new phase that marked a change of direction towards a larger scale production: from home furniture to the production of furniture for contract spaces and collectivities. 1996 marked another milestone in the history of the company: the launch of GORKA, a chair created by Pensi Design Studio which has turned into a design icon, a company's best-seller that still nowadays represent the true essence of the brand. A balanced combination of aesthetics, functionality and ergonomics.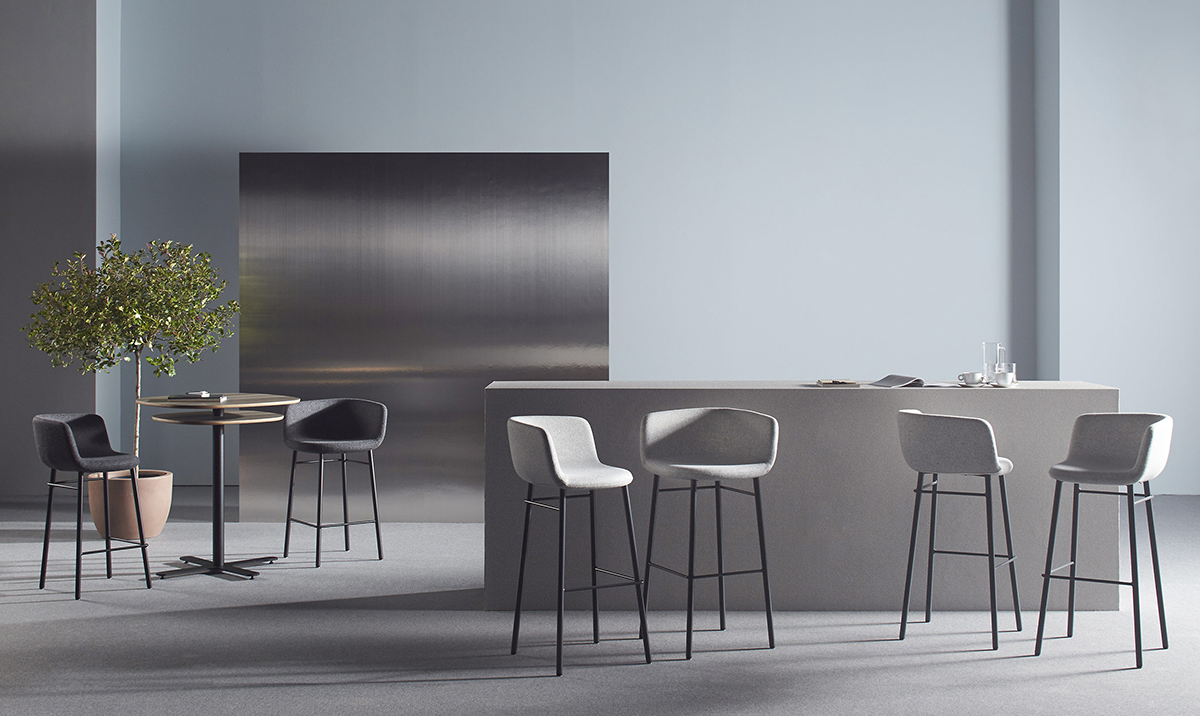 XOKO stool | Iratzoki Lizaso | AKABA
The collaboration with big names of the national and international design scene – such as Mariscal, Jorge Pensi and Calatrava, who participated in the creative process since the beginning, or Francesc Rifé, Isaac Piñeiro, King & Miranda, Paxti Mangado and many others who have joined the team over the years – and the participation in international fairs have earned the company an outstanding presence in all specialized magazines as well as international prestige and recognition.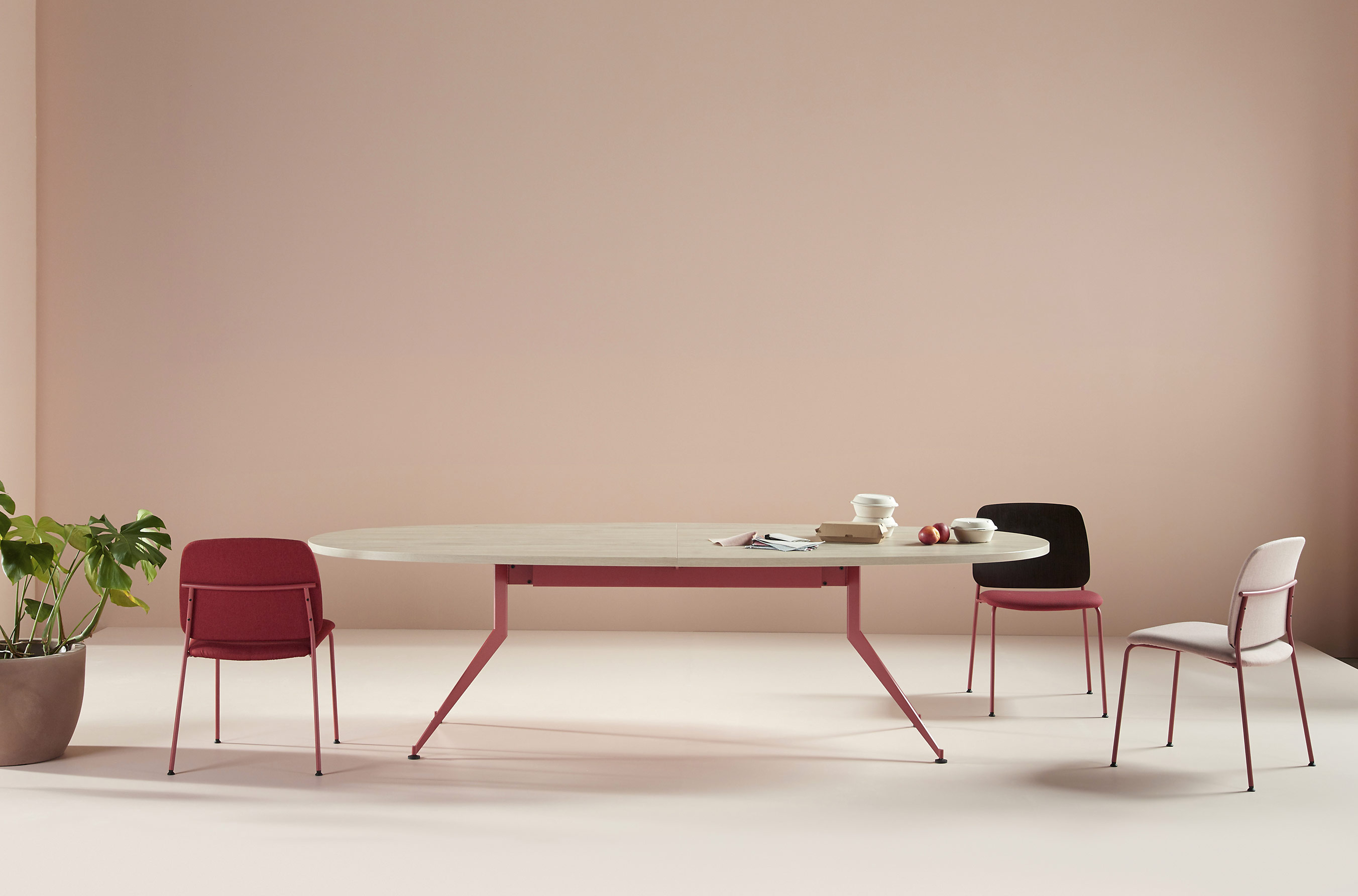 USOA table | Luenca & Leache | AIA chairs | Isaac Piñeiro | AKABA
Another AKABA's claim to fame is its capacity to carry out special schemes: important projects in recent years include supplying the benches for Norman Foster's modern metro and the Calatrava's Loiu Airport in Bilbao and a seating range for Helmut Jahn's Cologne-Bonn airport.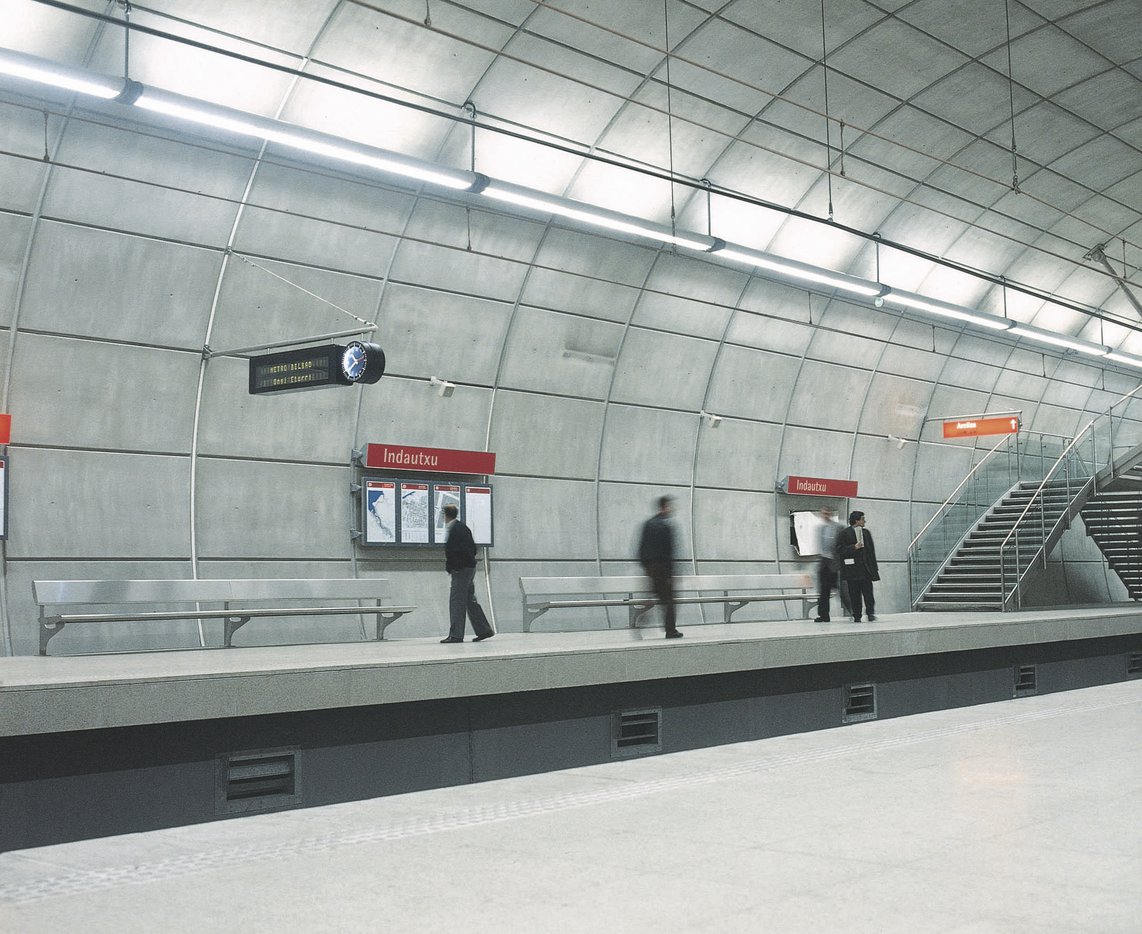 AKABA's benches in the Metro in Bilbao | Architecture project: Norman Foster
Institutional recognition came in 2000 with the National Design Award and in 2002 with the Prince Felipe Award for Business Excellence (SMB) that acknowledges above all their management model focused on people and their collective and social approach to creation.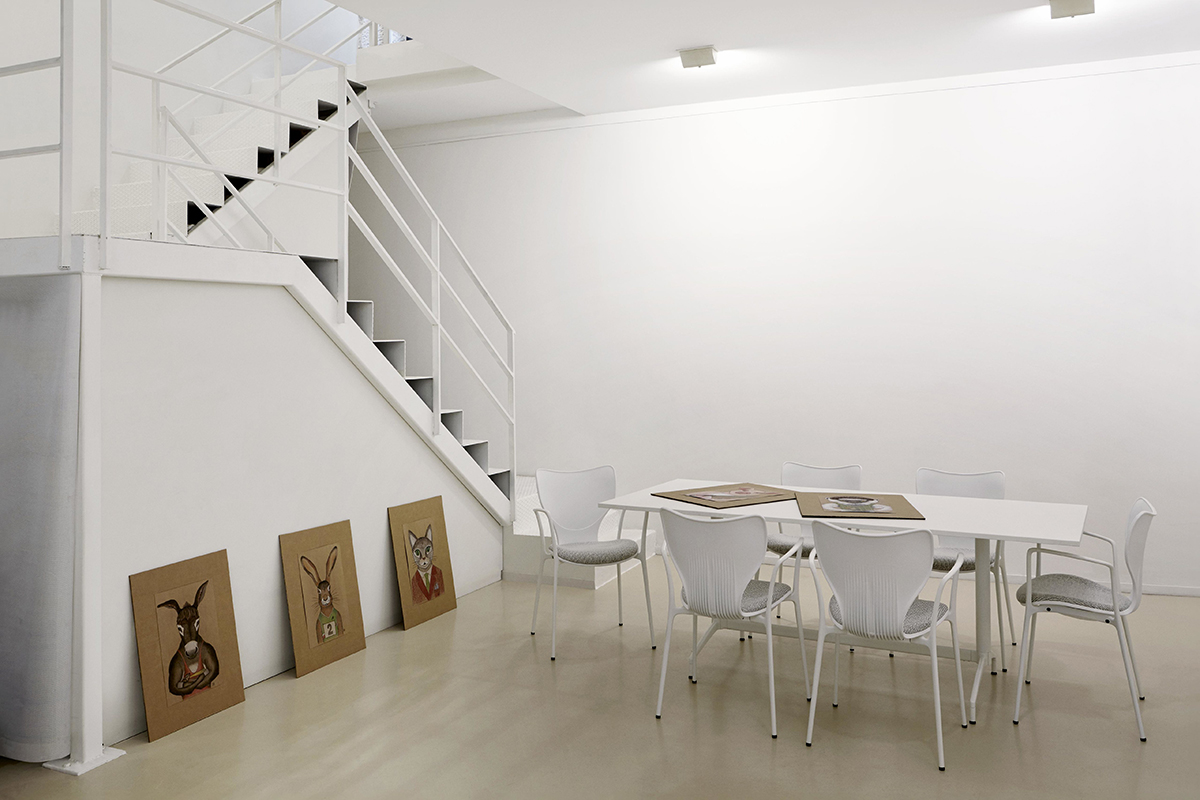 GORKA chair | Pensi Design Studio | AKABA
To keep true to this approach, all the AKABA collections harmoniously blend design, durability and comfort of use. They easily adapt to working environments that are physically and mentally comfortable, giving team members a way to take short breaks, to give their bodies and minds time to rest, recharge, recover, and remain productive throughout the day. Materials and finishes have been carefully selected to redefine textures and enhance their aesthetics.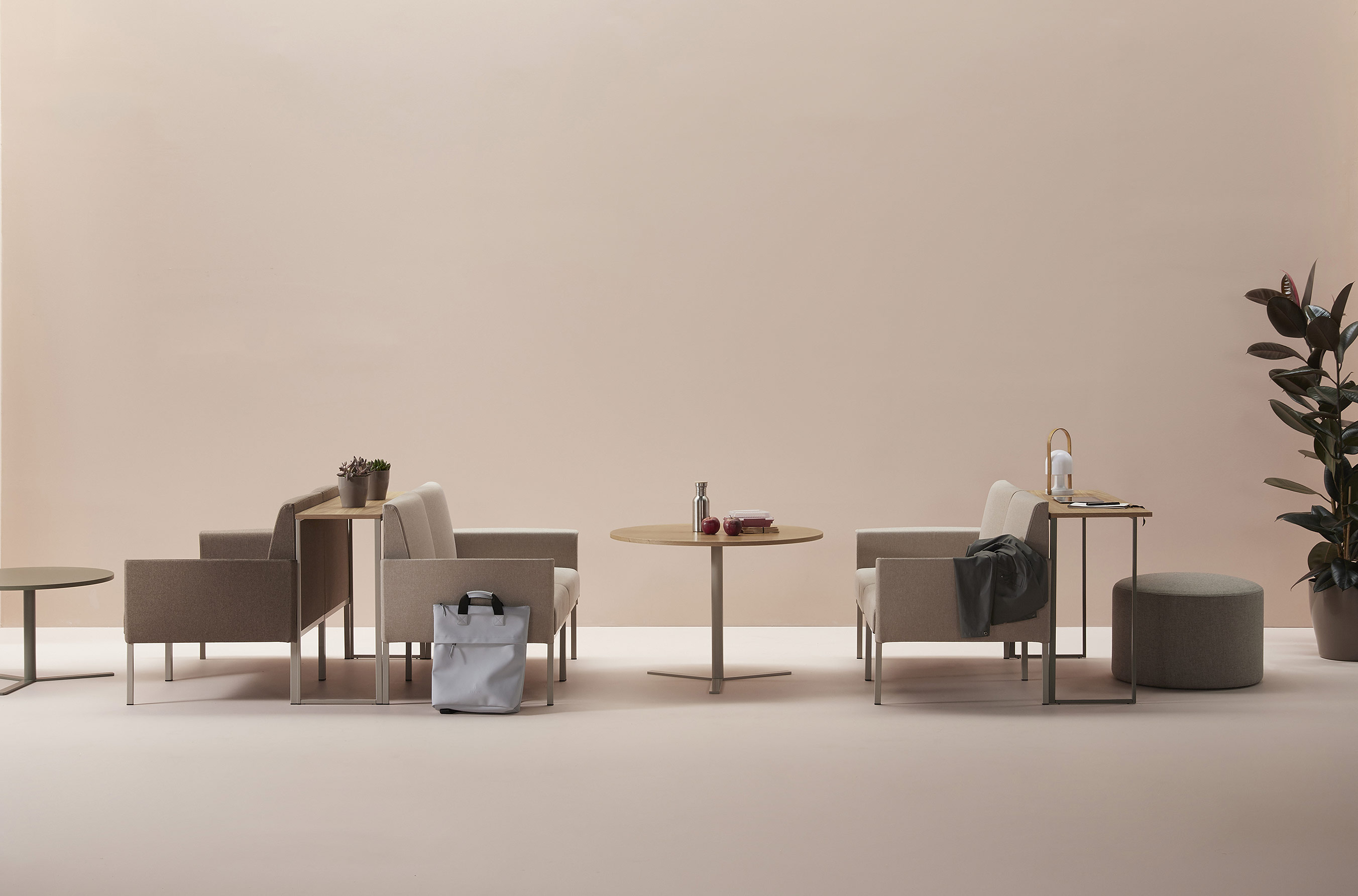 TOPA lounge furniture | Pensi Design Studio | AKABA
Along with the "classics" – such as the KOMPAS bench system, EGOKI bench and beam seating collection, MUGA executive office chairs, the GORKA chair and the USOA meeting table -, this year the AKABA's catalogue features a number of new additions aimed at enriching their offer for collaborative spaces…
TOPA lounge furniture & seating system. By Pensi Design Studio
The Pensi Design Studio has created for the brand this new, innovative furniture concept based on individual pieces that are easy to assemble and offers endless possibilities of configuration. You can even reconfigure the design rearranging modules according to your need and space or by removing the armrests or using table separately.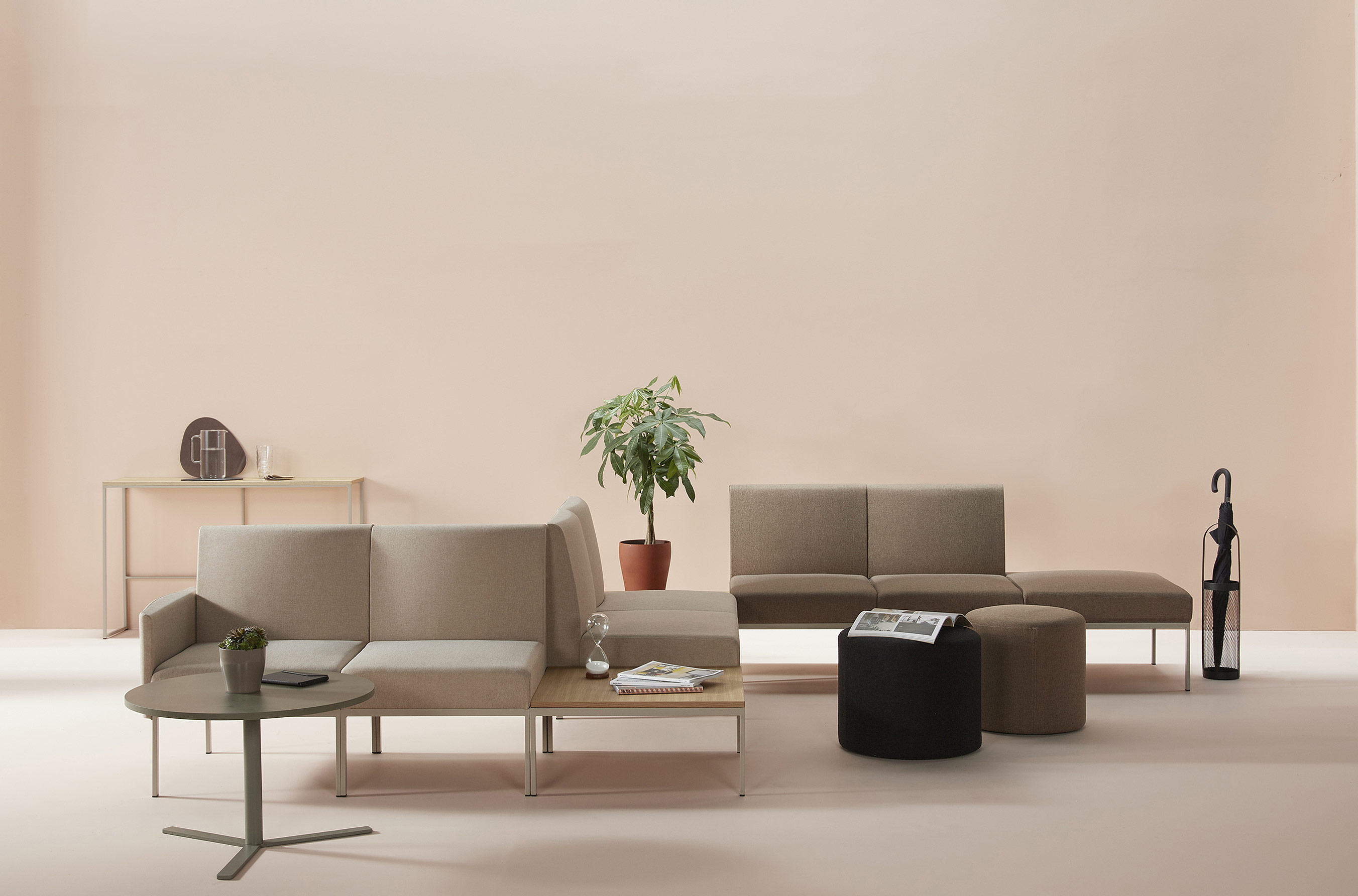 TOPA seating system | Pensi Design Studio | AKABA
Featuring a casual design made of soft, fluid shapes, the TOPA Collection includes sofas, armchairs, side tables, benches and pouffes that can be joined together to form extremely functional and versatile seating systems for working or just relaxing: a made-to-measure workspace, a waiting area, a chill-out for employees, a co-working setting, a meeting room…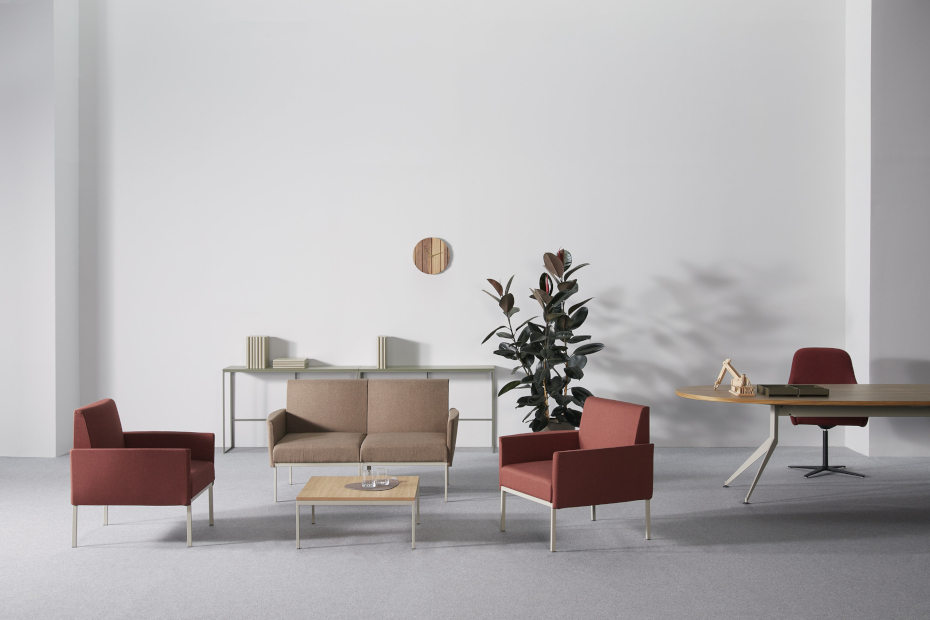 TOPA seating system | Pensi Design Studio | AKABA
Low and high round tables and a console complete the collection increasing its versatility and design possibilities.
AIA chair & lounge chair. By Isaac Piñeiro
Lightness, comfort and style are the essential qualities that define the design of the AIA chair that is available in three different versions: with or without arms and lounge chair. Inspired by the Japanese sense of simplicity and harmony, AIA features a timeless design made of smooth, clean lines and natural materials that provoke a warm, inviting feeling.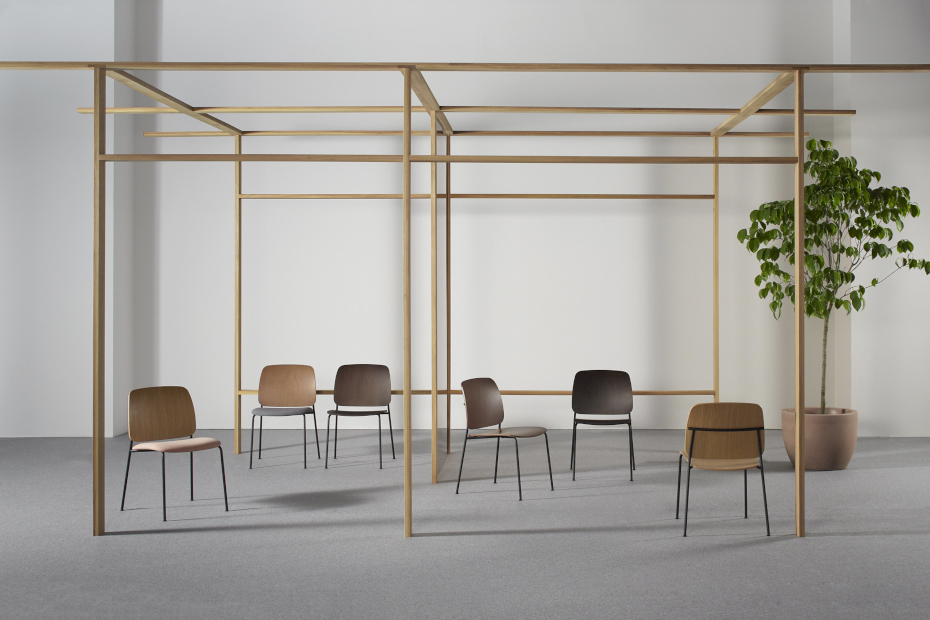 AIA chairs | Isaac Piñeiro | AKABA
The tubular steel structure and the comfortable seat and back – made of plywood finished in stained quarter oak – give the chair lightness and ensure unique beauty.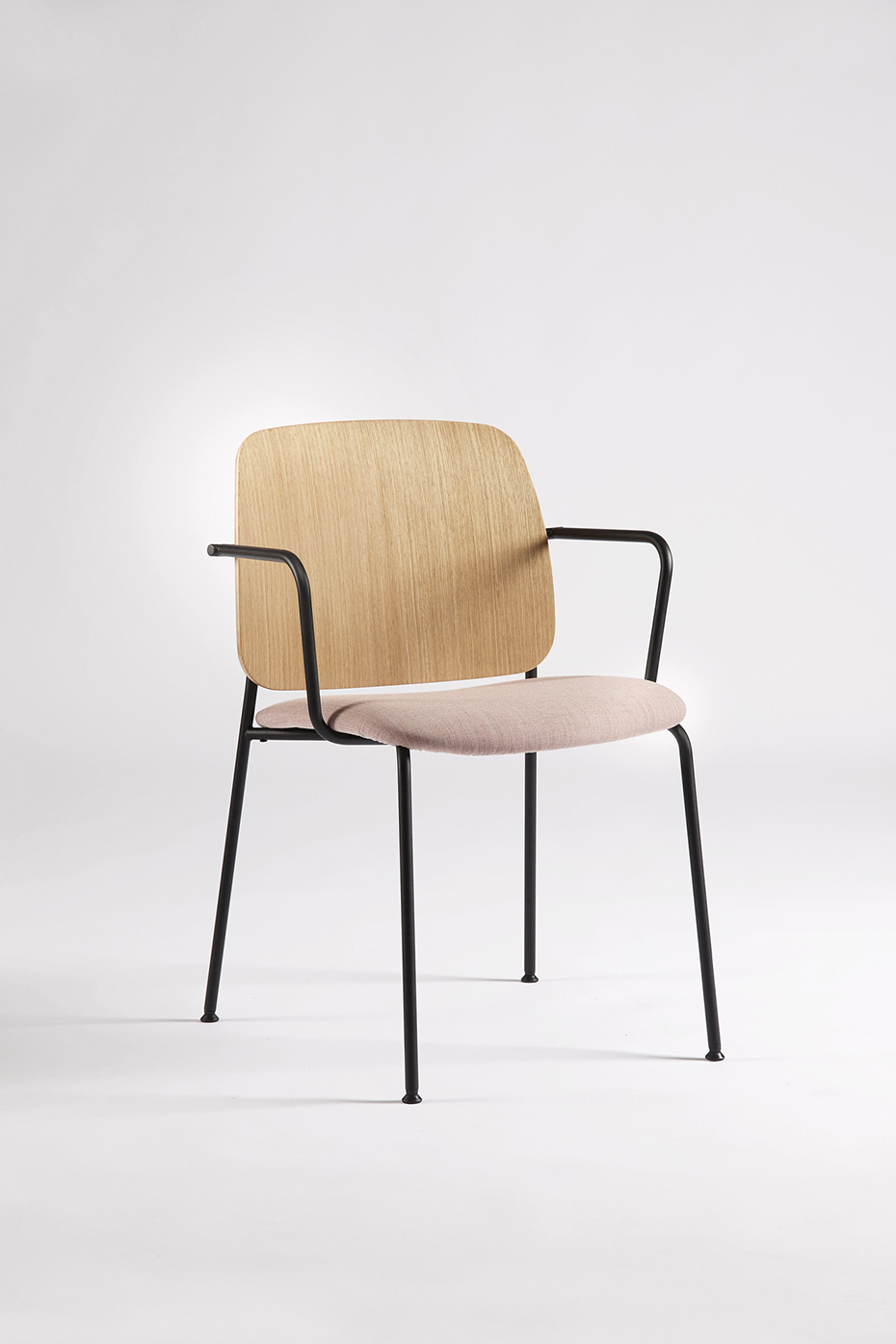 AIA chair with arms | Isaac Piñeiro | AKABA
Thanks to the rich choice of finish colours and fabrics it is possible to adapt it to different interior schemes at home, in offices, hotels and restaurants. On demand, it can come with upholstered seat and wooden back or with upholstered seat and back to maximize comfort.
XOKO stools. By Iratzoki Lizaso
Designed to be attractive and adaptable to different needs, the XOKO stool has an intriguing design – symmetrical and asymmetrical at the same time – that makes it possible for users to sit in different directions. The generous dimensions of its seat provide excellent comfort and make of XOKO a great seating option for co-working spaces and collaborative areas.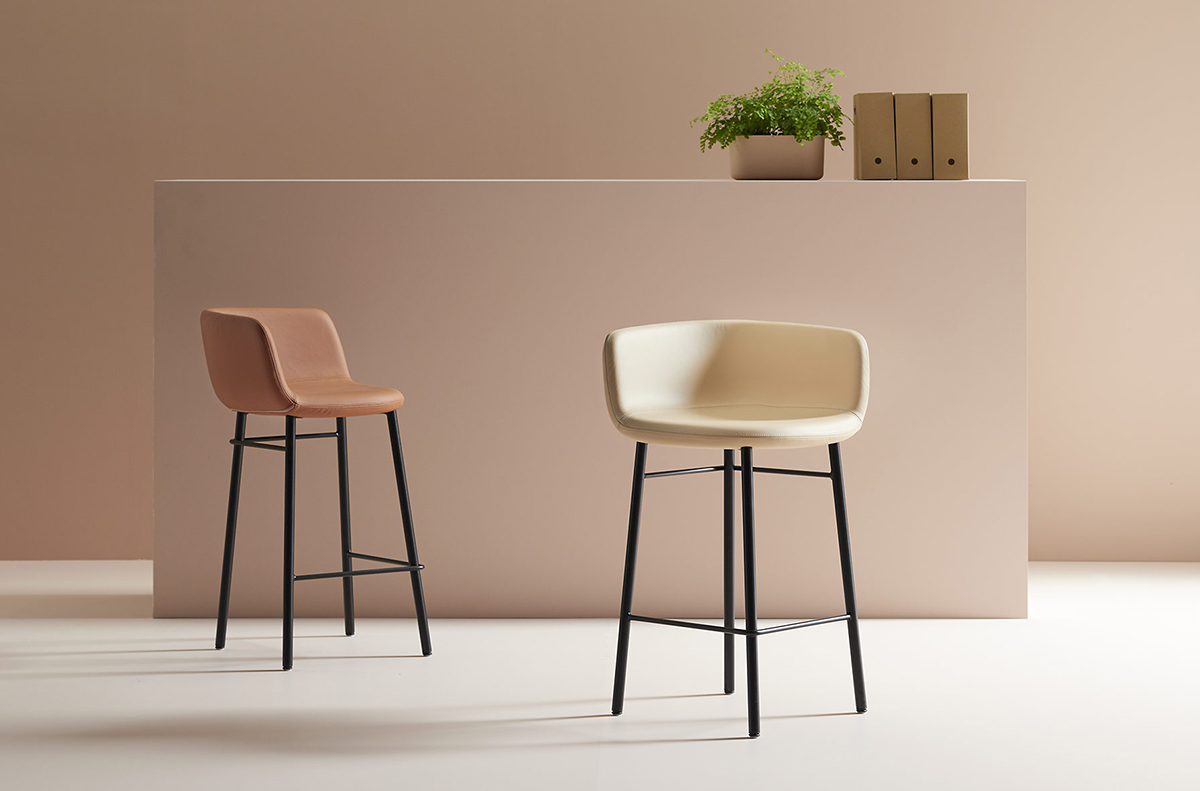 XOKO stool | Iratzoki Lizaso | AKABA
The leg version has a steel structure and comes in 3 different heights. There also two other options: the stool with swivel pedestal and the collaborative stool with castors and writing pad, ideal for lectures and co-working tasks.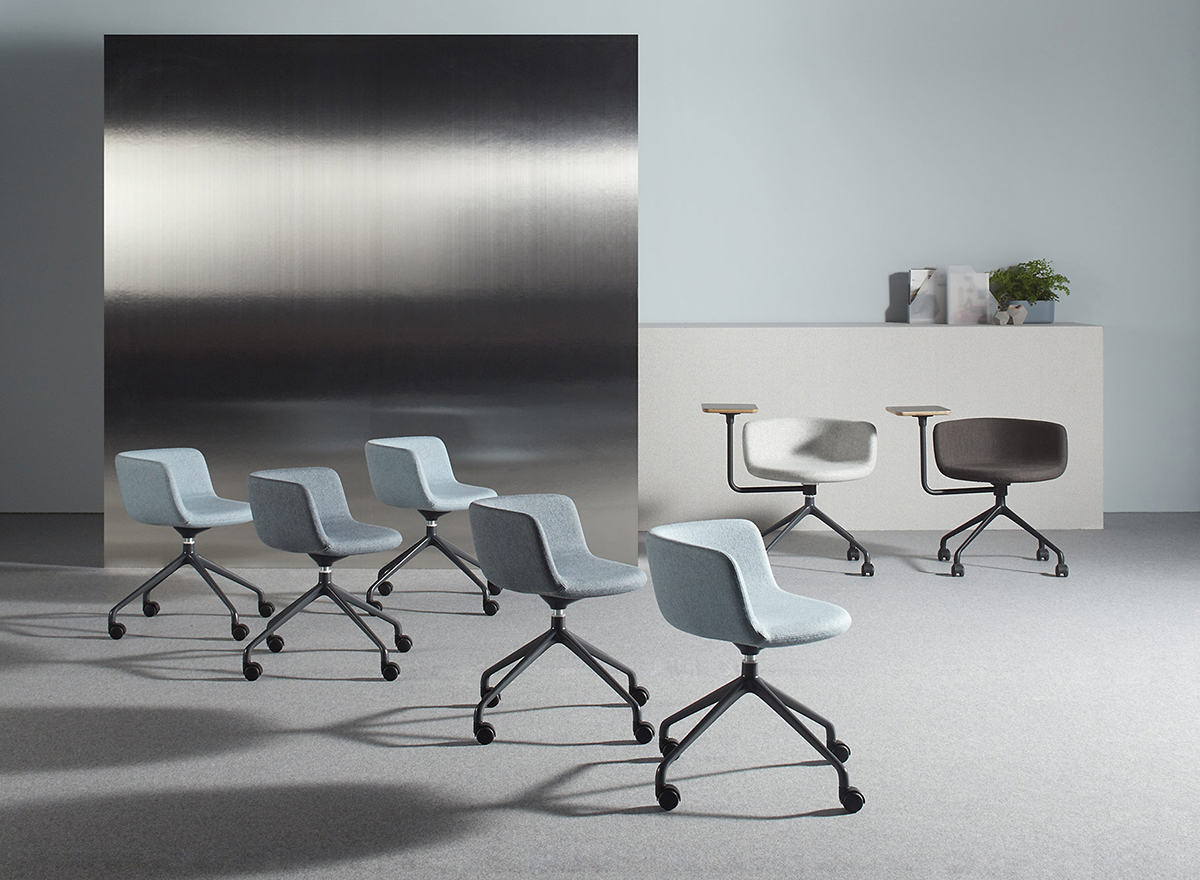 XOKO stool with swivel base and writing pad | Iratzoki Lizaso | AKABA
At AKABA they are committed to sustainability and they strive to prevent and minimize their environmental impact. Not only their collections have been conceived to withstand the test of time in order to ensure durability and reduce wastes; they also meet the highest eco-design standards and are certificated by the ISO 14001 Environmental Management System Certificate, the ISO 14006 Ecodesign Management System Certificate, and the GECA Certificate.
Find other solutions at: www.akaba.net