Feria Habitat Valencia 2022 Highlights. Furniture for personalized, functional workspaces
September 9 / 2022
Fluid spaces, natural light, relaxing colours and modularity are key features of new "hybrid working landscapes" that support the current changing nature of work. These innovative working concept puts people first and are therefore designed to foster employee productivity, safety and wellbeing.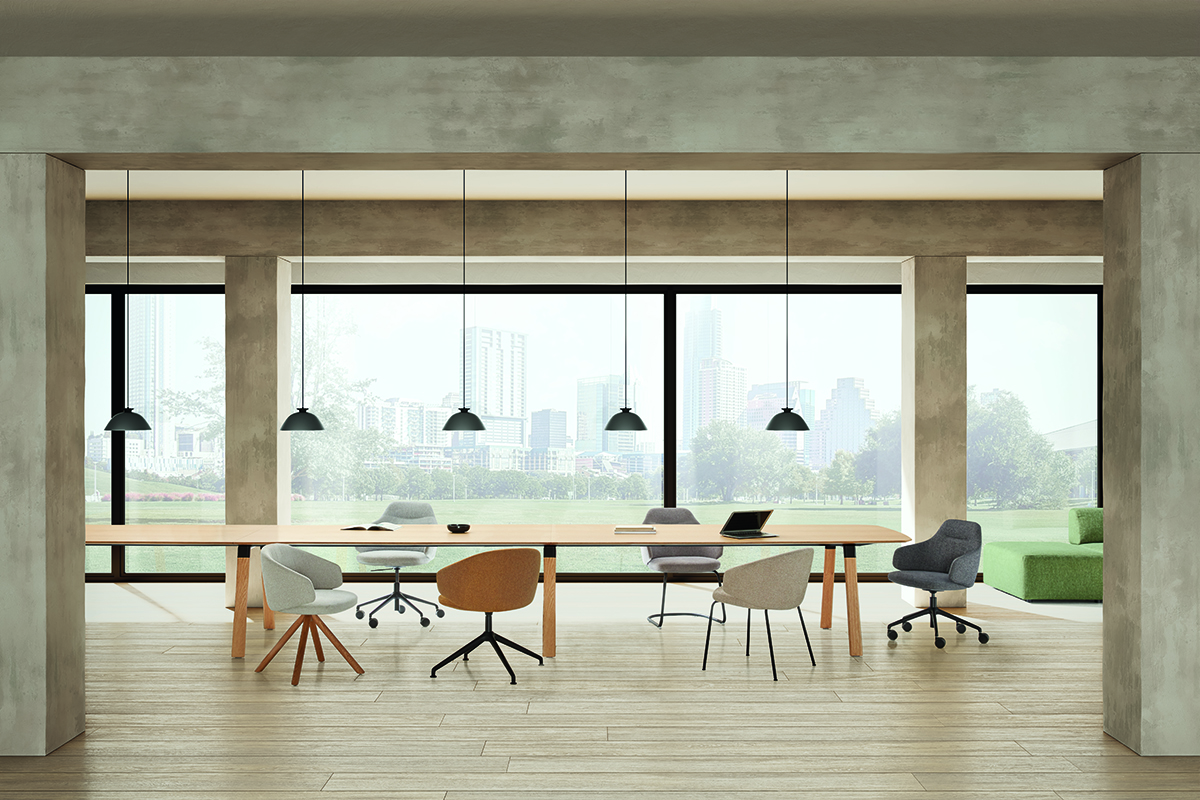 BINAR 60 office chairs | INCLASS
These principles are also what inform new products from Spanish companies specialized in office and contract furniture. They have come up with products designed for flexibility and versatility, with modular elements and light structures to create agile, functional working setups. At Feria Habitat Valencia 2022, professionals will find the latest product innovations from a selected group of Spain's biggest office furniture manufacturers. Get ideas!
The evocative power of wood. The WUDI lounge collection by Francesc Rifé for INCLASS
Tradition and innovation are a driving force for products which are beautiful and well executed. Like the WUDI collection, a refined creation by Francesc Rifé for INCLASS, that combines the aesthetic and sustainable qualities of wood with a stylish, linear design and ergonomic features.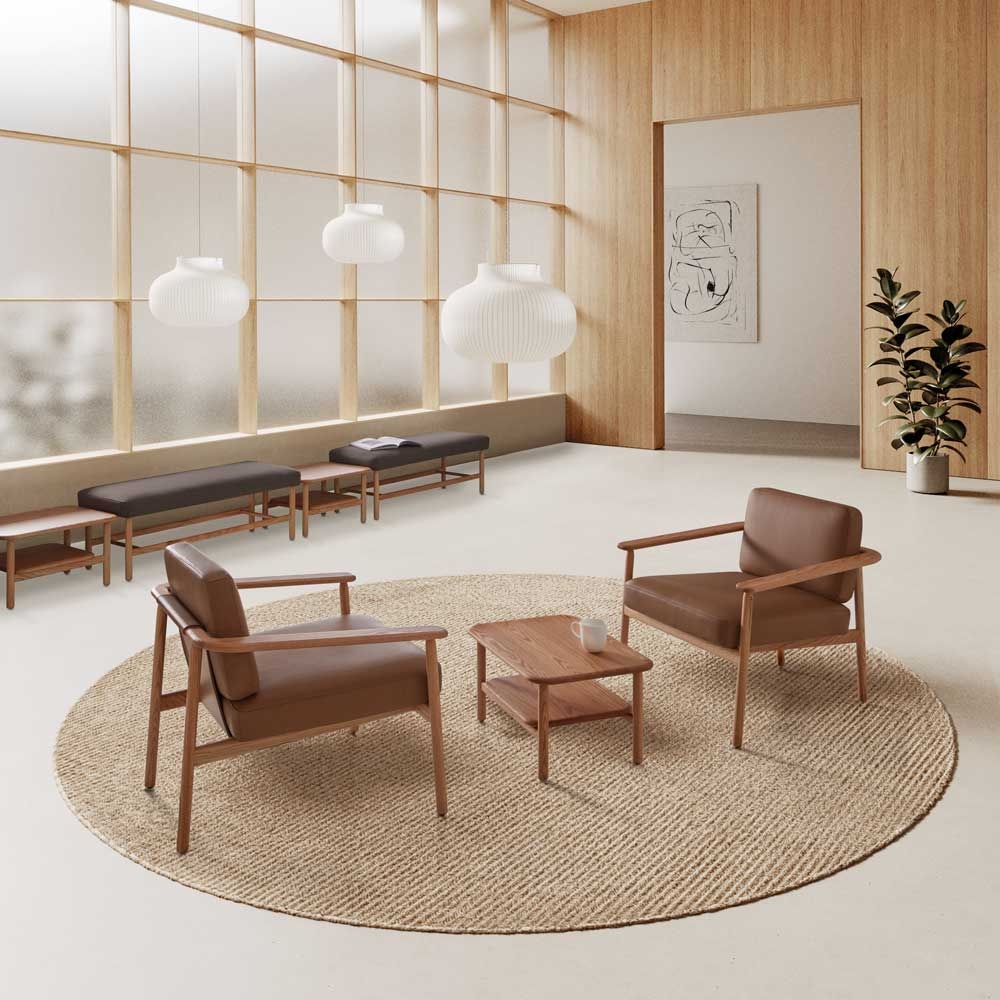 WUDI lounge furniture | Francesc Rifé | INCLASS
It includes armchairs, sofas, upholstered benches, and side tables that can be easily integrated into multiple spaces, at work or in lounge areas. The armchair features a timeless and comfortable design, characterized by its expressive armrests.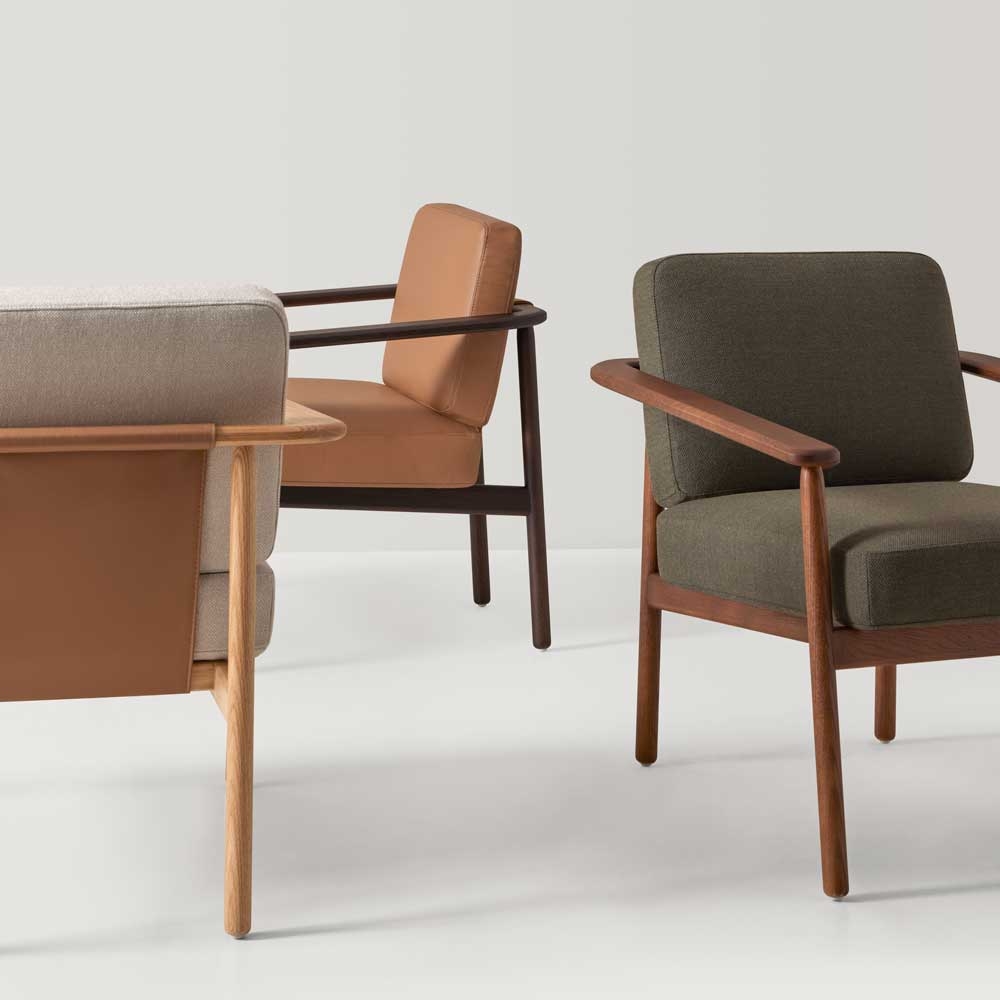 WUDI armchairs | Francesc Rifé | INCLASS
The backrest, which is supported by a stretched fabric or leather, contributes to the light and relaxed spirit of the piece. The rounded solid wood structure radiates warmth and softens its image, while the upholstery and high-quality details lend it great elegance.
Flexible furnishing for fluid spaces. The WING modular shelving system by Mario Ruiz for SYSTEMTRONIC
With light, tubular metal structure, contemporary bookcases and shelving system turn easily into "non-separating space dividers". Designed to be positioned alongside walls or to be a free-standing system, the WING modular shelving programme is one of the latest solutions created by Mario Ruiz for SYSTEMTRONIC for dynamic, fluid spaces.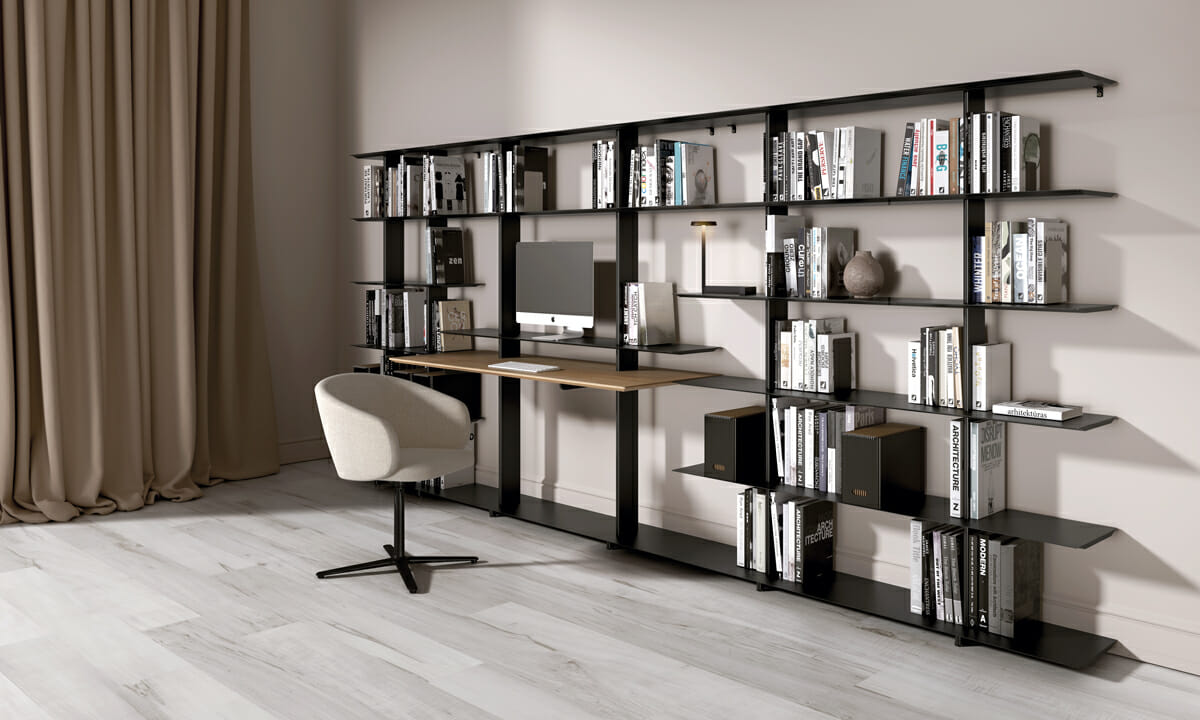 WING modular shelving system with desk option | Mario Ruiz | SYSTEMTRONIC
It boasts a refined structure made of extruded aluminium that evokes a modern sense of lightness and sophistication. The modules can be configured in multiple shapes and heights to respond to different needs and spaces, both in the contract and residential areas. The option of integrating sliding panels, an oak or technical stone finish on top shelves, as well as other accessories, make it possible to expand and complement the functional and versatile nature of this innovative shelving system.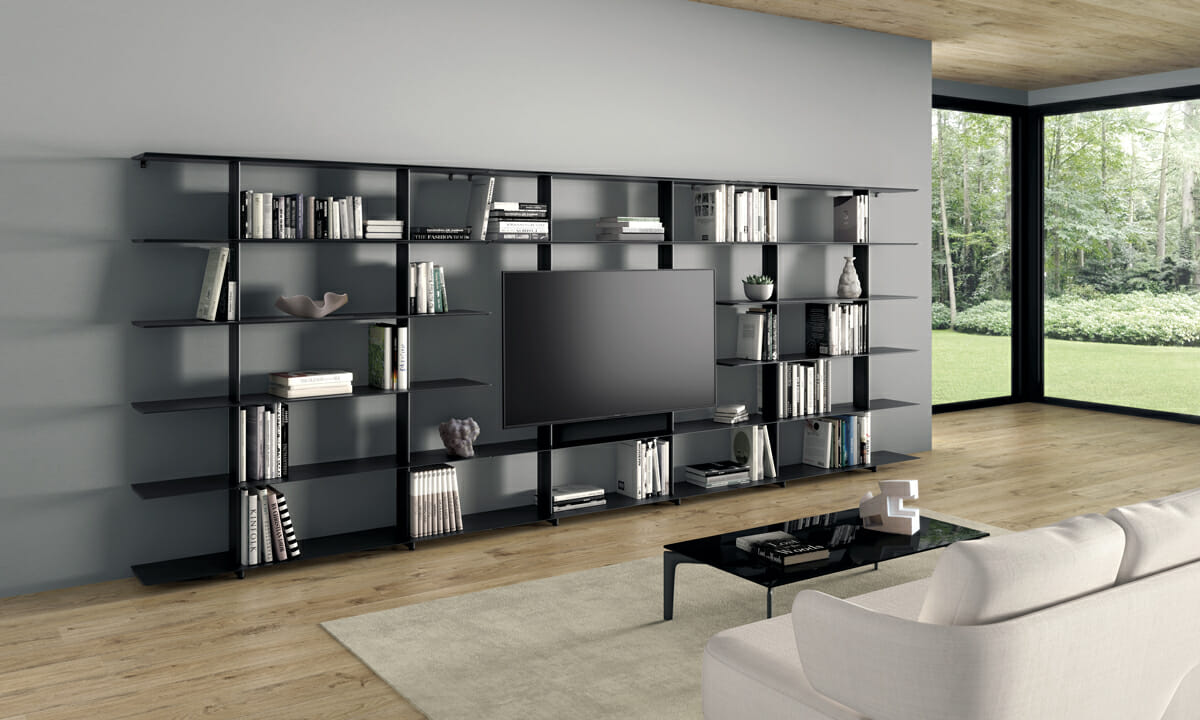 WING modular shelving system with TV stand option | Mario Ruiz | SYSTEMTRONIC
The recent addition of new elements, such as the bench, the wardrobe, the desk and the tv stand, have further extended the possibilities and functionality of the programme.
Modularity and infinite customization. The TRACK seating system by Francesc Rifé for MOBBOLI
We feel like successful workplace planning now perhaps more than ever relies on high levels of flexibility, modularity, and adaptability. The new TRACK seating system from MOBBOLI, which represents the first collaboration of the brand with Spanish designer Francesc Rifé, elegantly meets the needs of contemporary work environments and space sharing.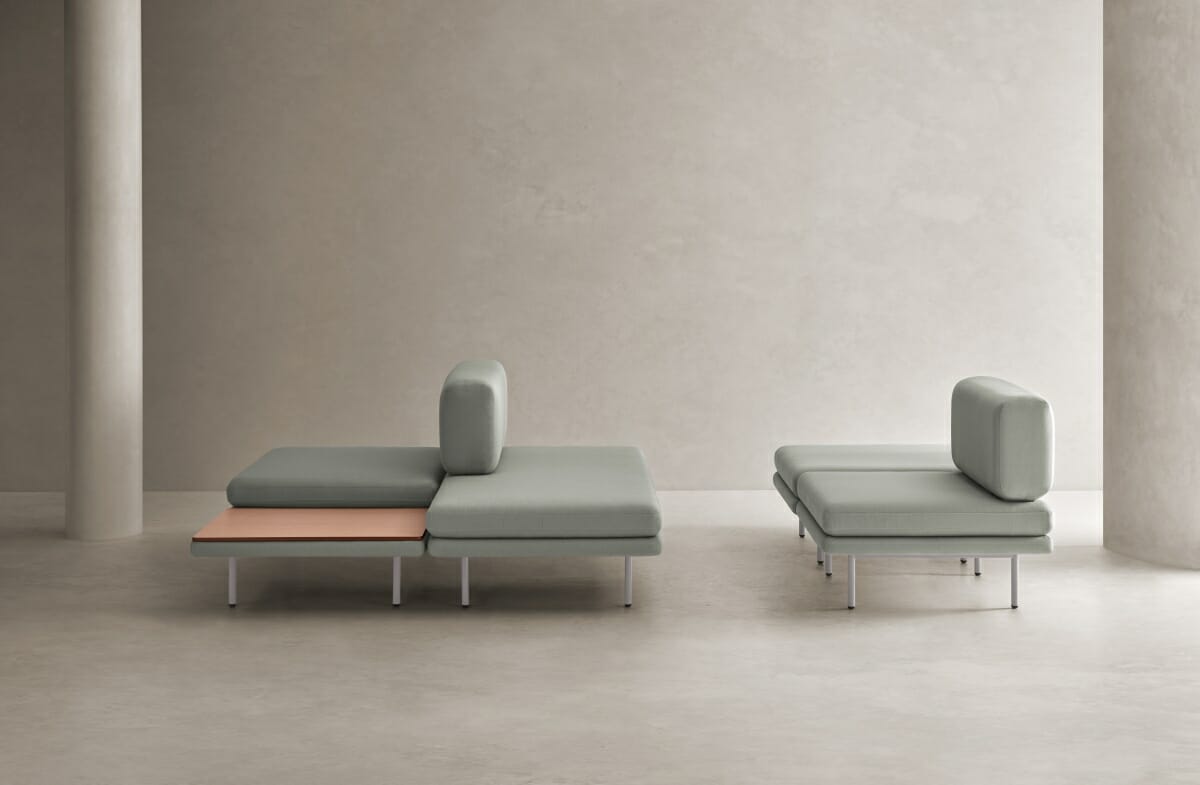 TRACK modular seating system | Francesc Rifé | MOBBOLI
Comfortable and versatile, it is made of different elements and modules that represent the syllables of a language that speaks to different worlds. Through the multiple combination of modules, you can configure sinuous seating options with generous dimensions, ideal for creating multifunctional and attractive spaces in different environments: lobbies, waiting areas, collaborative spaces, offices… Pieces include benches with or without backrest, two and three-seater sofas, the armchair, as well as the pouf and the table modules and the sinuous elements that can be joined together to form the desired composition.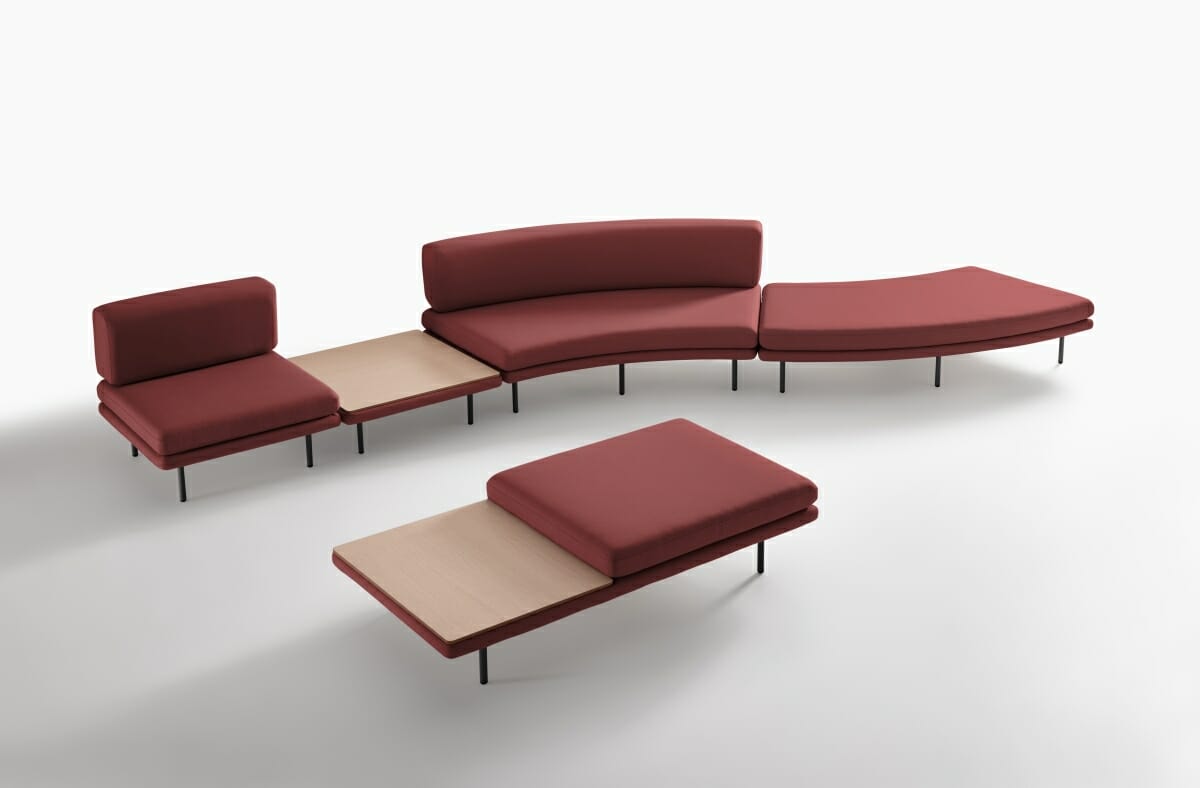 TRACK modular seating system | Francesc Rifé | MOBBOLI
The wide choice of upholsteries and the four-legged metal structure painted in any of the sample colours allows the customization of each project.
Colours and shapes. The NIU counter by Pepe Font for OFIFRAN
Colours, ergonomics, and natural materials also play a crucial role for their connection with people wellness. Yet colours can be used to define the corporate culture or to transmit relaxing vibes in public spaces and receptions. This is the case of the new NIU counter, designed by Pepe Font for office furniture specialist OFIFRAN.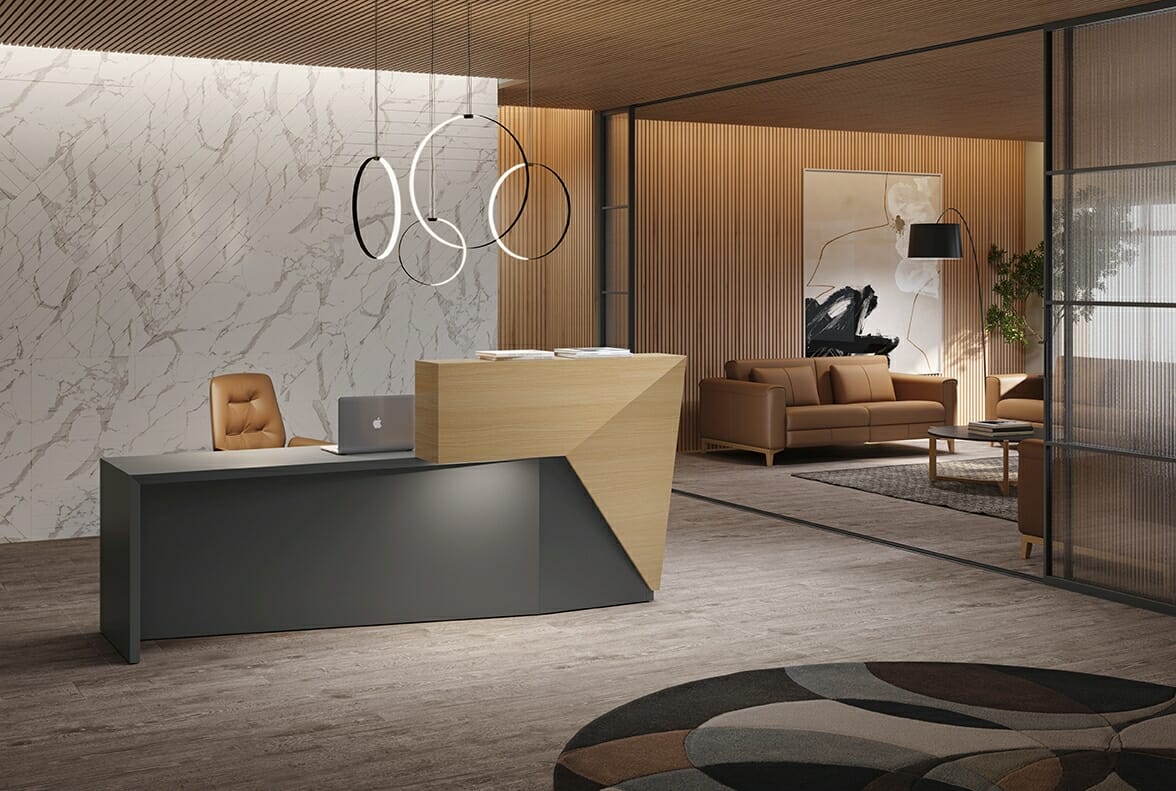 NIU counter | Pepe Font | OFIFRAN
NIU is a unique reception solution, with a design that adapts to any environment, providing different possibilities as a counter, customer service desk or even workstation. Its beautiful design stands out for the harmonic balance of opposite geometric lines and shapes that evokes different sensations: heavy, light; stable, unstable; static, dynamic…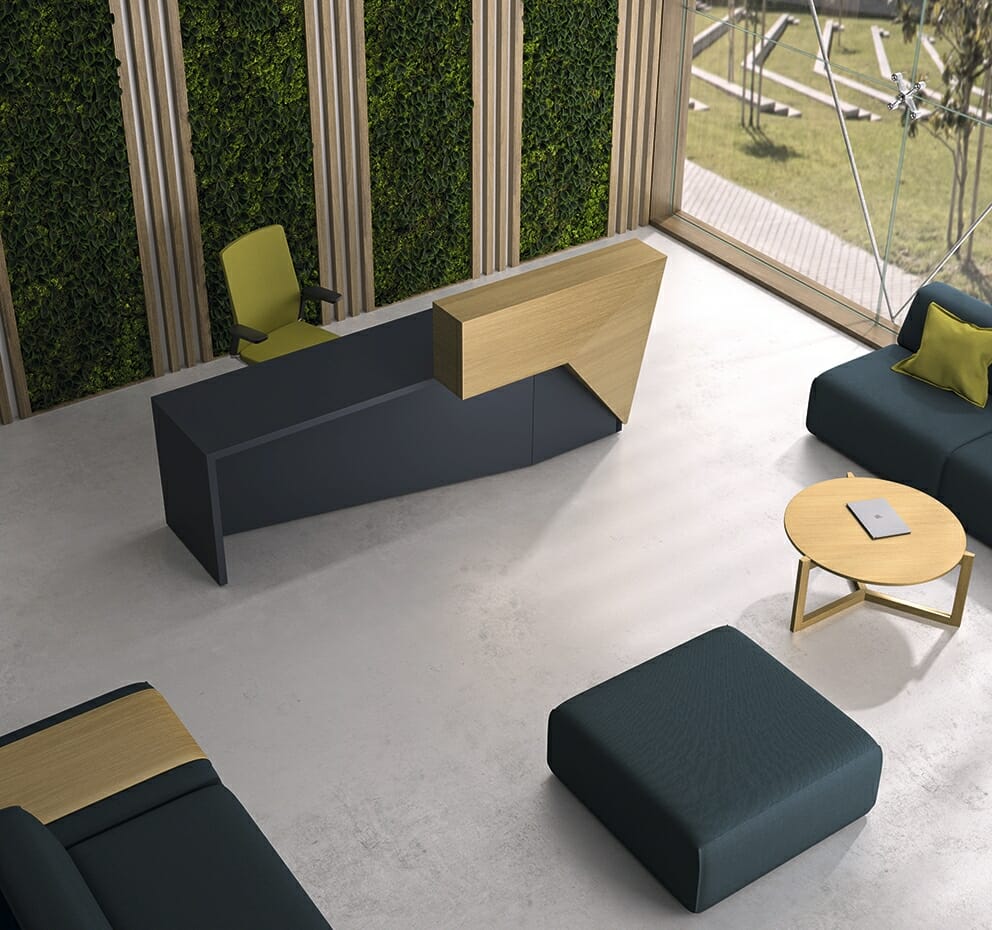 NIU counter | Pepe Font | OFIFRAN
It consists of two different elements: the desk and the attentions area that is also provided with LED ambient lighting. The matt lacquered desk can come in any of the 15 colours included in the catalogue or customized according to the client's needs; the top structure is finished in natural ash or American walnut veneers stained in different colours – natural ash o walnut wood, wengue, black, espresso.
From flexible furnishings for fluid spaces to soft, relaxing colours, innovative materials and modular elements, Spanish new furniture collections have been conceived to provide open and hybrid working spaces with dynamism and great functionality. Stay tuned for more news next days!