Salone del Mobile.Milano 2019. Interior solutions with style and elegance
March 14 / 2019
Naturalness goes hand in hand this year with a discreet aesthetic design, in which order and harmony predominate, to define the indoor furniture proposals that will be trending at this year's Salone del Mobile.Milano, which will take place from 9 to 14 April. And it does so with firms that are offering new vibrant, fresh designs perfect for bringing that extra bit of joy, style and colour to everybody's life.
This essential design, which seeks to counteract the hustle and bustle of everyday life and to create a relaxing environment that improves the user's mood, is one of this season's hallmarks, according to the Interior Trends Guide which is produced by the Observatory of Interior Design Trends.
Harmonic shapes and materials will be represented in the Salone del Mobile.Milano by such Spanish furniture brands as MOBLIBERICA, ONDARRETA, DRESSY, TREKU, ARLEX and EXPORMIM. They will be showcasing versatile pieces of furniture that enhance comfort and a sense of cosiness and that allow you to rediscover yourself and to live each moment to the full.
Although EXPORMIM has a track record that is associated with handmade products, natural materials and outdoor furniture, it is now looking inwards with solutions that transpose this sense of well-being to indoor environments.
One of the new launches for the Salone del Mobile.Milano is LIZ, an armchair inspired by the elegance of the 50s. Designed by Ludovica + Roberto Palomba, this outdoor collection pays tribute to the sensual curves and talent that made Liz Taylor an icon of the seventh art. The way the elastic fabric extends over its tubular metallic structure creates lines and transparencies, generating a play of light and shadows. This collection, which includes an armchair, a sofa and an XL armchair, offers multiple opportunities for customisation and is available in numerous technical fabrics that allow it to be functional both indoors and outdoors.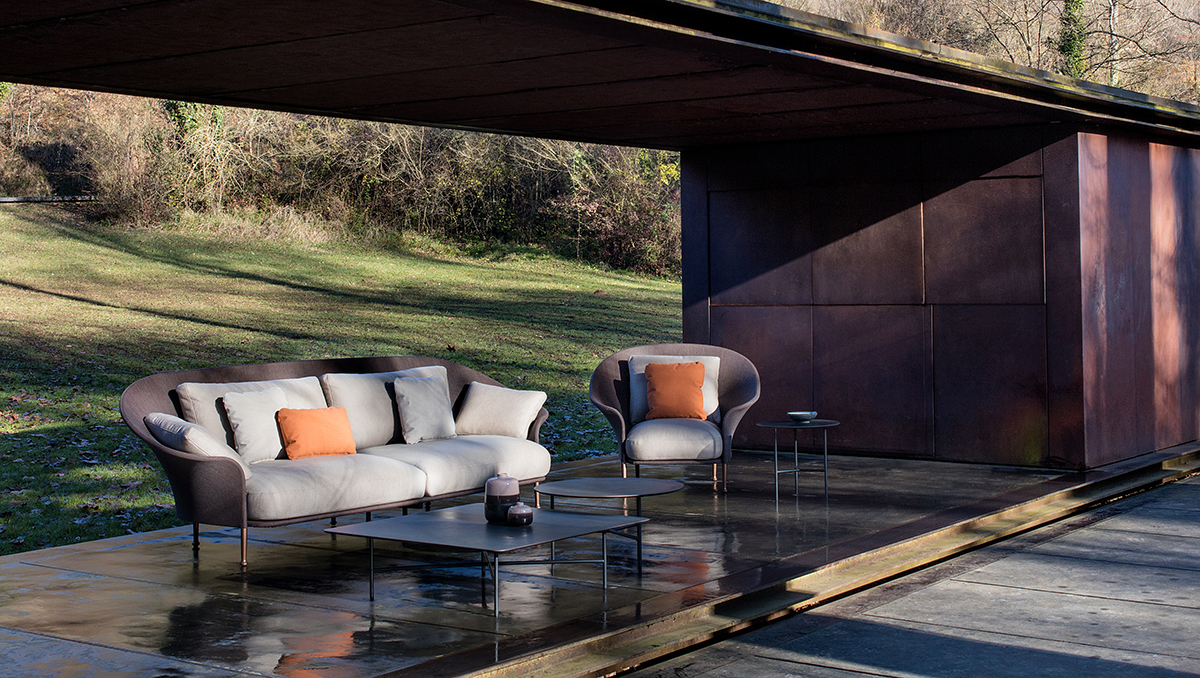 LIZ oudoor lounge collection. Ludovica+Roberto Palomba. EXPORMIM
Other proposals they will be taking to the Salone del Mobile.Milano will be the new pieces that they have added to the FRAMES collection by designer Jaime Hayon, which won the 2019 IF Design Award. A chair and a dining room armchair that use rattan to create structures that combine comfort and flexibility, elegance and rustic charm.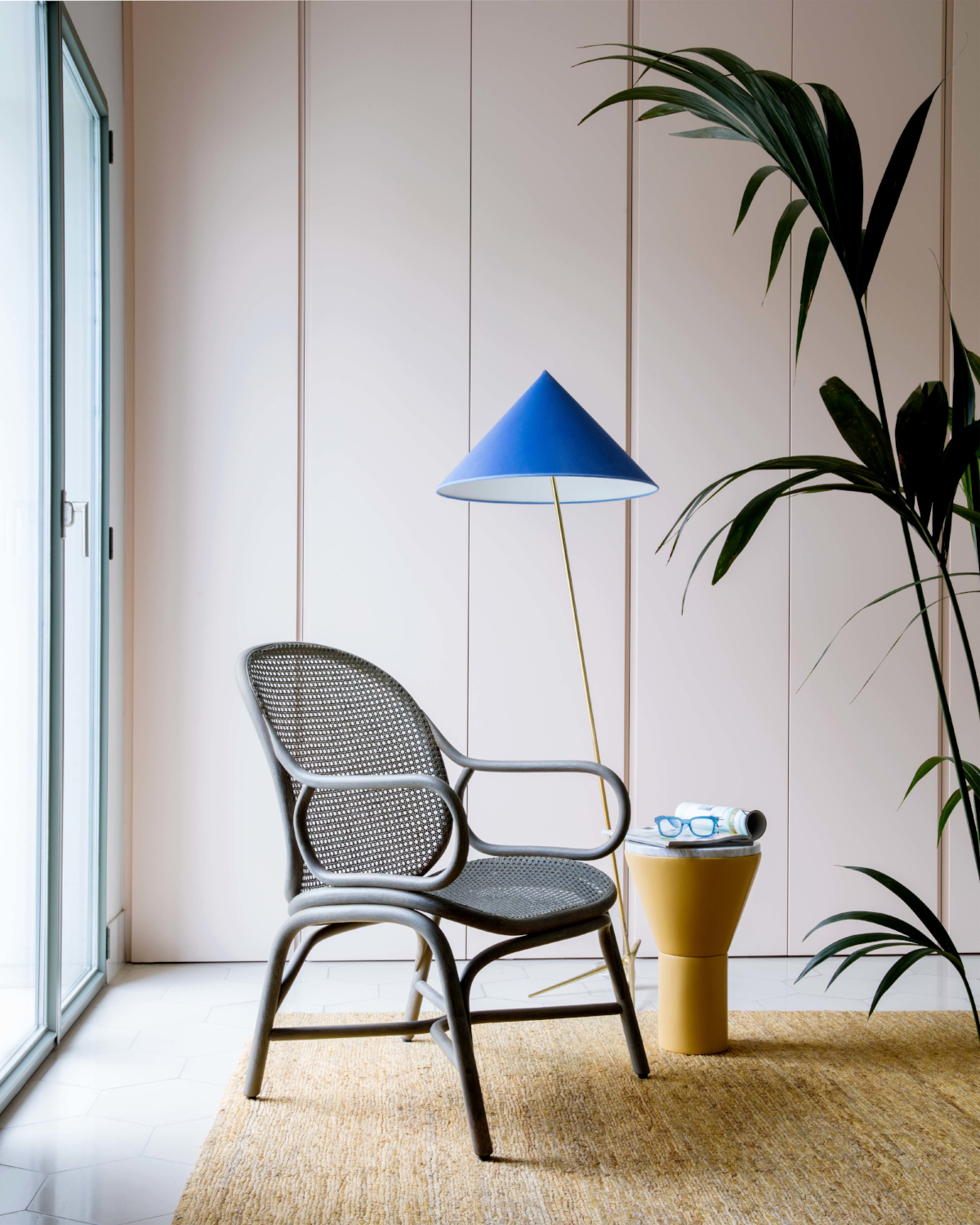 FRAMES armchair. Jaime Hayon. EXPORMIM
Industrial designer Miguel Milá's GATA chair and GRES stools (2019 German Design Award) further reinforce EXPORMIM's commitment to using rattan to create chairs that are at once comfortable, lightweight and sturdy. In addition, the TWINS family by MUT Design is expanding with a new two-seater sofa, ideal for smaller residential spaces, in line with current urban trends.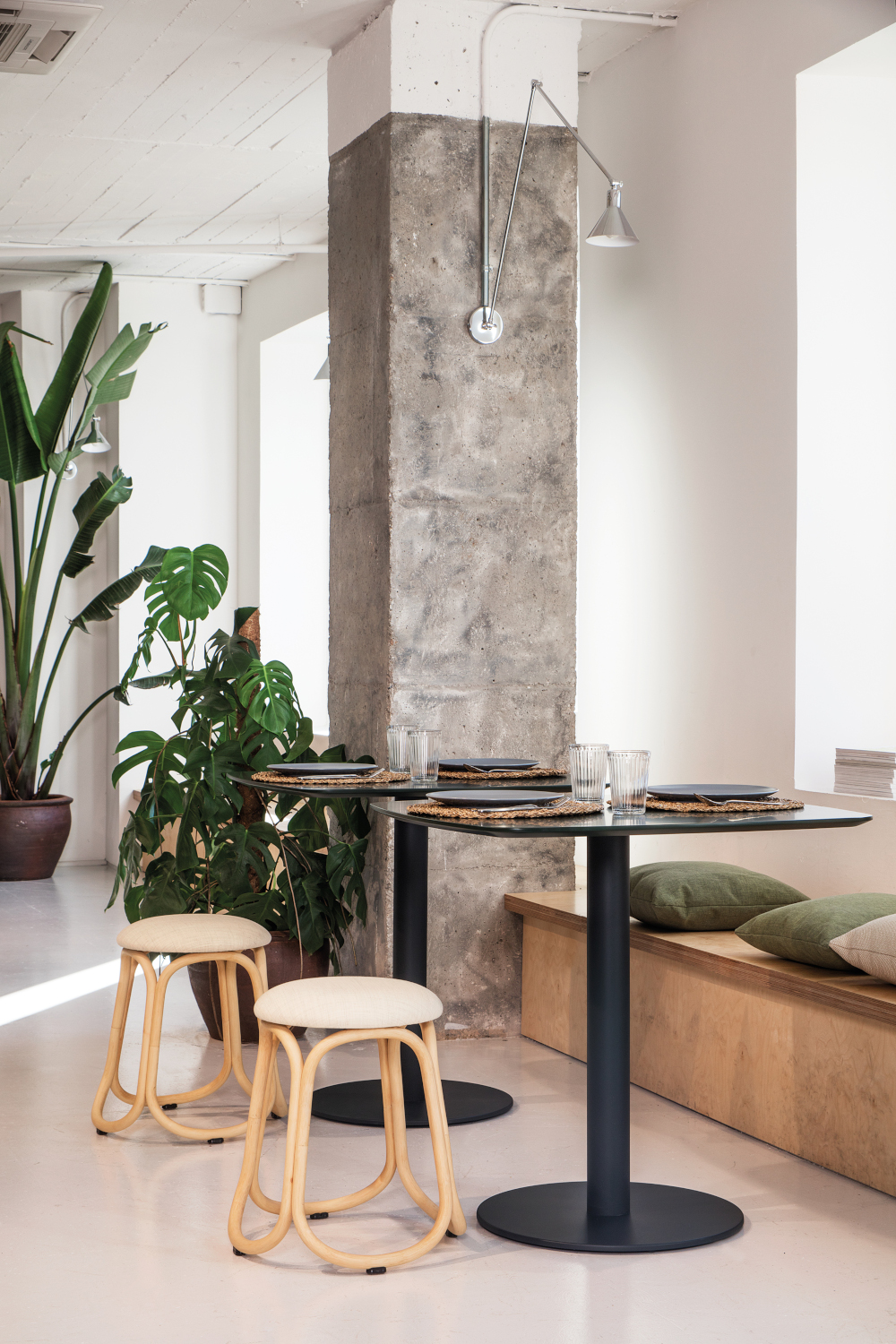 GRES stools, a charming option for restaurants and bars…
The Valencia brand will also be taking to Milan, GRADA by Lievore Altherr Molina, HUMA by Mario Ruiz (2016 National Design Award), NAUTICA (2014 Red Dot Award), the suspended seat by MUT Design that evokes the contrasts of nature, and the ATRIUM table by Manel Molina, inspired by the Mediterranean lifestyle.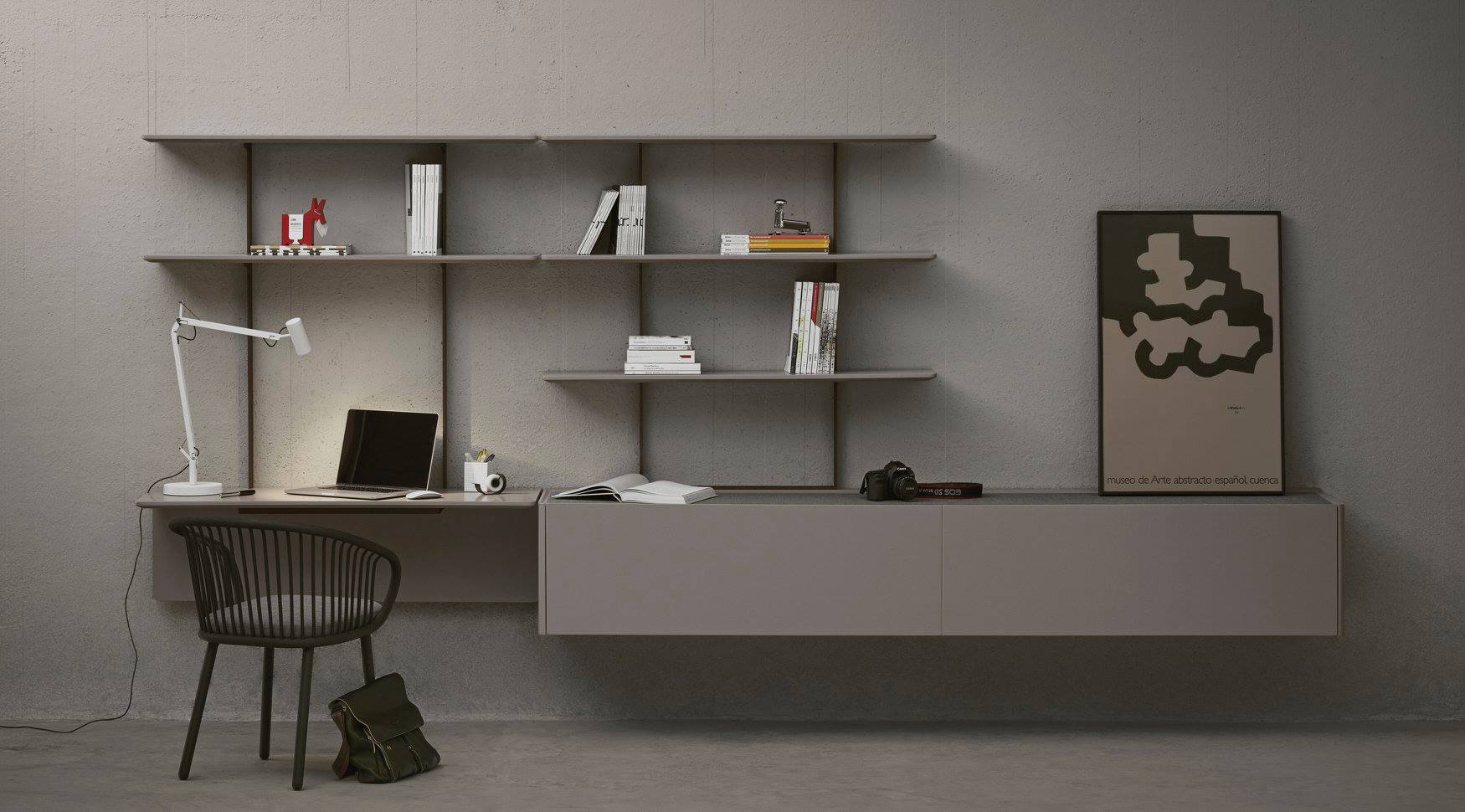 TEAM modular shelves and desk & HUMA chair. Mario Ruiz. EXPORMIM

GRADA is a range of side and coffee tables, whose stainless steel tubular structure is complemented by a solid oak or natural stone top, available in different sizes, shapes and heights to create different compositions. The HUMA chameleon chair maintains the classical philosophy of rattan but uses flexible rods in the backrest and adds an upholstered seat to maximise comfort.
ONDARRETA disembarks in Milan with an extensive variety of products ranging from new proposals to classic icons of this Basque Country brand which has established important collaborations with big names of the national and international design scene.
SILU, designed by Ben van Berkel, is a collection that puts wood at the core of its design. The line, which comprises a table and chairs, combines a sinuous profile with excellent stackability. Available in oak or ash, they have a distinct, architectural design that fills spaces with visual balance and style. Chairs can come natural or be dyed in a wide range of colours. Special attention goes to the rear gap and stacking piece with the option to fully customise it with their upholstery range.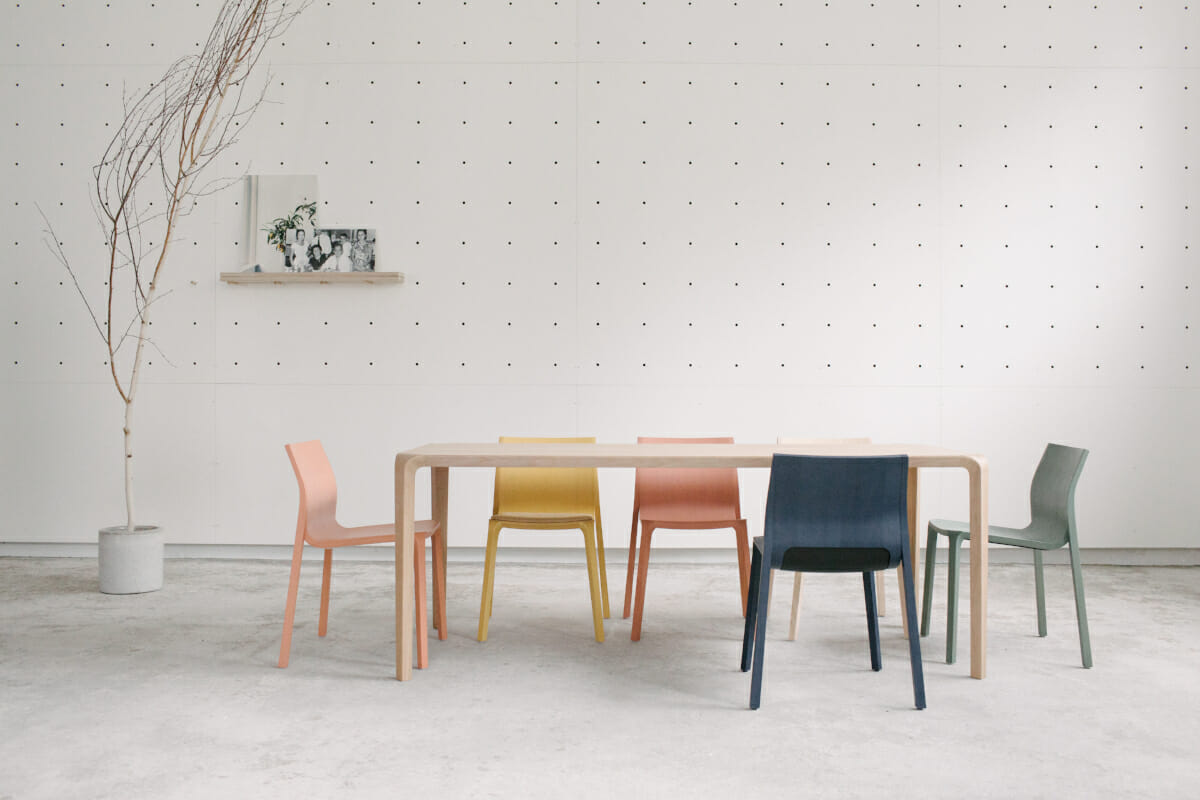 SILU table and chairs. Ben Van Berkel. ONDARRETA
For its part LANA, is all about versatility and cosiness. Conceived by Yonoh Studio, it is a collection composed of fully upholstered armchairs, a two-seater sofa, a bench and a footstool with a structure made of steel or wood. The backrest of the chairs can be either high and low and different options are available insofar as colours are concerned. They come also with or without arms, thereby allowing them to fit perfectly into any space. In addition, there is a matching table with a marble top to create lounge-style spaces. A collection that already has become a benchmark of ONDARRETA throughout the world.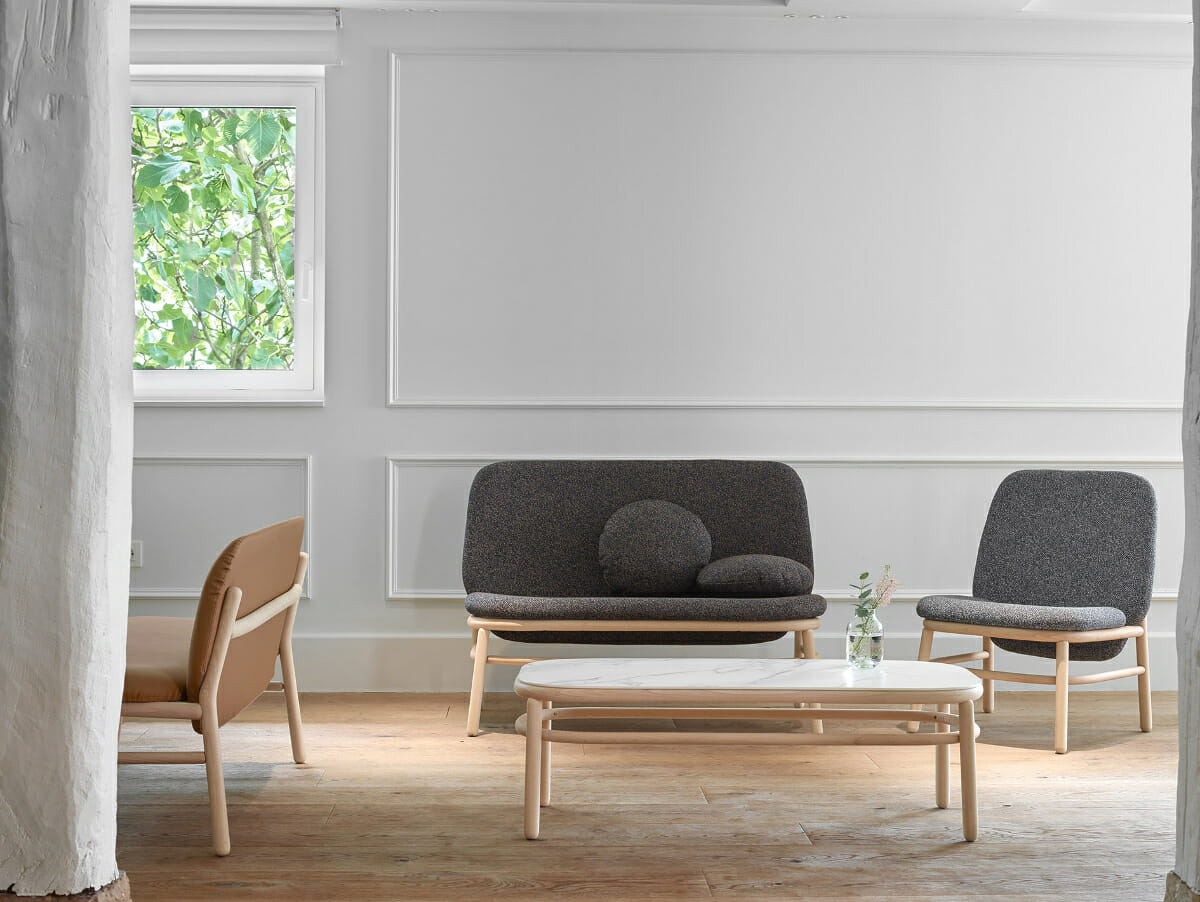 LANA lounge furniture. Yonoh Studio. ONDARRETA
This same customisable character is what defines DRY, a modular system of tables and shelves designed by the Ondarreta in-house team, that allows you to configure multi-size, double and triple tables and shelves that are available in six different heights. With DRY simplicity is taken to its ultimate expression, yet the possibility of arranging it in different heights, widths and lengths puts no limits to imagination.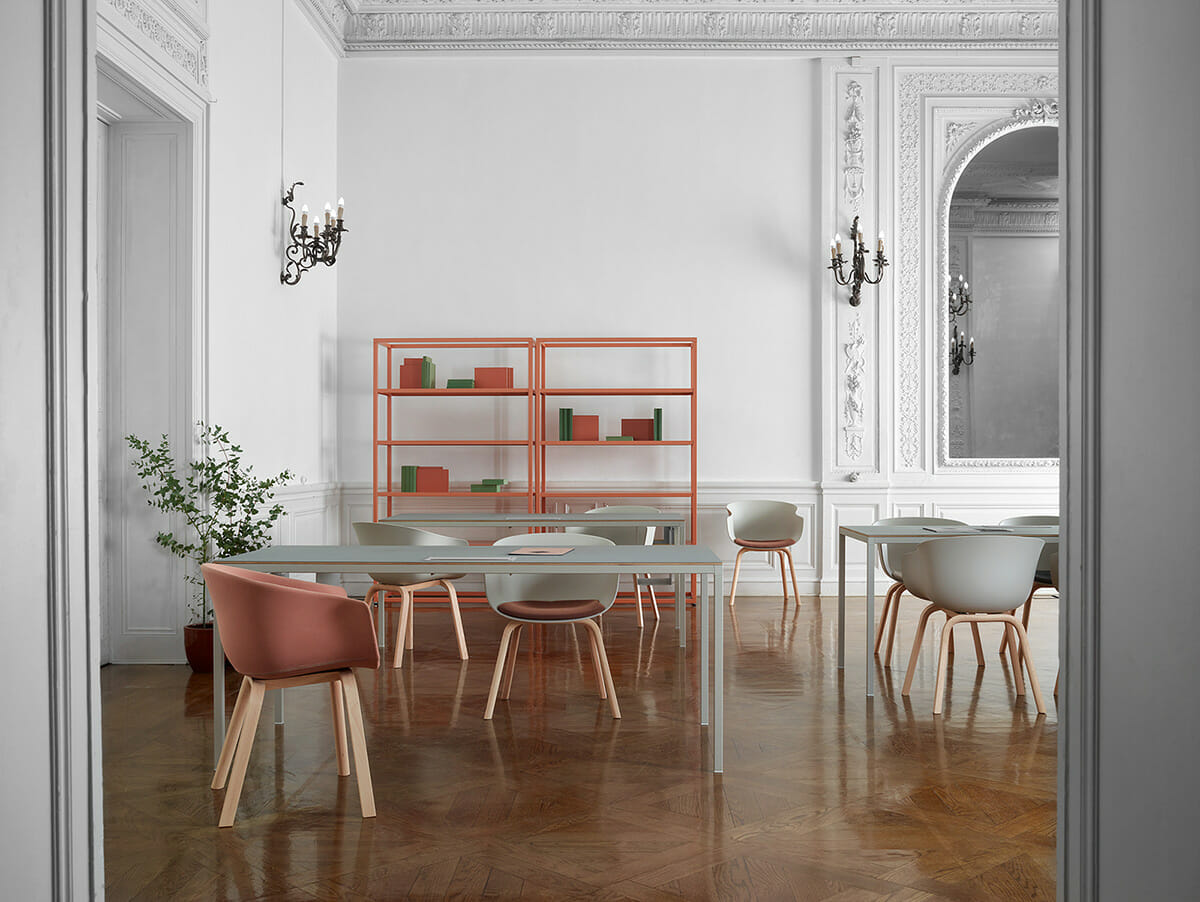 DRY tables and bookcases & BAI WOOD chairs. ONDARRETA
The imagination of Ander Lizaso has conceived BAI, a fusion of a highly versatile chair and armchair that generates positive and welcoming ambiences for the living room and the office, and even in outdoor spaces. Available in dozens of colours and finishes, its main feature is a polypropylene cover that fits into crossed metal legs. The rationalist and futuristic design of these chairs are now accompanied by a table that, following the same aesthetic line, combines perfectly in both the home and the office.
The firm launches also a new version of the ALO chair by Gabriel Teixidó, specifically designed for outdoor environments. This is a chair with a steel frame that now presents a seat that is also in steel. For interior spaces, this is available in a choice of wood or upholstery.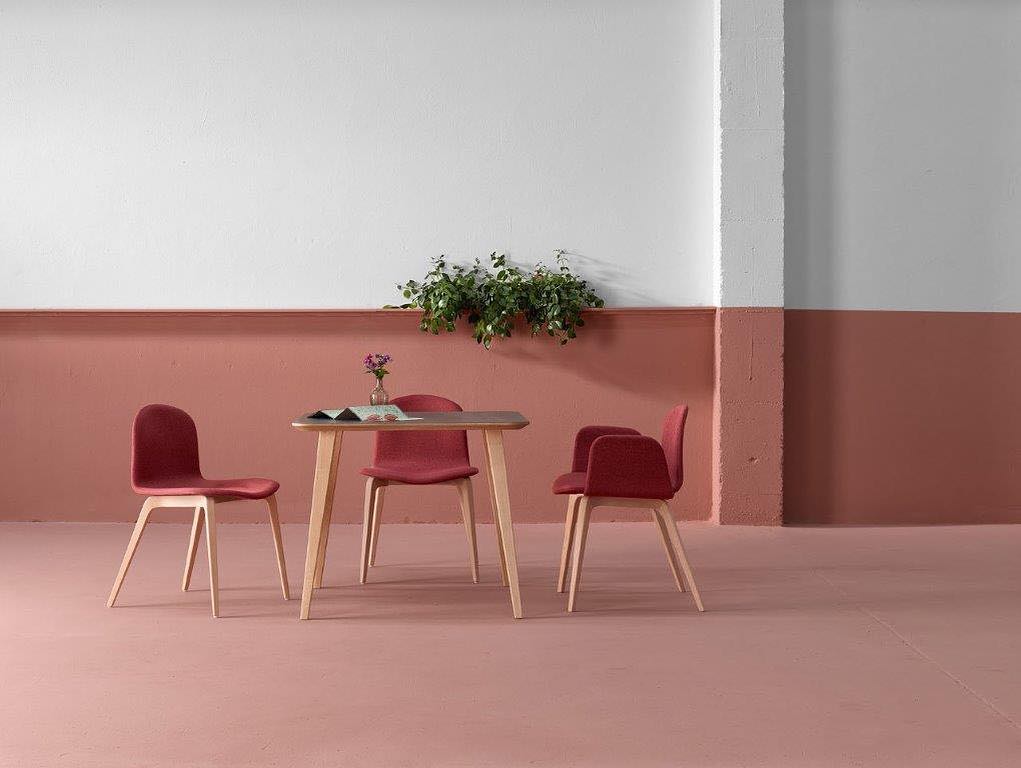 BOB family: BOB chairs and table and BOB XL lounge chair. Nadia Arratibel. ONDARRETA
DON and BOB by Nadia Arratibel are systems in themselves. DON combines a table with a steel frame and a top with a bevelled edge, in different heights, with a set of chairs and stools, with or without arms, with four legs or swivel base, which make up an elegant and sophisticated collection.
BOB for its part, also designed by Nadia Arratibel, is a household classic, a unique, versatile and extremely flexible family. It combines low and high tables, upholstered chairs, combined or completely in wood, with wooden or steel legs and wooden stools. All of these pieces are able to create a unique and highly customizable atmosphere in all kinds of spaces.
ARLEX will be showcasing at the Salone del Mobile.Milano its versatile URBS shelving system, which marks the beginning of a new collaboration with the Barcelona-based designer Eduard Juanola and the strengthening of ARLEX in the home furniture sector.
URBS is based on a metal structure and highly customizable shelves that create visually lightweight and aesthetically elegant configurations. This shelving system, which includes sliding and folding doors, rear sections, drawers and other options that improve their functionality, is perfectly at home in residential environments and in the workplace.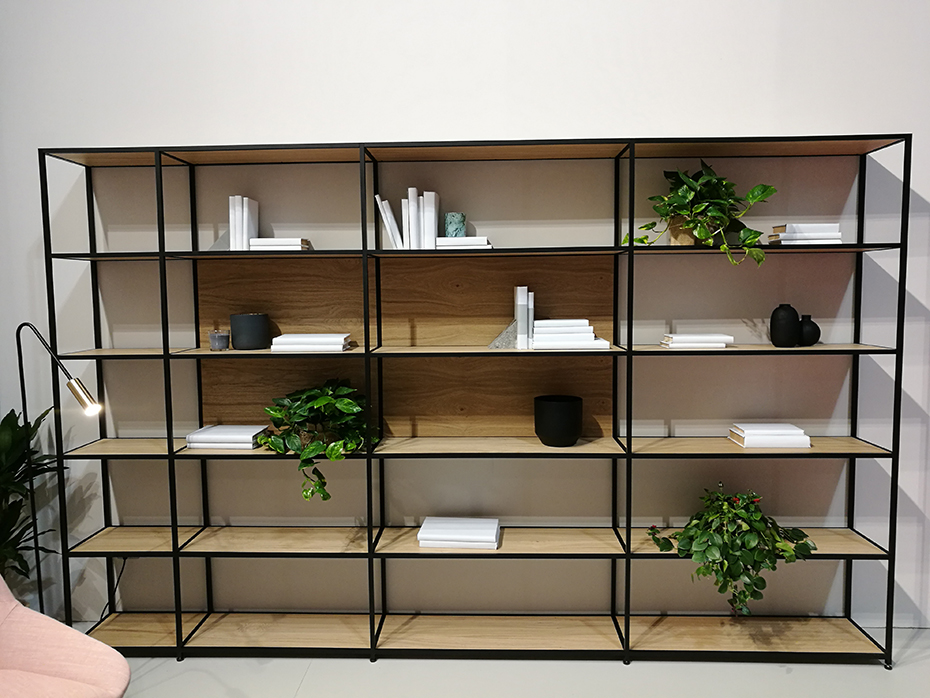 URBS shelves, a growing system. Eduard Juanola. ARLEX
In Arlex they understand the home as a space of harmony, which is why each piece of furniture painstakingly designed and manufactured to enhance its flexibility and functionality. In addition to their own team of designers, Arlex also places relies on internationally renowned designers to create products of contemporary aesthetics. Their list of collaborators also includes Odosdesign, Josep Turell, La Mamba and CrousCalogero, among others.
At the Salone del Mobile.Milano, Arlex will also be showcasing their collections TURIA by La Mamba, MATRIOSKA by Estudi Ribaudi, and LATAULA by CrousCalogero.
LATAULA is a stylish table that extends without changing its look. It sounds as something magic, but thanks to its slats divided top this table preserves its appearance either when compacted or in extended position. LATAULA comes in different finishes: with wooden top and lacquered structure and legs; with legs in natural beech or finished in walnut colour with lacquered top; or completely lacquered in any colour of the ARLEX catalogue.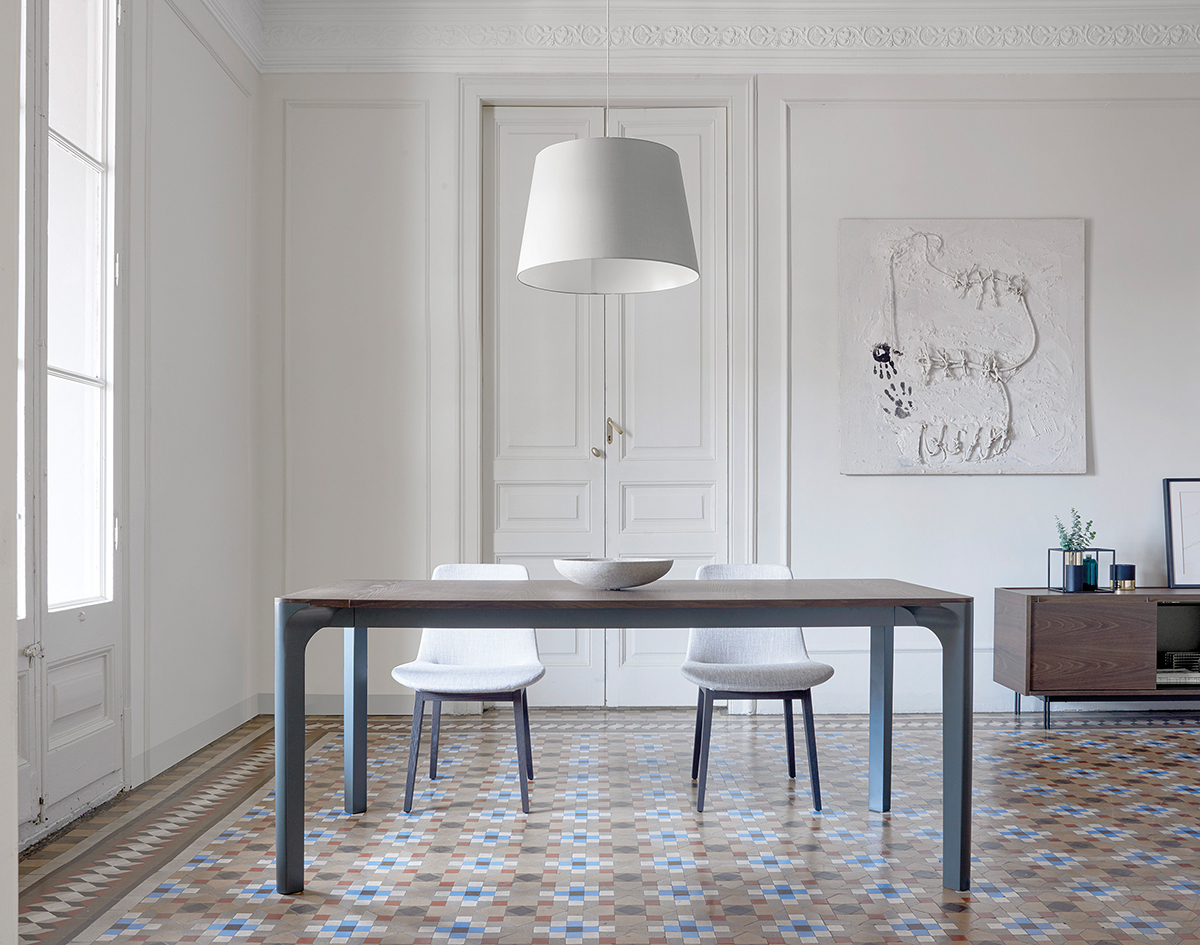 LATAULA dining table. CrousCalogero. ARLEX
Inspired by mid-century design, TURIA is a collection of lienar sideboards, cabinets and wall units for pared-back interiors. Made of natural timber, the collection features original cylinder-shaped handles, which draw inspirations from the door security locks on old cars, and a top with rounded edges. Visual lightness is given by the proportions and the metallic legs made of painted double rods.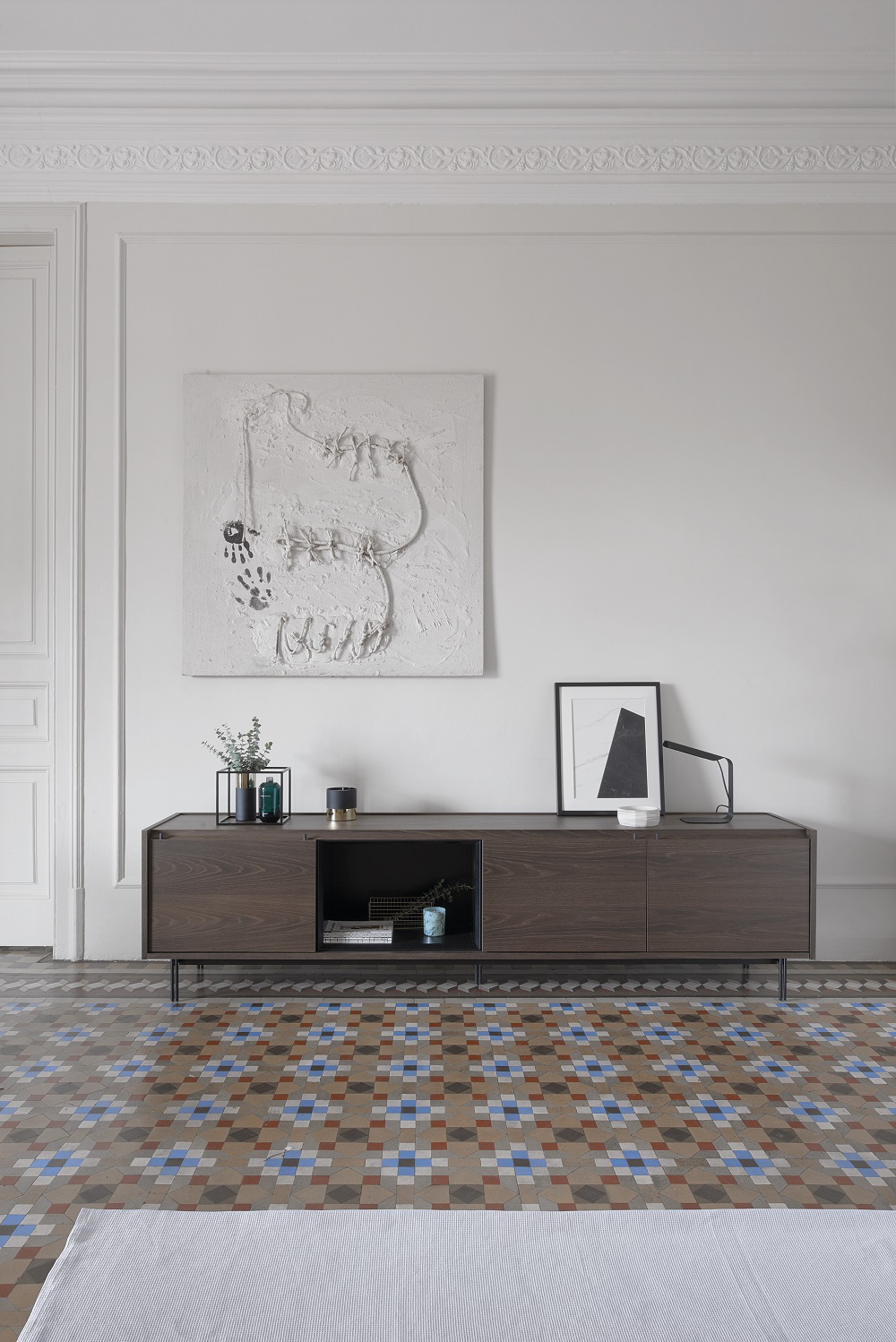 TURIA sideboard. La Mamba. ARLEX
With the MATRIOSKA modular programme creativity and versatility are taken to the extreme! Trapezoidal-shaped modules can be configured in a different way to create bookshelves, sideboards and occasional furniture.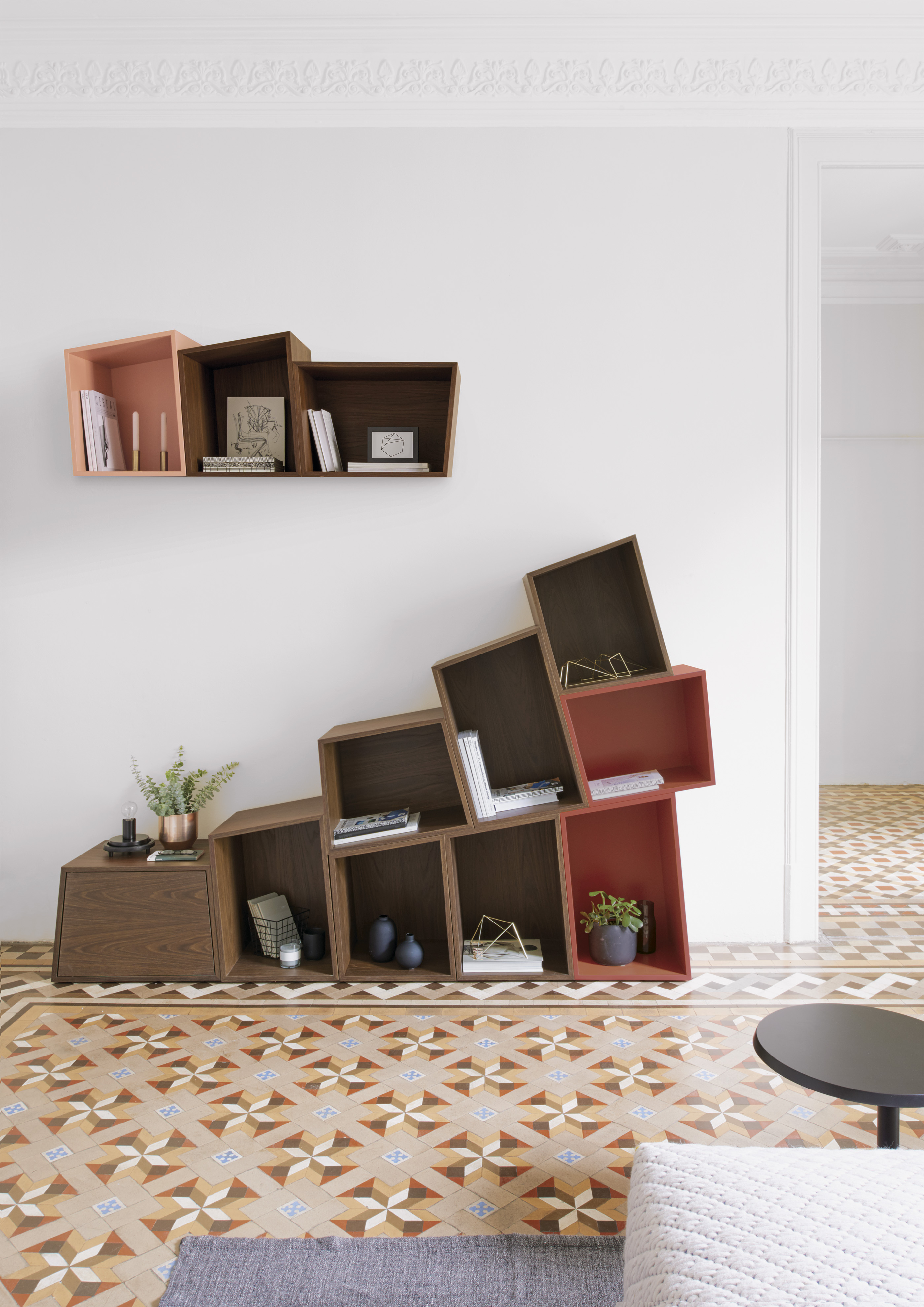 MATRIOSKA modular system. Jordi Ribaudí. ARLEX
New wall units have been added to expand the storage space and provide greater design solutions.
The texturing of fabrics and surfaces, which enhances the sense of touch from the point of view of design and materials, is another of this year's trends, according to the Observatory of Interior Design Trends.
A proposal that comes to life in the collections that TREKU will be showcasing in Milan this year, and whose physical qualities balance aesthetic appeal, warmth and practicality. The AURA line, which includes sideboards and auxiliary furniture for lounges and dining rooms, takes its inspiration from Nordic tradition to combine craftsmanship, naturalness and modernity, based on a design by Angel Marti and Enrique Delamo. The finish is very important: walnut and oak wood with a hyper-natural finish and a choice of lacquer colours that combine perfectly with the wood. The metal and wood legs reinforce this retro essence and timeless appeal of the furniture.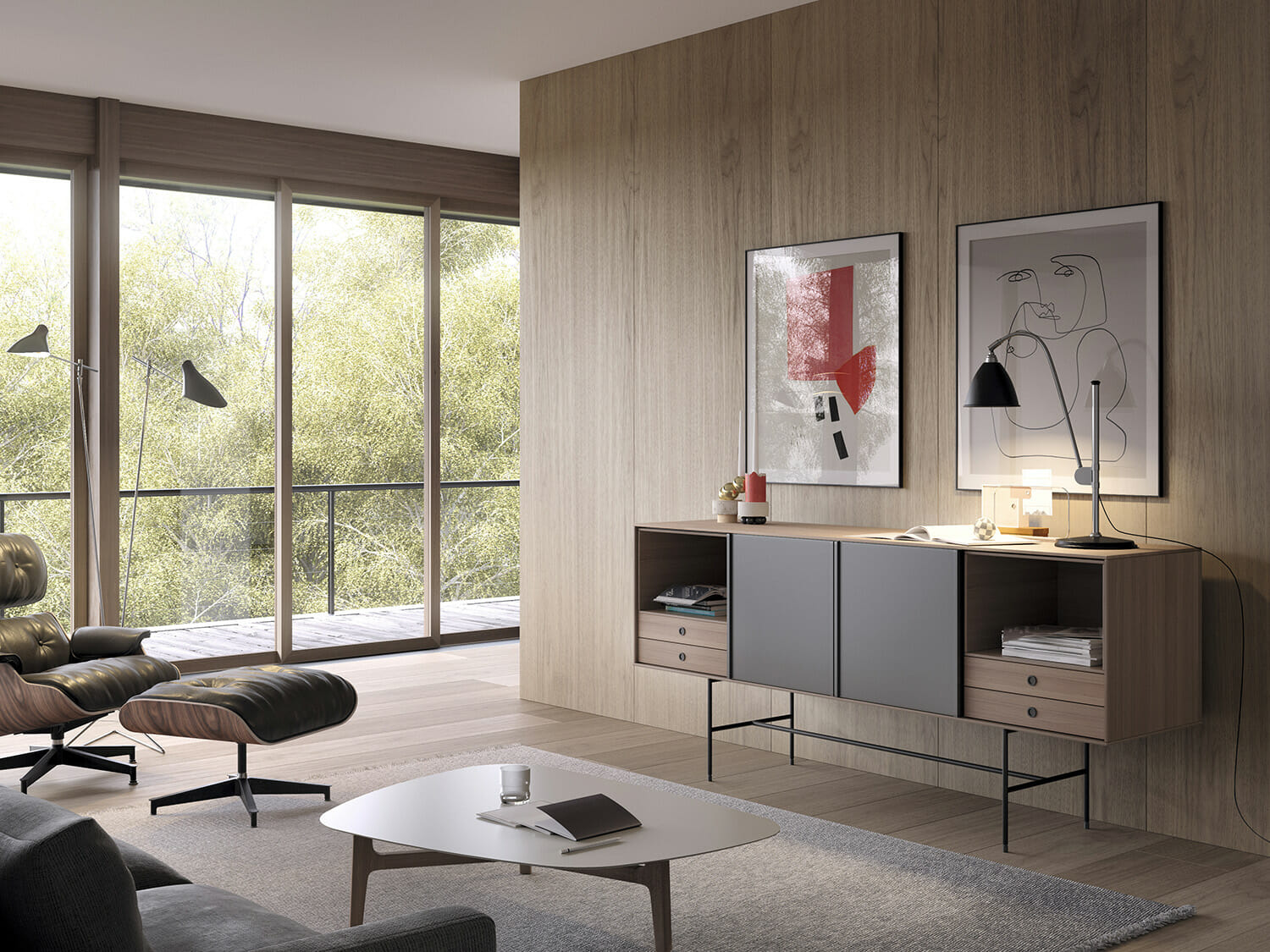 AURA sideboard. Ángel Martí y Enrique Delamo. TREKU
Creativity is the foundation of LAUKI, the line of auxiliary furniture designed by Ibon Arrizabalaga with multiple modules that can be placed on the floor, stacked on top of each other or hung from the wall. Its extremely versatile character in terms of measurements, finishes and functions allows you to combine doors, drawers and open modules to create very different furniture, anything from a bedside table to an office chest of drawers.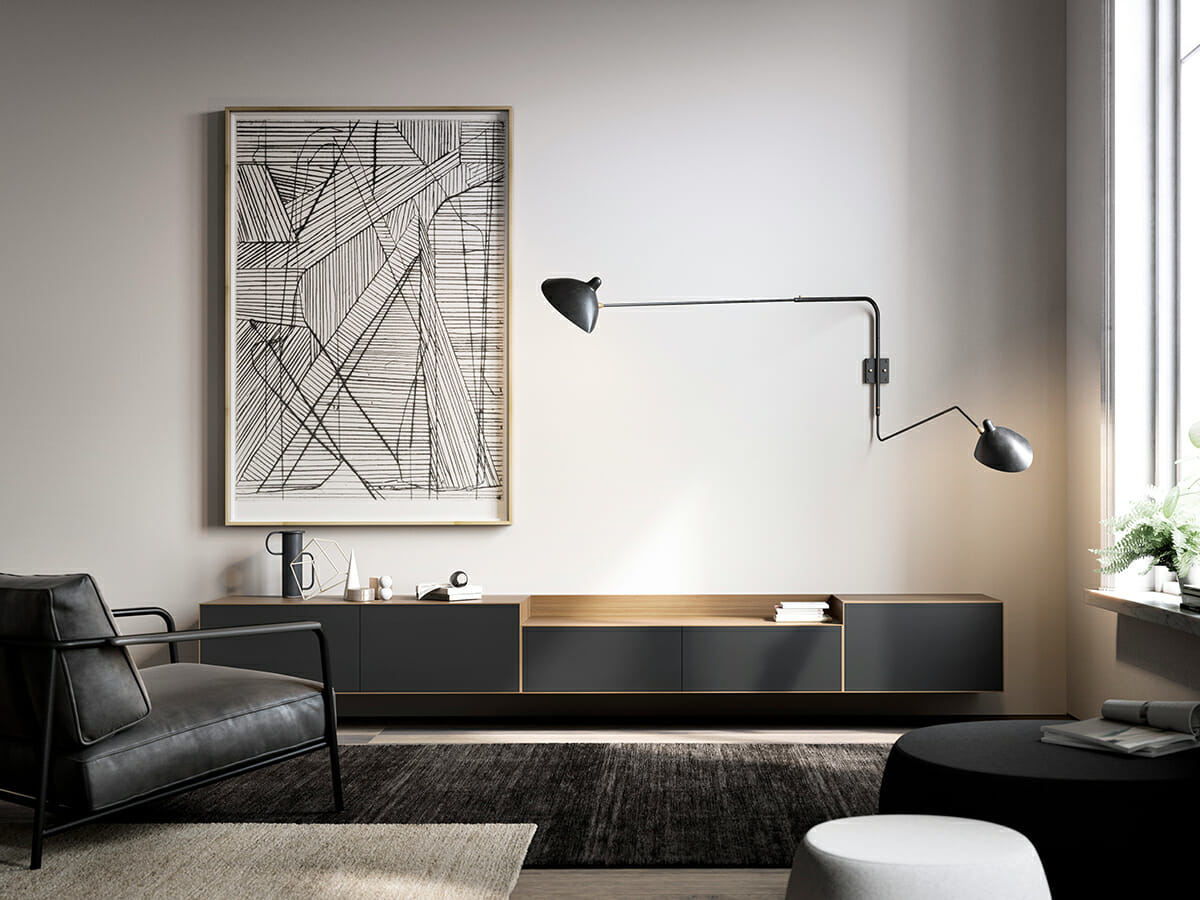 LAUKI modular sideboard. Ibon Arrizabalaga. TREKU
Estudi Manel Molina signs the BISELL chairs and the ROLL tables collections. BISELL balances tradition and modernity through a discreet design that generates warm and intimate ambiences, combining traditional woodworking with metal bases that reinforce its polyvalent nature.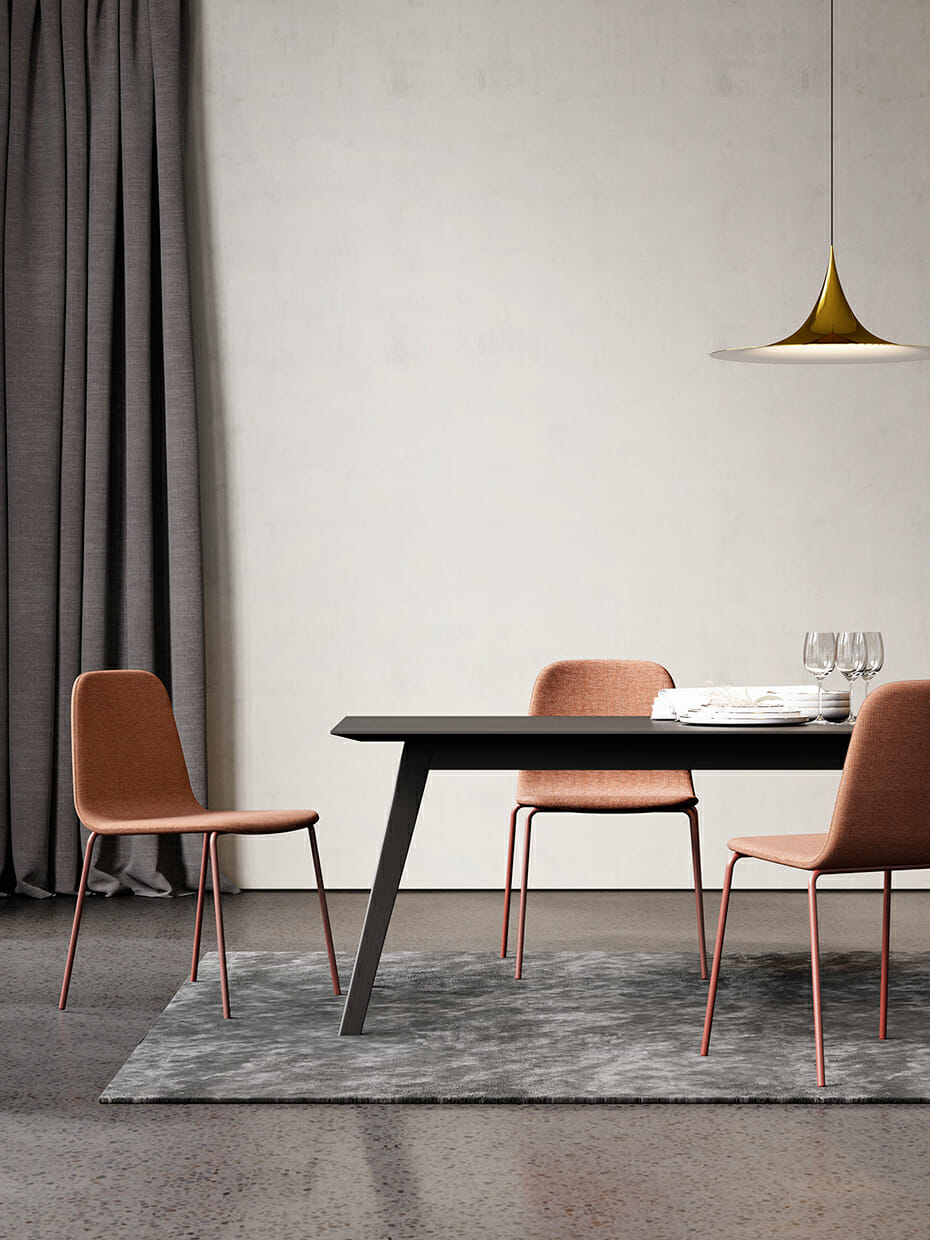 BISELL chairs. Estudi Manel Molina. TREKU
These chairs are perfectly complemented by the ROLL table, which combines lightness and solidity. Their cylindrical solid oak legs are connected to the top by a curved union that defines the unique character of this piece.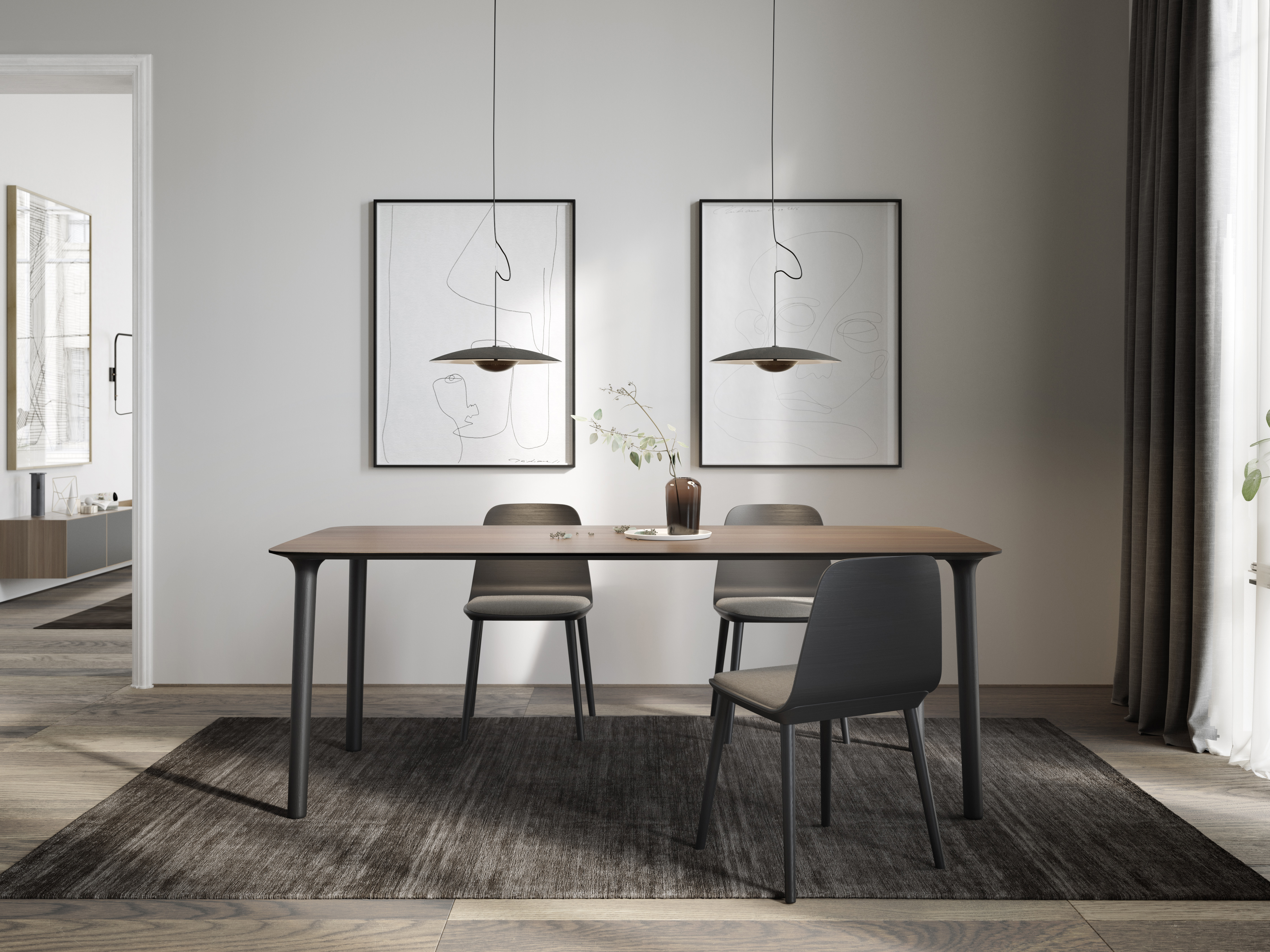 ROLL table. Estudi Manel Molina. TREKU
The top is available in oak and walnut or in FENIX.
Sergio Rochas found inspiration in the music of the mid-twentieth century for the three collections of tables that the Spanish designer has created for DRESSY. SIMONE, PARKER and JOPLIN took their names from Nina Simone, Charlie Parker and Scott Joplin, all of them big names of the international jazz scene.
The texturizing of surfaces that is so in fashion this year, and which enhances the natural stone and marble in furniture, resonates in the aesthetics of SIMONE, an auxiliary table with a ceramic top. From the improvisation that Nina Simone was famous for, is born the concept of this table that each user can personalise by adding different complements: newspaper racks, or veneer or wood trays.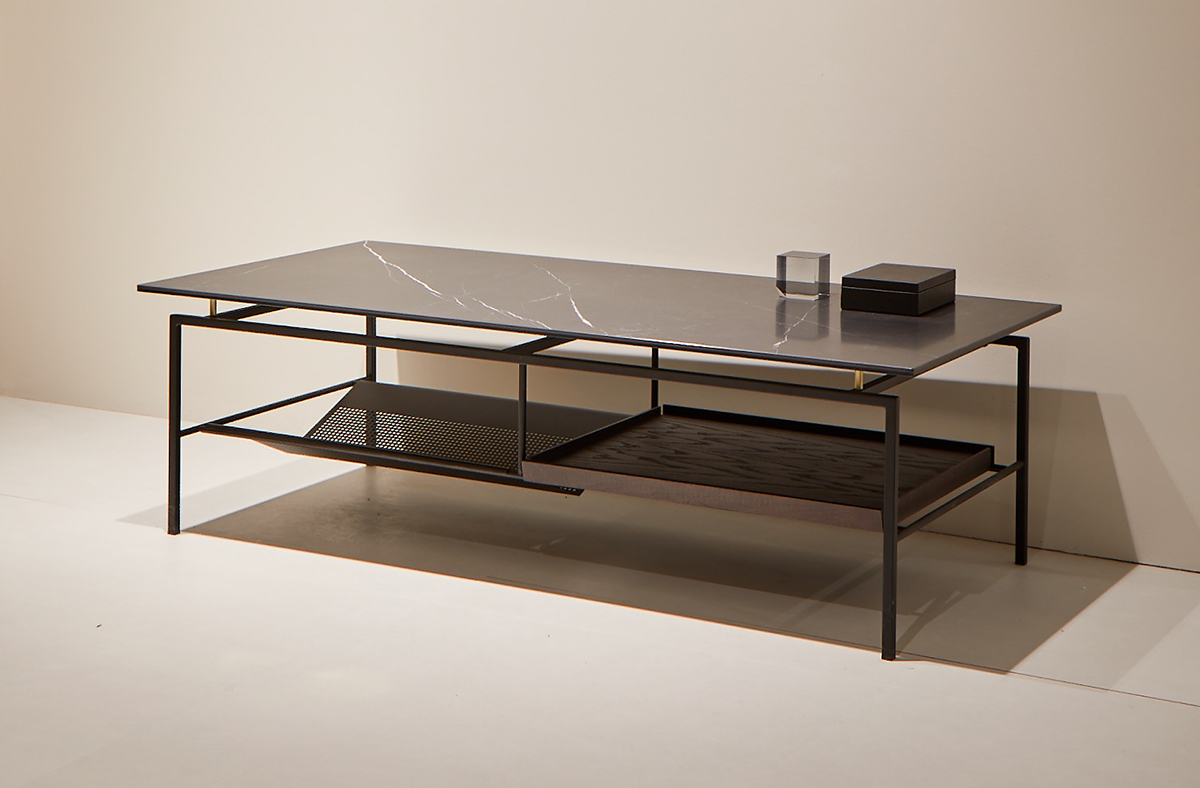 SIMONE coffee table. Sergio Rochas. DRESSY
For its part, Joplin and Parker are the Jazz artists who lend their names to the Dressy's new fixed tables. Four different porcelain tops that stand on two legs of innovative design, which are precisely the elements that differentiate the JOPLIN and PARKER tables.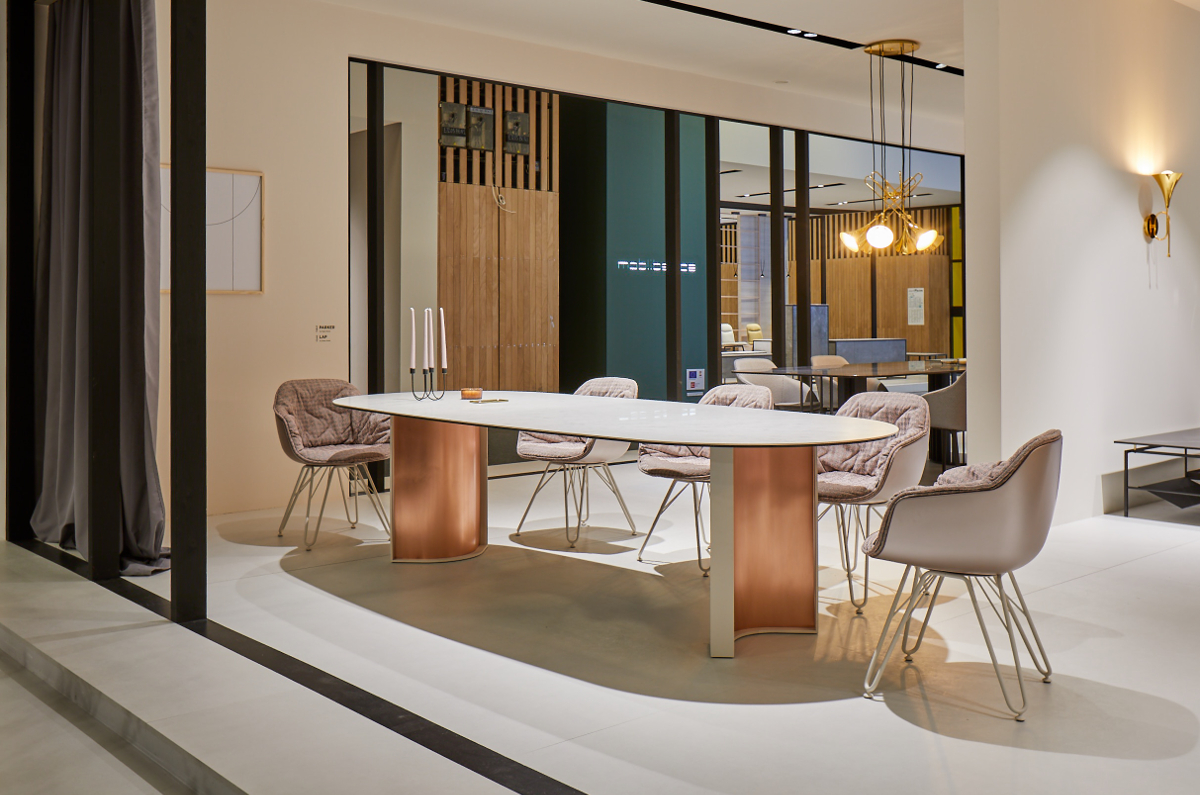 PARKER table. Sergio Rochas. DRESSY
Scott Joplin and Charlie Parker were virtuosos of the piano and the saxophone, respectively. And it is precisely from these instruments that JOPLIN and PARKER's two models of legs take their inspiration.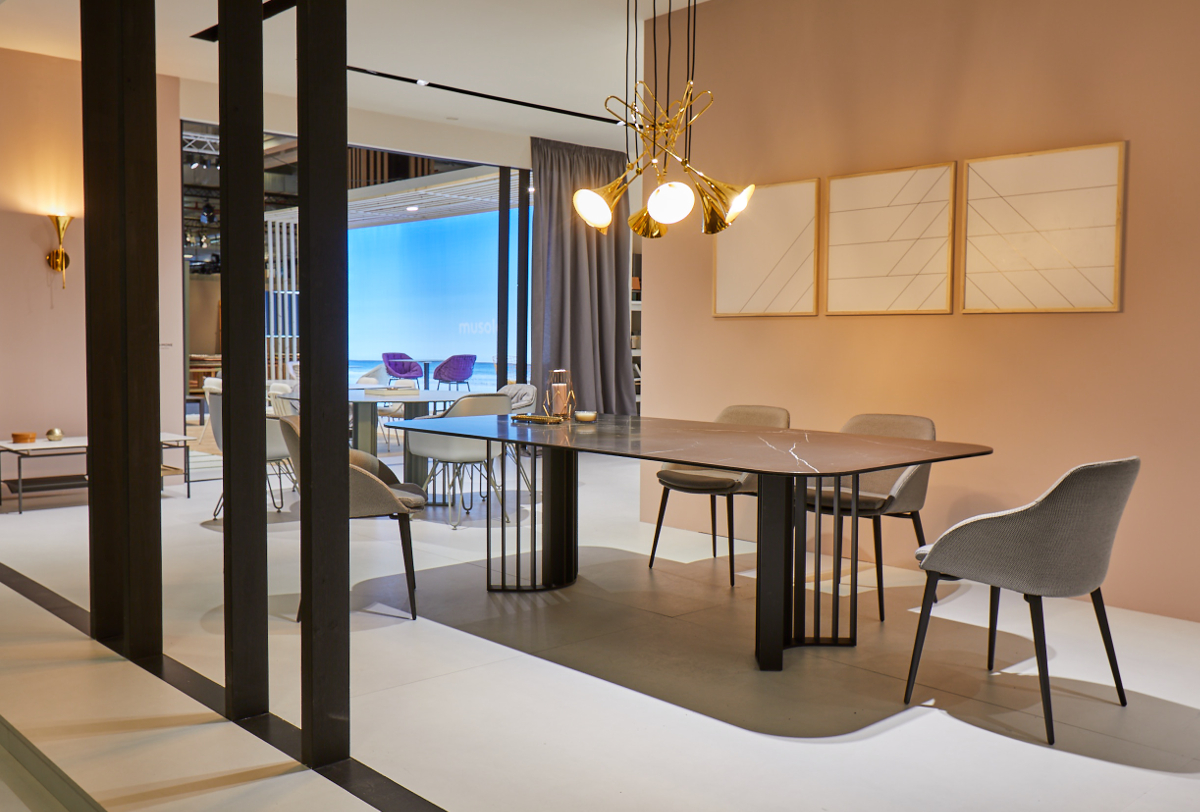 JOPLIN table. Sergio Rochas. DRESSY
In addition to these three tables and other consolidated models from the brand such as DUERO, JOIN, STAY, LAP, MARAIS and TAIGA, DRESSY will be showing its own design GALERA chair at the event in Italy. The piece is notable for its ergonomics, due to its enveloping injected polyurethane casing.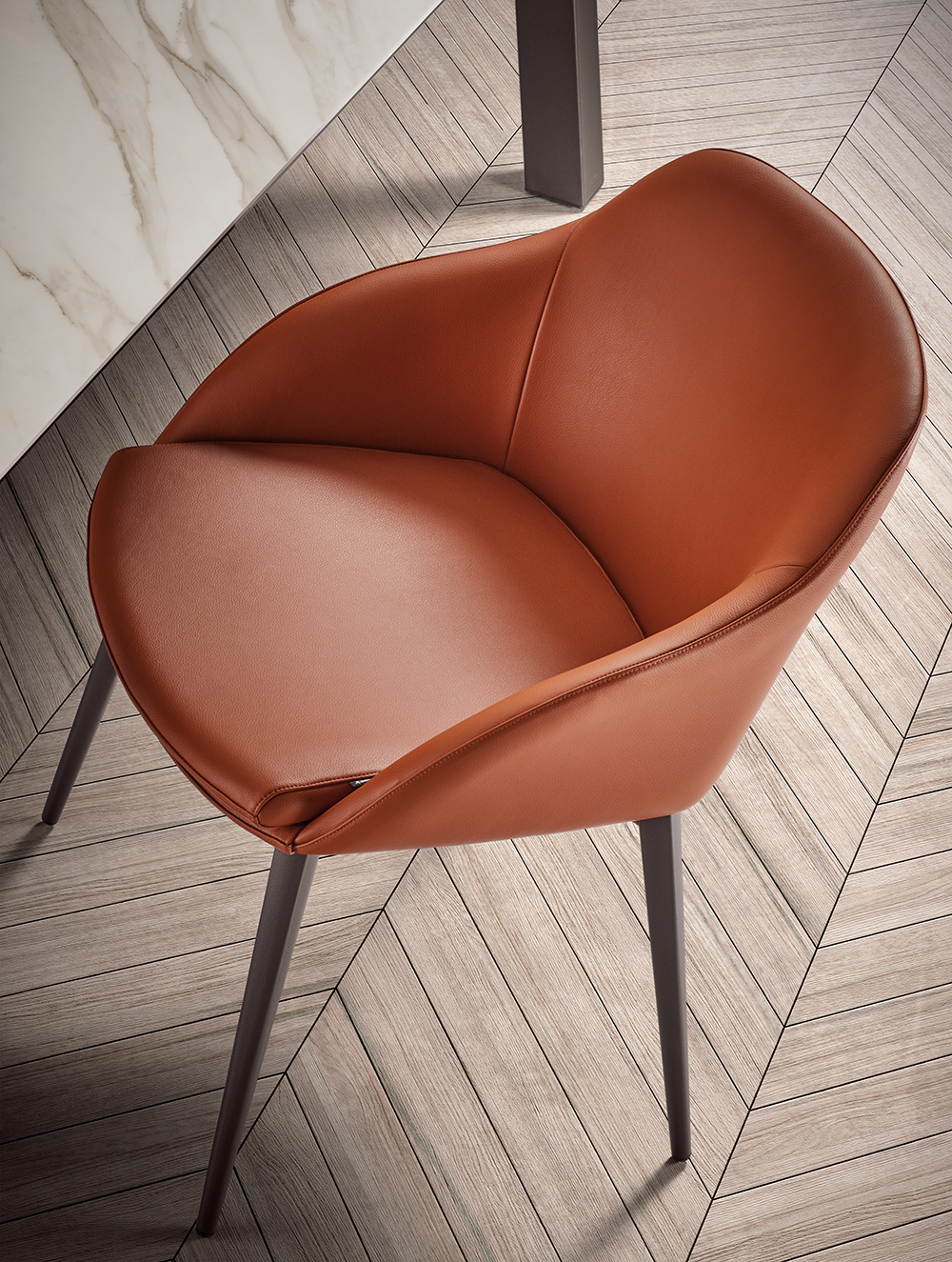 GALERA chair. DRESSY
Its most characteristic feature is its legs, which start out square and end in the shape of a cone. A commitment to design that requires a very meticulous manufacturing process.
Porcelain is also MOBLIBERICA's major commitment for this event in Milan, as shown by the SALT dining set. Highlight of the collection is the table which is available in two versions, fixed and extendable, with two possible heights, all of them of very reduced dimensions to fit in small spaces. The tops are made from laminated technical porcelain and fit millimetrically onto the triangular legs, designed with special edges. The collection also includes a chair and a stool with a metal structure and a triangular shape, as well as different seats that enhance its versatility.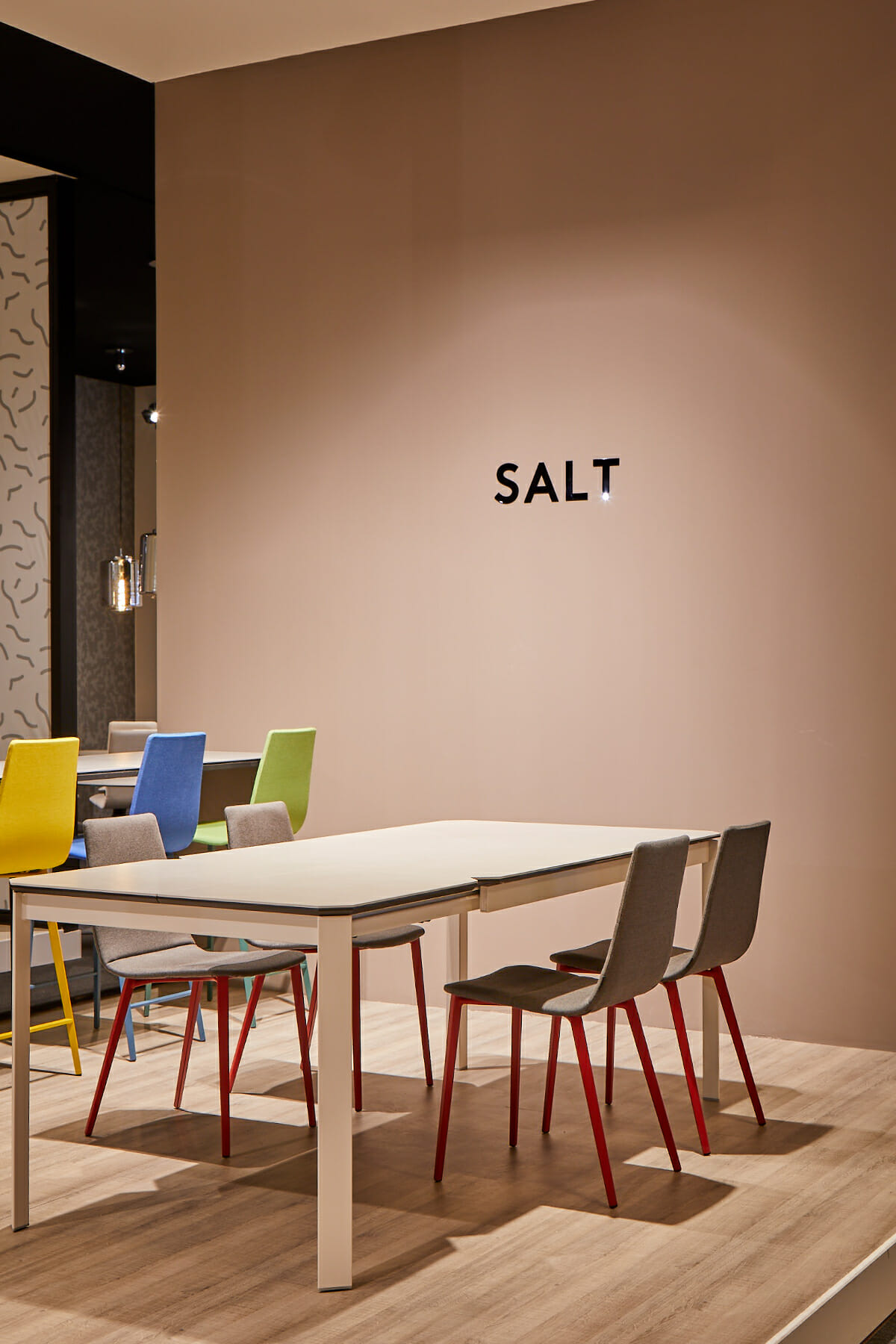 SALT dining set. MOBLIBERICA
At the Salone del Mobile.Milano, MOBLIBERICA will be presenting its TERRA line. A growing family that now has three different-sized TV cabinets, two sideboards and a cupboard that complement the table that already exists. In Terra, the pure lines of an apparently simple design reveal the complexity of the details. In its structure, metal is combined with the porcelain that almost completely covers the furniture.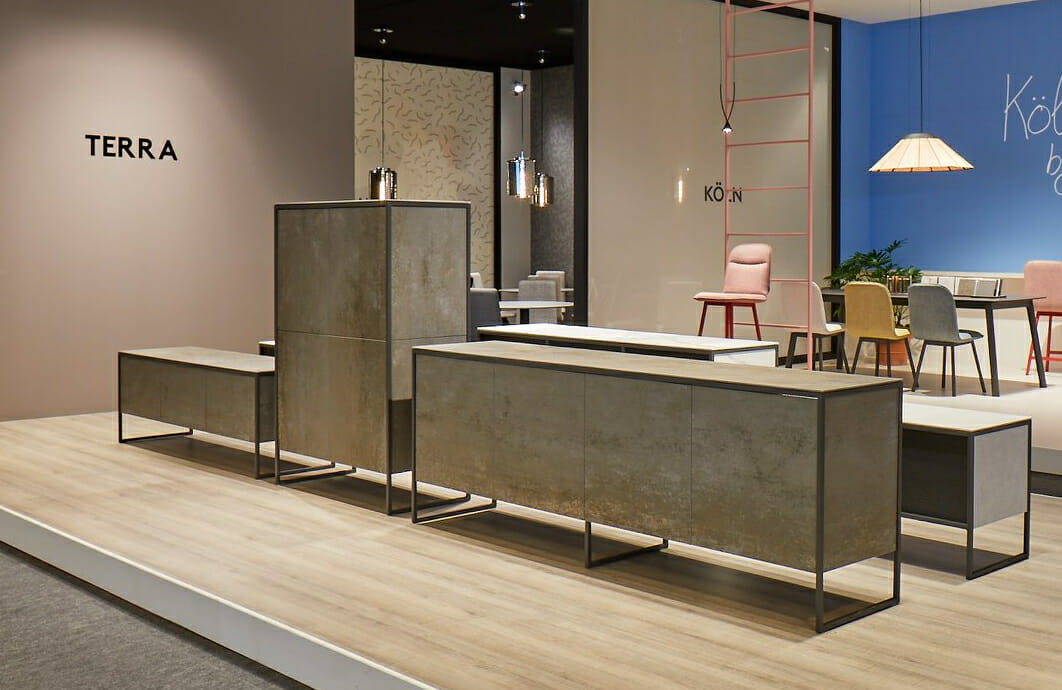 TERRA cabinets and sideboards. MOBLIBERICA
The KEDUA chairs, designed by Santiago Sevillano, are the third of the proposals that the Spanish brand will be taking to Milan. Attractive and highly refined, KEDUA features a subtle design and great attention to detail.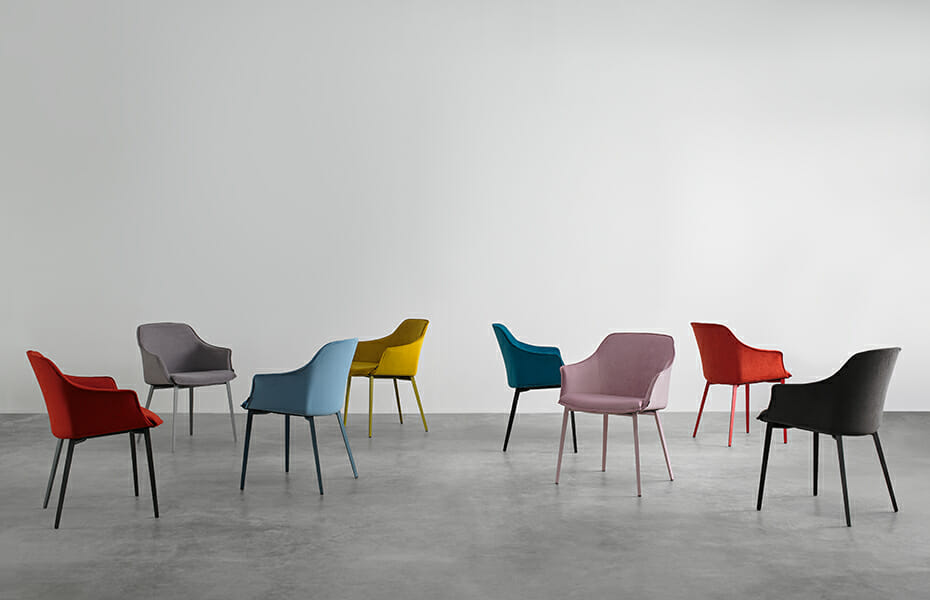 KEDUA chairs. Santiago Sevillano. MOBLIBERICA
The softly classic lines of the seat contract with the linear design of legs. The chair is composed of a polyurethane shell that comes upholstered in a wide range of colourful fabrics offered by MOBLIBERICA.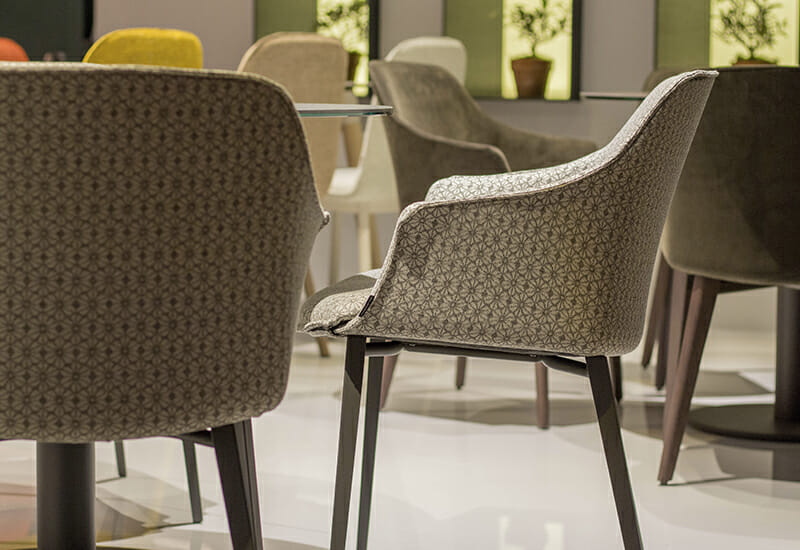 KEDUA chairs with the new OCT upholstery…
Recently, the chair has been presented upholstered in OCT fabrics, a new option that features floral motifs and that creates beautiful patterns available in a wide range of warm colours. KEDUA is now also available with swivel base.