Salone del Mobile.Milano 2023. Spanish outdoor furniture to elevate any exterior living space
March 28 / 2023
Outdoor furniture trends are constantly evolving, and professionals in the furniture sector need to stay up to date to meet the changing needs of consumers. Current trends envision outdoor space as a vital extension of indoor living and, as a result, there is an increasing demand for furniture and accessories that can greatly improve the outdoor living experience of users.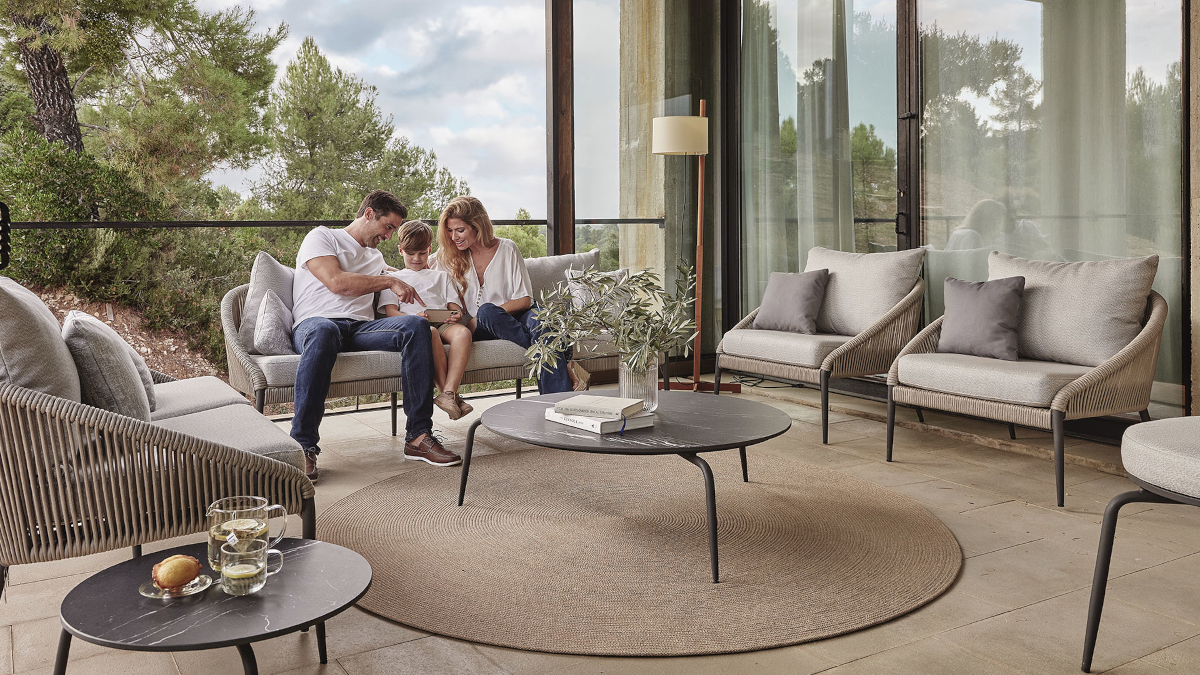 RODONA outdoor lounge furniture | Santiago Sevillano | SKYLINE DESIGN
By keeping these trends in mind, Spanish outdoor furniture specialists have created stylish and functional outdoor furniture that add color, texture, and visual interest to any outdoor area, making it feel more cohesive and welcoming. Here you will find a selection of Spanish brands' new launches to be unveiled at the Milan Salone…
RODONA collection. By Santiago Sevillano | SKYLINE DESIGN

Hall 24 Stand E09/E11
Refined and high performing, the REDONA outdoor furniture collection, a creation by Santiago Sevillano for SKYLINE DESIGN, is perfect for any patio or garden. Made with durable materials, these pieces are built to withstand the elements and last for years to come.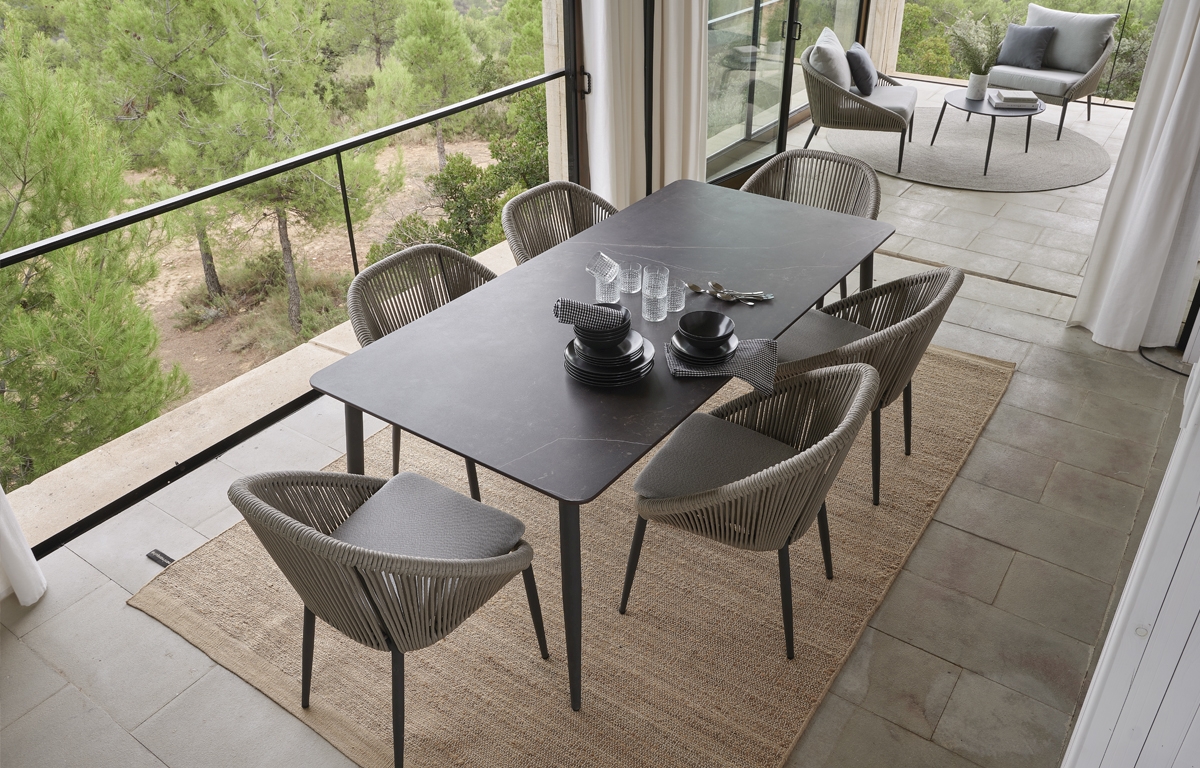 RODONA outdoor dining set &lounge area | Santiago Sevillano | SKYLINE DESIGN
The collection features a classic and elegant aesthetic that will never go out of style. The chairs, tables, sofas and loungers boast clean lines and simple shapes, giving them a refined and sophisticated look. The neutral colors and natural textures complement any outdoor space, making it easy to mix and match with existing decor.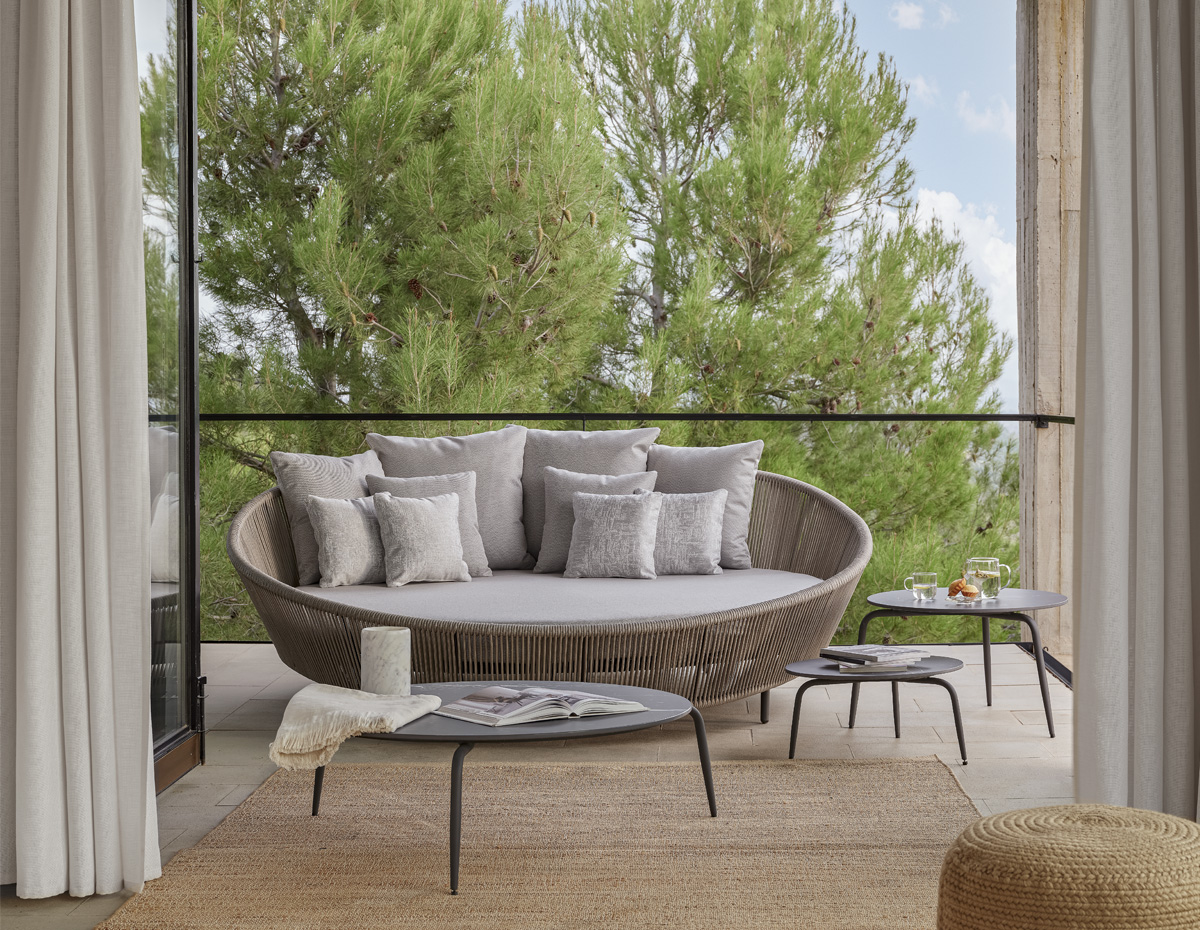 RODONA daybed | Santiago Sevillano | SKYLINE DESIGN
The REDONA collection, one of the most complete of the brand, includes both outdoor lounge furniture (sofas, armchairs, high-back armchairs, coffee tables, sunlounges, daybeds, hanging chairs) and rodona(tables, dining armchairs, stools) with pieces available in different dimensions and shapes.
MADAME outdoor chair. By ILMIODESIGN | iSiMAR

Hall 6 Stand E45
Designed by ILMIODESIGN for contract furniture manufacturer iSiMAR, the new MADAME chair draws inspiration from the female corset, a garment designed to stylize and shape the female figure. The chair's curved rod skeleton perfectly reflects the sinuous lines of the corset, making it a perfect piece for creating special indoor and outdoor spaces.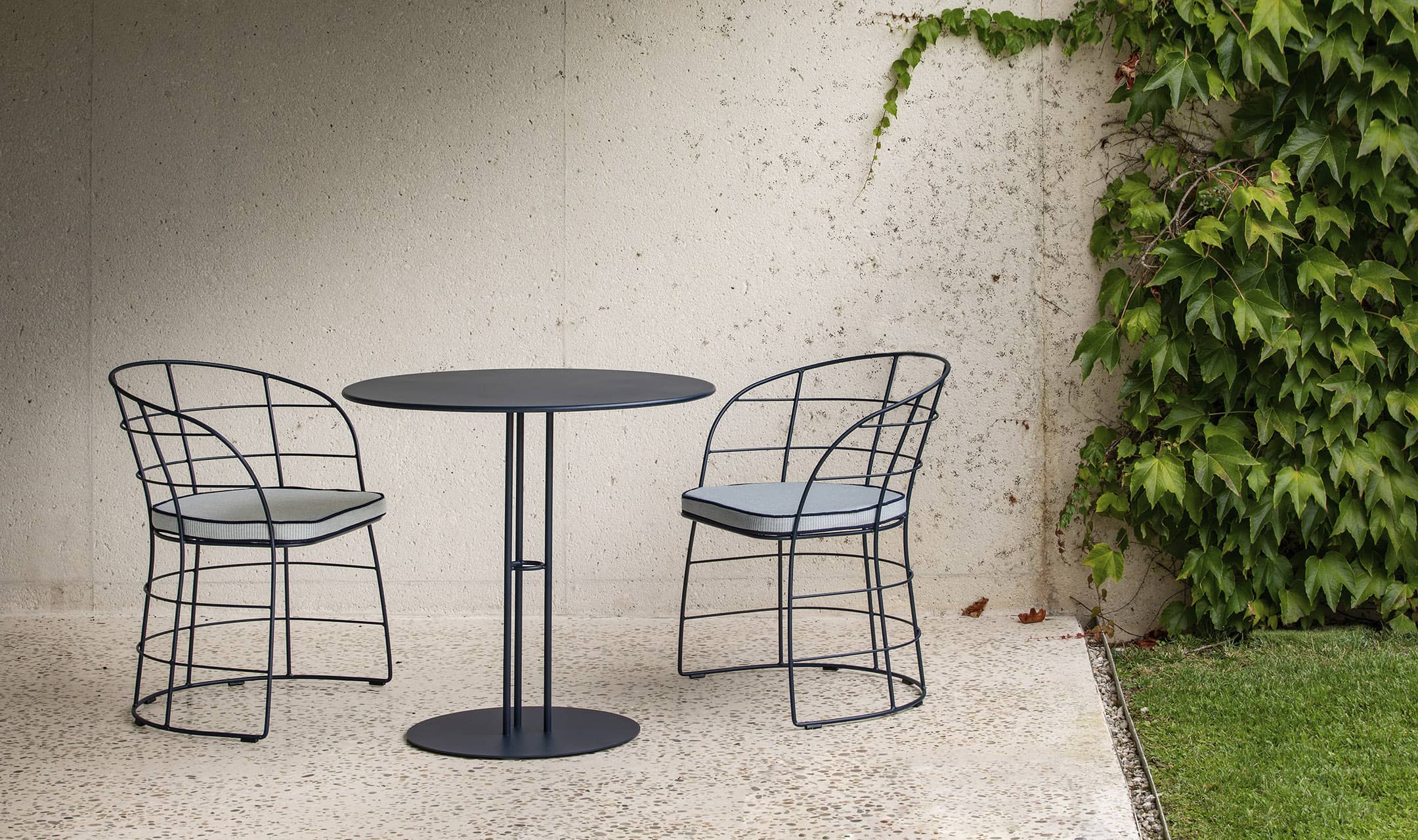 MADAME chairs | ILMIODESIGN | iSiMAR
Made of galvanized, polyester powder-coated steel, MADAME is weather-resistant and suitable for intense use. Each piece is unique and created through a meticulous process using high-quality, durable, and sustainable materials that are 100% recycled and recyclable.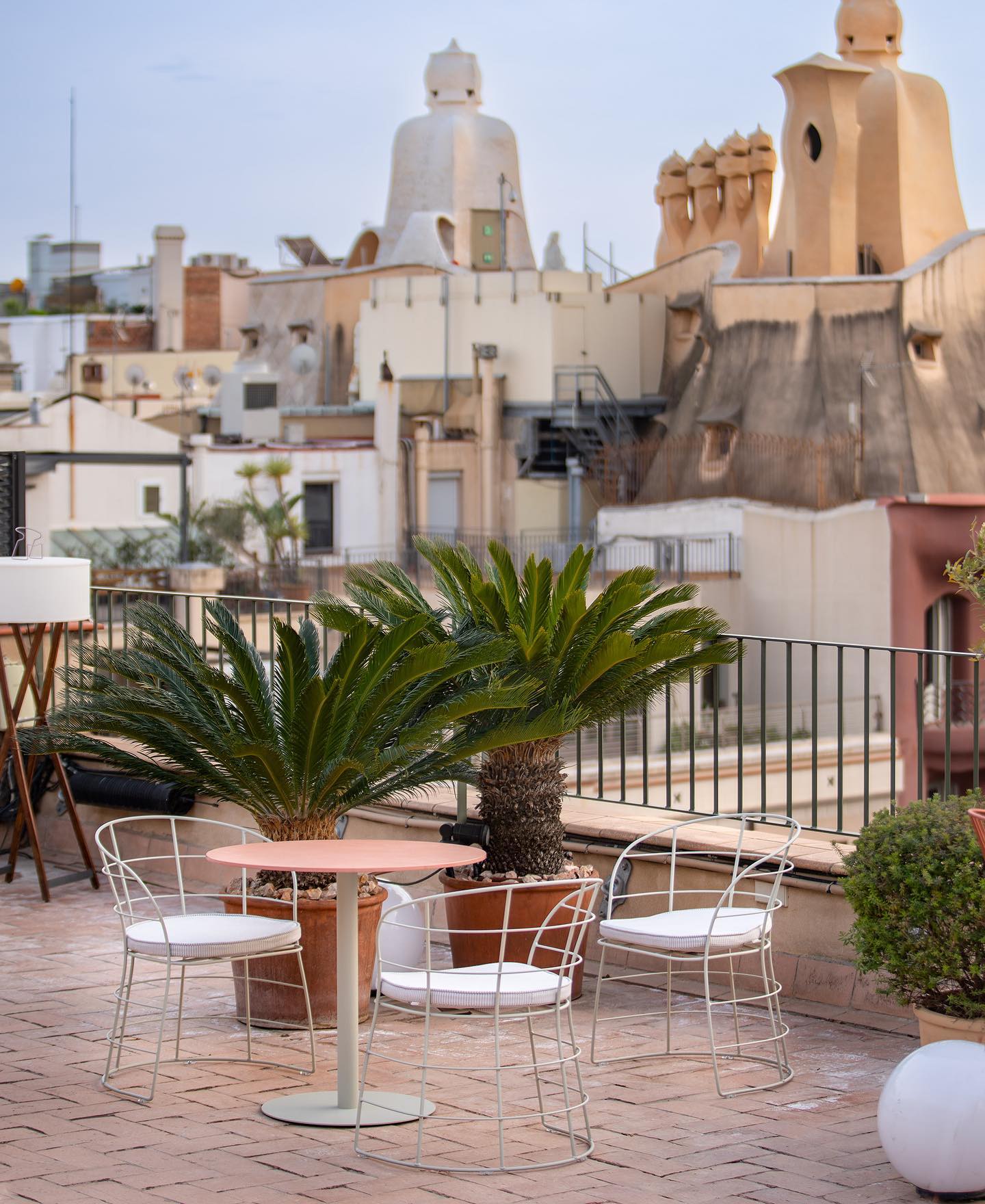 MADAME chairs | ILMIODESIGN | iSiMAR
The variety of finishes and fabrics for the structure and the cushion makes of the chair a perfect choice for different projects, hospitality, contract, residential, and office spaces.
OM Wood parasol. By Andreu Carulla | CALMA

Hall 14 Stand D32
Add shades of style to your outdoor designs! Inspired by classic Mediterranean canopies and umbrellas, OM WOOD is the new version of the successful OM sunshade which was was recognized in 2015 with the prestigious RED DOT "Best of the Best" Award.
OM WOOD sunshade & MACA deck chairs | Andreu Carulla | CALMA
Thanks to the clever mechanical locking system developped by CALMA, the horizontal opening of OM Wood can be blocked at different angles so that the canopy can acquire different aesthetic configurations and provide different types of shade for every position – fully open, half-open or almost closed.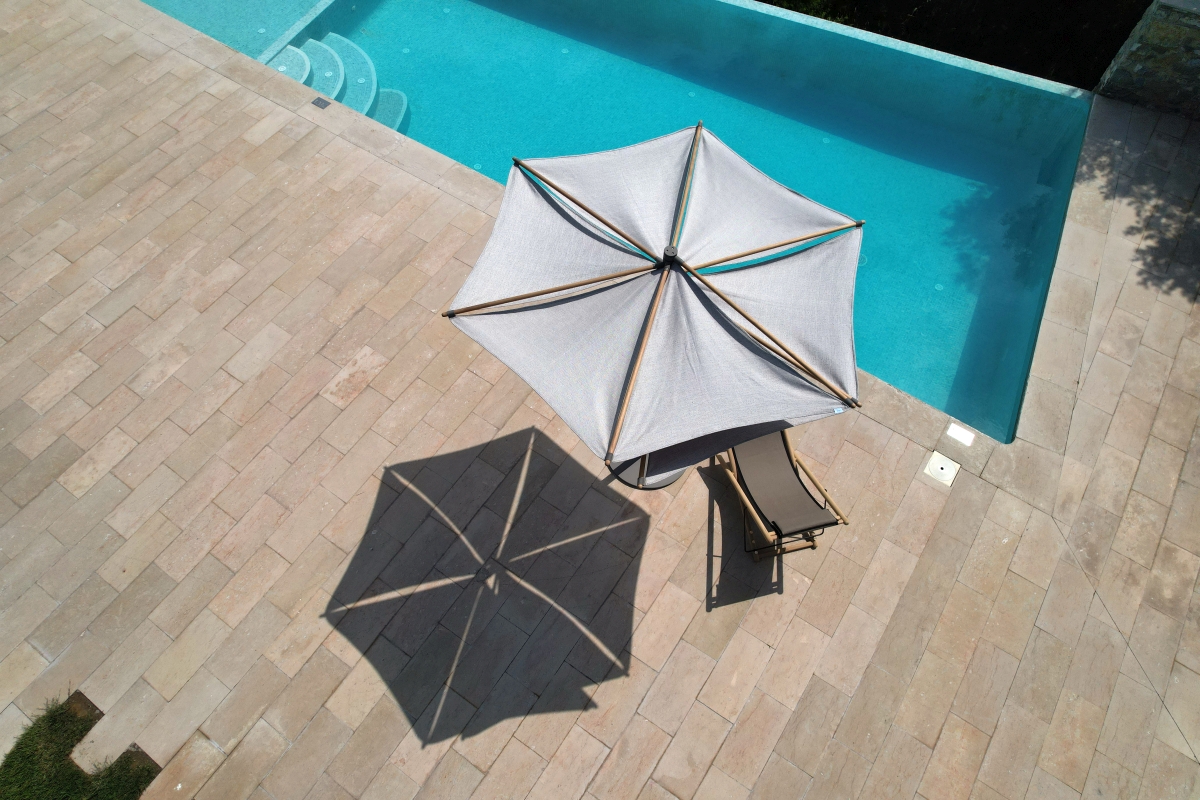 OM WOOD sunshade & MACA deck chair | Andreu Carulla | CALMA
The mast and ribs of OM Wood are made from iroko wood, while the mechanism rings are made from machined solid stainless steel and include plastic gaskets and washers in every joint. The open/close mechanism is also made from stainless steel and iroko wood. The fabric used for the umbrella is acrylic Agora. Additionally, it comes with a 50 kg steel base.
BAGA chair. By Musola Design Team | MUSOLA

Hall 18 Stand B11/B13
Tradition, innovation and a wide choice of color options define the clever design of BAGA, the new stainless-steel chair created by MUSOLA for stylish outdoor dining set. Its seat is designed with a removable cover and filled with water-repellent polyurethane foam (Dry Feel) and polyester fiber, making it durable and resistant to extreme weather conditions.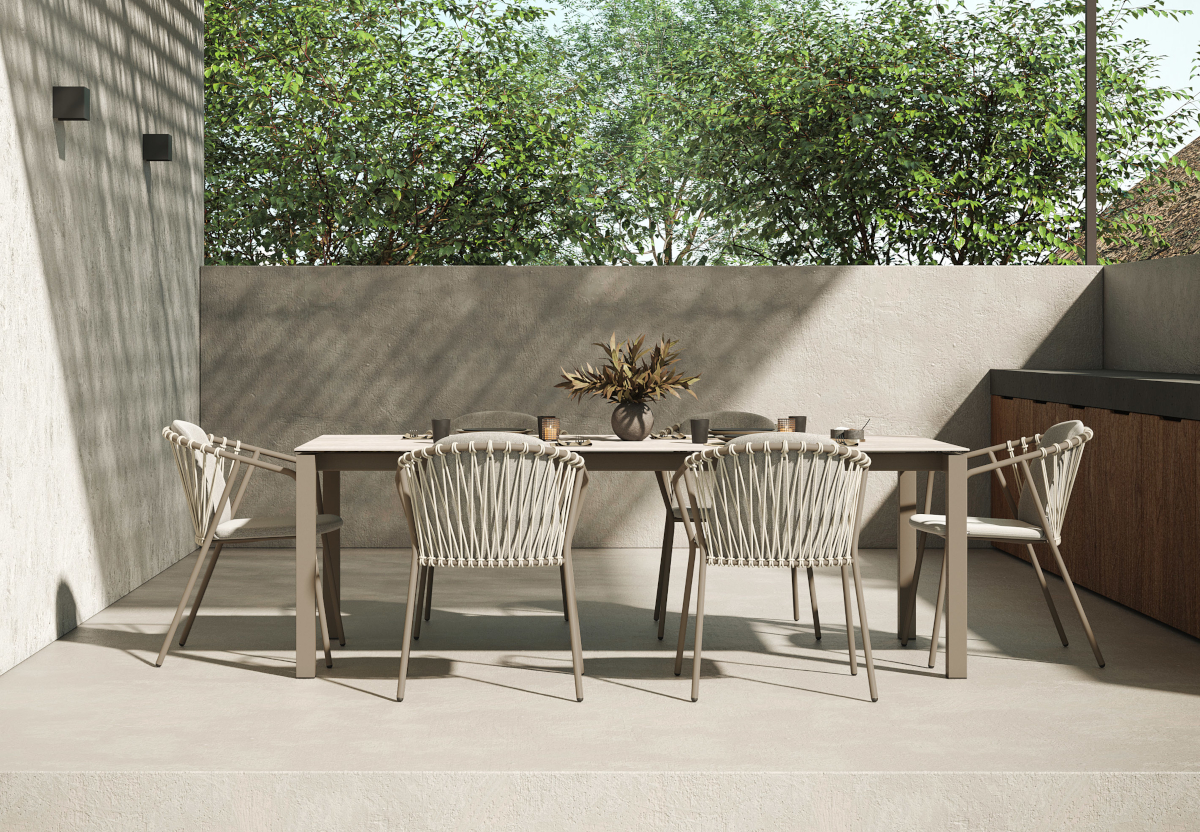 BAGA outdoor chairs | MUSOLA
The chair's backrest is made of knotted polyester rope that comes in various colors. To enhance the backrest's comfort, you can choose between a padded cushion or a smaller padded support.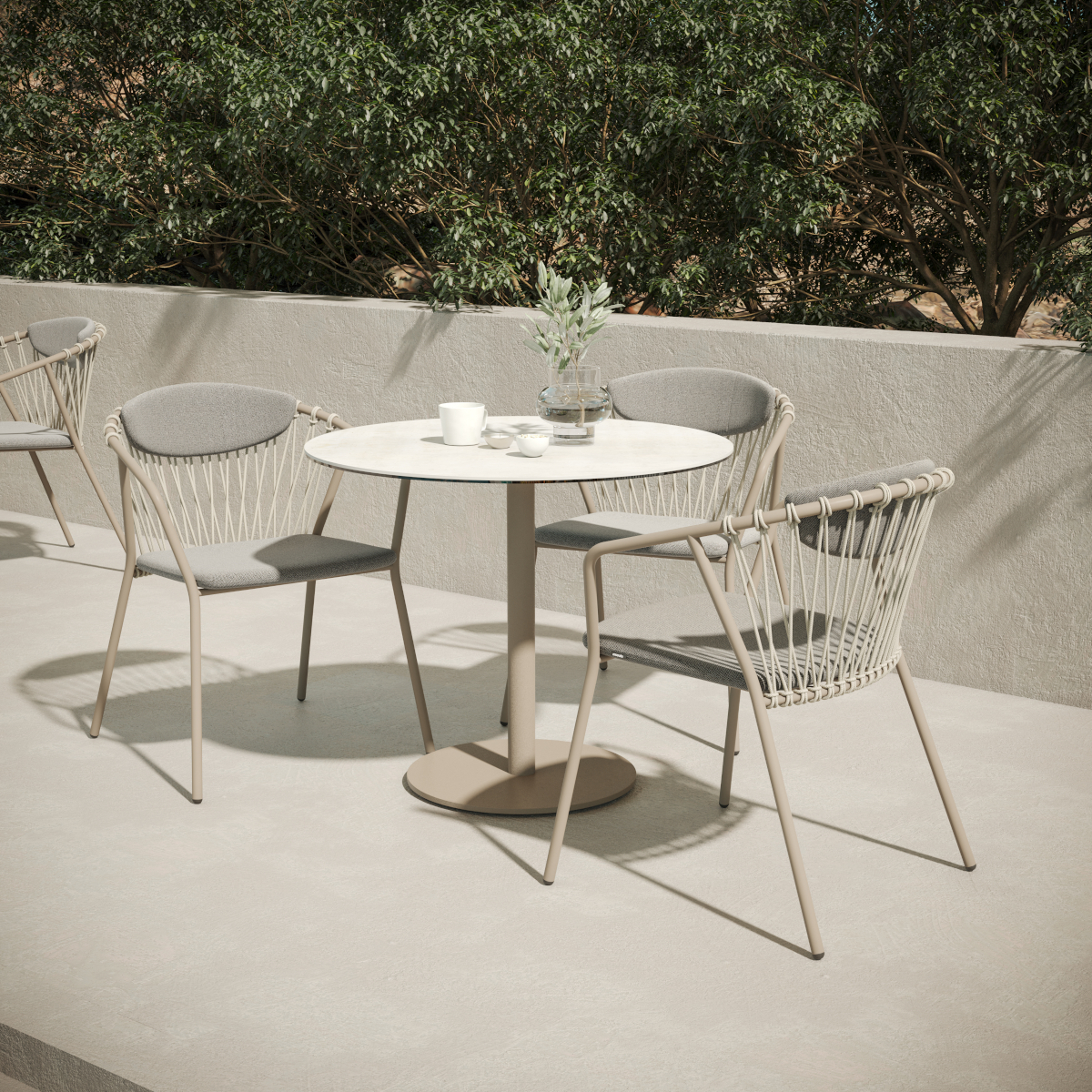 BAGA outdoor chairs | MUSOLA
BAGA offers a variety of finishes and colors for different elements of the chair, making it easy to match any setting and integrate seamlessly with other furniture. In addition, it allows to stack up to 4 units.
EVA PRO sun lounger. By Jordi Aguilar | BALLIU

Hall 24 Stand H12
Elevate your outdoor space with the EVA PRO resin sunlounger, a creation by Jordi Aguilar for outodoor brand BALLIU. Made with high-quality polypropylene and a reinforcing metal structure, this sunlounger is built to last and is a perfect addition to any pool, terrace or garden area. Unlike other options, it is manufactured without fiberglass and features a 100% recyclable frame, making it an environmentally conscious choice.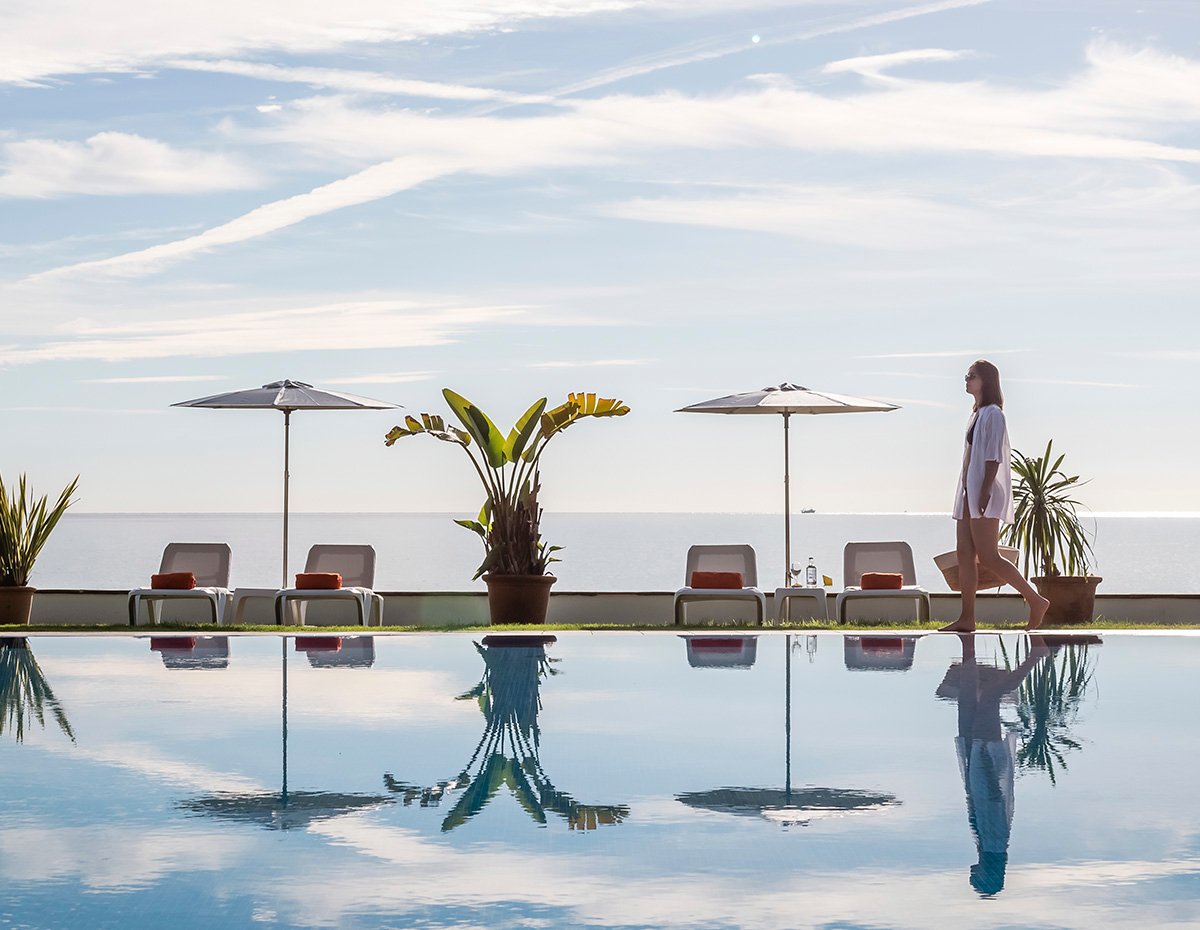 EVA PRO sunloungers | Jordi Aguilar | BALLIU
With a backrest that allows five different positions ranging from 60º to the horizontal position, users' can customize their lounging experience for maximum comfort. The sunlounger is also stackable for easy storage and features wheels for convenient transport.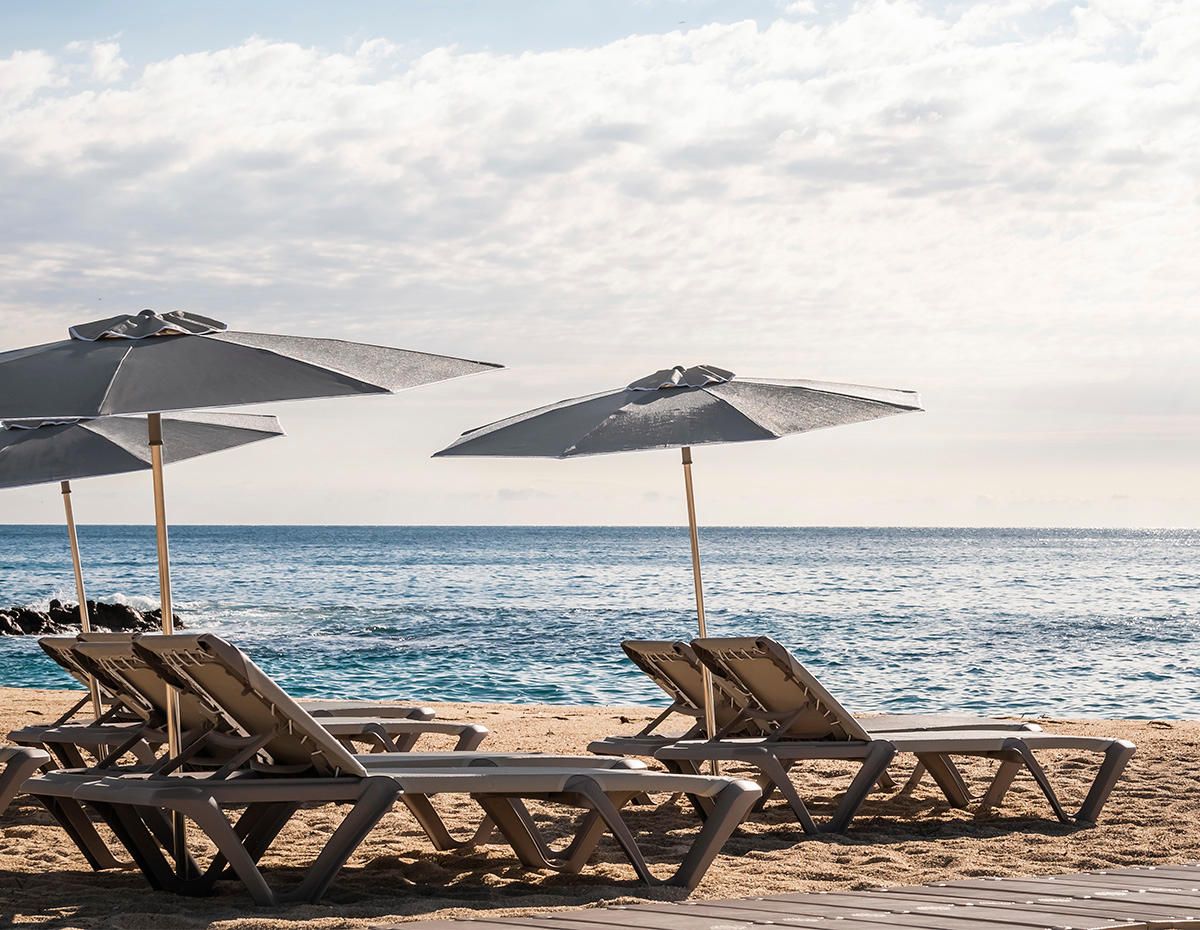 EVA PRO sunloungers | Jordi Aguilar | BALLIU
The EVA PRO sunlounger's self-tensioning fabric by Balliu rope ensures maximum durability and support, with the ability to hold loads of up to 180 kg. Matching side table available.
BAKE chair. By Ezpeleta Design Team | EZPELETA

Hall 14 Stand B32
Versatile and stylish, the BAKE chair from outdoor furniture specialist EZPELETA is a must-have for any designer looking to add a touch of sophistication and comfort to their projects. With as timeless aesthetic, it combines enveloping geometry with a range of nature-inspired colors, including terracotta, taupe, and olive green. This stackable chair is crafted from 100% recyclable polypropylene, reinforced with fibreglass for added stability.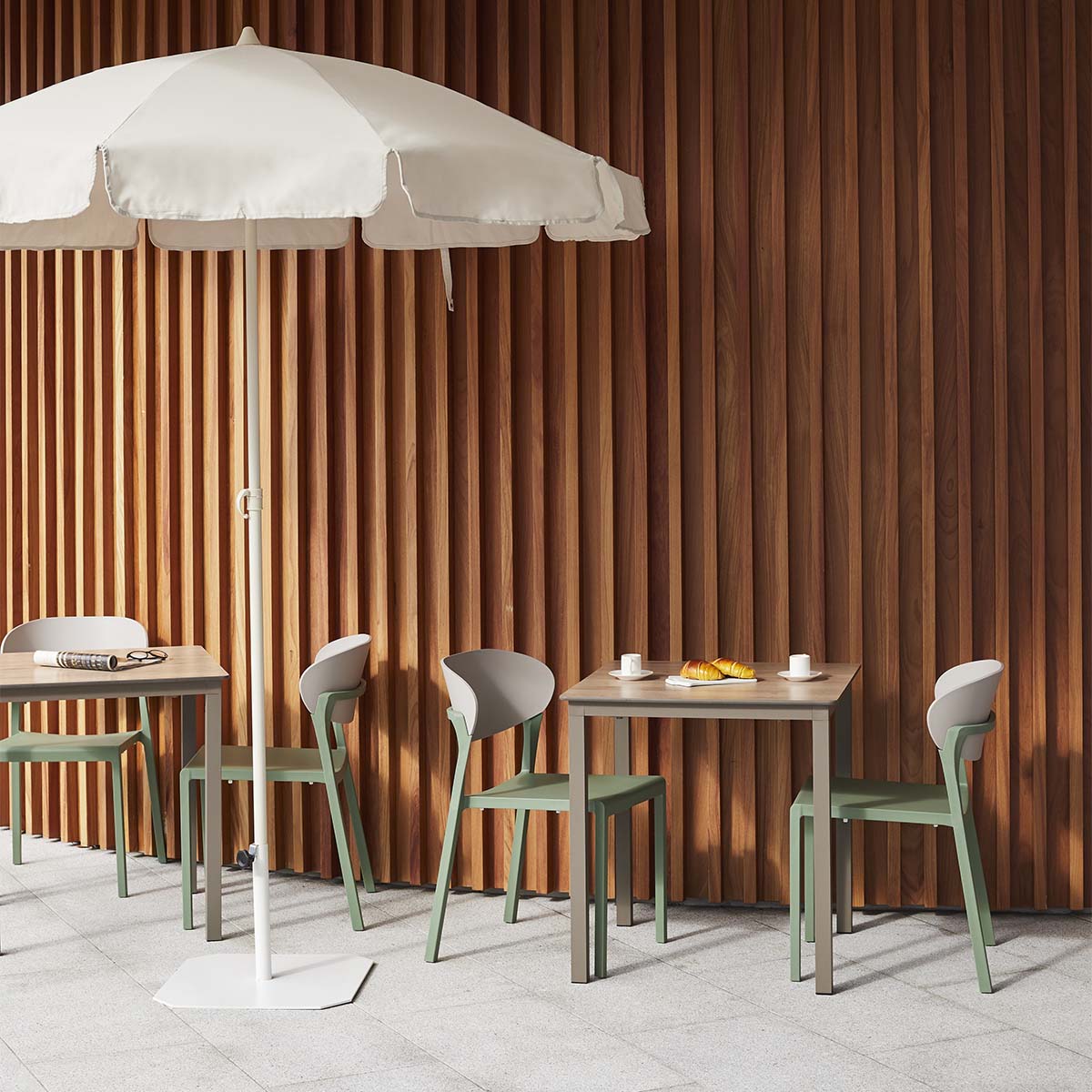 BAKE chair | EZPELETA
The BAKE chair is not only beautiful but also practical – the material is easy to clean and highly resistant to impacts and sunlight. Its versatility is another highlight, as it can be used both indoors and outdoors. For indoor spaces, an upholstered version with antibacterial technical fabric is available, making it perfect for hospitality venues and offices. Alternatively, the chair can be used without upholstery for outdoor spaces, offering a durable and stylish seating option.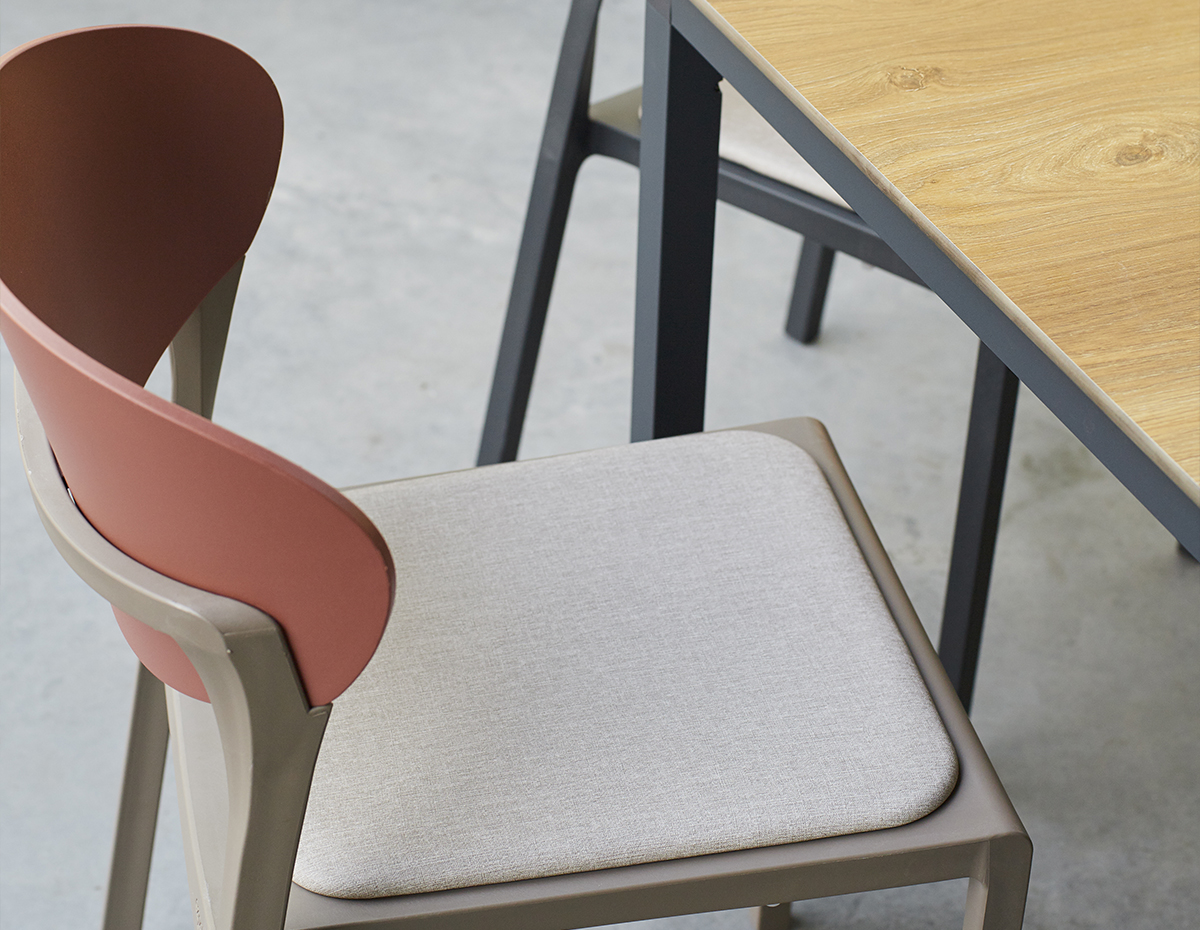 BAKE chair | EZPELETA
The BAKE chair is the perfect addition to any interior design project, combining form, function, and sustainability. Its timeless design and range of colors make it a versatile choice that will enhance any space, while its durable construction ensures longevity and ease of maintenance.
So go ahead, grab a cold drink, and enjoy the great outdoors on the stylish patio furniture from Spain!