YON and EOBO of PAU DESIGN by ASCENSION LATORRE on exhibition at the #30ADCV exhibition in Valencia
July 7 / 2015
How to create two attractive contemporary spots starting from an eye-catching, smart sofa? Come to the "Three decades of design" exhibition in Valencia, Spain, and you will surely get inspirations. YON and EOBO, the new sofa collections designed by Nacho Lavernia and Ximo Roca for PAU DESIGN, the avant-garde brand of Ascension Latorre, have been used to design two impressive focal points full of style, colour and good design. Let's discover more…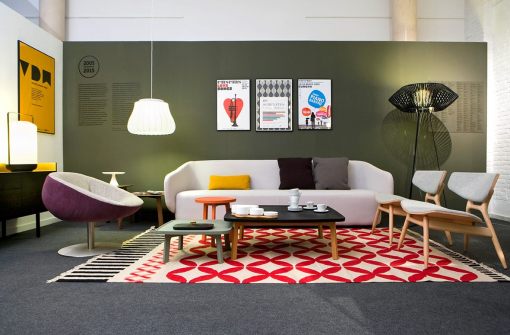 The Association of Designers of the Valencian Community (ADCV) has organized, in collaboration with the Arts Centre Las Naves, an exhibition that commemorates its 30th anniversary. It consists of different sets that illustrate the evolution of the Valencian design throughout the latest 30 years, namely since the ADCV was created. The products on exhibition have all been designed by big names of the Valencian graphic and industrial design scene, such as Nacho Lavernia, Carlos Tiscar, Ibán Ramón, Mario Ruiz, Ximo Roca and Menta, just to name a few.
Designed for commercial and home use, the YON sofa, a design of the Lavernia & Cienfuegos studio, is the main piece of one of the living room sets. The collection, that includes also armchairs and chaise longues, features soft lines and big volumes that inspire relaxation and comfort.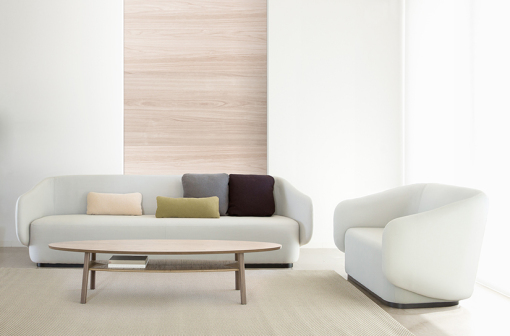 Key elements of this original sofa are a seating of generous proportions and a back piece that integrates the arms. The arms open outwards as if suggesting a welcoming gesture and inspiring a cocooning effect.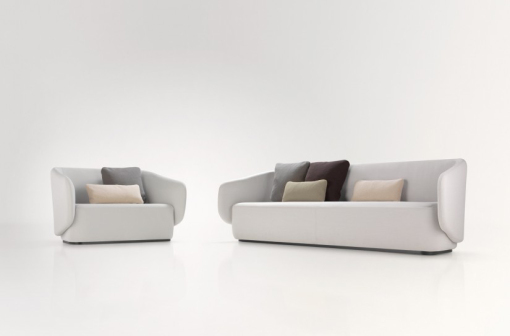 Squared and rectangular cushions complete the look by bringing the colorful note against the neutral upholsteries.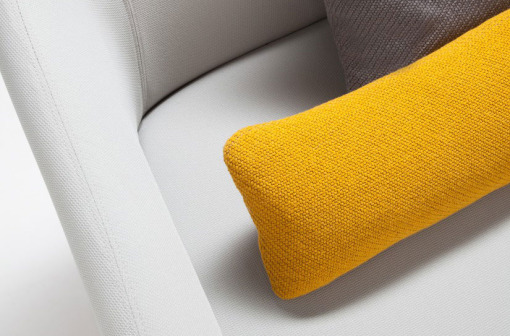 PAU DESIGN keeps on cultivating its collaboration with big names of Spain's design by launching EOBO, the new sofa created by Ximo Roca for the brand. At the exhibition, EOBO takes the scene with its impressive contrasts of volumes.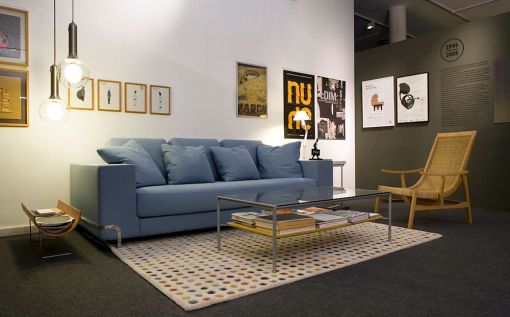 Deep seats and extra padded arms sit on a precious chromed metal base that lightens the visual appearance of the piece. The generous back and the set of cushions offer a comfortable support for your back and are a clear invitation to snuggle up and unwind.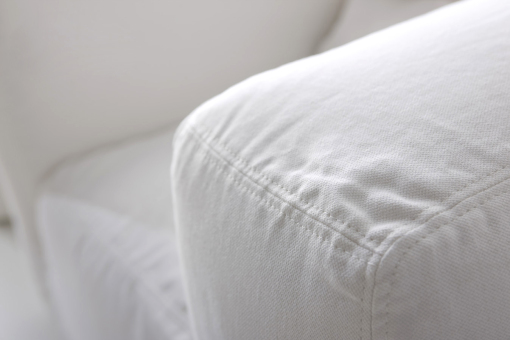 Thanks to its distinctive design made of clean geometries and contemporary refinement, EOBO represents the new frontier of comfort for home and contract spaces. The sofa is available in a range of colours and fabrics to meet the need and taste of clients.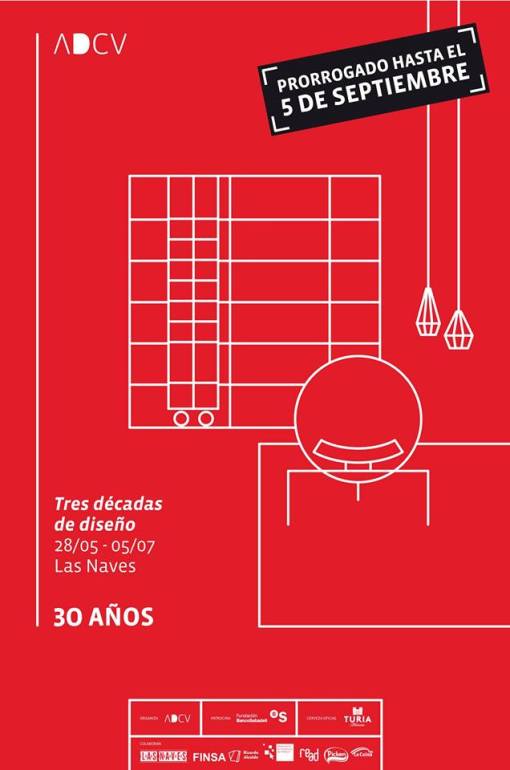 If we have piqued your interest and if you happen in Spain this summer, we invite you to have a first-hand look at YON and EOBO, on display at the "Three decades of design exhibition" at Las Naves space. Due to the exit and the increasing number of visitors, the exhibition has been extended till the 5th of September 2015.
Las Naves, Espai d'innovació i creació
C/ de Juan Verdeguer 16
46024 Valencia
Monday to Saturday
9:00 am – 9:00 pm
About the designers
Lavernia & Cienfuegos

Lavernia & Cienfuegos is a design studio based in Valencia and specialized in both industrial and graphic design. It was founded in 1995 by Nacho Lavernia. In 2000, Alberto Cienfuegos, who was working at the studio since its foundation, was appointed as a partner, acting as creative director. Their work has been recognised at both national and international level with multiple awards. In 2012, Nacho Lavernia received the National Design Award for his professional career. Both Nacho and Alberto have lectured design at the Polytechnic University of Valencia and the CEU. They have participated in numerous exhibitions and conferences and their work has been featured in a number of specialist publications.
Ximo Roca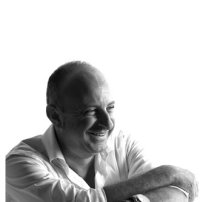 Constituent of the ADCV, member of the BEDA and ADP, he teaches at the Design School of Cardenal Herrera University. During several years he has been coordinating design departments of renowned companies. In 1989, he created his own design studio: Ximo Roca Diseño, to develop global design services: management, product design, graphic design and interior design. His works have been published in renowned magazines and books of national and international design. He has been curator of several exhibitions both in Spain and abroad.