Eco-friendly mattresses: the NATURE collection from GOMARCO
October 27 / 2020
The mattresses of the NATURE collection from Spanish mattress specialist GOMARCO are good for demanding sleepers and extremely kind to the environment; without compromising on comfort and style.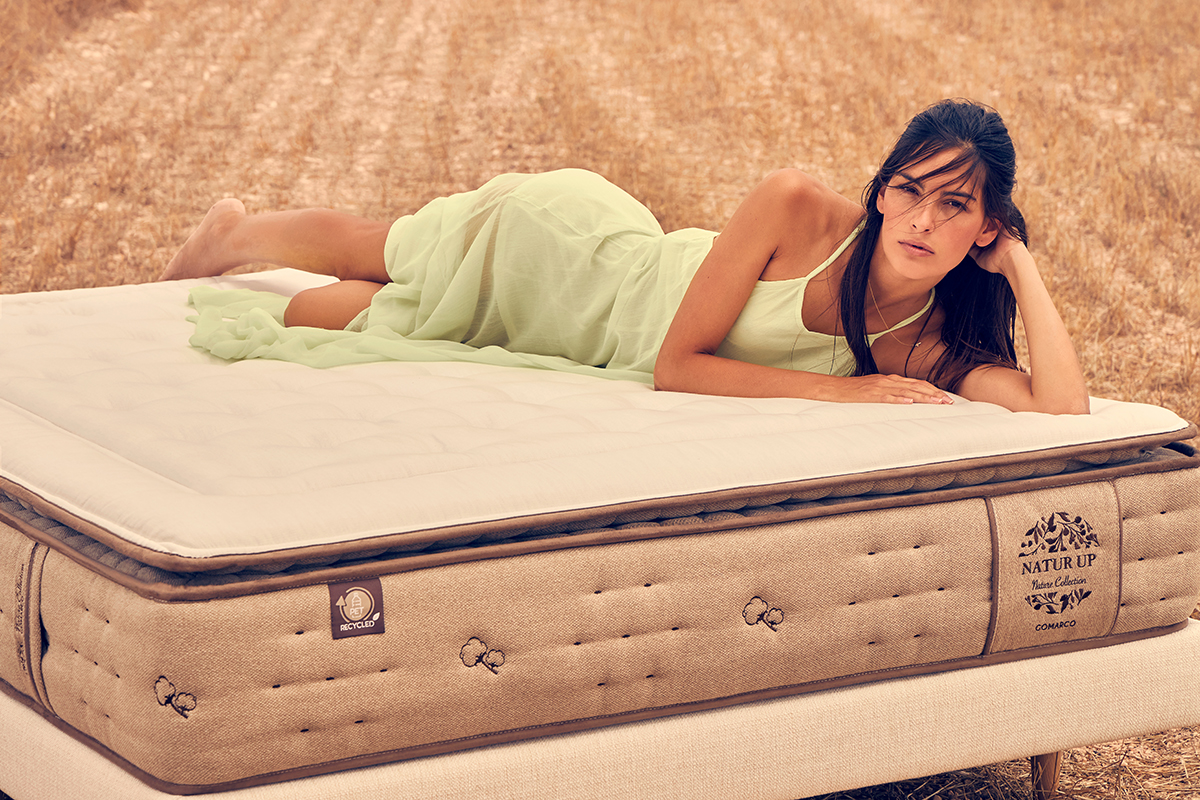 NATURE Collection | Eco-friendly mattresses | GOMARCO
Strongly committed since its inception in the 70s to research and innovation, GOMARCO has made sustainability a core tenet of its business model. They have delved into sleep science and eco-friendly production processes and have observed consumer sleep habits to produce mattresses that ensure both better sleep and a healthier environment.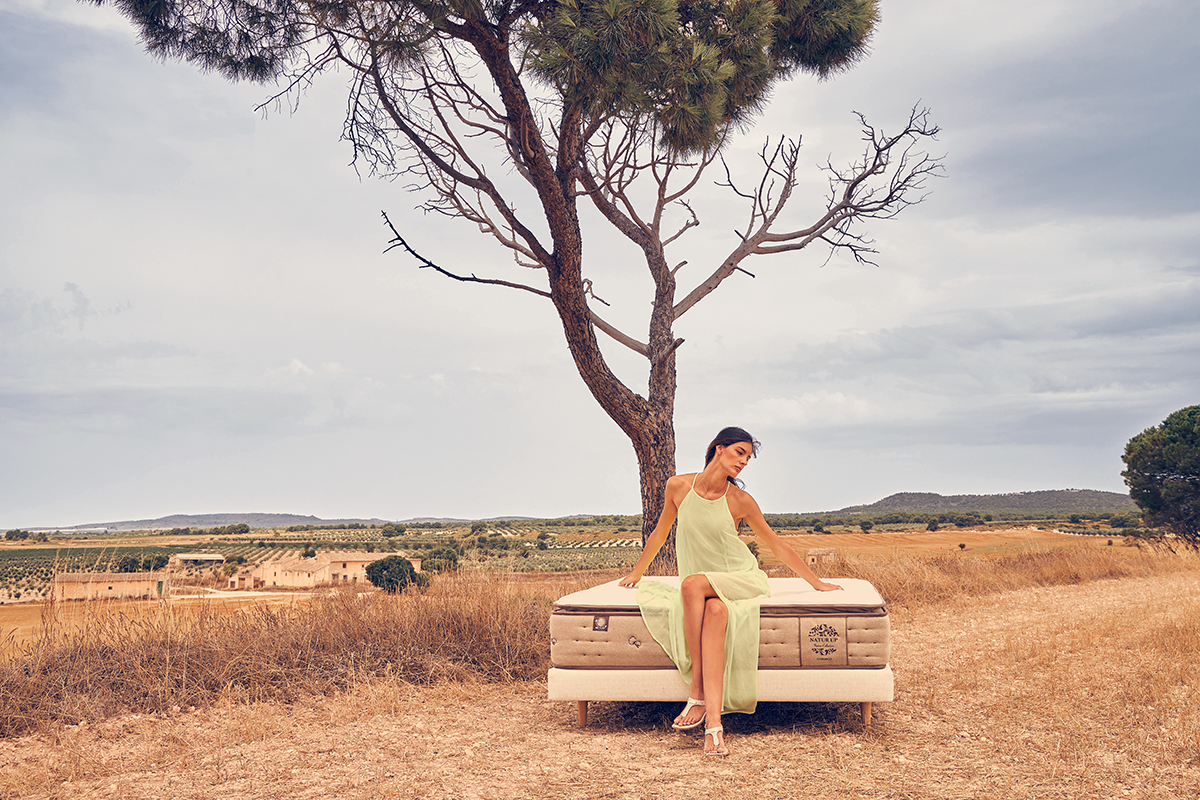 The NATURE Collection: nature, wellbeing and technology all at once
The NATURE Collection responds to these recent developments with a line of 5 different mattresses that integrate a multi-layer system engineered for greater support and comfort.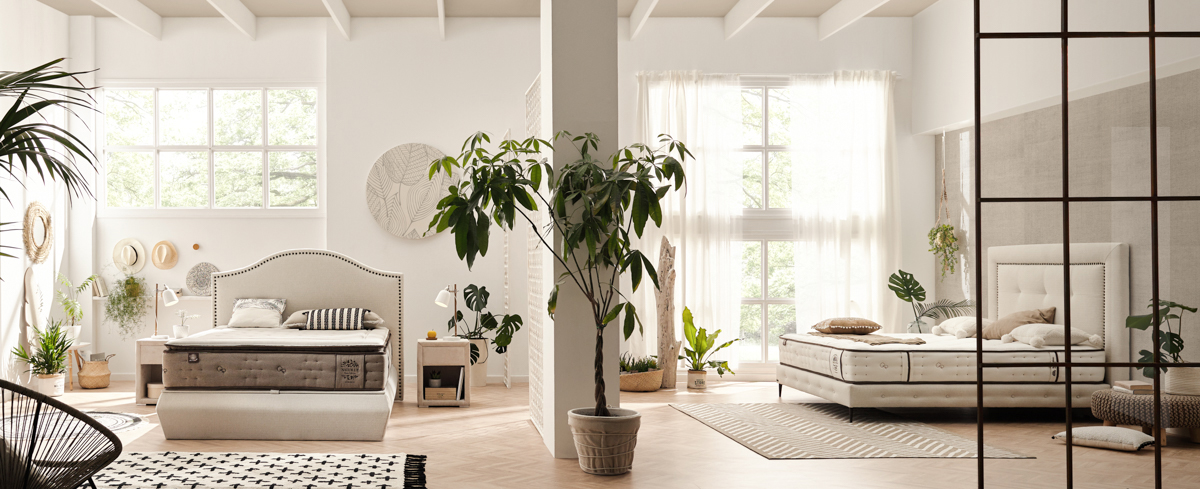 NATURE Collection | NATUR UP & BIO FIRM mattresses | GOMARCO
Three different pocket spring systems – the exclusive SPRINGSAC Soft and SPRINGSAC Firm and the COMFORTSAC®7z – with different spring densities prevent movements to transfer from one side of the bed to the other ensuring the best adaptability of the mattress and the adequate firmness for a quality night's sleep.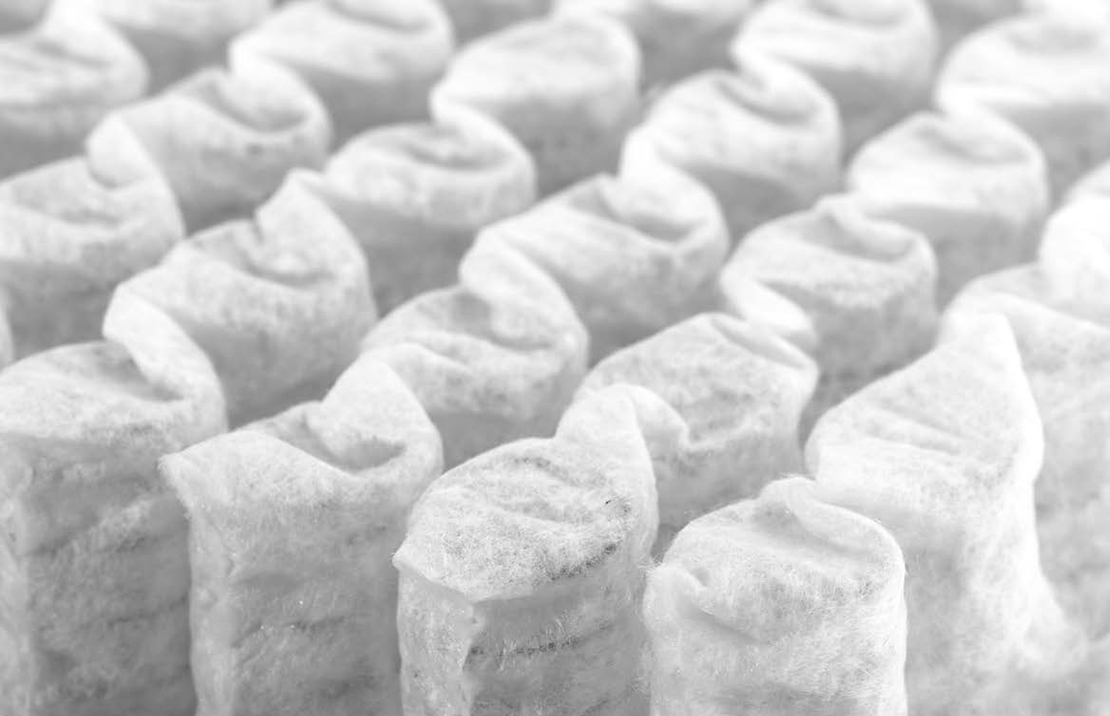 NATURE Collection | Innovative pocket spring systems | GOMARCO
These supportive and expertly engineered pocket spring systems come in combination with various layers of natural and technological materials to increase the mattress tailoring and performance. While layers of SUPER SOFT, TEX REFORCED, HR foams and the Reinforced Frame improve comfort and ergonomic, the THERMO FIBER and the HIGHFOAM layers and the AQUAPUR open-celled structures promote airflow and allow perspiration to evaporate keeping the body cool and reducing the presence of allergens.
As per natural materials, at GOMARCO they believe that consumers will sleep even better if they know that their mattresses are high-quality and produced with raw materials that are sustainably sourced and therefore with a low impact on the environment. That's why all the models integrate cotton and innovative PET fabrics.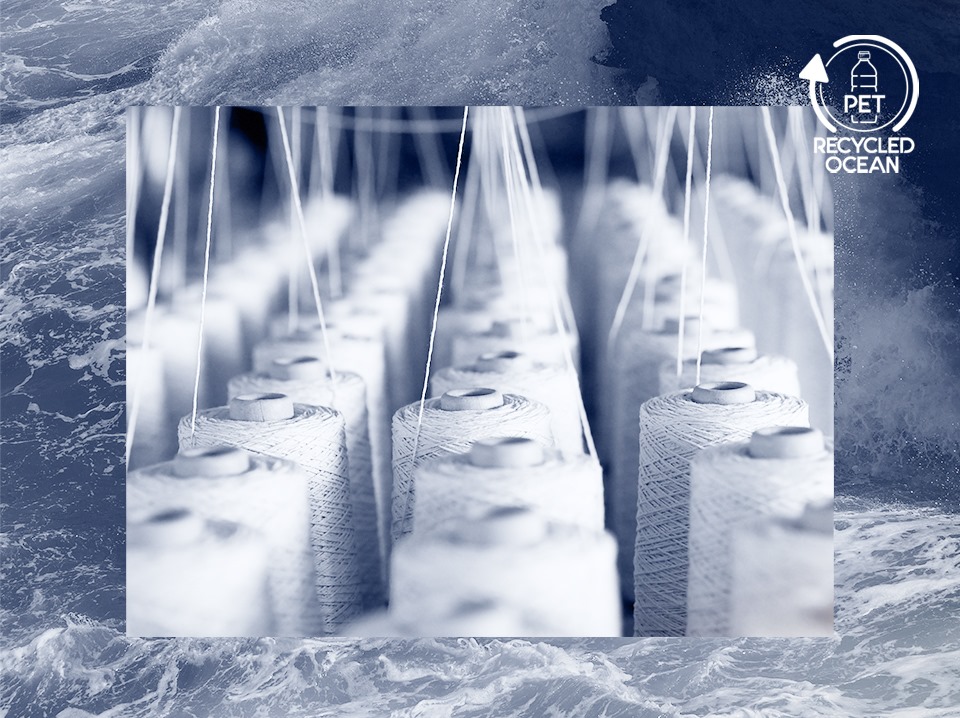 NATURE Collection | PET Recycled Ocean threads | GOMARCO
Made from fibres obtained from recycled plastic bottles, the PET Recycled Ocean fabrics are not only highly sustainable, they also provide premium comfort and enhanced breathability. The polyester yarns can be recycled repeatedly without degradation of quality. This way, fabric manufacture could potentially become a closed-loop system in which polyester could forever be reused. In addition to this, unlike any other typical polyester textile, the PET fibres are produced through a mechanical process rather than with a chemical method. This cuts down on any toxin previously generated from the conventional system.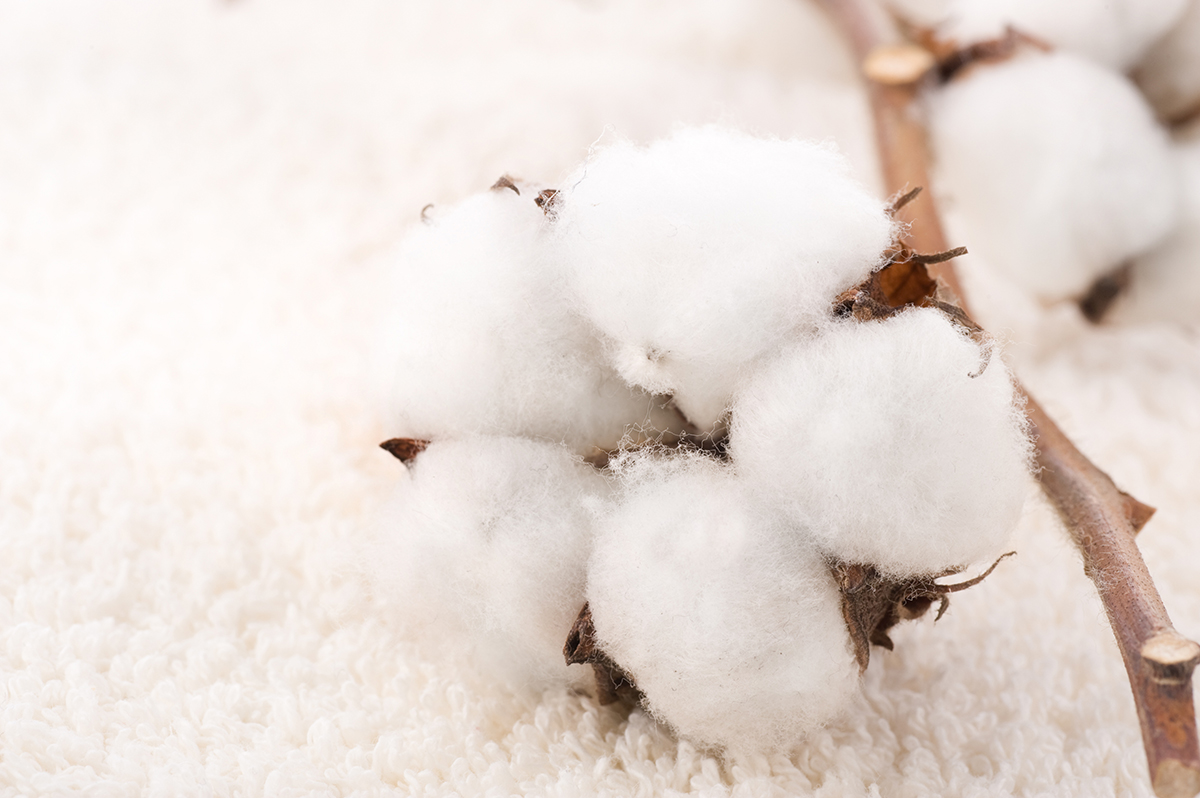 NATURE Collection | Natural cotton fabrics | GOMARCO
The natural feel is accentuated by the cotton layers, which, in addition to superior support, also improve breathability keeping the body temperature constant and ensuring a safe, non-toxic sleeping environment.
All materials used have been examined and thoroughly tested and are certified by the OEKO TEX Standard 100 label, to make sure that they do not contain harmful substances, vapours, or by-products that could negatively impact human health.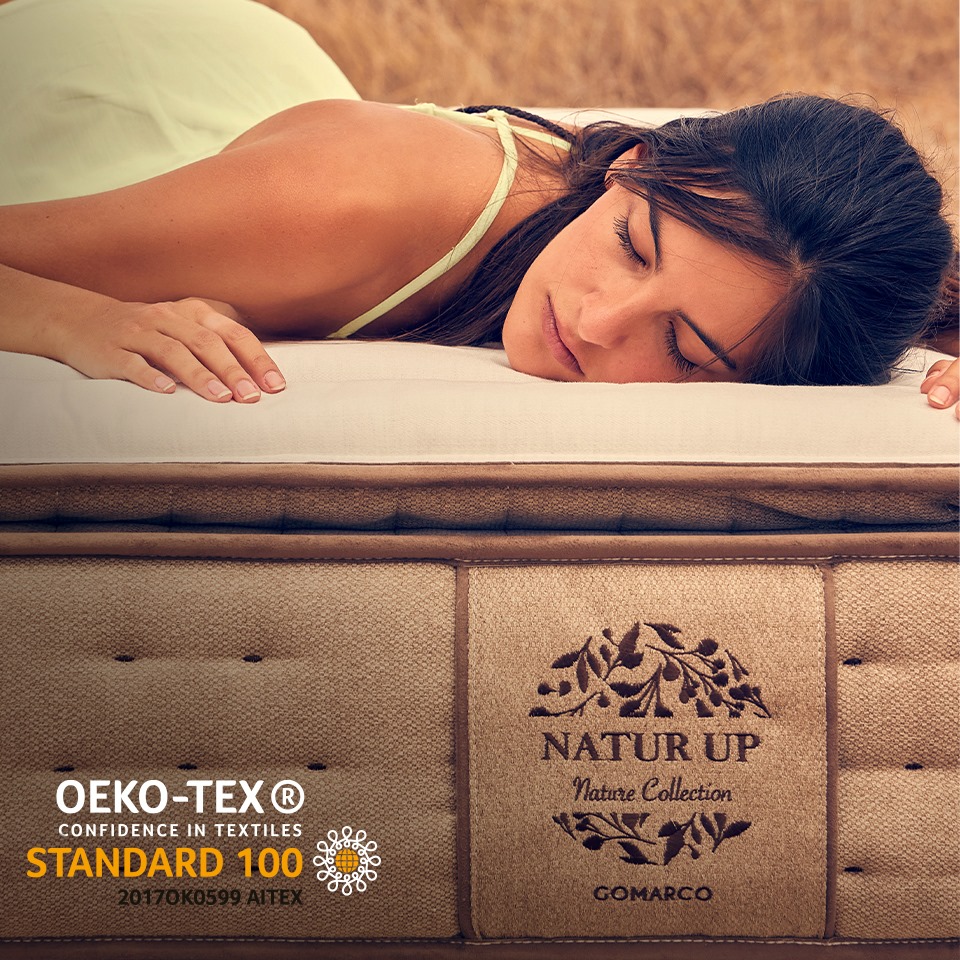 NATUR Series
Striking the perfect balance between natural materials and technology, the mattresses of the NATURE Serie are designed to enhance support and give a more sumptuous feel to night's sleep.
The SPRINGSAC®SOFT core, combined with cotton and PET top layers, ensures soft/medium firmness, bed independence and breathability.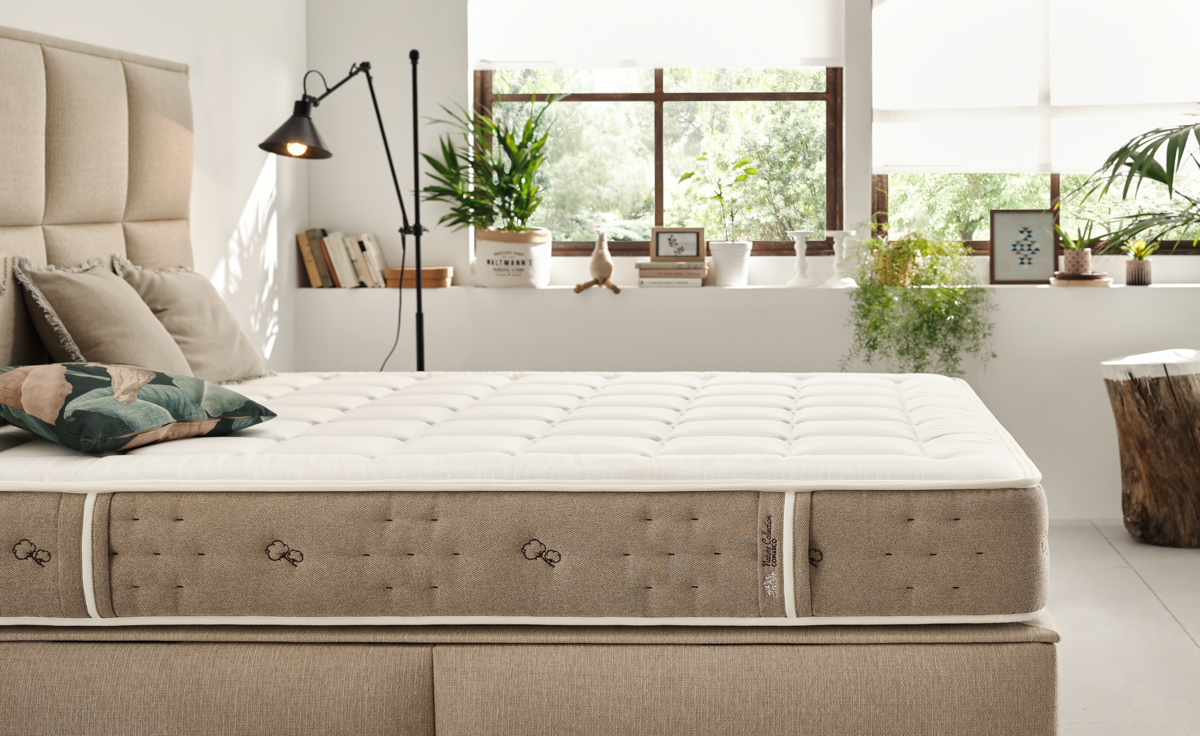 The SPRINGSAC®FIRM core, the firmest core of the SPRINGSAC® range, offers supreme reactive support gently exposing the body to the natural health benefits of the temperature control technologies.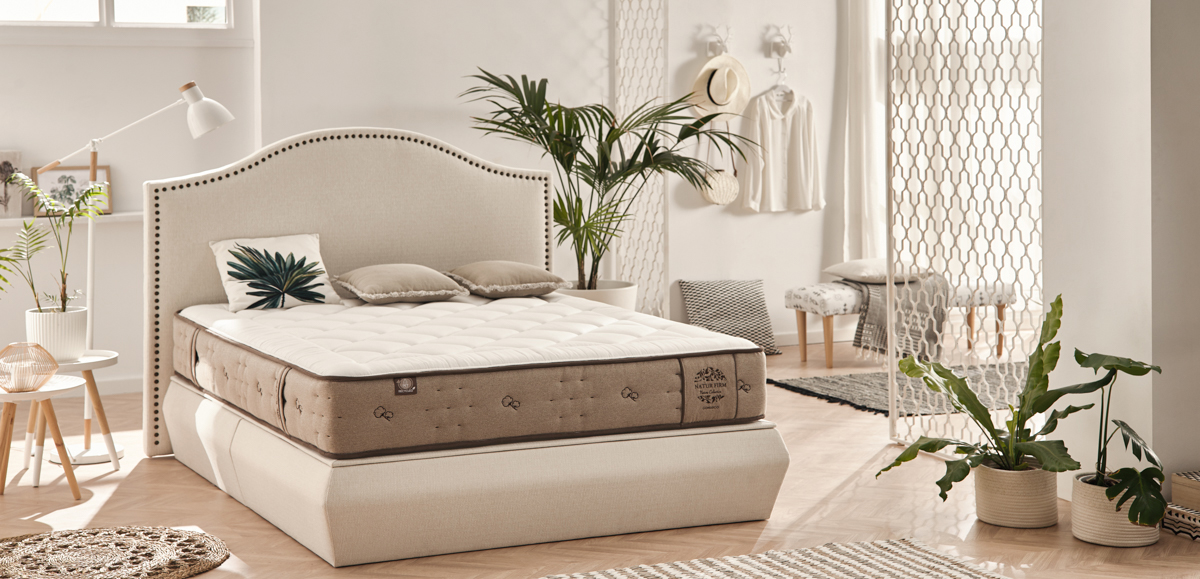 Highly breathable and durable, this mattress has the SPRINGSAC®7z core, a medium-firm core that eliminates pressure points helping to correctly align the spine.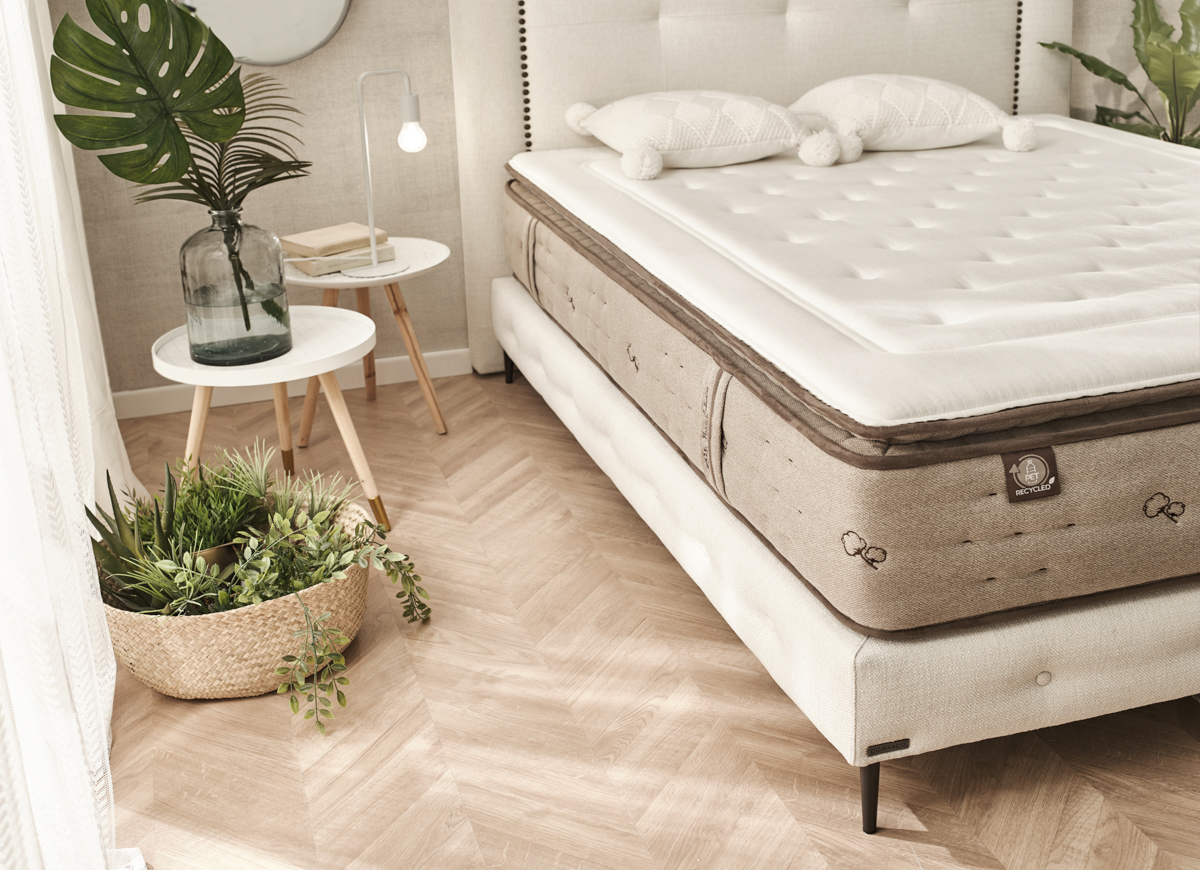 BIO Series
The mattresses of this series are filled with sumptuous, sustainable and natural mattress fillings, enhanced by layers of innovative high resilience foams. In addition to the cotton and PET layers, the BIO Series integrates open-cell structures and the AQUAPUR BIO core that bring breathability and comfort to the next level. Made of natural oil foam, the HR AQUAPUR® BIO has a density of 55 kg/m2 and offers therefore high resilience and great adaptability.
Made from a combination of cotton, PET Recycled Ocean fabric and AQUAPUR®BIO foam, BIO SOFT features great breathability, high adaptability, and low firmness.
In addition to cotton, the PET Recycled Ocean thread and the AQUAPUR®BIO foam, the AQUAPUR®FIRM open cell core ensures the spine keeps its natural alignment whilst the open-cell structure offers optimal temperature and moisture control.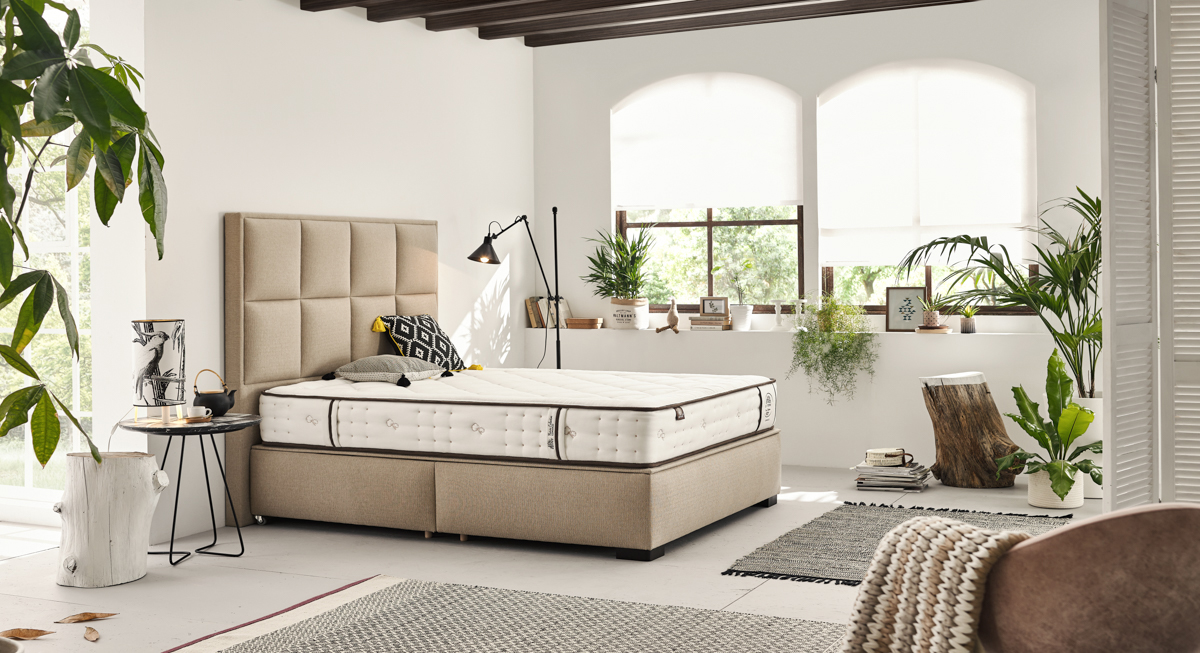 GOMARCO's environmental and responsible ethos stretches far beyond sustainable design, with a lean and green operational culture which focuses on the minimisation of carbon emissions, energy and waste.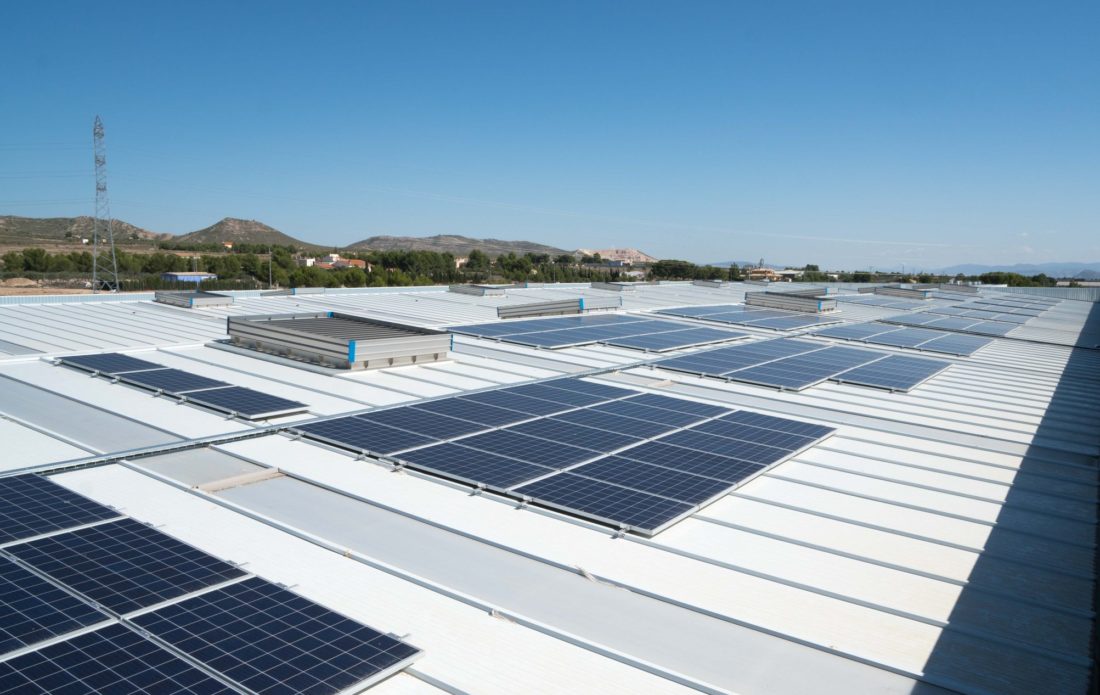 GOMARCO's sustainable policy| Photovoltaic Installation
For more information: www.gomarco.com