Home sweet home-office: practical home-office furniture for contemporary spaces [3]
November 17 / 2020
With telecommuting and working from home becoming more popular than ever before, home office design has become a focal point in an increasing number of home design and renovation projects. Some people may have a home office already set up and need just a restyling, but for others WFH requires carving out a workspace and furnish it from scratch.
Spanish contemporary furniture manufacturers have plenty of design ideas for creating or reworking a practical and inspiring office space, whether it is merely a table in the corner of the living area or a study of its own. Have a look and find solutions for making the most of your clients' workday!
New ideas for practical, cool workspaces at home
Our surroundings have a profound effect on our state of mind, which makes planning a home office or workspace especially important. It's not just all about décor or creating an attractive or warm space. The emphasis is rather placed on optimizing productivity, creativity, and comfort.
Home-office furniture from Spanish brands includes from complete furnishing solutions for dedicated workspaces or equipped corners to comfortable chairs and accessories that allow creating an improvised workspace whenever is needed in the dining room or kitchen.
LOFT TENDECIA home-office, the charming side of work. ANGEL CERDÁ
With the home-office furniture from the LOFT TENDENCIA Collection by ANGEL CERDÁ it is possible to create a cosy, organised yet practical dedicated workspace. The focal point of the office décor is the charming 3003 desk with top and drawers veneered in walnut wood, tempered glass sides and lacquered shelves.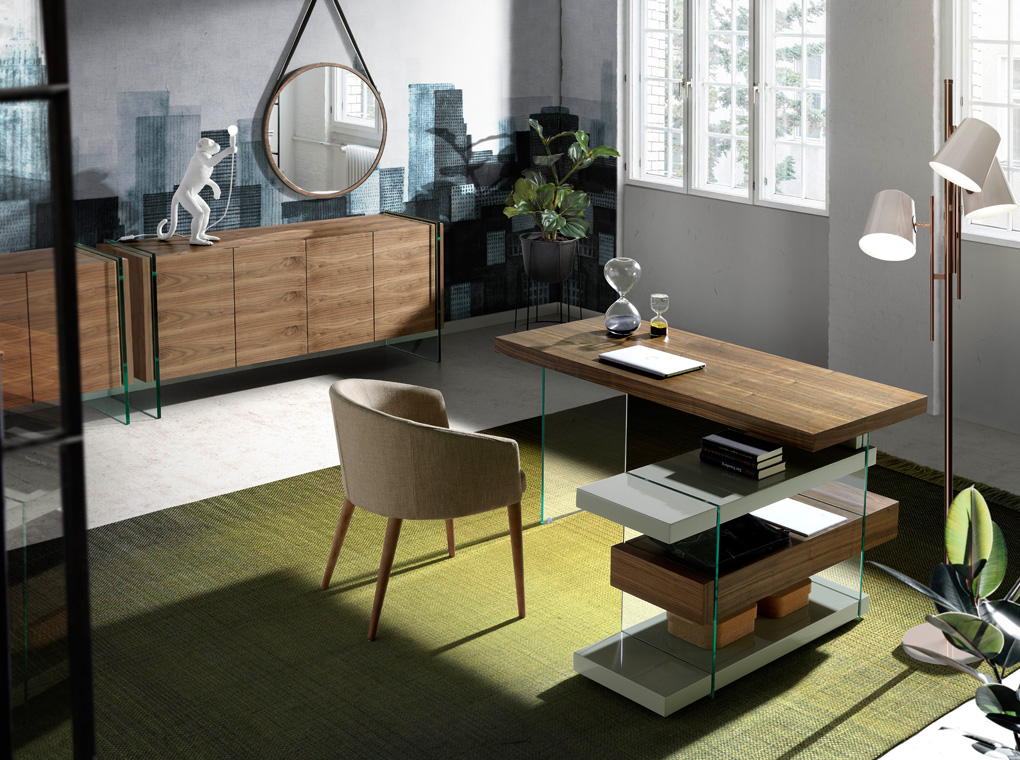 LOFT TENDENCIA home-office furniture | ANGEL CERDÁ
A multi-level option that improves functionality and can be customized in different ways – totally lacquered, with the top veneered in oak or lacquered in any other colour from the firm's chart.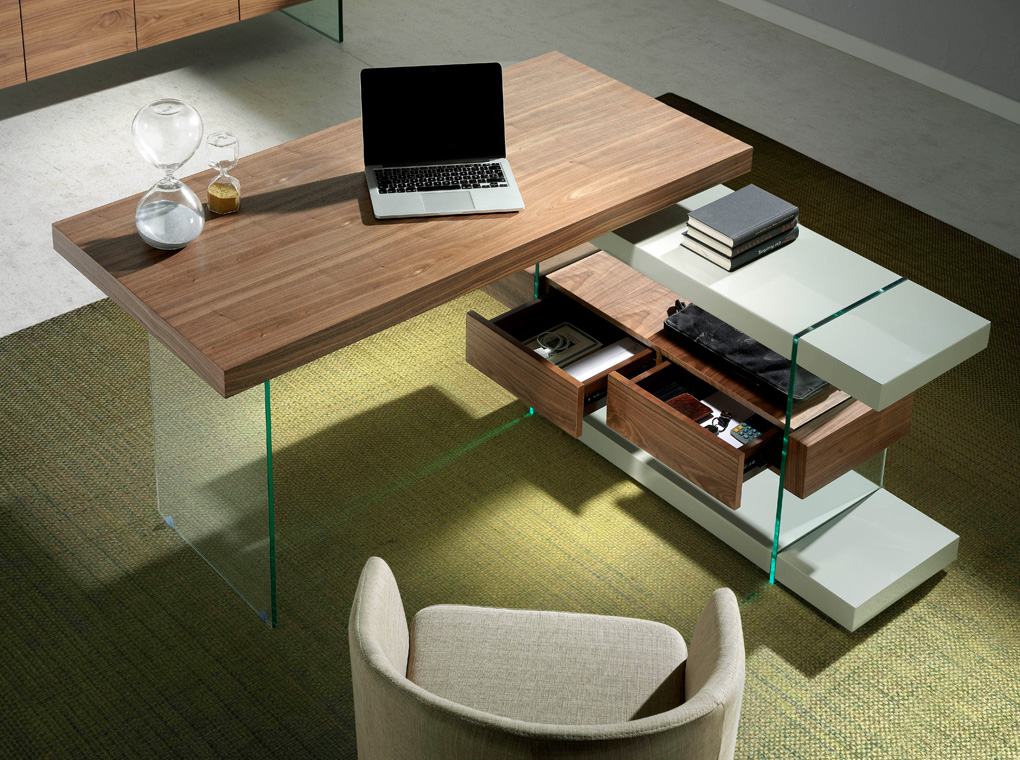 LOFT TENDENCIA Collection | Mod. 3003 desk @ NEW CHAIR Collection| 4007 armchair | ANGEL CERDÁ
The desk is beautifully complemented by the 4007 upholstered armchair and by an elegant matching sideboard (3057) provided with a soft closing system. The round hanging mirror perfectly finishes the décor adding a touch of intrigue and style.
KENIA Collection, a compact study with style. MEGA MOBILIARIO
If you don't have a desk or mini office ready for working remotely, with the KENIA modular system from Spanish MEGA MOBILIARIO you can easily integrate your office into the living room. The wall module is provided with shelves and storage units to keep paperwork and stationery in order and out of sights.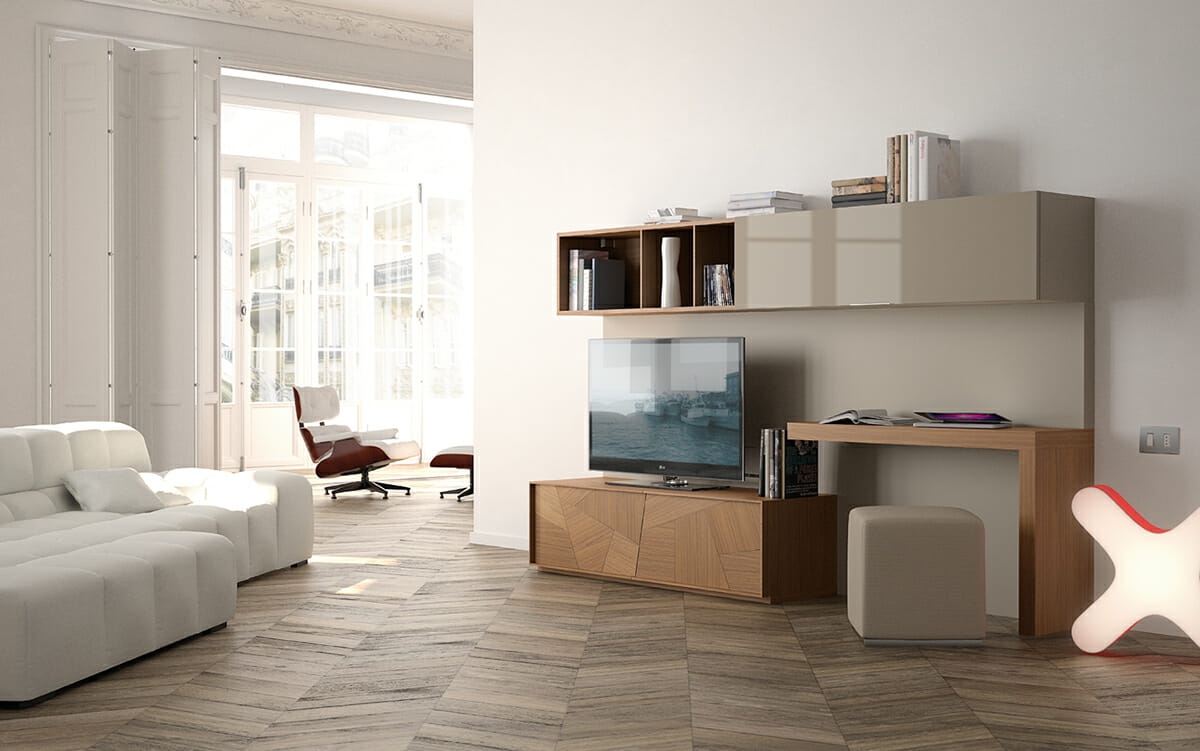 KENIA compact study | MEGA MOBILIARIO
The reversible L-shaped desk features a simple yet practical design with an ample footspace that can even double up extra storage for a basket or a pouffe.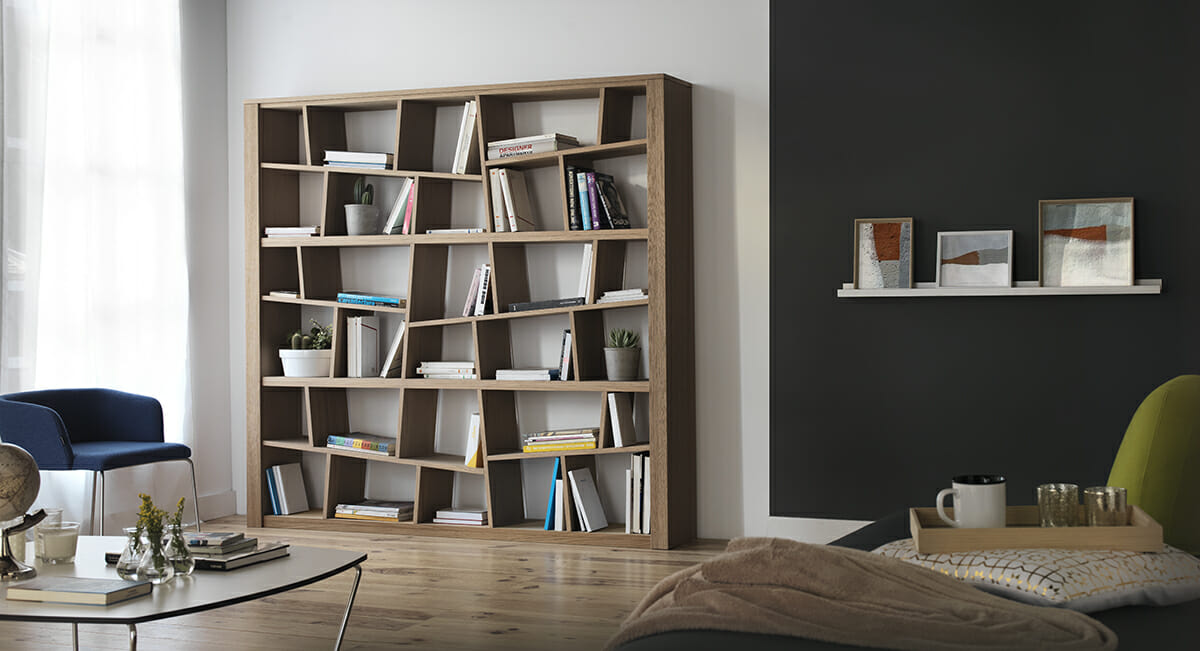 KENIA bookcase & space divider | MEGA MOBILIARIO
From the same collection, the striking KENIA freestanding bookcase creates physical and visual separation while providing new storage surfaces for books and décor items. This way your room can easily serve a dual function.
TUAREG, the chic allure of industrial style in your office. JOENFA
Practical, smart and affordable, industrial home office designs place utility and adaptability ahead of all else. Made of natural teak wood a robust metal structure finished in anthracite, the TUAREG home-office line from JOENFA NATURE can be used as an extension of the living space or to design a private, secluded den for working in peace and style.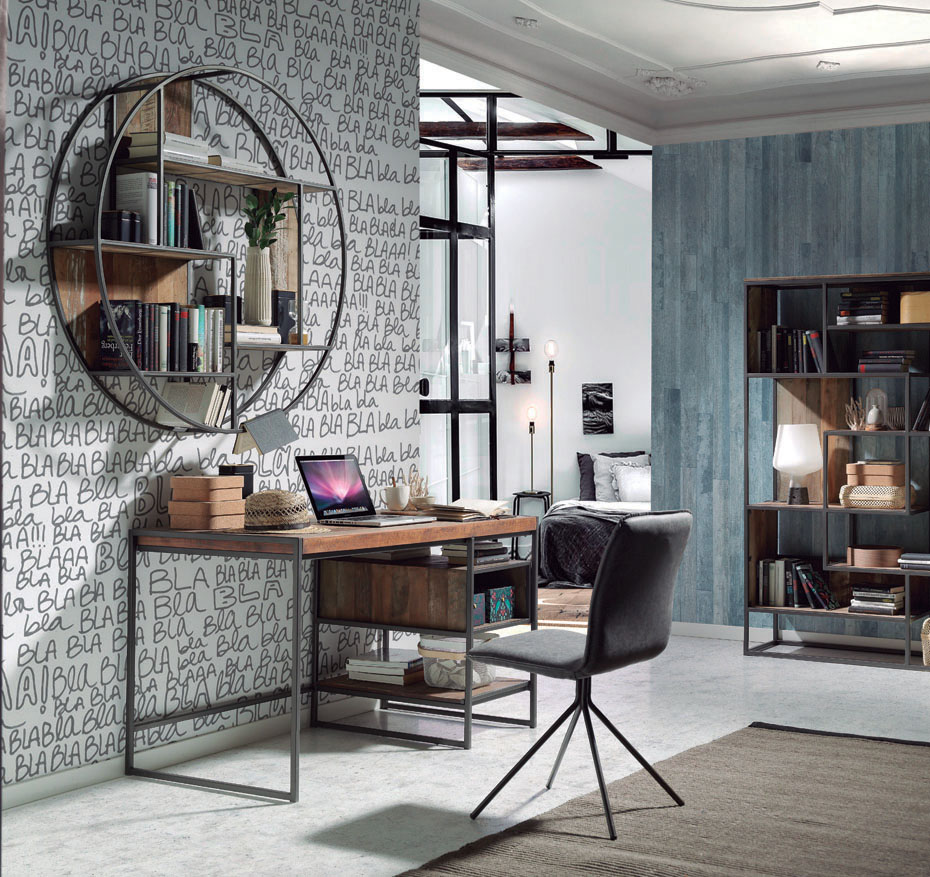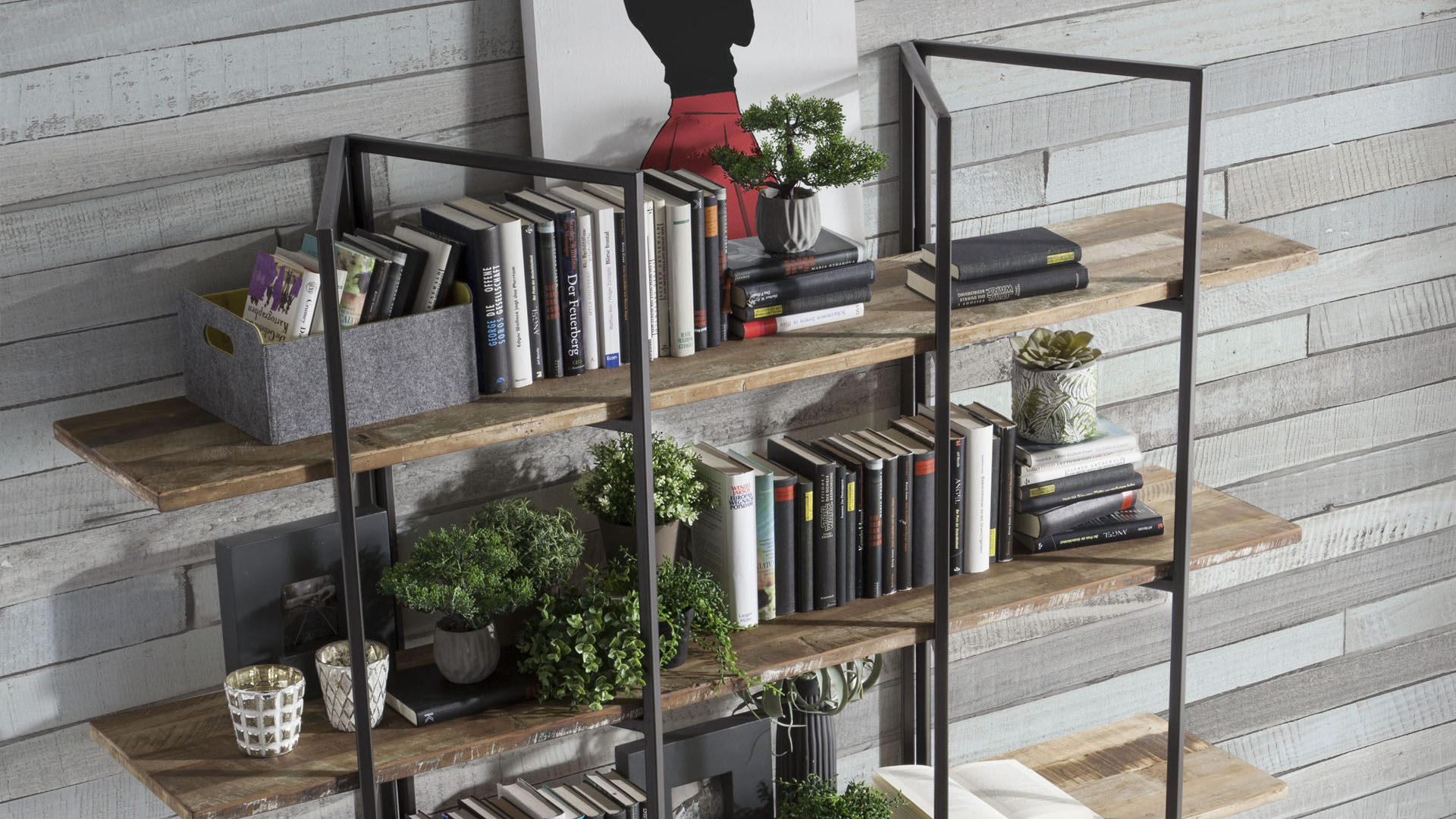 TUAREG home-office furniture & space divider | JOENFA NATURE
It includes an ample desk with storage space, high and low bookcases, wall shelves -in different shapes -, and a freestanding bookcase that can be used as a partition.
NOVA PLUS & W3, the best for an ergonomic workspace. OFITRES
A clean and well-organised workspace is conducive to great concentration and an uninterrupted workflow. With its streamlined look, the NOVA PLUS desk from Spanish office furniture specialist OFITRES offers solutions tailored to different needs and spaces. Quick to assemble, it can integrate a wide range of accessories, such as modesty panels and separators, as well as a return desk for extra working space.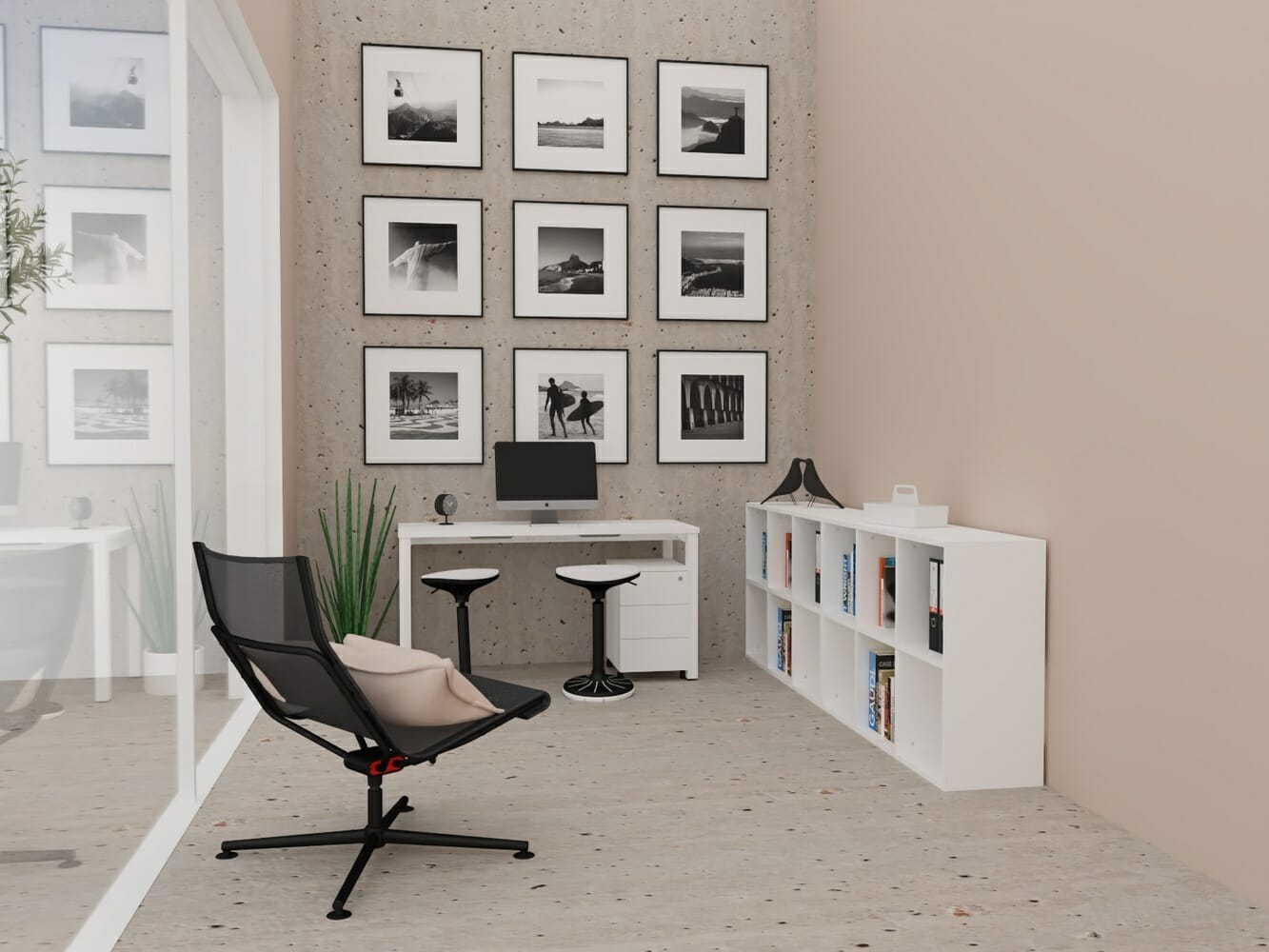 The desk can be complemented by the dynamic and comfortable W3 stool which is provided with the innovative DONDOLA technology that makes it extremely flexible and stable.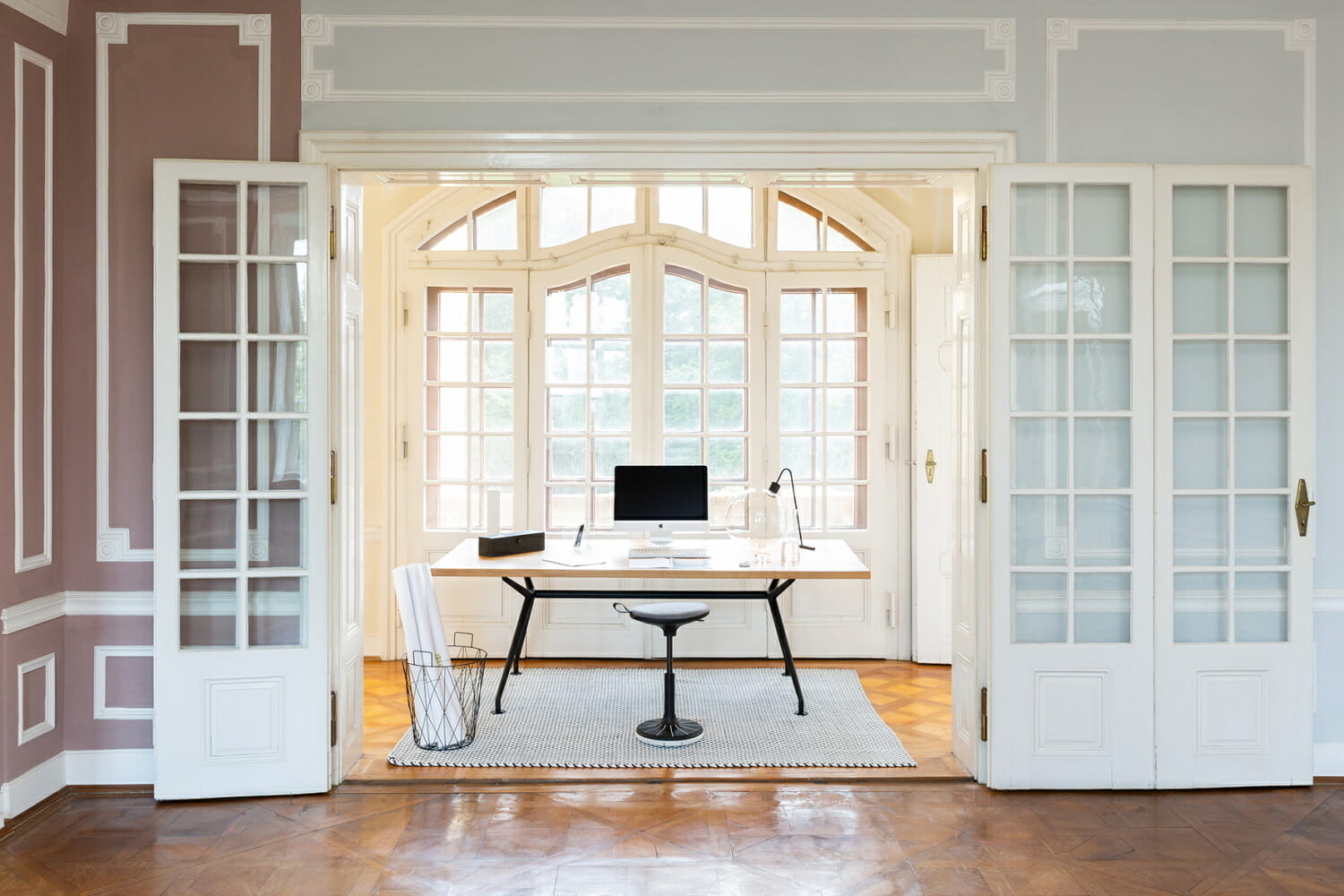 The KUBO bookshelves can be placed vertically or horizontally, adapting perfectly to space and providing storage options for documents and books.
KAPOOR desk & chair: design, function & emotions. ANNUD
Just a desk and a chair and you are almost ready. The KAPOOR collection from ANNUD combines design, emotions, and function to create a cute, comfortable working spot at home. As for the desk, the desktop, which comes in a wide variety of finishes, including ceramic board, birch plywood or lacquered MDF board, rests on a tubular steel structure.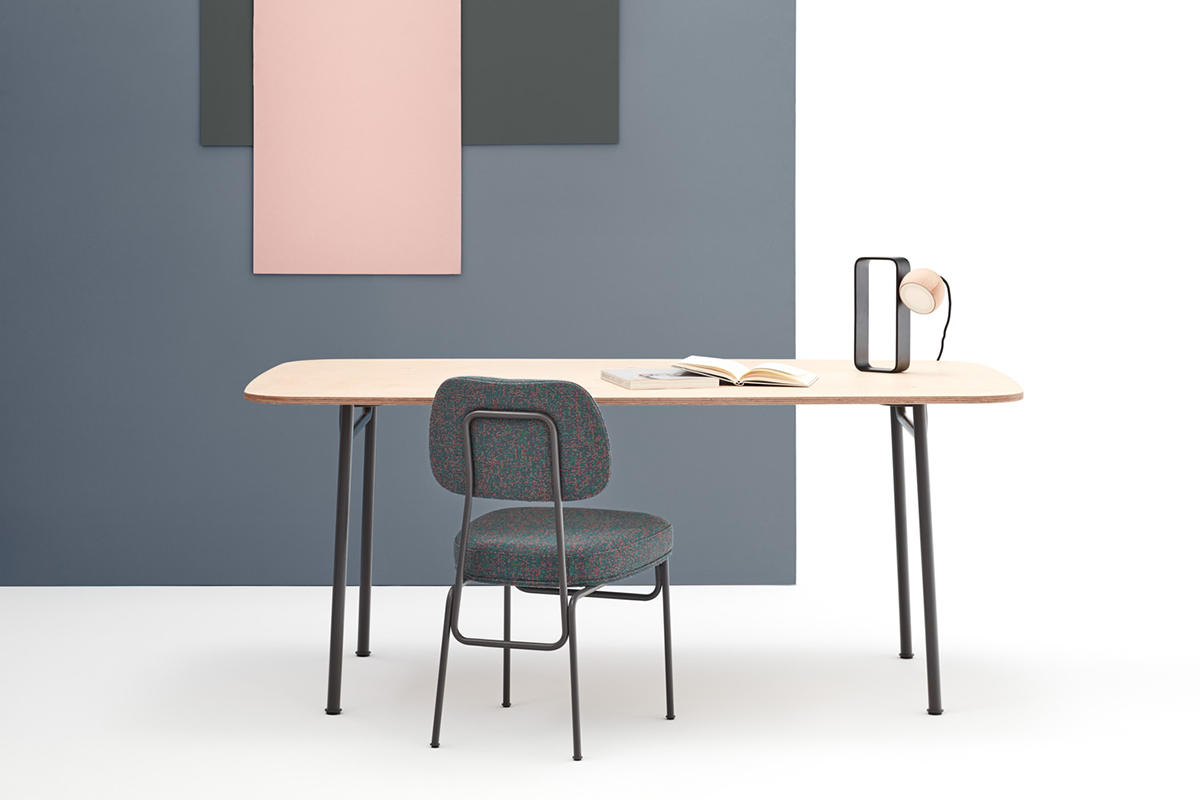 KAPOOR desk & chair | Santiago Sevillano | ANNUD
The KAPOOR chair has a lacquered or chromed tubular steel structure that supports the upholstered back and seat rest.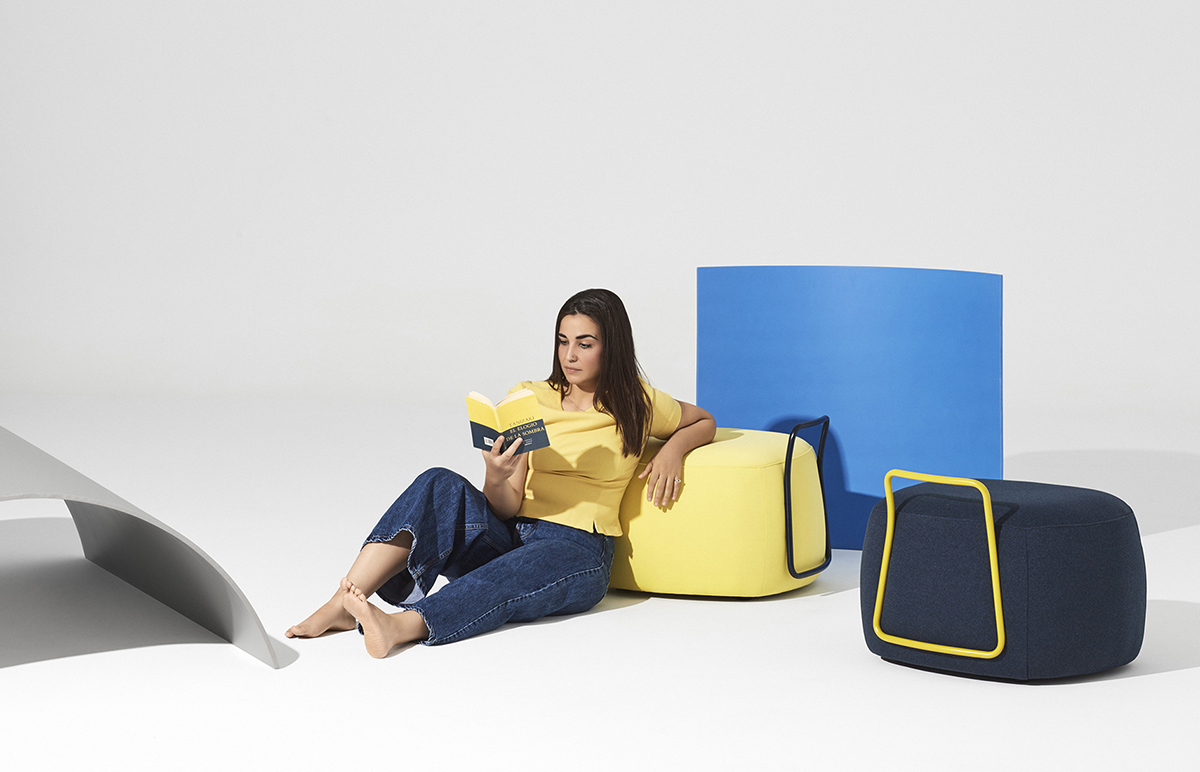 KAPOOR pouffe | Santiago Sevillano | ANNUD
Designed by Santiago Sevillano, KAPOOR allows to play with contrast to add interest and beauty to your home office: the tubular structure can be finished in a colour that contrasts with the upholstery and even the edging can come in a different fabric from that of the upholstery.
JULIA & KEDUA, an expression of refined simplicity. MOBLIBERICA
The KEDUA chair designed by Santiago Sevillano and the JULIA table from MOBLIBERICA create a perfect match to put together a simple yet functional working spot at home.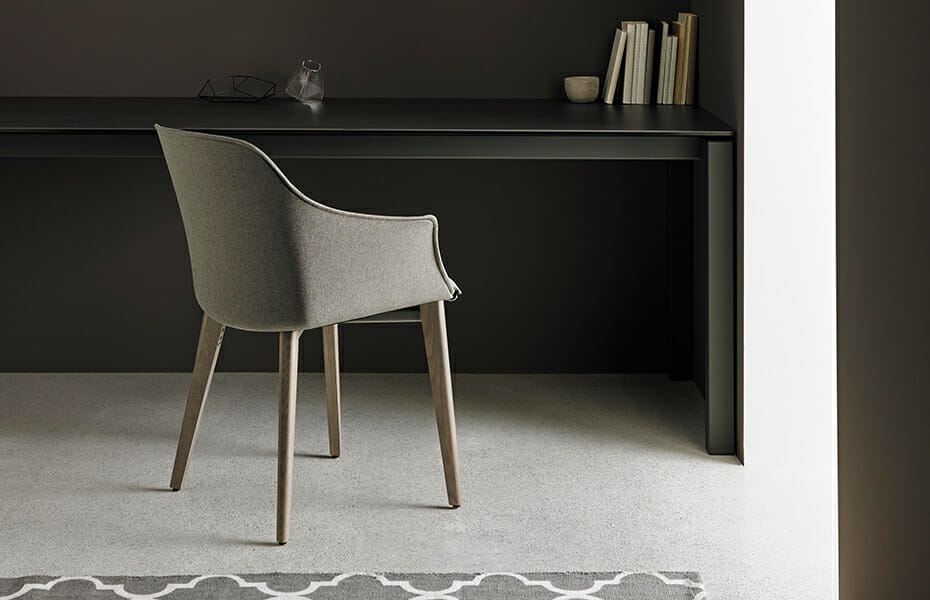 KEDUA chair & JULIA ceramic table | MOBLIBERICA
Available in 36 different dimensions, the JULIA table features a ceramic tabletop that comes in a wide range of finishes, steel and stainless steel colours.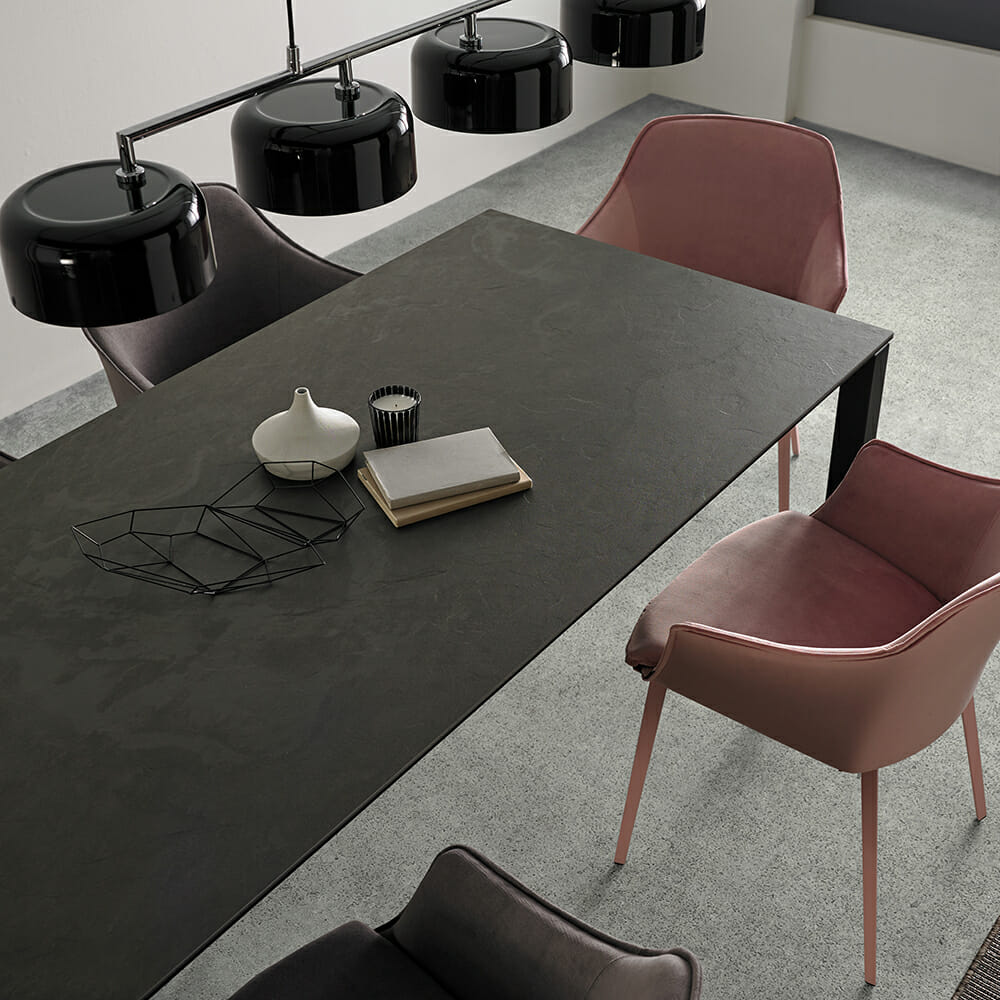 KEDUA chair & JULIA ceramic table | MOBLIBERICA
With its softly classic design, the KEDUA chair can come with different types of upholstery – wool, leather, synthetic and the innovative fire-retardant velvets -, colours and legs, including the new swivel base.
PEAKS & ZETA, geometries at work. CAMINO A CASA
Glass and steel combine in this essential yet elegant home-office from home furniture specialist CAMINO A CASA turning a corner in your home into a bright, original workspace. In the original PEAK desk two original triangular legs, made of chromed iron, support two different horizontal planes: the desktop and a lower shelf.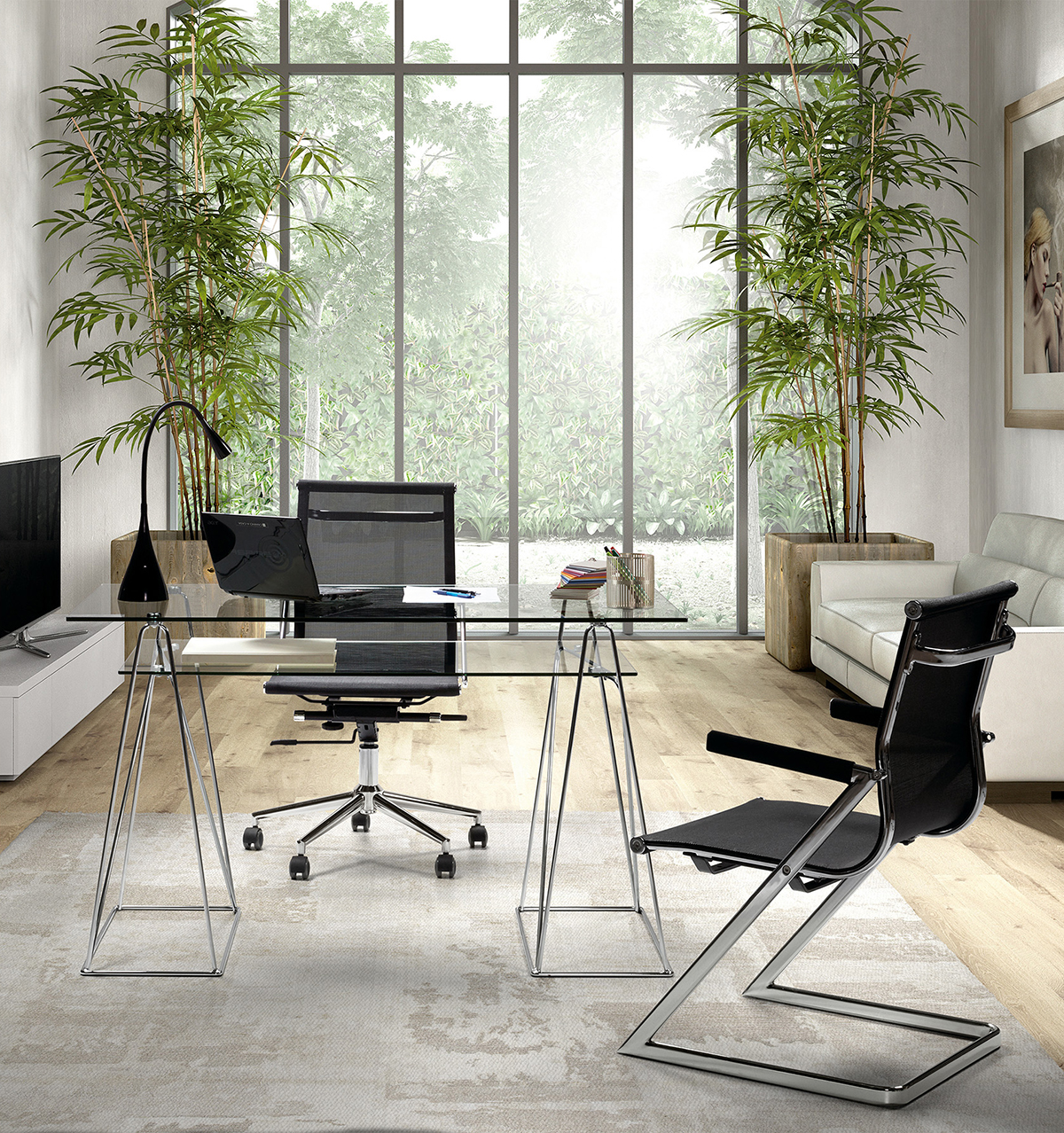 PEAKS desk & ZETA chair | CAMINO A CASA

The desk is available in two versions: with top and shelf in tempered glass and chromed tubular structure or with the desktop in distressed wood and a painted base.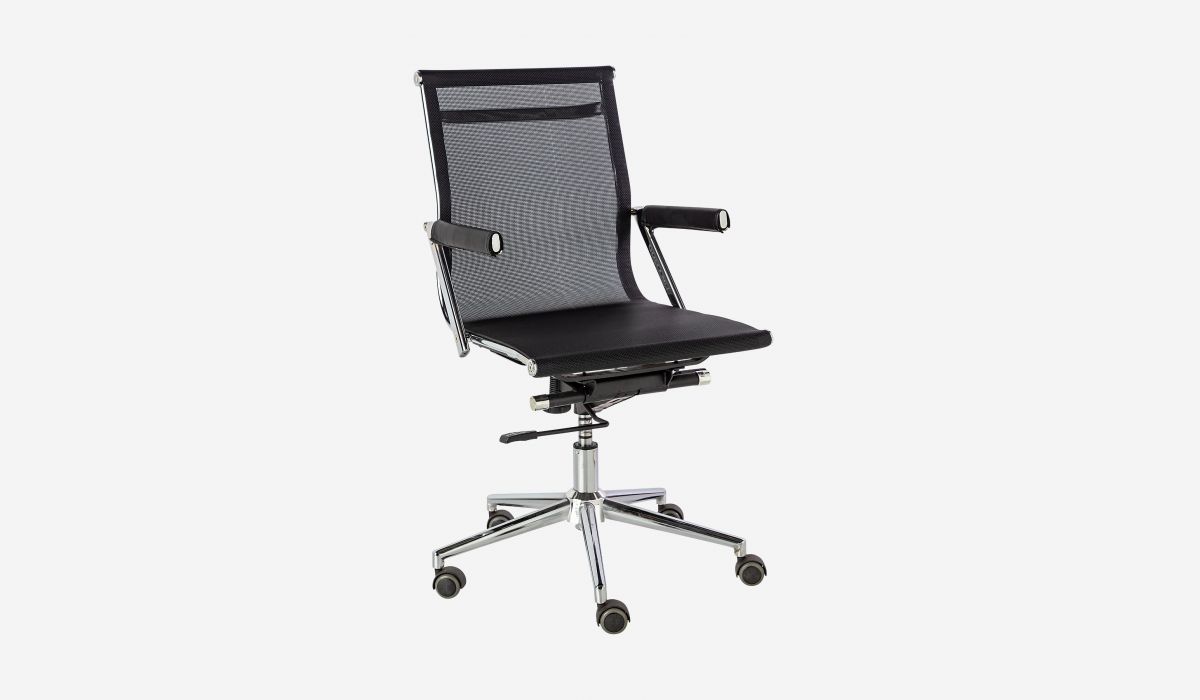 ZETA office chair | CAMINO A CASA
PEAKS can be complemented by the ZETA chair that come upholstered in two colours – black and white – and in two different versions: the office chair in synthetic leather and swivel adjustable base and the confident chair with an original Z-shaped structure.
Comfortable office chair for WFH spaces
If there is one piece of furniture key to productivity, it's having a comfortable desk chair. Gone are the days of plain black mesh desk chairs as your only office option. A variety of colours and styles have upgraded the traditional desk chair, while still giving you all the comfort you need for a full day's work. Interesting colours and metal finishes give these desk chairs a stylish look but still include ergonomic support, height adjustment, and much more.
In addition to the above-mentioned models, Spanish brands have in store some more exciting options that easily adapt to different spaces bringing style, colour and comfort to your WFH space.
SIDDY, innovative chair for unique working spaces. FAMA
SIDDY from Spanish sofa specialist FAMA is an office chair that apart from being ergonomic, it is incredibly comfortable. Thanks to its innovative design and the adjustable features, it offers full support for the lumbar area, the back and the head.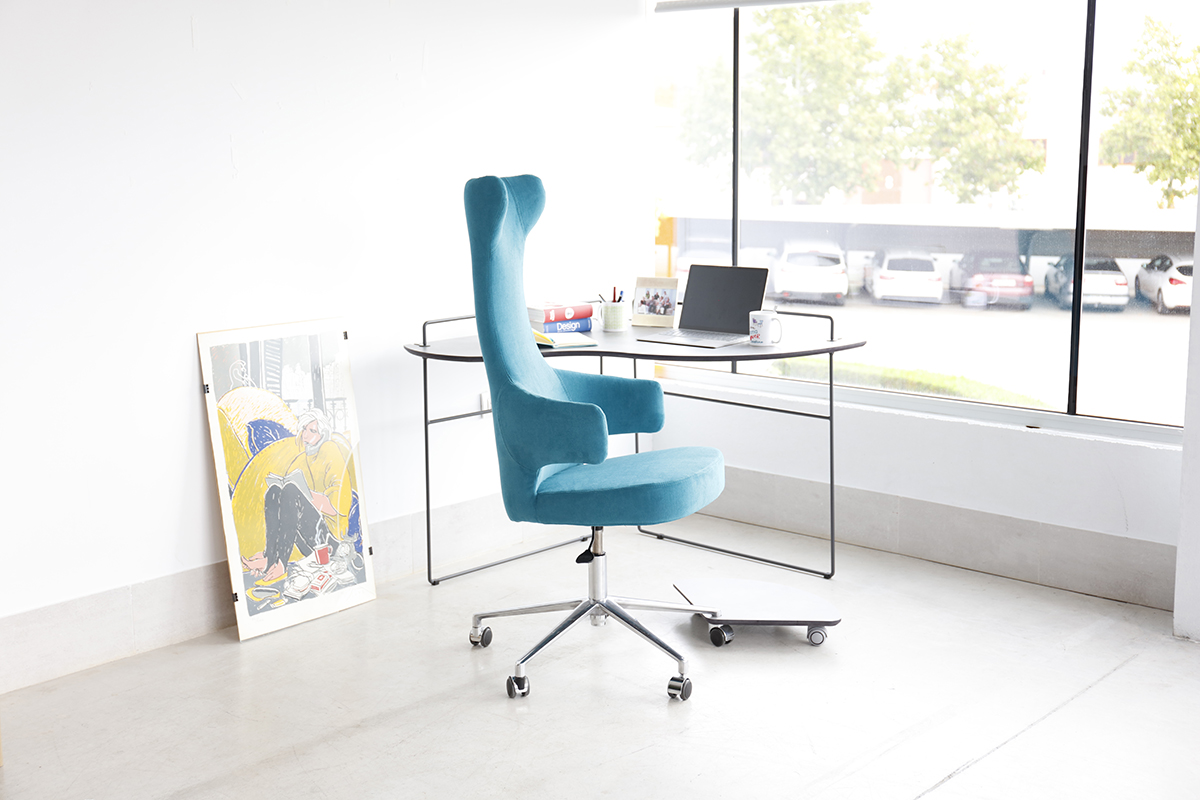 SIDDY office chair | Félix López Gil | FAMA
Another important innovation is its retractable footrest, which offers a completely new and original solution for improving comfort and ergonomic.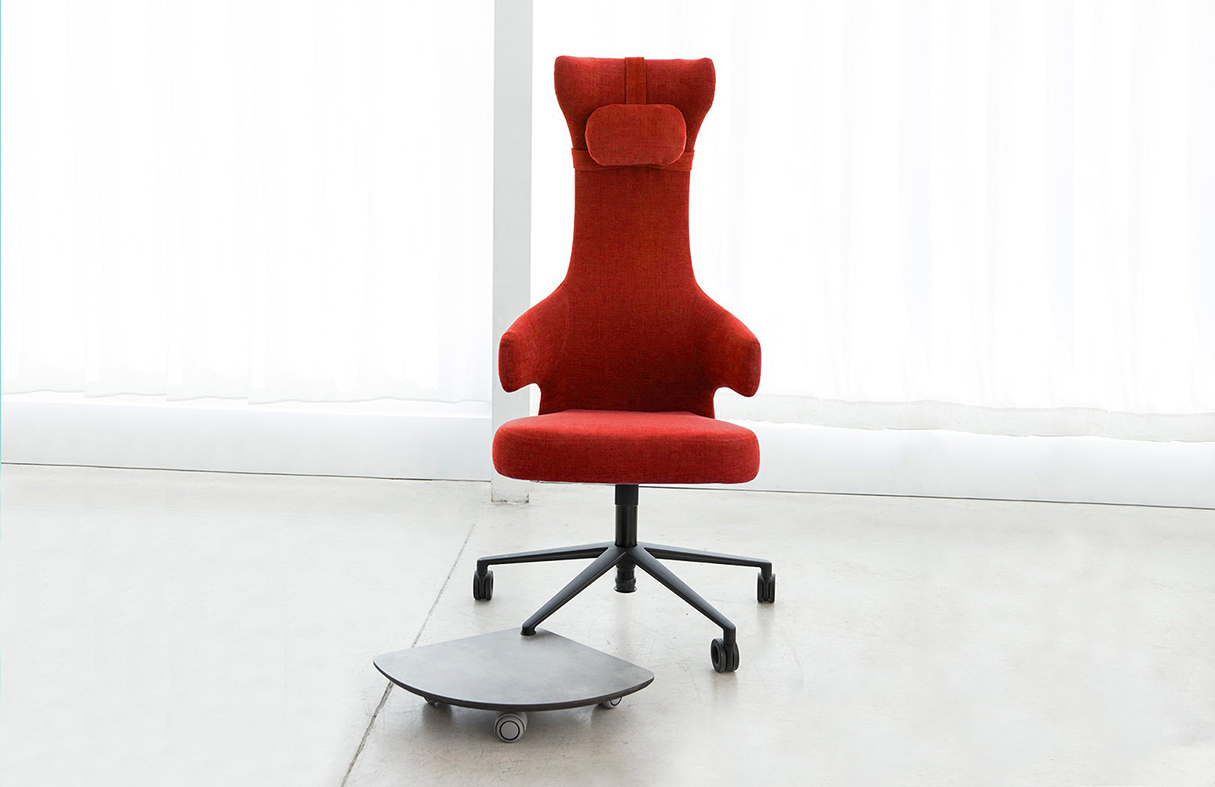 SIDDY office chair | Félix López Gil | FAMA
SIDDY can be upholstered in the more than 1,000 fabrics from the firm's catalogue, both plain and printed, or in a wide range of 100% natural leathers.
KIMMI chair, chromatic and formal expressiveness. VERGÉS
Chromatic and formal expressiveness are main features in this collection of chairs designed by Roger Vancells for Catalonia-based VERGÉS.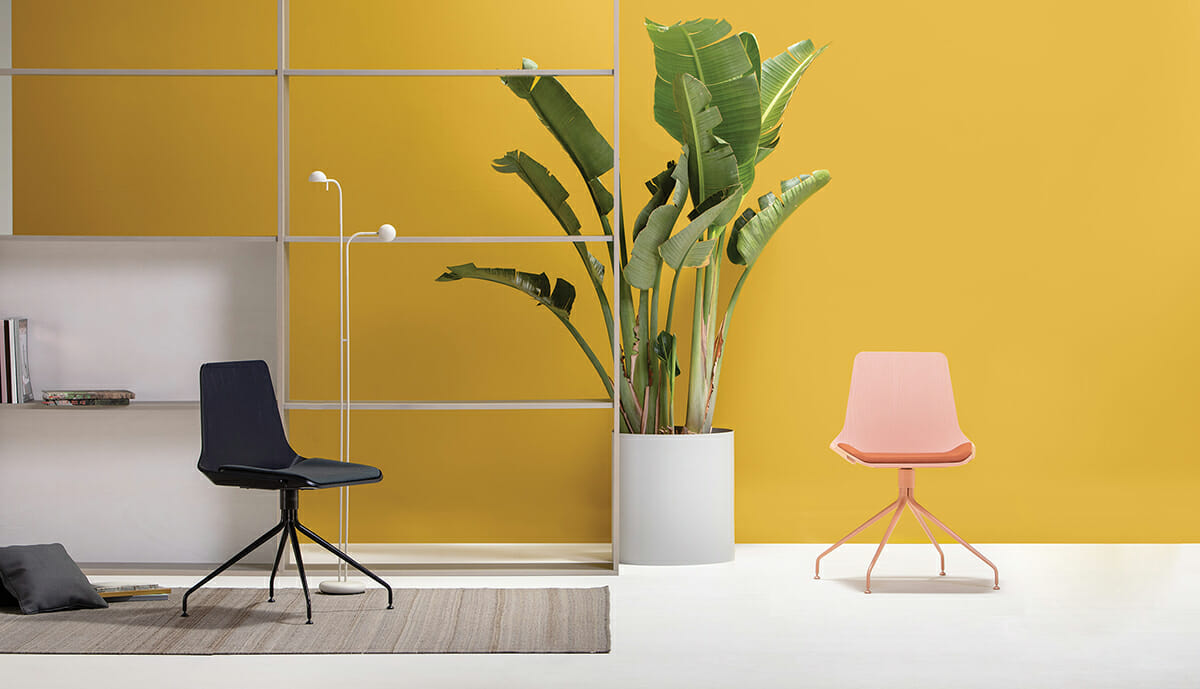 KIMMI chairs | Roger Vancells | VERGÉS
The synthetic pure-lined design of the KIMMI chair seeks to support the body in a natural, flexible and comfortable while enhancing the qualities of the material to achieve an optimal body-chair ratio.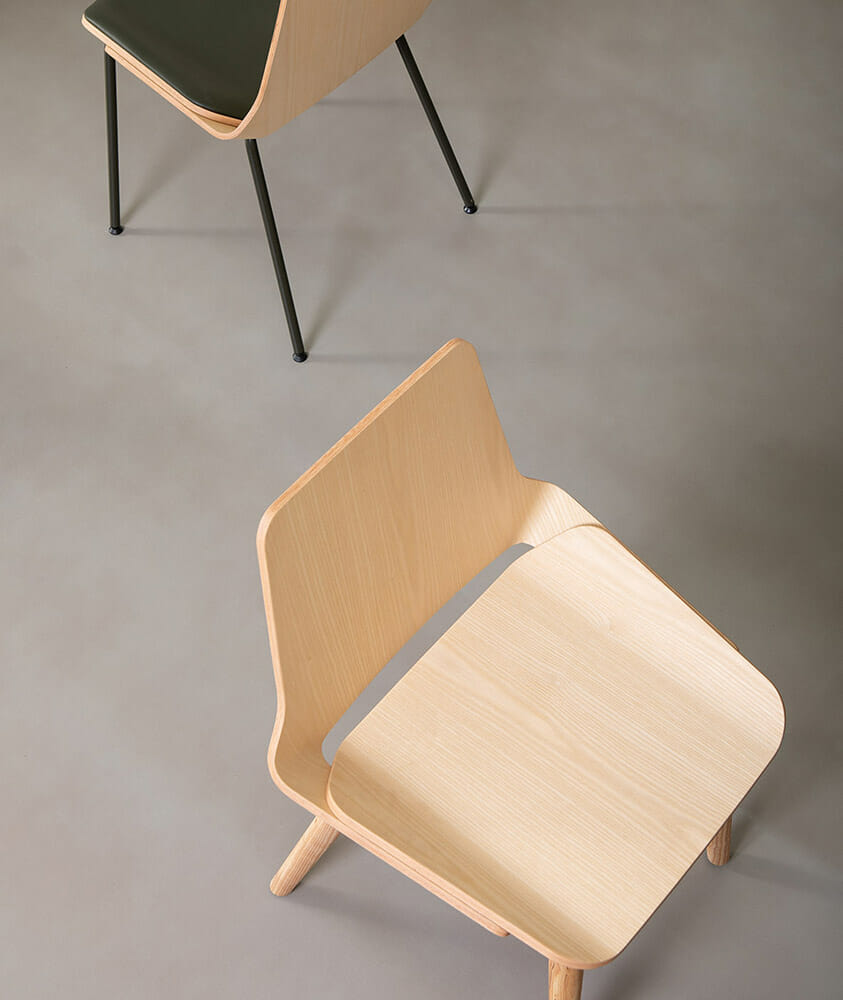 KIMMI chairs | Roger Vancells | VERGÉS
The union between the seat and backrest, situated on two lateral sloping surfaces, leaves free the surface with which the back makes contact, enabling the body's movements to mould and flex the backrest. It comes in different finishes – natural and lacquered wood, with or without upholstered seat – and four structure types to adapt to different settings and situations: metal or wood legs, with a sled base or with a four-spoke swivel base.
EXTRA. Stay relaxed and cool
One good thing about teleworking is that people are entirely free to create their personal workspace and have a break and disconnect whenever they feel the need. Here there are some proposals to keep the WFH space always cool and enjoyable…
ASHI, much more than a simple planter. HOBBY FLOWER
Combining ash wood and metal, this new collection of hydro planters created by Emiliana Studio for HOBBY FLOWER – which include also an upholstered bench, pouffe and small tables -, allows to create small islands of vegetation and rest at home or in any other space when a "green and cool" touch is needed.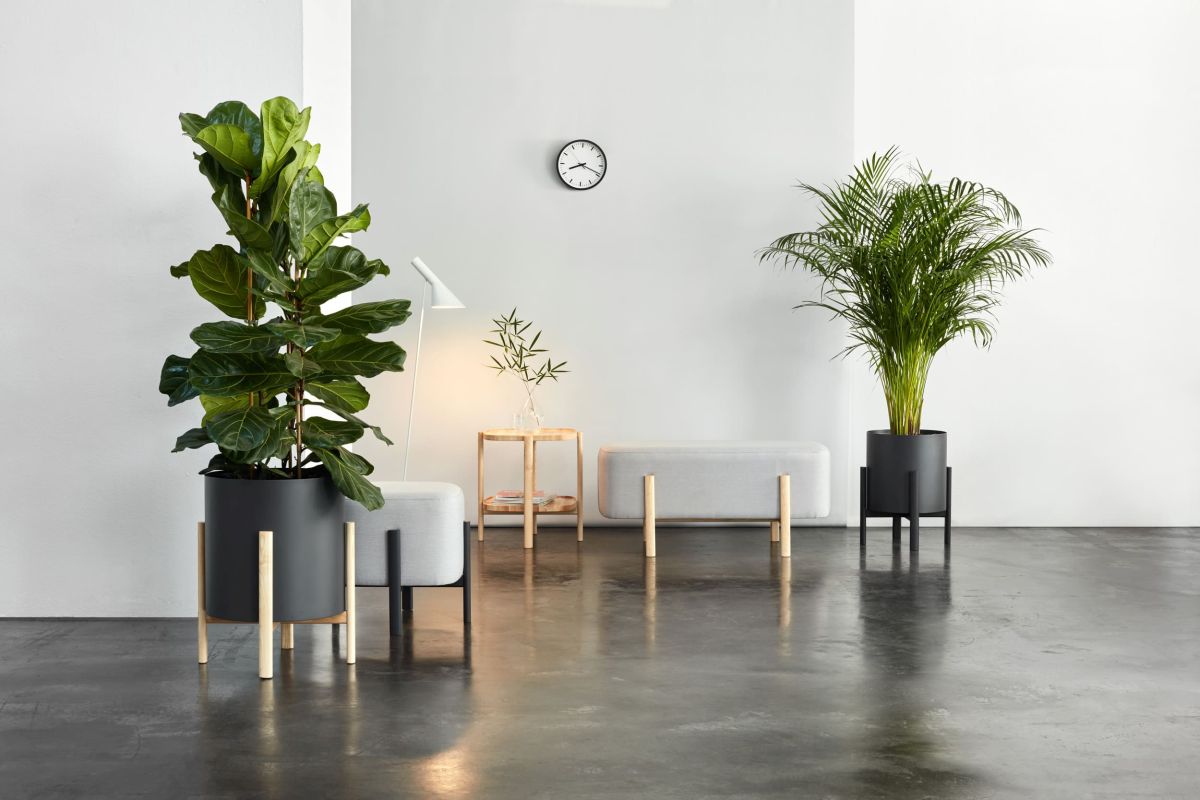 ASHI Collection: hydro planters, side tables, pouffes, benches | Emiliana Studio | HOBBY FLOWER
Featuring wooden legs which are inspired by the wooden pillars that support ancient Japanese temples – "ashi" is leg in Japanese-, ASHI's planters and upholsteries are available in white, bordeaux, lead or taupe.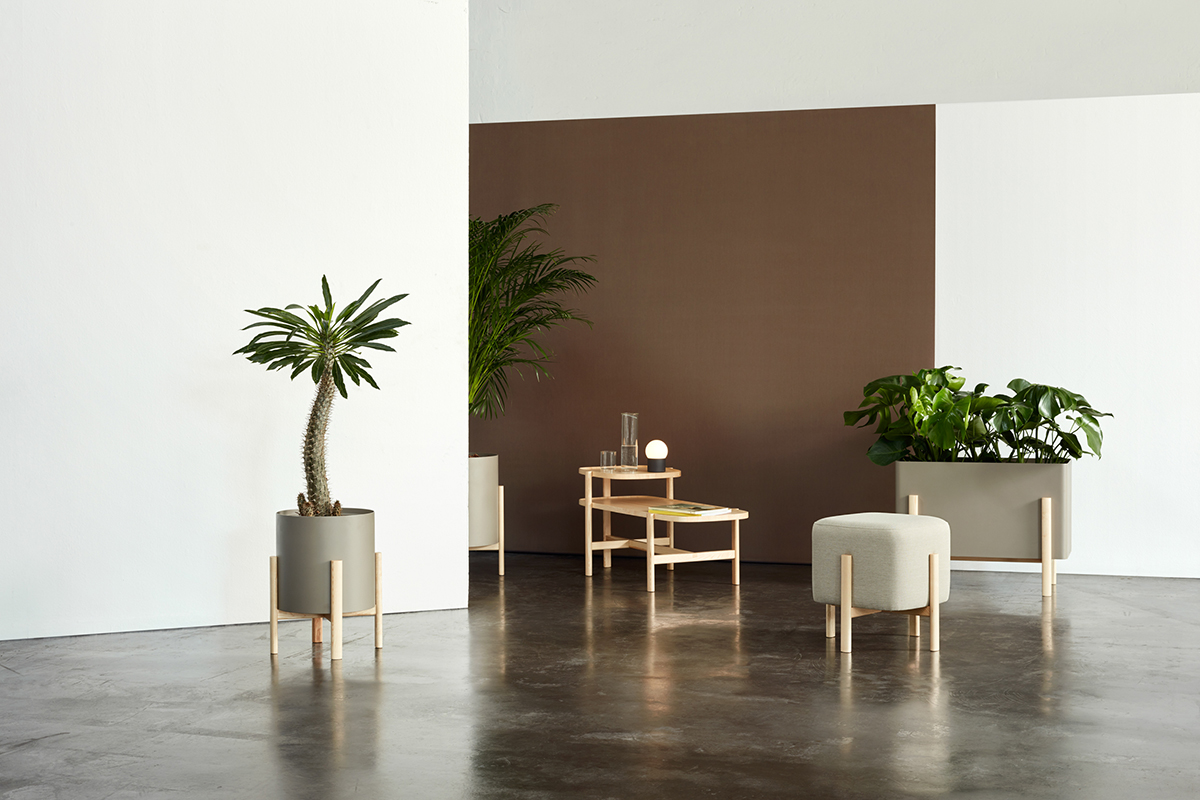 ASHI Collection: hydro planters, side tables, pouffes, benches | Emiliana Studio | HOBBY FLOWER
The geometry and proportions of each unit make it possible to create different, mutable combinations that can be easily changed anytime to achieve the green corner required.
BOIRA, the green space divider. HOBBY FLOWER & KRISKADECOR
KRISKADECOR and HOBBY FLOWER have joined forced to create BOIRA, a versatile space divider that can be customized in size and colours and integrates a hydro planter with automatic irrigation system.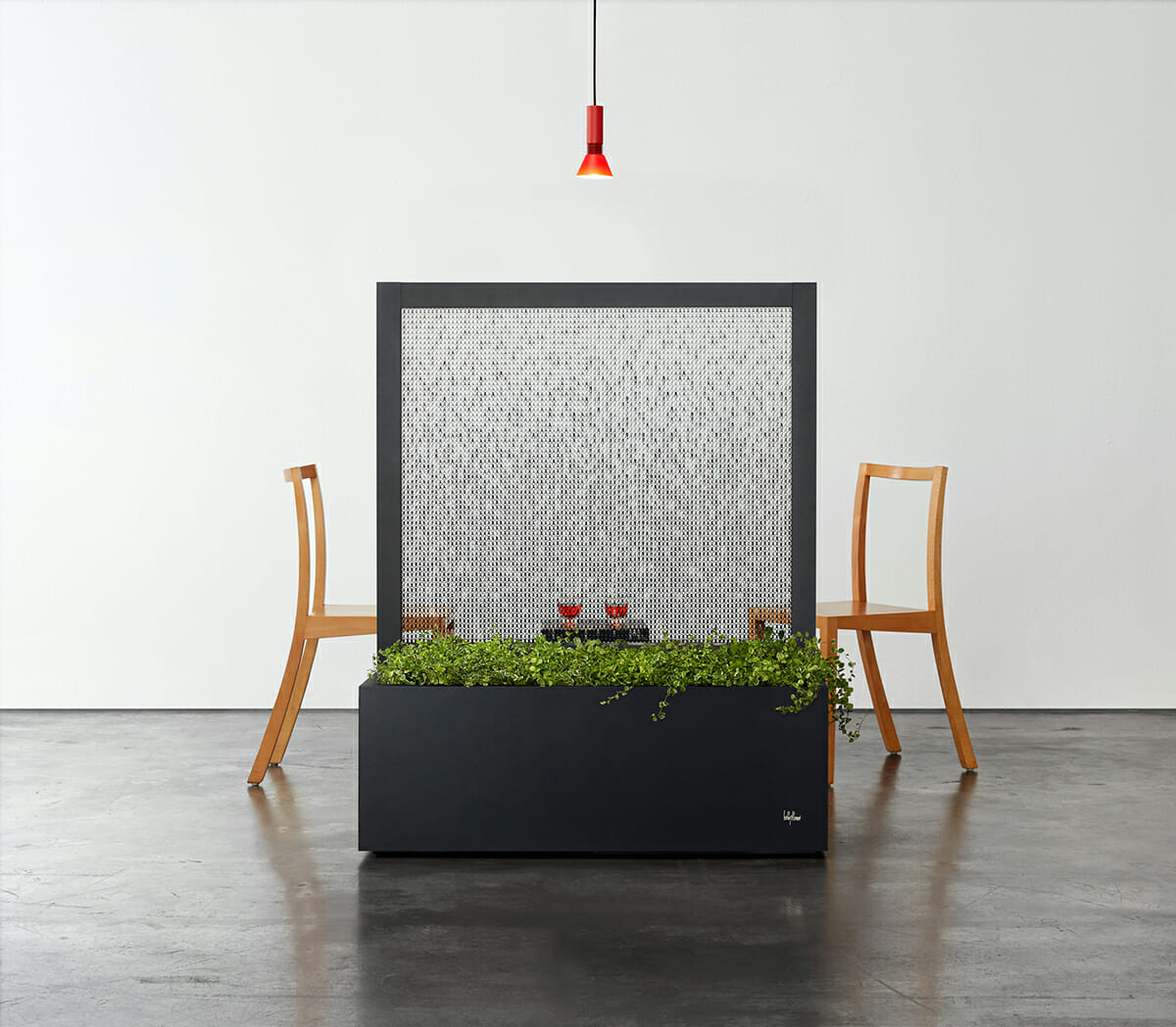 BOIRA space divider & hydro planter | KRISKADECOR & HOBBY FLOWER
With a structure made of stainless steel with anodized aluminium chains from KRISKADECOR, BOIRA is perfect to provide intimacy while adding a fresh, relaxed touch to your home-office corner.
BULGARI mattress, a shift in the daily working routine. KARIBIAN Descanso
After long hours working it's good to take a time-out for relaxing and unwinding. KARIBIAN Descanso offers the right solutions for just a break, a quick nap or a perfect, restoring sleep at night.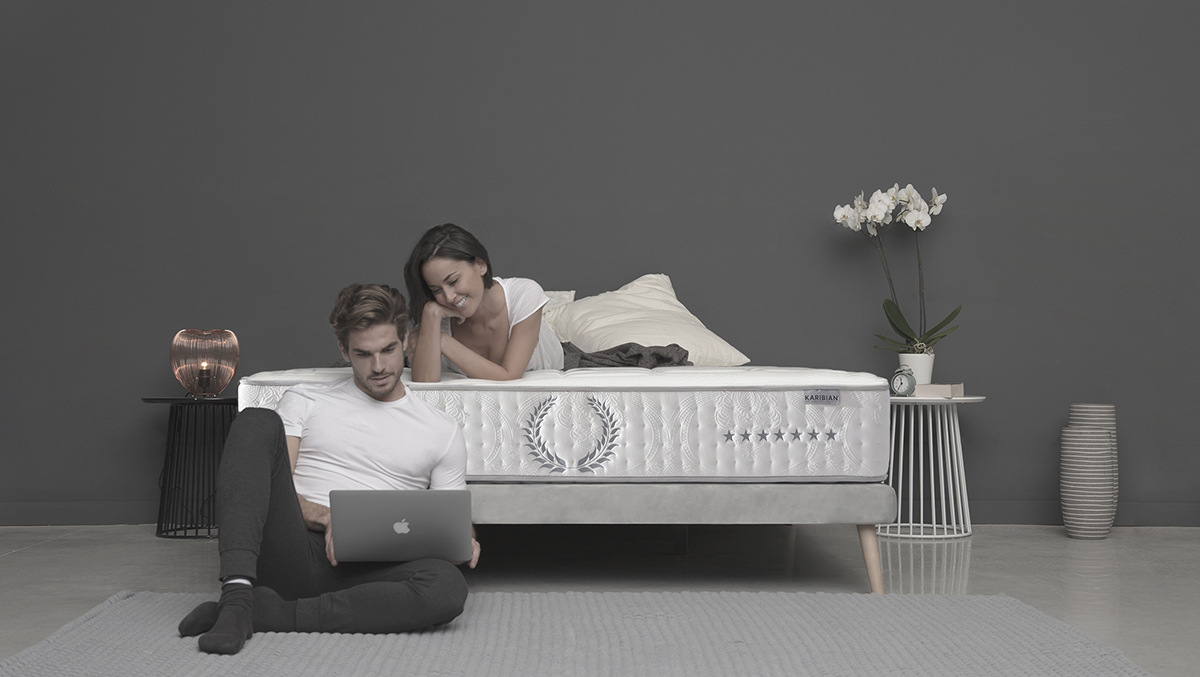 Manufactured from natural materials like the cotton fibres, combined with the best technology in terms of adaptability, resistance and breathability, the BULGARI mattress offers exceptional comfort and a luxurious rest experience in any situation, even when you need to move your office to the bedroom and relax your spine while revising your paperwork. Its classy design and the great attention to detail add a touch of sophistication to keep the environment crisp and full of energy.
Battery recharged, back to work again! Get inspirations from Spain!
Home-office furniture>>>
Home-office desks>>>
Office furniture>>>