I SALONI 2013 Classic: luxury living of Spain
March 14 / 2013
The concept of luxury, like that of taste, has always been personal. Nevertheless, there are a few traits that define it: excellence, high standards and quality. This is something the Spanish furniture industry has built its reputation on and in Milan, in halls 1, 3 and 4, Spain's luxury brands will take the scene. Let's discover how…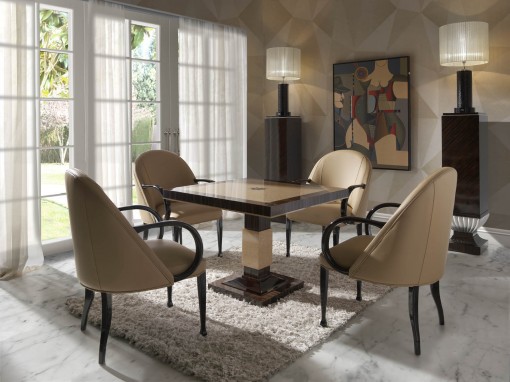 The amazing mix of well-edited furnishing, couture detailing and craftsmanship that goes into Spain's luxury living has proven its staying power over the years. Although eclectic touches, rich exoticism and bold accents are still widely used to add drama to sophisticated interior schemes, the trend toward refined and relaxed settings made of clean-lined furniture, softer tones and natural texture is on the increase evoking a new glamour feel.
Sumptuous fabrics, precious finishes, unique details are the hallmarks of Spanish deluxe decoration, but the final look of the deco schemes it's totally up to the clients. Allowing a high degree of personalization, Spain' luxury furnishing can be configured to reflect both the local taste and the personality of the clients. Let's have a deeper insight…
COLECCIÓN ALEXANDRA – Hall 1 Stand F14
By mixing tradition and innovation with different cultural inspirations has created new appealing collections such as the RINGO and the LEONID, on display in Milan. Highly attractive and upholstered in precious fabrics, the curved RINGO sofa features a new modular version that offers more possibilities of configuration. The Ringo collection is completed by a spectacular center table whose well-turned legs combine perfectly with the base of the sofa.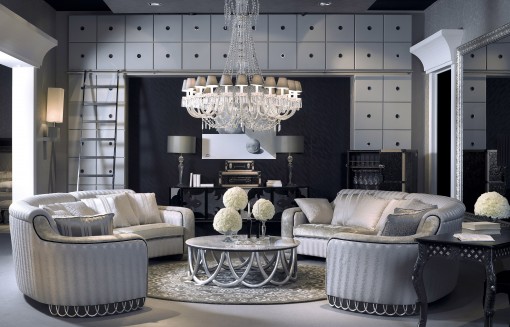 The LEONID collection has been extended including now an amazing table available also in an extendable version (350 x 110 cm). Main feature of the LEONID models is the unusual combination of the natural mirth veneer, in a precious glossy finish, with laser decorated steel plates. Empire style ornaments, nickel finished handles and black leather details in different textures enrich the collection adding an exclusive touch.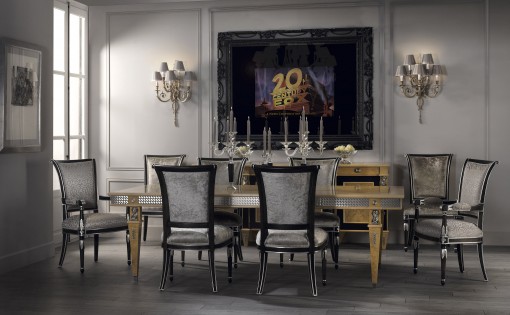 The beautifully designed ROSITA chair, a natural evolution of the previous Rosita armchair, give the final luxury touch to this spectacular dining group. On display in Milan there will be also the OSLO armchair, a new line of seating inspired to Scandinavian traditional design.
EPOCA – Hall 4 Stand C07 / C11
Made by craftsmen in ebony wood, mahogany or rosewood, EPOCA furniture collections can be considered real works of art that combine in an exemplary way unique designs and exclusive finishes creating exceptional atmospheres of unusual beauty.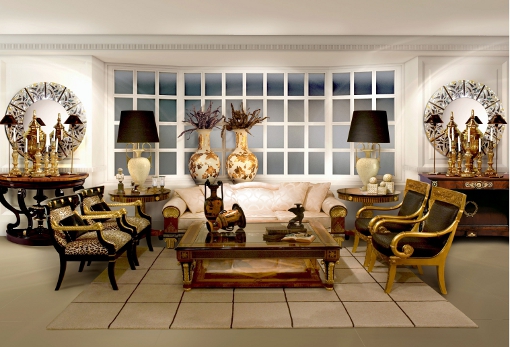 With marquetry as major trademark, the firm has different lines of products, from the most traditional to the Art Deco and Ethnic inspired collections and the contemporary range. Each year the collections are enriched by new models that the firm shows at the major interior fairs around the world.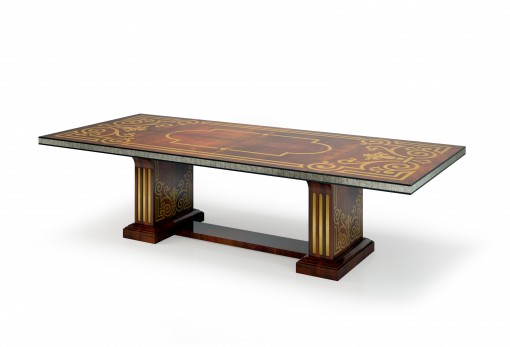 GUADARTE – Hall 1 Stand B01 / B05
GUADARTE will exhibit in Milan its original Nouveau Baroque collection, which was designed by Belgian interior designer Jos Van Dijck and features an amazing mix of curvaceous lines, attractive finishes and exquisite on trend fabrics.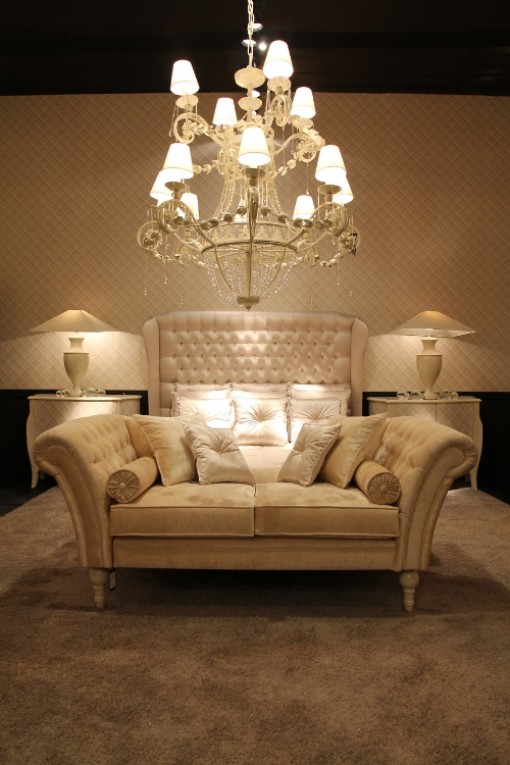 An offer that sets immediate drama and keeps the schemes sophisticated and chic with the vast choice of exclusive furniture, upholsteries, lighting and original decorative items.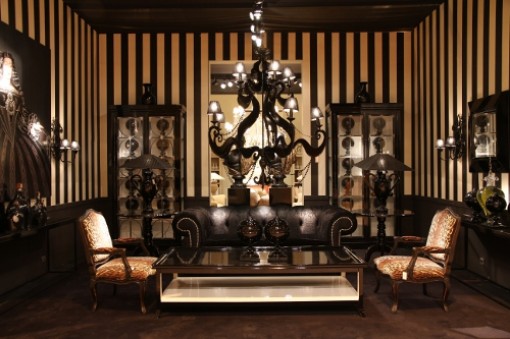 MARINER – Hall 3 Stand F30
Don't miss MARINER if you are keen on "Supreme Luxury Experience". To celebrate its 120 anniversary the Spanish brand will be unveiling at I Saloni the high end furniture collections LE MARAIS and LOTO. Inspired to the elegant forms of the Georgian style, LE MARAIS collection pays attention to exquisite details, combining fine walnut veneers, the black piano lacquer and precious inlaid works.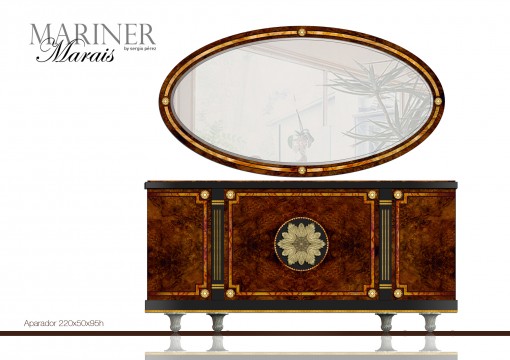 The ultimate refined touch is given by the bronze ormolu decoration in glamorous gold finish.The line includes dining room, living room and bedroom furniture as well as occasional pieces.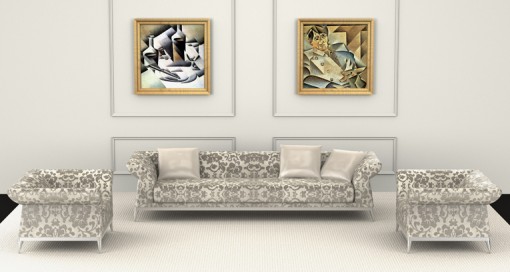 With a more contemporary look, the metal structure in bright silver of the stylish LOTO collection matches superbly with the exotic veneers and the luxury upholstery.
SOHER – Hall 1 Stand F15
Specialized in integrated interior design for home and contract use, SOHER will unveil at I SALONI its brand new PANTHER collection. Inspired to Art Deco motifs and made in the finest macassar ebony, the PANTHER features a charming silver finishing, bronze details and attractive Swarovski elements.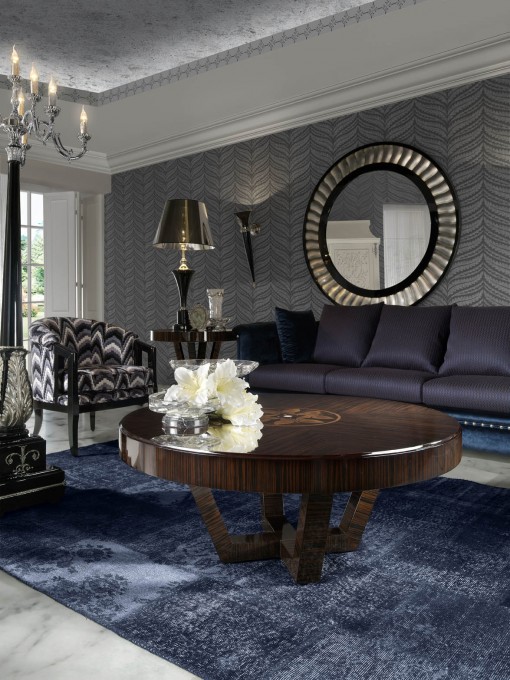 On display also a magnificent hand carved cabinet in a refined white lacquer with rich silver or gold leaf finishes.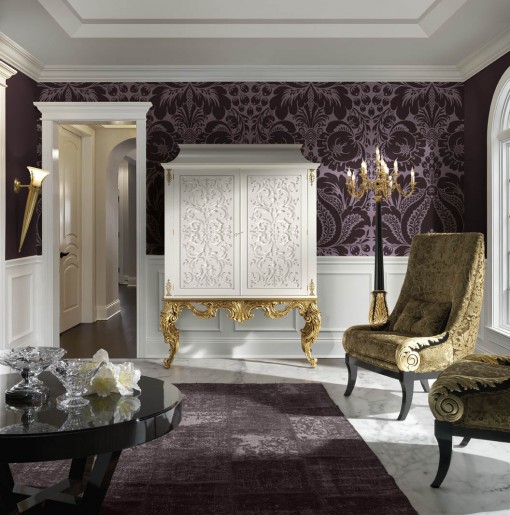 TECNI NOVA – Hall 1 Stand F06
The new impressive designs of TECNI NOVA represent a unique way to personalize your luxury décor. In Milan the brand will launch an extension of its ART NOUVEAU line: an impressive Gaudí-inspired new bedroom with black patina and gold finishes and an attractive upholstered headboard.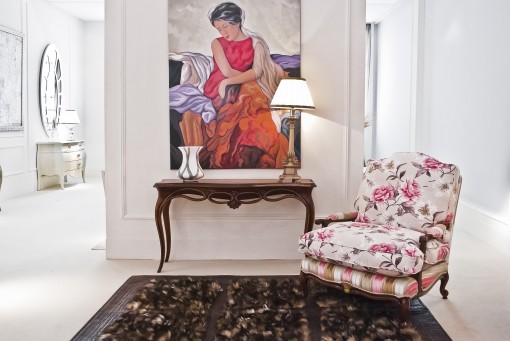 Among other new products, there will be an intriguing leather upholstered armchair, with capitoné backrest, and two new models of over-sized sofas: a contemporary curved module with elegant leather finishes and a more classic sofa featuring a chic combination of eye-catching fabrics and high-quality leather.