MOBBOLI, functional designs for contemporary spaces
January 19 / 2021
MOBBOLI, a new avant-garde Spanish brand with a contemporary design, comes from the creative impulse of delaoliva, a company with 60 years of experience in the manufacture of seating and office furniture. Faithful to its origins, the firm has a virtuous balance between maturity and youth, production experience and creative vitality, which is reflected in its new products: models with their own identity, functional and versatile, with modern and attractive lines that fit in with our current way of life. A vocation for design and in-house manufacturing for its collections of chairs, stools, poufs, sofas, modular furniture, tables and accessories for contract, residential and, commercial use.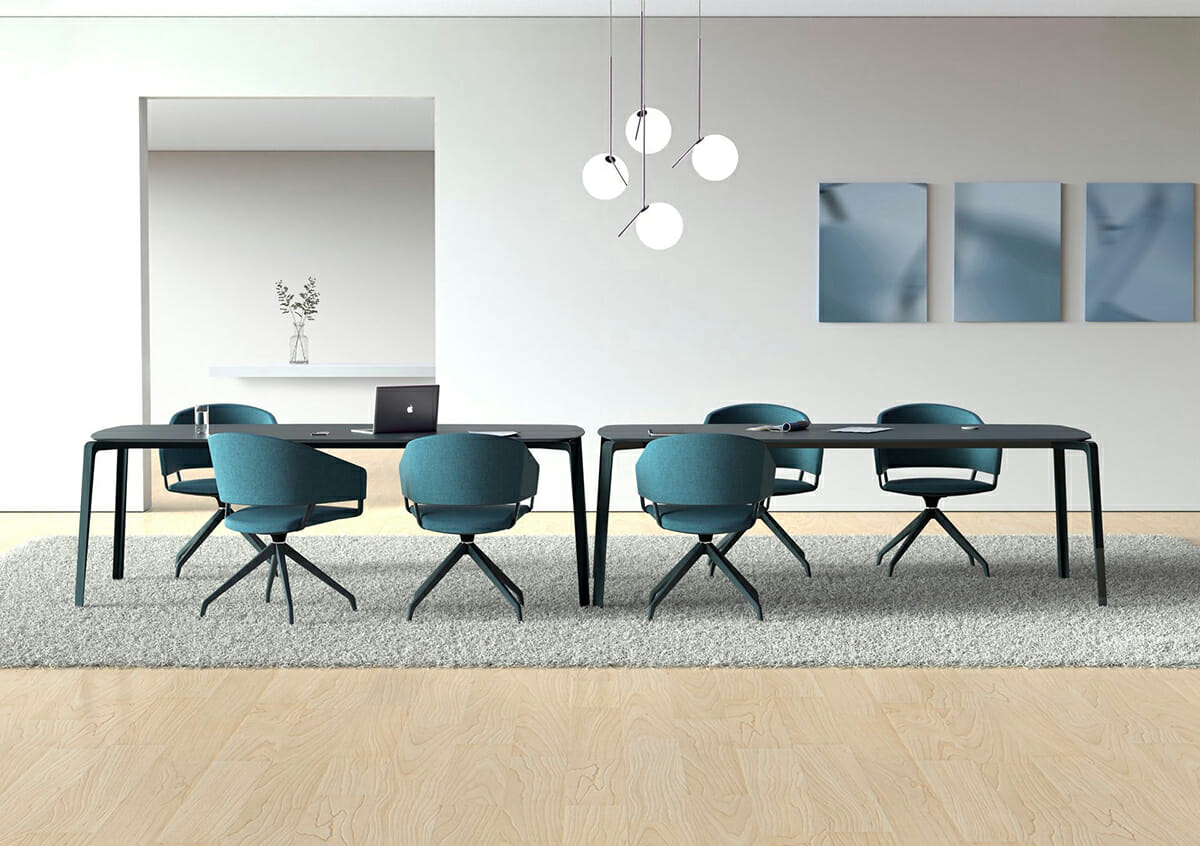 ODEI swivel chair | Aitor G. de Vicuña | MOBBOLI
The new products presented by MOBBOLI stand out for their functionality and versatility, together with an attractive and original design. Models that meet all the requirements to be used in all types of projects, whether commercial, residential or contract. Products with their own identity that arise from the creative vitality of a young team of designers and the collaboration with renowned designers such as Ximo Roca, Yonoh, Héctor Diego and Aitor G. de Vicuña, among others.
Let's take a closer look at the new collections…
PEACH collection by Arnau y Reyna
MOBBOLI's aim is to make us feel comfortable whether we work at home or in the office. And that's the idea behind the launch of PEACH, the new collection of upholstered armchairs designed by the Valencian studio Arnau y Reyna. With soft rounded lines, the collection is made up of four armchair models, with high and low backrest and two types of base. Its structure, swivel or fixed, can be lacquered or painted in a wide range of colours so that it combines perfectly with the upholstery, offering an infinite number of combinations. Distinction and design with wrap-around shapes.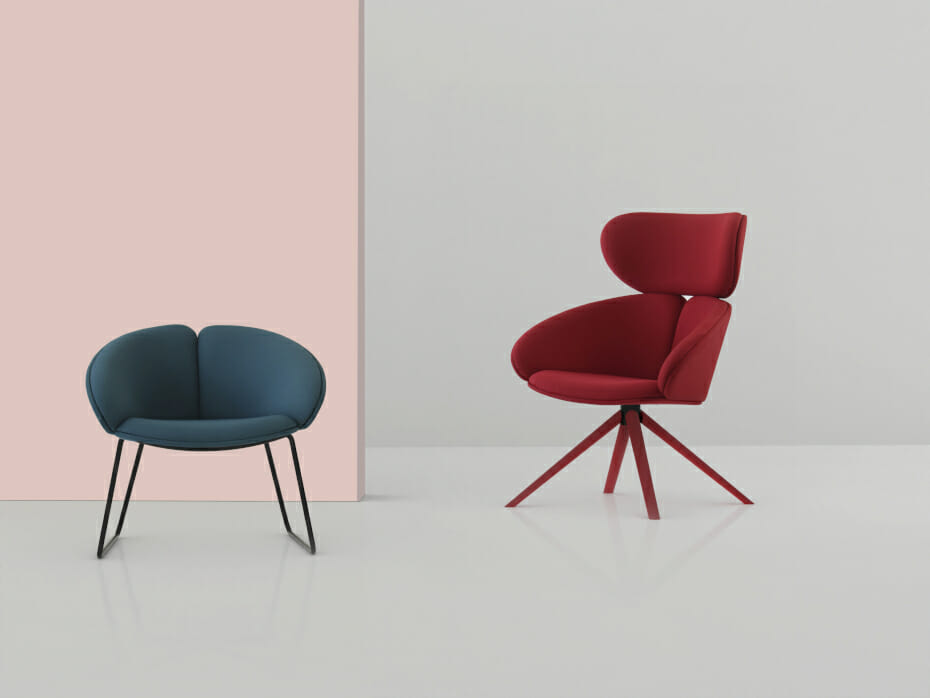 ODEI collection by Aitor G. de Vicuña
Today's spaces require simple, timeless lines that bring originality and personality. And so the ODEI collection was born, as a new series of upholstered chairs that stand out for their characteristic suspended backrest. Designed by the Spanish Aitor G. de Vicuña, the collection has two models of fixed chair with upholstered backrest available in two heights, three types of swivel chairs and the model with a sled base. All the pieces can be personalised, both in the colour of the metallic structure and in the fabrics used in the upholstery. Pieces that float like clouds at the service of the new architectures.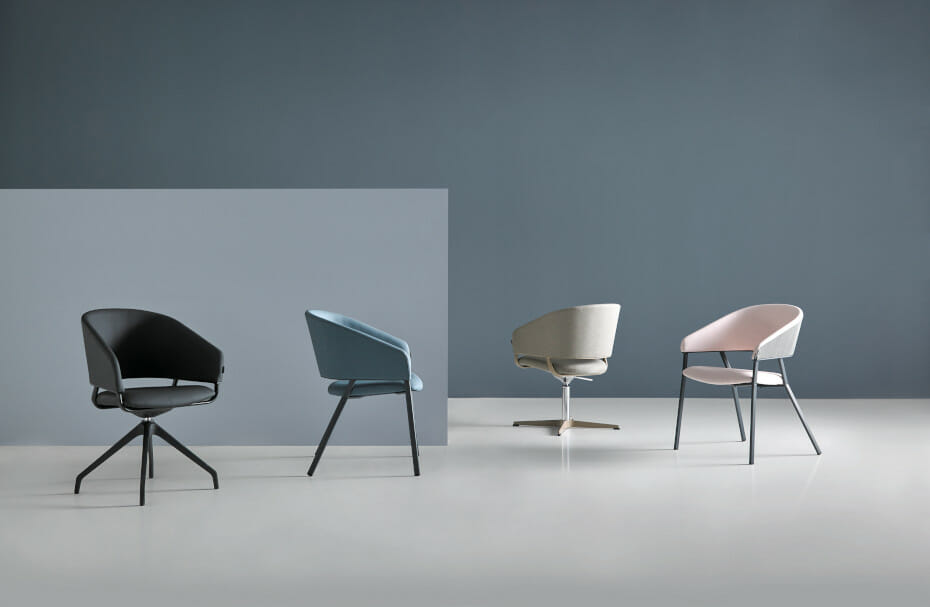 ODEI collection | Aitor G. de Vicuña | MOBBOLI
JAPAN collection by Héctor Diego
JAPAN is the new collection created by the designer Héctor Diego for the Spanish firm. A series of armchairs and couches that stand out for their minimalism and visual lightness. Pieces that have been conceived to dress up and fill with personality all kinds of spaces such as waiting and reception areas or meeting and conference rooms, creating relaxed environments in which to promote social gatherings and the exchange of ideas. With different size options (one, two and three-seater), leg types, upholstery and steel frame finishes, the JAPAN collection combines versatility and functionality with a simple design and bold lines.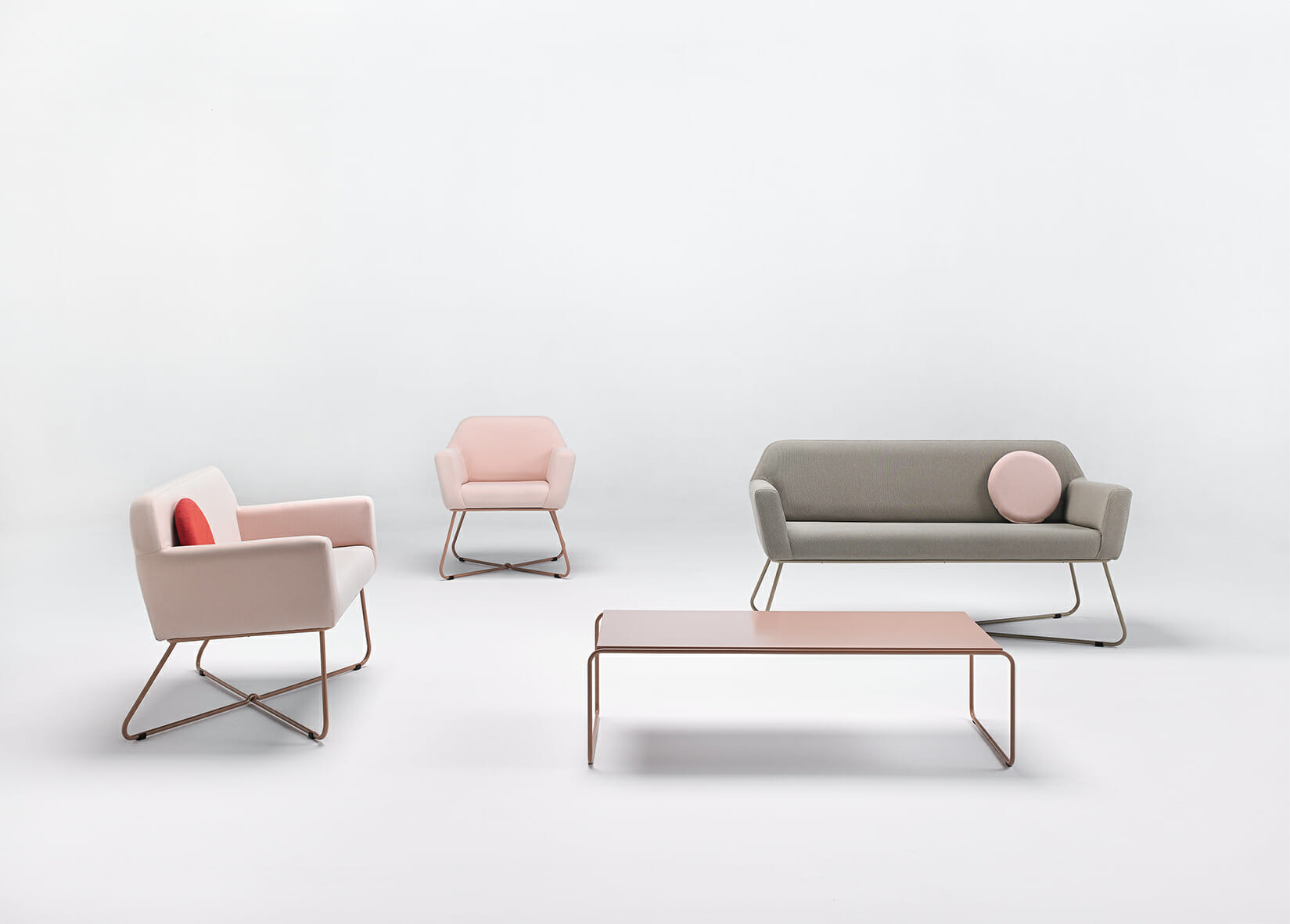 JAPAN collection | Héctor Diego | MOBBOLI
CHELSEA collection
MOBBOLI presents CHELSEA, a wide collection of upholstered chairs with an elegant and cosy design. Adaptable to all types of projects, these chairs have independent seat and backrest, which allows them to be upholstered in different fabrics and colours. In addition, the chairs can be customised according to the tastes and needs of the consumer by choosing between fixed or swivel frames, two versions of backrest and seat depth, different types of legs and a broad variety of colours and finishes. One of the firm's most versatile collections.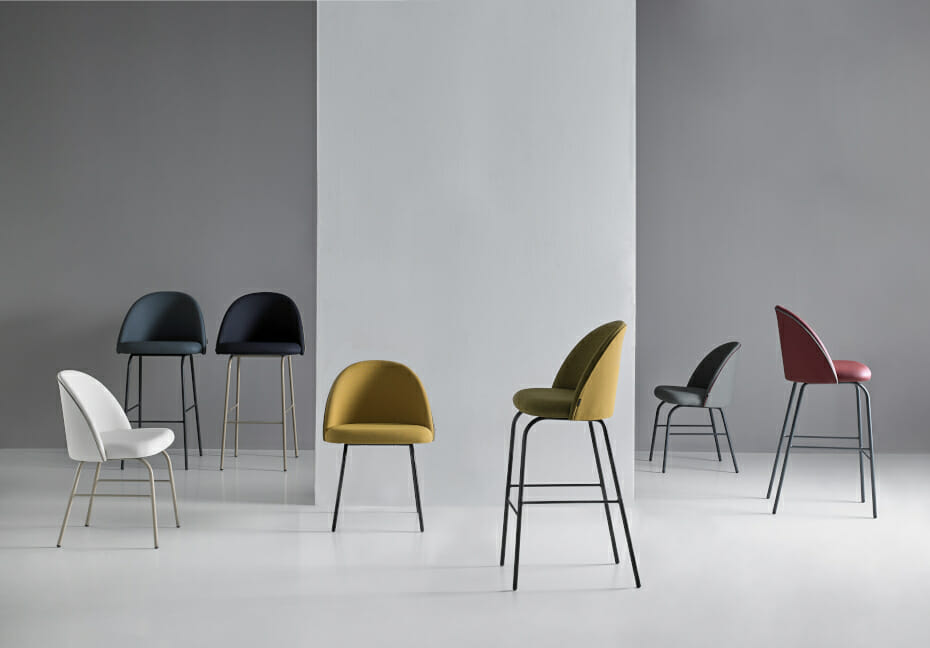 CHELSEA collection | Mobboli Studio | MOBBOLI
UP collection
Original, functional, fun, and versatile are some of the adjectives that characterise UP, the new collection of poufs and side tables introduced by MOBBOLI. Available in different diameters, the design of the pieces allows them to be stacked, making them easy to use and store. Their lightness and adaptability, together with the infinite colour combinations that the metallic structure, seats and tabletops allow, make UP poufs and tables the perfect complement for all types of installations.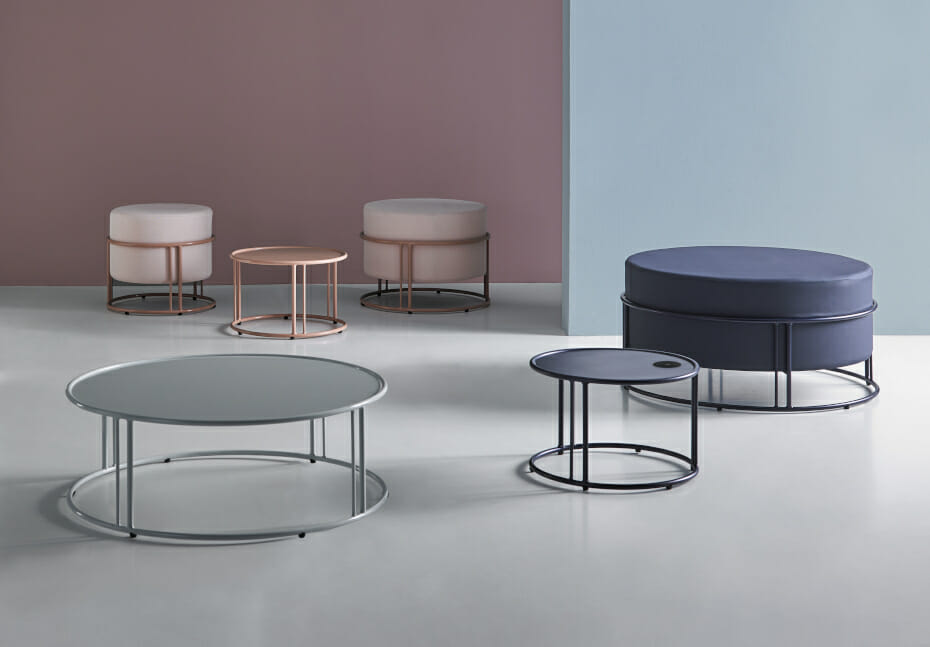 UP collection | Mobboli Studio | MOBBOLI
CAP collection by Ximo Roca
CAP is MOBBOLI's new collection of upholstery chairs. This collection stands out for its clean and suggestive design inspired by the kitchen chairs of the 50s and 60s. CAP responds to the need to combine two versions of chairs and stools with the same design and aesthetics. Its creator, the Spanish designer Ximo Roca, has focused on the functionality of the pieces with simple and soft lines that allow for the creation of relaxed atmospheres. Thanks to the variety of models, materials and finishes, the CAP collection admits a high degree of customisation, adapting to all kinds of projects.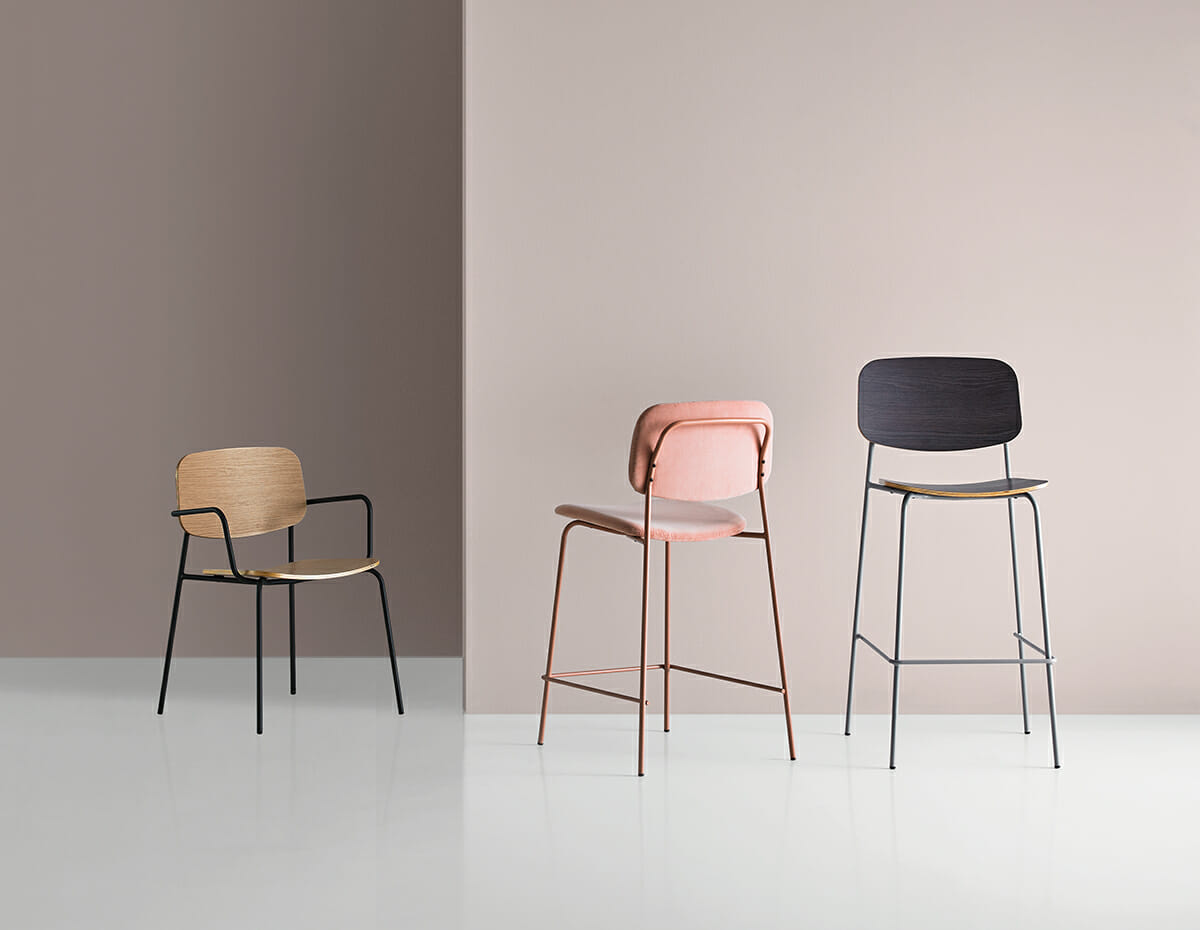 CAP collection | Ximo Roca | MOBBOLI
With products manufactured 100% in Spain, this family company remains faithful to its origins with a work philosophy based on good design, the functionality of its pieces, constant innovation, and environmental responsibility. A way of working that, despite its youth, has already made MOBBOLI a benchmark company in international markets.
More information: www.mobboli.com