Salone del Mobile.Milano 2022. New, exciting furnishing products for beautiful, versatile outdoor living spaces
May 17 / 2022
As ever, the key to a successful outdoor area is to think about how you want the space to work for you and your clients and let that guide your décor decisions. Spanish brands have tons of new, exciting solutions to turn a simple garden or terrace into a stylish outdoor space: from contemporary outdoor lounge sets and space-saving dining furniture to colourful metal chairs and décor items that instantly set an inviting, calm atmosphere in every alfresco space.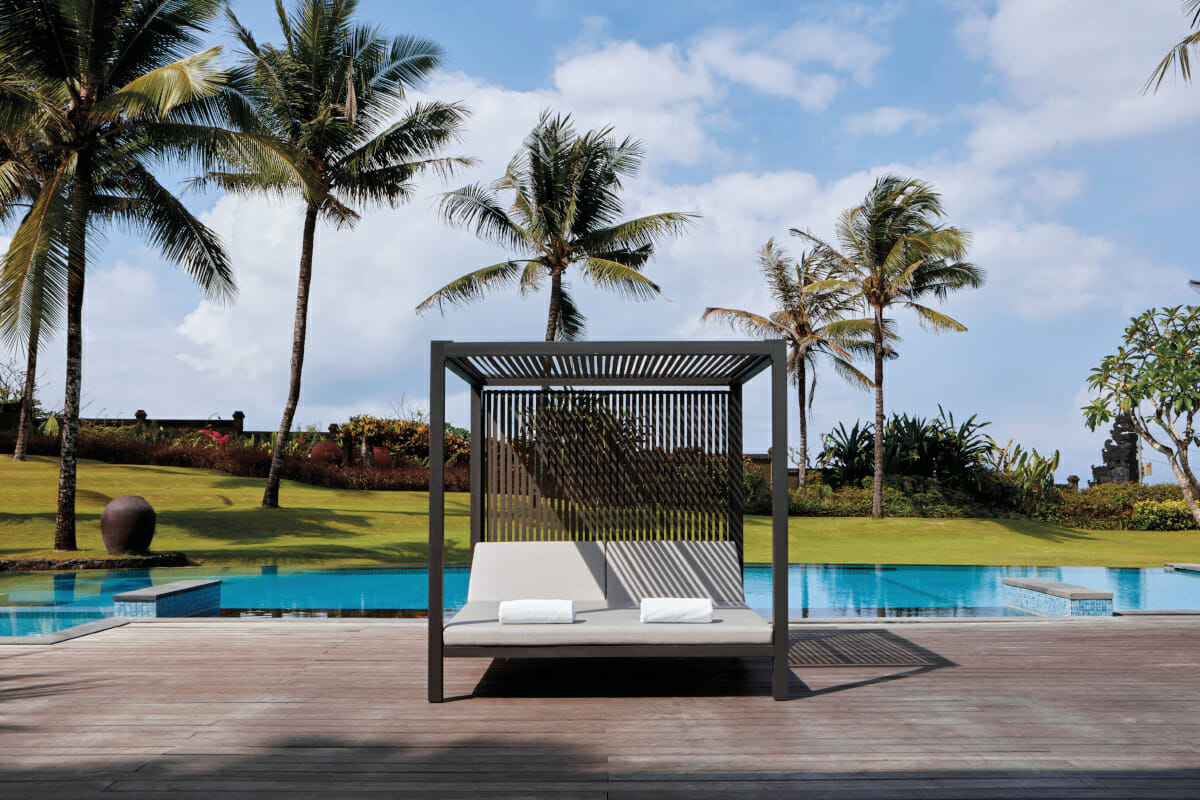 HORIZON canopy daybed | Noel Royo | SKYLINE DESIGN
As a matter of fact, when it comes to outdoor furniture, Spain has no rivals. Tables, seats, sofas, chaise longues, parasols and accessories from Spanish brands furnish any outdoor area, from the veranda to the poolside, blurring the lines between indoor and outdoor living and creating a flexible, green oasis even on the smallest terrace. This year, at the Milan Salone, you will be spoilt for choice. We promise. Let's have a sneak preview at a small selection of new products that will be on display in Spanish stands…
SKYLINE DESIGN. Hall 14 Stand D20
Created by Santiago Sevillano Studio for the Valencia-based SKYLINE DESIGN, the Nordic-inspired ONA Collection works well in contemporary spaces where great modularity and style are required. The rust-resistant, powder coated aluminium frame supports a backrest made of UV-resistant interwoven straps and a teak wood platform that adds a natural element to the design. The outdoor modular sofa is the epitome of laid-back outdoor living, offering a place to get comfortable, relax and socialise. The firm yet generous seat cushions, filled with Quick Dry Foam and covered in Sunbrella® fabrics, contrast with the clean-cut design improving seating comfort and relax.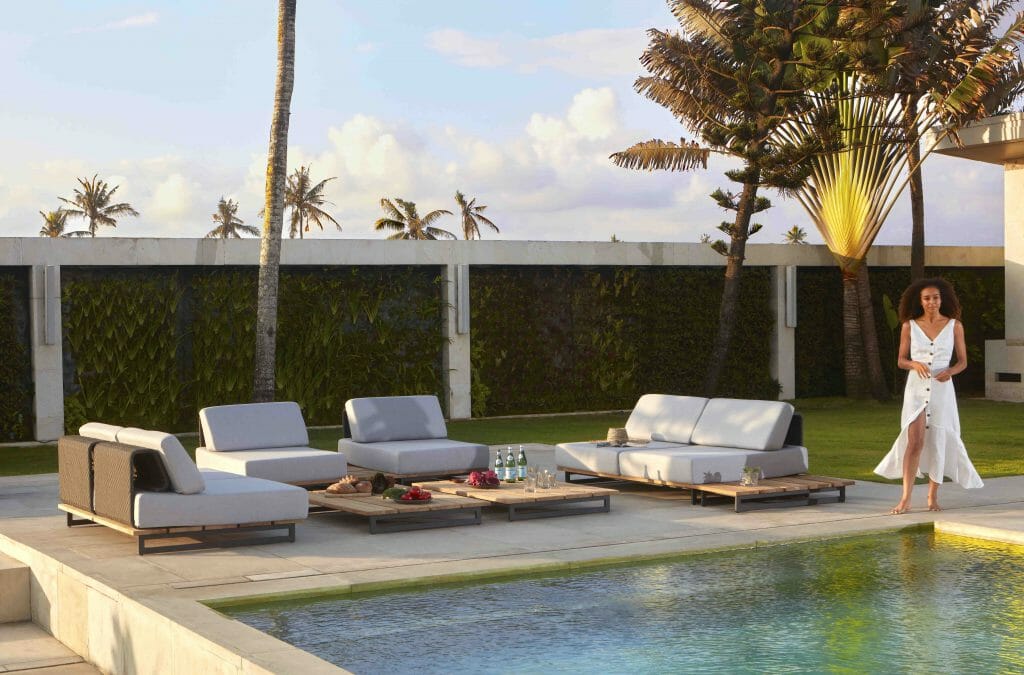 ONA outdoor lounge furniture | Santiago Sevillano Studio | SKYLINE DESIGN
This collection also comes with a great range of coordinating outdoor furniture, including the dining set, which is perfect if you're looking to zone your outdoor space into separate relaxation and dining areas.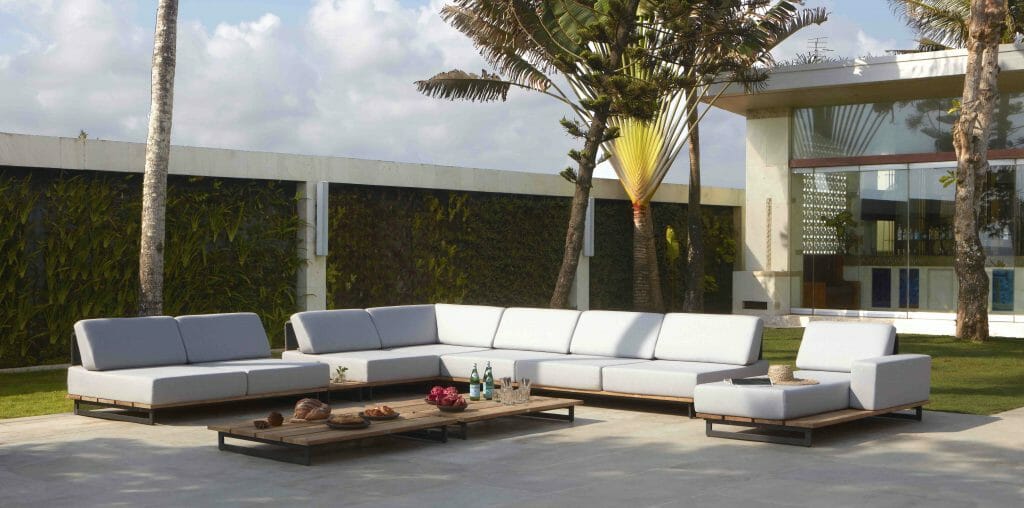 ONA outdoor modular sofa | Santiago Sevillano Studio | SKYLINE DESIGN
The HORIZON Collection exudes a modern sophistication that is perfect for both urban outdoor spaces, such as small patios and rooftop terraces, and for seating, dining or lounging in pool or beach side locations. This new collection features a modern all weather open weave around a stylish powder coated aluminium frame with teak armrests for a more natural, warmer look.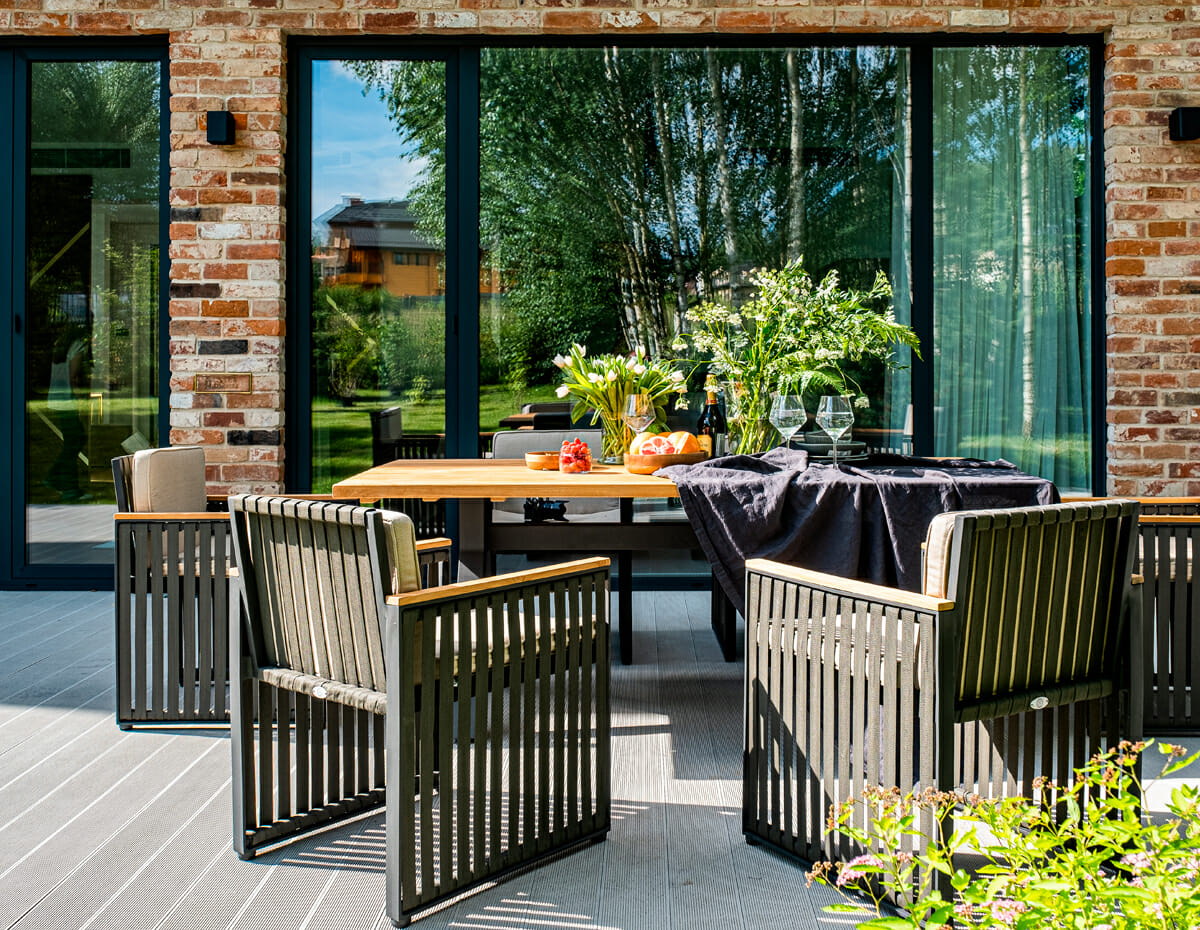 HORIZON outdoor dining set | Noel Royo | SKYLINE DESIGN
Cushions covered in a choice of attractive Sunbrella® fabrics keep shape and are comfy and durable. It also includes a canopy daybed.
MUSOLA. Hall 12 Stand B09
Over the last few years, we have come to appreciate our outdoors more as an extension of our living space than as a place to grow plants. As a result, outdoor furniture manufacturers have worked hard to develop lounge and dining sets that work equally well in outdoors as they do in indoors. Take for examples the dining set composed of the SALVIA table and the SORELL chair from Spanish outdoor specialist MUSOLA. Minimal yet highly refined and functional, they have proved to be an option of great value for alfresco eating.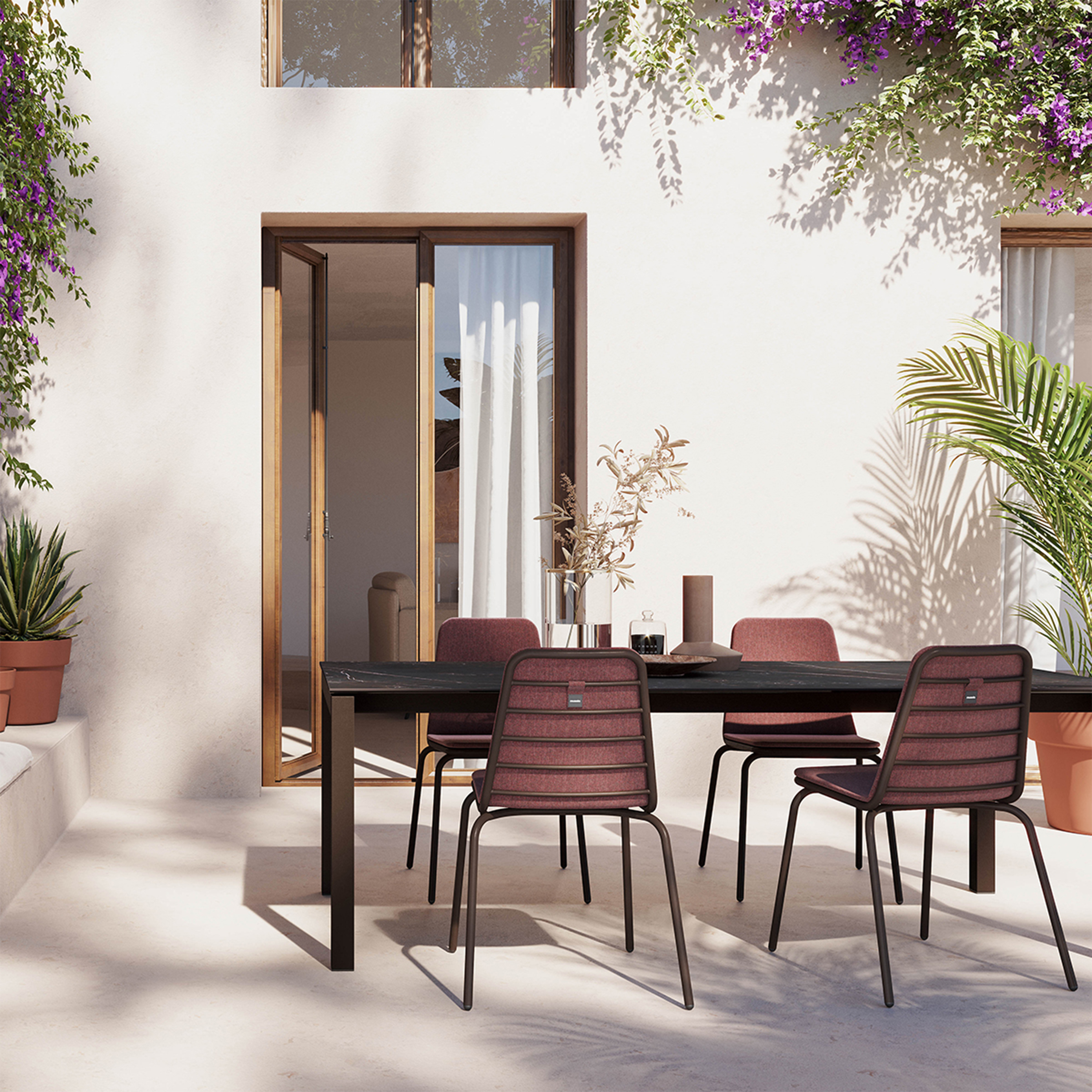 SALVIA outdoor dining table & SORELL chairs | MUSOLA
Available in three different heights (40, 75, 90 cm), SALVIA is a ceramic top table that comes in 32 sizes for the fixed version and 24 sizes for the version with extending mechanism. It has a structure made of stainless steel and aluminum while the extension is made of marine board lacquered with UV protection.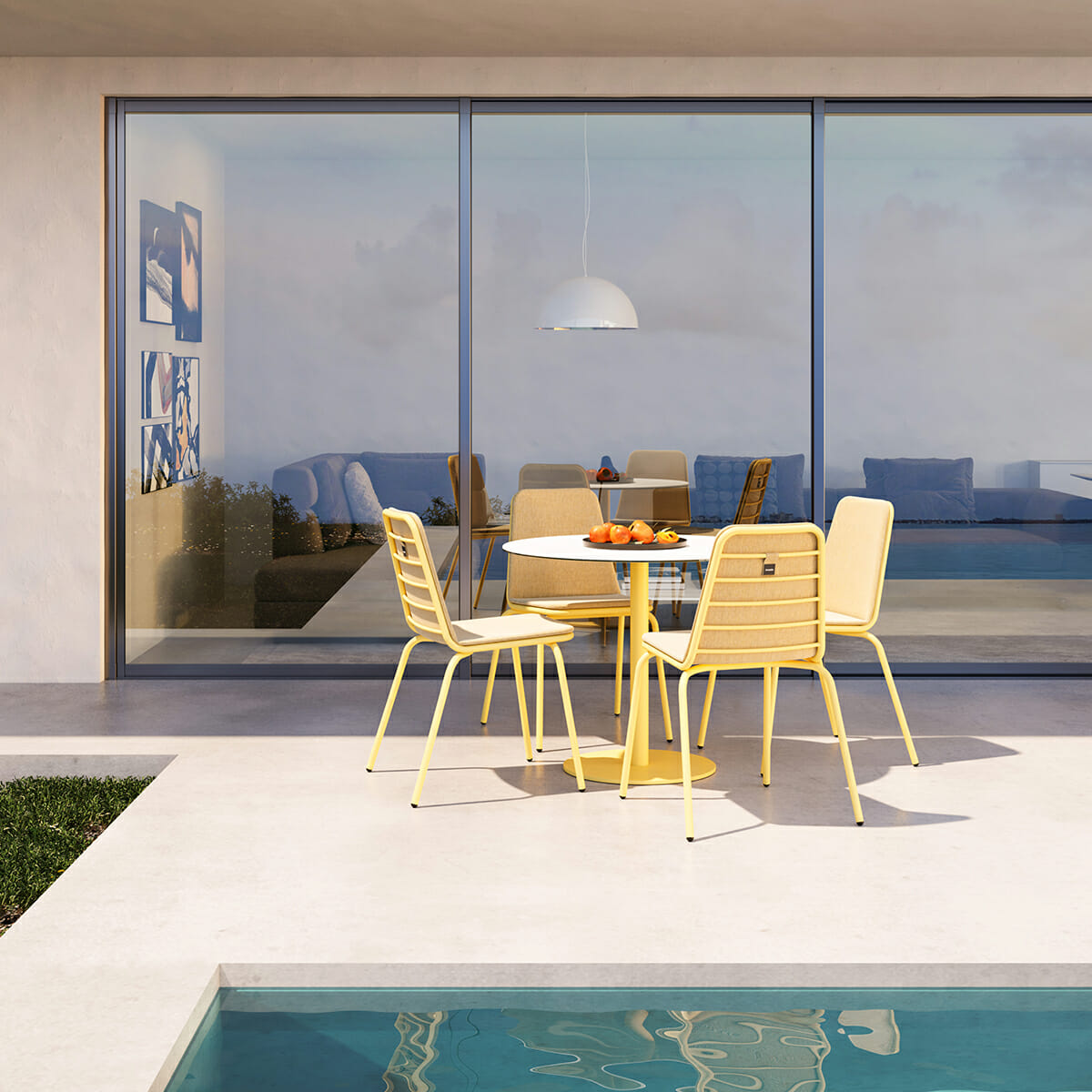 LEMON table & SORELL chairs | MUSOLA
SORELL is a chair with an incredibly charming design and great visual lightness. The structure is made of stainless steel and comes with a removable cushion filled with waterproof polyurethane foam (Dry Feel). For small, informal bistro set, it can be combined with the LEMON table, available in 6 heights with ceramic top and stainless-steel structure.
iSiMAR. Hall 6 Stand E41
With their rich offer of outdoor furniture made of 100% recycled and recyclable, weather-resistant galvanized steel and aluminum, the Spanish iSiMAR fills every outdoor space with vibrant splashes of Mediterranean accents.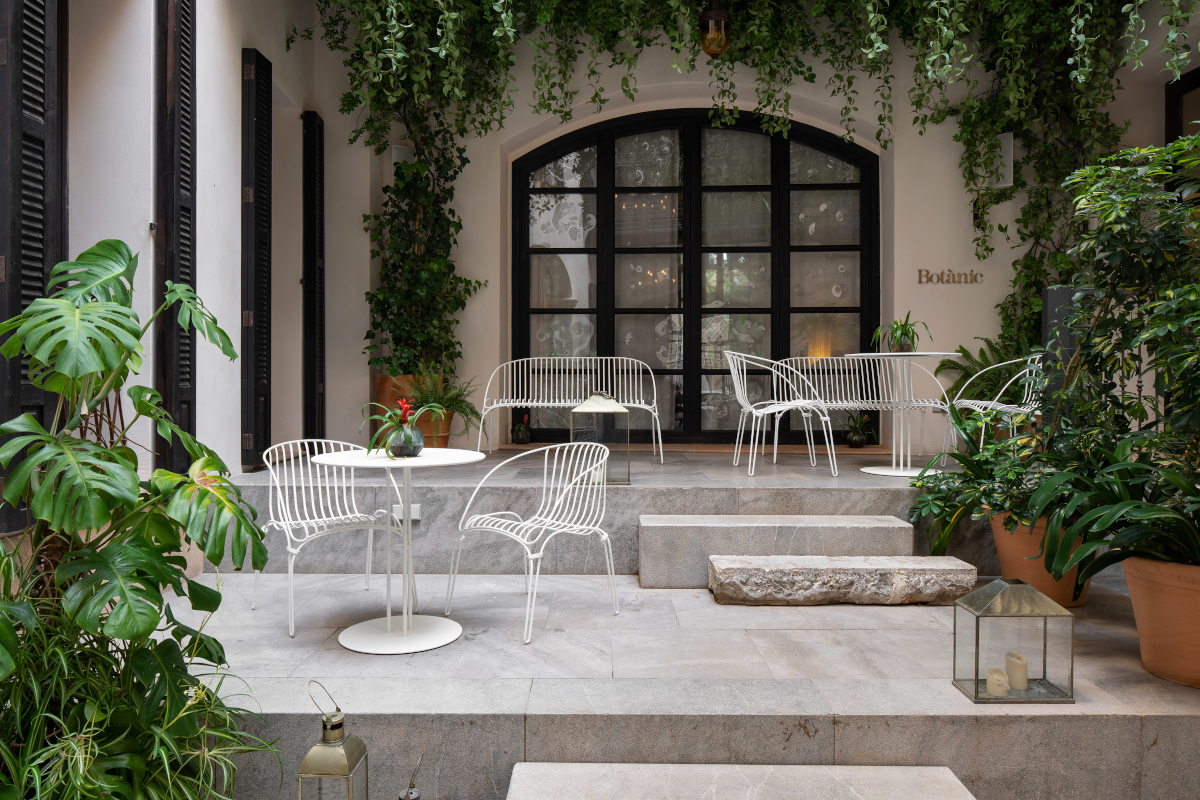 COLONIAL outdoor lounge collection | iSiMAR
To give you an idea, consider the COLONIAL collection. Its beautiful design is a reminiscence of antique wicker chairs typical of the Mediterranean landscape. Formerly formed by an armchair and a table, the family has now grown to include a bench and a stool, all of them made of galvanized wire, polyester powder coated in a wide choice of metal finishes. Thanks to its ergonomic and comfortable design the COLONIAL bench can be considered one of iSiMAR's most authentic products. The stool is available in two different heights to suit – as all the other pieces of the collection – the needs of the home and hospitality sectors.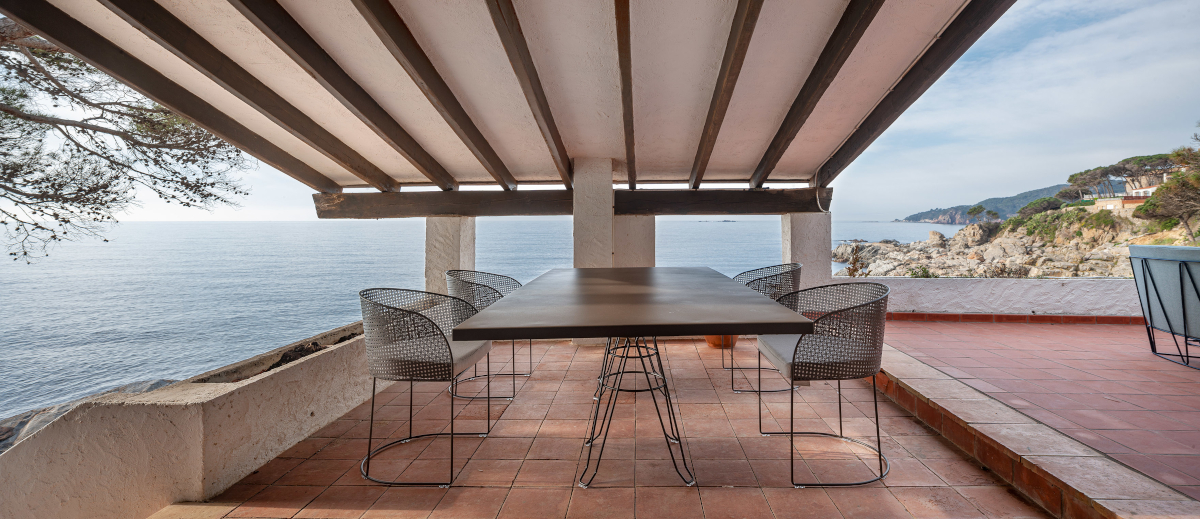 ARENA outdoor armchairs | iSiMAR
The Mediterranean lifestyle and landscape are also the inspiration for another successful collection of the brand, the ARENA Collection, one of the most complete of the brands with the recent addition of a new armchair and stool.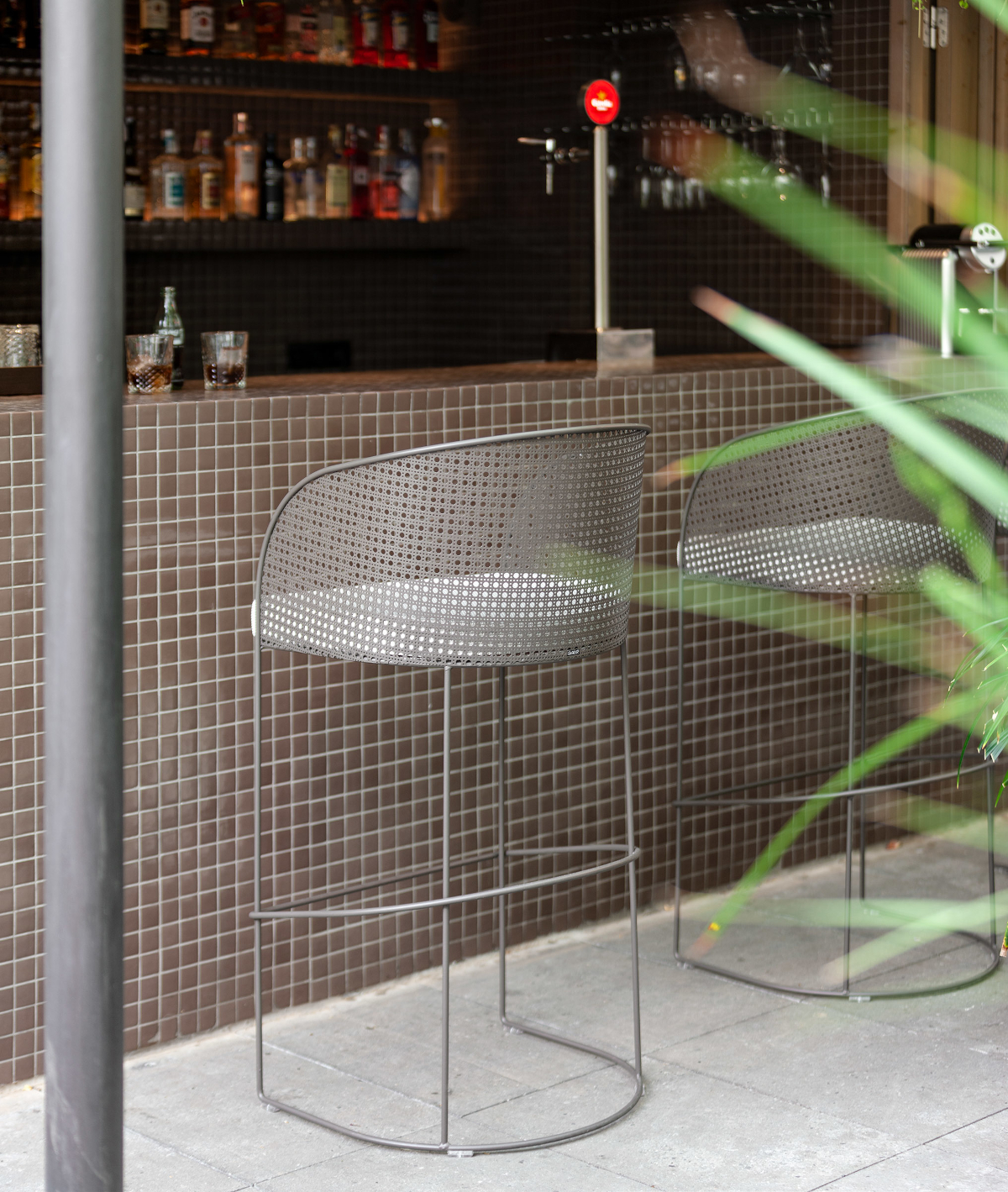 ARENA stools | iSiMAR
Drawing inspiration from the shapes and textures of Mediterranean beaches and from the rattan cane webbing typical of Mediterranean garden chairs, the brand has developed a range of furniture that can be used to configure attractive lounge and dining space in different environments and is highly appreciated by the A&D community for its original, elegant design.
EZPELETA. Hall 8 Stand E35
If you are looking for a solution that provide the outdoors with cool shade and protection from the sun's UV rays, the Spanish EZPELETA has just what you need. EOLO PURETI is an anti-pollution umbrella that stands out for its attractive, innovative design and environmental-friendly features. The fabric of this parasol is treated with the disruptive Pureti photocatalytic nanotechnology patented by the homonymous US company. When in contact with sunlight and humidity, the nanotechnology favours the neutralization of pollutants, causing an air-cleaning effect that is comparable to the photosynthesis of trees.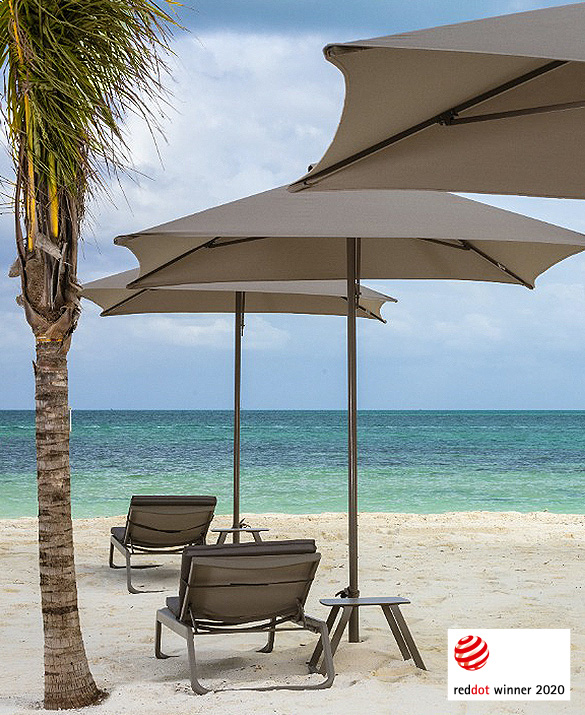 EOLO PURETI parasol | EZPELETA
Light, durable and easy to use, it is provided with a groundbreaking folding/unfolding system with a blocking push button. It is composed of four reinforced ribs with solid plastic central joint pieces. The individual parts of the parasol are connected by simple click system, which provides a strong anchoring and at the same time simplifies dismantling. This system also allows replacing individual pieces, thus giving the product a longer life. (Find here more information)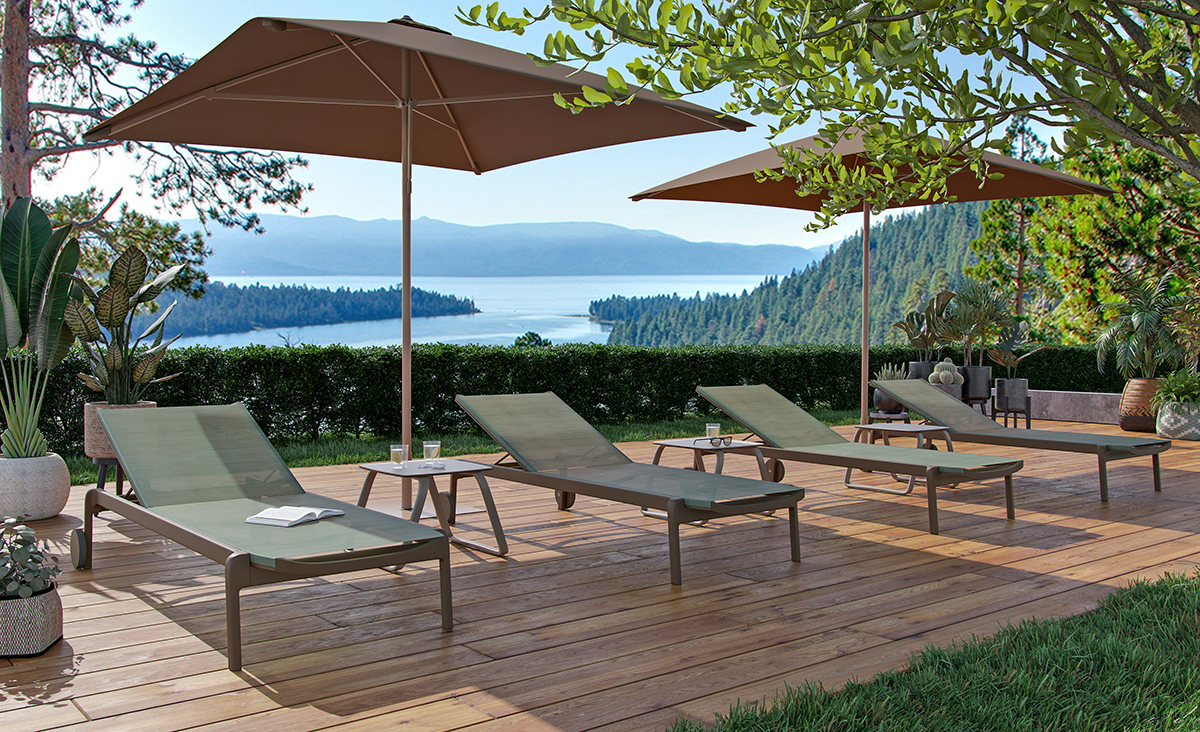 LAGO sun loungers | EZPELETA
From the shade to the sun. The firm launches LAGO, a new stackable sun lounger that allows you to sunbathe in comfort and style. Like the VILA model of the same series, the LAGO sun lounger stands out for its clean design and the choice of natural colours – white, taupe, olive green – that can be combined to adapt to the surrounding environment.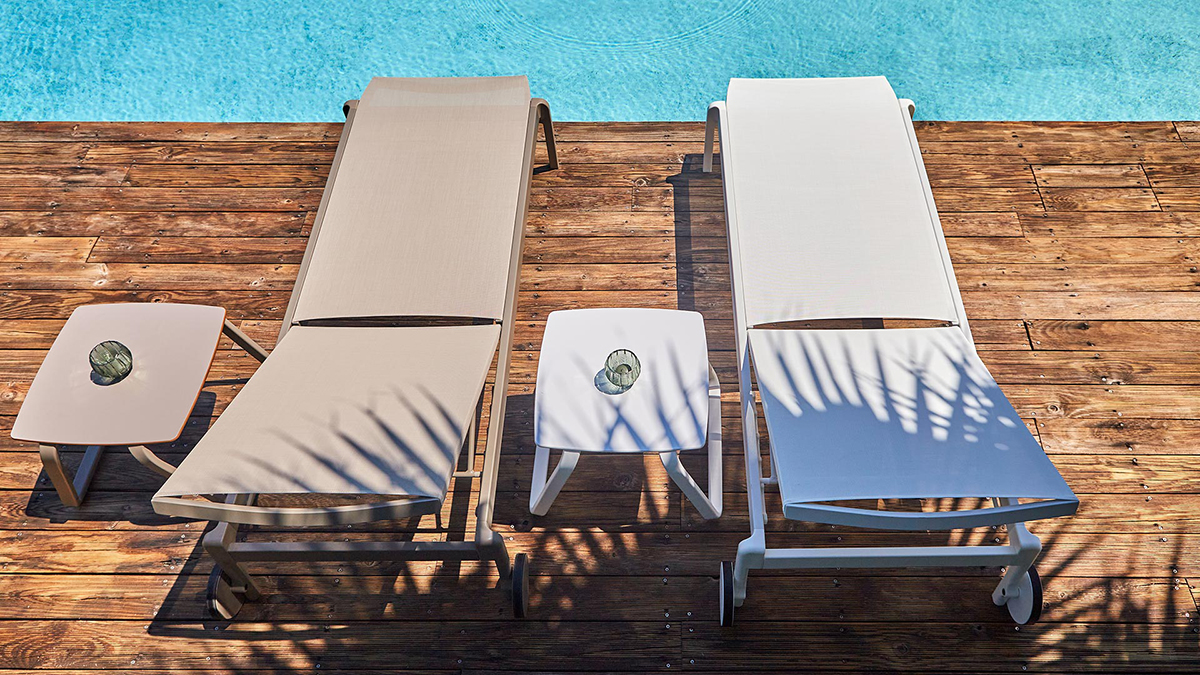 LAGO sun loungers | EZPELETA
It features an aluminium structure, low-maintenance, antibacterial and humidity-resistant Phifertex® fabrics, and fiberglass-reinforced polypropylene legs. It's easy to move thanks to the rubber wheels while the reclining back ensures five different positions for a greater comfort.
CALMA. Hall 8 Stand D32
Once you have furnished your outdoor space, it's time to spruce it up with some cushions, plants, a lamp and rugs, which are the final touch to define zones and add warmth, intrigue and style.

FANG outdoor rugs | RUN Studio | CALMA
Designed by the RUN Studio for outdoor furniture manufacturer CALMA, FANG is a versatile collection of handmade outdoor rugs with a strong graphical appeal. Made from recycled fabrics, the series of rugs evokes the traditional dip-dyed process of the Empordà ceramics which is symbolically reproduced by the coloured edge. FANG comes in the traditional colours of La Bisbal ceramic glaze and is available round and rectangular
FANG outdoor rugs | RUN Studio | CALMA
Tradition is also the main source of inspiration of the CUINA outdoor rectangular rug that is available in two sizes: 240 X 165 and 75 X 345. Designed by the RUN Studio and made of 100% recycled polypropylene, it recreates the triangle graphic design typical of ancient Catalonia kitchen tiles. The layout of the geometric elements and the use of two different colours provide the rugs with texture and depth.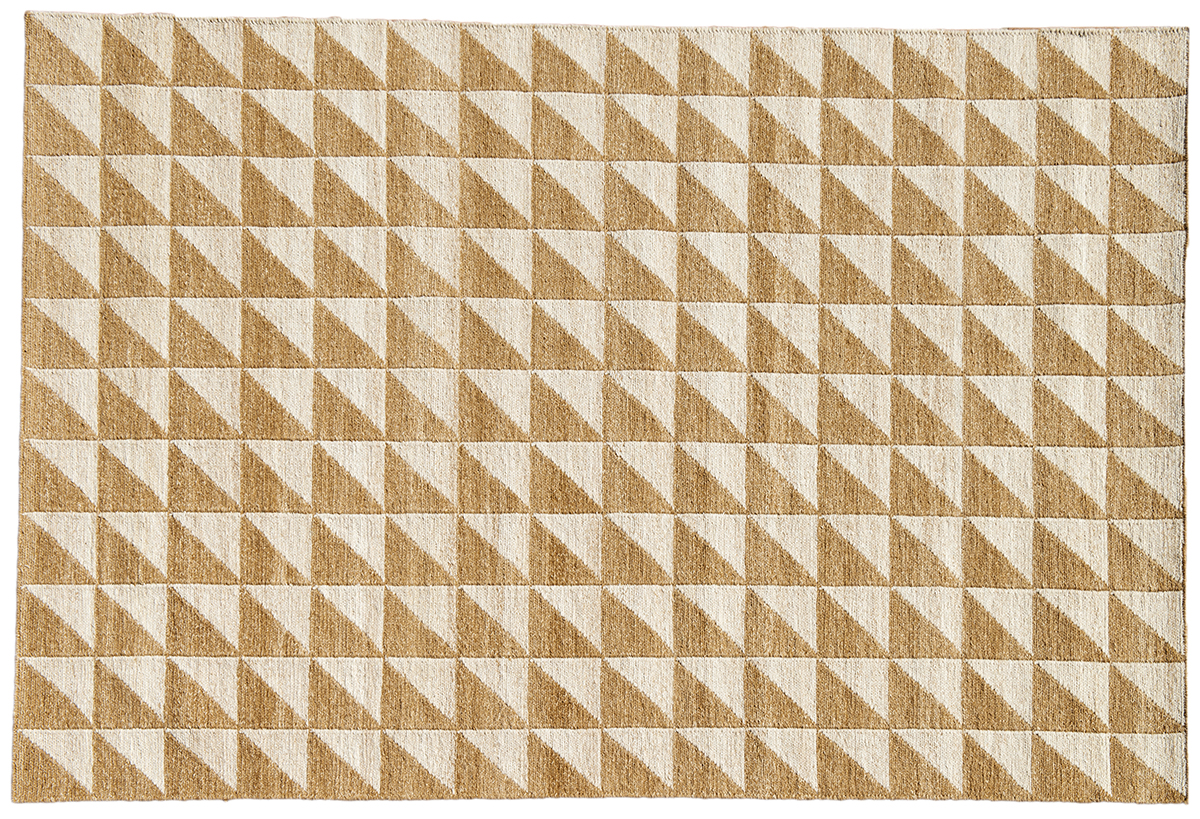 CUINA outdoor rugs | RUN Studio | CALMA
A creation by Andreu Carulla for the Catalonia-based firm, NORMAL is a line of lamps available in 4 models: wireless table lamp, two ceiling versions, and a wall sconce that allows to consistently light up multiple spaces. The NORMAL lamp masterly combines a minimal, basic design with a traditional local material: the glazed ceramic from the Empordà (Catalonia).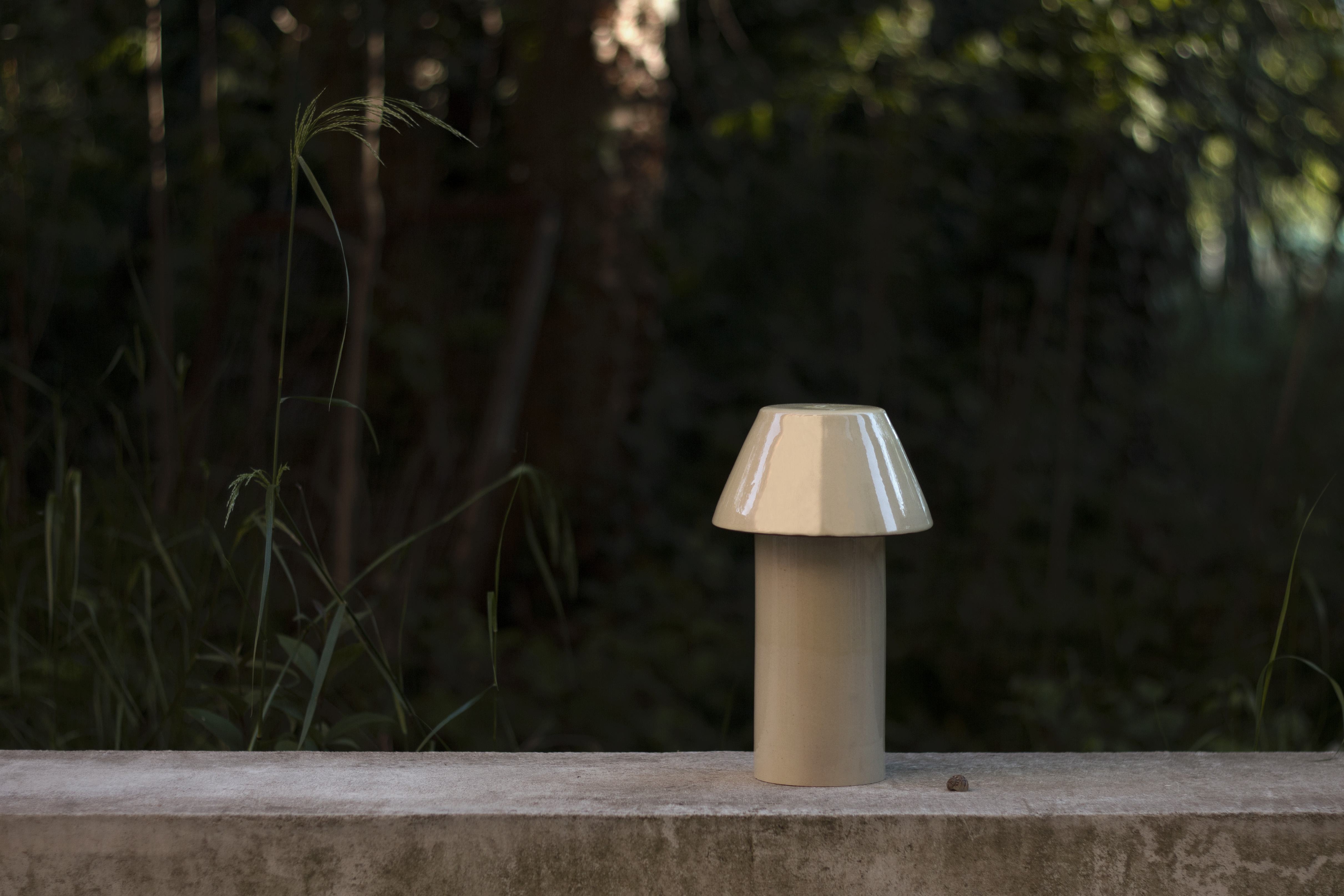 NORMAL wireless table lamp | Andreu Carulla | CALMA
The result is a contrasting aesthetic that is unusual, rustic and at the same time sophisticated, perfecto to set a warm and homely mood in both interiors and exteriors.
With so much on offer, get ideas and start creating your Spanish-inspired outdoors…
Furniture from Spain. Live. Work. Enjoy. Create…