RELATED NEWS
TAGS
design
designer furniture
diabla
expormim
gandiablasco
kettal
outdoor furniture
outdoor spaces
point
salone del mobile. milano
Salone del Mobile.Milano 2023. Designer furniture for stylish, vibrant outdoor living spaces
March 14 / 2023
The latest trends reflect the desire to bring the indoors outside. And when it comes to erasing the line between the two spaces, Spain's outdoor furniture brands are second to none. Their designer products provide solutions for every activity, a design for every lifestyle and a product for every taste. From plush sofas to oversized lounge chairs, outdoor furniture is becoming just as cozy as indoor furniture.
Eco-friendly materials are also increasing their presence in the Spanish offer of outdoor furniture. From recycled plastic to sustainable wood and other natural and technological materials (natural, stone, slate, terracotta, rattan, Dekton, FENIX NTM®…), Spanish brands are opting for sustainable and 100% recyclable materials that are not only stylish but also safe for the environment.
PLUMON outdoor lounge furniture. By Patricia Urquiola | KETTAL
Hall 4 Stand B11/C12
For Spanish outdoor furniture specialist KETTAL, the creative Patricia Urquiola has created PLUMON, a collection that perfectly mimics high-end living and dining room furniture treating terraces like extensions of interior living spaces.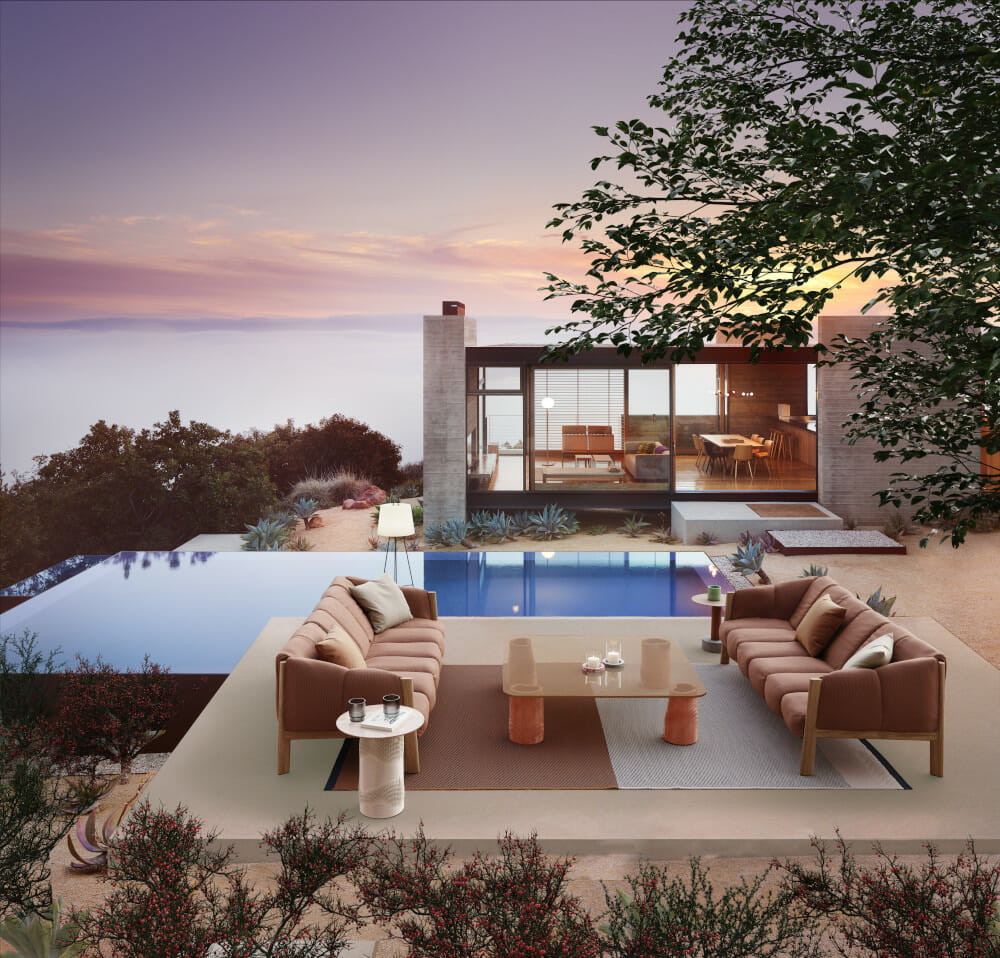 PLUMON outdoor lounge furniture | Patricia Urquiola | KETTAL
Constantly finding ways to merge tradition with technology, the Spanish designer is renowned for her unique approach that uncovers "connections between the familiar and the unexplored." For PLUMON Urquiola adopted a tailoring approach, creating pieces that – like clothes – can be dressed and undressed. Inspiration came mainly from the Brazilian spirit of living in abundance, with roomy, comfortable furnishings.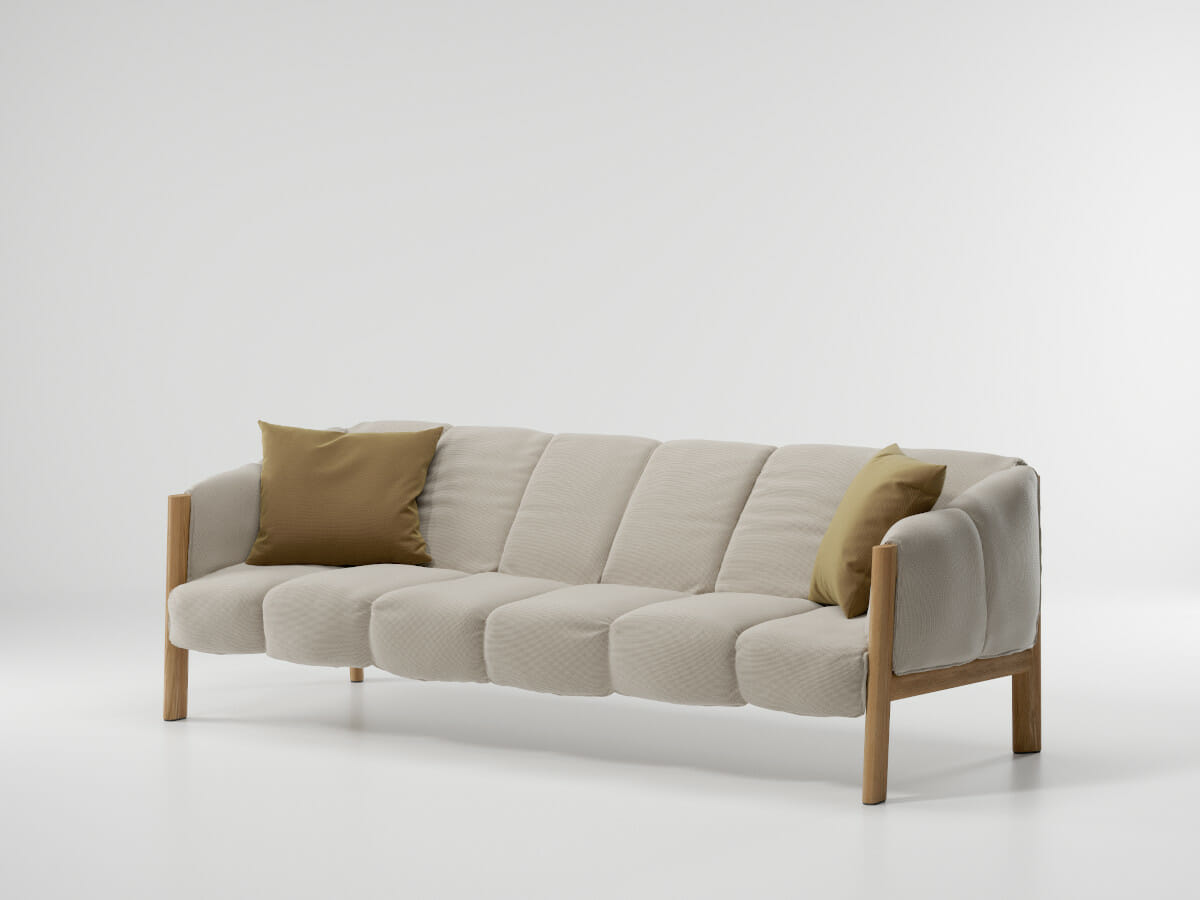 PLUMON sofa | Patricia Urquiola | KETTAL
Teak forms the structural basis of the chairs and sofas, which are then dressed in padded cushions that extend over the seat, armrest, and backrest, in neutral, earthy shades. A coffee table and a side table with bases that resemble a knit sock being pulled on are also part of the PLUMON collection.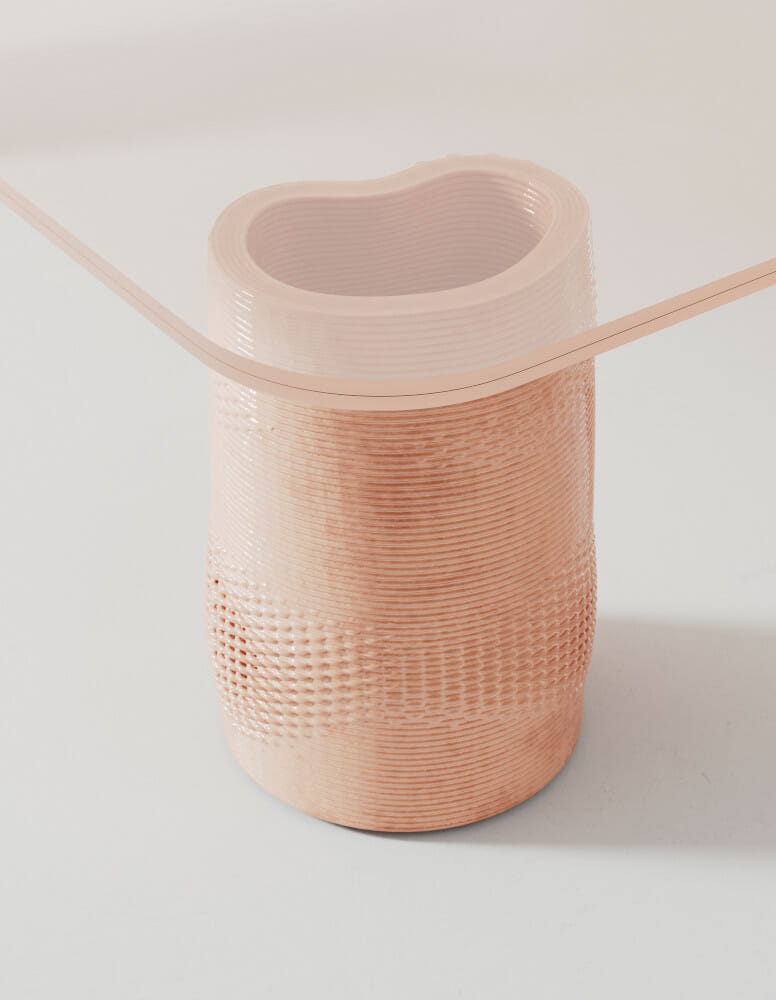 PLUMON table | Patricia Urquiola & La Máquina 3D printing company | KETTAL
In collaboration with 3D printing company La Máquina by Noumena, the multidisciplinary design team created the legs by using an advanced method of 3D stoneware printing which allowed a new constructive approach in terms of shapes, texture, and sizes. Both tables feature glass tops and are available in white and pink.
MASS modular sofa. By Todd Bracher | GANDIABLASCO
Hall 2 Stand D19/D21
Modular design is becoming increasingly popular in outdoor furniture due to its versatility and user-friendly design. MASS is the new outdoor modular furniture created by New York-based designer Tod Bacher for Spanish outdoor furniture specialist GANDIABLASCO. Drawing inspiration from Greek agora as an open space for meetings and debates, MASS takes modularity and versatility to the extreme promoting above all the interconnection between people in a scalable and easily reconfigurable way.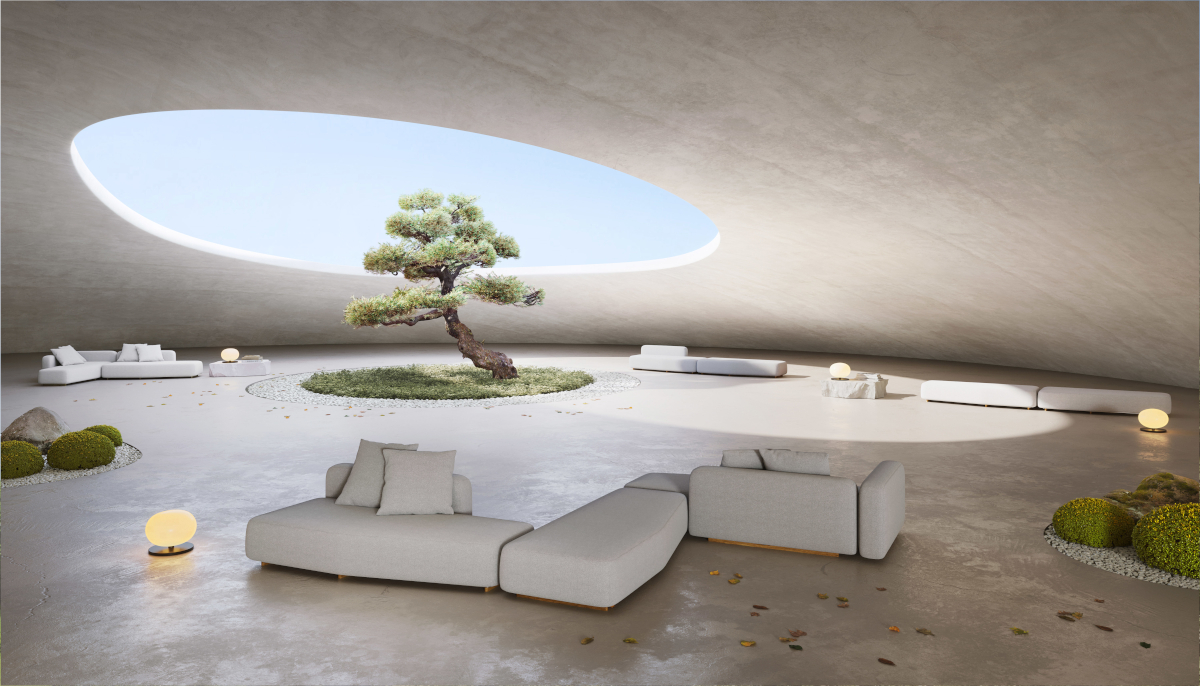 MASS outdoor modular sofa | Todd Bracher | GANDIABLASCO

Free of any superfluous or arbitrary adornment, the five components – two symmetrical seat modules and a backrest in three different lengths – can be configured in different micro-architectures that can be in permanent transformation allowing the activity of end-users to be as fluid as possible for various social uses both in residential and commercial spaces.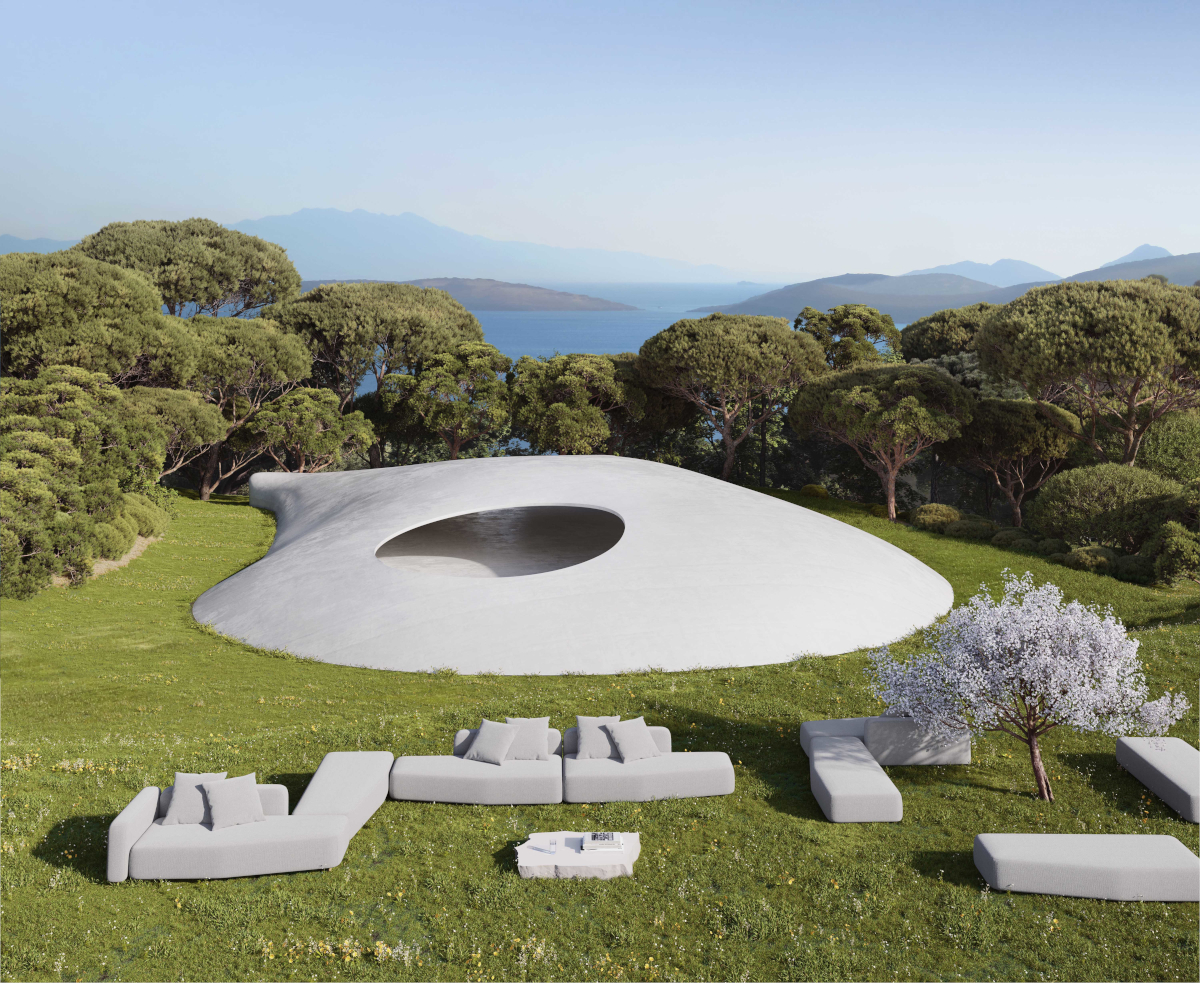 MASS outdoor modular sofa | Todd Bracher | GANDIABLASCO
Suitable for outdoor use, both the seat modules and the backrest provide great comfort thanks to the base of Gravidry® filtering polyurethane foam and the top layer of wadding. An internal aluminium structure ensures strength and rigidity and, in turn, allows the union between the different elements. Seat modules are equipped with extended transversal feet made of iroko wood, a material that provides a touch of warmth and naturalness matching at the same time with the wide range of textile finishes of the brand.
TULUM outdoor lounge furniture. By Eugeni Quitllet | VONDOM
Hall 2 Stand M22/M24
Wood is a timeless choice for your backyard, and when it comes to the best wood for modern outdoor furniture, nothing beats teak. In the TULUM collection, a new creation by Eugeni Quitllet for VONDOM, teak comes in combination with high-tech materials, including aluminium and polyurethane foams, to add a touch of harmonious elegance and style to both outdoor and indoor spaces.
TULUM outdoor lounge furniture | Eugeni Quitllet | VONDOM

Comprising a three-seater sofa, armchair and coffee table, TULUM features a robust linear design that has been softened by subtly curving the corners of the rigid frames and combining solid volumes with open voids.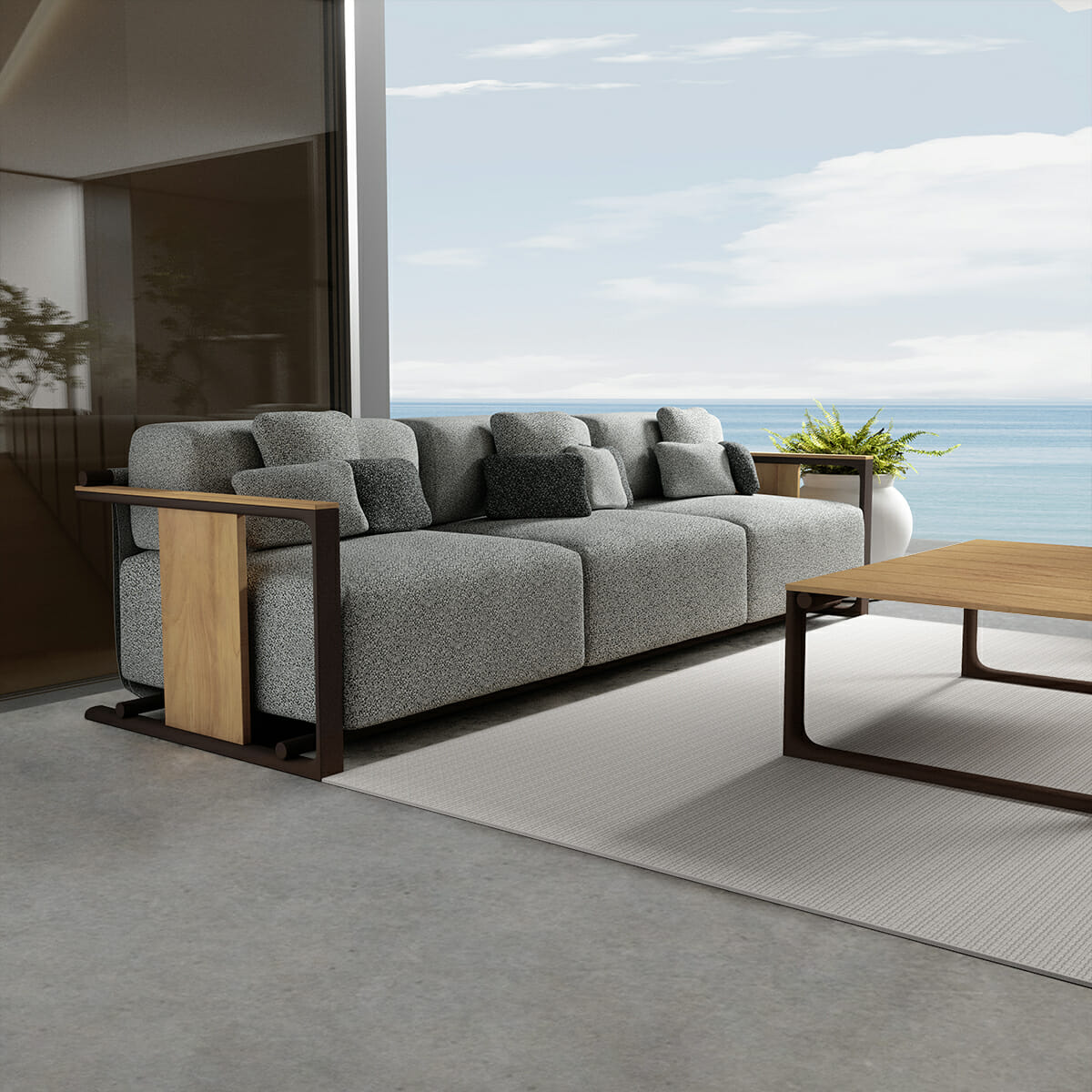 TULUM outdoor sofa | Eugeni Quitllet | VONDOM
The more than generous seat padding maximizes comfort and performance in any environment.
TALO outdoor tables. By Désile Altherr Park Studio | EXPORMIM
Hall 2 Stand F21/F25
Concrete, stone and other natural materials, such as Dekton (quartz) are great for outdoor spaces in the sense that they can last and blend in with any style and elements. The Barcelona-based Désile Altherr Park Studio draws inspiration from wild rocky landscapes to create TALO, the new set of outdoor tables from furniture manufacturer EXPORMIM.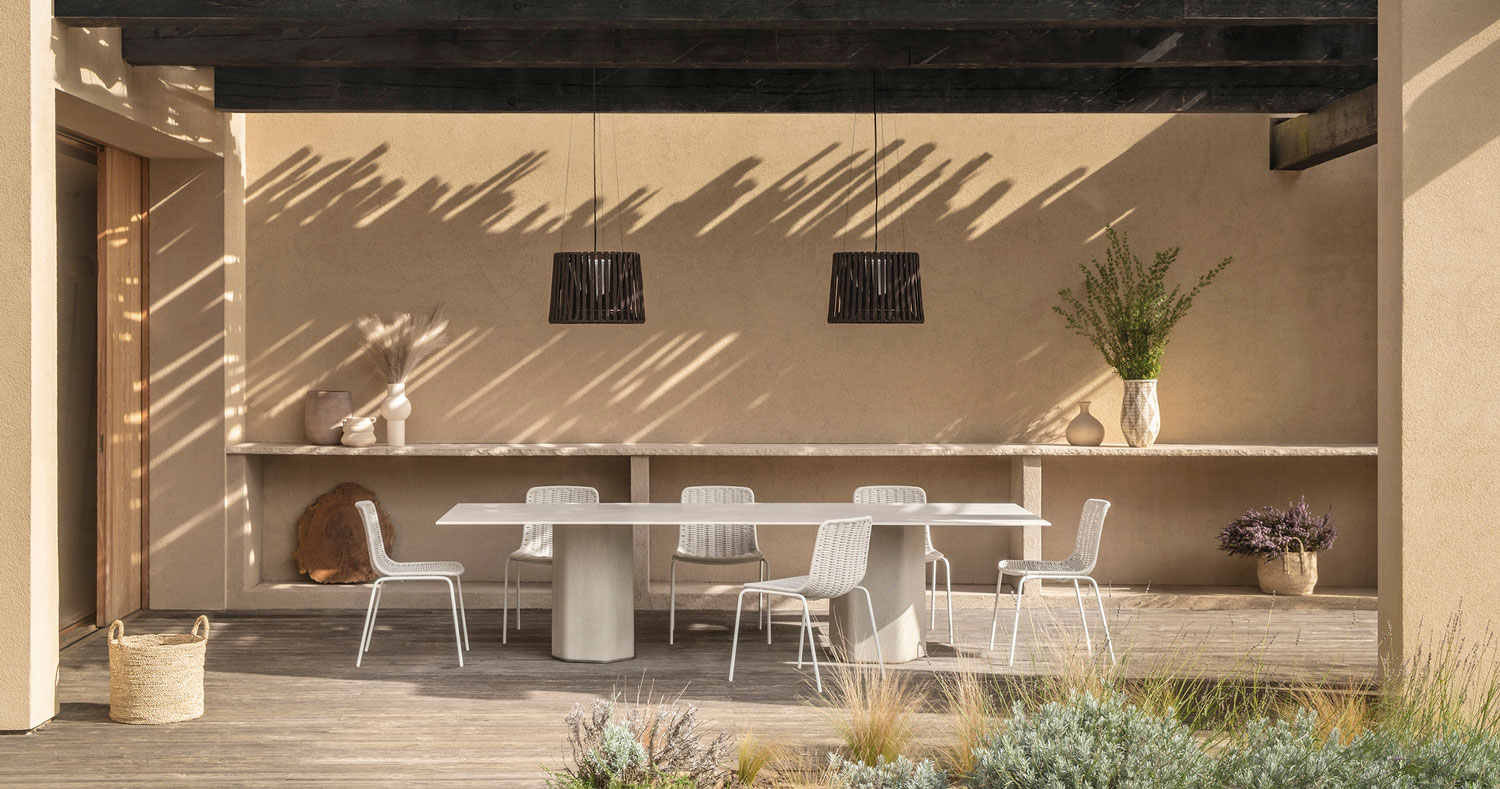 TALO dining table | Désile Altherr Park Studio | EXPORMIM
Halfway between nature and pure geometry, the set of tables is entirely made from highly-resistant, sustainable materials: Dekton and FENIX NTM® for the tops and coloured concrete for the bases. For the colour scheme, Désile Ather Park Studio has opted for natural shades, such as stone, slate and terracotta.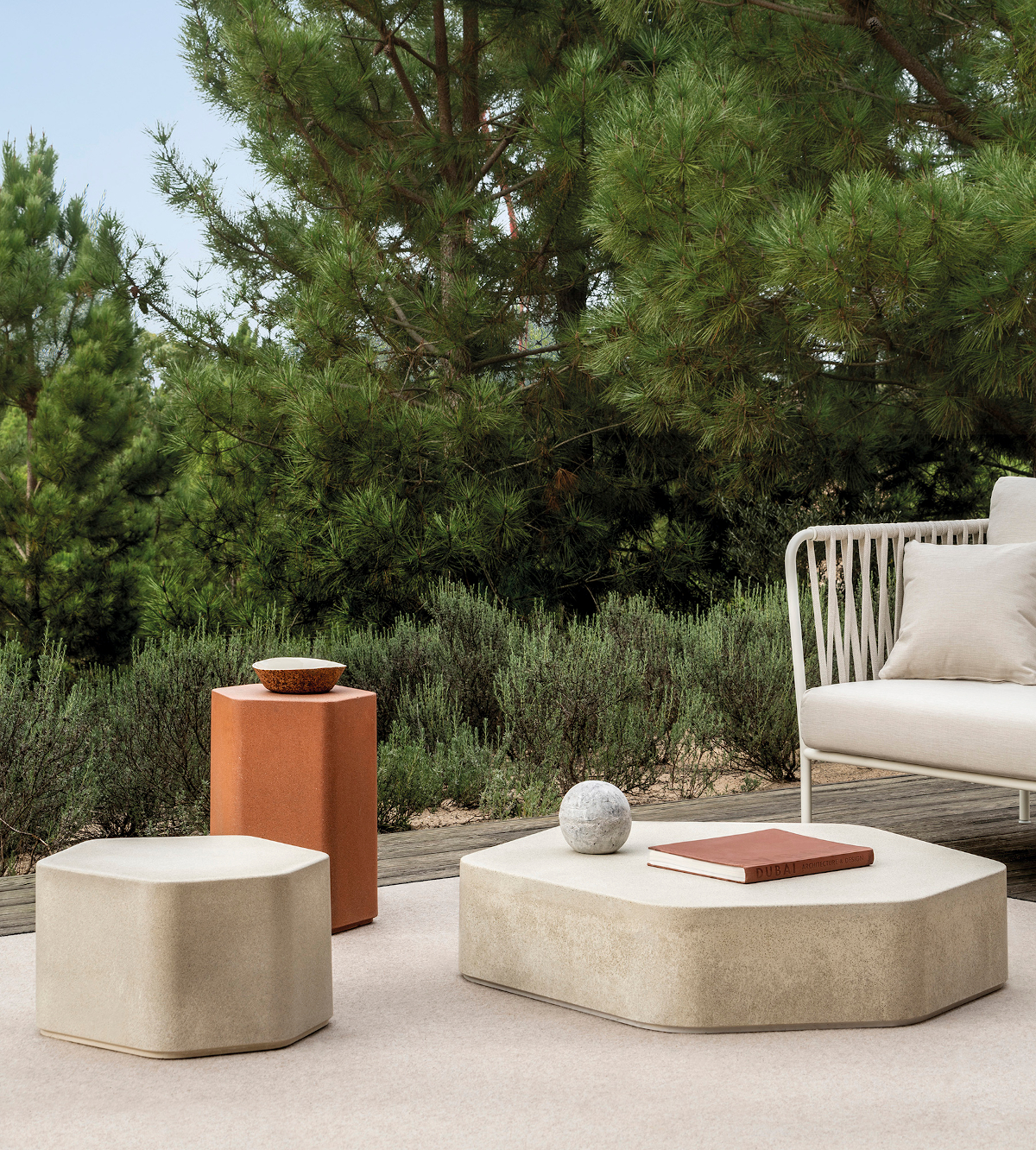 TALO dining table | Désile Altherr Park Studio | EXPORMIM
Three coffee tables in different heights and sizes plus several dining tables make up this new outdoor family with a common feature: their asymmetrical concrete base.
ORIGIN outdoor furniture collection. By Mario Ruiz | POINT
Hall 6 Stand A29
Furniture with low-impact frames, colours, and aesthetics is another hot trend that gives your outdoor space a modern and breezy feel. Staying true to the Mies van der Rohe's "less is more" credo, with ORIGIN, the new line of outdoor furniture created for POINT, Spanish designer Mario Ruiz demonstrates how a simple, discreet design can be effective and striking.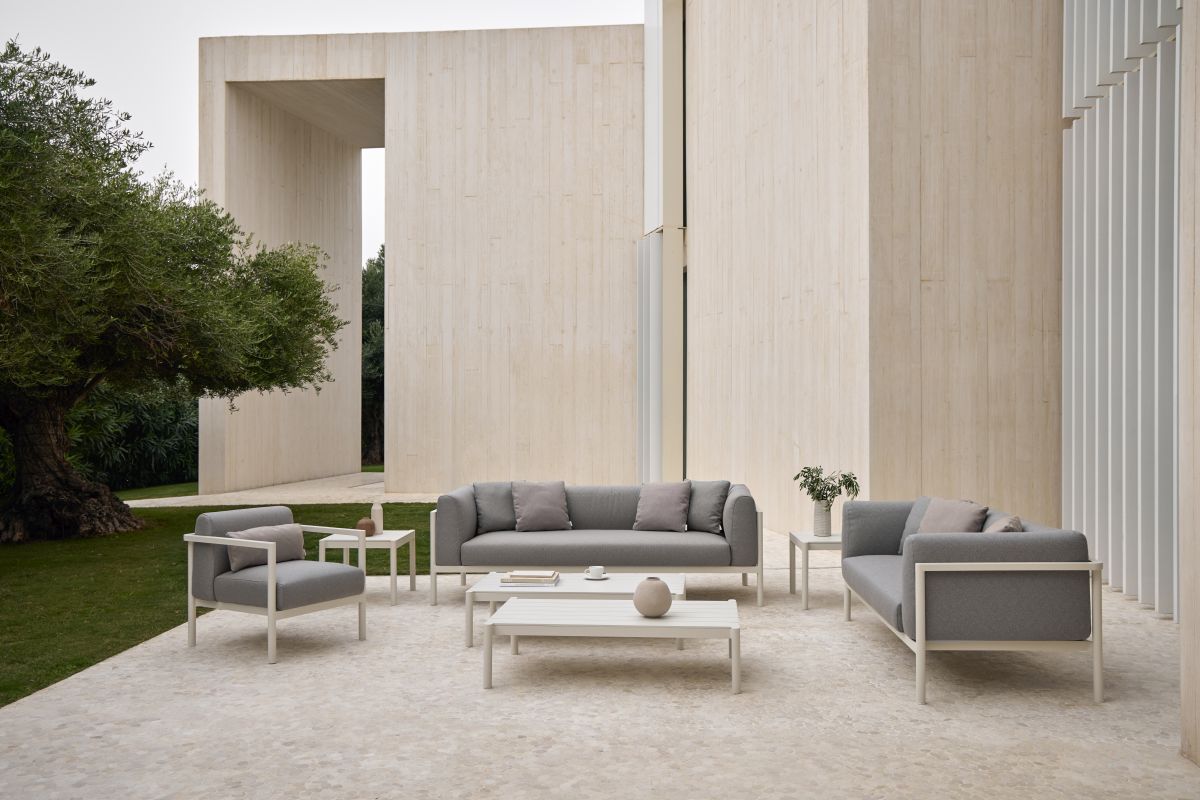 ORIGIN outdoor lounge furniture | Mario Ruiz | POINT
All the pieces in the collection, which includes tables, chairs, sofas, armchairs, and sun loungers, are stackable and can be easily used to configure different compositions in living, dining and relaxing areas. In addition to this, the dimensions have been carefully studied to make furniture fit any space, be it small or large.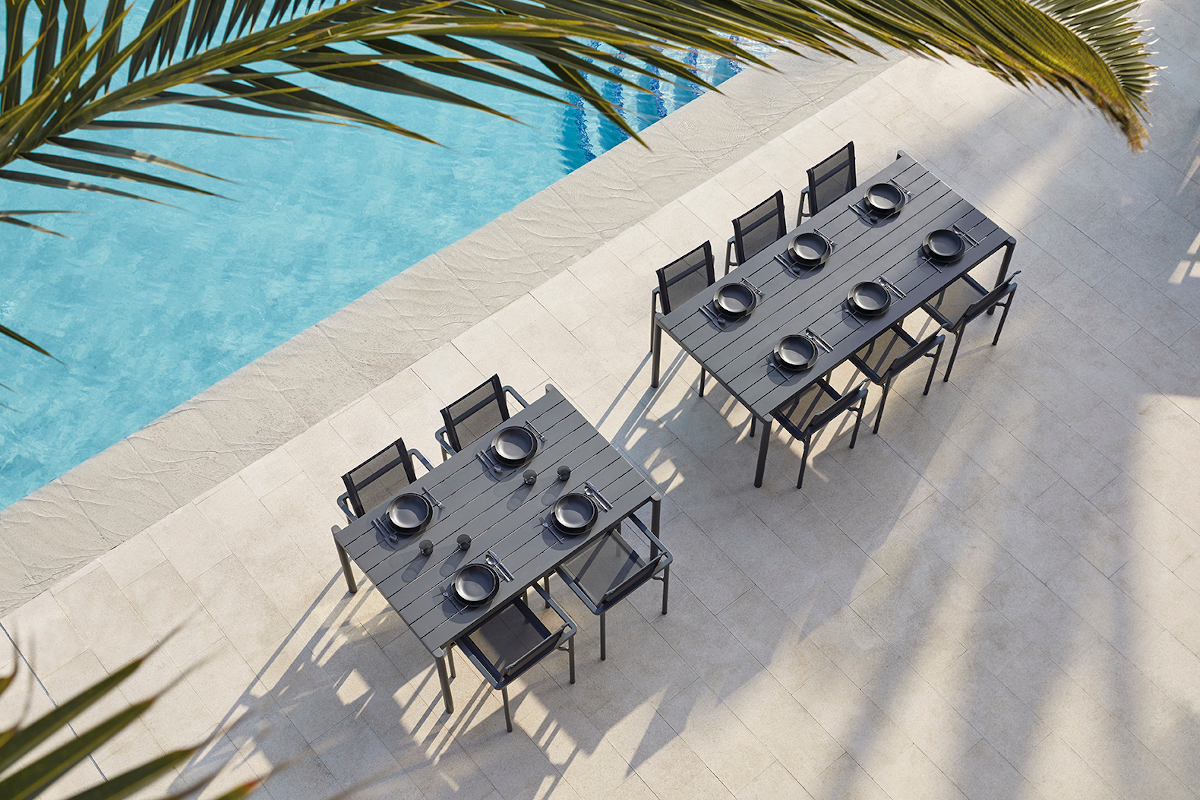 ORIGIN outdoor dining furniture | Mario Ruiz | POINT
The structure of ORIGIN is made from powder coated aluminium, a material chosen for its durability and because it is 100% recyclable at the end of its useful life, supporting POINT's commitment to sustainability. The surface of the seats and backs of the chairs and loungers is made from texteline and the cushions are upholstered in UV/sun resistance fabrics with wear properties.
PLIER chair. By Oiko Design Office | DIABLA
Hall 2 Stand D19/D21
Inspired by Magistretti's monoblock chair, the PLIER chair from DIABLA shares some virtues with the traditional monobloc plastic chairs, such as its stackable nature, its comfort level, and its orientation towards everyday use. But it has an essential difference: is made of aluminium, a lightweight, fully recyclable material that is highly resistant to the elements.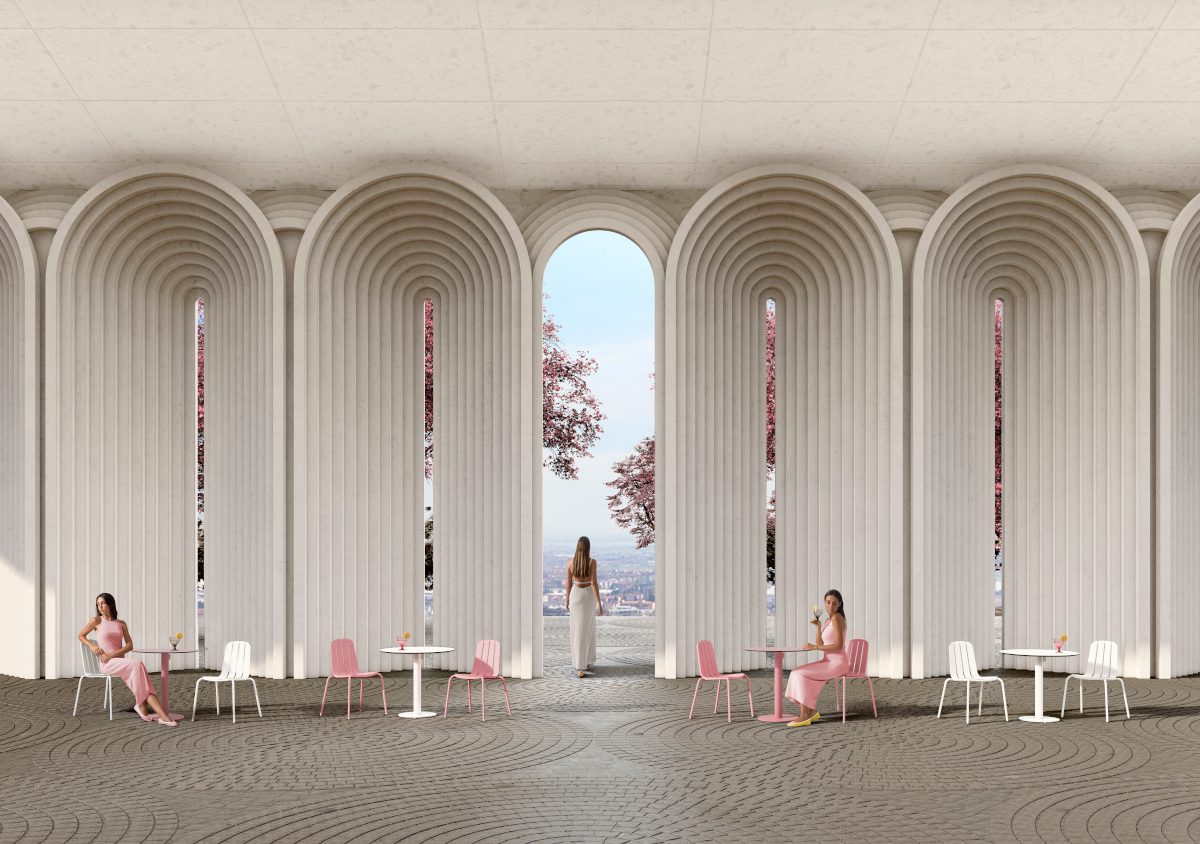 PLIER chair | Oiko Design Studio | DIABLA
PLIER is an origami project turned to metal. Jose F. López-Aguilar and Salva Codinach, co-founders of the Oiko Design Studio, have achieved through an ingenious construction process to fold a flat surface into an enveloping shape without requiring moulds and dies.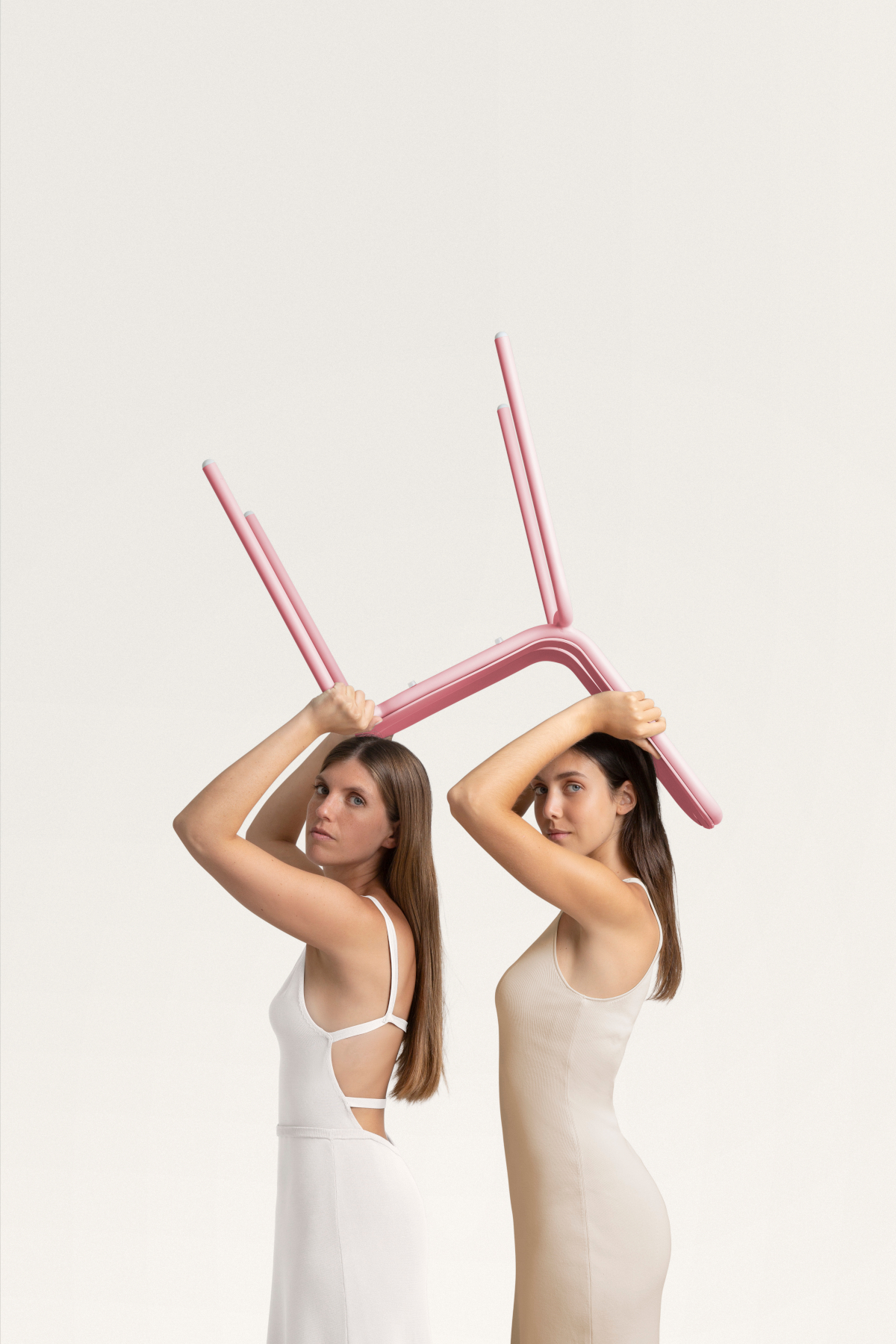 PLIER chair | Oiko Design Studio | DIABLA
Its sinuous contour and proportions blur the line between the outdoor and the indoor making of PLIER a perfect option in different environments, from a terrace next to the pool or in a living room with a modern atmosphere.
Stay tuned for more inspiring ideas for outdoor spaces!