The Spanish design triumphs at the prestigious IF Design Awards 2021
April 28 / 2021
What a resounding success for Spanish design brands at the last edition of the IF DESIGN Awards! The prestigious German prize, which since 1954 has recognized the excellence and the creative power of the world's best design, has awarded this year 43 companies and 34 Spanish design and architecture studios, three times as many as in the 2020 edition, with a total of 60 products on the list of triumphs.
This year's edition of the IF DESIGN Awards received more entries than ever – almost 10,000 entries submitted from 52 countries in a total of 9 disciplines – Product Design, Communication Design, Packaging Design, Architecture, Interior Architecture, Professional Concept, Service Design, User Experience (UX), User Interface (UI) -. Among them, 75 have been awarded a Gold Award.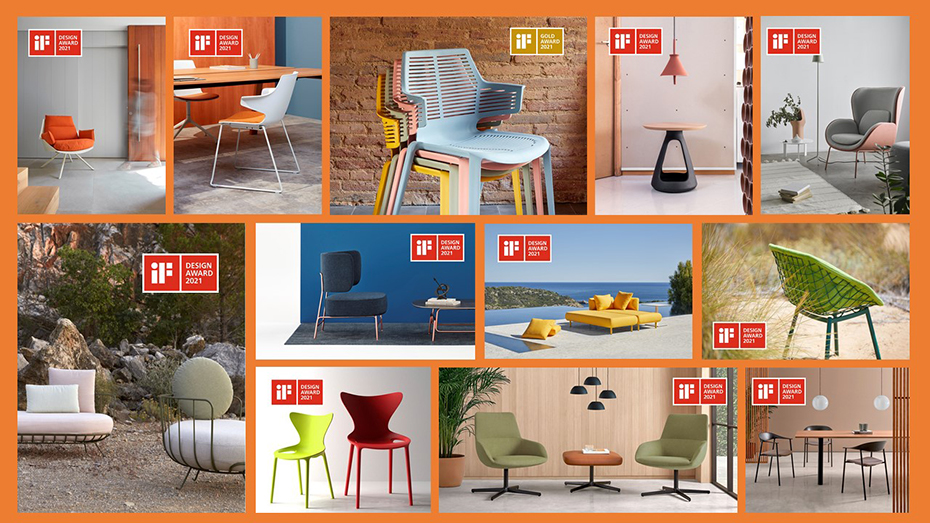 5 IF Gold Design Award 2021 for Spain
Spain has had a total of 81 awards, five of which were IF GOLD Awards. The Spanish winners in this section, which honours the 75 best designs among all the award-winning pieces, were the IKONA chair, created by Jorge Pensi for Resol; the LAMINA pendant lamp, designed by Antoni Arola for Santa&Cole; the AXIA milling system, designed by Nacar Studio for the Nicolás Correa Group; the LIVALL Evo21 mountain bike helmet, created by the Spanish studio Ruma Design for the Chinese company Qianhai LIVALL; and the communication company Magma for the NILO Ambulance Sanitary Cell.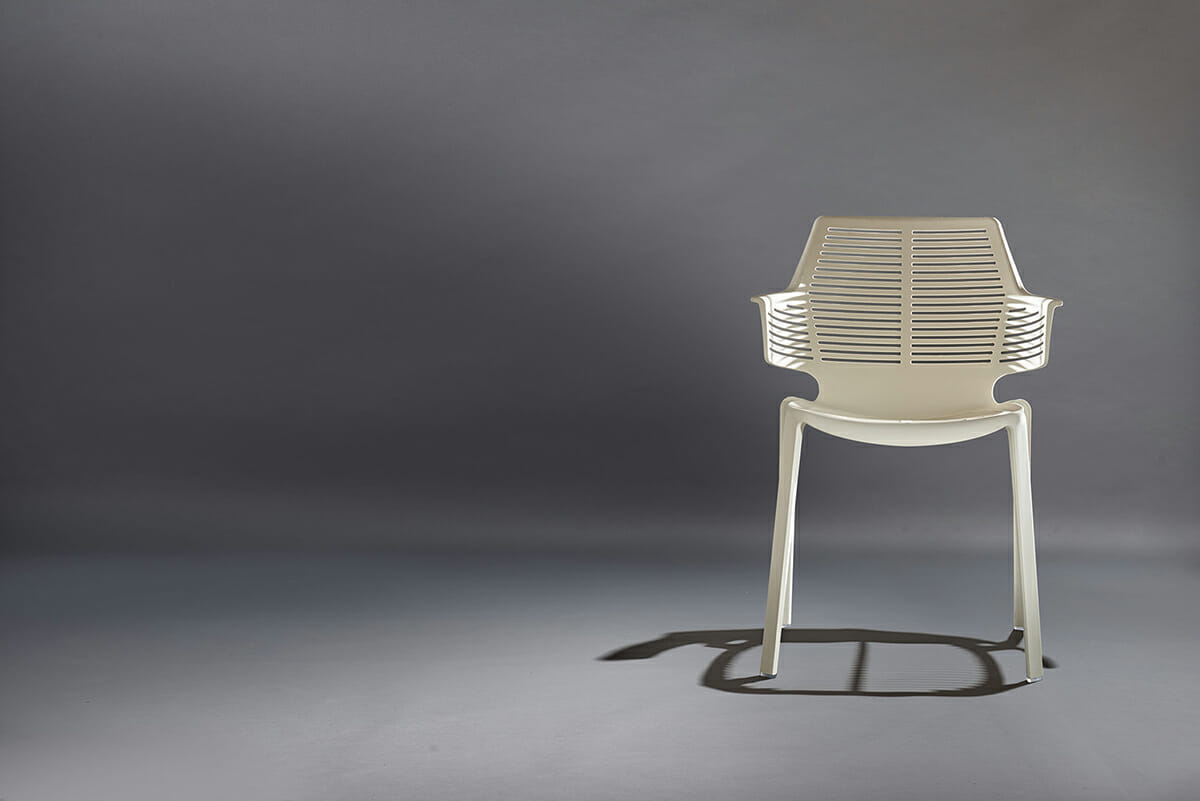 IKONA chair | Pensi Design Studio | RESOL
The IKONA monobloc chair from Spanish contract furniture specialist RESOL, a brand of FURNITURE FROM SPAIN, has been awarded an IF GOLD Award in the discipline product for its perfect proportions and the subtle yet strong and inviting character of the chair. The juror highlighted also the advantageous combination of features typical of a monobloc chair – affordable price and stackability – with a refined design usually only available in the premium segment.
IF DESIGN Awards, the international recognition for outstanding designs
Every year, the IF DESIGN AWARDS identifies the most outstanding designs, recognizing their excellence and their relevance for business and everyday life. Designers, manufacturers, architects and interior designers who want their products or projects evaluated by a panel of internationally recognized design experts have been turning to the IF DESIGN AWARD for decades. In doing this, they prove that their company or studio put the focus on design to attract international attention.
Spain – and the brands of Furniture from Spain – has been gaining relevance year after year increasing both in the number of participants and awards received. This year, in the Product Design category, Spanish companies won 16 prizes for furniture pieces, 8 for lighting products and another 8 for proposals for the bathroom sector.
Among the brands of Furniture from Spain that have received the IF DESIGN AWARDS 2021 in the category Products there are RESOL, with three, INCLASS and MUSOLA, with two each, and then VONDOM, TREBOL, ANNUD, MOBENIA and CALMA.
RESOL | ANGIE chair by Lluscá Design Barcelona | ANOU armchair by Pensi Design Studio

Evoking comfort at first sight, ANGIE is a highly versatile, stackable chair that can be customized in different colours offering also the option of mixing and matching different legs and shells to adapt to different environments. Available with an optional upholstered seat, it has an organic silhouette that embraces the person seated.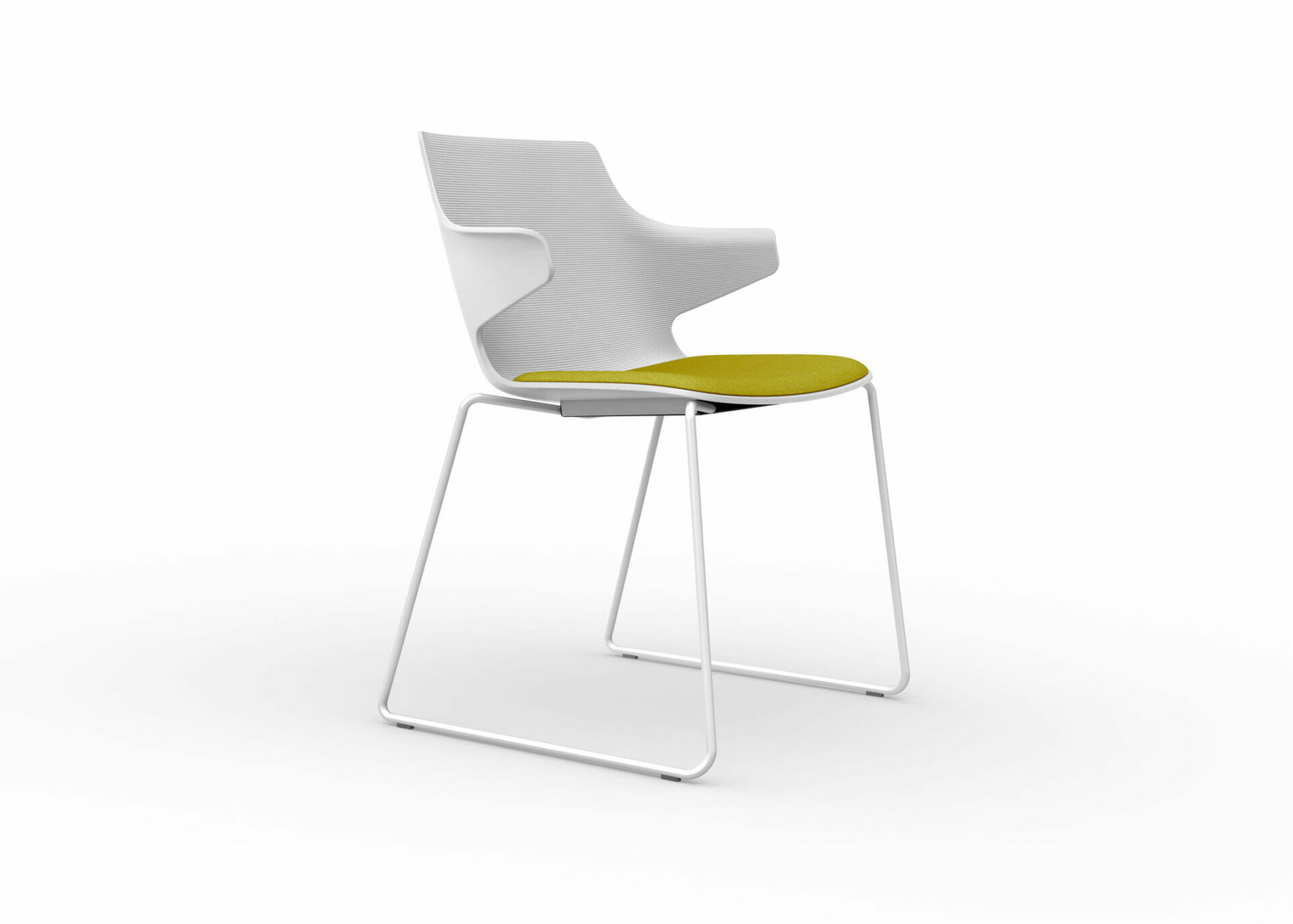 ANGIE chair | Lluscá Design Barcelona | RESOL
Suitable for indoor and outdoor use, the ANOU armchair strikes the perfect balance between strength and softness. Available in a wide variety of colours and types of legs, including a rocking version, it makes a perfect option for different spaces at home, in hotels and in other contract spaces.
ANOU armchair | Pensi Design Studio | RESOL
VONDOM | LOVE chair by Eugeni Quitllet

Made from polypropylene and reinforced with fibreglass manufactured by gas injection, th LOVE chair is available in various colours and is suitable for indoor and outdoor use. The injection manufacturing technique allows each piece to have its own personality, through simple, curved lines that give shape to an organic, abosoltely lovelysilhouettes, just as the name suggests.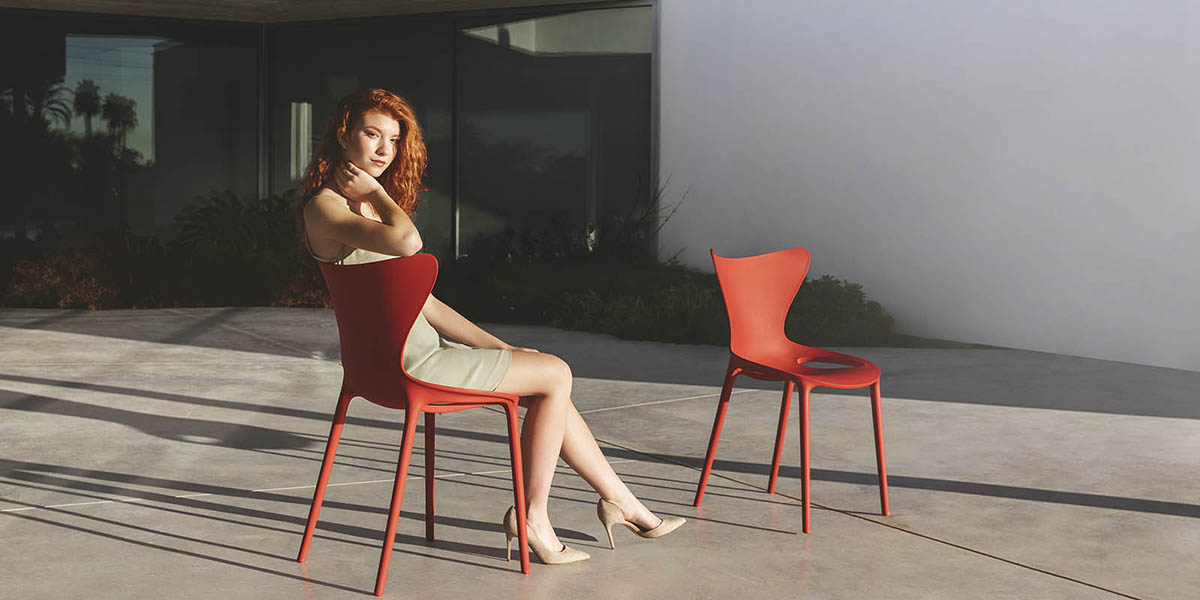 LOVE chair | Eugeni Quitllet | VONDOM
The version included in the "Vondom Revolution" catalogue is made from 100% recycled plastic from the Mediterranean Sea.
INCLASS | ARUM chair by Archirivolto Design | DUNAS LOUNGE chair by Christophe Pillet

Elegant curves and flowing lines design the silhouette of the ARUM chair that has been created to provide residential and public spaces with comfort and style. To maximize customization, both the polypropylene seat shell and the metal structure are available in different, warm tones that make ARUM easily adaptable to different settings without altering its unique timeless, sensual appeal. The armchair is available with fixed or removable upholstered seats.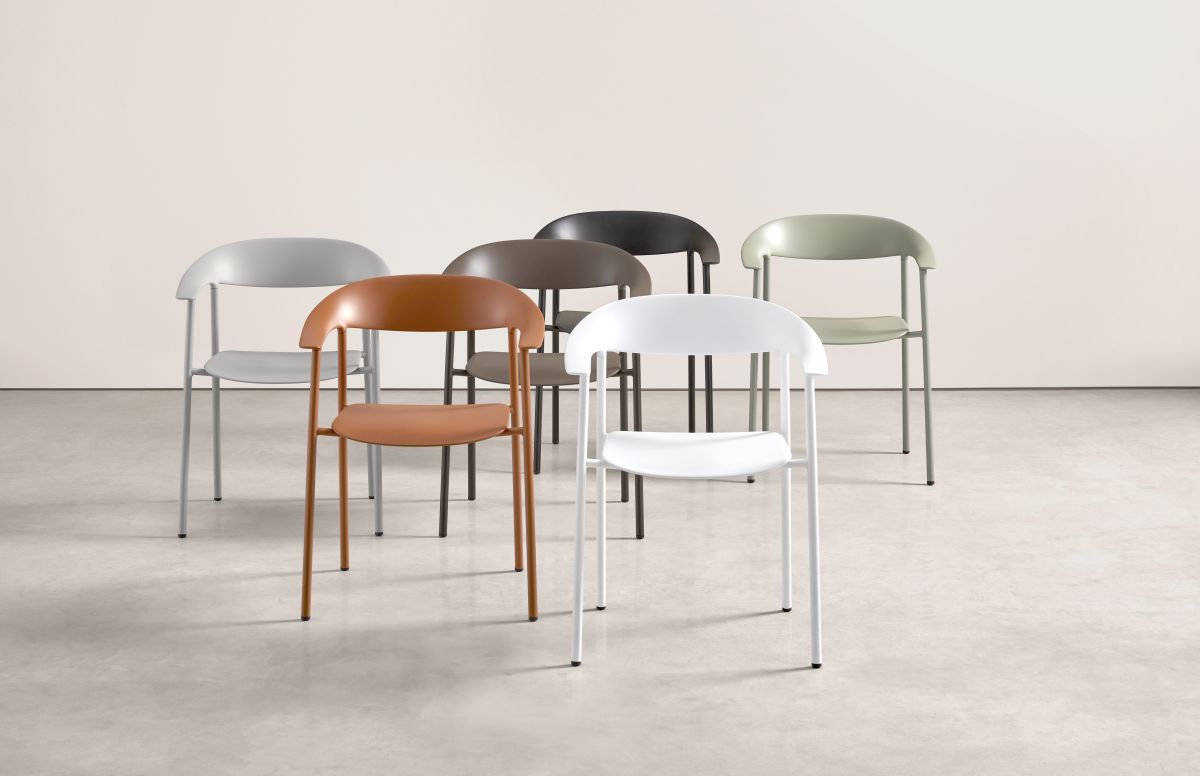 ARUM chairs | Archirivolto Design | INCLASS
Suitable to be used in hotels, offices, and private or public spaces, DUNAS LOUNGE is available with a high or low backrest and a matching ottoman. Its timeless design and technical features ensure longer durability and resistance. It stands also out for its impeccable finishes and invisible joints.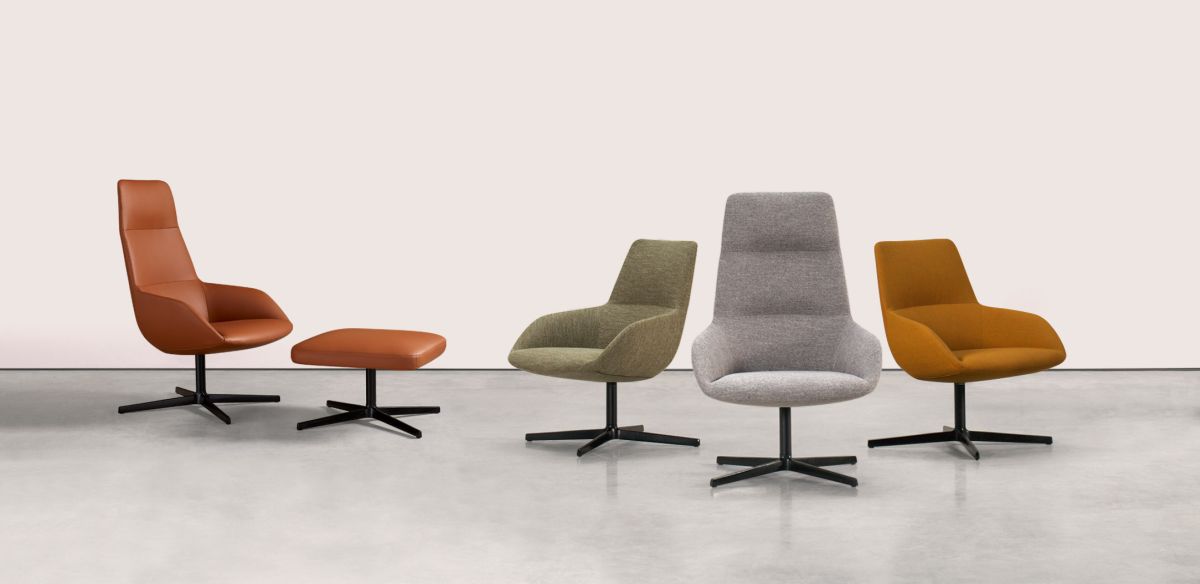 DUNAS LOUNGE chair | Christophe Pillet | INCLASS
MUSOLA | SALINAS outdoor modular sofaby Santiago Sevillano | CANASTA chair by Yonoh Design

Inspired by the Mediterranean landscape, the SALINAS modular sofa has been designed to provide patios, decking, pool areas and terraces with special comfort and style, taking the outdoor experience to the next level. Its main feature is the flexible system of modules which are available in three sizes and can be configured in different ways, with or without backrests.
SALINAS outdoor modular sofa | Santiago Sevillano | MUSOLA
CANASTA is an outdoor chair that combines functionality, aesthetics, and durability in a single product. It was designed to be extremely easy to use in any space, indoor and outdoor, with an optional seat cushion or with a fully upholstered seat shell for a plus in comfort. It stands out for the innovation and complexity of its form and development.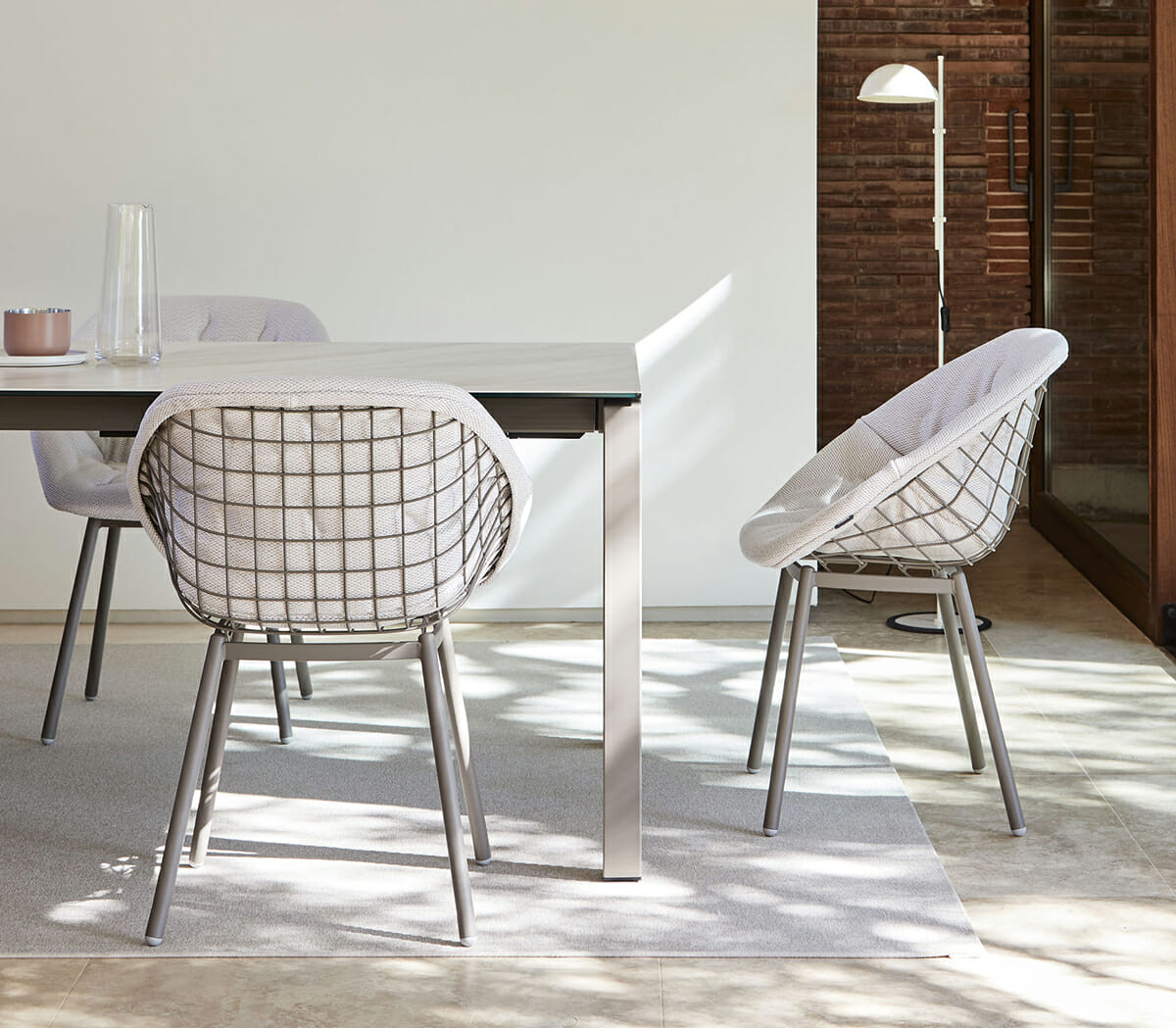 CANASTA chair | Yonoh Creative Studio | MUSOLA
The chair is made entirely of stainless steel with a reticular seat shell and pyramid-shaped legs. The shell creates a perfect grid when viewed from 45 degrees angle.
ANNUD | KAPOOR lounge chair by Santiago Sevillano

Elegant and highly versatile, the KAPOOR lounge chair has been designed to add beauty and comfort to contemporary living rooms and lounge spaces. Its curved lacquered or chromed tubular steel structure gently supports the upholstered backrest and the seat – that stands out for its generous proportions.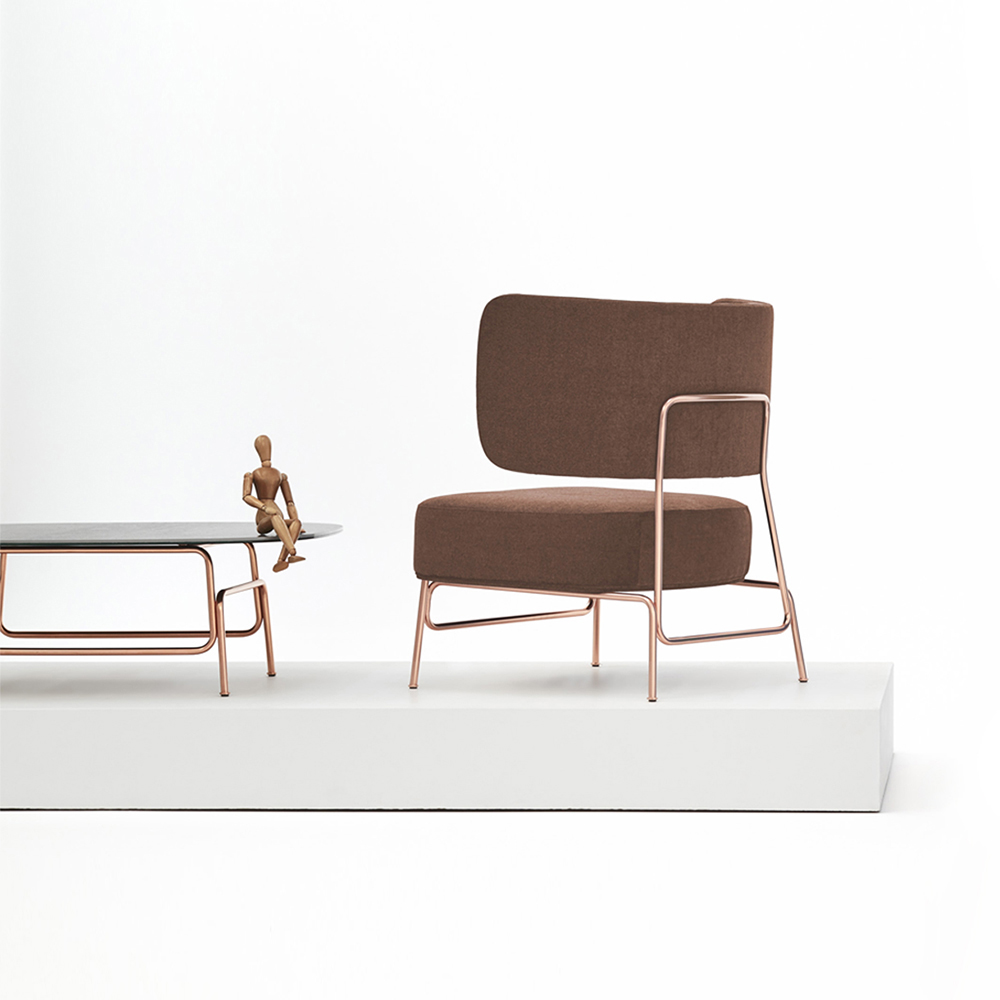 KAPOOR lounge chair | Santiago Sevillano | ANNUD
KAPOOR allows to play with contrasts to provide spaces with further interest and a cool vibe: the tubular structure can be finished in a colour that contrasts with the upholstery and even the edging can come in a different fabric from that of the upholstery.
MOBENIA | KNOSSOS occasional table by Isaac Piñeiro

An amazing combination of natural materials, such as stoneware and wood, defines the simple yet sculptural design of the attractive, polyvalent KNOSSOS occasional table that is equally suitable for living rooms, lounge spaces and bedrooms.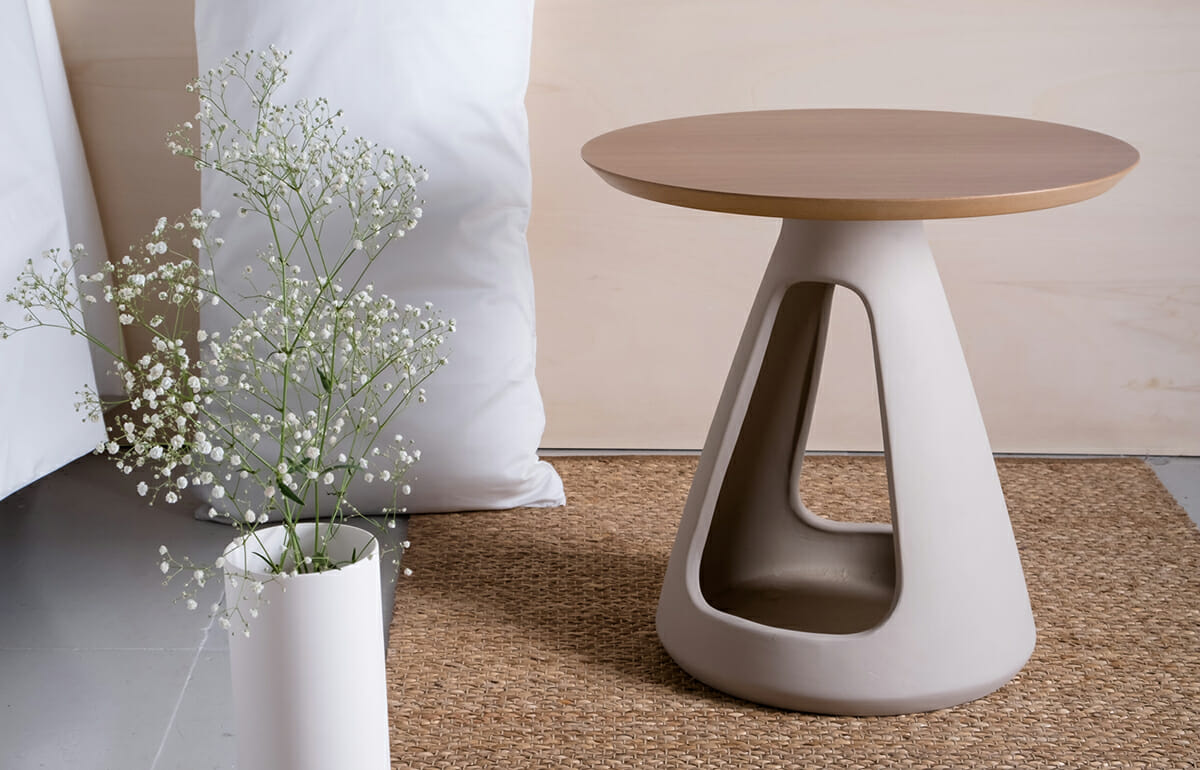 KNOSSOS occasional table | Isaac Piñeiro | MOBENIA
The base is available in two different stoneware finishes while the tabletop comes finished in twenty lacquer colours and five natural wood veneers.
CALMA | LOU outdoor seating collection by Inma Bermúdez Studio

LOU is an outdoor furniture collection composed of three pieces: a pouffe, a lounge chair, and a sofa. The seat cushion is made from various layers of viscoelastic, making it remarkably comfortable. When removed during the winter months, LOU still retains a sculptural appearance due to its delicately light powder-coated painted steel frame.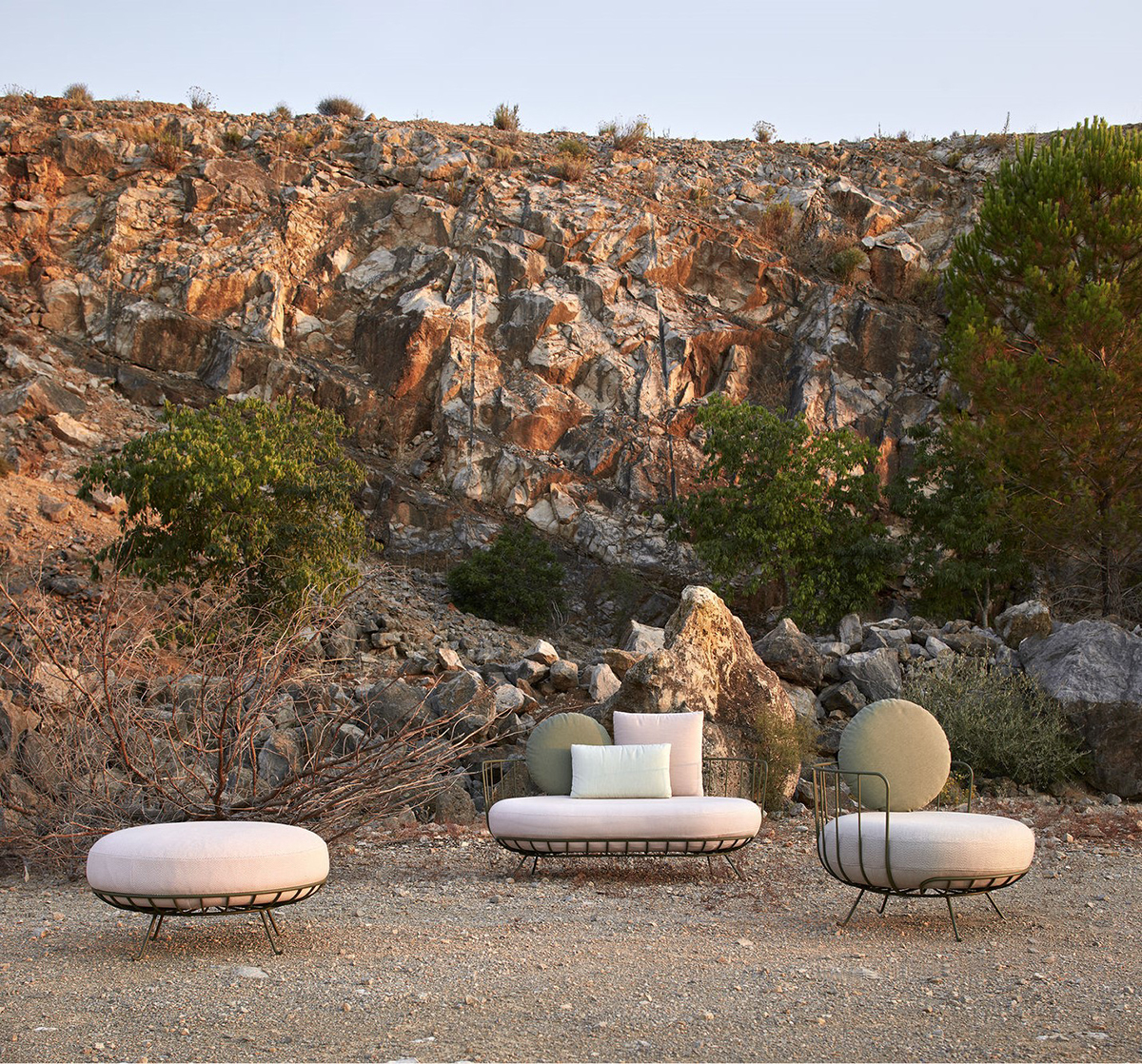 LOU outdoor lounge furniture | Inma Bermúdez Studio
TREBOL | NORMAN & HALA armchairs by Arnau Reyna Studio

Inspired by classic design icons of the 50s, the NORMAN and HALA armchairs feature rounded and dynamic forms that recall the petals of blooming flowers.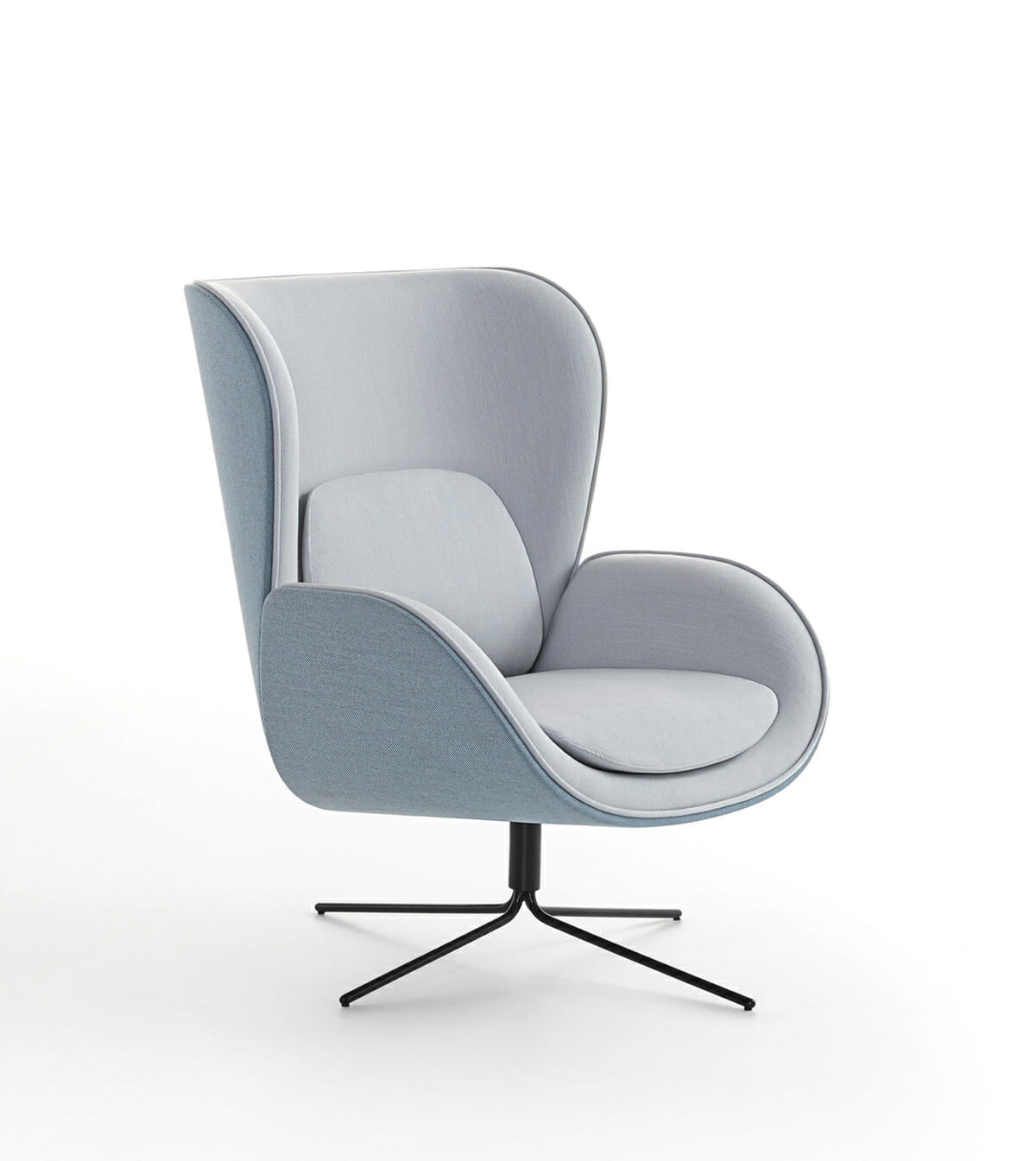 NORMAN armchair | Arnau Reyna Studio | TREBOL
The solid yet elegant shell is counterbalanced by a soft interior that invites to a pleasant sitting experience. The intention was to achieve a timeless and elegant piece focused on a high-profile audience.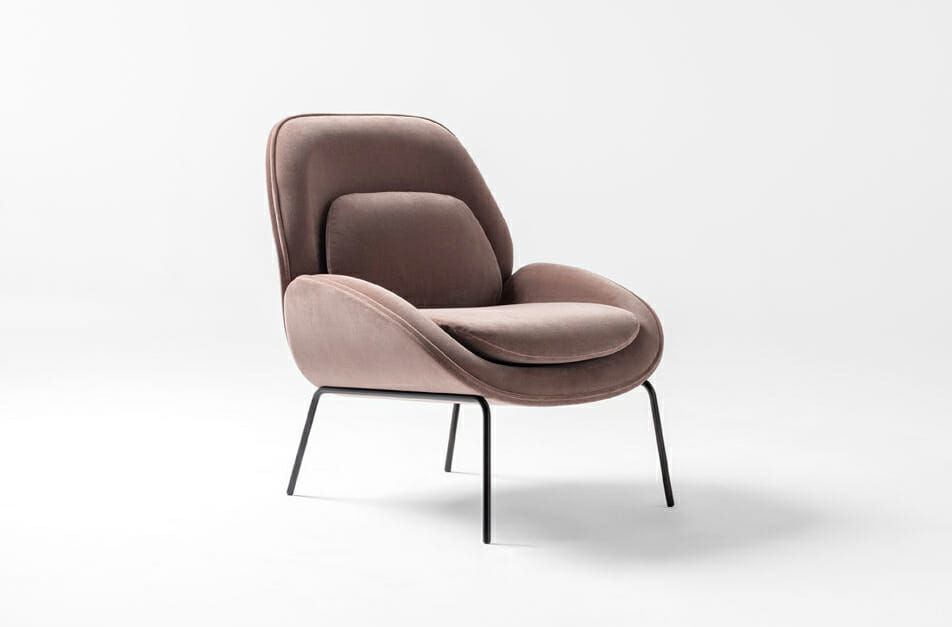 HALA armchair | Arnau Reyna Studio | TREBOL
The iF DESIGN AWARD has been a globally recognized trademark for excellence in design since 1954. All the award-winning entries are presented in the iF WORLD DESIGN GUIDE and published in the new iF design app.
Stay tuned with us for more information about Spain's furniture companies, new launches and awards…
Read also: