Virtual Salone Milano 2020: MOBBOLI, contract furniture with a strong appeal
February 18 / 2020
Launched in 2018 by Spanish contract furniture specialist delaoliva, MOBBOLI is a new, flexible furniture brand committed to a high-quality contemporary design approach that is contextual, practical, sustainable and inspirational.
Staying to true to delaoliva's work philosophy, shaped over 60 years and based on valuable know-how, extensive business experience and industrial strength, MOBBOLI combines masterfully the inherited values with a new identity and creative vitality that understand and respond to the new codes of modern society. New models launched on the market, including chairs and armchairs, stools, poufs, tables, sofas and seating systems, reflect this balance in the unique identity of pieces that catch the eye for their contemporary, attractive designs. Functionality and versatility provide furniture with the quality required for business, residential and contract use.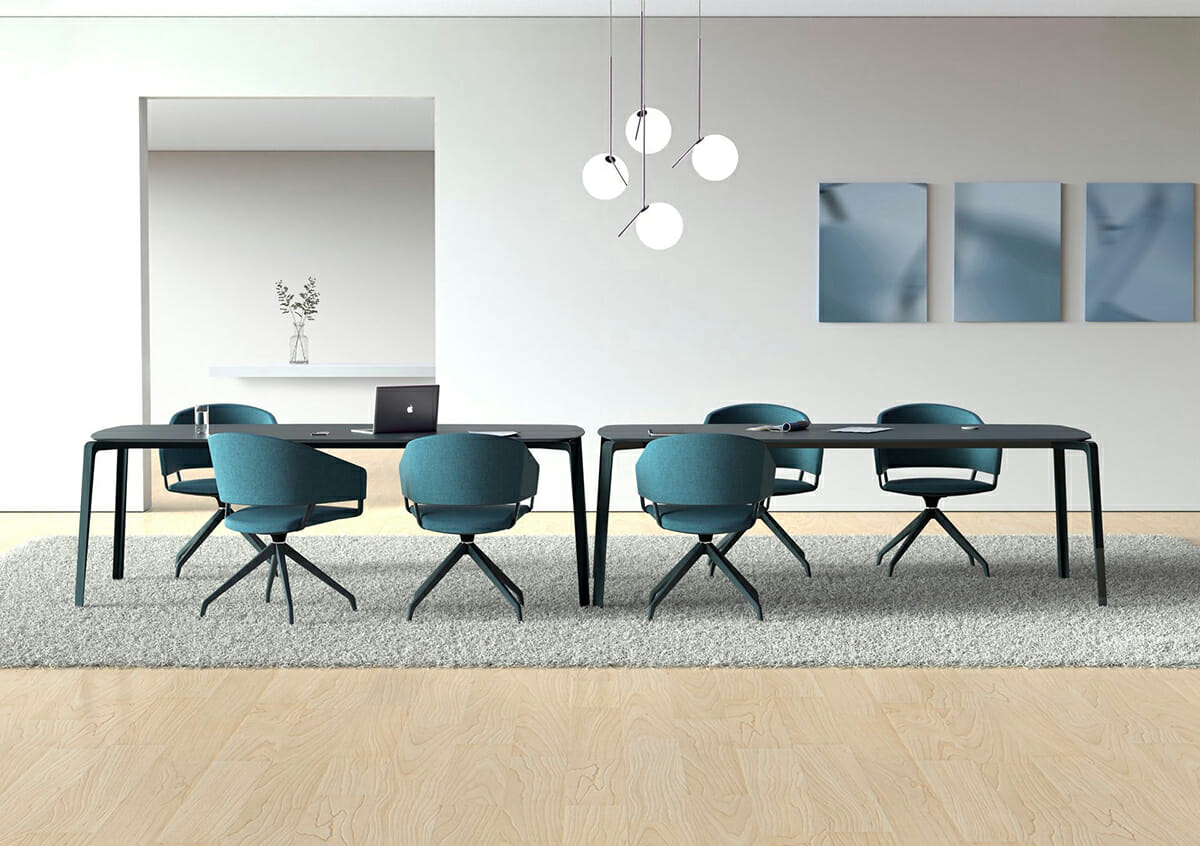 ODEI armchairs by Aitor García Vicuña | CUA tables by Ximo Roca | MOBBOLI

To create its collections, the new firm has sought out new collaborations with renowned national designers, such as Ximo Roca, Lievore Altherr Molina, Yonoh and Héctor Diego. Most of their works represent the highlights of the firm's latest catalogue together with new, very functional collections created by the in-house design team.
CAP chair & stool. Design by Ximo Roca
Inspired by the kitchen chairs of the '50 and '60, the CAP chairs and stools feature a simple design made of soft, gentle lines that is highly customizable to fit any space. CAP is offered with a stackable metal structures, with or without arms, that can be painted in any colour of the MOBBOLI's colour chart.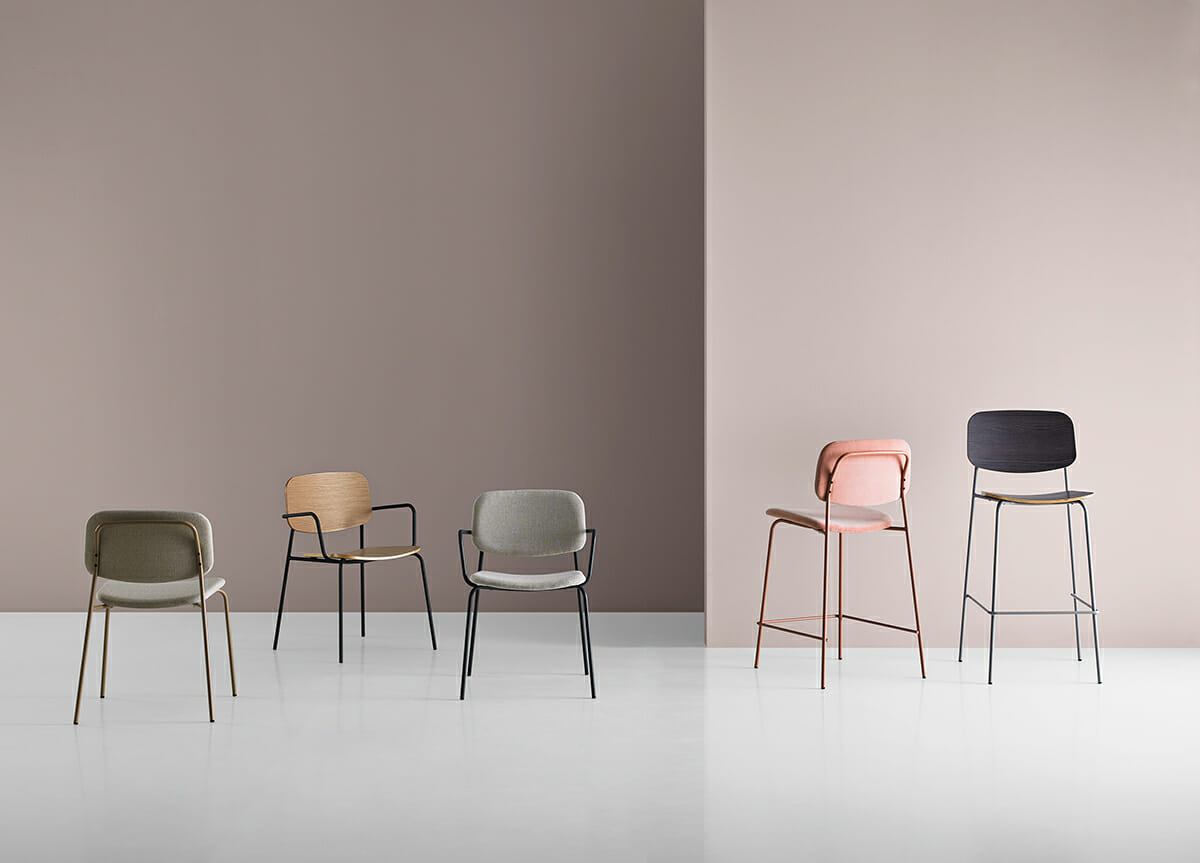 CAP chair & stools by Ximo Roca | MOBBOLI
The seat and the backrest are available upholstered to create inviting, warm spaces, or in laminated wood (light oak, dark oak, white or anti-fingerprints grey) for easy cleaning in contract spaces.
ODEI armchair. Design Aitor García de Vicuña
ODEI is a collection of chairs with multiple possibilities, fixed or swivel, ideal for meeting, in workspaces or dining area at home. The highlight of this piece is the attractive, elevated backrest that is elegantly supported by a thin painted metal structure and complemented by the curved, ergonomic seat. The backrest is available in two versions: with a higher separation for both the fixed and swivel chair, and a lower one, only for the fixed chair.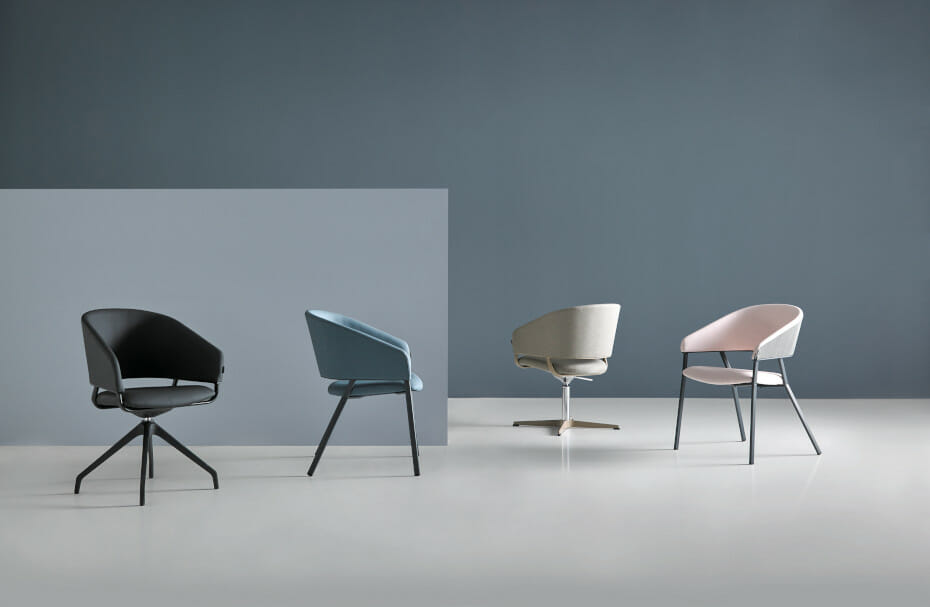 ODEI chairs by Aitor García de Vicuña | MOBBOLI
The swivel model allows different swivel bases: from the four polypropylene legs painted in black, white or grey to the five-spoke polished aluminium base, with or without castors and adjustable in height, or the aluminium four-blades base with gaslift mechanism.
CUA table. Design by Ximo Roca
CUA is a collection of multifunctional and side tables that comes in different shapes, dimensions and finishes to easily adapt to different environments, at home, at work, in hotels or restaurants. The curved laser cut metallic legs, which are available in five different heights, add originality and distinction to the clean, simple design of the tables.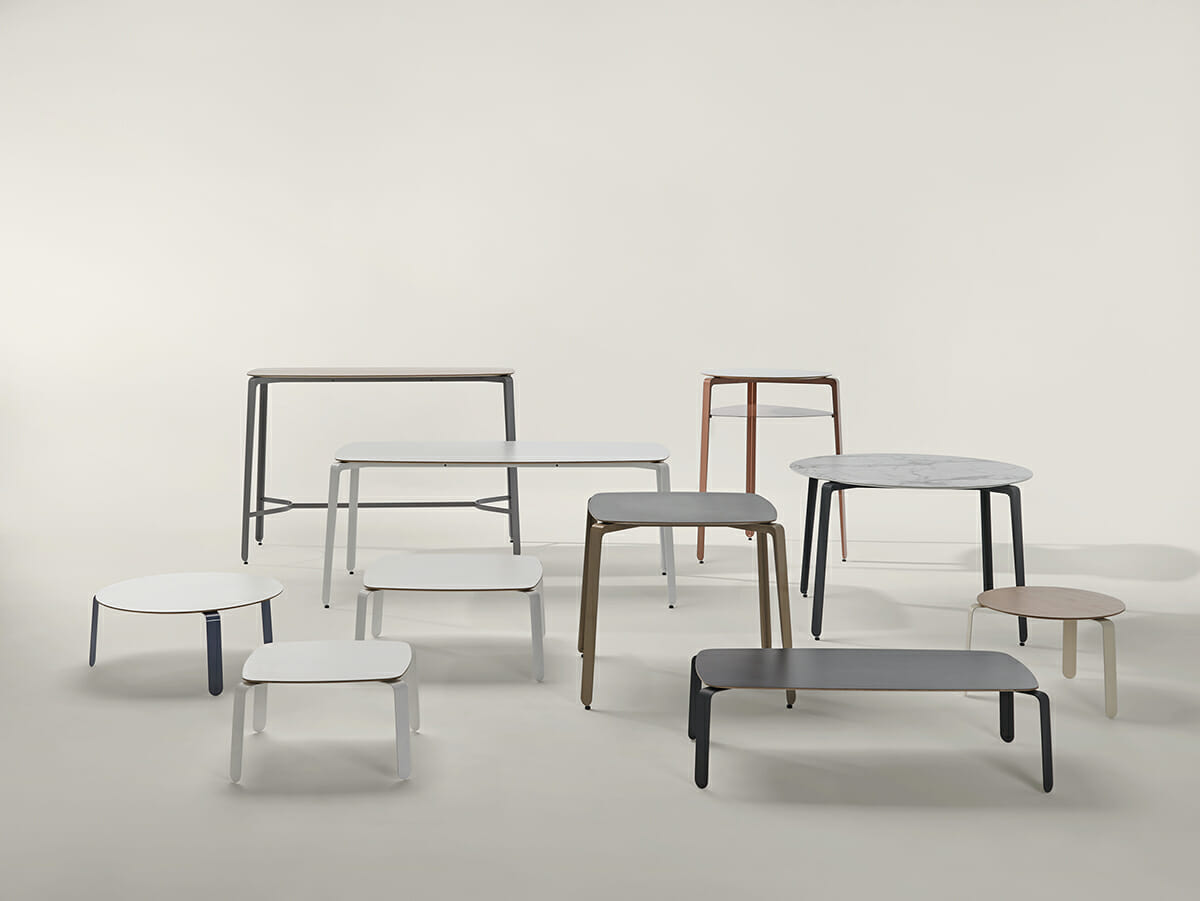 CUA tables by Ximo Roca | MOBBOLI
With curved, bevelled edges, the table tops are made of 16 mm thick plywood topped by a surface of high-resistant stratified laminate finished in light oak, dark oak, calacatta, white or anthracite. Perfect in combination with the CAP and ODEI chairs.

For more information: www.mobboli.com