Workspace Design Show 2023. MOBBOLI, empathetic and soft designs for welcoming working environments
February 8 / 2023
With post-pandemic returns to the office and the trend for hybrid working models, the office and its purpose has changed and the line between work and home is more blended than ever before. The office is no longer a place of business as usual and for routine tasks, its purpose is instead to provide an environment that serves as a hub for collaborations, team building, socialization, and personal development.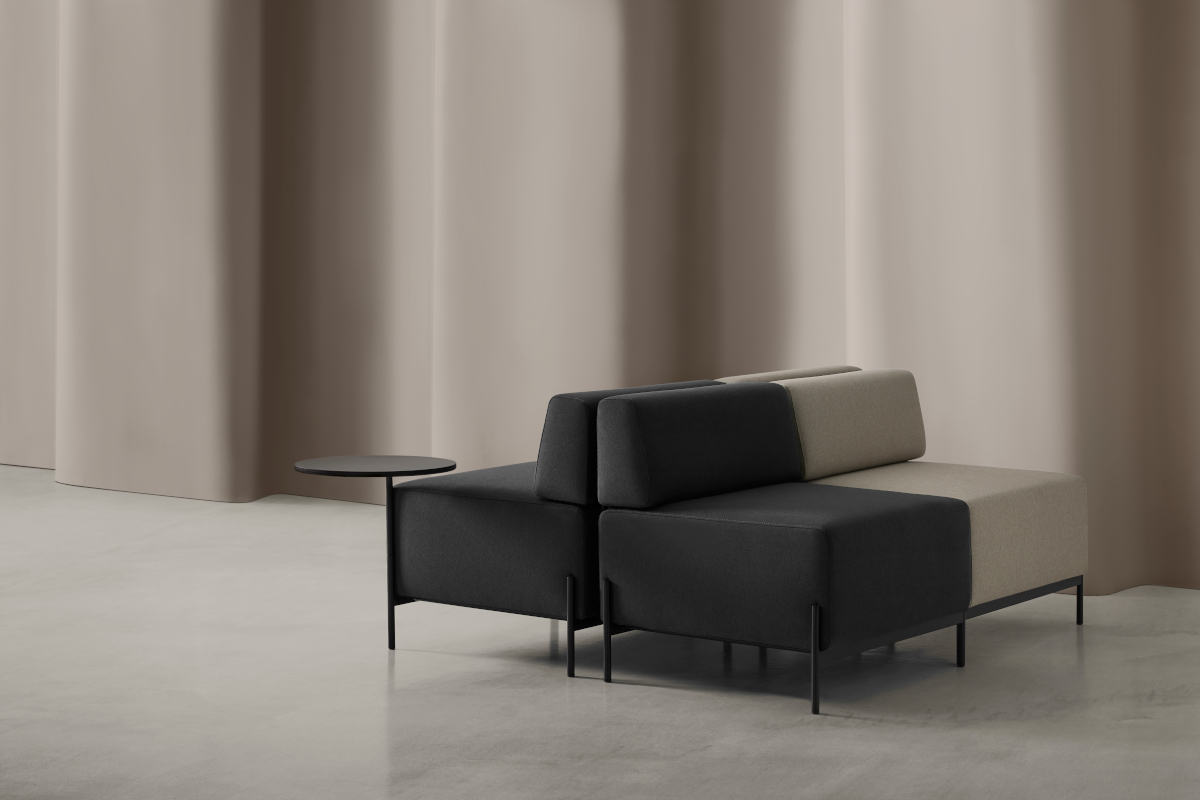 CONEK modular seating system | Gabriel Teixidó | MOBBOLI
In this context, all the collections of contract furniture specialist MOBBOLI cross borders meeting new working models: on one hand, they respond to hybrid office designs that seamlessly integrates face-to-face collaboration in the office with remote working; on the other, they offer solutions for agile, dynamic workspaces that promote interactions for large groups and small teams alike. Good designs and quality are the result of fruitful collaborations with renowned Spanish designers such as Arnau Reyna, Ximo Roca, Héctor Diego, A.G. de Vicuña, Francesc Rifé, Venture, or Yonoh, who will soon be joined by other international creatives.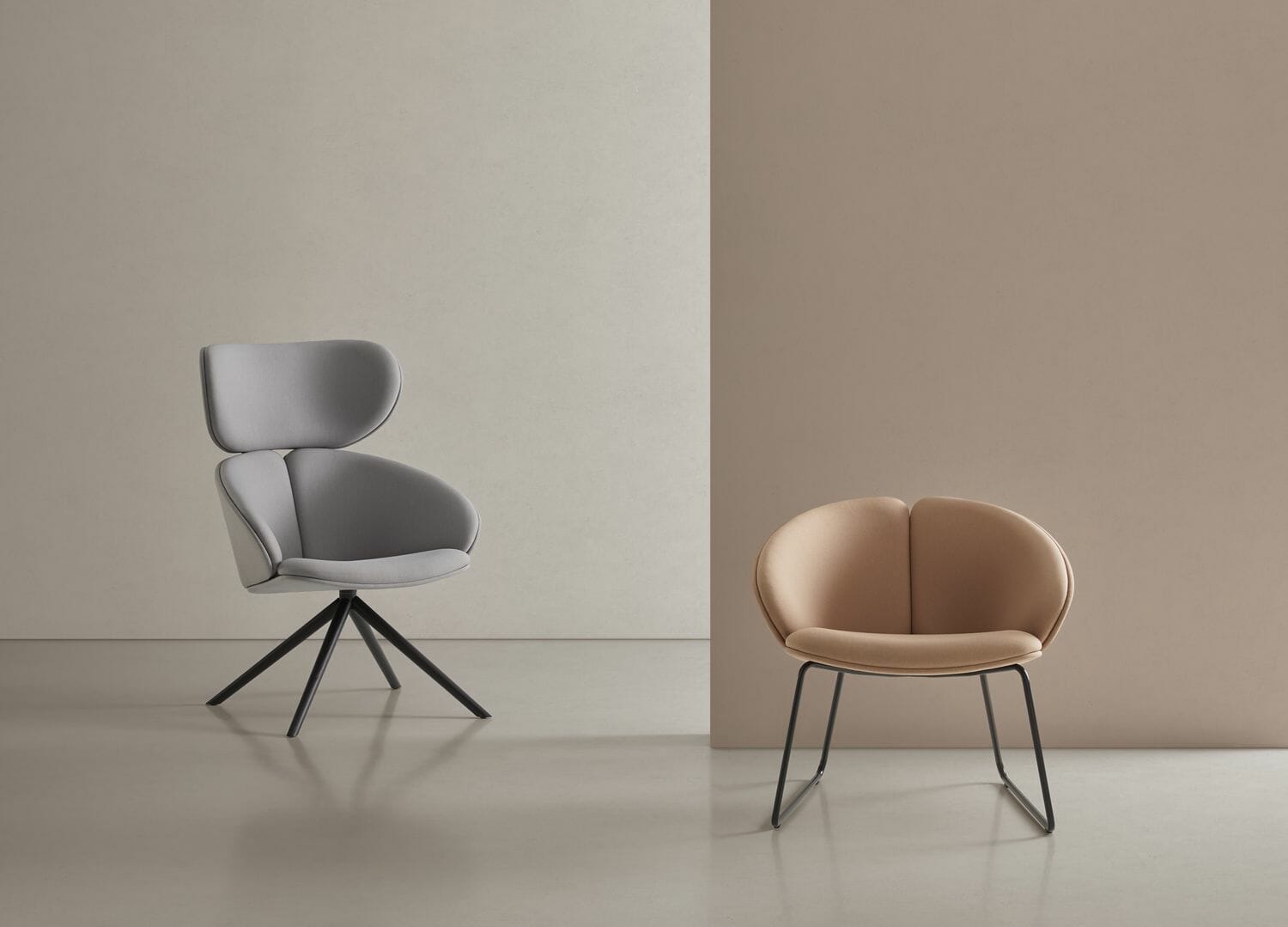 PEACH armchairs | Arnau Reyna | MOBBOLI
The brand launched in 2018 by delaoliva, a Spanish manufacturer of office furniture and seating, will present in London a choice of its new collections such as CAP, ODEI, CONEK and PEACH, together with other proposals from its extensive catalogue. Featuring a contemporary aesthetic and a strong personality, the pieces on display are sustainable, ethically sourced and have the quality and versatility necessary to respond to new visions of work.
CAP seating collection. By Ximo Roca Studio
Inspired by the kitchen chairs of the '50 and '60, the successful CAP series features a simple design made of soft, gentle lines that easily adapts to different spaces and functionalities. It includes chairs, stools and a new addition, the ultra-comfortable lounge chair.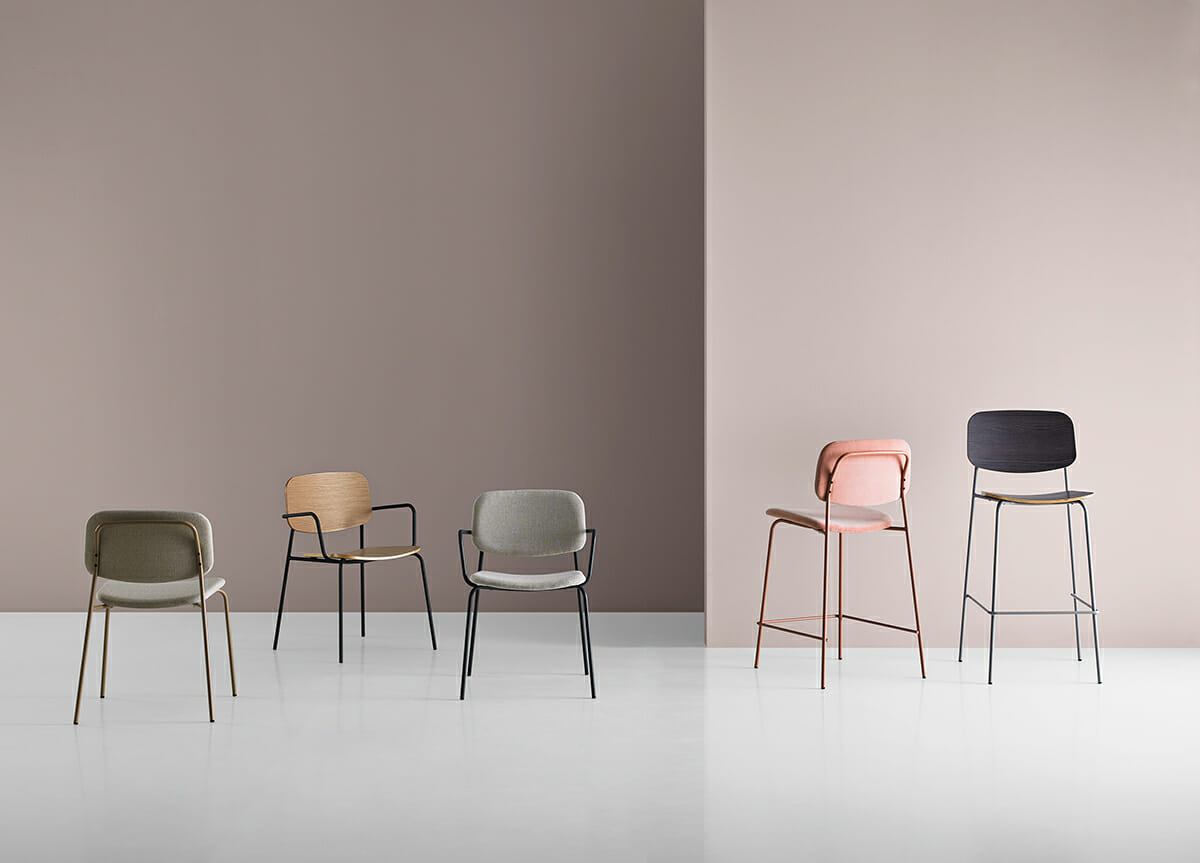 CAP chairs & stools | Ximo Roca Studio | MOBBOLI
All the models are offered with a stackable metal structure, with or without arms, that can be painted in any colour of the MOBBOLI's colour chart. The seat and the backrest are available upholstered to create inviting, warm spaces, or in laminated wood (light oak, dark oak, white or anti-fingerprints grey) for easy cleaning in contract spaces.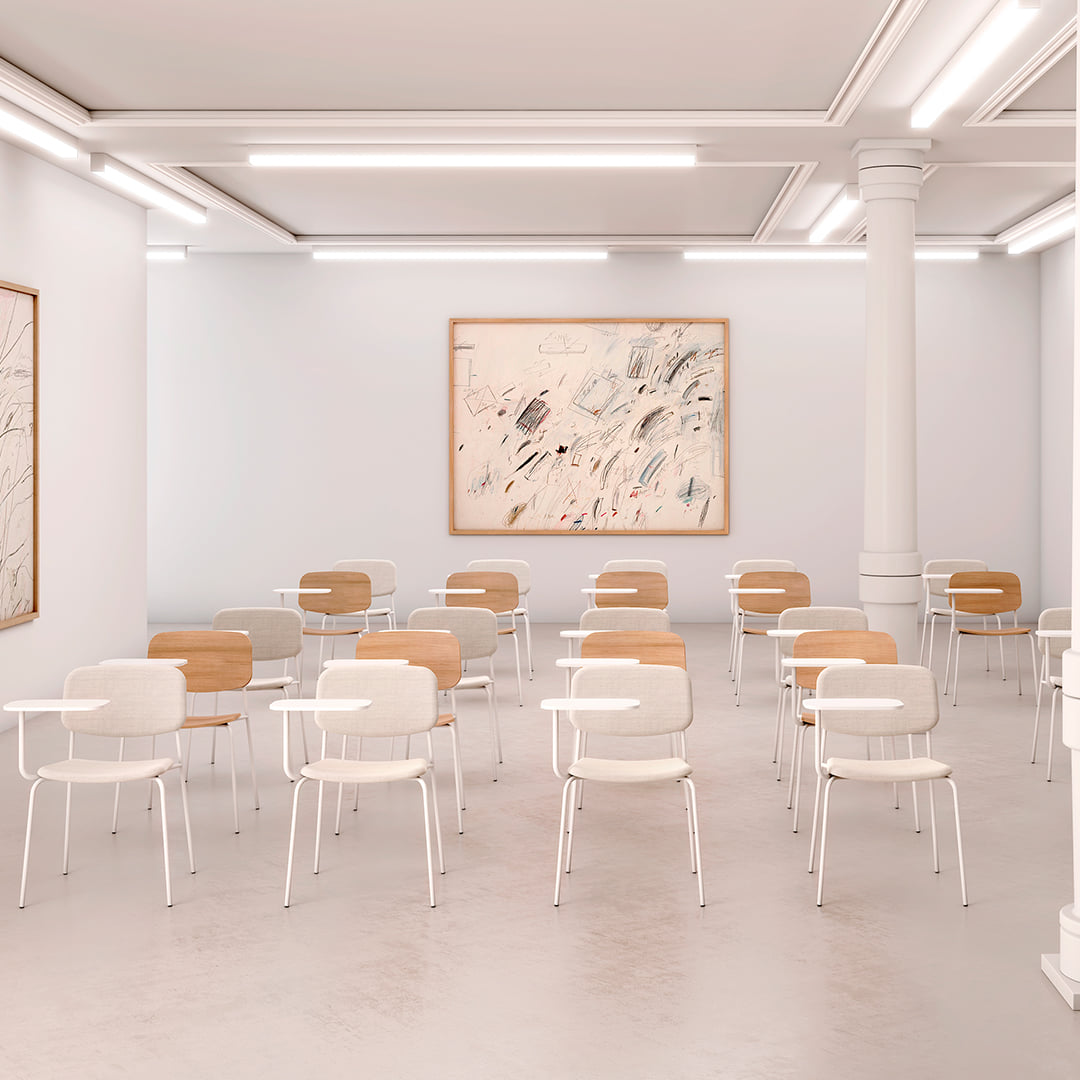 CAP chairs with writing tablet | Ximo Roca Studio | MOBBOLI
Recognized with the prestigious Good Design Award 2021, the CAP chair is also available in a small size to fit environments of reduced dimensions. The version with writing tablet is ideal for classrooms, offices, conferences, multi-purpose spaces and much more.
The CAP stools use the same seat and backrest as the chairs in the collection, upholstered or in laminated plywood, or combining both options. The version without arms is available in heights, 65 and 75 cm, for use in bar and high counter or for use in table or counter, respectively.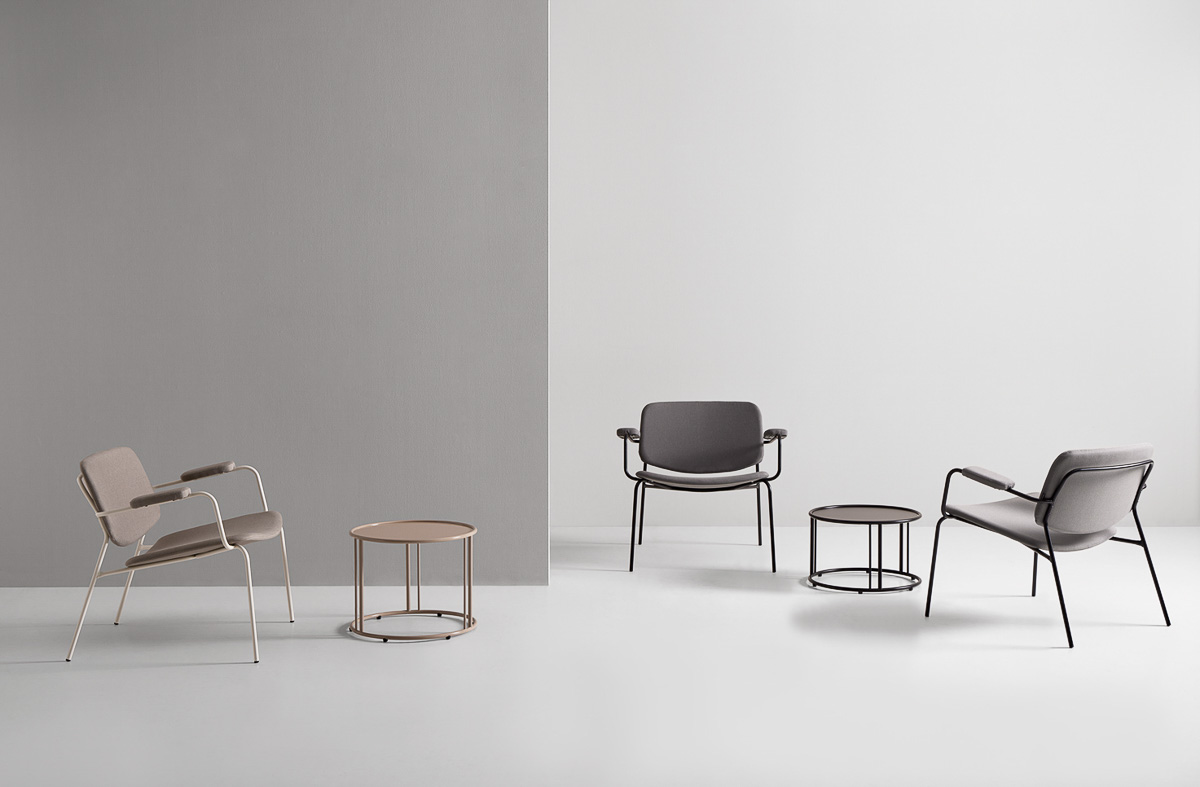 CAP lounge chairs | Ximo Roca Studio | MOBBOLI
The latest addition to the CAP collection, the lounge chair, is comfortable, generously sized and available in the same finishes as the rest of the collection.
CONEK modular seating system. By Gabriel Teixidó
Add dynamism and versatility to your workspace with the smart CONEK modular seating system. The collection is based on two individual basic pieces – the armchair and the pouf – that can be combined to configure different compositions, with linear or curved shapes, ideal for any living room, waiting room or reception.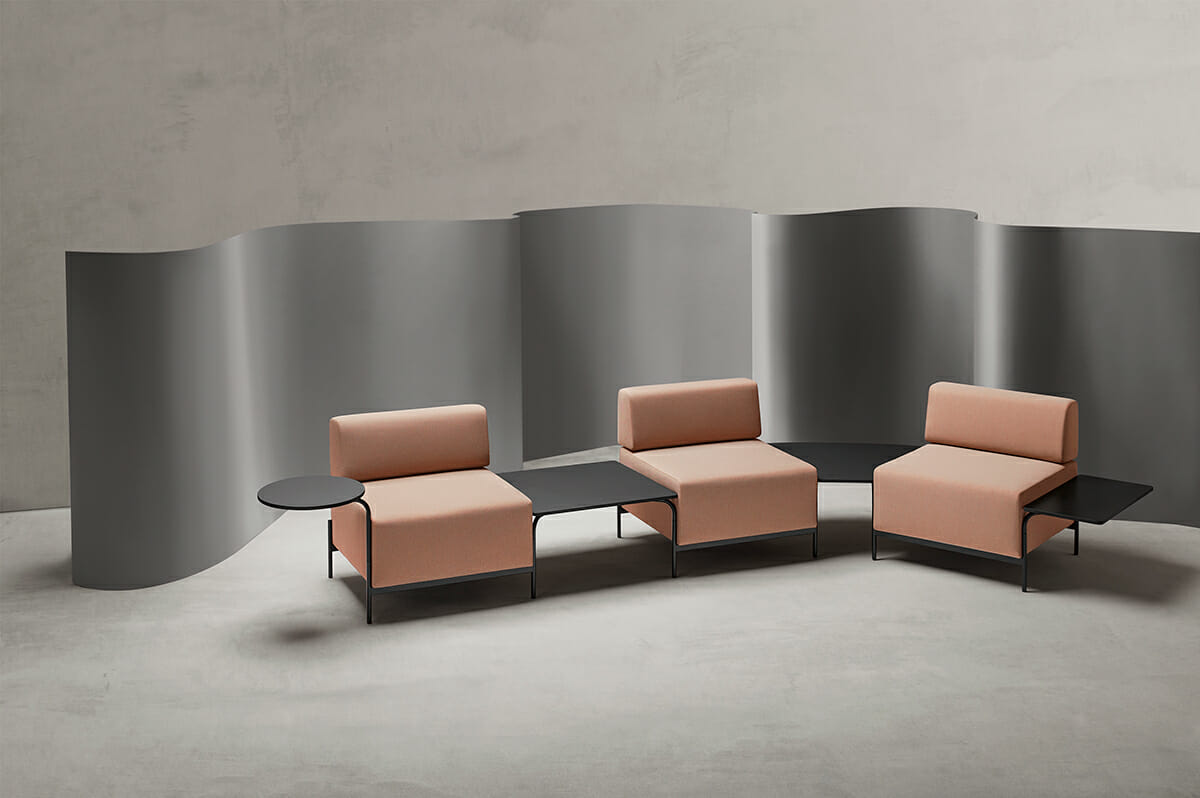 CONEK modular seating system | Gabriel Teixidó | MOBBOLI
Intermediate tables in different shapes can be inserted between seats unit working as connections.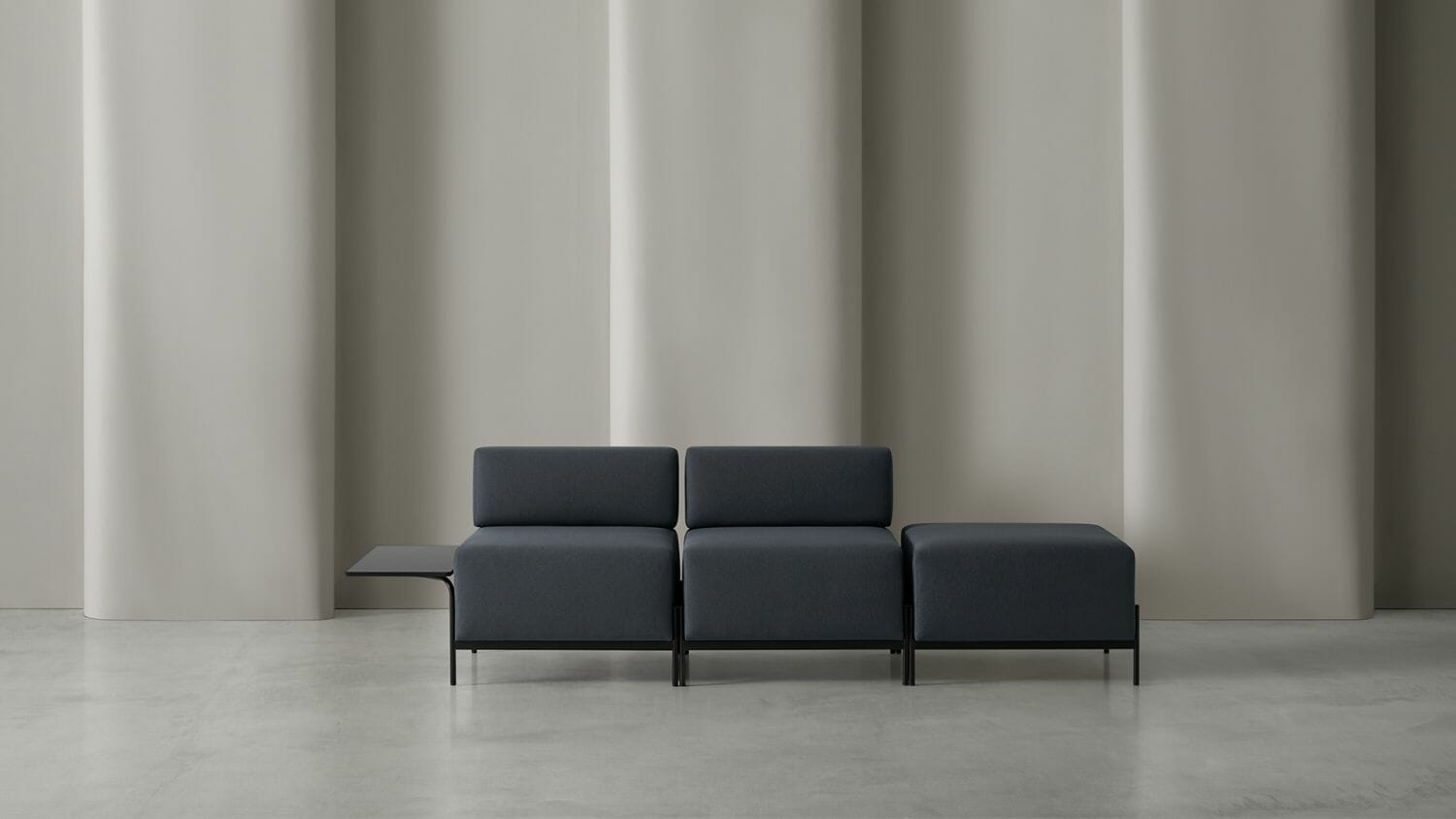 CONEK modular seating system | Gabriel Teixidó | MOBBOLI
The seats and backrests of the CONEK modular seating system, with softened quadrangular shapes and a wooden interior structure, are fully upholstered with a set of rubber pads of different densities to guarantee maximum comfort where it is most needed. Both the armchairs and the poufs are joined together with metal fittings. And everything is supported by metal structures made of round steel tube painted in epoxy in all the colours of the sample collection.
PEACH armchairs. By Arnau Reyna
This series of comfortable upholstered armchairs created by Arnau Reyna Studio features smooth, curvaceous lines that evoke the shape of the juicy summer fruit – hence its name. With high or low backrests and two types of bases – swivel with wooden legs or sled with metal rods -, the four models of armchairs are an example of how good design and elegance can combine in a seat conceived to provide comfort during long hours at work, in meeting or during business talks.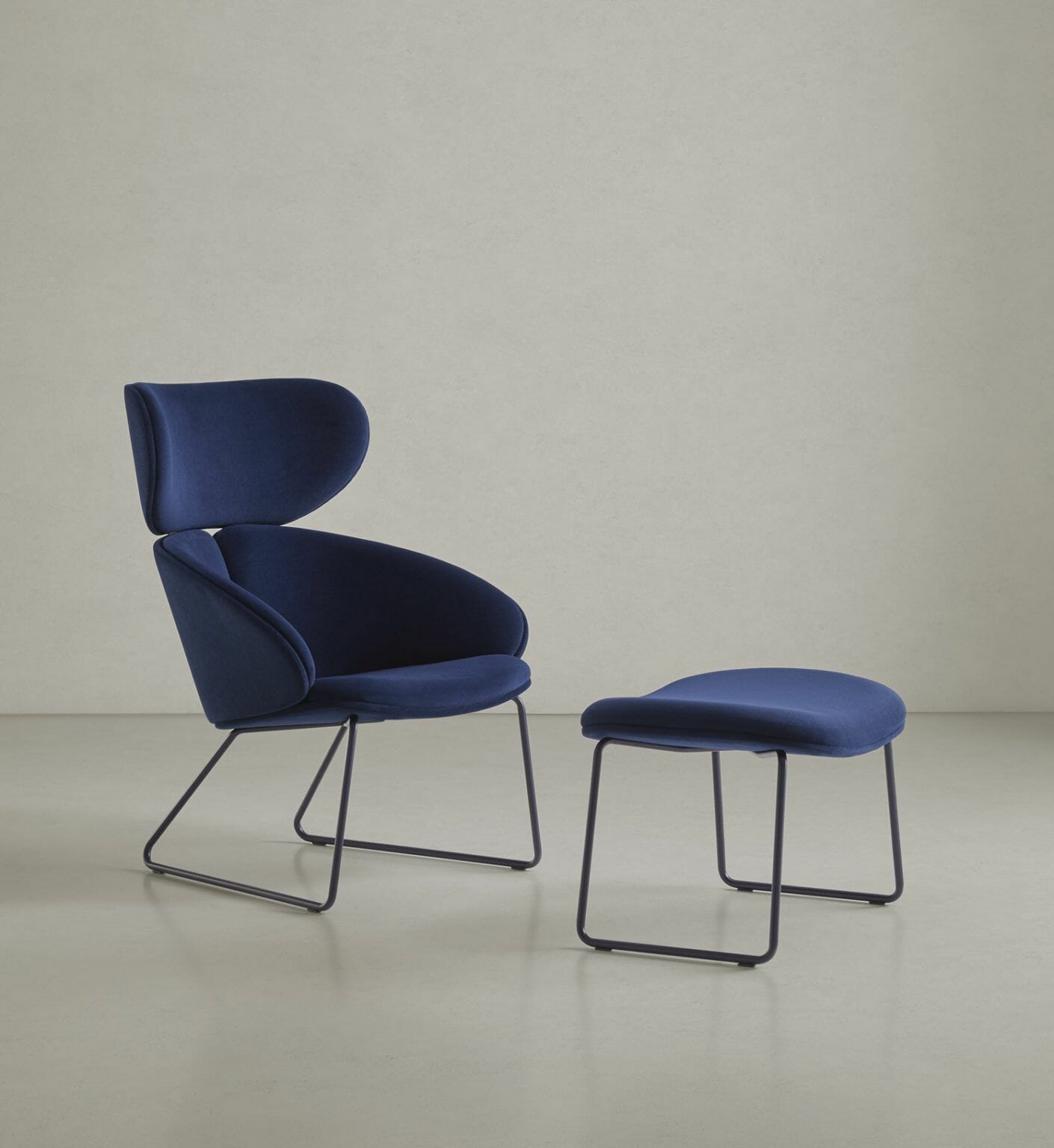 PEACH armchair & footstool | Arnau Reyna | MOBBOLI
The PEACH collection, which was awarded the Good Design Award 2021, has been extended to include the chair version that offers the same design and comfort as the armchairs.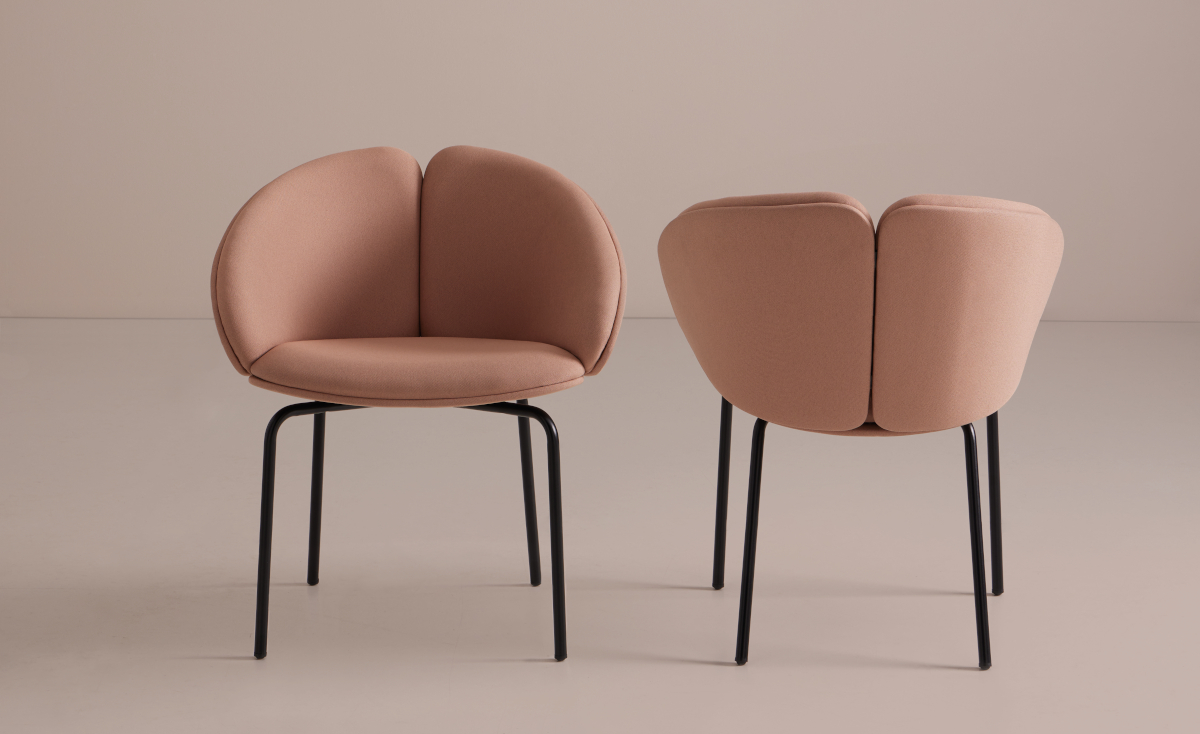 PEACH chair | Arnau Reyna | MOBBOLI
With smaller seat and backrest format, the PEACH chair is available in two models, depending on their structures: with metal sled base that can be painted in the whole chromatic range of MOBBOLI metallics sample or four pyramidal legs in light oak wood or varnished in black.
ODEI table. By A.G. de Vicuña
The versatile ODEI tables, designed by A. G de Vicuña, have also recently been added to the company's new catalogue to complement the former collections of chairs. These timeless, upholstered chairs with suspended backrests that float like clouds, with swivel or fixed bases, are the perfect way to bring flexibility, empathy and wellbeing to the workspaces of the future, in the era of home-office and home-in-office.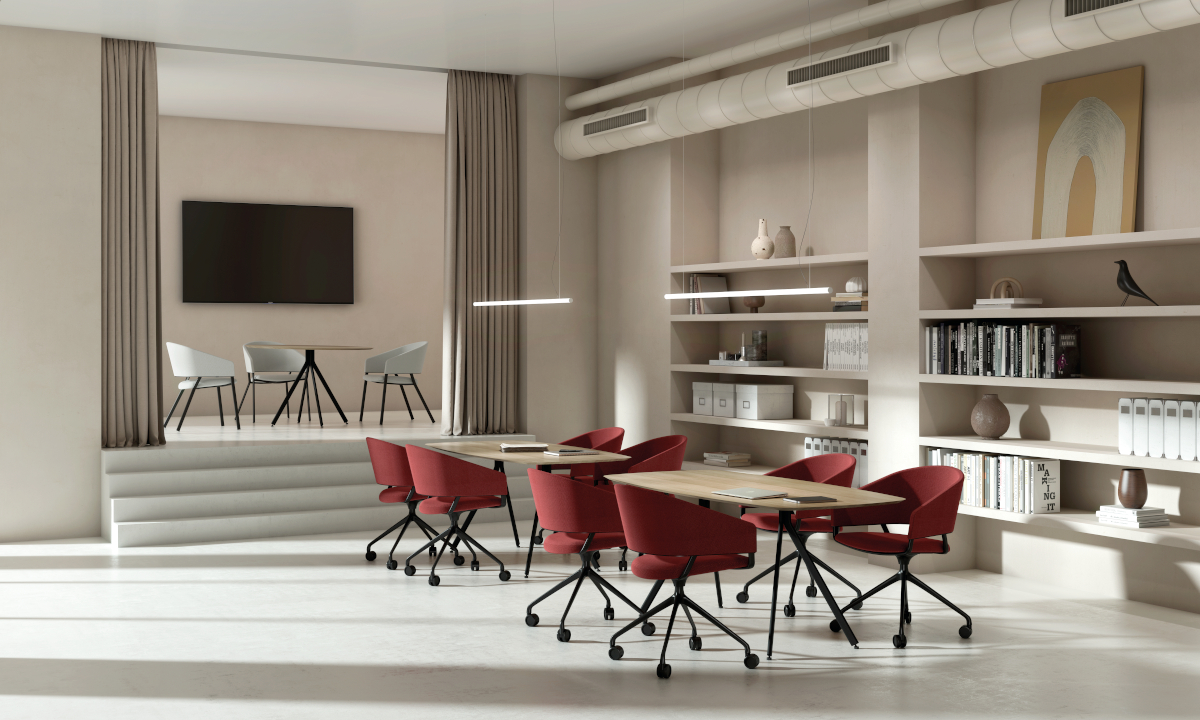 ODEI table & chairs | A.G. de Vicuña | MOBBOLI
With the London fair's focus on the workspaces of the future, all MOBBOLI's collections sought to add value based on a sense of togetherness, collaboration, and a spirit of cooperation among people and with technology. The aim here is to optimise every square metre for the efficient use and enjoyment of modern workspaces. Solutions that also consider the need to reduce environmental impact by combining sustainability and wellbeing, an imperative for developing talent and creativity.



MOBBOLI on Furniture from Spain
For more information, visit: www.mobboli.com