I SALONI MILANO 2014: 68 Spanish brands on display
March 14 / 2014
Where else if not in Milan? The Italian town is once again the international furniture and design capital, the largest showcase for new trends and products. Spain won't miss this opportunity to put on display the very best of its furnishing industry in the real hub of design and innovation. So, at the 53rrd edition of I Saloni Milano, a group of 68 Spanish companies will be there representing MUEBLE DE ESPAÑA in different halls.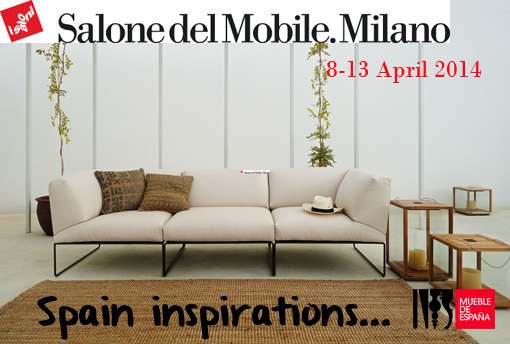 Here you will find the list & locations of Spanish exhibitors…
Mueble de España

in Milan: life

style

& lovely

design

With 68 brands on exhibition over a surface of more than 6,000 sqm, the Spanish contingent, second only after Italy, will be present in the three style halls – Classic, Modern and Design –, at the International Furnishing Accessories Exhibition and at EuroCucina and Salone Internazionale del Bagno.

At the Salone, in classic halls, MUEBLE DE ESPAÑA will boast the presence of leading national manufacturers and big names of the luxury sector, such as COLECCIÓN ALEXANDRA, SOHER, MARINER, TECNI NOVA or GUADARTE, while the design sector will host Spain's upmarket fashion brands like KETTAL, GANDÍA BLASCO, STUA, ANDREU WORLD or SANCAL. At EuroCucina, Spain's classical & contemporary kitchen sectors will be represented by DICA, GAMADECOR and MUEBLES PICÓ.

With such names, the offer will be more attractive than ever, including from the most sophisticated haute décor and the appealing traditional furniture to the most inspiring and stylish proposals for In&Outdoor spaces.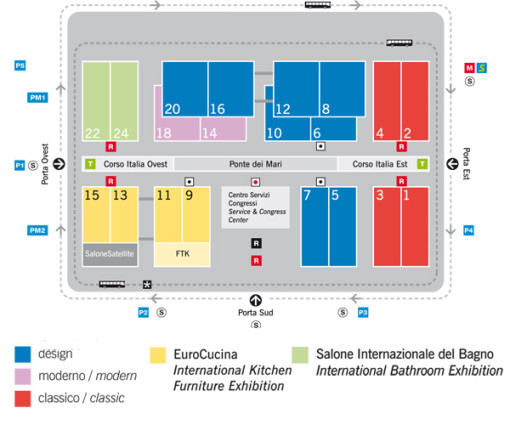 SALONE INTERNAZIONALE DEL MOBILE

SALONE DEL COMPLEMENTO D'ARREDO
HALL 1 – CLASSIC
AMBOAN – B10
AUDERE BY CANELLA – D03
COLECCIÓN ALEXANDRA – D05
GUADARTE- B05
LATORRE – C08
LLASS – H01
LA EBANISTERIA – E07
LOLA GLAMOUR – D06
SOHER – F12
TECNI NOVA – F06
TOMÁS & SAEZ – M02
HALL 2 – CLASSIC
CANELLA MOBILIARIO – B32
MUEBLES SOLOMANDO – B36
PANAMAR – N30
RIPERLAMP – R38
VALENTI – D28
HALL 3 – CLASSIC
CREACIONES FEJOMI – H27
DECORARCHER – L41
MONRABAL CHIRIVELLA – N28
MUEBLES CERCOS – L24
MARINER – F30
PRIMARTE – L36
HALL 4 – CLASSIC
COLONIAL CLUB VALENCIA – G01
ÉBANO – R05
ELÍAS PÉREZ – S06
ÉPOCA – D07
MOBLESA [GRAN MOBLE] – E07
MONTERO CREACIONES ARTISTICAS – P06
NOVOCUADRO – S09 / T08
VICENTE ZARAGOZÁ – D06
HALL 6 – DESIGN
ARLEX DESIGN – D22
EXPORMIM – C36
KENDO MOBILIARIO – B37
MOBIL FRESNO – D47
PACO CAMUS – C31
POINT – D43
PUNT MOBLES – E22
HALL 7 – DESIGN
ANDREU WORLD – G20
HALL 8 – DESIGN
LAGRAMA – E52
NACHER – E38
HALL 10 – DESIGN
CAPDELL – C07
NOMON – D08
SANCAL – C05
HALL 12 – DESIGN
CASADESUS – C06
KOO INTERNATIONAL – E15
TAGAR – B05
HALL 14 – MODERN
ACOMODEL – B39
ALONDRA – D49
GLOBAL SOFAS [GAMAMOBEL] – E35
GARCIA SABATE – C42
LUMAR SOFÁS – C40
MORADILLO – F32
PEDRO ORTIZ – C41
HALL 16 – DESIGN
STUA- C40
VICCARBE – C35
HALL 18 – MODERN
BE MOBILIARIO – E06
CALMA – A11
FAMA – C24
HERDASA [HNOS. ANDRÉS GARCÍA] – D01
GLICERIO CHAVES HORNERO – D06
MOBLIBÉRICA – B07
HALL 20 – DESIGN
GANDÍA BLASCO – C06
KETTAL – E24
EUROCUCINA
HALL 9
DICA – E10
HALL 13
GAMADECOR – D01
MUEBLES PICÓ – G04
SALONE INTERNAZIONALE DEL BAGNO
HALL 22
APAVISA PORCELÁNICO – H32
CERÁMICAS APARICI – H38
As well as on this blog, we wish to remind you that MUEBLE DE ESPAÑA will also cover the participation of Spain's brands at I Saloni on its own social networks:

We have also created a special hashtag for those wishing to follow Spain's furniture brands and news in Milan on Twitter: #SpainFurniture #iSaloni
Enjoy I Saloni and get inspirations from Spain's lifestyle. Arrivederci in Milan!