imm cologne 2020. TREKU. Sleek storage and media furniture for charming spaces
January 3 / 2020
In 1947 cabinetmaker Jesus Aldabaldetrecu founded his family-run furniture company, TREKU, in a workshop in Zarautz (Spain), a coastal town known for its tradition of carpentry and woodworking. Now in its third generation, TREKU (short for Aldabaldetrecu) specializes in sleek storage and media units that combine contemporary and traditional design details.
TREKU, perfect woodworking and veneering…
Over the years the company has acquired remarkable expertise in woodwork and veneering with precious woods, such as oak and walnut, coming from responsibly managed forest (FSC). Varnishes and lacquers meanwhile are low in formaldehyde, and state-of-the-art machinery ensures wastage is minimal. In their production process, craftmanship combines with technology to create furniture that stands out for its elegant designs that blur the line between classic styling and modern features.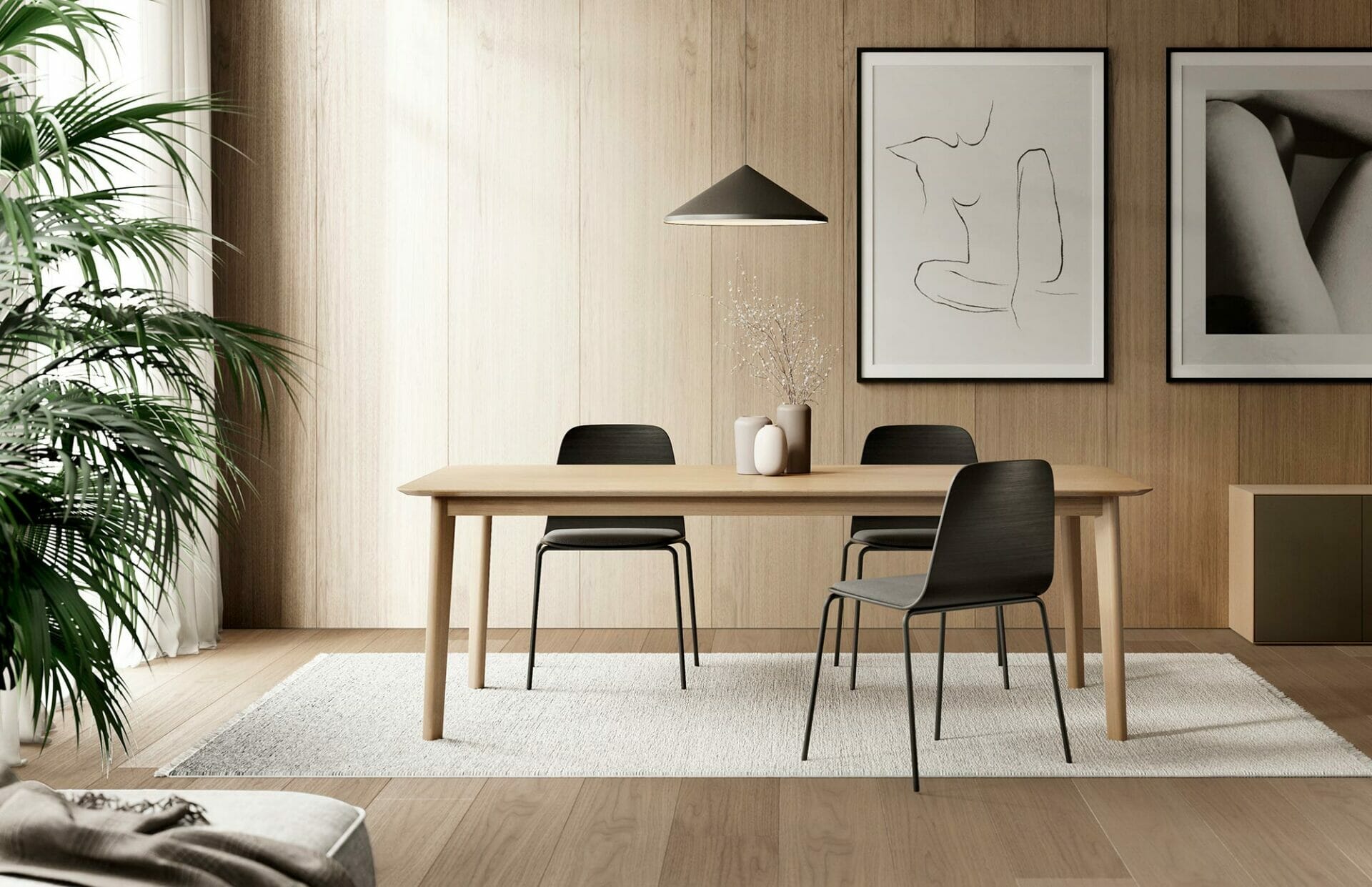 BISELL chairs. Mael Molina | ARI table. Ibon Arrizabalaga |TREKU
Special care is given to wood selection and treatment as well to detailing – the optimal colour, grain and smoothness of wood veneers set a perfect foundation for TREKU's lacquer finishes, available in a rich choice of tones.
The design work is balanced between the in-house team and independent designers who are meant to take fresh oxygen into the company. From these collaborations have come some of the most iconic furniture collections of Spain's contemporary design scene, such as the AURA, LAUKI and KAI storage solutions or the ROLL and AISE dining tables. TREKU's range of products includes also chairs and stools, beds, pouffes, centre and side tables, bookcases and high chest-of-drawers.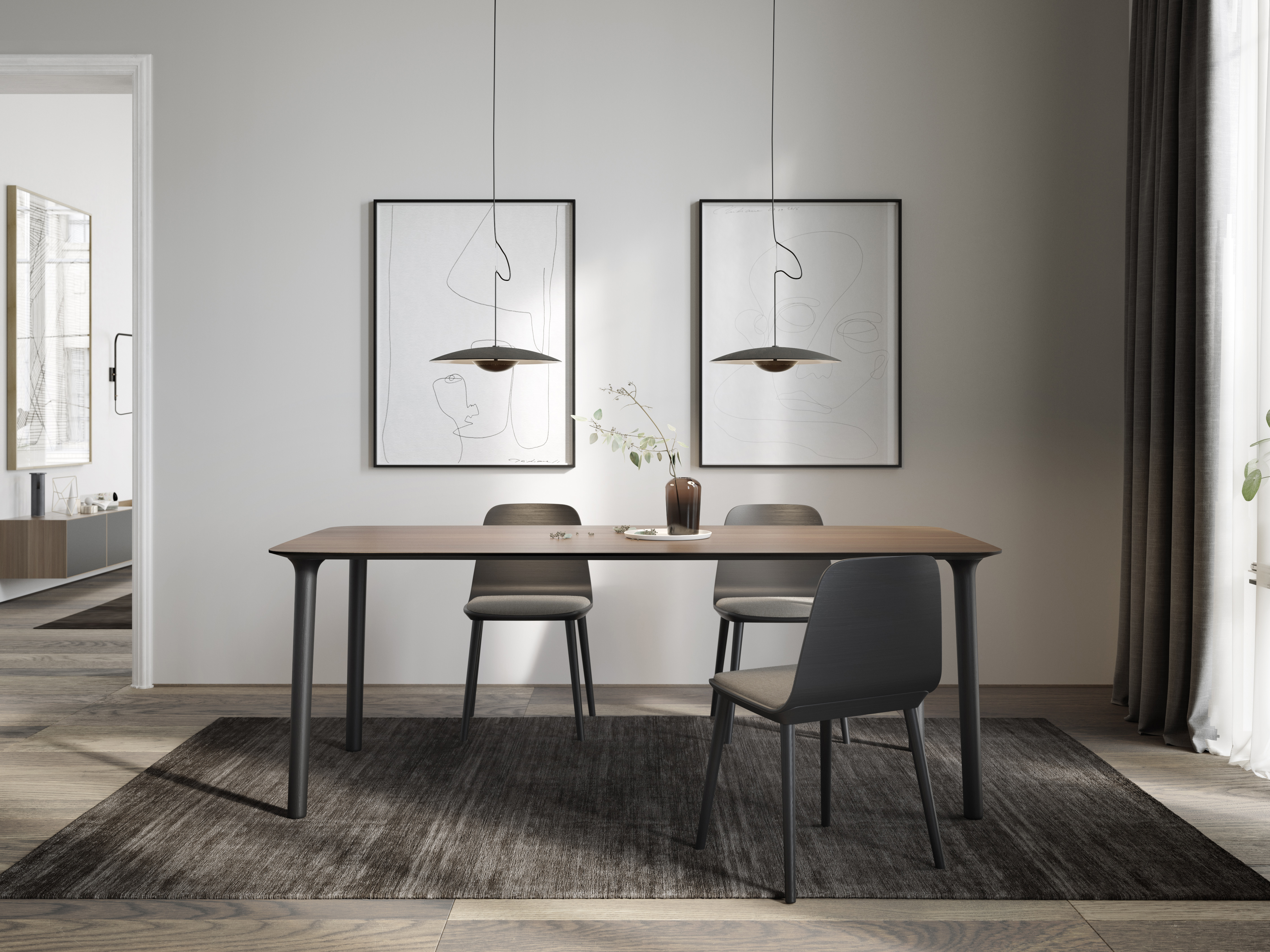 ROLL table & BISELL chairs. Estudi Manel Molina
At the imm cologne they will present the new items of the best-selling AURA and LAUKI collections, the new additions to the BISELL family, new finishes and some new launches, such as the new bookcase designed by Valencia-based studio Yonoh.
AURA collection, a perfect fusion of tradition and modernity
Heritage and Nordic accents combine with contemporaneity to impart character and style to this impeccable collection of living and dining room furniture, created by Ángel Martí & Enrique Delamo for the Spanish brand. The result: a collection full of memories that gives off a very modern aura conveyed by the perfect balance of fine woods and metallic elements.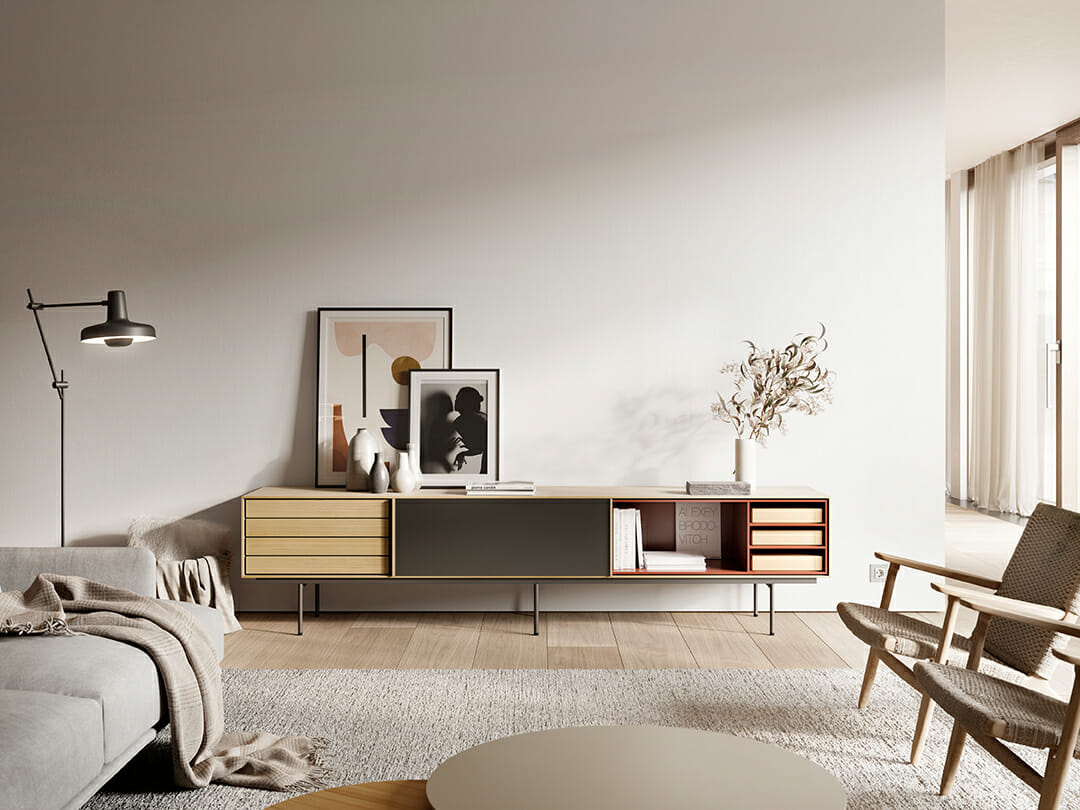 AURA sideboard. Angel Martí & Enrique Delamo. TREKU
Functionality plays here a major role. Designers have taken care of each detail to offer intelligent and intuitive pieces that perfectly fit the needs of modern lifestyles. Sliding doors, slender supports, split drawers and new console options have been added to keep the collection up-to-dated, always paying careful attention to preserve the detailing and aesthetic ethos of the original design.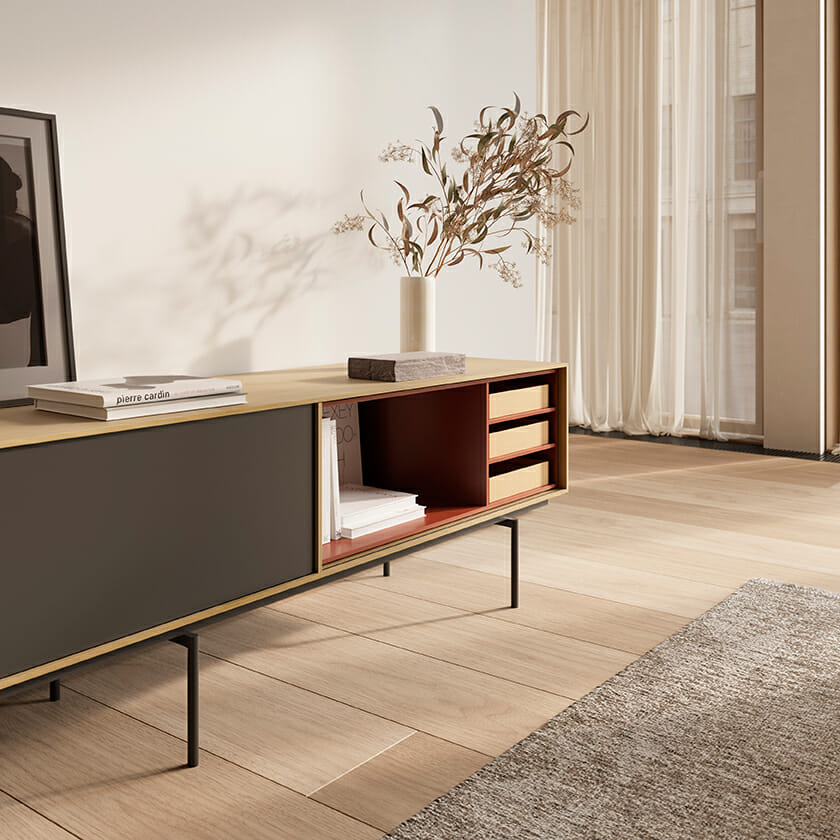 AURA sideboard, new features. Angel Martí & Enrique Delamo. TREKU
New features include also new cylindrical metal legs and imitation-fabric boxes to place in modules specifically designed for them.
LAUKI collection, simply elegant
Easy to admire yet difficult to materialise, the LAUKI collection stands out for the little details that make it great, lending elegance and sophistication to its design. Among these features, there are the thin frame that surrounds each box incorporating the push-to-open mechanism and the finish of the drawer joints.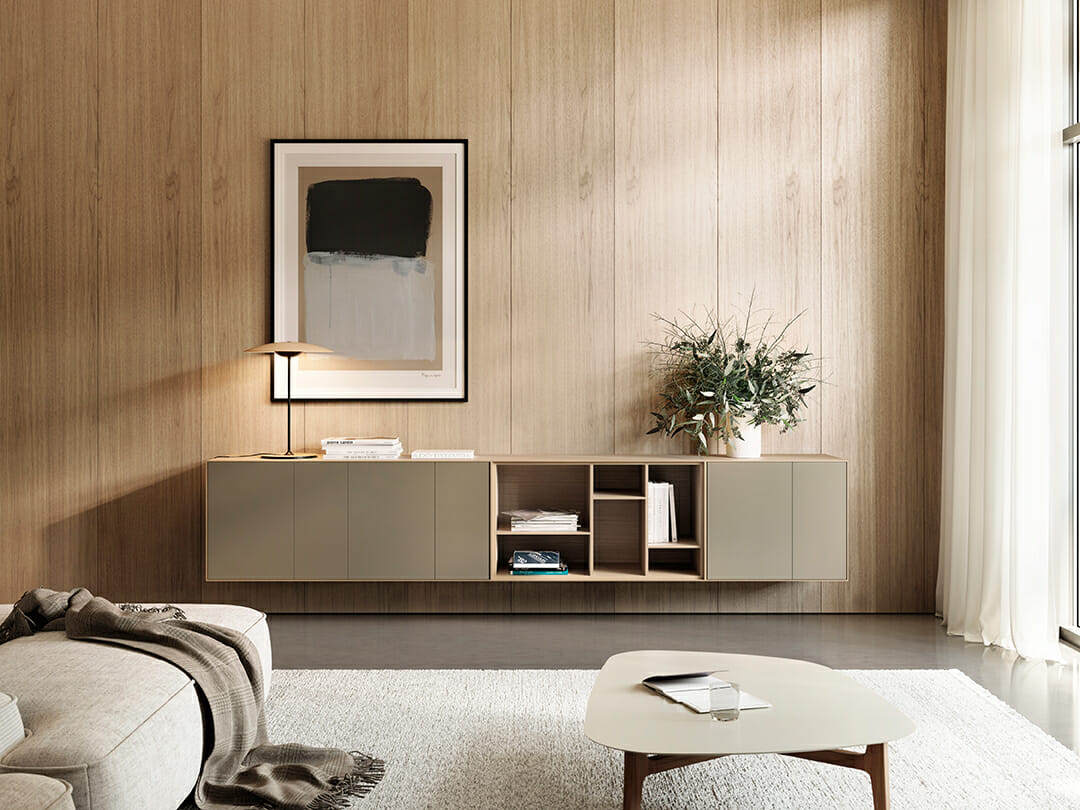 LAUKI wall-mounted sideboard. Ibon Arrizabalaga. TREKU
LAUKI offers a range of elegant individual storage boxes in different shapes, sizes and colours that can be aligned on the floor, piled up or wall mounted in configurations to suit every space.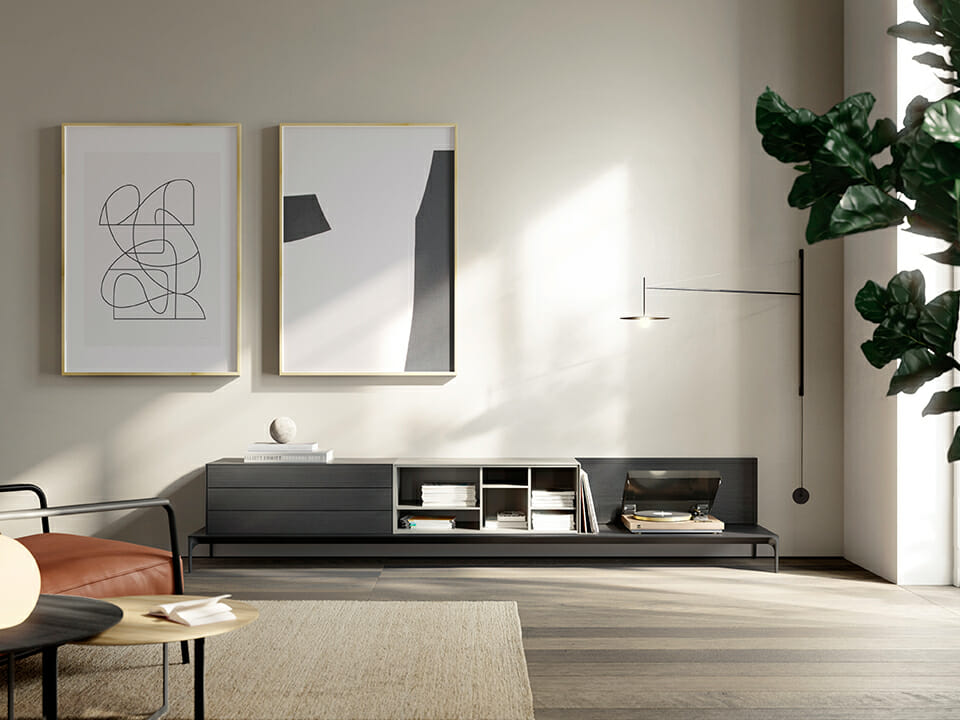 LAUKI media furniture with the new platform. Ibon Arrizabalaga. TREKU
A special effort has gone into the design and technical development of the new legs, which have a rounded, organic shape. Once again, the new detail aims at providing pieces with an extra touch of elegance and sophistication.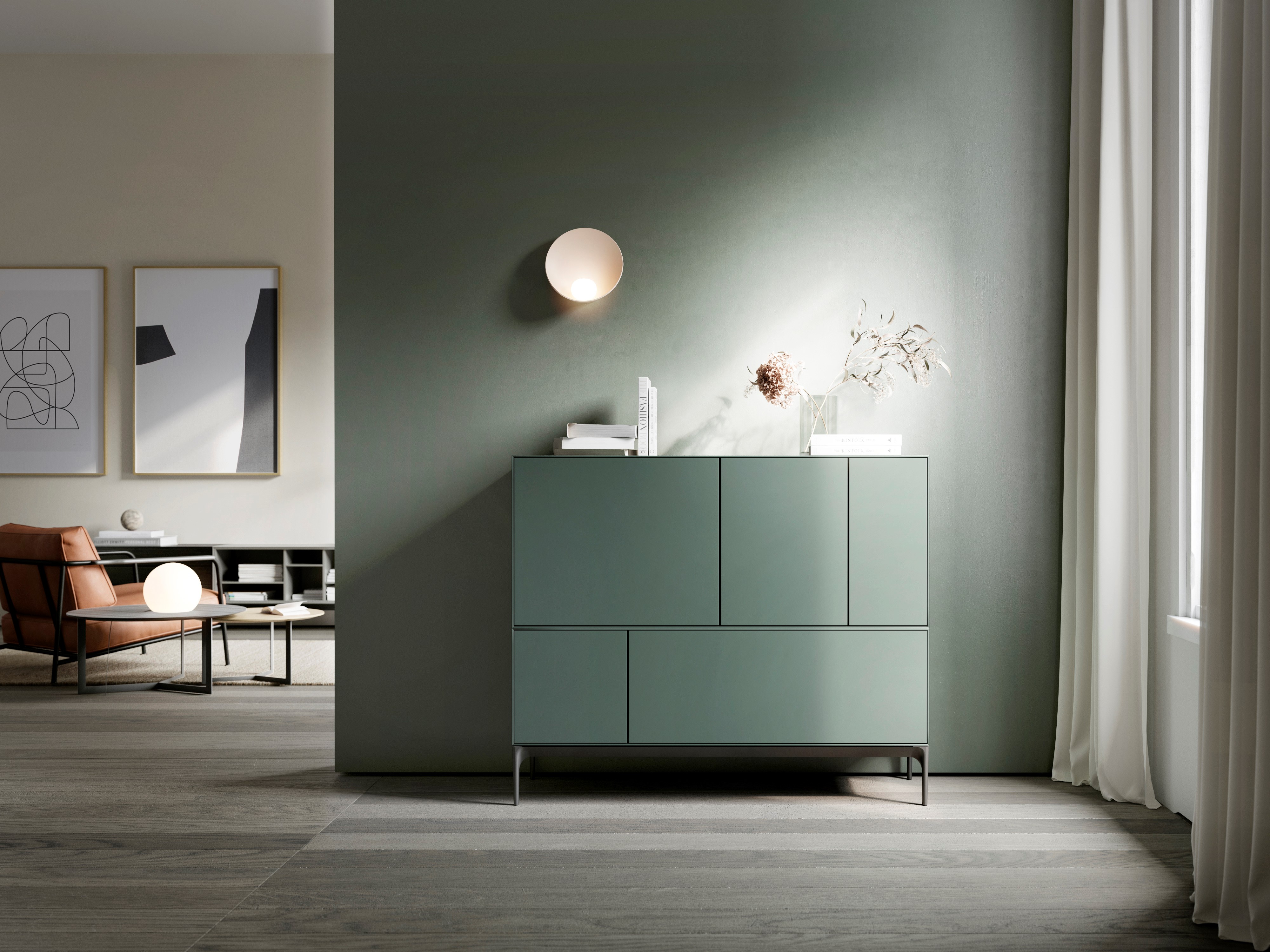 LAUKI sideboard with asymmetric modules. ibon Arrizabalaga. TREKU
Dynamism is ensured, on the other hand, by the new modules with asymmetric doors and by the new platform that multiply the possibilities of configuration and personalization.
BISELL collection: new additions
Traditional and modern styles are harmoniously balanced in the serene and discreet design of this chair that effortlessly blends into warm and intimate settings. Designed by Manel Molina, the BISELL chair features a simple design made of a solid wooden structure and a seat that can come upholstered in different colours. The choice between metal or wooden bases, the selection of fabrics and colours make BISELL adaptable for a variety of settings, at home or in workplaces.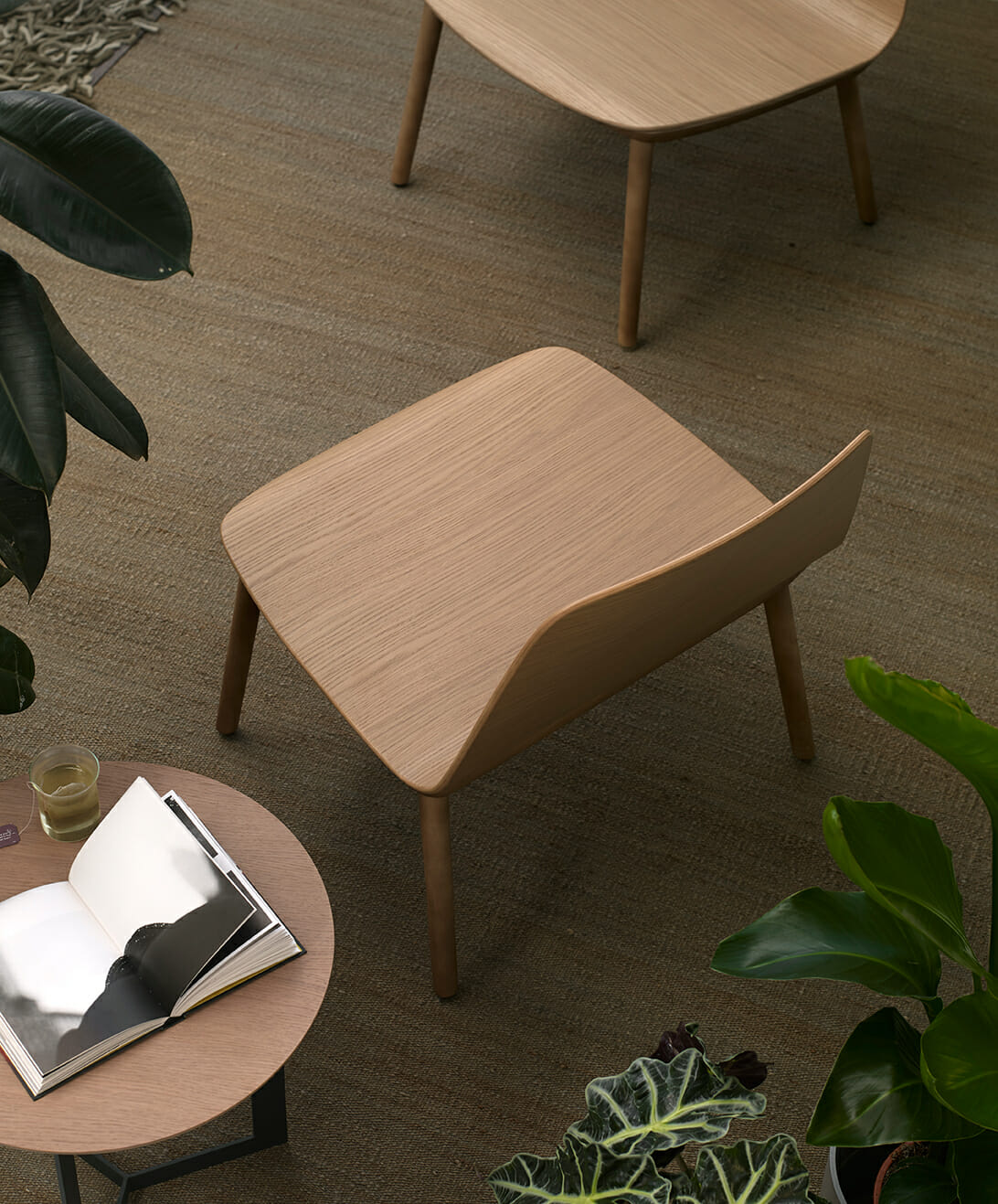 BISELL lounge chair. Estudi Manel Molina. TREKU
New additions to the collection include a stool, which is s available with an upholstered or wooden seat, and the lounge chair offered with a wooden or upholstered frame, with or without pads.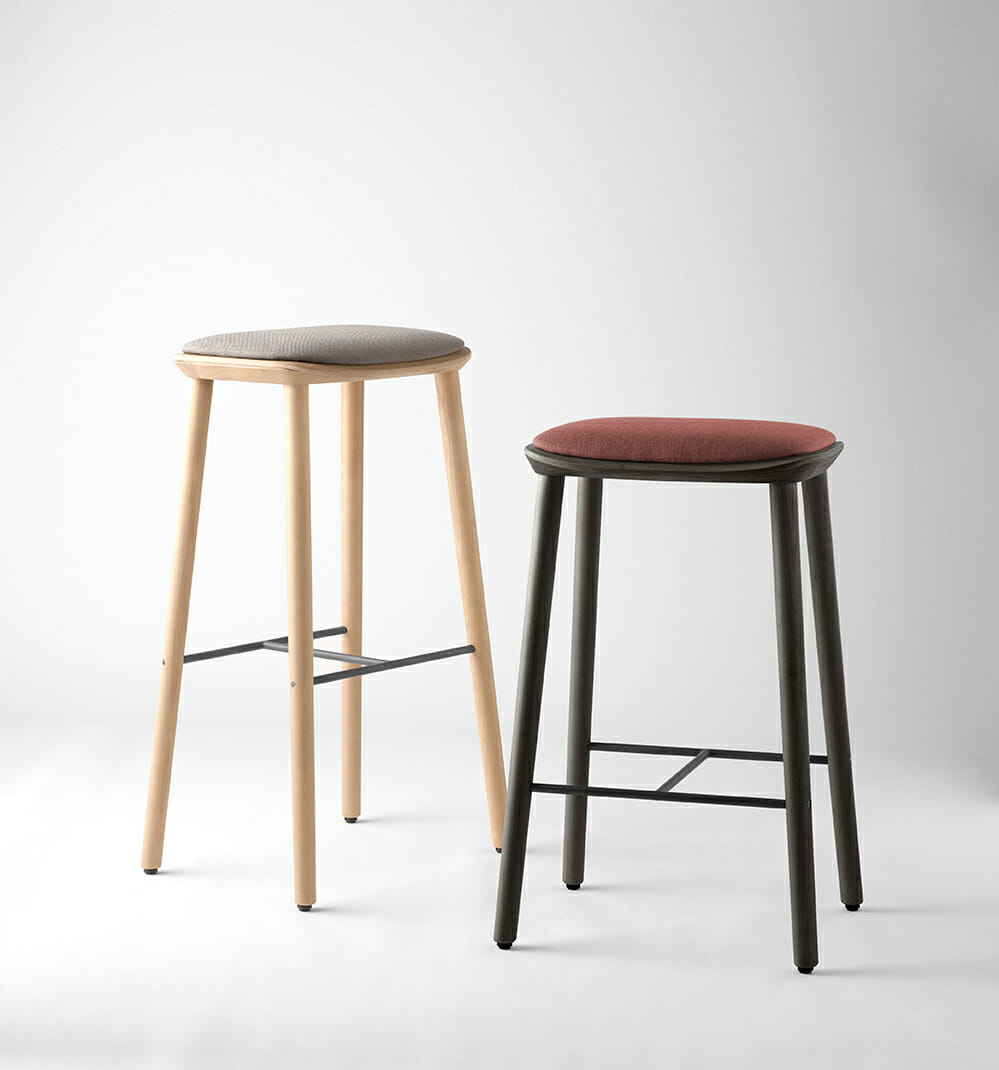 BISELL stools. Estudi Manel Molina. TREKU
TREKU furniture illustrates the firm's commitment to customer choice. Its storage solutions are anything but uniform and dull. You can personalise them specifying dimensions, deciding the number of drawers and dividers you want, choosing your style of base and selecting from deluxe finishes including walnut, oak and a variety of coloured lacquers… Just start creating!
Imm cologne location: Hall 3.2 | Pure Editions | Stand D34
For more information: www.treku.es