Highlight products & trends 2023. Indoor-outdoor synergy (6)
June 27 / 2023
Experience the epitome of style and sophistication with the trend that seamlessly merges indoor and outdoor living. Spanish brands are at the forefront, presenting innovative collections that seamlessly marry luxury and durability. Discover a range of generous seating, sunbeds, outdoor dining sets and state-of-the-art gazebos, designed to invite relaxation and spontaneous gatherings. With their soft and inviting shapes, these pieces effortlessly integrate into any environment, be it a sophisticated private residence or a lively poolside area in five-star hotels.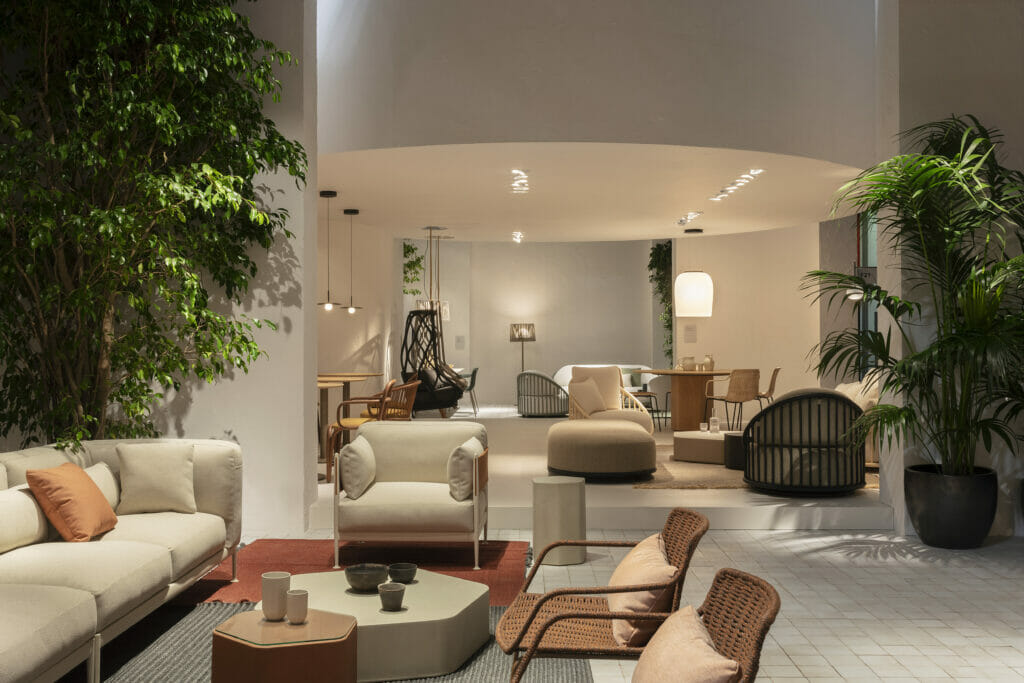 Sustainability takes precedence, with the use of eco-friendly materials such as recyclable aluminium, timber, and responsibly sourced teak. Complemented by innovative accessories like motorized pergolas, weather-resistant rugs and captivating lighting systems, these collections redefine outdoor living with both style and functionality. Step into an outdoor room furnished with the finest Spanish craftsmanship and design expertise and immerse yourself in the perfect blend of comfort and aesthetics.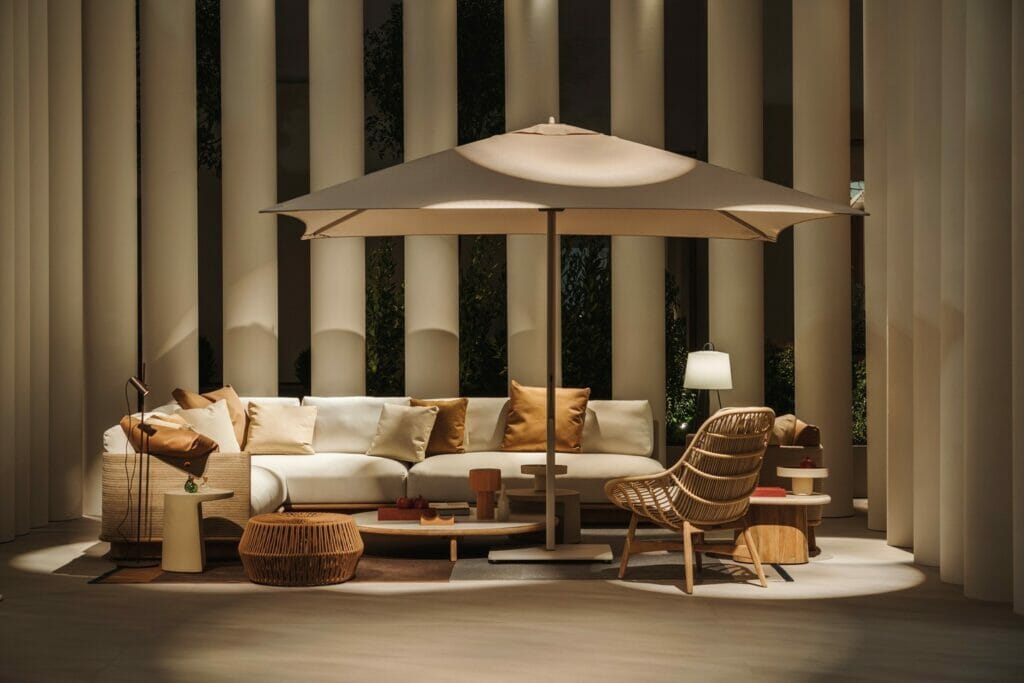 Spanish Outdoor Rooms: Exquisite Living Spaces with Mediterranean Flair
Curved furniture has become a prominent trend in interior design, infusing living spaces with a fresh and modern aesthetic. This captivating style has now extended to outdoor furniture, presenting a visually appealing and functional approach to outdoor living. Versatile sectionals and modular sofas that can be rearranged into various configurations or separated into individual chairs provide the flexibility needed for customizing outdoor environments.
The MILOS outdoor lounge collection by Jean-Marie Massaud for VONDOM exemplifies the growing trend of curved furniture, seamlessly blending simplicity, functionality, and comfort. Inspired by the natural beauty of the Mediterranean landscape, Milos features soft curves that mimic the gentle shaping of rocks. This non-Cartesian design philosophy allows for organic combinations, giving a sense of harmony and fluidity to outdoor spaces.
Crafted with materials like wood, polyurethane, and light cement, the collection includes modular sofas, armchairs, low tables, and rotomoulded planters. Whether placed in a contemporary urban setting or surrounded by nature, MILOS effortlessly adapts, creating a serene and stylish atmosphere.
Capturing the essence of Mediterranean serenity and relaxation, the latest outdoor collections by SKYLINE DESIGN presents another stunning example of outdoor furniture that beautifully combines gentle curved lines with the comfort of indoor living. Renowned Spanish designer Santiago Sevillano has recently showcased his creative expertise in curating the BOSTON and RODONA collections, each featuring unique styles, a wide range of colors, intricate details, and a distinct Mediterranean character.
With its timeless and sophisticated style, RODONA stands out as one of the most comprehensive offerings from the brand. The innovative combination of aluminum and rope in its construction results in a set of furniture pieces that are not only versatile and comfortable but also visually appealing, seamlessly blending into any environment.
The finest embodiment of the indoor-outdoor trend lies in the remarkable adaptation of the CASK collection for outdoor use. Crafted by the esteemed Norm Architects for EXPORMIM, the new CASK OUTDOOR line effortlessly retains the impeccable classicism, simple elegance, and exquisite attention to detail found in its indoor counterpart. However, in this outdoor iteration, the rattan structure and upholstery have been artfully replaced with technologically advanced materials like aluminum and weather-resistant fabrics. The outcome is truly astonishing – it's akin to transporting your cherished indoor relaxation corner to the captivating outdoors.
The indoor-outdoor trend embraces the inclusion of curved back chairs and wooden tables, which not only enhance mobility but also infuse outdoor dining and entertaining areas with a sense of charm and fascination. These chairs soften the overall ambience, adding a touch of intrigue to outdoor spaces.
Designed with versatility in mind, the EOLIAS collection, a creation by leading Italian architect and designer Antonio Citterio for KETTAL, seamlessly transitions between outdoor and indoor environments. Sustainability takes centre stage in this collection, as it incorporates natural and synthetic materials like aluminium, wicker, teak and rattan.
Drawing inspiration from the picturesque Aeolian archipelago in the Tyrrhenian Sea, each item in the EOLIAS collection bears the name of a distinct Sicilian island, reflecting its unique characteristics. The folding table, crafted from teak, is aptly named EOLIAS LIPARI, after the largest island in the archipelago. The outdoor wicker chairs, club armchair, and lounge club armchair form the EOLIAS SALINA family, while the EOLIAS PANAREA represents the outdoor rattan armchair.
By embracing simplicity as its defining feature, the ORIGIN collection from Spanish outdoor furniture specialist POINT presents a compelling case for the enduring allure of straightforward design. Mario Ruiz's belief in the power of discreet gestures is showcased in this collection, where a few simple lines come together to create a striking outdoor dining set or a stylish lounge area.
Exemplifying precise craftsmanship, each piece in the collection is meticulously constructed using powder-painted aluminium, ensuring both durability and sustainability. The seats and backs of the chairs and loungers are expertly crafted from Texiline, a material known for its durability and resistance to the elements. Completing the ensemble, the cushions are upholstered in fabrics specifically designed to withstand sun exposure, ensuring both comfort and longevity.
In addition to furniture, accessories and decorative items play a crucial role in pulling together the overall design of outdoor spaces. One such element that adds both style and functionality is the outdoor rug. Outdoor rugs have emerged as essential pieces that help define and enhance outdoor rooms, bringing a touch of comfort and warmth to open-air settings. New additions include the DIAMOND collection by Charlotte Lancelot, the SALINE collection, by Made Studio, the CITRUS kilim collection by industrial designer Jorge Garaje, and the MANGAS OUTDOOR rugs, poufs and modules by Patricia Urquiola.
The new outdoor rug collection from GAN showcases a wide range of styles, colours, and patterns, allowing homeowners to express their personal style and create a cohesive look in their outdoor spaces. From bold geometric designs to nature-inspired motifs, these rugs serve as focal points and anchor the overall design scheme, transforming outdoor areas into inviting and well-defined zones for relaxation and entertainment.
The indoor-outdoor trend has come to revolutionize the way we design and enjoy our living spaces. By seamlessly merging the comfort and aesthetics of indoor furniture with the durability and functionality of outdoor elements, Spanish furniture can be used to create versatile environments that blur the boundaries between inside and outside. Get inspiration and start to shape your outdoor rooms!!!