Murcia Design Showcase at Feria Hábitat Valencia 2023
August 2 / 2023
Murcia is a Spanish Region in which the furniture industry is of outstanding importance, positioning itself as the 5th furniture producer in Spain, forming a dynamic sector that shows a high degree of internationalization, which is key for the economic growth of the Region and to maintain the competitiveness of the companies.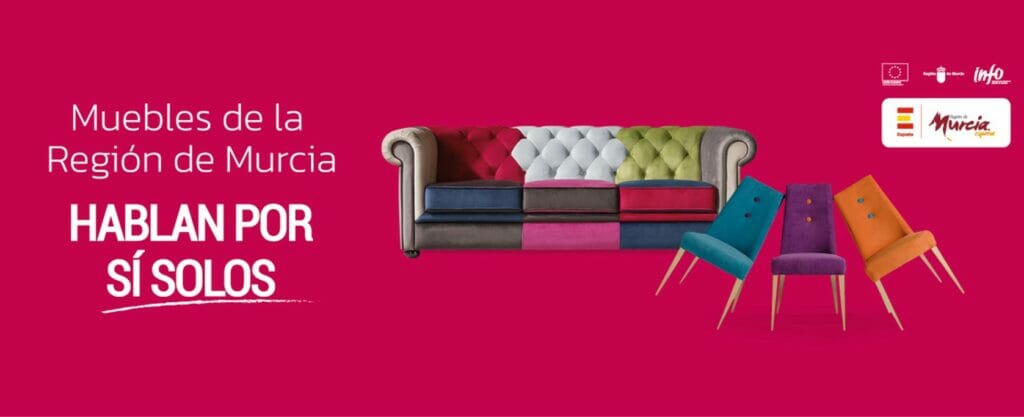 Thus, Murcia is currently the 7th most exporting Region in Spain, with a growth by 14.4% between January and June 2023, and a volume of more than 74 million euros, which represents 4.8% of the total of Spanish furniture exports. In recent years, France has become the main international market for almost 46% of the furniture exports from the Region of Murcia, consolidating its position as a key destination. Other important destinations are Portugal, Italy, the United Kingdom, the United States, Morocco…etc, which are at the top of the ranking of destinations for furniture manufactured in the Region.
Although the sector is characterized by the fact that most producers are small and medium companies, the local furniture industry stands out for its high production capacity, its flexibility and the existence of a significant number of innovative companies with high growth potential. The Murcian furniture industry has managed to reinvent itself, evolving from artisan cabinet-making and carpentry workshops to becoming fully developed and consolidated industries that operate both nationally and internationally.
Upholstered furniture and the mattress industry are two of the most important subsectors of the furniture industry in the Region of Murcia. Likewise, designer furniture has become a strategic element for luxury interior design, and numerous Murcian brands have joined this trend through collaborations with important international designers, providing versatility and functionality to each of their new creations.
In turn, the rise of the contemporary style, innovative, simple and functional, create highly personalized products that respond to the current trends and the needs of the most demanding customers.
Finally, the wide range of solutions for the contract sector from companies of the Region of Murcia is perfect to furnish collective spaces, which facilitates access to large projects, both in Spain and abroad.
In this context, over 50 furniture brands from Murcia are gathering at Hábitat Valencia 2023 to showcase their latest innovations to both local and global visitors. Don't miss this unbeatable opportunity to explore the event from 19th to 22nd of September!
Find out more: