OFIFRAN, workspaces and waiting rooms with style and contemporary elegance
February 23 / 2021
With rapidly evolving technologies and demand for wellness-based design, businesses are becoming increasingly aware of the importance of investing in workspaces that are both flexible and progressive; offices should improve employee's performance while enhancing their well-being and happiness in the workplace. This means designing dynamic spaces that are human-centric, feel authentic, and leave room for growth and new technologies as they arrive.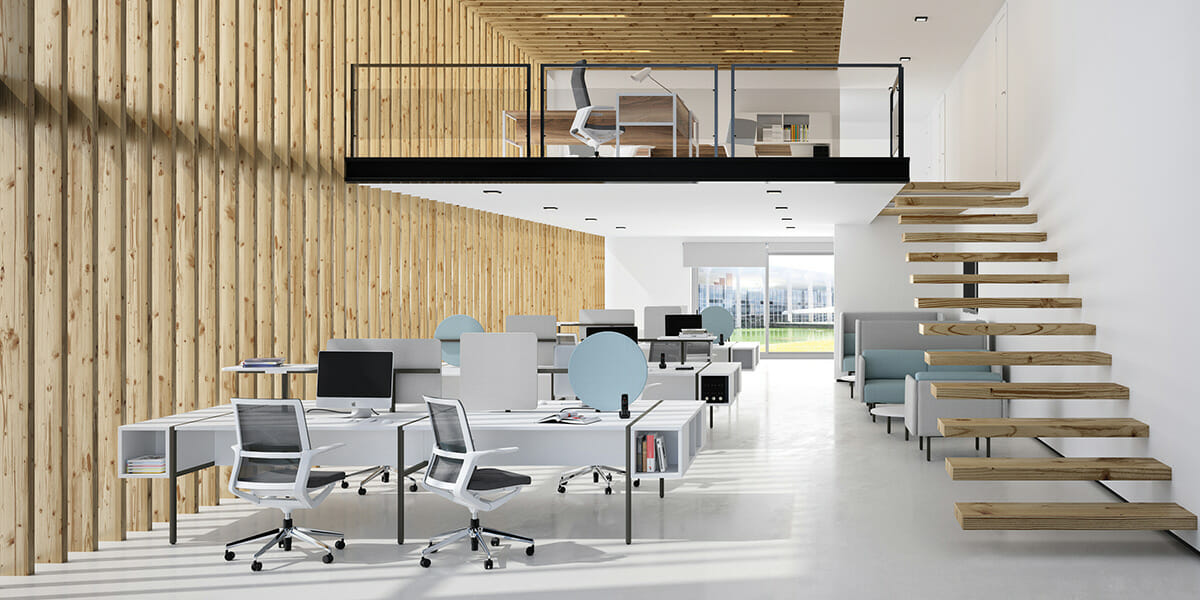 PIEM office furniture | Dorigo Design | ADVANCE office chairs | OFIFRAN
Strongly committed to innovative design, premium quality craftsmanship, and sustainability, office furniture specialist OFIFRAN keeps up with this trend offering multifunctional and stylish solutions that trigger creativity, promote interaction and facilitate collaboration in workspaces. Established in 1990, OFIFRAN has evolved to become a leading, one-stop solution supplier for office workspace requirements. Their reputation for excellence is the result of exceptional service, craftsmanship and design.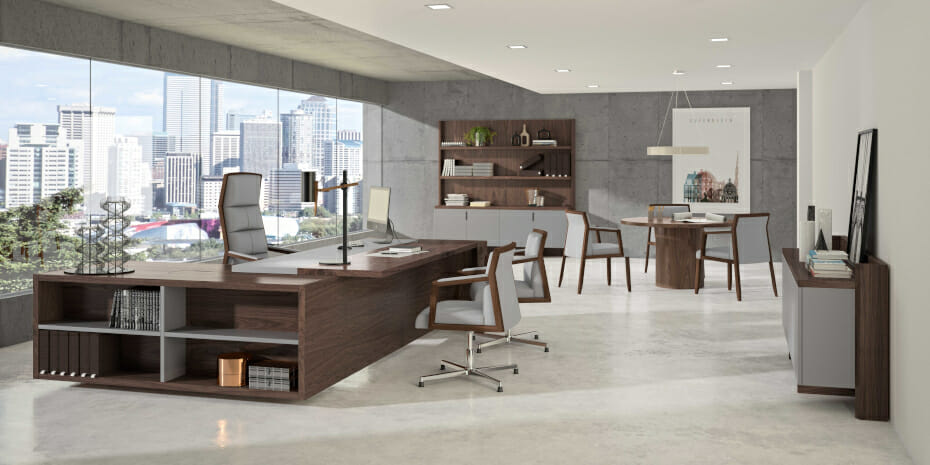 FREEPORT executive office furniture | Dorigo Design | OFIFRAN
The firm has developed different lines of office and contract furniture that respond to the needs of its extensive international clientele: the high-end classic ART&MOBLE line and the Art-Decó inspired ARTDECO collection; the executive line that includes the timeless and elegant FREEPORT, BELESA, GALLERY and SQUARE collections; and the contemporary offer for highly functional offices – PIEM, LANCE, NEXOS, CONCEPTO FREE. Not to mention their incredible line of seating solutions in different designs and finishes to easily adapt to every furniture style and office requirements – ILIUS, CLASSIC, RAY, SQUARE, BAND, ADVANCE, EASY.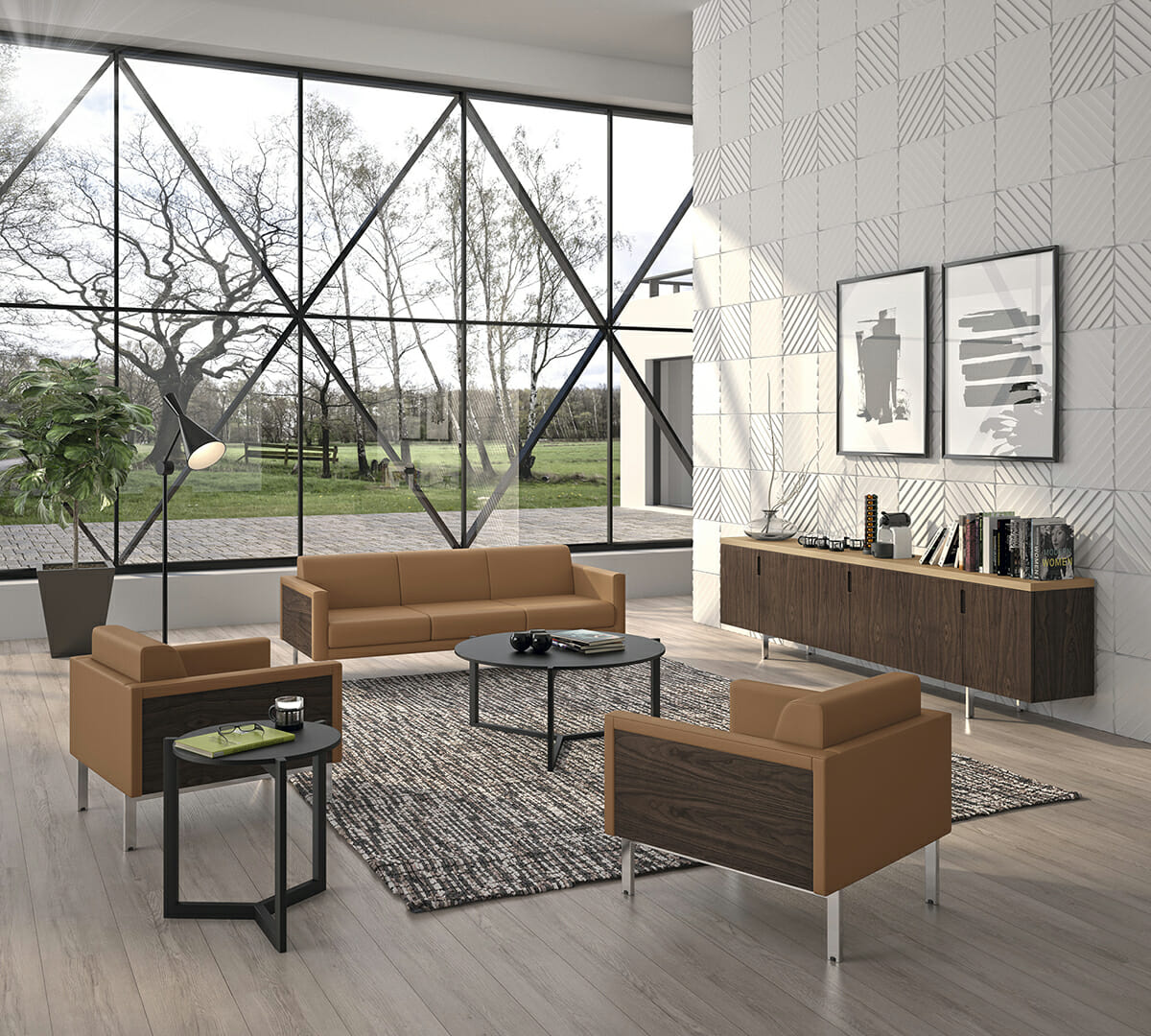 GALLERY lounge furniture | CENTO VENTI tables | Dorigo Design | OFIFRAN
From seating to storage, and from desks and workstations to office accessories and whole office layouts, OFIFRAN has everything it takes to cover the needs of their clients, exceeding their expectations thanks to the rich choice of designs, sizes and finishes. Flexibility is what sets them apart, ensuring that their clients can realize their aspirations of a perfectly tailored furniture solution.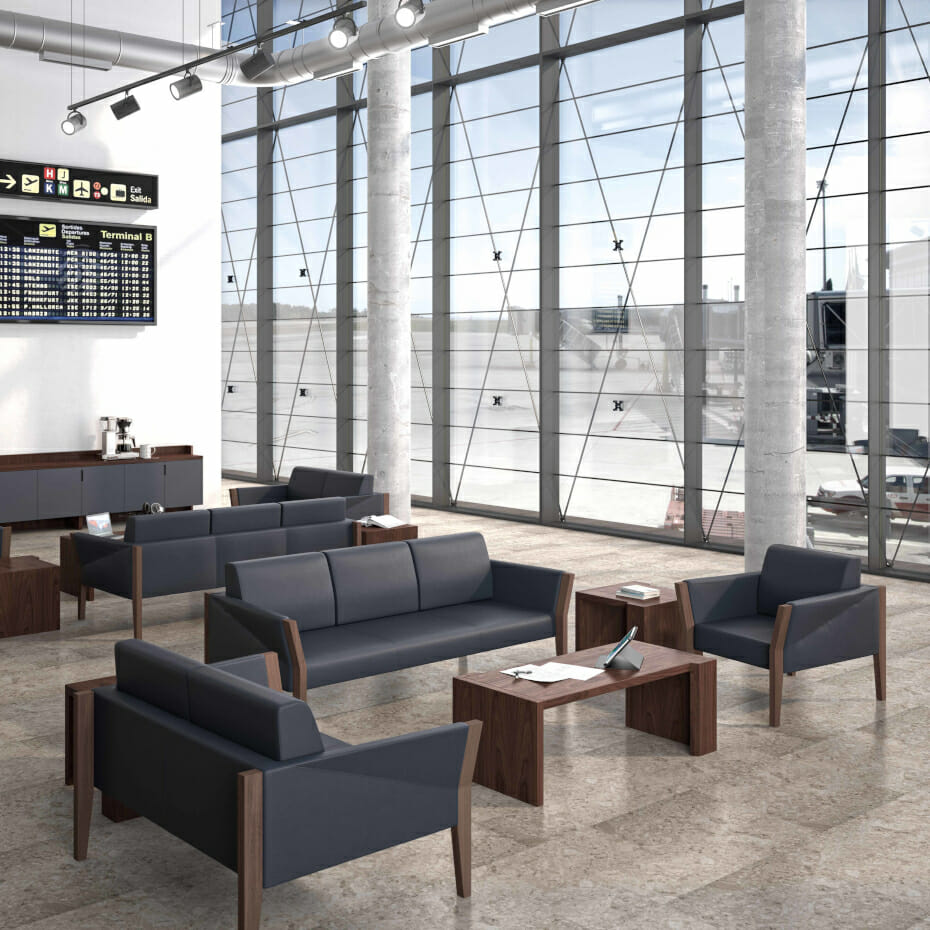 RAY lounge furniture for waiting rooms | FREEPORT coffee table | Dorigo Design | OFIFRAN
Through the use of digital technology, their collections can be individually styled acquiring a unique, distinctive look. With a plethora of materials, textures, fabrics, and of course beautiful veneers and solid timbers available to select, interior designers and professionals of the sector have everything they need to develop their workspace and lounge interior design.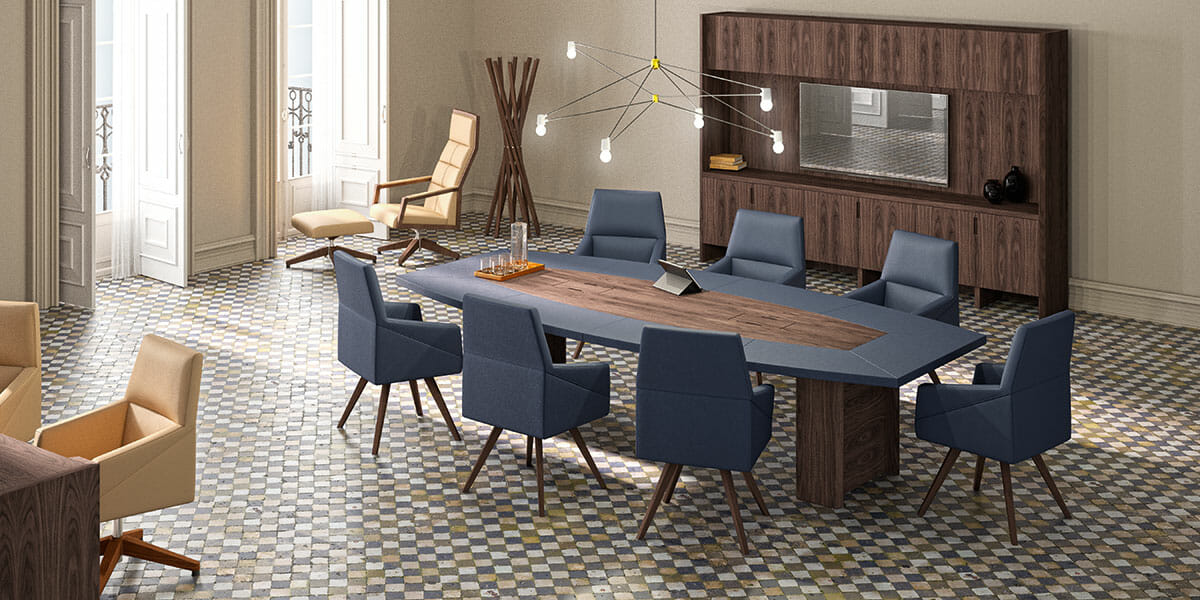 FREEPORT meeting room furniture | RAY chairs | Dorigo Design | OFIFRAN
New proposals for 2021 include modular workstations for contemporary, functional offices, furniture for receptions and waiting rooms, including modular sofas, lounge chairs, coffee and side tables, and customizable reception desks.
TOLA table. By Dorigo Design
The best craftsmanship and design combine in the stunning TOLA table, a piece that is the epitome of OFIFRAN's identity. Hand veneered in walnut wood by expert artisans – natural, espresso, noir-, this elegant executive table, that can be used as a desk or meeting table, has been specifically designed to enhance the image of companies and their management.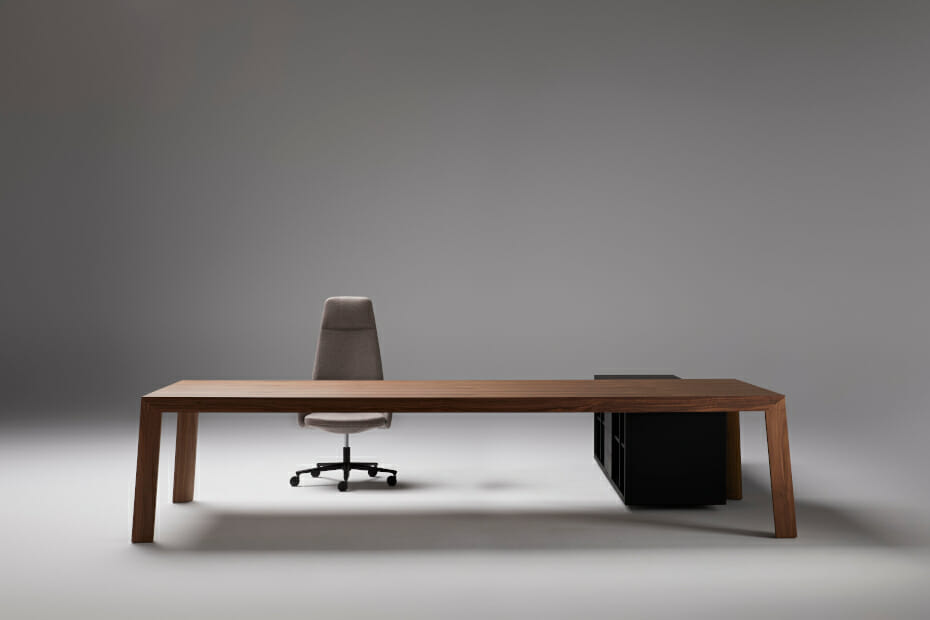 TOLA executive table | Dorigo Design | OFIFRAN
The executive desk is integrated by an optional credenza unit that can come lacquered in any colour of the brand's chart.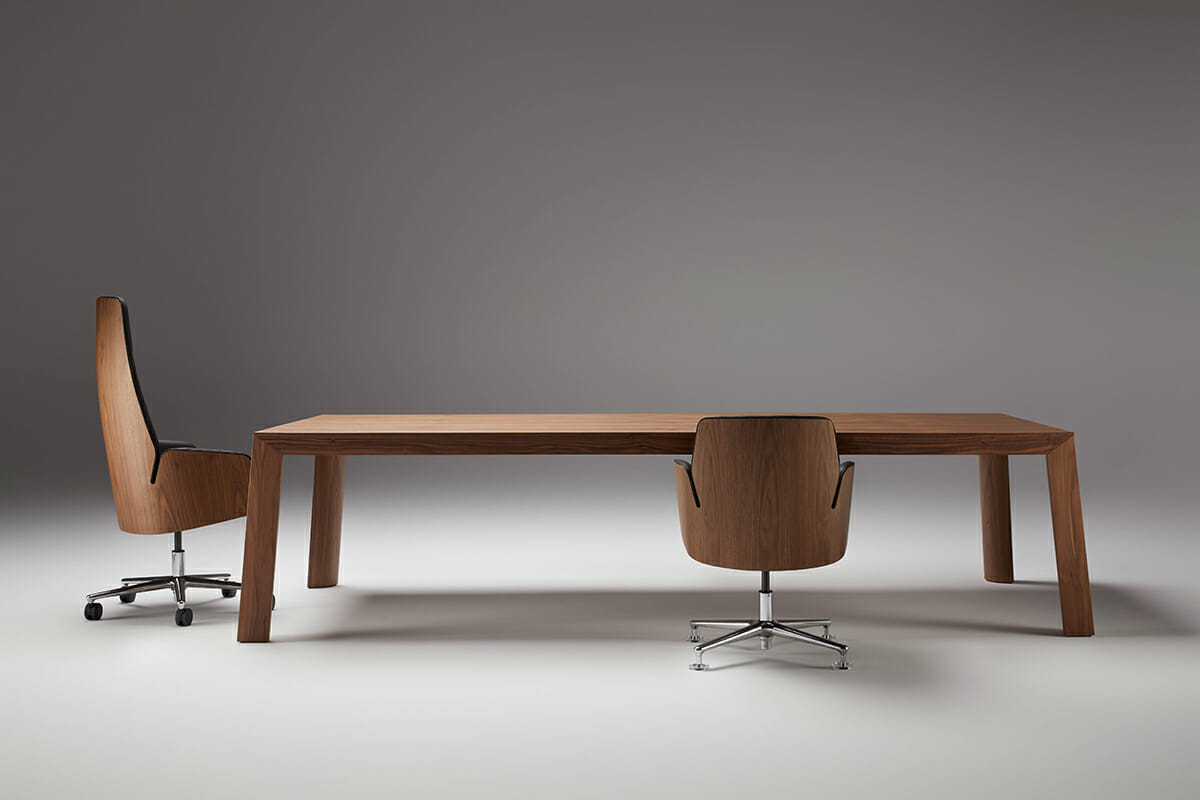 TOLA meeting table & CHANNEL chairs | Dorigo Design | OFIFRAN
The table is equipped with a practical cable access where a power outlet can be placed so that users can easily plug in their computers, devices and other office accessories; cables are concealed in passageways carved inside the legs in order to minimize cable visibility and keep the space uncluttered.
CHANNEL chair. By Dorigo Design
Take a seat, lean back, feel good. The new CHANNEL chair makes a clear statement: a perfectly executed tool for modern leadership culture. The result of a three-year development process, the newly launched executive chair stays true to the DNA of the brand in every aspect: the timeless aesthetics, the elegant shaping of its silhouette, the impeccable upholstery expertise.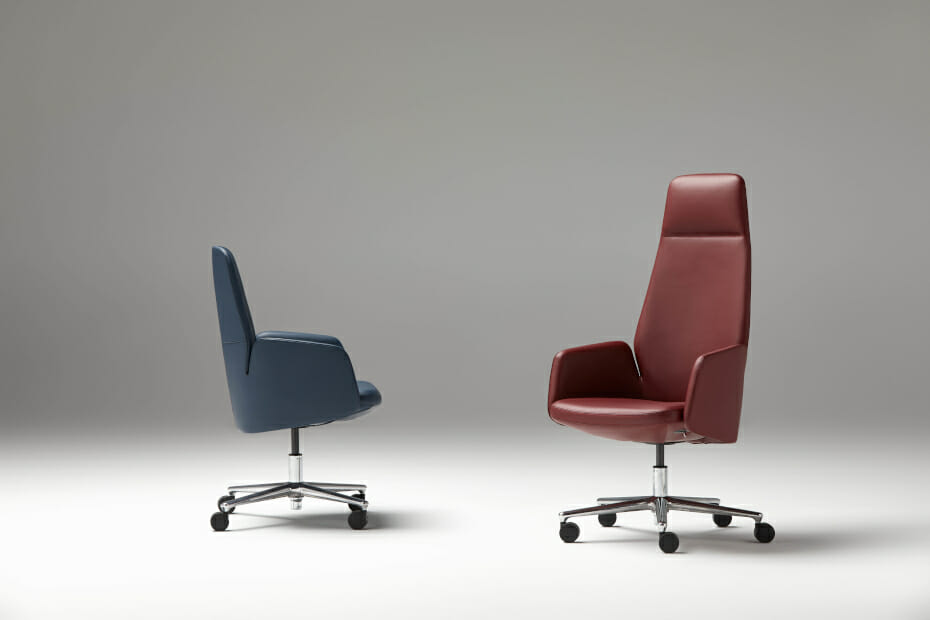 CHANNEL chairs | Dorigo Design | OFIFRAN
Yet it is totally contemporary in functionality – all models are available with a four-star or five-star swivel base with wheels or anti-slip gliders, in polished aluminium or finished in black epoxy, with a synchronized, oscillating seat or with return system and height adjustment.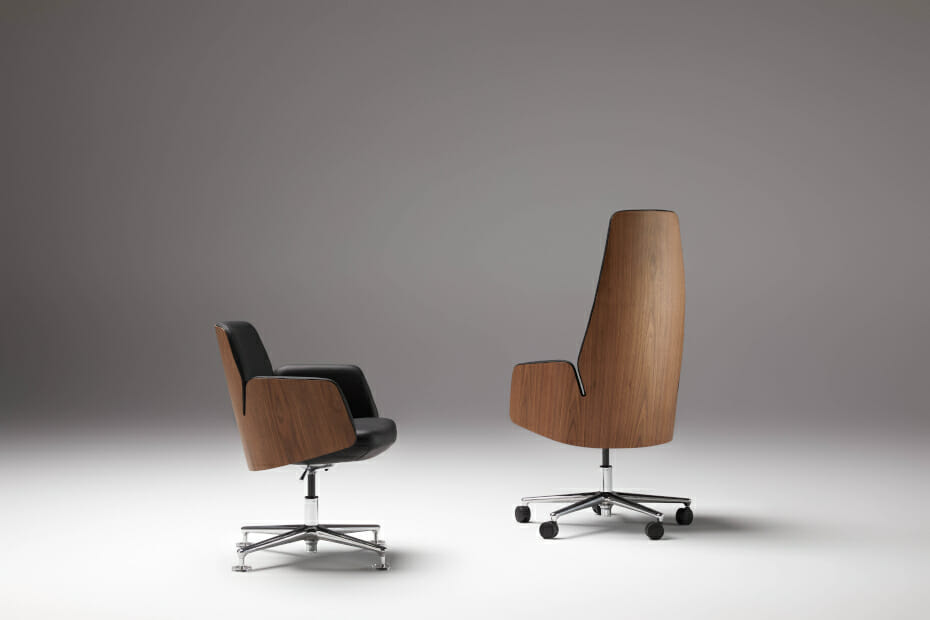 CHANNEL chairs, wooden backrest | Dorigo Design | OFIFRAN
For more personalization, CHANNEL comes in three different backrest heights, upholstered in leather, eco-leather or fabric, in a variety of colours. The backrest is available fully upholstered of with the external structure veneered in natural wood.
PIEM Collection. By Dorigo Design
Design, function and emotion. These are the hallmarks of the PIEM collection, an innovative modular concept that provides endless varieties of configuration for working and collaborative areas in modern workspaces. Inspire by Dutch neoplasticism (De Stijl), it pays homage to one of its founders, Piet Mondrian, evoking the simplification of compositions and the geometric concept which were at the core of the movement.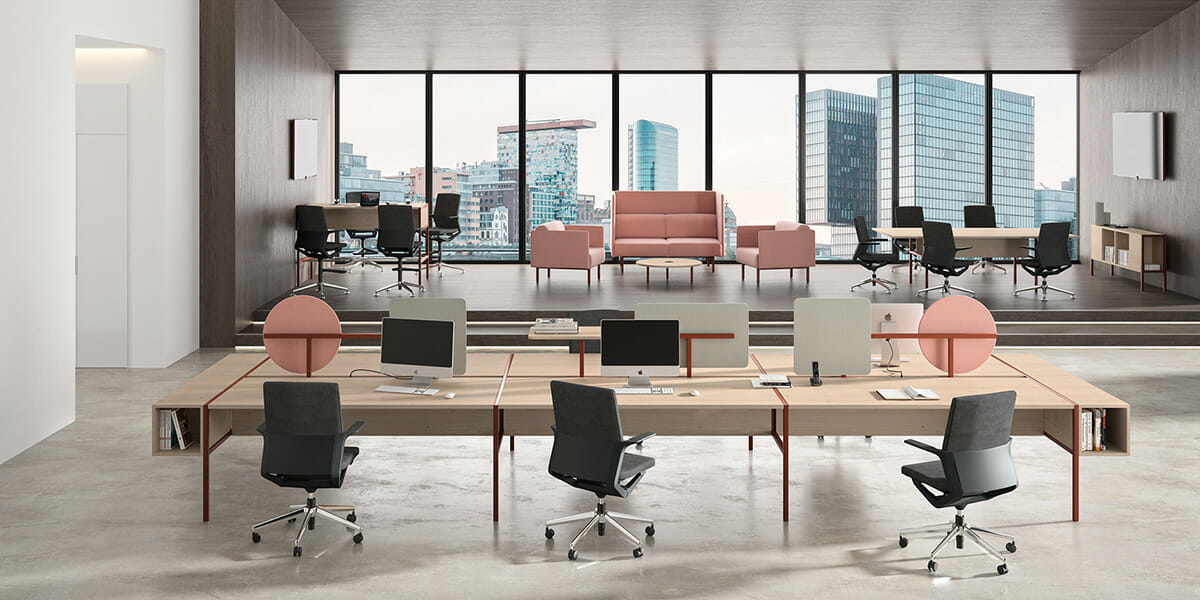 PIEM workstations & office furniture | Dorigo Design | OFIFRAN
Its great modularity allows to create areas of privacy, concentration and collaboration. An optional partitioning acoustic panel system is also available; the upholstered, acoustic absorbent dividers come in different geometric shapes to enhance the aesthetic appeal of the collection and its excellent privacy and acoustic features. They are provided with a series of magnets that facilitate their attachment to the metal frame with rolled steel profile. Cable tray and socket systems are perfectly integrated into tables and workstations.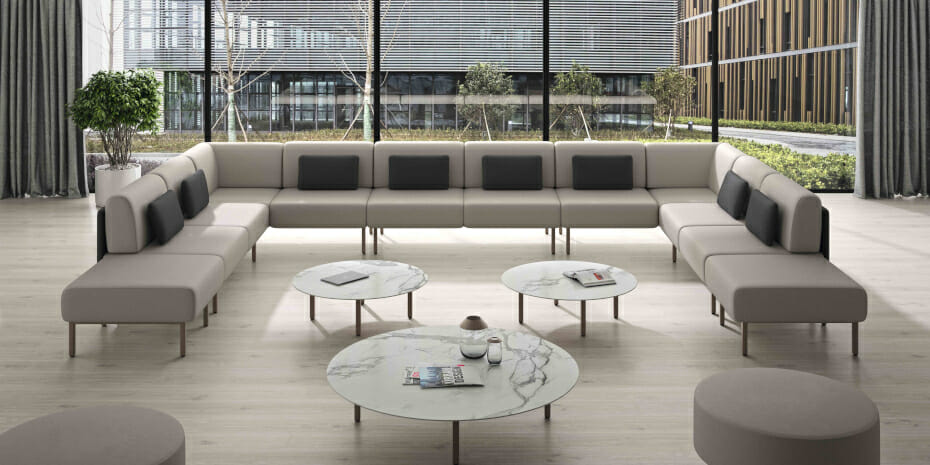 PIEM modular sofa | CENTO VENTI coffee tables | Dorigo Design | OFIFRAN
The options for lounge spaces and waiting areas include the high-back sofa with sound-proofing panels and the new modular sofa with metal legs, which can be customized in a choice of colours for the legs and a variety of fabrics.
GALLERY WAITING Collection. By Dorigo Design
For waiting areas, the firm has created the GALLERY WAITING collection that includes two-seat and three-seat sofas and armchairs, plus the high-back sofas that offer a calm, sheltered space for informal meetings.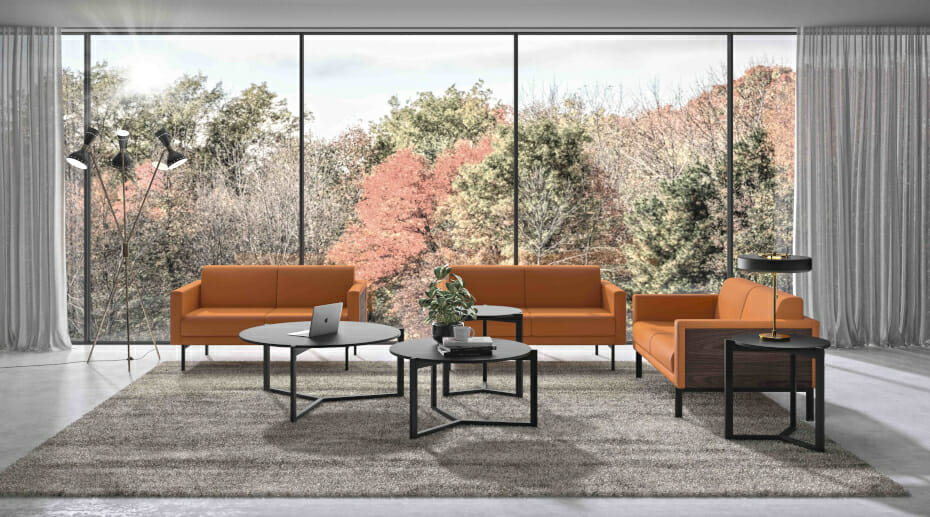 GALLERY sofas | CENTO VENTI tables | Dorigo Design | OFIFRAN
With a structure made of mechanized beech wood, the sofas and armchairs of this line feature a wooden side panel veneered in American walnut or oak wood and come upholstered in leather, eco-leather, velvet or in a selection of different attractive fabrics.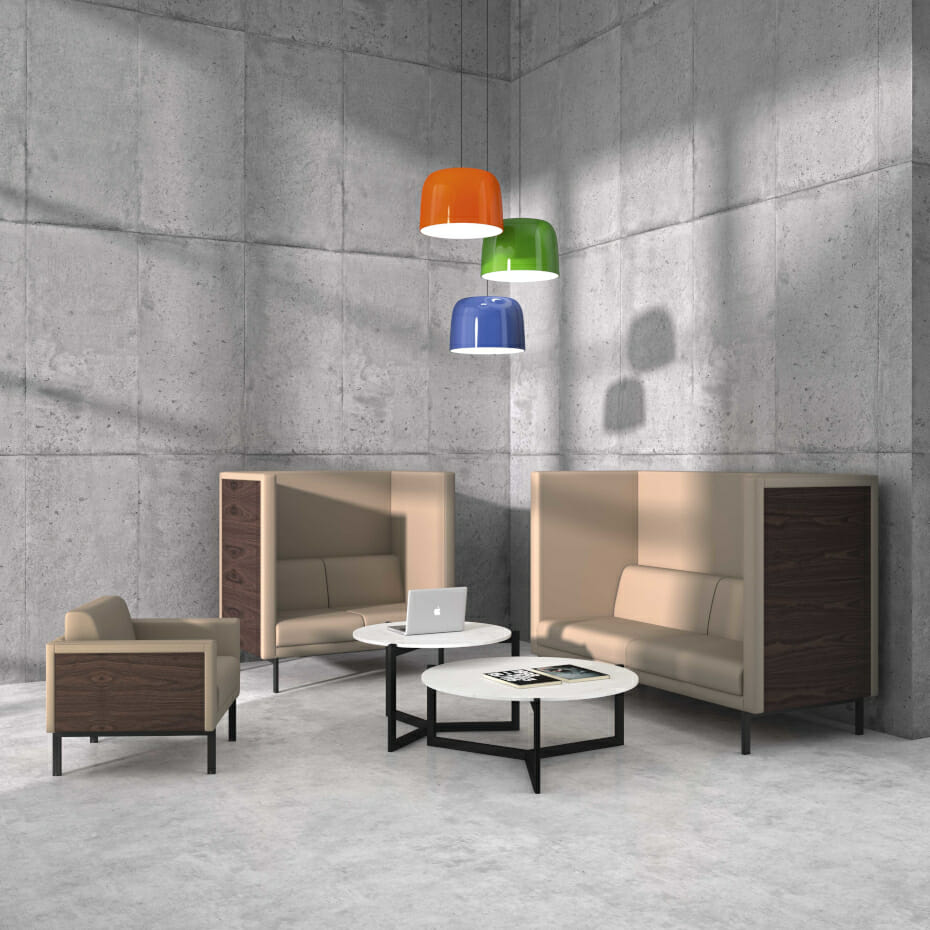 GALLERY high-back sofas | CENTO VENTI occasional tables | Dorigo Design | OFIFRAN
The legs, available in chrome and techno black, are provided with levellers to adjust in height.
CENTO VENTI coffee & side tables. By Dorigo Design
Lounge spaces and waiting areas can be beautifully complemented by the attractive coffee and side tables of the CENTOVENTI range, another creation by Dorigo Design for the brand.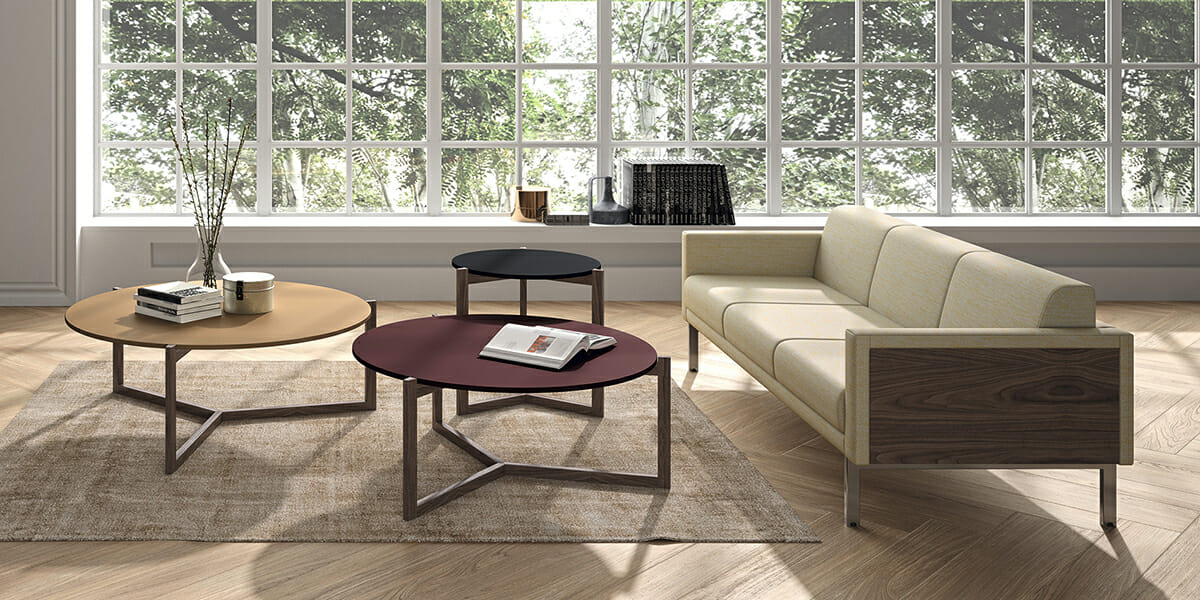 CENTO VENTI coffee tables | GALLERY sofa | Dorigo Design | OFIFRAN
They feature a light structure, with wooden legs and tops lacquered in a selection of colours or finished in wood and sintered marble.
FREEPORT reception desk. By Dorigo Design
FREEPORT is an innovative open concept for the design of management and executive work areas. Focused on customer-centric solutions, it encompasses executive desks with or without integrated filing units, sideboards, modular wall compositions that can be used as partitions, round tables, rectangular meeting tables and occasional tables. The line can also be used in other contract environments, such as meeting rooms, waiting areas, and even restaurants.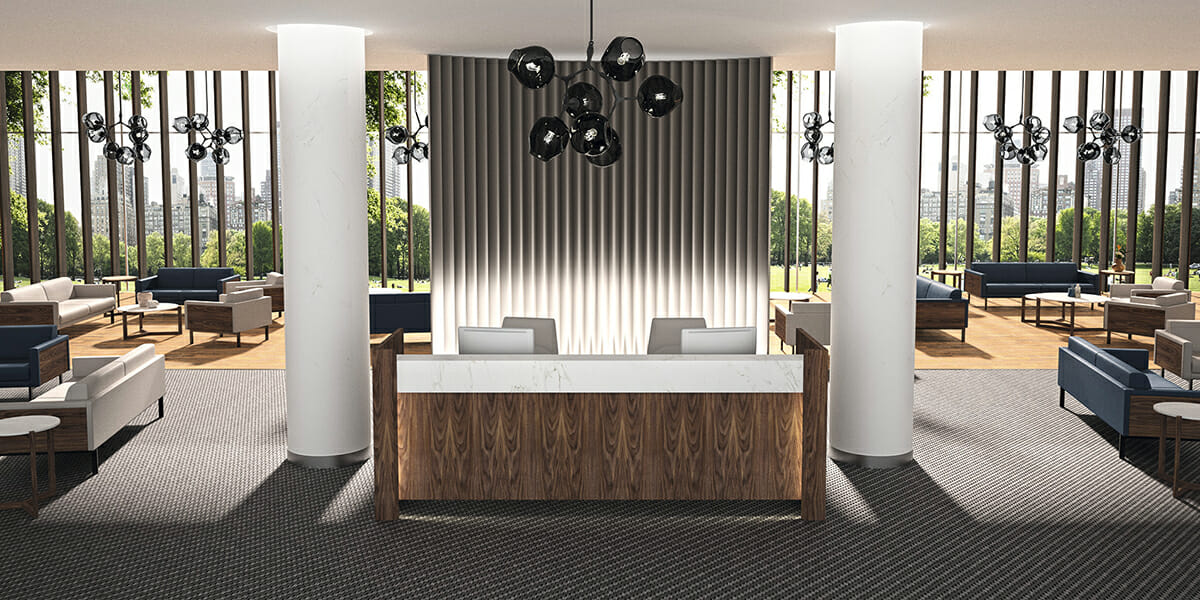 FREEPORT reception desk | Dorigo Design | OFIFRAN
With its refined combination of American walnut and Neolith sintered porcelain, available in two colour options – Mont Blanc and Pietra Grey-, the FREEPORT reception desk is the latest addition to the collection and a very functional piece that increases the potential of FREEPORT for the office, commercial and hospitality markets. The work surface is provided with a charging unit and a plug.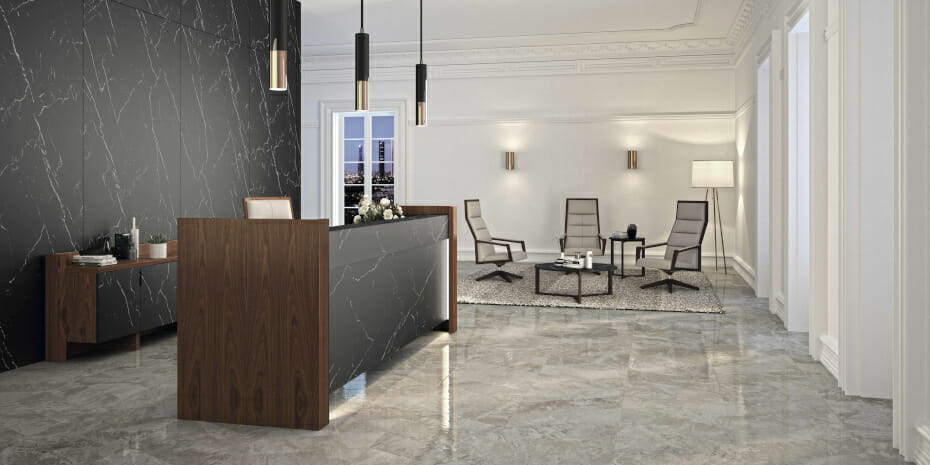 FREEPORT reception counter | Dorigo Design | OFIFRAN
With exports covering 65% of its turnover, OFIFRAN has now a strong presence in many international markets such as Russia and most African and Middle Eastern countries, where the brand has established long-term business relationships with important key-players of both the retail and contract sectors.
For more information, visit: www.ofifran.com