Design and Brand Identity: A Conversation with Mario Ruiz
October 16 / 2023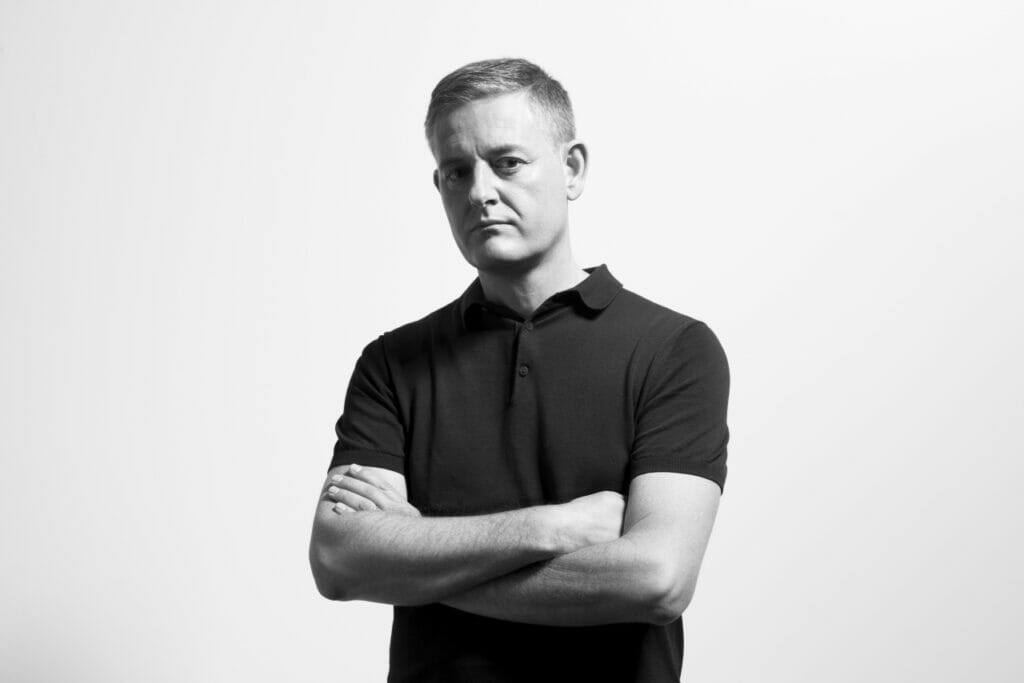 Born in Alicante in 1965, Mario Ruiz has established himself as a renowned figure in the world of industrial and product design on an international level. His education in industrial design at the Elisava University School of Design in Barcelona laid the foundation for a career filled with achievements and recognition.
Throughout his career, Mario Ruiz has collaborated with over 120 leading companies in his field, making him a reference in contemporary design. Among the brands he has worked with are Siemens, Steelcase, Teknion Studio, Offecct, Lapalma, Thomson, Arflex, Haworth, Grundig, Palau, Gandia Blasco, Expormim, HBF, Metalarte, Joquer, and B.lux, to name just a few. His multidisciplinary approach spans various fields of design, from furniture to technology, lighting, office furniture, and applied graphics.
Of all these fields, it is in the realm of furniture where Mario Ruiz has made a significant impact. His collaborations with notable Spanish companies like Punt, Gandíablasco, Point, Inclass, Kendo, Expormim, Mobenia, and Systemtronic have resulted in some of the most iconic and innovative furniture designs of our time. With clean, clear lines and meticulous attention to detail, Ruiz has successfully conveyed the idea of comfort and timeless style in his creations.
His work has been recognized with more than 50 international awards, including IF Awards, Red Dot Awards, Design Plus Awards, Wallpaper Awards 2008, and Neocon Awards 2008. In 2015, he received the Red Dot Design Award (Essen) for the "Stockholm" program for Punt Mobles. In 2017, he was awarded the "MetropolisLikes NeoCon" prize by Metropolis magazine (Chicago) for the "Bevy" series for StudioTK.
One of the most prestigious accolades of his career is the National Design Award, presented in 2016 in the "Professionals" category by the King of Spain, Felipe VI, and the Ministry of Economy. This award recognizes the work he has done over more than thirty years and reinforces Mario Ruiz's reputation and legacy in the field of design.
In this interview, we will delve into the life and creative vision of Mario Ruiz, exploring his inspirations, his most exciting projects, and his approach to using new materials and technologies in contemporary design.
1. Could you share with us your journey into design? From your years of education at the Elisava University School of Design in Barcelona to the moment you decided to establish your own studio, we'd love to hear about the key milestones that shaped your career.
Truth be told, I became a designer by chance. In 1985, at the age of nineteen, freshly out of high school, I enrolled in an International Design Conference in Alicante without knowing anything about design. I was inspired by the group of tremendously influential designers who were participating, including Dieter Rams, Alessandro Mendini, Philippe Starck and André Ricard. After listening to them for several days, I realized that I wanted to pursue a career in design. I moved to Barcelona and entered the Elisava School to study industrial design. After graduating, I worked for five years in various studios before setting up my own.
2. You've worked in various fields of design, from furniture to technology, lighting, and applied graphics. Could you tell us about your experiences in these different sectors? What inspired you to explore and make your mark in each of them?
Each field I've ventured into over time hasn't been by my own choice but rather by the opportunities presented by clients inviting me to collaborate. My approach with each of them has consistently revolved around creating a fitting identity for my client. I've never pursued the ambition of "leaving my mark."
3. Continuing along this line, let's focus on the field of furniture, where you've had the opportunity to collaborate with companies like Punt, Point, Gandiablasco, Mobenia, Kendo, Expormim, and more recently Inclass and Systemtronic, all of which are part of the Mueble de España brand. Could you tell us about these collaborations and how you've applied your creative vision to furniture design?
In each of my collaborations, I've consistently focused on respecting and enhancing each brand's unique identity. I start by attentively listening to the client's requirements and challenges. Much like a physician diagnosing a patient's condition based on symptoms and their individual characteristics, I approach each project with a deep comprehension of the brand's history, its inherent DNA, and the individuals who comprise it. I hold a profound respect for their collective experience and a keen awareness of their strengths. Consequently, my designs underscore these core values, fostering a dialogue and a harmonious partnership between my design philosophy and the brand's unique culture.
4. Specifically, we'd like to hear about your experience with two very different companies, Expormim and Systemtronic, both of which are regular exhibitors at Feria Hábitat Valencia. How did these collaborations come about, and how did you adapt to the philosophy and style of each of these brands?
Well, the two collaborations with Expormim and Systemtronic unfolded in distinct materials and timeframes. We began collaborating with Expormim nine years ago on rattan and solid wood projects. It's a company deeply committed to quality, sustainability, and a strong respect for artisanal tradition and good design. Working with such a culture and identity is truly gratifying. Together, we've worked on projects like the Huma chair, Kiri tables, Kotai table, and the Team shelving system.
On the other hand, our partnership with Systemtronic, which started approximately four years ago, centres around aluminium as the primary material. It's a modular shelving project with numerous configuration options, allowing for the creation of small to medium-scale support elements for homes or hotels, as well as compelling large-scale configurations suitable for workplaces, libraries, and hospitality spaces.
This project, named "Wing," is characterized by its formal simplicity, constructed with minimal material while featuring a system that makes assembly incredibly straightforward. It's a project that aligns with a new phase for the brand as they venture into more extensive projects.
In response to your second question, maintaining the brands' identity and making the most of the materials they use to manufacture and identify them is pivotal for me.
5. For the Outdoor Origin collection by outdoor furniture specialist Point, you applied the principle of "less is more" from the master Mies van der Rohe. How did you find the balance between simple design and product value?
In this project, I didn't adhere to the "less is more" concept. My aim has consistently been to ensure that my designs possess only what is essential, provided their functionality remains impeccable. A prime illustration of this principle can be found in the outdoor Origin collection for Point.
Though this project may appear deceptively straightforward, it belies a profound complexity. The entire collection is ingeniously stackable while maintaining an outward appearance of effortless cohesion. It's worth noting that crafting such seemingly simple designs often demands the highest degree of intricacy and skill. The pieces are also incredibly versatile and can be used in a variety of outdoor settings.
6. Your most recent collaboration with companies under the Mueble de España brand is with Inclass, a leading company in the office furniture sector, for which you've developed the REVER chair, presented at this year's Milan Furniture Fair. Tell us about how this project came about. How do you create and develop your projects from the initial idea to their realization?
It was a collaboration that excited me a lot. I was born in Alicante, and it's the first Alicante-based company I've collaborated with. Like all projects, it started with a dialogue with Diego Vicedo, CEO of Inclass. That shared exploration of the concepts and fine details that define the essence of the company gave rise to a product well-suited for them and aligned with their business philosophy.
7. As a designer, what is your approach and design philosophy? What inspires you? How do you balance functionality and aesthetics in your creations? Italians talk about "bello e ben fatto", a distinctive feature of the country that sets its industrial products apart from foreign competition.
I don't have common places where I seek inspiration. Instead, I find it in various facets of life—through travel, art, and enriching interactions with people.
Balancing functionality and aesthetics is a complex endeavour. I believe it's essential not only for something to work well but also to cater to the specific needs of the client I'm collaborating with. Additionally, I prioritize the end-user, who will ultimately interact with the object. When all these factors are considered, achieving equilibrium becomes a necessity.
8. And from here arises our next question: what sets Spanish design products apart in international markets?
I don't find a distinction between reputable Spanish companies and those from other countries, perhaps aside from factors like size or export capacity. However, what truly distinguishes a good Spanish company from its international competitors, in my view, is an authentic brand identity coupled with a genuine and coherent product. The more harmony exists between these concepts, the stronger the brand becomes.
9. In the world of design, innovation in materials and technologies plays an important role. How do you approach this theme in your projects? Have you recently explored new materials or technologies?
Materials, much like technologies, are dynamic and ever-evolving. I always employ materials that, logically, are suitable for each specific project. If there are changes in their usual use or manufacturing processes, it's always the result of mutual agreement. I prefer not to conduct experiments that could potentially pose challenges for my clients.
10. To conclude, what exciting projects do you have in mind for the future? What are your goals and aspirations as a designer?
The projects of the future are the ones I'm currently immersed in. I've never had specific goals or aspirations as a designer; my sole ambition has been to be a designer and make a livelihood from it. I cherish life and spending time with those I care about.
Design is my tool; it's what allows me to live with passion. It's a way of seeing things and sharing time with others.