Home sweet home-office: the best luxurious home-office collections for charming WFH spaces [2]
October 19 / 2020
Who says that a WFH space needs to be all work and no enjoyment? With working from home turning into the new normal and the increasing number of people running their own small business from home, the home-office is top of the mind again. Whether used every day of the week for a 9-to-5 workday or occasionally for evening brainstorms, a well-designed space can help shut out distractions, focus on work, and inspire creativity.
The trend right now is a shift from working at a dining table or on a slab of countertop in the kitchen to sitting in a home office that's a comfortable, intriguing space for concentrating and getting motivated. When it comes to decorating, the main goal should be to create a space that's not only functional but suits the taste of owners and seamlessly integrate the work life into the home life without making the space look like a corporate cubicle.
Working in style. Luxury home office collections from Spanish haute décor brands
Spanish brands in the haute décor market have some proposals that will make an incredible Zoom-ready backdrop and set the right atmosphere to knuckle down in style and comfort. The offer includes from desks and executive and office chairs to bookcases, display cabinets, filing units, lighting and all you need to design highly personalized home-office spaces for the most exclusive and discerning clients.
Noble woods, impeccable finishes, precious materials add beauty and character to the working space, keeping it interesting and inspiring for the years to come. Strokable textures, like the velvets and leathers, and high-quality fabrics will also make the working day just a little bit more luxe.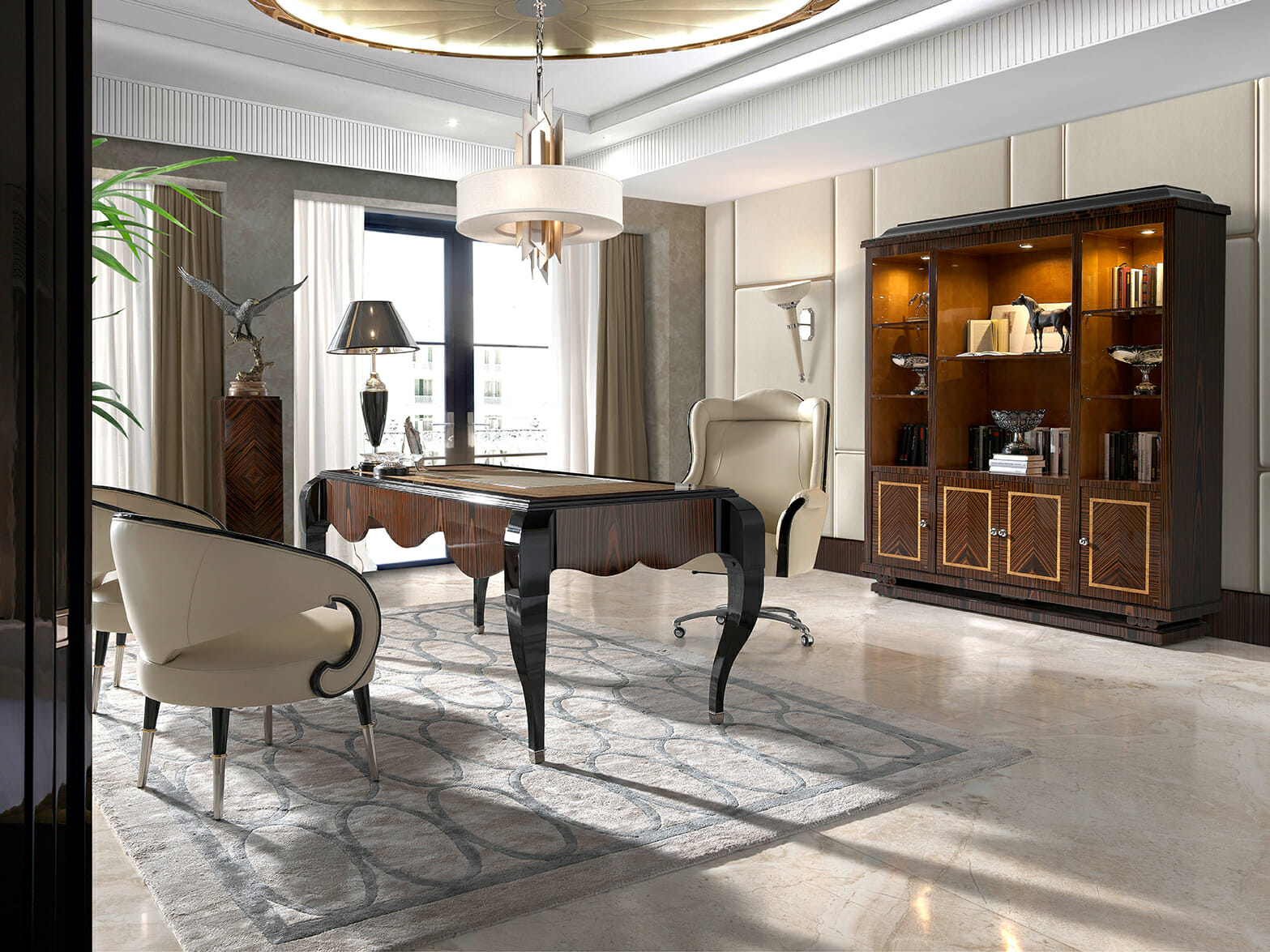 COLECCIÓN ALEXANDRA. MASTER home-office. The epitome of luxury and great style
With its unsurpassed reputation for unique haute décor, COLECCIÓN ALEXANDRA has a well-earned reputation for creating wonderful working environments that inspire and create value.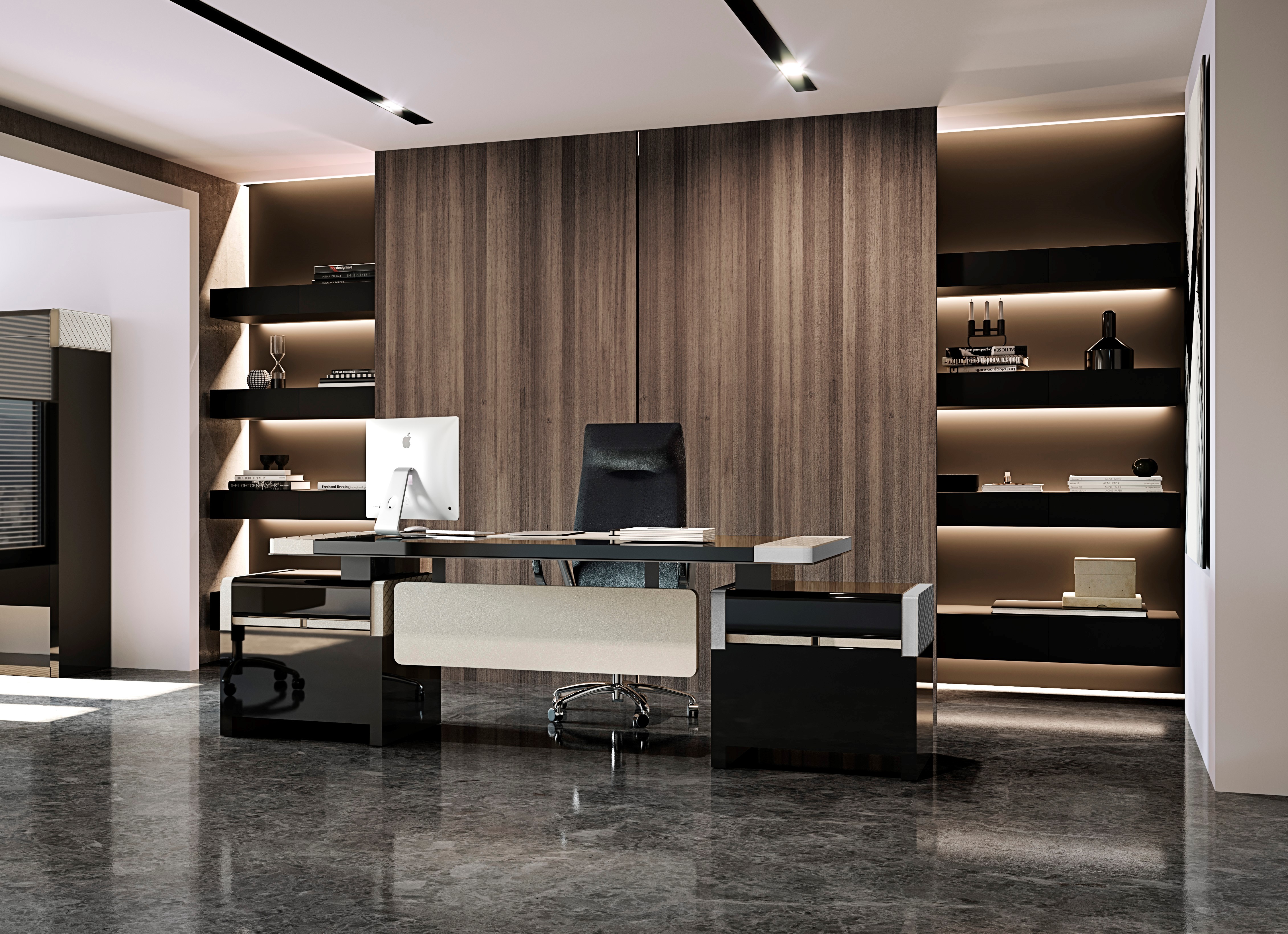 MASTER home-office set | COLECCIÓN ALEXANDRA
Drawing inspiration from the period of elegance of the 1920s, the MASTER desk is the epitome of good taste and luxury home décor. The glam feel is given by the subtle combination of high-gloss lacquers and top-quality engraved leathers. It is perfect in combination with the MASTER high cabinets, the CRON executive chair or the DETROIT bookcase.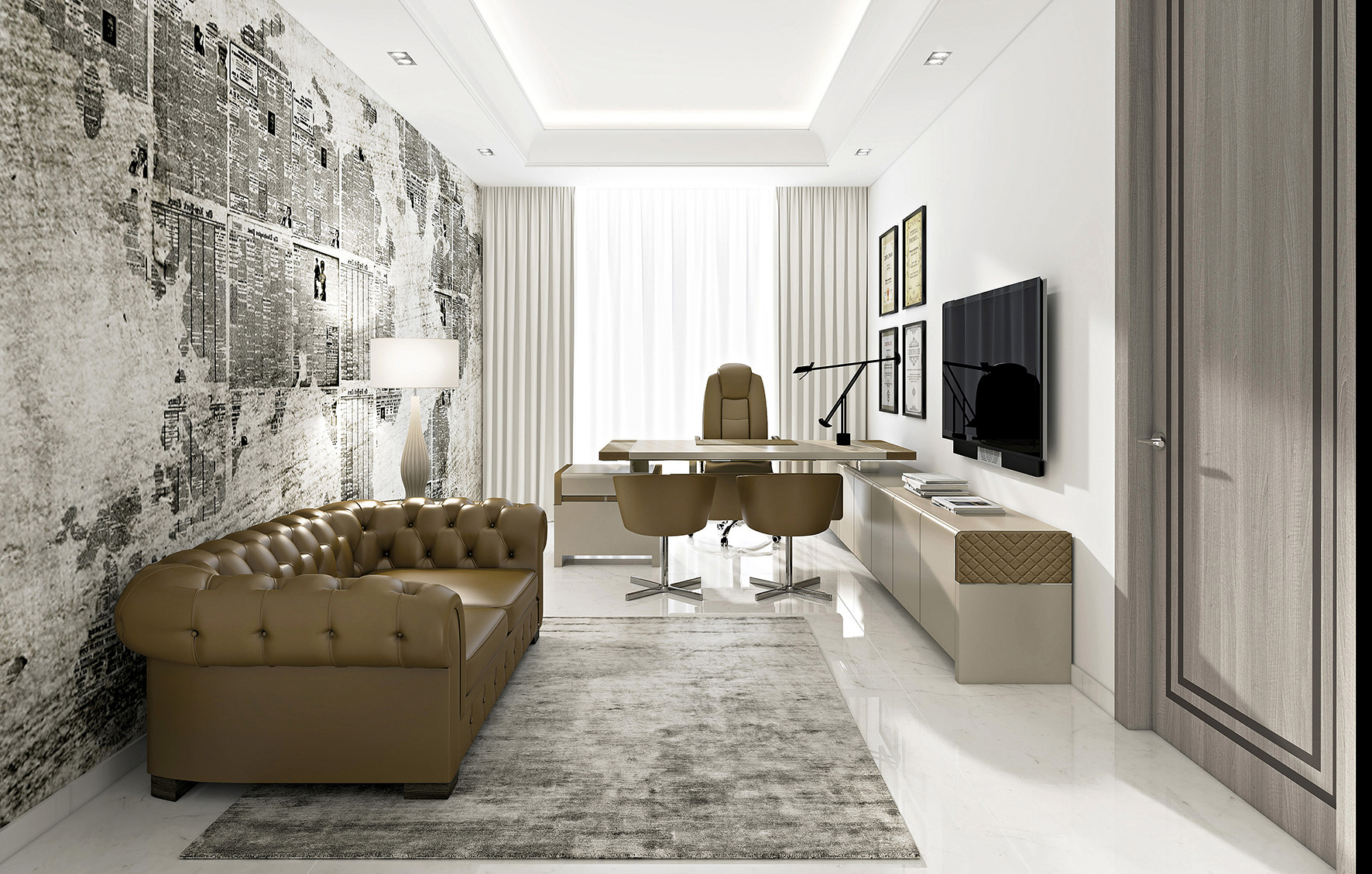 MASTER home-office set, highly customizable furniture | COLECCIÓN ALEXANDRA
The workspace can also be personalized by adding other pieces that improve functionality and comfort, such as an extra table or a sideboard from the same collection. The MASTER armchair and office chair also make a perfect match.
With more than 100 standard finishes available, this range of contemporary home office furniture is very adaptable and can be crafted to meet any whim.
TECNI NOVA. FORTUNE II home-office line. High-end furniture with a warm, natural charm
Contemporary yet sophisticated, the 4220/26 desk from the FORTUNE II Collection by TECNI NOVA stands out for its great character and appeal. Made of solid wood, it features an intriguing design made of organic and rounded shapes with the top and the front elements upholstered in top-quality leather. Legs integrates seamlessly into the structure forming an assembly of great decorative value.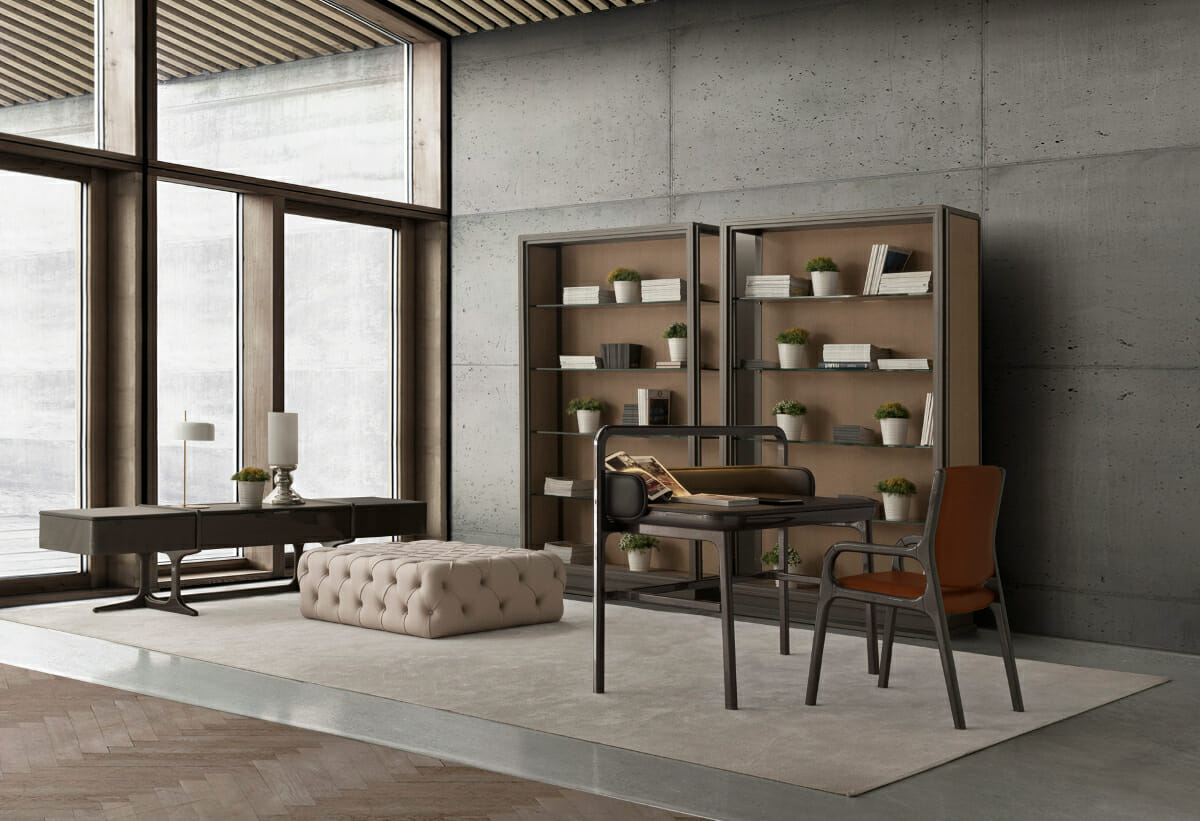 FORTUNE II home-office set | TECNI NOVA
The structure can come in solid oak wood tinted in natural or dark tones; or it can come in beech wood lacquered in high gloss colours, mainly in metallic ranges. LED lighting has been integrated into the structure for extra functionality.
FORTUNE II home-office set | TECNI NOVA
As for matching chairs, the desk is perfect with the 1290 and 1293 upholstered chairs from the same collection, which are exceptionally comfortable and stylish. The 4216/16 bookcases, which can be joined together and come with upholstered backs and sides, or the 4217/16 bookcases – with optional upholstered sliding doors – make the perfect backdrop for contemporary, sophisticated workspaces at home.
ARTES MOBLE. Walnut desk with secret drawers. The perfect mix of craftsmanship and innovation
Featuring a simple and elegant timeless design inspired by traditional school desks, the new desk with secret drawers (Ref: T-776) from high-end furniture specialist ARTES MOBLE is suitable for work areas in living rooms and bedrooms, where the desk can be used also as a dressing table. Made of Spanish walnut wood on solid high-density boards and solid beech wood, the desk is equipped with flip-up lids, hidden drawers, cable management system and an invisible wireless charger to keep mobile phones always charged and ready.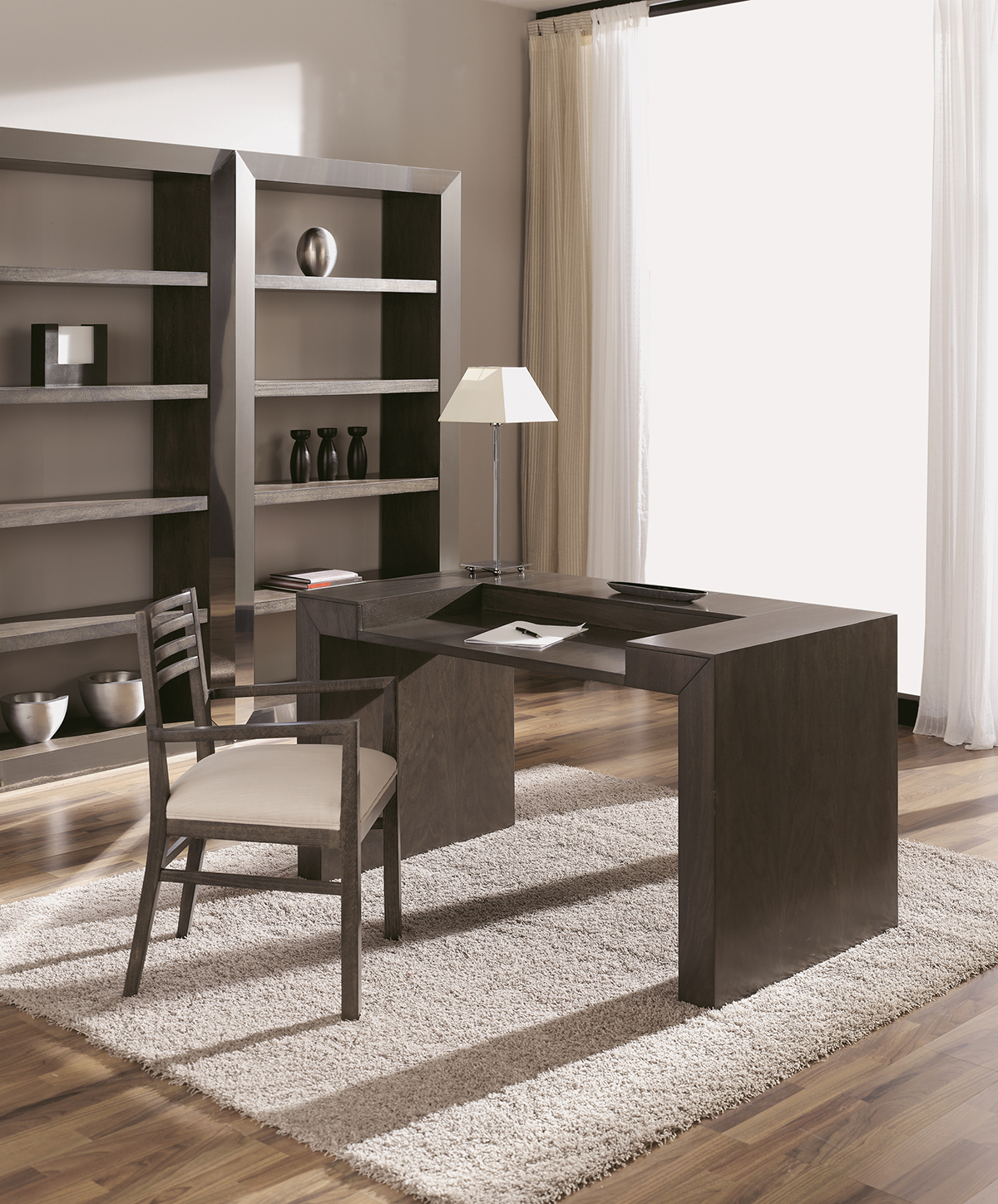 Home-office set: T776 desk & T620/T846 bookcases | ARTESMOBLE
Available in different colours, it can be combined with any bookcase and chair of the brands' contemporary catalogue.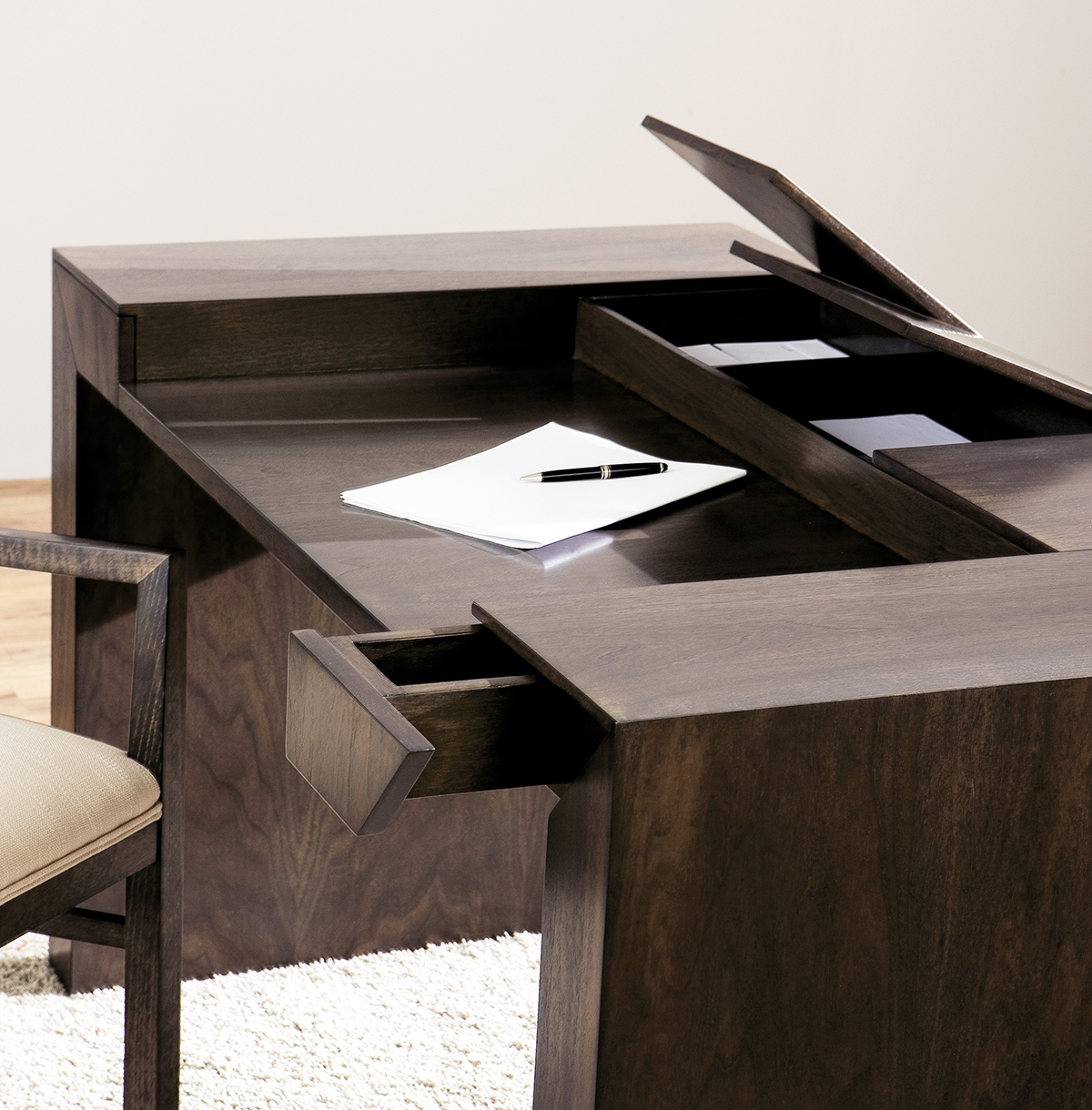 T776 desk, detail | ARTESMOBLE
To ensure health and well-being, all high-end furniture collections have received an exclusive antimicrobial and antibacterial treatment (E.coli, Legionella, MRSA…), which has anti-dust properties and is also resistant to fungi and mould.
SOHER. PANTHER home-office collection. Matchless elegance and distinction
When sophistication and class are required, PANTHER is a perfect choice. The finest ebony, the silver- or gold-plated bronze details, the high-quality leathers, the Swarovski crystals combine in this exclusive collection from SOHER to create spaces of matchless elegance and distinction.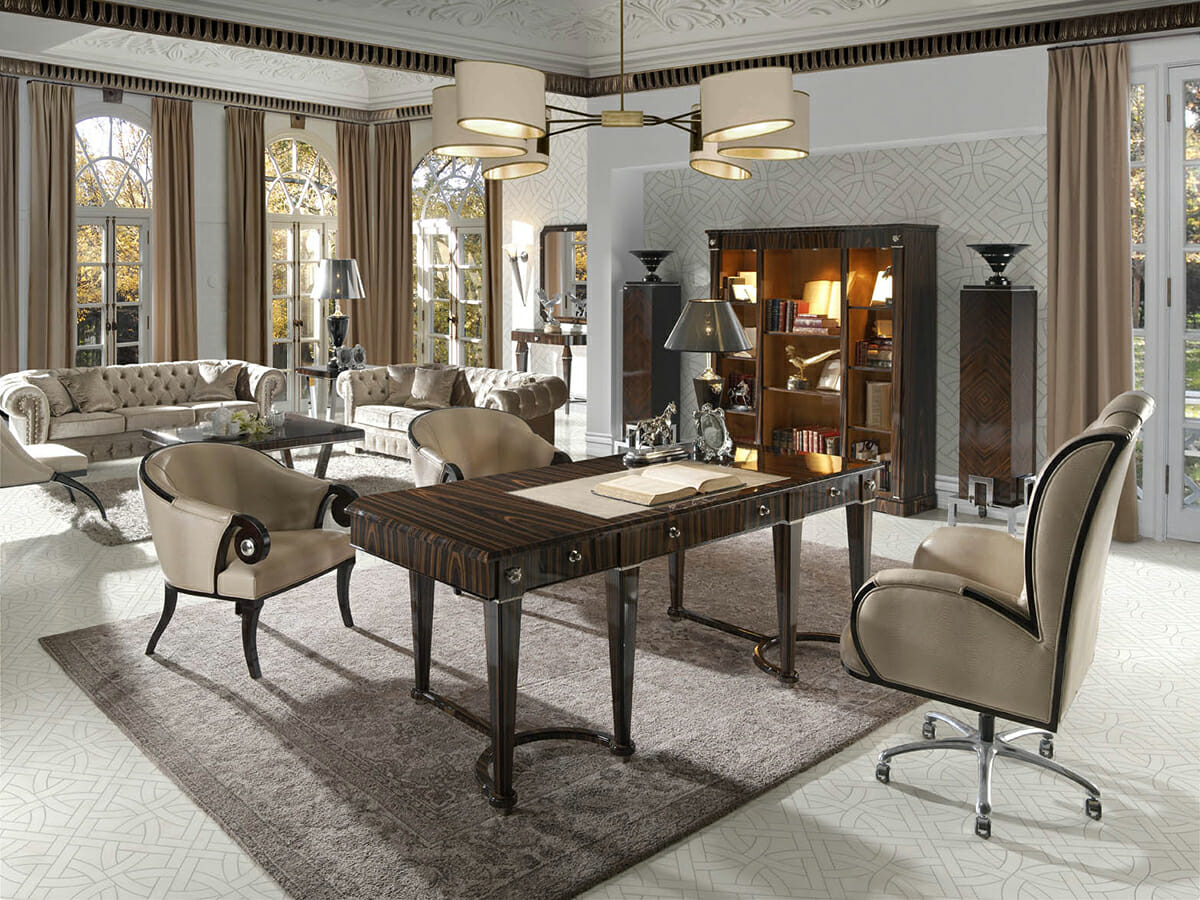 PANTHER home-office set | SOHER
Heavily inspired by the Art-Deco and based on skilled craftsmanship, all the furniture from the PANTHER collection features a strong appeal that makes it a perfect choice to set an immediate glamorous mood in exclusive spaces.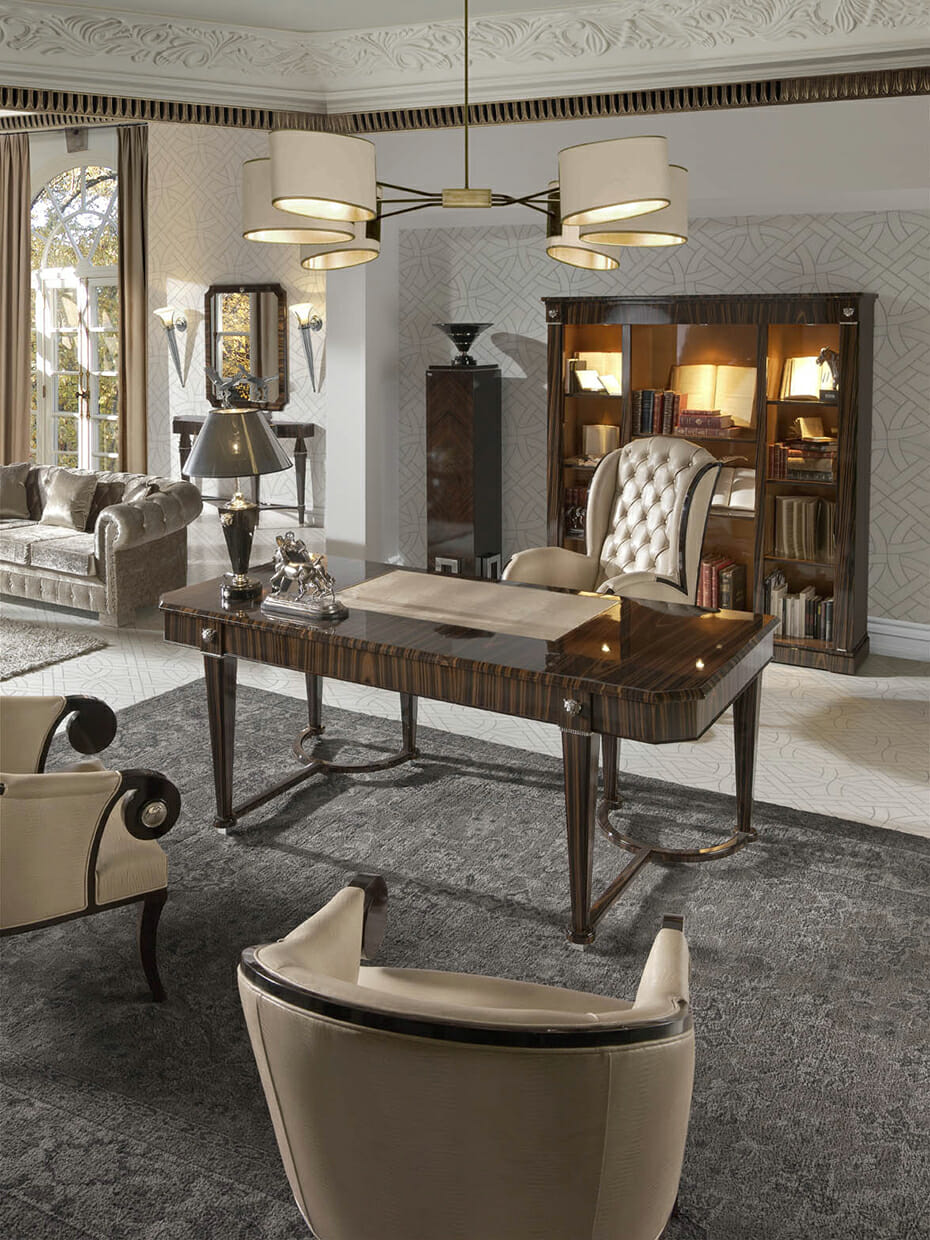 PANTHER home-office set | SOHER
The home-office line includes an amazing writing desk finished in fine-grained ebony and embellished by unique bronze details; a display cabinet with LED lighting; pedestals for treasured decorative items; and a set of comfortable guest chairs and executive chairs upholstered in matching leather.
AGRIPPA. VOLTAIRE writing desk. Sculptural beauty in your workspace
Elegant and functional, VOLTAIRE is a statement piece for addicted to beauty. With its subtle dialogue between sinuous curves and straight lines, between perfect execution and voluptuousness, this wonderful desk from the Spanish AGRIPPA breaks the conventions of style bringing dynamism and uniqueness to environments.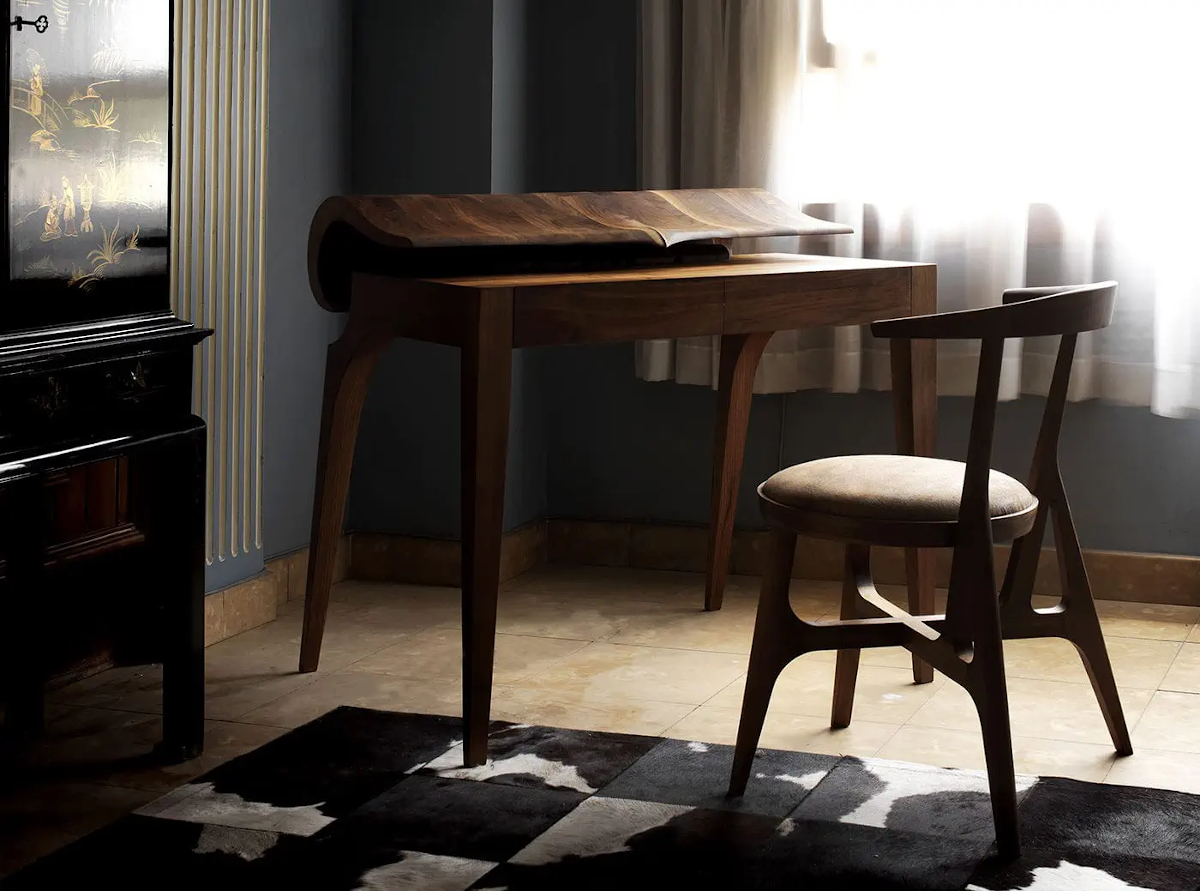 VOLTAIRE desk | AGRIPPA
With the lid closed, Voltaire shows an enigmatic silhouette; but when we open it the secret is revealed: the lift-up lid conceals hidden compartments that help to keep clutter at bay. The desk has also two large drawers for additional storage.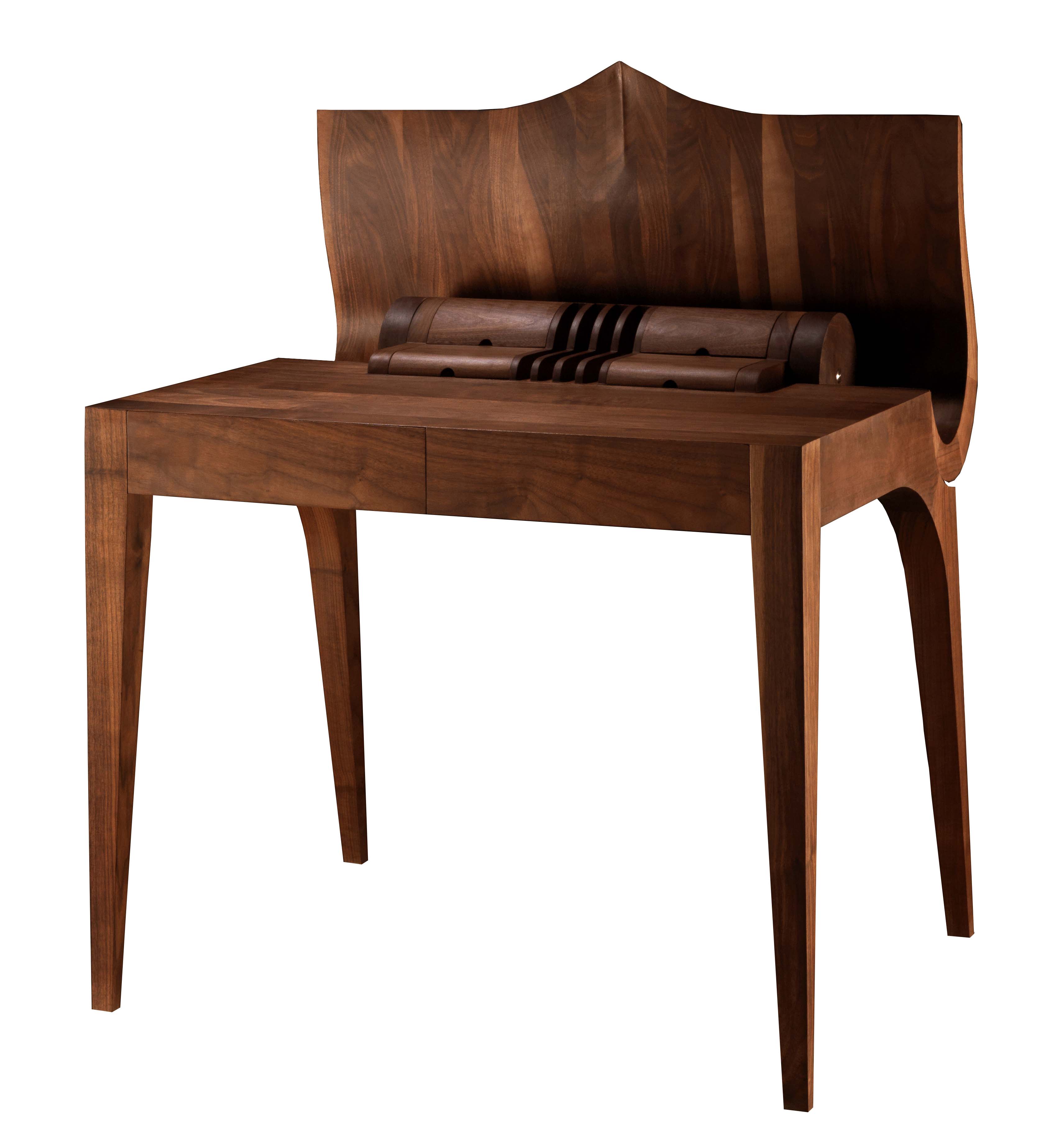 VOLTAIRE desk, lift-up lid | AGRIPPA
As per materials, VOLTAIRE is available in American walnut or in ash wood with a choice of 9 different colours.
THAI NATURA. Home-office collections. A chic retreat
Dynamic and innovative, THAI NATURA provides interior designers and decorators with multiple solutions to furnish all kinds of spaces. New lines of home-office furniture have been carefully designed to create exclusive ambiences full of sophistication and drama which are also practical and high in aesthetics.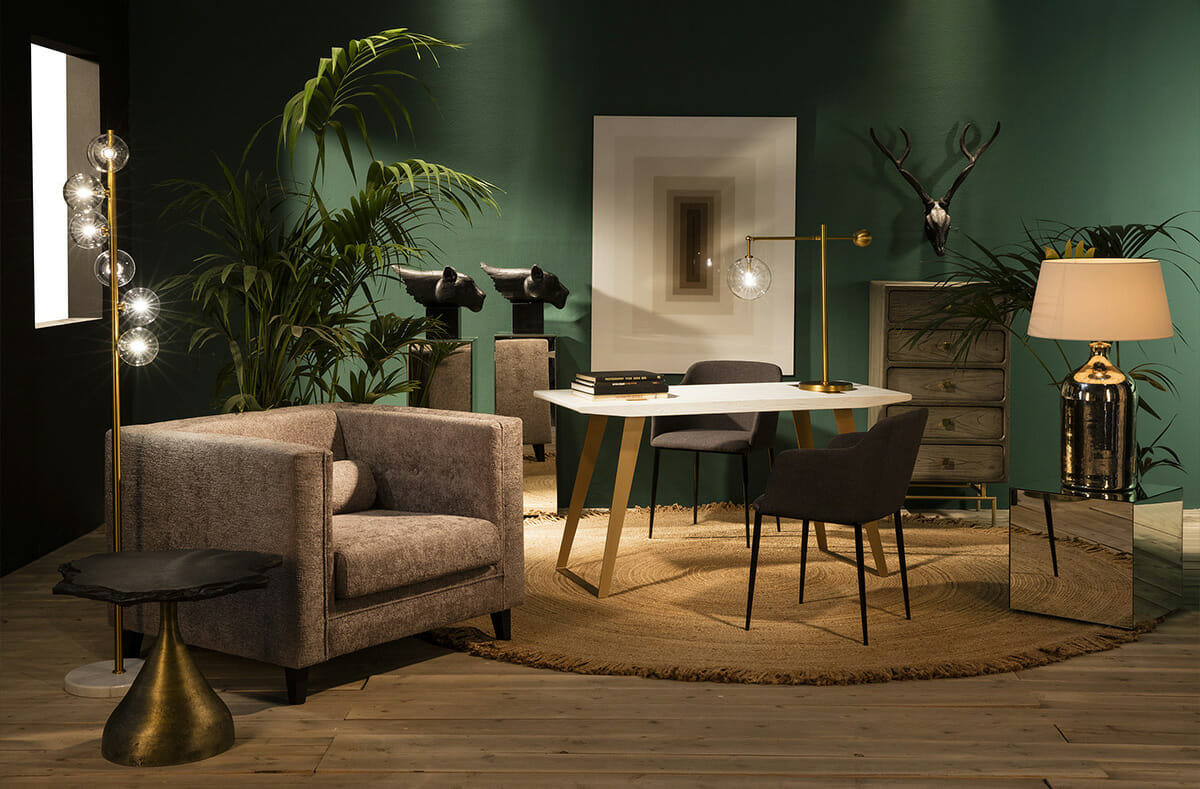 Eclectic home-office sets | THAI NATURA
Natural materials and the finest finishes play a key role in achieving atmospheres full of charm, elegance, and balance. High-gloss lacquered desks with golden bases or totally natural come in combination with practical high cabinets made of cedarwood, comfortable armchairs available in different sizes and quality fabrics, and precious side table made of black natural stones and golden metal that add depth and touches of glam to the whole.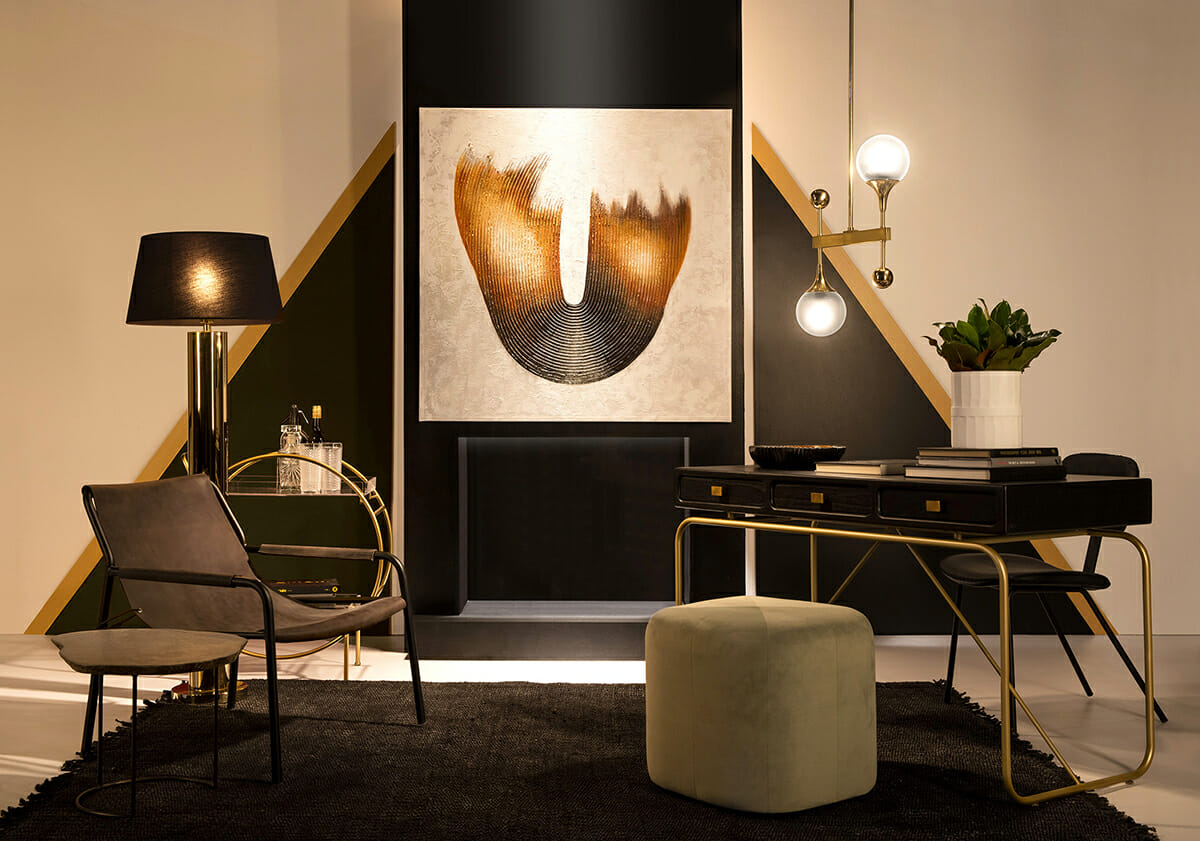 Eclectic home-office sets | THAI NATURA
This home office offer is further enriched by the rich choice of complements that are the rage and includes mirrors, precious graphic arts and paintings, brass lamps with glass ball screen and exposed light bulbs, jute rugs, coloured hand-made vases, and unusual decorative objects.
VICAL. Home-office furniture. The eclectic escape
A mixture of styles – including industrial, vintage, art-decó, oriental, ethnic, contemporary and Nordic -, antiques, natural materials and exclusive decorative objects from any corner of the world define the unique, eclectic style of the Spanish VICAL.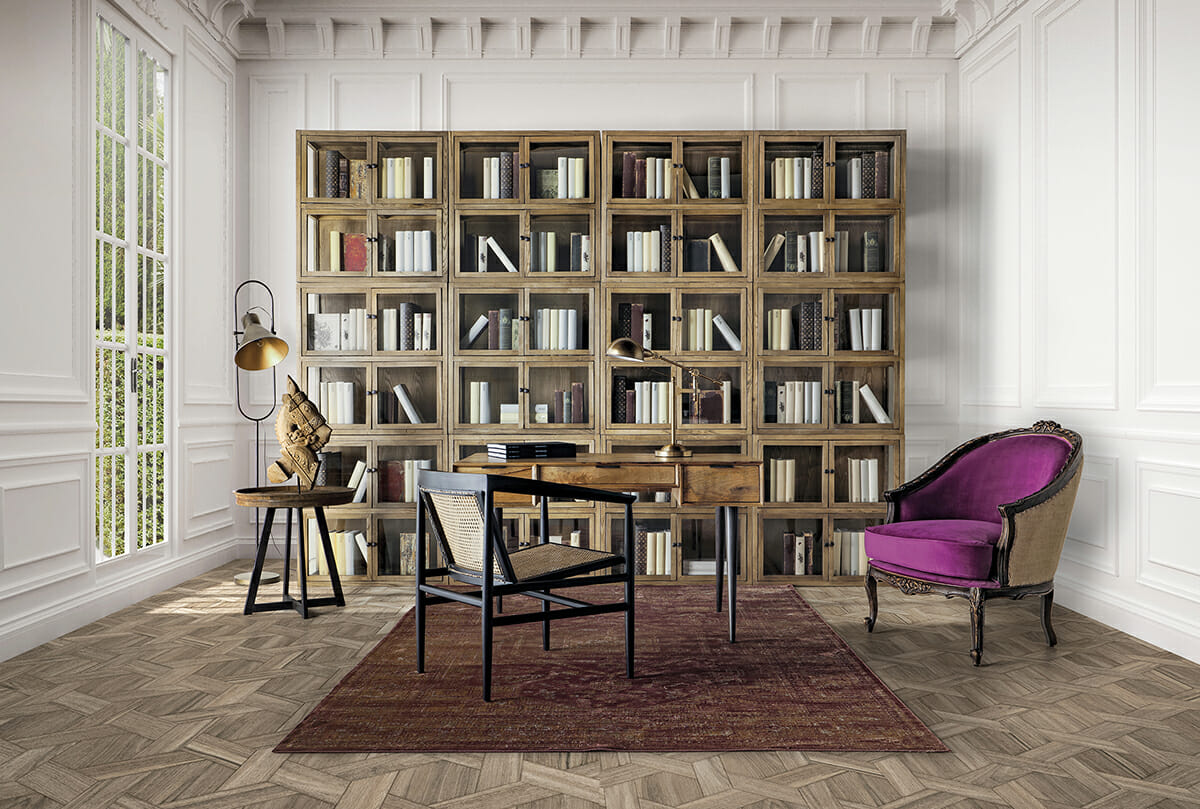 Home-office set: GAFFNEY desk, BERN bookcases, AGDE chair, JOHVI armchair | VICAL
Their new proposals for home-office environments combines warmth and minimal designs with lots of cosy layers and textures. Natural materials and an eclectic mix of industrial style and classic inspirations accentuate the sense of warm comfort lending a sumptuous and earthy note to the space.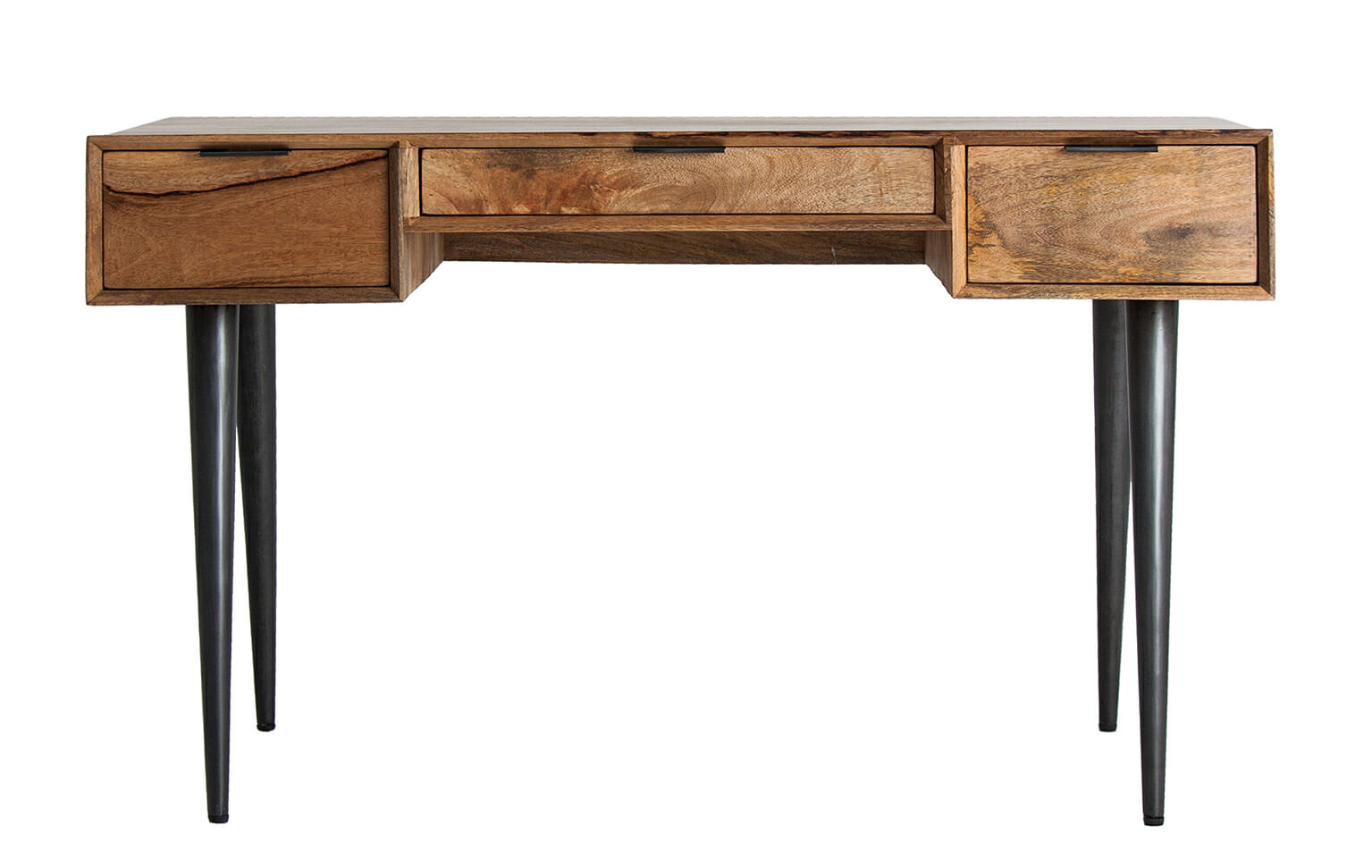 GAFFNEY desk | VICAL
Made of mango wood and iron, the GAFFNEY desk, available natural and black, steal the scene with its vibrant industrial look, whereas the BERN bookcases proves the perfect backdrop with its amazing combination of natural, recycled pine wood and glass. The eclectic accent is given by the bold combination of the contemporary AGDE chair, in mahogany and rattan, the classic JOHVI armchair, upholstered in vibrant fuchsia velvet.
GUADARTE. NOUVEAU BAROQUE home-office. Enchanting atmospheres at work
Eclectic by definition, GUADARTE's décor comprises heterogeneous elements – a mixture of textures, materials, styles, trends, and colours – which draw inspirations from many sources and periods.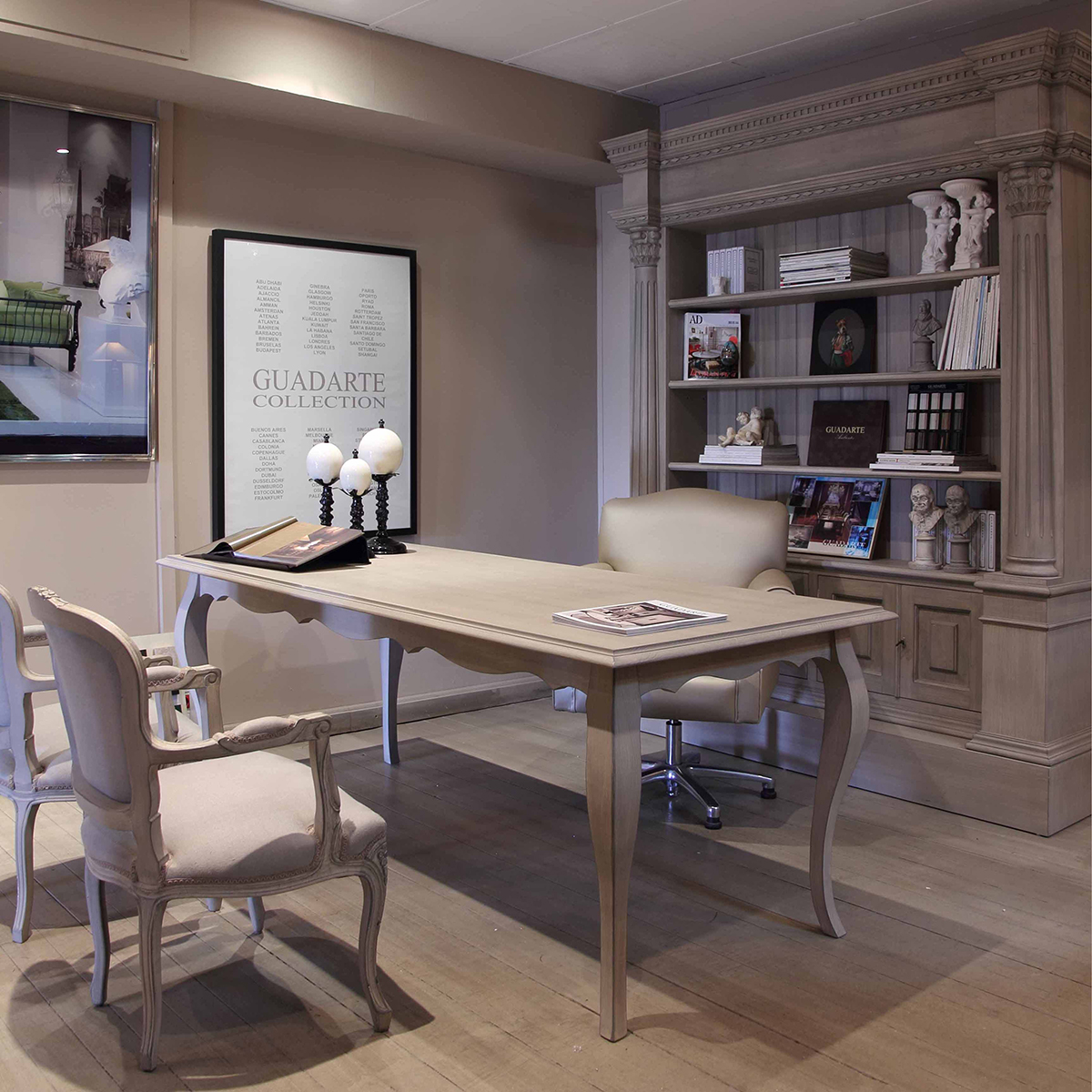 NOUVEAU BAROQUE home-office furniture: M10173 table, M20163 bookcase, M3368 chairs | GUADARTE
The home office furniture from the NOUVEAU BAROQUE collection combines subtly the traditional styles and decorative motifs from the XVI, XVII and XVIII centuries with contemporary trends in colours and design to get a workspace that exudes charm and instils a sense of cosiness and warmth into your workday.
TOMÁS & SAEZ. EMPIRE home-office. Working in timeless style
The timeless, sophisticated appeal of the EMPIRE home-office line from furniture & lighting specialist TOMÁS & SAEZ comes from the unique combination of natural wood, metal, leather and the exclusive touch of the acrylic glass.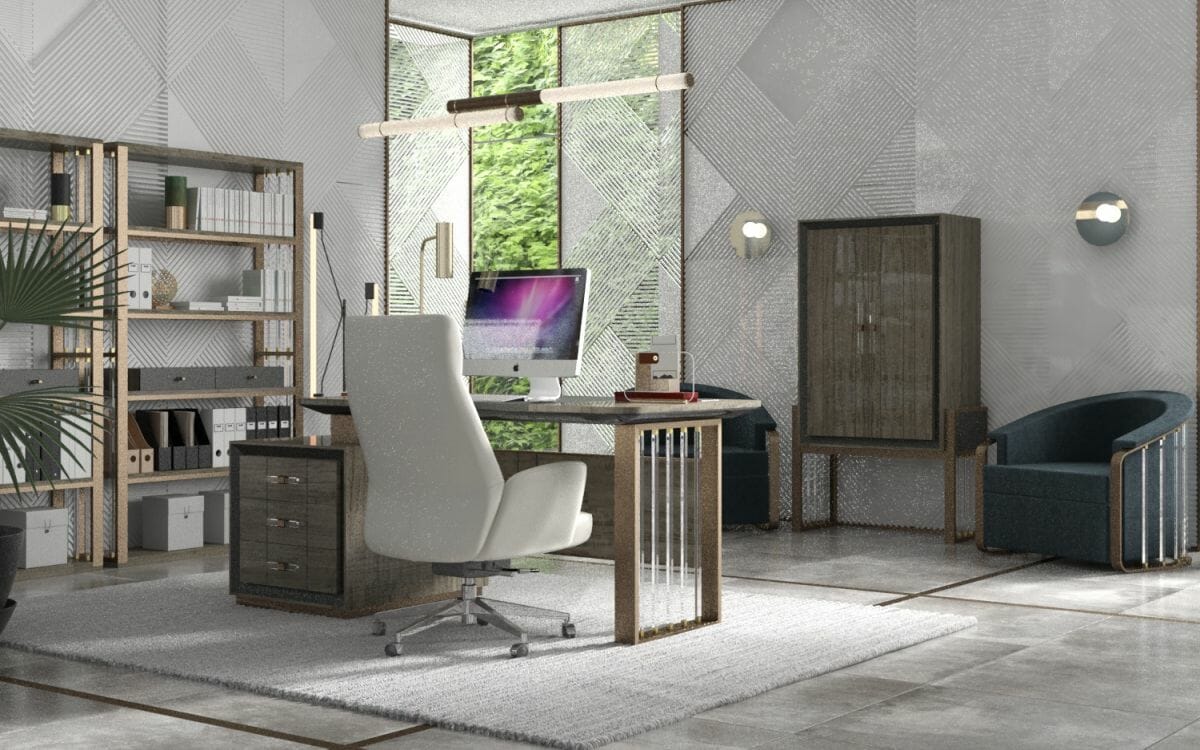 EMPIRE home-office set | TOMÁS & SAEZ
The choice of the eucalyptus wood in a refined grey tone gives distinction and character to this collection that includes furniture for every room at home. A desk – available in two versions -, an executive chair, a cabinet and bookcases make it possible to design a professional area full of charm and of all the functionalities for working comfortably.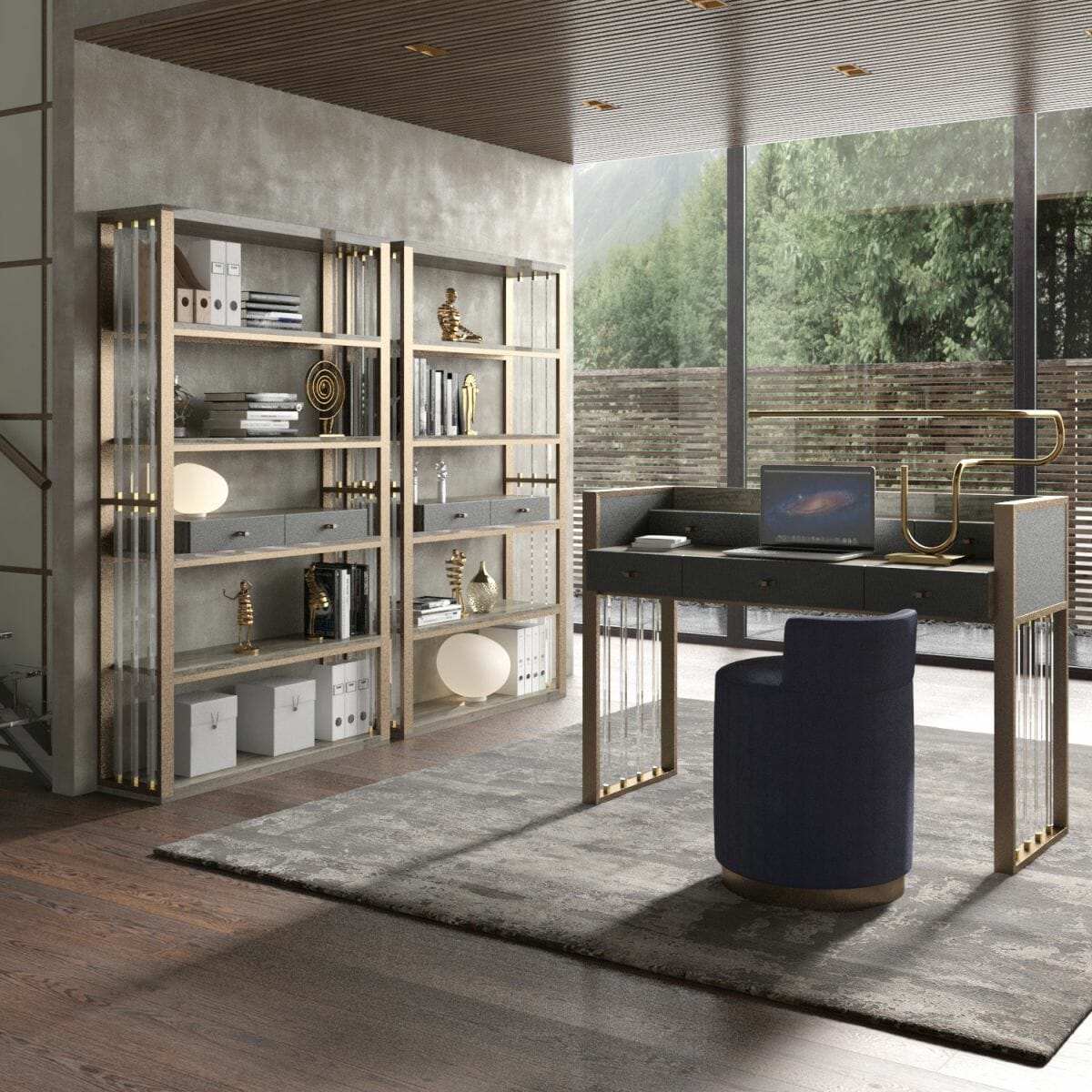 EMPIRE home-office set | TOMÁS & SAEZ
Two comfortable armchairs upholstered in velvet with metal and glass accents can be added to complete the look and create a small lounge for those moments of concentrated reading and thinking.
The range of home-office sets and furniture that Spanish furniture manufacturers have in store for your home-office projects and for private workspaces is rich in styles, solutions and price options. Please, follow the links below to source more products:
Home-office furniture>>>
Home-office desks>>>
Office furniture>>>
Or just stay tuned for more inspirations next days…