RELATED NEWS
TAGS
colección alexandra
contemporary classic furniture
epoca
fairs
haute décor
international fairs
luxury
luxury furniture
mariner
milano
Il Salone del Mobile. Milano 2017 xLux: timeless luxury
March 1 / 2017
Bespoke, understated and original: the world of luxury is experiencing changes and brands are facing new challenges to adapt their product to new ways of living. Spanish luxury brands have redefined luxury with items that tell a story of authenticity and timelessness without being ostentatious. Discover how in the xLux halls and get ideas…
As we move firmly into the second half of the decade, emerging design trends continue to reaffirm the focus on creating living spaces that are tailored to meet the needs of individuals. Trends are an undercurrent that should be kept in mind, but they shouldn't prevail over the personal style.
Craftsmanship, customization, unique designs, noble materials still lie at the heart of the Spanish luxury furniture sector and bring exclusivity to pieces. Nevertheless, less formal aesthetics, unique finishes as well as new functionalities have taken the stage in new collections.
COLECCIÓN ALEXANDRA Hall 3 Stand G30
Heritage. Emotions. Evolution. With its unsurpassed reputation for unique haute décor and with its in-depth knowledge of production processes and bespoke design, COLECCIÓN ALEXANDRA is considered a trustworthy supplier by international architects, decorators and interior designers who have chosen its products and collections for large-scale international projects. The already rich catalogue is regularly extended year after year with new creations in the three styles that define the brand: EMOTIONS, the contemporary and avant-garde collection; EVOLUTION, the elegance of classic contemporary décor; and the classical HERITAGE, with its exquisite line of luxurious traditional furniture.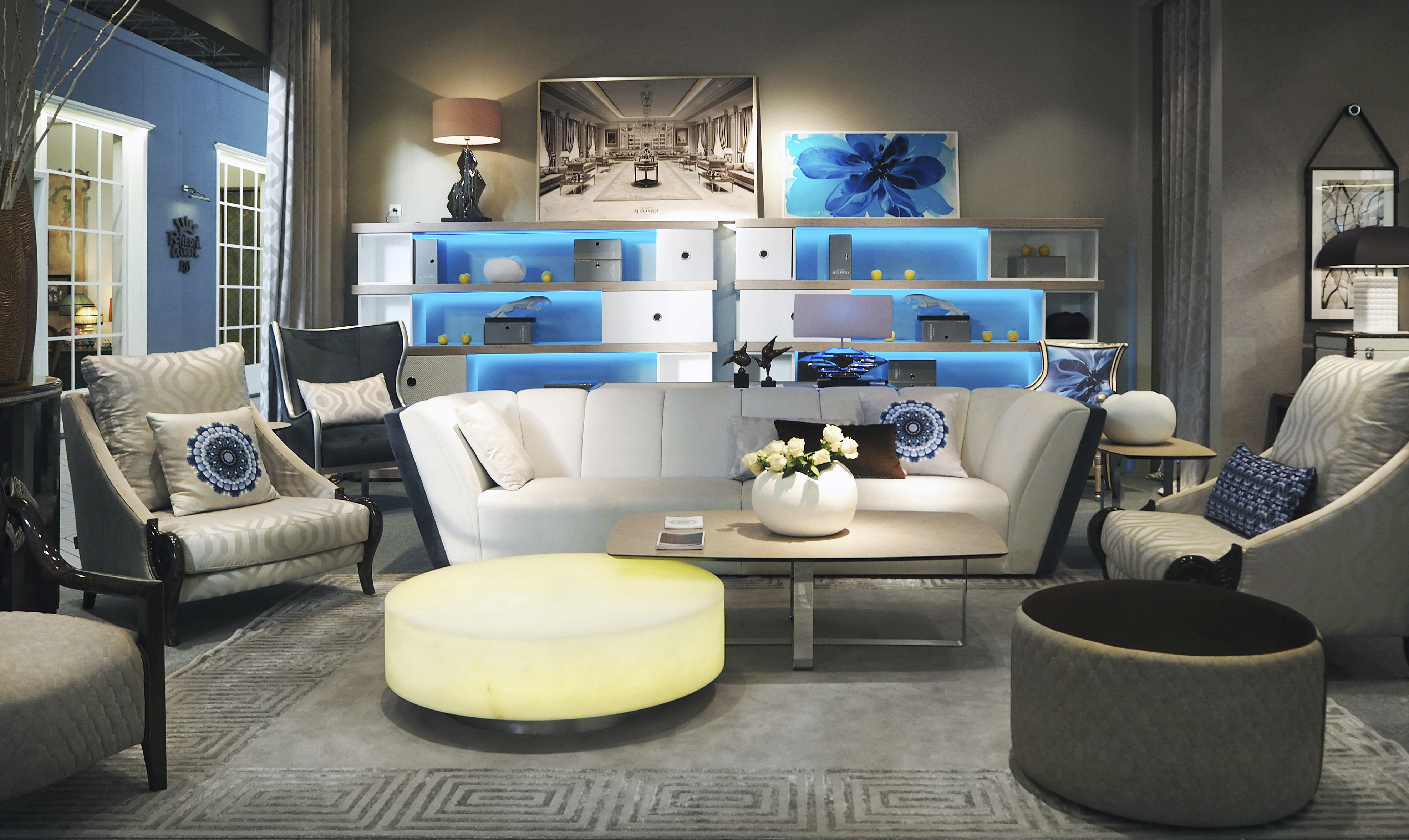 WIND dining & coffee table. Alexandra Design Studio. With its avant-garde aesthetic, this awesome table collection preserves all the exclusiveness the brand is renowned for.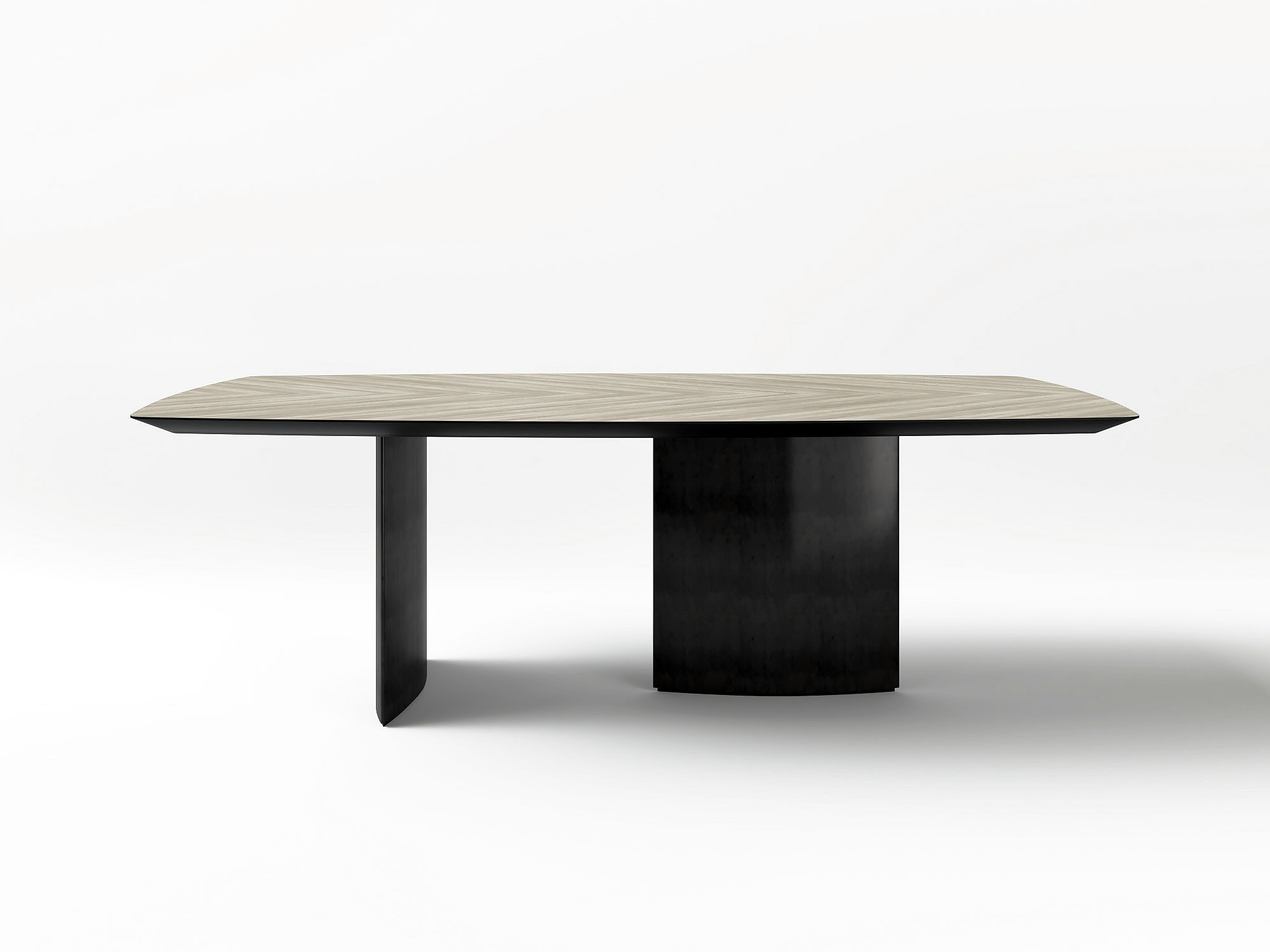 Available in 2 sizes (2 bases: 230x130x75H; 3 bases: 345x130x75H), the WIND dining table plays with volumes and aerodynamic forms. The wood veneered top is offered in two different shades, Albino or Tobacco, while the iron base can be finished: ice effect white, silver of black.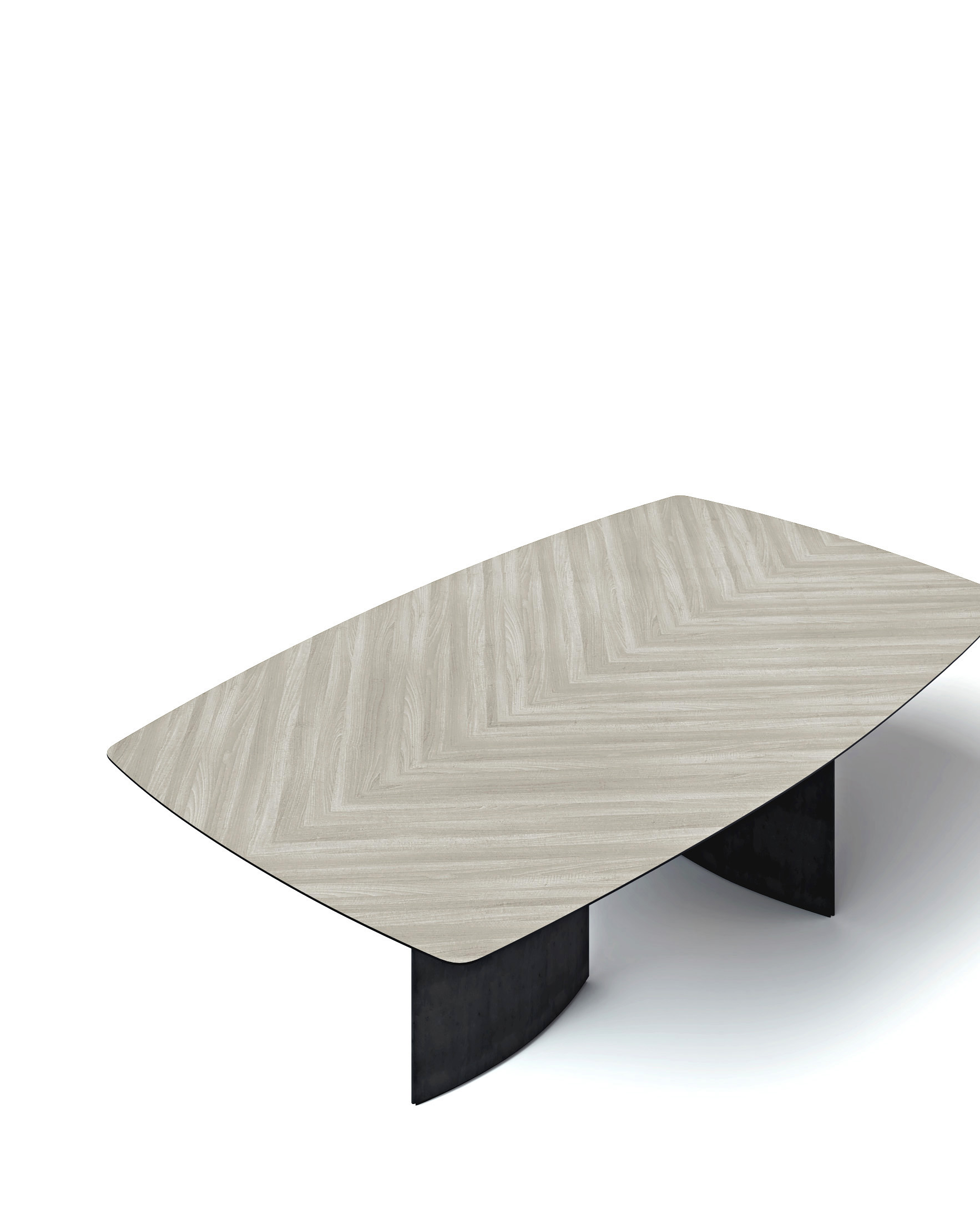 A sense of visual lightness and elegance exudes from the WIND set of side and coffee tables that features the same intriguing combination of wood and iron. The wooden top is supported by two intersecting rectangles that create the unique design of the base. This one is available in chrome, oxide or antique copper.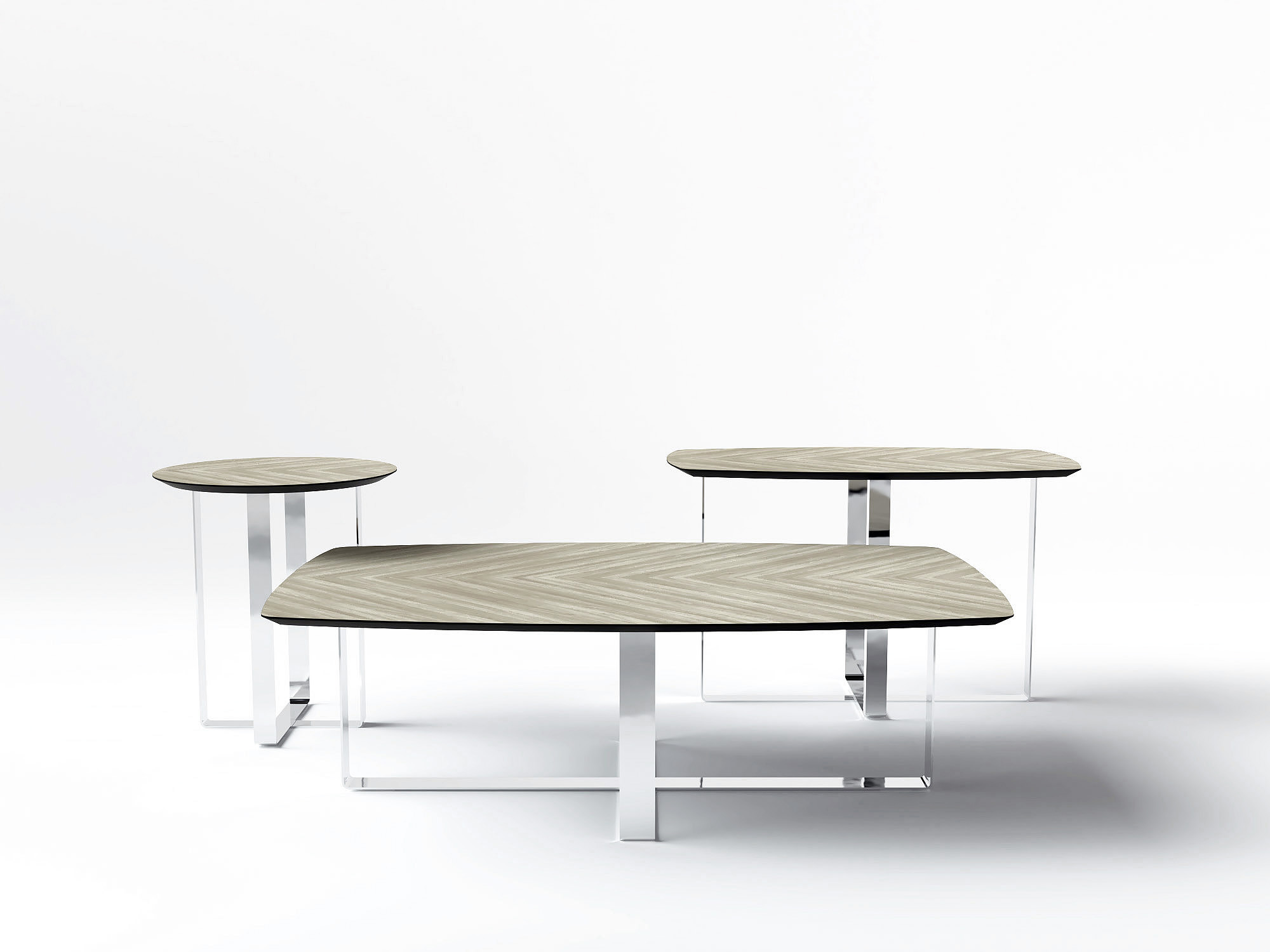 MASTER dining chair. Alexandra Design Studio. Beautifully crafted by Colección Alexandra artisans, this original design juxtaposes beech legs in different wood stain colours and a refined wraparound upholstered shell. The outside-back comes upholstered in fine engraved leathers with stainless steel detailing.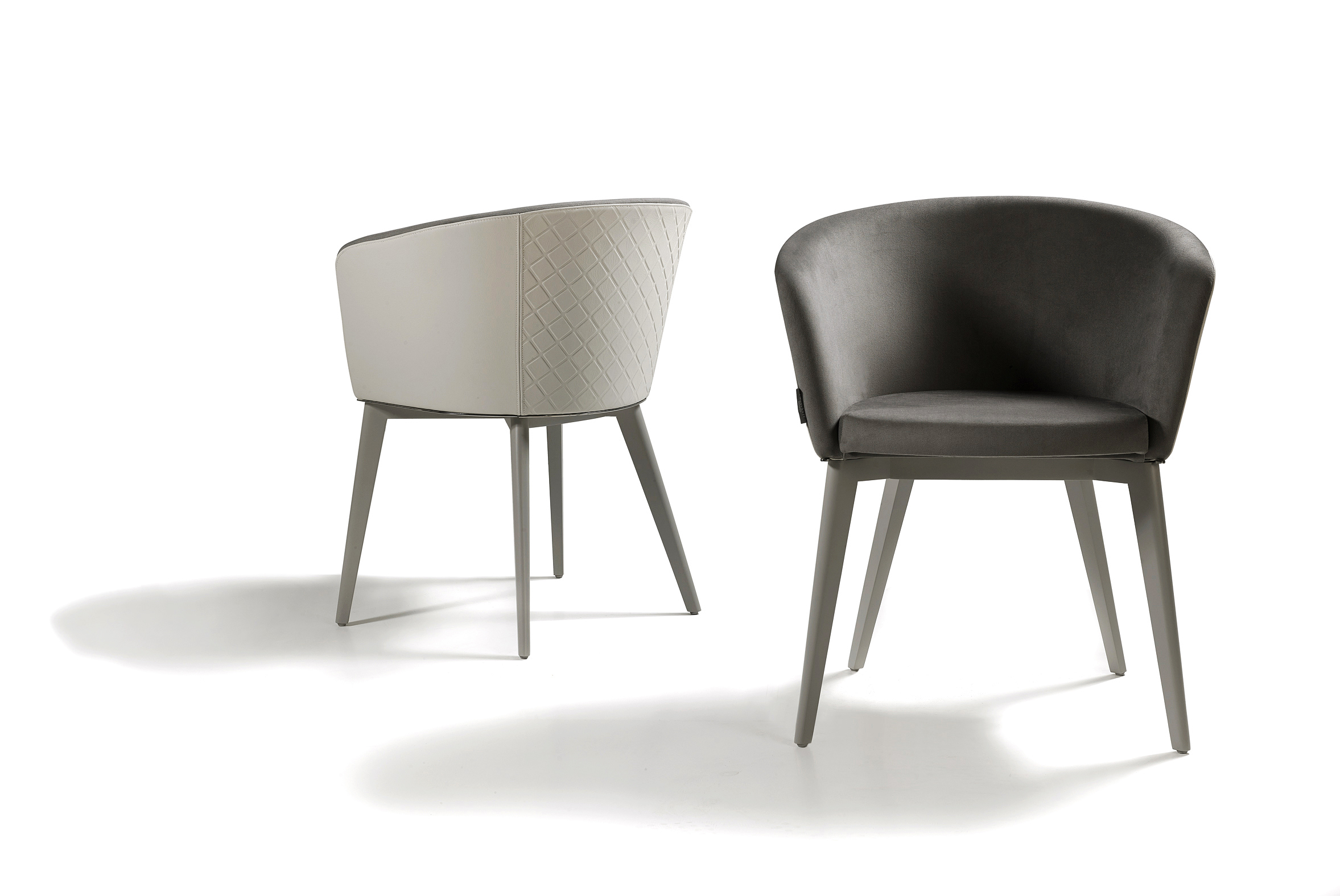 YAIZA round coffee table. Alexandra Design Studio. A new version of the former rectangular YAIZA coffee table. The new alabaster round top (100 cm diameter) is equipped with interior lighting which provides extraordinary warmth to any environment.
DETROIT modular bookcase. Alexandra Design Studio. The sophisticated DETROIT multipurpose modular bookcase, with its stunning combination of wooden veneers, shiny cracked laquers and engraved leather sliding doors, will be presented with new attractive finishes.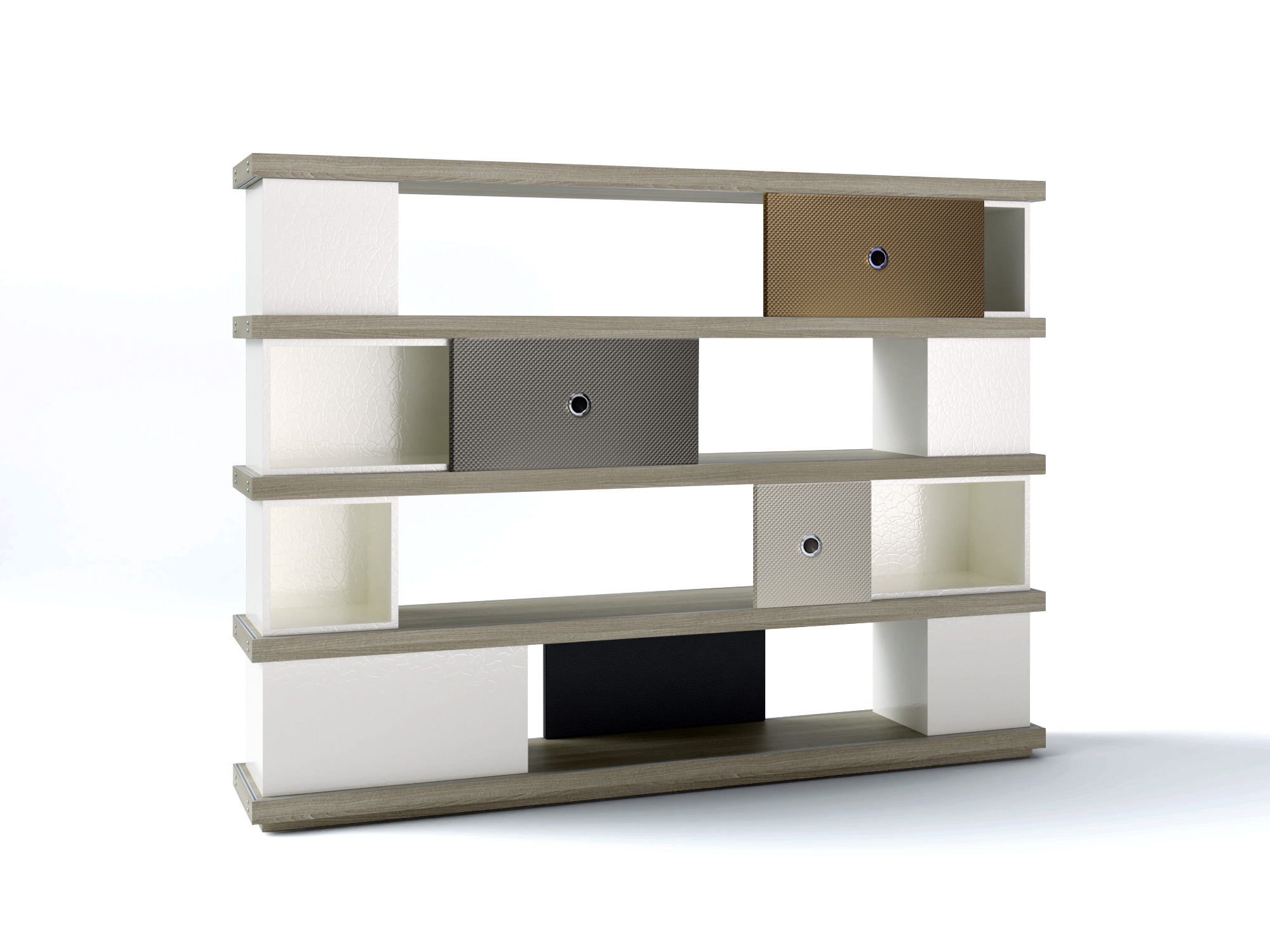 EPOCA – Hall 1 Stand D01-D03
Made in Spain excellence. Every piece, a perfect blend of classic and modern. With its original fusion of fine craftsmanship and maximalist aesthetics, EPOCA transcends rules and goes beyond trends and fashions. EPOCA furniture is designed and manufactured in Spain, with the company ensuring that each piece is unique and manufactured to the strictest quality standards. Materials include the best noble woods, such as ebony, rosewood and mahogany, that provide pieces with outstanding beauty and refinement.
MAXIMA Collection. A flagship collection of the brand, MAXIMA is a modern reinterpretation of classic furniture styles. Made of noble materials, such as the ebony wood, the gold leaf finishes and luxurious fabrics rich in colours and textures, MAXIMA fuses the classic Empire style with Art Deco elements to imbue furniture with character and create atmosphere full of sophistication and intrigue.
EBONY Collection. A line of exclusive furniture that conveys all the luxury appeal, refinement and glamour which are the hallmarks of the brand.
It now includes more than 40 unique designs all of them featuring the most exquisite finishes and materials. Each piece is a real work of art, hand finished by in-house expert craftsmen who master unique woodworking techniques. Veneers are made of ebony and bird-eye maple and are embellished by high-gloss black lacquers and precious gold leaf details.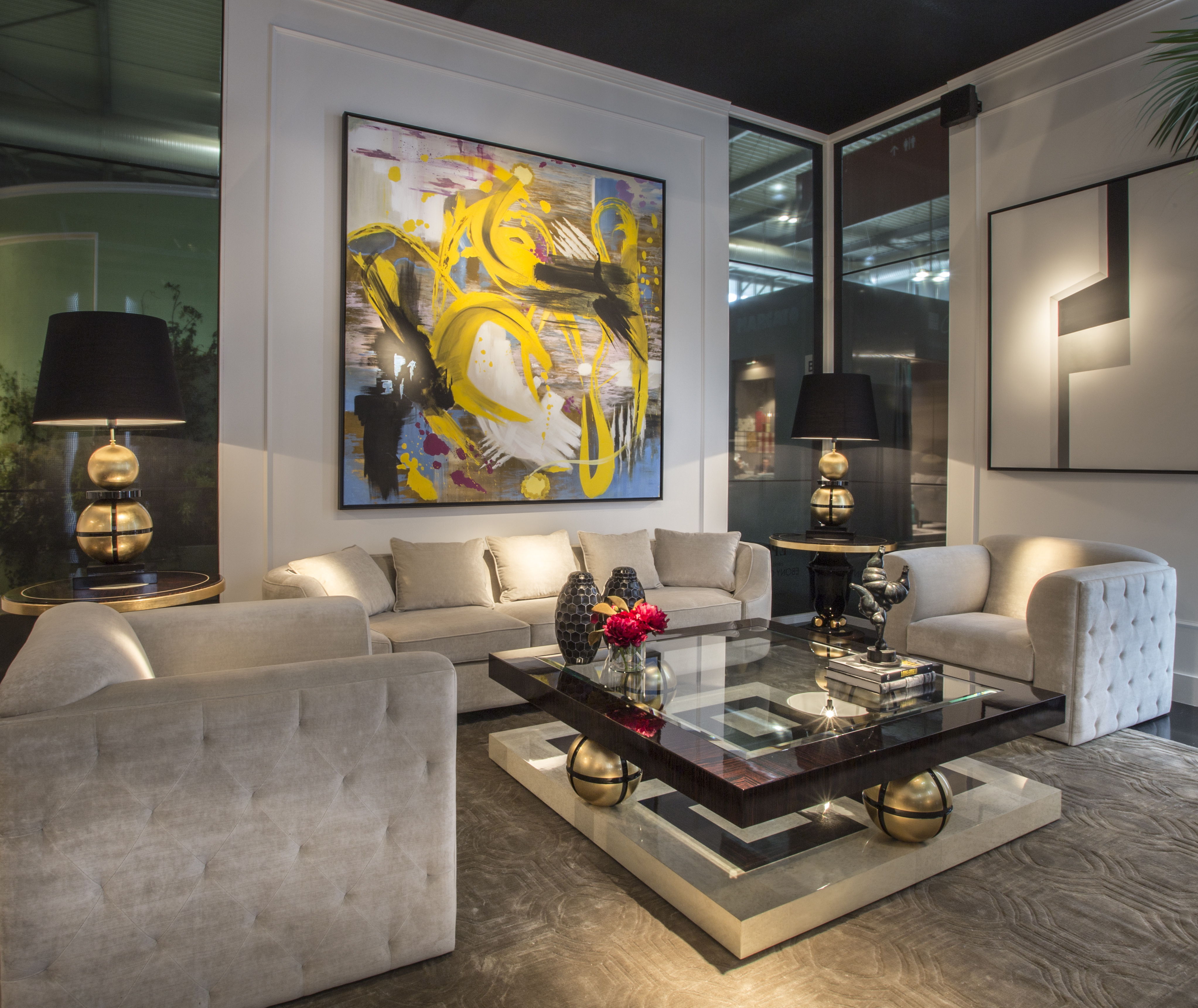 MARINER – Hall 4 Stand B08
The supreme luxury experience. Founded in 1893, the Valencia-based MARINER designs and manufactures products in classic and contemporary styles. Inspired to ancient Spanish, French and English styles, such as the Louis XV, the Louis XVI or the Regency, classic pieces feature a unique personality fruit of the combination of heritage and centuries-old craft tradition with high creative dynamic. Both classic and contemporary collections are made of the best noble materials and embellished by precious details and finishes.
NANTES Collection by Sergio Pérez. As its name suggests, this amazing collection, one of the latest creations by Sergio Pérez for the firm, draws inspirations from the beautiful French city and its intriguing contrasts. The waters of its numerous rivers and streams flow gently and sinuously through an urban landscape marked by the masculine volumes of its neo-classical buildings. With its great elegance and style the NANTES collection reflects the contrast between sober volumes and delicate, eye-catching ornaments and lines.
Pieces are embellished by marquetry and bronze ornaments that blend perfectly with the delicate oak burl veneer. The fine design and the sinuous lines of the chairs evoke the feminine side of the collection, a variation induced to delight the eye.
The collection has been extended to include a new three-seater sofa and a complete bedroom.
WELLINGTON Collection. One of the latest collection of the firm, WELLINGTON has been extended to include new home-office furniture: a desk, chairs and a bookcase. Strongly inspired by the Empire style, the collection features a stunning combination of black piano and white lacquers enhanced by a profusion of precious gilded bronze ornaments and medallions as well as carved elements decorated with antique gold leaf.
Table tops are embellished by fine inlays and decorative friezes. Upholstered with attractive fabrics, chairs stand out for the elegant shapes of their backs, arms and legs. Available also in a walnut burl veneered version.
To be unveiled in Milan: TRIBUTO A GIO PONTI collection. The new luxurious furniture collection signed by Caterina Licitra Ponti, great granddaughter of the renowned Italian architect and industrial designer Gio Ponti. It consists of 8 pieces: dining table, chairs, armchairs, coffee table, pedestal table, cabinet, chaise longue and sofa.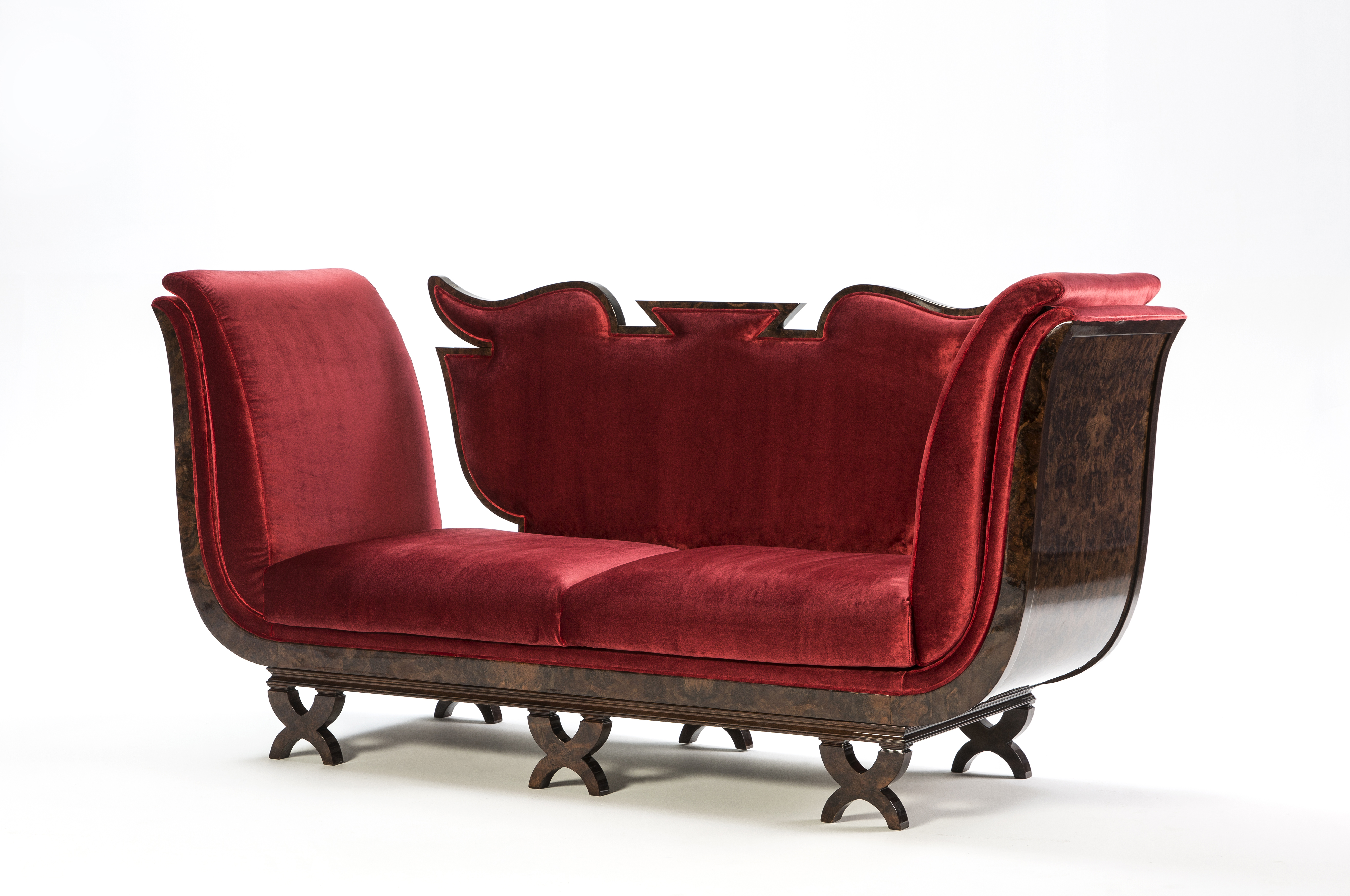 Pieces are manufactures with noble materials such as the Makassar ebony, sycamore, aluminium, steel, glass, marble-like ceramic, alabaster and luxurious fabrics.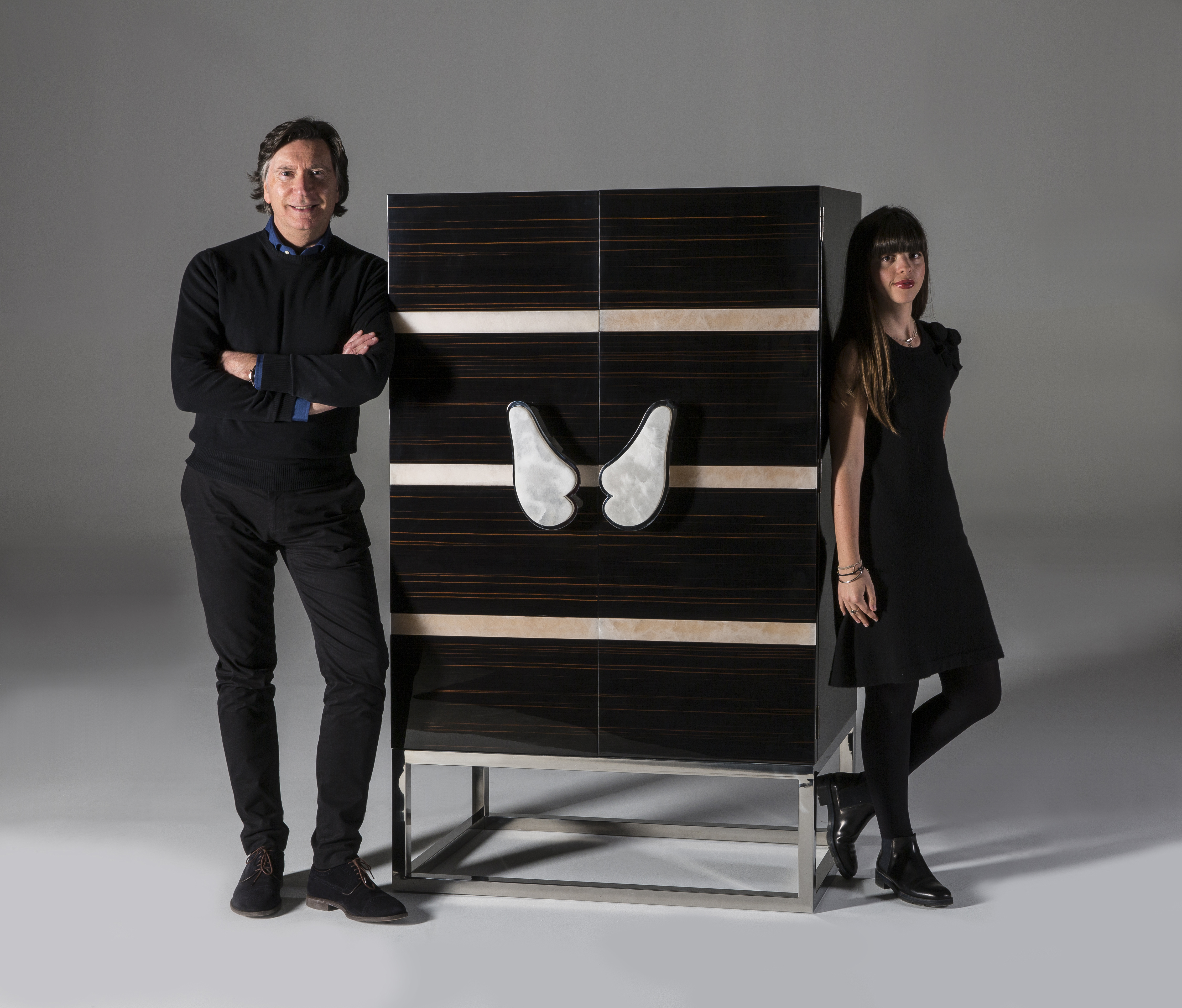 The colour palette is mainly inspired by neutral and natural tones with a touch of sensual red velvet for a more dramatic look.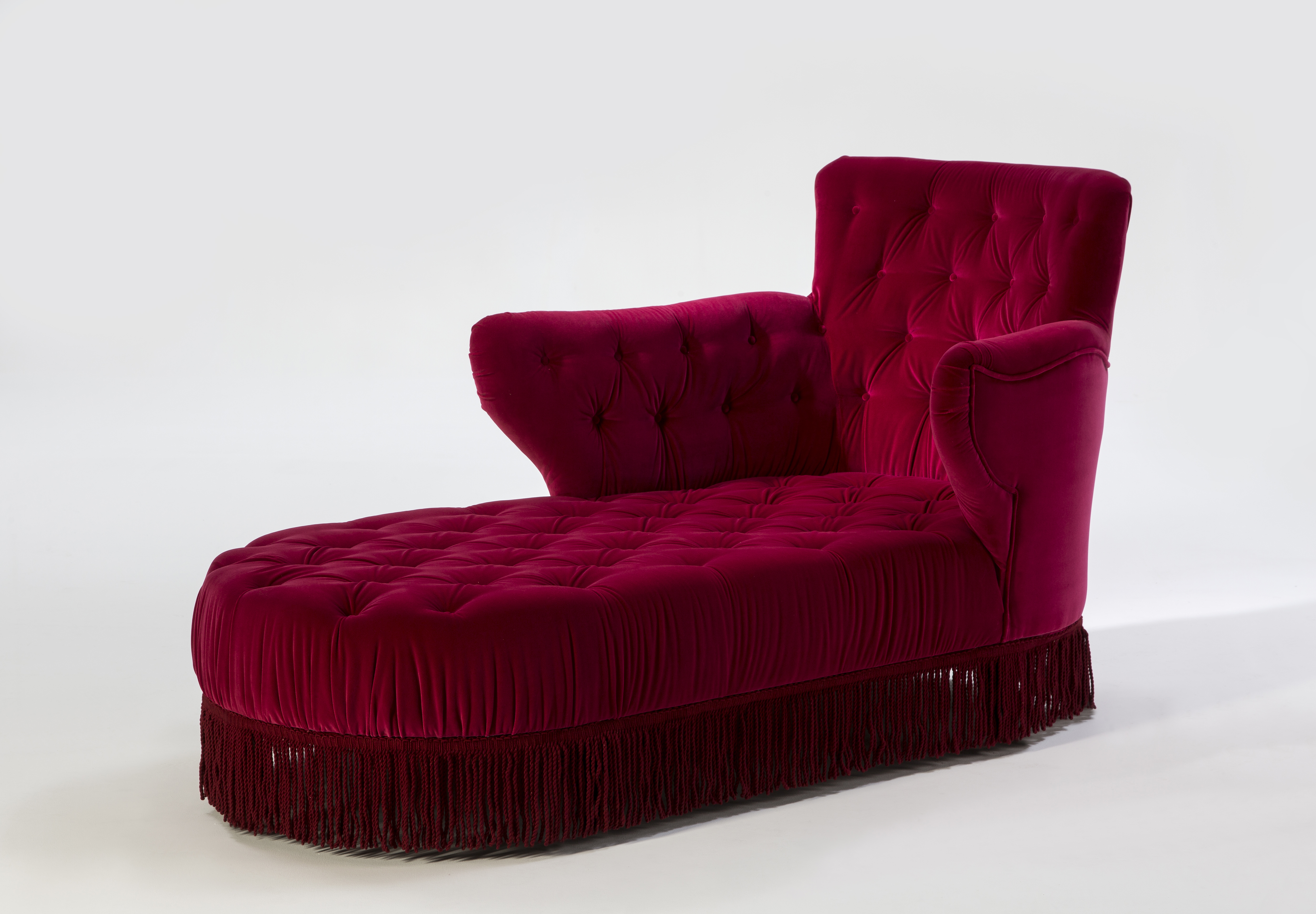 SOHER – Hall 3 Stand H32-H34
Beauty, quality and grand style. Since its foundation in 1942, SOHER has specialized in manufacturing bronze items and high-end furniture for unique, upscale interiors. Throughout its history, it has maintained a hand-crafted character and used the highest quality materials at all stages of its manufacturing processes. SOHER's designers draw inspiration from avant-garde tendencies as well as from great classic style. That's why their furniture collections have a unique allure that match perfectly the most sophisticated and exclusive ambiences.
METROPOLIS Collection. High-end luxury and pure Art Deco elements fuse in this beautiful collection that pays homage to the homonymous futuristic film of Fritz Lang (1927) and its fabulous set designs strongly influenced by the Art Deco movement. The movement, which was expression of the faith in social and technological progress, used also to combine modernist styles with fine craftsmanship and rich materials to achieve a modern, original aesthetic.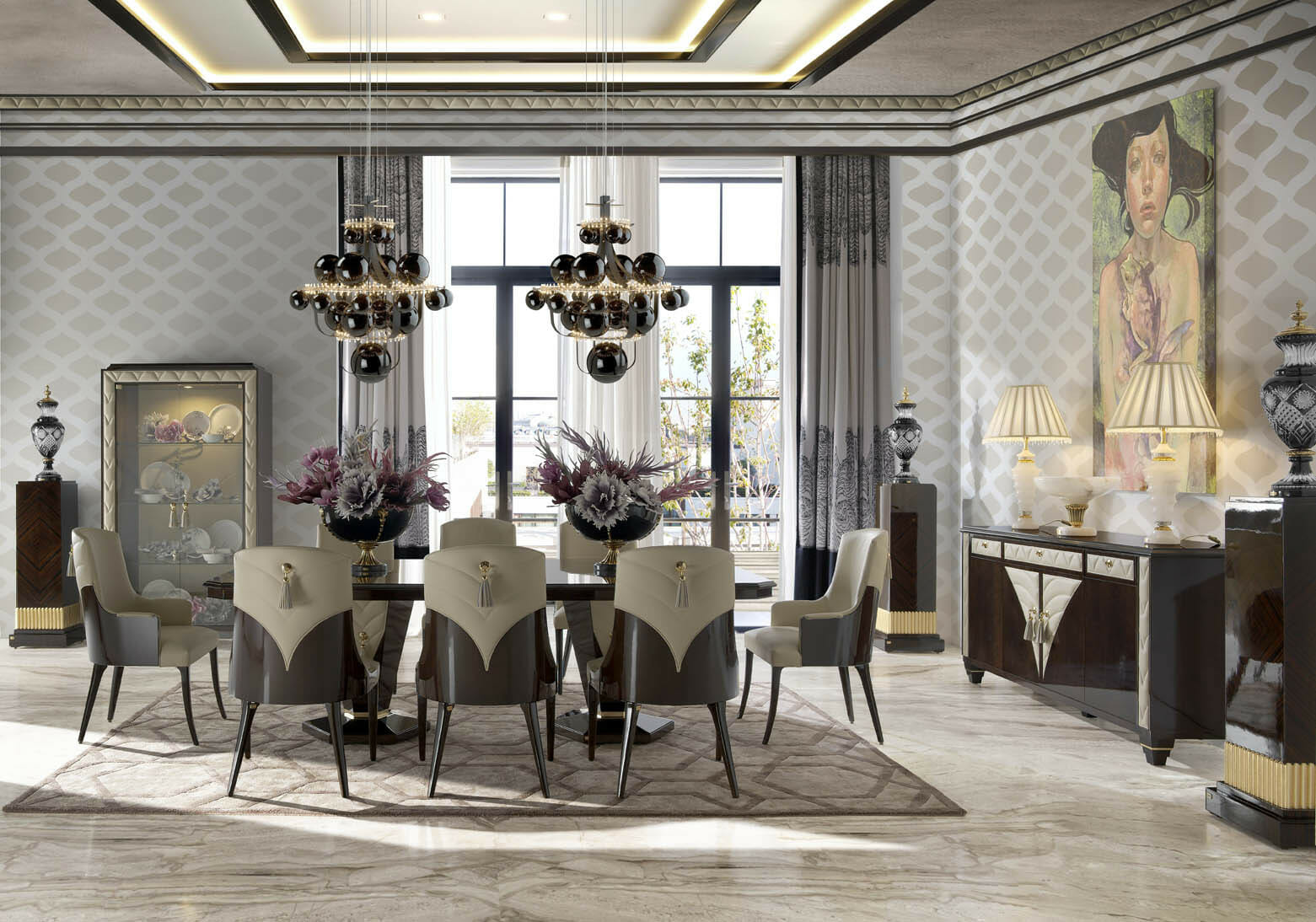 METROPOLIS evokes that era and, thanks to the great attention to detail, recreates in an intriguing way all the luxury and glamorous exuberance of the Art Deco style. Made of crown cut walnut, pieces feature a charming combination of noble materials and precious finishes, such as top quality leather and gold-plated bronze elements.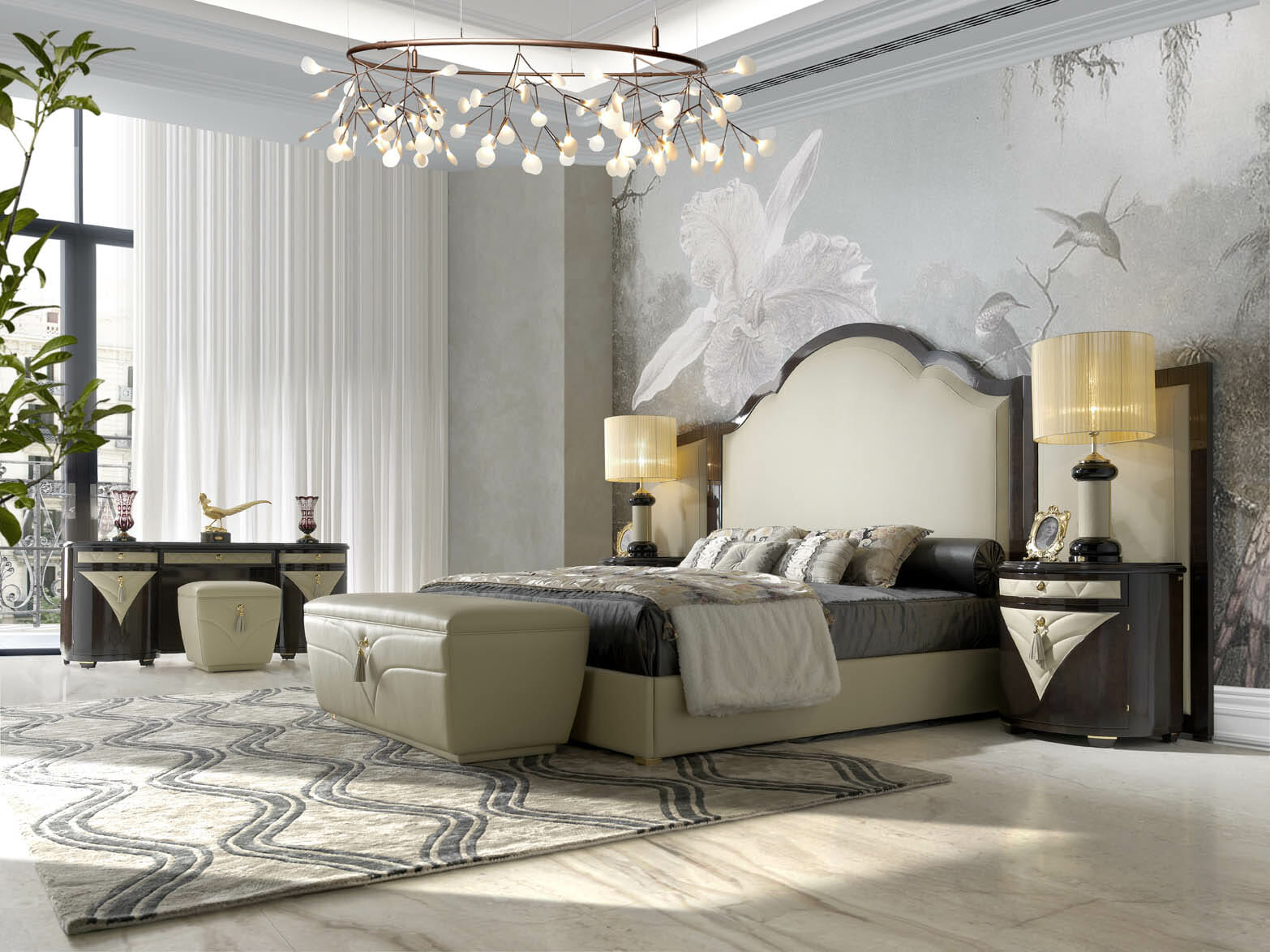 EQUUS home-office furniture. Equus, one of the most successful collections of SOHER's luxury furniture, evokes the elegance, nobility, strength and dynamism of horses. The new home-office furniture, a recent addition to the collection, has been specifically designed to add sophistication and glamour to office spaces both at work or at home. As the other pieces of the collection, the EQUUS home-office is made of the finest materials and features precious finishes. Pieces are veneered in Palisander with ebony elements and fine maple inlays on fronts and table tops. The gold or silver plated bronze decoration as well as the Swarovski elements provide every piece with exclusivity and beauty.
To be unveiled in Milan: new Art-Deco inspired collections for dining and living rooms and bedrooms.
TECNI NOVA – Hall 3 Stand G33
Deluxe furnishing. Founded in Yecla in 1986 by Antonio Muñoz, an experienced traditional upholsterer who wanted to take advantage of new production technologies –hence the name-, the firm is currently run by the thrid generation who has invested on cutting-edge manufacturing processes focusing on the internationalization of the brand. Changes in manufacturing processes allowed the firm to renovate the formal classic style by breaking rules and introducing into its collections unusual twists and more contemporary lines.
FORTUNE Collection. The high-end contemporary collection, FORTUNE, has been extended to include new models of ergonomic sofas, armchairs and chairs that have been designed with the user in mind.
Featuring a sophisticated design, clean lines and well-proportioned volumes, the collection is now available with a complete range pieces for different ambiences: sofas and armchairs, bedroom and living room programmes, dining room sets, coffee tables, chest-of-drawers, wardrobes and bar cabinets. All the furniture is made of the finest materials, such as leathers and noble and exotic woods (iroko, zebrano, walnut), and finished with fine lacquers and attractive fabrics and velvets.
In the 4221 series, furniture features a stunning combination of natural finished walnut wood and metallic details that add the glam touch while keeping pieces interesting. A clear nod to the designs of luxury car brands.
NAUTICO Collection. It represents an inroad of the brand into a booming sector: the outdoor furniture. NAUTICO includes a line of chairs and swivel armchairs upholstered in top-quality, weather-resistance fabrics. Tables come in different sizes and heights to allow you to create highly comfortable spots in your outdoors.
New additions include the extra-large 1292 armchairs that can come upholstered with fabrics or leather, depending on the use, and allow to combine different colours for a more vibrant effect. Upholstered with technological fabrics and with a structure made of iroko wood, the 1730 sofa and chaise longue are aimed at bringing indoor comfort and style to outdoor spaces.
Guardar
Guardar
Guardar